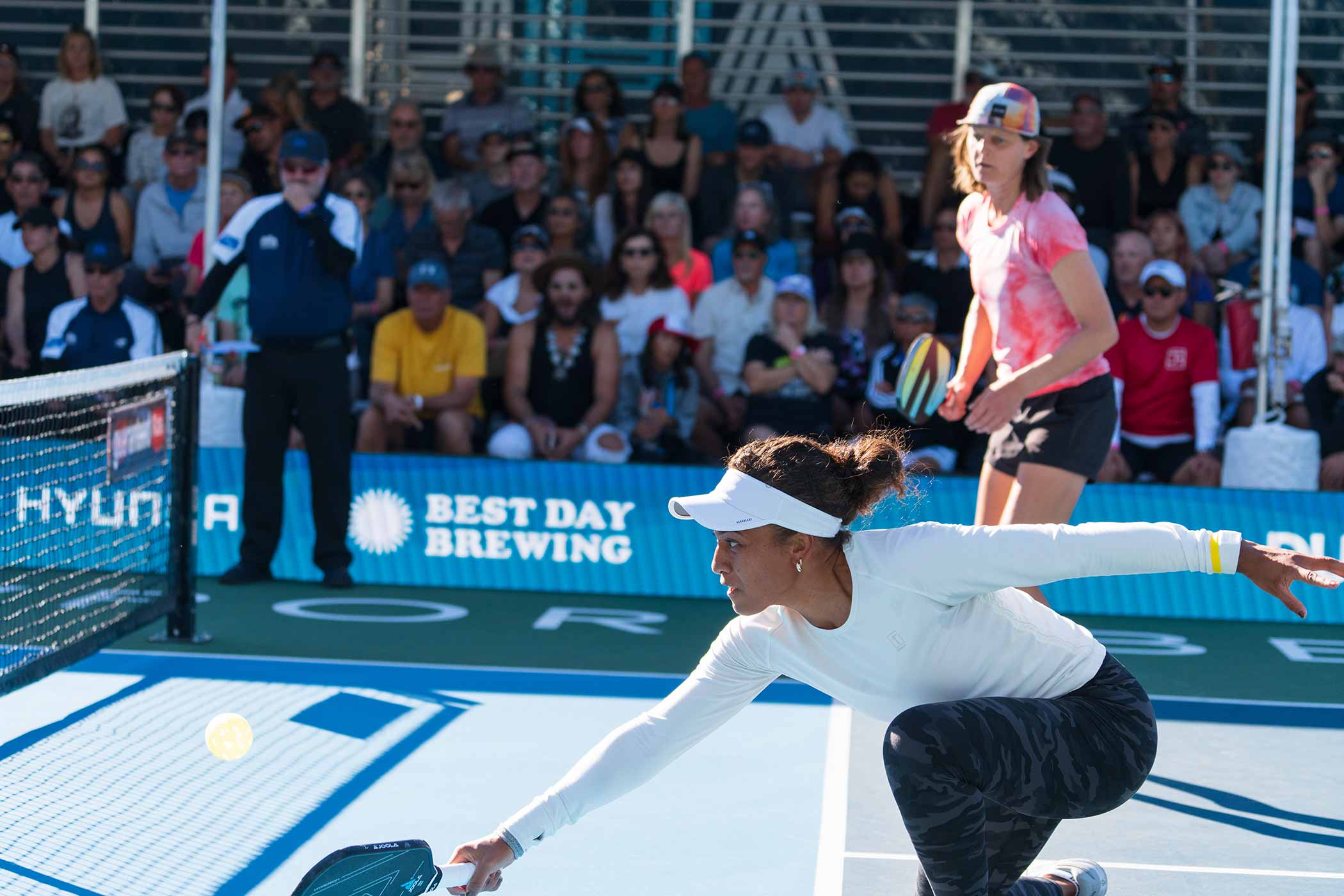 Check Out These Other 🔥 Stories:
A year ago, my then-seventy-five-year-old parents told me they had started playing a new sport. Twice a week, they would grab these ping-pong-looking paddles and head over to tiny courts to play something called pickleball.
"Have you heard of it?" they asked me.
"I think I played that once in PE in high school," I responded. "But no, I'm not really sure what that is."
Now I can't have a conversation without someone mentioning the sport; I can't turn my head without hearing about another celebrity becoming a team owner (Hello, LeBron); and I can't open my email without a story showing up on how New York's Central Park just built a whole host of pickleball courts, for instance.
With its rise in popularity, pickleball has seen a surge of craft beverage brands hop on board, sponsoring tournaments and players and, in some cases, even creating their own pickleball courts at their taprooms.
We see participation across the spectrum. (Yes, we recognize that macro breweries like Anheuser-Busch InBev have gone all out purchasing a team.) But we're more interested to hear about more prominent craft brands such as New Belgium sponsoring tournaments like the US Open, smaller taprooms like MashCraft Brewing in Indiana building their own pickleball courts, and even non-alcoholic brands like Best Day Brewing becoming an official non-alcoholic beer of one of the major pickleball leagues.
So what makes pickleball and craft beer the perfect pair?
Dare we say they're a match made in heaven?
What Is Pickleball?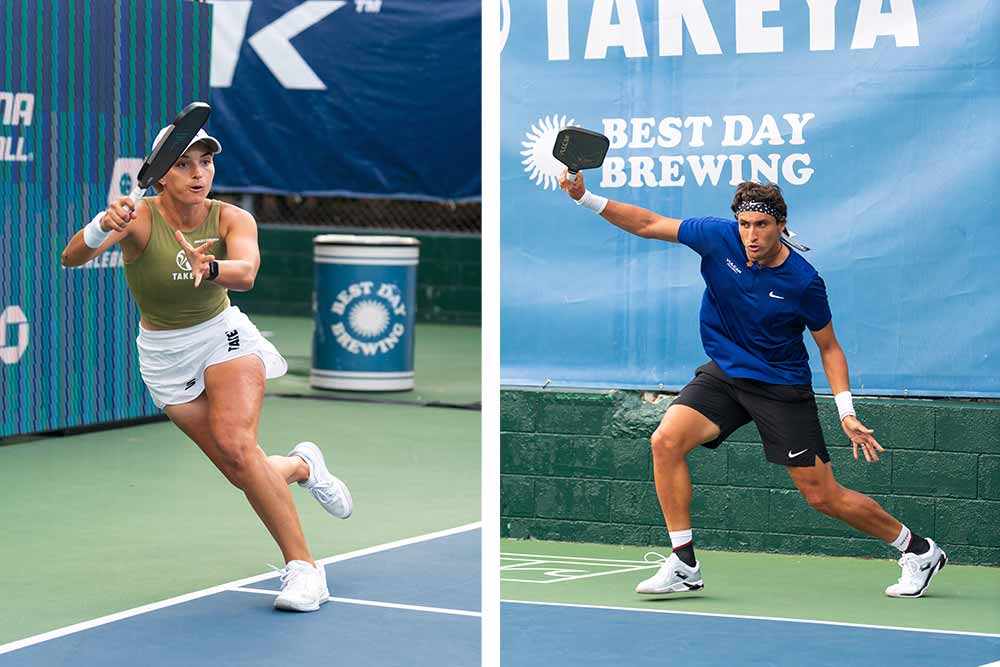 If you haven't heard of pickleball, we'll catch you up quickly on the basics.
Pickleball started in 1965 on Bainbridge Island near Seattle, WA, when three dads—Joel Pritchard, Bill Bell, and Barney McCallum—tried to keep their bored kids entertained during the summer.
A paddle sport that combines tennis with badminton and ping-pong, pickleball is played on a badminton-sized court (about ⅓ the size of a tennis court) with a tennis net that's slightly modified.
Played with a hard, lightweight ball with holes, pickleball also includes players holding paddles that more closely resemble their ping-pong counterparts.
Go and watch a match, and you'll immediately notice the sounds first—high-pitched thumps and whacks as the ball bounces across the court, followed by shouts of encouragement and glee, especially if you're playing doubles.
To play, teams of one or two rally until someone makes a fault—letting a ball double-bounce or hitting a ball out of bounds or into the net.
You can only score if you're on the serving team. So win a rally, win a point. You play most games to eleven and need to win by two. (Check out this video from USA Pickleball.)
Although technically invented over sixty years ago, it's only within the last few years that pickleball has become a phenomenon.
The Pickleball Phenomenon Spreads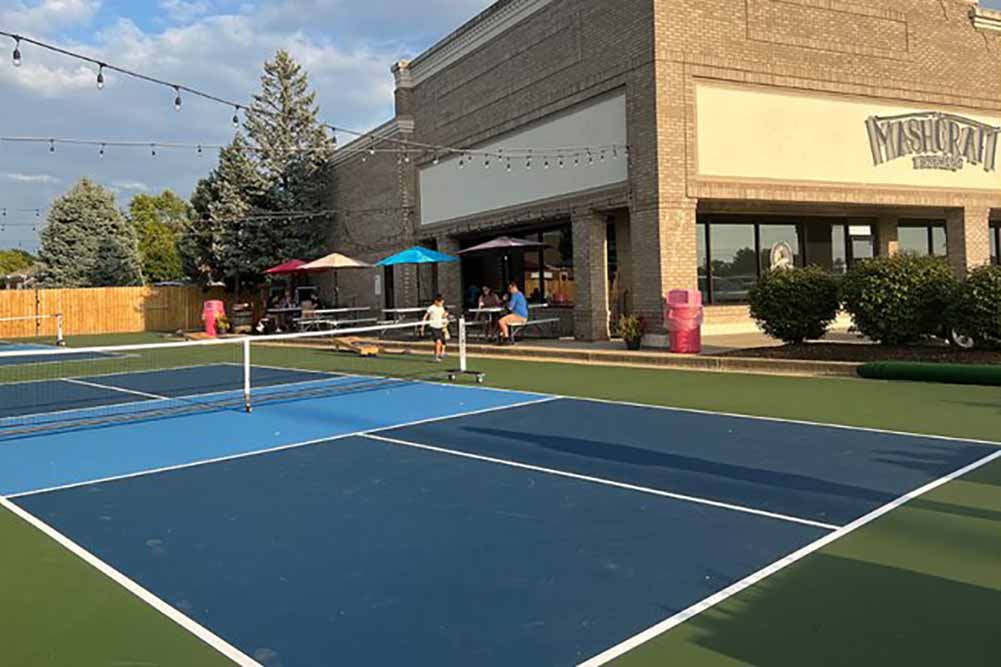 According to a 2022 Sports & Fitness Industry Association report, 4.8 million pickleball players (known as "picklers") play in the United States, making pickleball America's fastest-growing sport.
While in the past older folks played, today, all ages have taken up the sport.
In 2021, those fifty-five and older made up fifty percent of pickleball players, but the fastest-growing segment is people under twenty-four, according to the USA Pickleball Association.
Pickleball's recent place in pop culture drove a lot of this popularity.
In the past few years, major sports stars such as LeBron James, Kevin Durant, Draymond Green, Drew Brees, and Tom Brady, to name a few, have become team owners in Major League Pickleball (MLP).
The professional league, founded by former hedge fund manager and billionaire Steve Kuhn in 2021, now has games broadcast on major networks such as ESPN and CBS Sports.
Along with MLP, the Professional Pickleball Association (PPA) and Association of Pickleball Professionals (APP) make up the three major leagues. But all only started within the last five years.
And that's not even mentioning the hundreds of local pickleball clubs, courts, and teams that popped up in towns nationwide.
Bottom line: People love pickleball, from A-list celebrities and pro sports stars all the way down to…well, my parents!
And as this new sport grew, craft beer and beverage brands noticed.
Pints + Pickleball = 🤩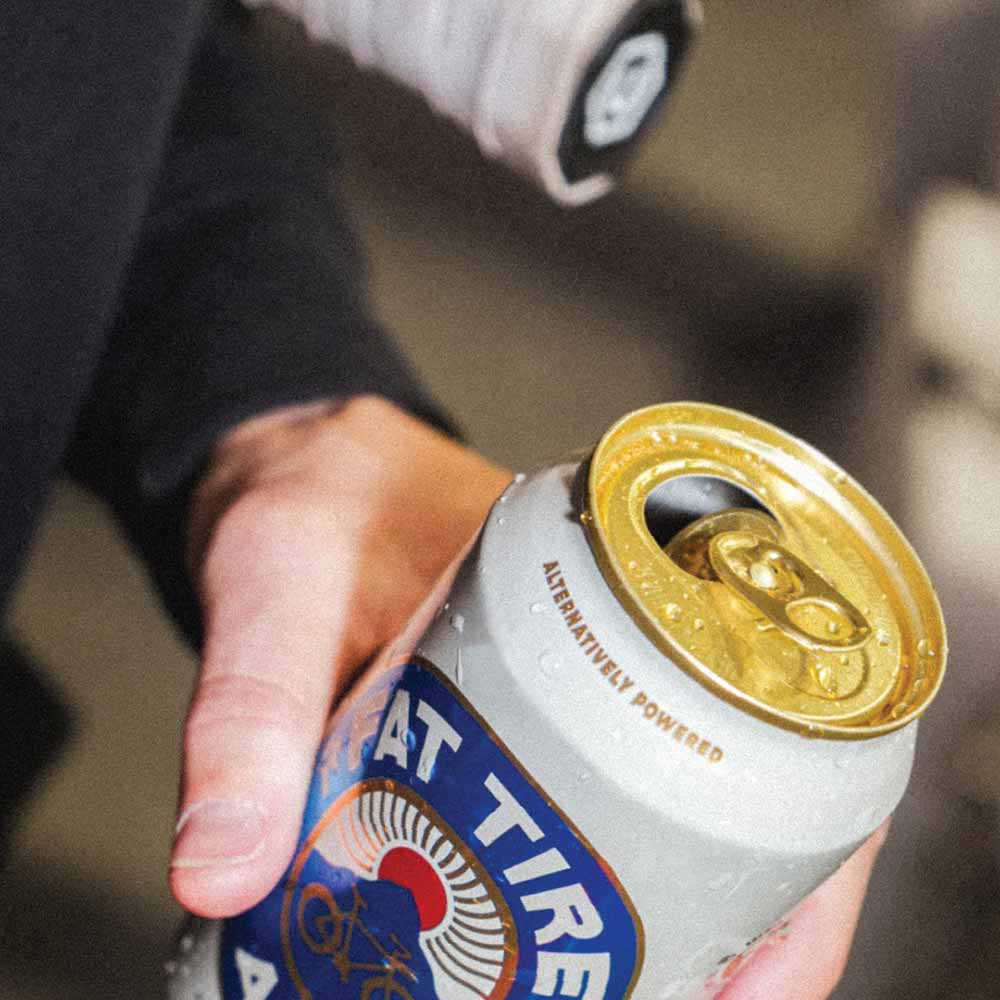 Three years ago, right before the global pandemic, New Belgium Community Marketing Manager Joanna Laubscher started playing pickleball.
"A couple of months in, I thought, this is a very social, inclusive, engaged community, and a loyal group of people," says Laubscher, who became an expert on the game and its major players (because, after all, you need to be an expert in a room with billionaires and celebrities).
The more Laubscher ingrained herself in the community, the more she realized the similarities between craft beer and pickleball.
"When you go to a brewery, you sit around, chat with friends, and have a good time," she says. "When you go to a pickleball court, you play some games, sit around, and drink a beer."
That's the exact ecosystem MashCraft Brewing Owner Joe Janik hoped to tap into when he built pickleball courts outside his taproom in Fishers, IN.
Picking up pickleball during the global pandemic, Janik immediately fell in love and thought the sport would translate well at his brewery. "When everyone watched Netflix and chilled or walked their dogs for miles and miles, I started playing in a [pickleball] group every Tuesday and Thursday," he says. "I enjoyed it so much and saw the crossover between that social element at our bars."
MashCraft now frequently hosts picklers on two live pickleball courts in the 3,500-sq-ft outdoor space next to the Fishers brewery.
Much like drinking, pickleball bonds people.
"It's a community activity that crosses over boundaries of age, skill sets, height, everything," says Janik. "It's a social sport, not something uber-competitive and rough, but you can still get a good workout and enjoy a beverage during and/or after."
At Janik's pickleball courts, it's first come, first serve. You put your name on a whiteboard and what time you showed up, so if the courts are full when you arrive, you hang out until it's your turn to play.
"I want people to show up, and if the court is taken, grab a beer while you wait; maybe you make new friends, and eventually you'll come back and play with them in the future," he says.
Boil pickleball and beer down to their core, and you'll find they're social activities at heart.
"It's not something to overthink," chuckles Jim Gunning, chief marketing officer of Best Day Brewing, which became the "Official Non-Alcoholic Beer of the PPA" in August of 2022. "There is just this real social component to the sport… The matches are quick, so you can get out there, have a match, and grab a beer or a drink."
Laubscher agrees, "It's pretty simple: Both are just about having a good time."
How Craft Beer Takes Center Court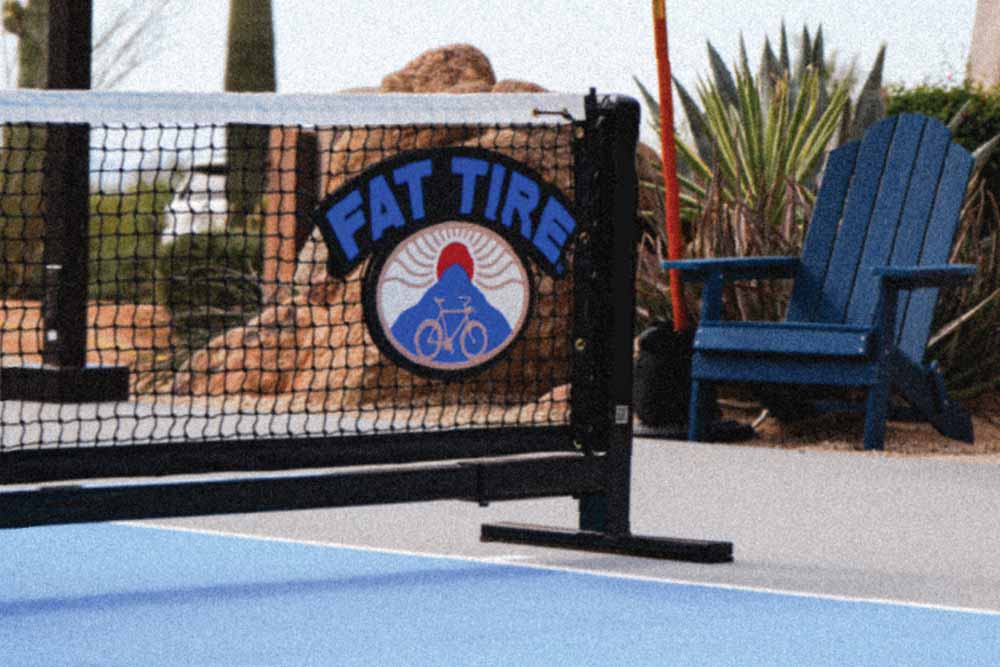 To New Belgium, a brewery in love with the outdoors and all its adventures, pickleball had a lot of allure.
"New Belgium likes to have fun, we are inclusive, and I felt the ethos of us and this group and community were in alignment," says Laubscher. "[Pickleball] felt like a natural connection for me."
At first, New Belgium tested the waters, sponsoring a PPA tournament in Denver.
The event smashed it.
"We threw 100 cases of beer [down], and these people drank," says Laubscher. "It was just another testament that this is the right place for us to be."
Laubscher went all in on pickleball showing up at small and large tournaments across the country for the last couple of years. "I don't just want people who can afford to fly to New York and play…to be the ones supported by our company," she says. "It doesn't matter if it's 50 people in a small town in Iowa or 1,000 people in Orange County."
At the bigger tournaments like the US Open, the biggest pickleball party in the world that attracts around 15,000 people, New Belgium set up a full 20×20 dive bar decorated with mocked-up pro pickleball magazines and decorations.
While at smaller competitions like the five APP tournaments New Belgium will sponsor this year, they might simply show up and sample Fat Tire.
Similarly, the all-non-alcoholic brand Best Day Brewing saw a huge opportunity to meet its core demographic at pickleball tournaments.
"Our focus was on communities and scenes where beer is very much a part of the culture whether it's mountain biking, trail riding, show sports, apres ski, [or pickleball]," says Gunning. "That's easy, low-hanging fruit where we could get early adoption."
As the "Official Non-Alcoholic Beer of the PPA," Best Day gets signage on the main center court and courtside, beers offered in the VIP section, and spaces where they can sample throughout the tournament grounds.
In just the past eight months, Gunning says they've found Best Day pairs well with picklers. "Our position isn't about sobriety; it's about moderation in the right place, at the right time, to have the best day," he says. "This consumer group is out playing three to four hours a day in an extremely social setting, so having a Best Day is a great fit."
On the pickleball courts, that means bringing a cooler with 6-packs of alcoholic and NA beers. So by the time your match is over, "you don't want to crawl on the couch because you had three beers, exercised, and the day is done," says Gunning. "[With a Best Day], you can go about your day after your pickleball match and get that refreshing beer experience."
Who Wins Pickle(ball) in the Middle?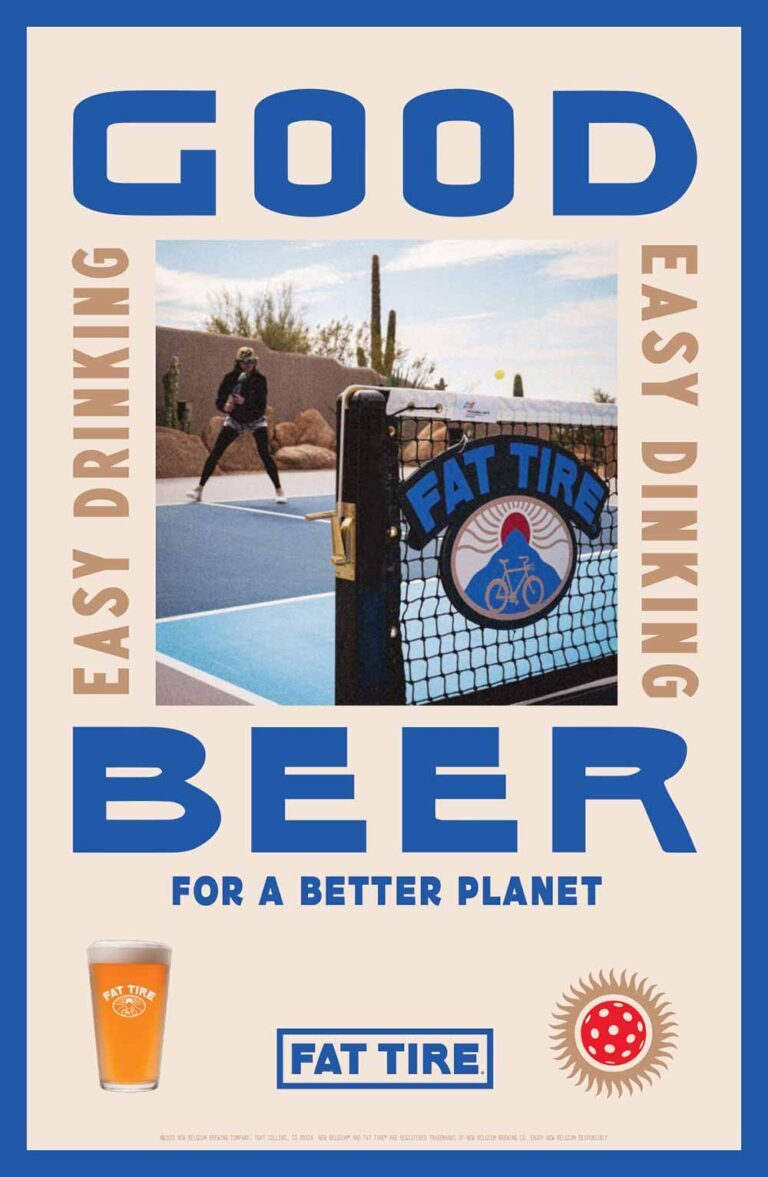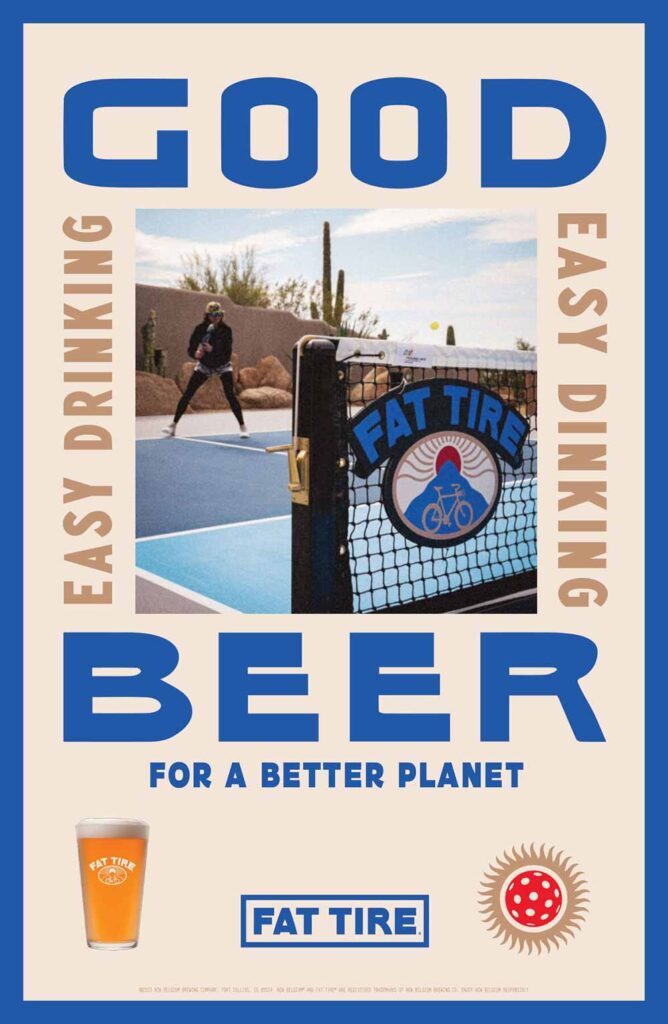 By showing up to all different pickleball tournaments, New Belgium has built a loyal following while bringing in new fans.
"Pickleball is a great way to touch people in all parts of the country that might not be familiar with Fat Tire," says Laubscher. "It's a new audience and an engaged audience."
Especially because pickleball players are serious about the sport and having fun.
Amongst picklers, it makes a difference that New Belgium invested early on. "We're seeing because of our loyalty and what we have done in the sport for three years, these people value that, and they care that we've done that," she says.
Now, New Belgium finds itself mentioned in tandem with pickleball. So when a new thirty-store pickleball and chicken restaurant chain announces plans to open nationwide, folks in the industry tell them they have to talk to Laubscher.
Since Best Day is a bit newer to the sport, Gunning doesn't have any hard data yet on how many cans they've gotten into hands, but anecdotally, he says while sampling at a pickleball event, "I don't know how many times someone cracked a can in front of me, took a sip, and said, 'Wow, that's a beer!?' They take another sip and say, 'That's really good!'"
Which Gunning said is quickly followed up by, "Where do I buy this?"
Partnering with pickleball has given Best Day, which only launched in early 2022, positive reinforcement that they're heading in the right direction.
At MashCraft, people enjoy the pickleball courts so much that they play outside even in sub-forty degrees during the winter.
And on those seventy- to eighty-degree days? Janik says there are always waits of two to three teams deep, with twenty-four to thirty-two people playing throughout the afternoon and evening.
When looking at his bottom line, Janik says the pickleball courts have brought in more people, led to a higher number of checks, and helped people stay in the taproom longer.
Although, he emphasizes that the best part for him is bringing new people to the game. "The cool part is that I'll have people ask me, 'What is that game?'" he says. "And then a week or two later, they'll show up with their own equipment and try it out!"
What Is the Future of Craft Beer and Pickleball?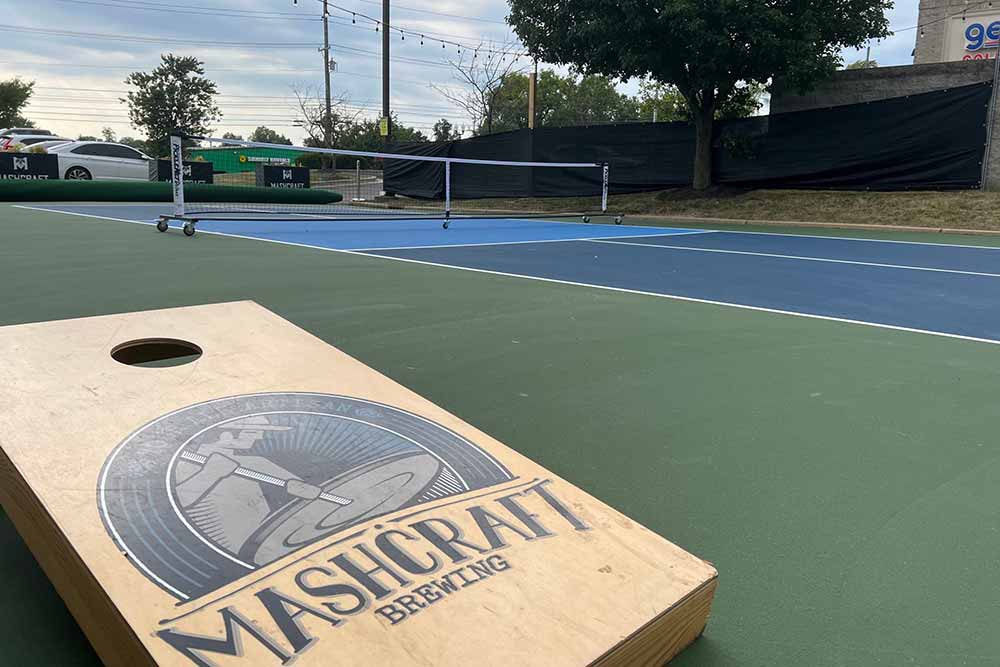 If these past few years showed us anything, we can only expect more.
More dive bars at tournaments, more people starting to play, and more folks enjoying a round of pickleball and beers.
"It's really an interesting time for the sport because the vision and direction we're hearing…are that the sky's the limit," says Gunning.
Janik says that in addition to daily play, MashCraft hopes to host a pickleball exhibition with some professional players or a tournament or two later this year.
For New Belgium, 2023 means even more opportunities. For the brewery, the year will start as the official beer of the US Open in Naples, FL, the pickleball party of the year with up to 15,000 people and professionals coming through.
Next up, they'll be the beer sponsor at the Beer City Open in Grand Rapids, MI. Laubscher said this tournament sold out within twelve minutes last year. "People want to go to this one, so I'm stoked we're there," she says.
With other activations here and there, New Belgium will continue to cement its allegiance to pickleball.
Which seems like an intelligent move considering pickleball's popularity continues to rise.
"Pickleball isn't going anywhere—thirty-five million people play the sport now—we got a lot of people to talk to, we have a lot of fun to have, and a lot of beer to [drink]," says Laubscher.