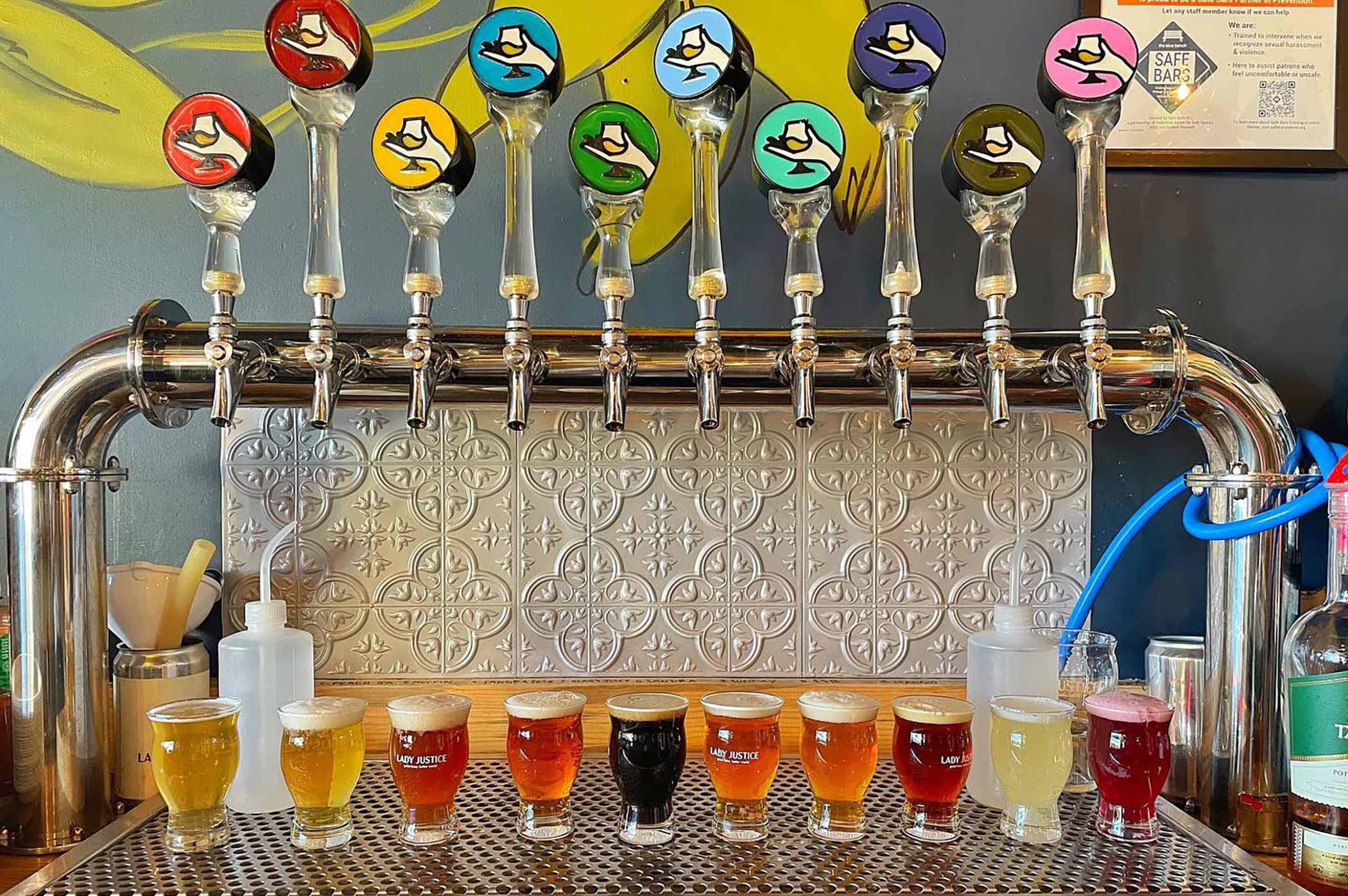 Photography courtesy of @ladyjusticebrewing
Editor's Note:
Find many of these breweries in Hop Culture's new 2023 Queer Beer Box.
Check out more and get the box here!
Updated on April 14, 2023
Inclusion, equality, and justice.
These three words have become a cornerstone for Hop Culture Magazine.
For the past three years, movements around the country have spotlighted racial injustice and police prejudice and acts of aggression against women and minorities. The craft beer industry has been called to action. An industry that has traditionally been predominantly straight, cis-male, and white saw people speaking out about being more inclusive and crafting events supporting equality and breweries showcasing the stories of underrepresented communities, bringing justice and voices to those whom people didn't hear. Our community realized that beer has the power to create change.
For that reason, two years ago, we launched an event called Queer Beer aimed at capturing and telling the narratives of the unique, diverse, vibrant, and colorful voices of the queer community in craft beer.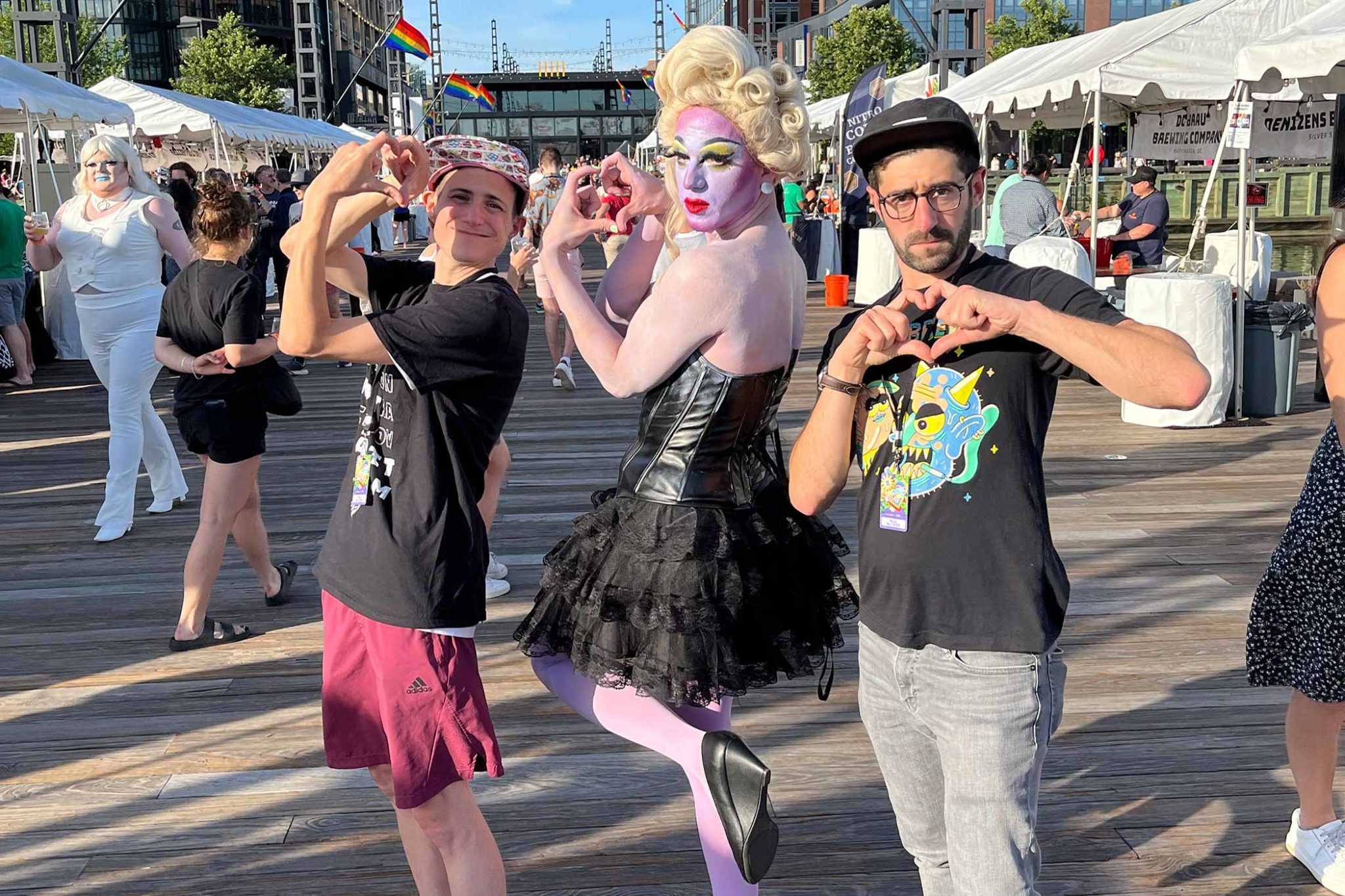 As a cis-woman who identifies as Queer, I can confidently say the sold-out festival attracted the most diverse crowds I've ever seen at a beer festival (and I've been to many a beer festival—this was the 40th alone!). All around me, Queer folx, straight, cis-gender, trans, Black, Brown, women, men, femme-identifying, Latine, and more came together, smiling, enjoying life and a beer.
But even today, we are often reminded that life for the Queer, non-binary, trans community, and more is not all rainbows and unicorns.
On March 31, we celebrated International Transgender Day of Visibility (TDOV), standing with non-binary and trans folx who continue to face overt oppression in this country and beyond. To put this in perspective, this year alone, all but six states have tried to enact some form of anti-trans legislation, introducing more than 435 anti-trans bills.
And mere days after TDOV, Ye Olde Brothers Brewery in Navarre, FL, posted this defamatory transphobic meme on Facebook. Perhaps encouragingly. Reaction from the community came swiftly—one-star reviews poured in on Untappd, and people on Facebook took a stand, saying they would no longer be visiting or giving any business to this brewery. The response has shown collective force against hatred, inequality, and injustice.
But this one bigoted act is a stark reminder that fighting for equality must happen daily. And it needs to happen together.
We've seen a surge of Black, Brown, woman, Queer, Latine, and Indigenous voices urging change, bringing new perspectives, and highlighting BIPOC businesses that deserve recognition.
So now seems like as great a time as ever to remind you how you can support the Queer community, even if it's just through where you choose to spend your dollars and drink a beer.
Below you'll find a shortlist of sixty-two Queer-led and Queer-supporting and Queer breweries you can buy beer (or merch) from and champion right now.
These Queer breweries either have Queer people in prominent leadership positions or are simply putting the work into the community to establish a more diverse, equitable, just, and inclusive space for the Queer community. Everything from making beers that celebrate Pride AND, more importantly, donating proceeds to a specific LGBTQIA+ organization (no just slapping rainbows on cans here and calling yourself an ally) to Queer-supporting breweries such as New Belgium, whose huge strides have made diversity and inclusion a pillar of their organization.
From pioneers such as Samuel Adams, who donated $100,000 to GLAAD, an organization committed to rewriting the script for LGBTQ+ acceptance and that launched Love Conquers All, a Pride platform created in partnership with GLAAD, inspired by Love Conquers Ale, a Blackberry Basil Lime Gose limited release brewed by and for the LGBTQ+ community.
To younger Queer-owned breweries taking charge like Queer-, Indigenous-owned Bow & Arrow Brewing Co. and Queer- and woman-owned and Latina-founded Lady Justice Brewing Co. that donates the proceeds from all of their beers to organizations across the country.
We want to be clear, this list includes breweries that are Queer-owned or have Queer representation in leadership or brewing and production along with Queer-supporting breweries. Those that may not necessarily be Queer-owned, but ones that, through direct action, support the Queer community. Whether by brewing beer that donates proceeds to LGBTQIA+ organizations, creating events such as Pride parties, drag brunches, etc., or other ways.
As a Queer person, I can confidently say that it is just as crucial for our community as for others to have respectful, diligent, and caring allies. Our voices are stronger together. Or, as I like to say, a rising tide lifts all boats.
Be one of those voices, take a stand, drink a beer at or from one of these Queer-owned, Queer-led, or Queer-supporting breweries, and show that you stand together with the Queer community.
62 Queer-Owned, Queer-Led, and Queer-Supporting Breweries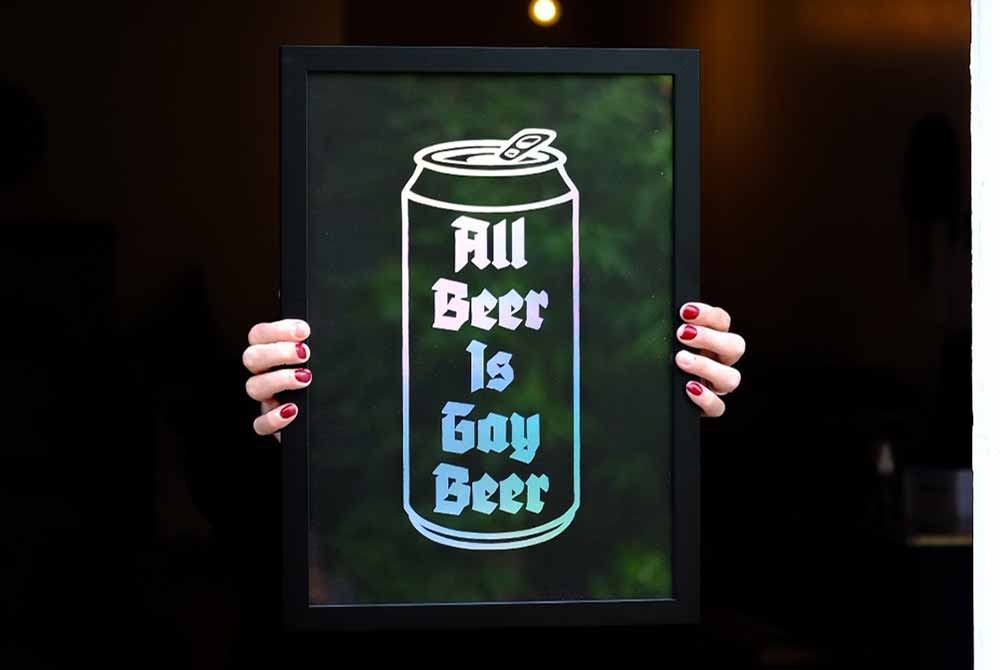 While this list is a great start, we know that there are many more Queer breweries out there, so if we missed your favorite, feel free to reach out and leave your suggestions @hopculturemag
We presented the Queer-owned, Queer-led, and Queer-supporting breweries below in alphabetical order.
Allagash Brewing Company
Portland, ME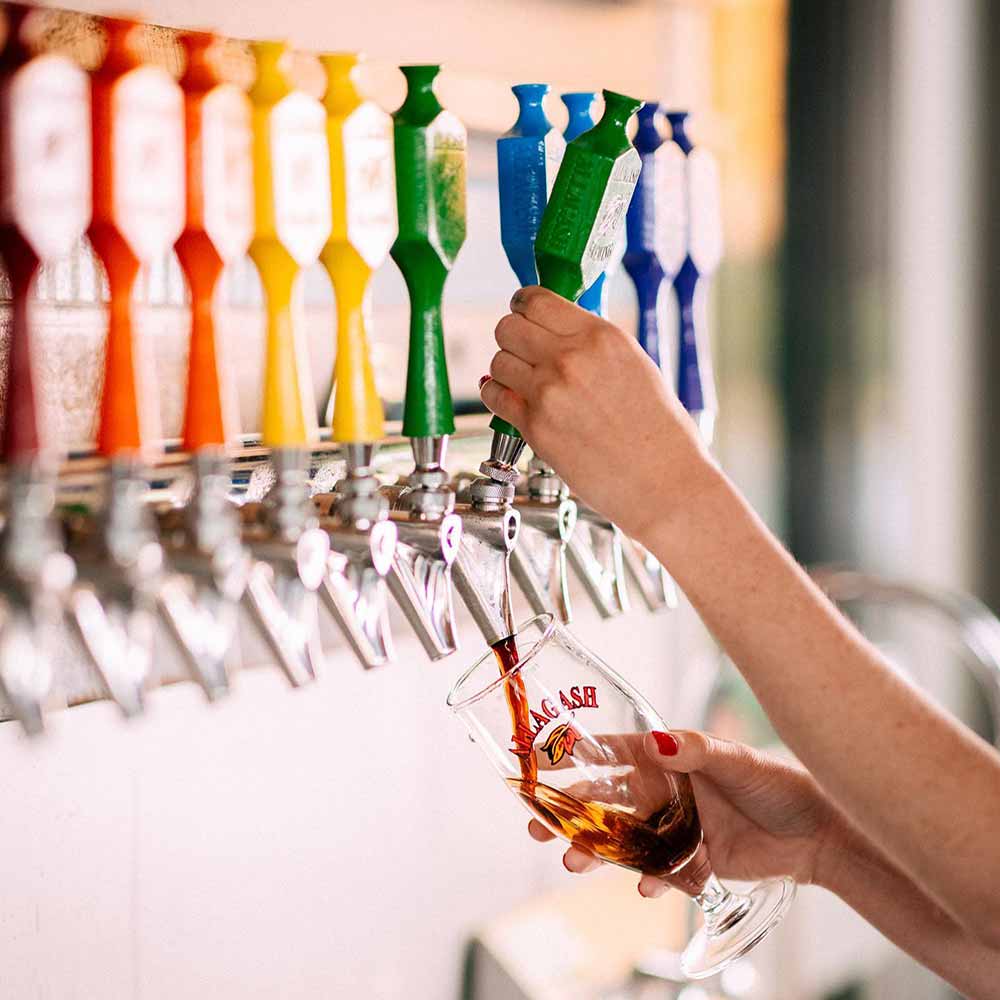 We all know Allagash for its sustainability initiatives and environmentally friendly policies. But the brewery has taken a stance to make its beers and physical locations safe for all, starting with a sign saying "All Are Welcome," including all-gender bathrooms, and recently adding a Together Bench, an installation with local artist Titi de Baccarat representing unity.
A Queer-supporting brewery, Allagash believes heavily in building community, focusing on a pillar of the company they call "Removing Barriers." This includes intentional hiring, community involvement, and leading by example to create a more inclusive workplace.
With strong LGBTQ+ representation on staff in all departments, Allagash has worked with many local LGBTQ+ nonprofits, including Equality Maine, the brewery's most recent Tasting Room Charitable Partner and recipient of its Pride merch proceeds. This past June, Allagash raised over $27k for LGBTQ+ organizations.
Almanac Beer Co.
Alameda, CA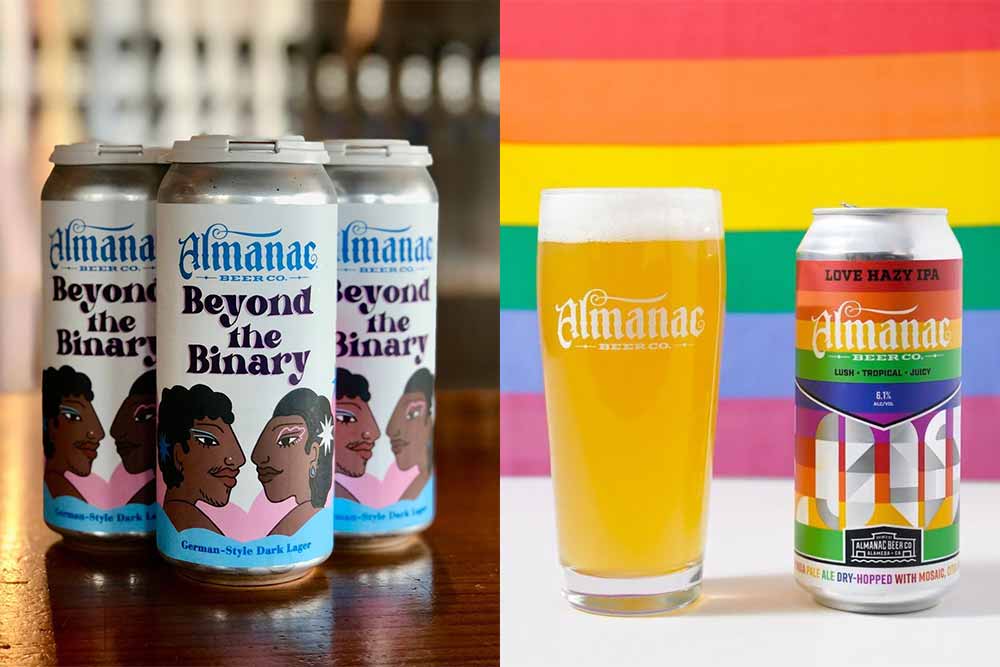 Over the past couple of years, Almanac Beer Co. in Alameda, CA, has shown up in a big way. Although not a Queer-owned brewery, this Northern California tapoom has still found a myriad of ways to supporting the community. Often they've brewed benefit beers with the explicit goal of using the sales from each beer to support organizations "working to create a safe, stronger, more equitable, and just future for our community." Almanac has set a high standard.
One of their beers, Love Hazy IPA: Pride Edition, transforms Almanac's most popular hazy IPA during Pride month into a beer to support the Oakland LGBTQ Community Center, a nonprofit dedicated to enhancing and sustaining the well-being of lesbian, gay, bisexual, transgender, and Queer people through educational-, social-, health-, and wellness-related activities, programs, and services.
And another brewed in December 2021, The Inclusion Beer Project, requires every brewery that brews one to commit to forming a Diversity, Equity, and Inclusion committee within their brewery. "We believe that by having consistent, tough conversations about diversity, equity, and inclusion in the workplace, the culture of the industry can change one brewery at a time," wrote Almanac in an Instagram post.
Last year, Almanac brewed a beer called Beyond the Binary. A German-style dark lager brewed by trans and gender-nonconforming beer professionals in celebration and support of the National Center For Transgender Equality, Beyond the Binary made our list of The 20 Best Beers to Drink in Summer 2022.
And the Alameda, CA-based brewery joined Hop Culture at Queer Beer in Washington, D.C., in 2022.
ANXO Cidery
Washington, D.C.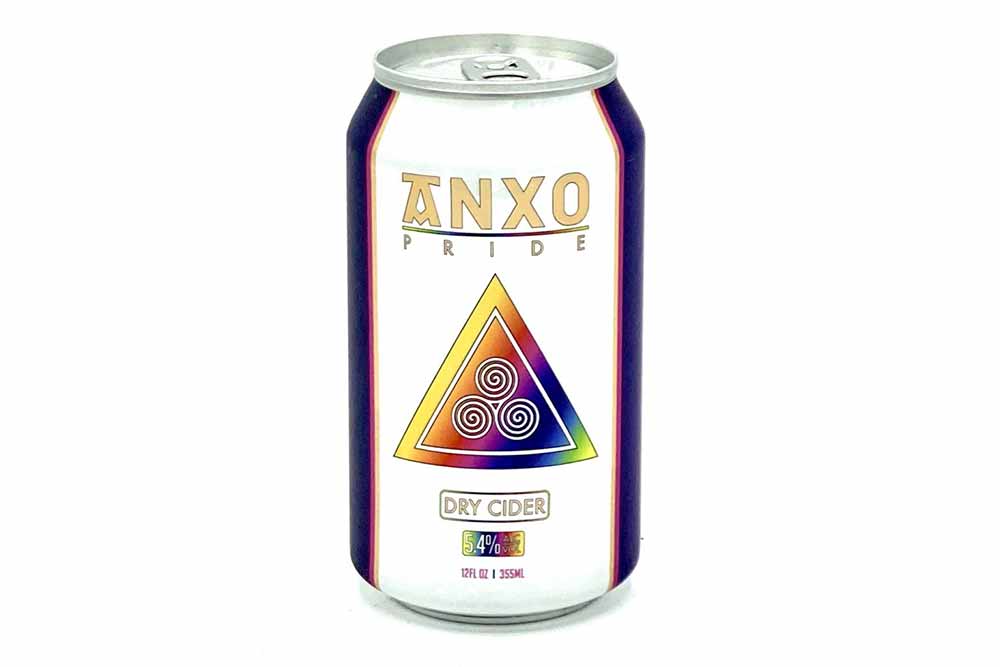 A Queer Beer veteran, ANXO is one of the few cideries we know of that has actively participated in the Queer community. The past couple of Junes to celebrate Pride month, the D.C.-based cidery partnered with nonprofit Casa Ruby, an organization run by transgender women of color with the vision to "create a world where transgender, genderqueer, and gender non-conforming people can pursue their dreams."
ANXO transformed its flagship Cidre Blanc into special-edition Pride cans, donating $1 from the sale of each 4-pack along with a standalone $800 donation that came directly from the cidery. Sporting an ombre rainbow hue, the limited-edition can celebrates Queer culture but, most importantly, puts money back into the community to create a better world for all.
We haven't heard anything about this year's edition, but we'll stay tuned for if and when ANXO drops those details.
Awkward Brewing
Fayetteville, GA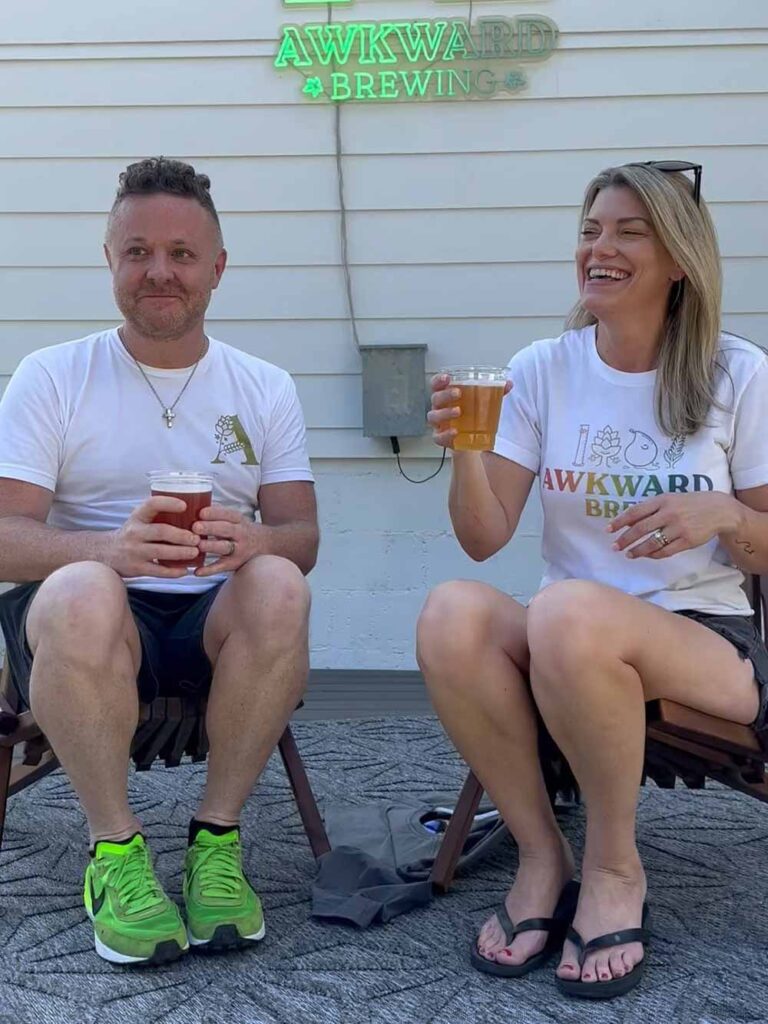 Awkward Brewing's Taproom Manager, Harry Stanley, who openly identifies as gay, told us the brewery celebrates Pride all year round. He also says Awkward Co-Owners Amanda and Andrew Poliak constantly support him and the Queer community, creating merchandise and beers named to be inclusive.
For instance, Bicentennial Curious Beer, a beer brewed for Fayetteville, GA's 200th birthday, which also happened to coincide with Pride month this past June. So Awkward Brewing took the opportunity to nod to the Queer community with the name, and thanks to an addition of double the Centennial hops in this pilsner (get it?).
Backward Flag Brewing Co.
Forked River, NJ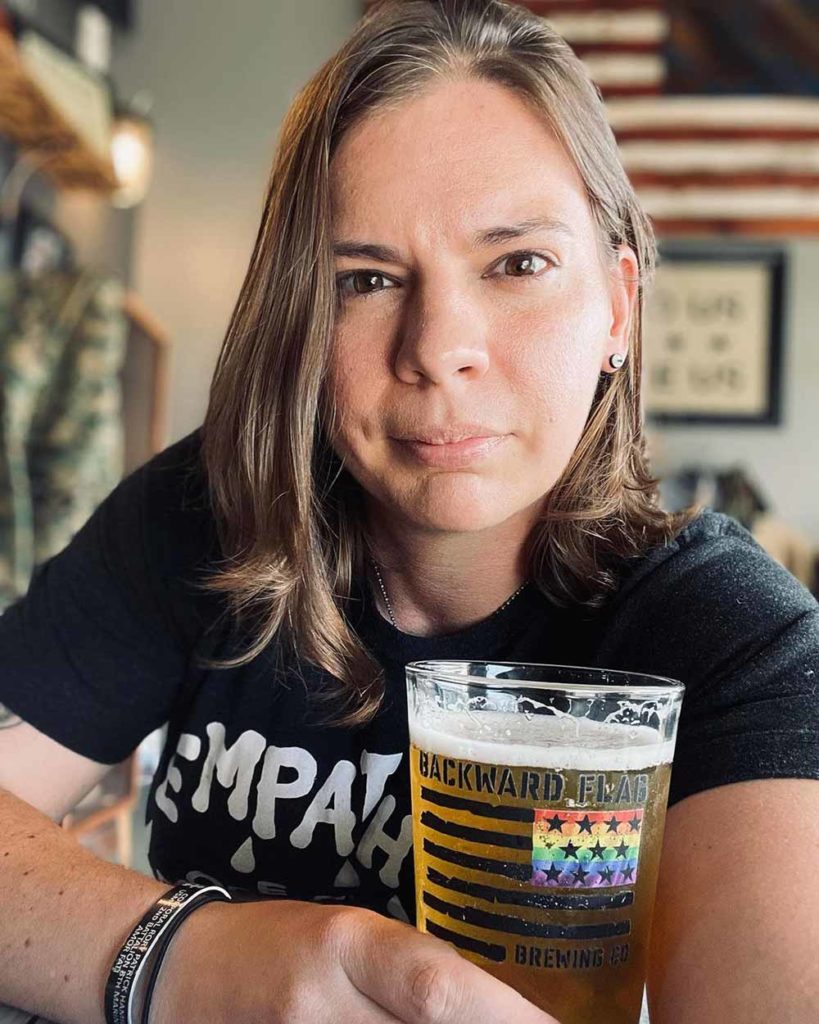 A Queer-, woman- and Veteran-owned brewery in South Jersey, Backward Flag works hard to raise awareness about veteran's issues…and make terrific beer. Try the Forward Assault Series: Something's Missing IPA, with 100% of sales donated to Veteran-focused mental health charities. Or the flagship Oak Armored Ale, a crisp pale conditioned on toasted American oak.
Backward Flag is an amazing example of a Queer-owned brewery fighting for equality for all.
Big Rip Brewing Company
North Kansas City, MO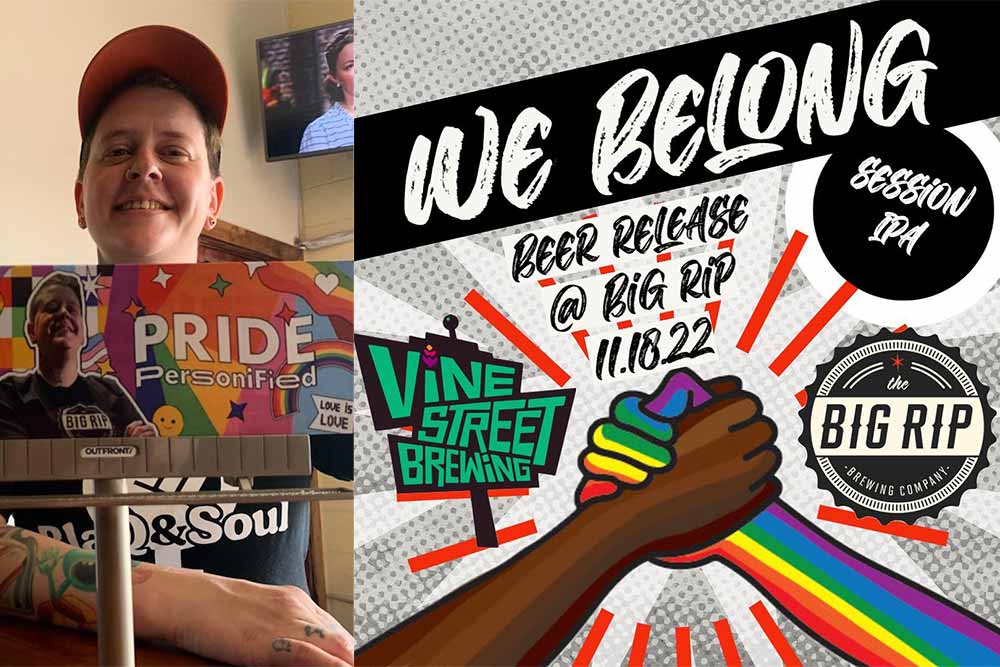 Big Rip Head brewer and Co-Owner Bri Burrows, who identifies as a Queer woman, didn't find it easy to break into beer. In a predominantly straight, white, cis-male industry, Burrows found that she was often overlooked or ignored. But she persevered, working her way up from assistant brewer to head brewer at Big Rip, eventually becoming part owner of the brewery in January 2020.
At this fantastic Queer-owned brewery, Burrows finds ways to support the Queer community, whether hanging a Pride flag in the taproom to make people feel safer and more welcome or working with local Queer-, female-, or BIPOC-owned businesses.
Back in November 2022, Big Rip combined forces with BIPOC-owned Vine Street Brewing (which will open its own brick-and-mortar this year) to brew We Belong, a session NEIPA supporting the black and LGBTQIA+ community in Kansas City's beer community.
Bosk Brew Works
Woodinville, WA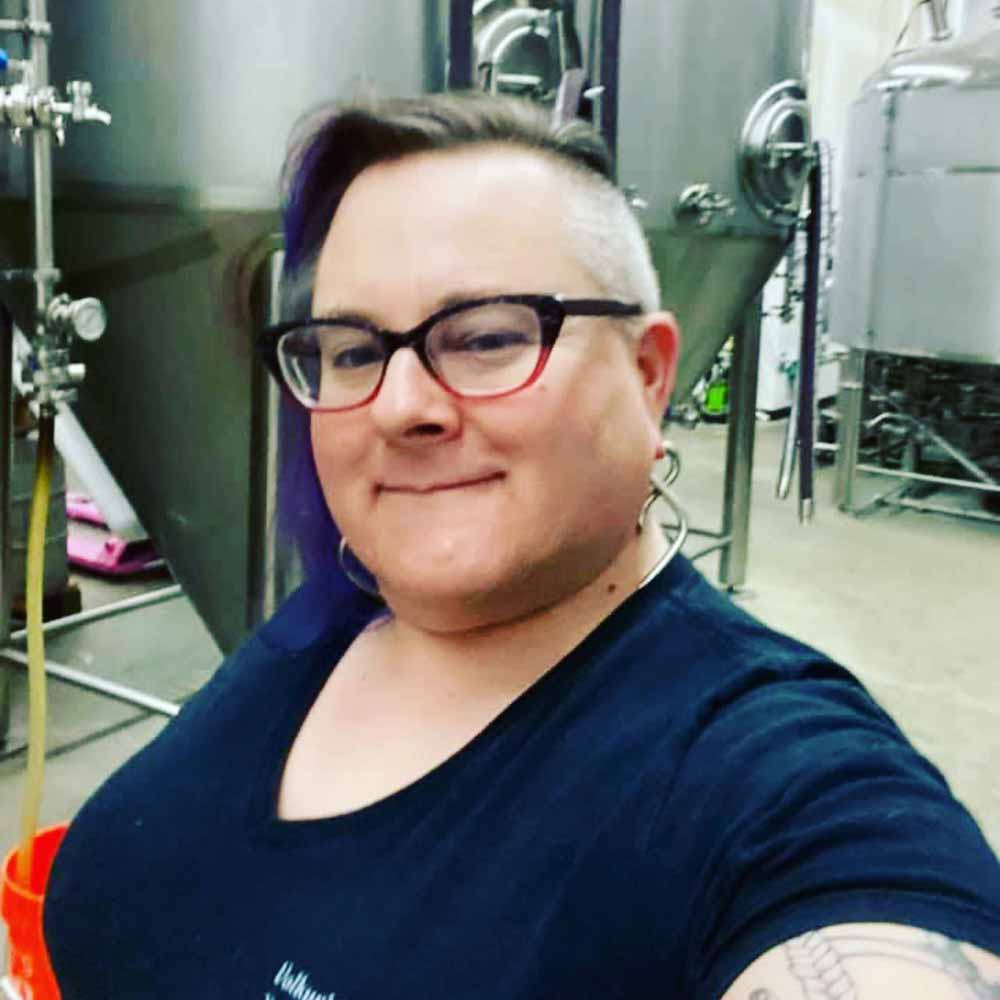 Every year Good Beer Hunting names people to its list of Signifiers, aka people who are making the beer world better. In 2021, Bosk Brew Works Head Brewster Rachael Engel (she/her) made the list for her work advocating for equality in beer. Trans and proud, Engel has unfailingly and selflessly been a voice for the Queer and trans community in craft beer. Often sharing her experiences on Facebook and Twitter, Engel has become a voice for the silent, confidently showing that everyone has a place working in and enjoying craft beer.
We were also honored that Bosk Brew Works joined us at Queer Beer last year.
Bow & Arrow Brewing Co.
Albuquerque, NM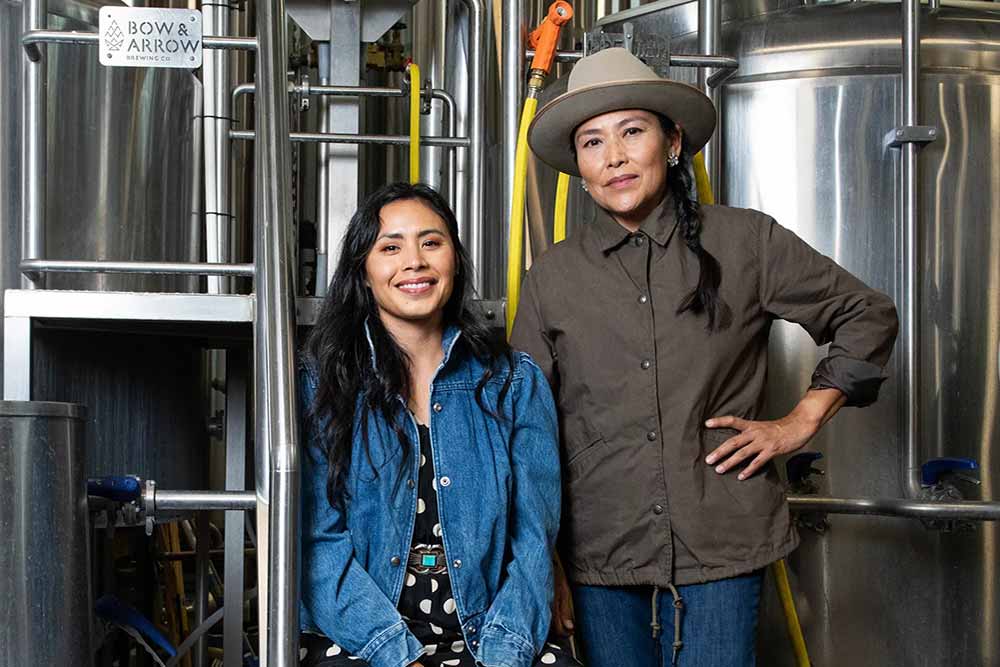 Partners in business and life, Shyla Sheppard and her wife, Missy Begay, opened their Native-, women-, and Queer-owned brewery in New Mexico to incorporate ingredients and culture from their Native American heritage. Born and raised on the Fort Berthold Reservation in North Dakota, Sheppard is a member of the Three Affiliated Tribes, while Begay is the granddaughter of Navajo silversmiths and weavers. Together this dynamic duo weaves delicate threads of Native American customs and legacy combined with a vision for the future across their entire brewery.
The beauty of this synergy explodes in the can with beers like Native Land, a project designed to increase awareness about ancestral Native land and raise funds for current Native communities and organizations.
Or Denim Tux American Pilsner inspired by the classic symbol of the American West and made with premium New Mexican blue corn.
For all the above reasons, we think Bow & Arrow is one of the most amazing Queer-owned breweries in the country and one of the participants in our 2023 Queer Beer Box.
Brooklyn Brewery
Brooklyn, NY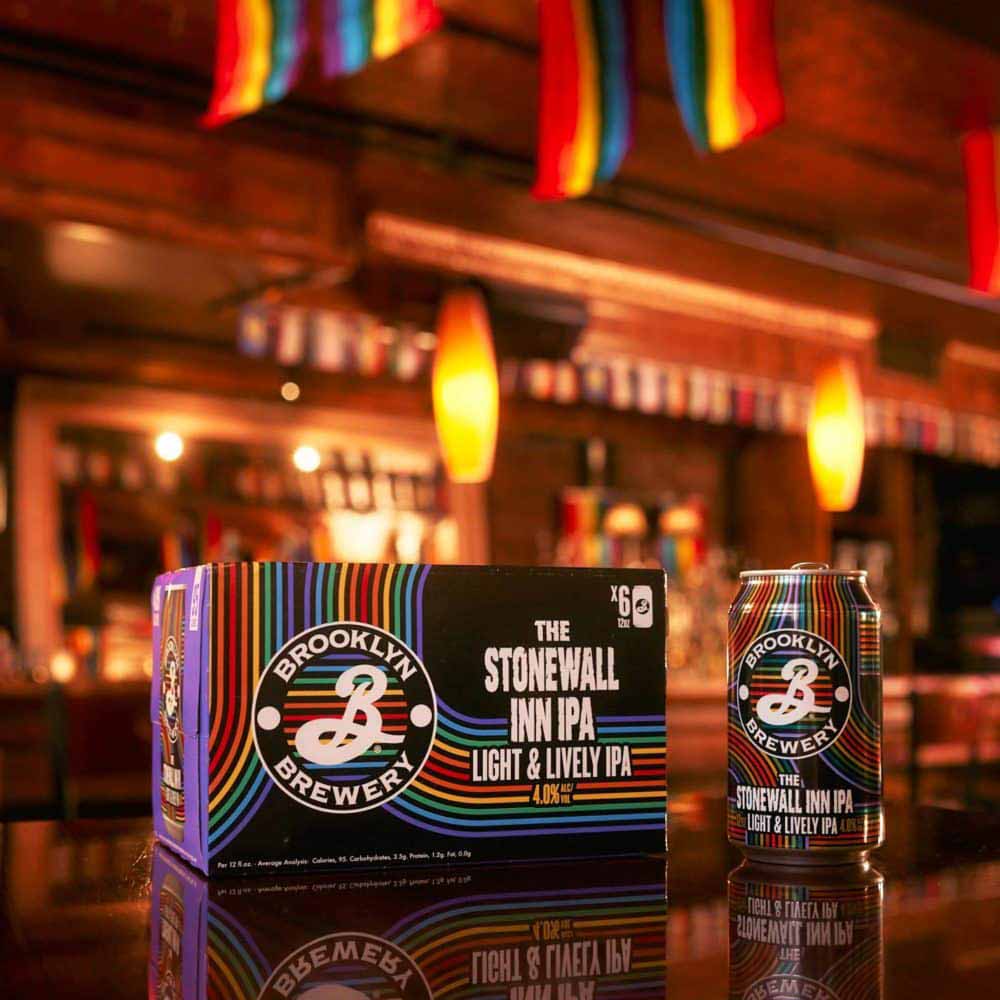 A revered gay bar in Greenwich Village in New York City, The Stonewall Inn is the site of the historic Stonewall Inn Riots, six days of protests and riots in response to New York City police raiding the bar. Often recognized as igniting the gay rights movement in the United States and worldwide, the Stonewall Uprising and The Stonewall Inn have become integral to Queer history and the Queer community.
In 2016 The Stonewall Inn reached out to Brooklyn Brewery to see if they'd be interested in collaborating on a beer for the announcement and launch of The Stonewall Inn Gives Back Initiative (SIGBI), whose mission is to bring critically needed education and financial assistance to grassroots organizations providing advocacy, guidance, and shelter to LGBTQ+ youth in primarily rural and underserved communities throughout the United States and abroad. Brooklyn Brewery immediately said yes. Brooklyn Brewery first released The Stonewall Inn IPA on draft during Pride Month in June 2017.
On its website, Brooklyn Brewery describes The Stonewall Inn IPA as "a fearless IPA for all. With unabashed notes of citrus peel and grapefruit, the unapologetic and refreshing IPA reminds us of where we've been and celebrates where we're going. The Stonewall Inn IPA is a beer for everyone, no exceptions."
In 2021, Brooklyn Brewery launched "CREATE SPACE,"a global platform dedicated to amplifying the voices of LGBTQIA+ activists continuing to fight for equity worldwide.
Each year Brooklyn Brewery brews The Stonewall Inn IPA to support SIGBI and the LGBTQ+ community. And, aside from their annual donation and direct support for SIGBI through their Stonewall Inn IPA, Brooklyn Brewery is implementing fundraising efforts, directing more donations to LGBTQ+ causes, and creating a more inclusive and welcoming environment for LGBTQ+ people in the craft beer industry.
Burns Family Artisan Ales
Denver, CO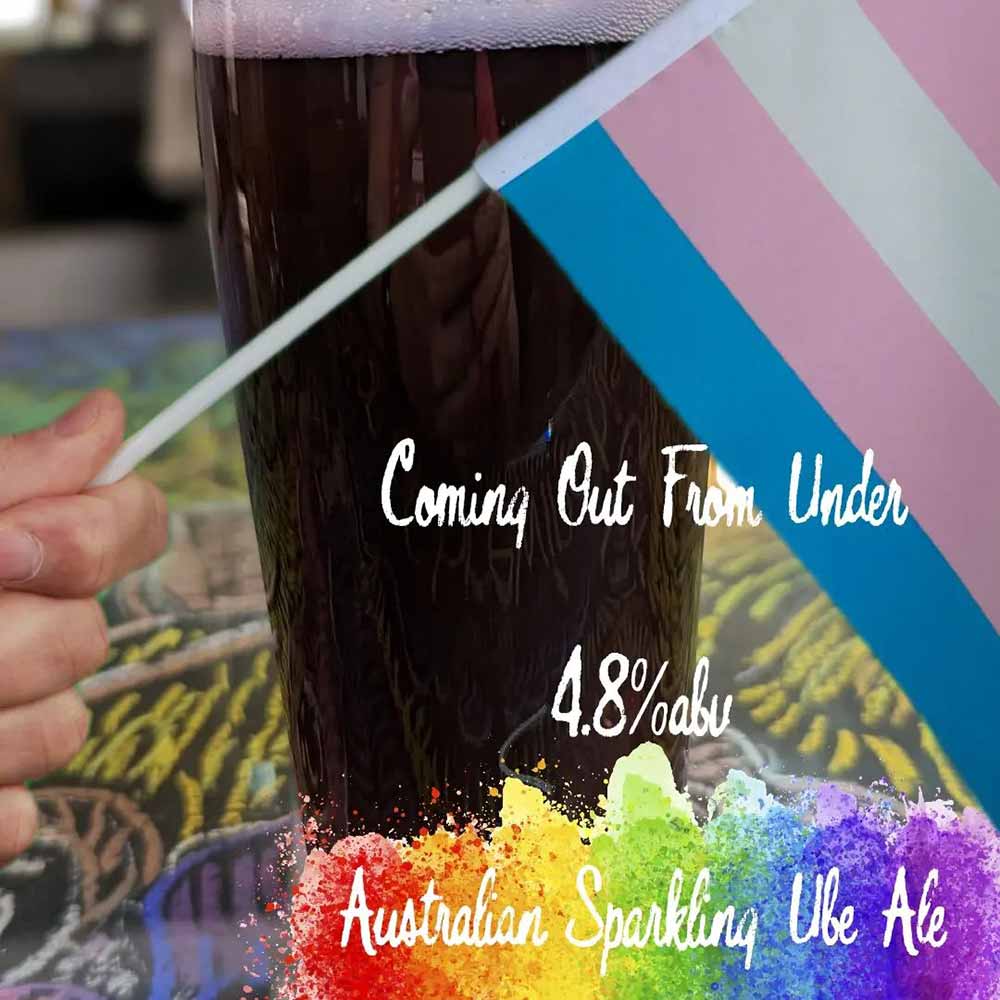 Since Burns Family Artisan Ales Co-Owners and Partners Laura Worley and Wayne Burns have two Queer-identifying kids along with Queer staff, creating an inclusive, safe space is top of mind at the brewery. Additionally, Burns Family Artisan Ales brews Pride beers and creates merch that raises funds for LGBTQIA organizations and collaborates with Denver Beer Queers on Pride events.
For instance, this past June, the brewery hosted a Rainbow Brite Pride Party with proceeds going to The Center on Colfax.
And brewed a beer called Coming Out From Under, an Australian sparkling ube ale "designed for you to love freely," wrote the brewery in its Instagram post. Burns Family Artisan Ales donated proceeds from the sales of the beer to the Transgender Center of the Rockies.
Buoy Beer
Astoria, OR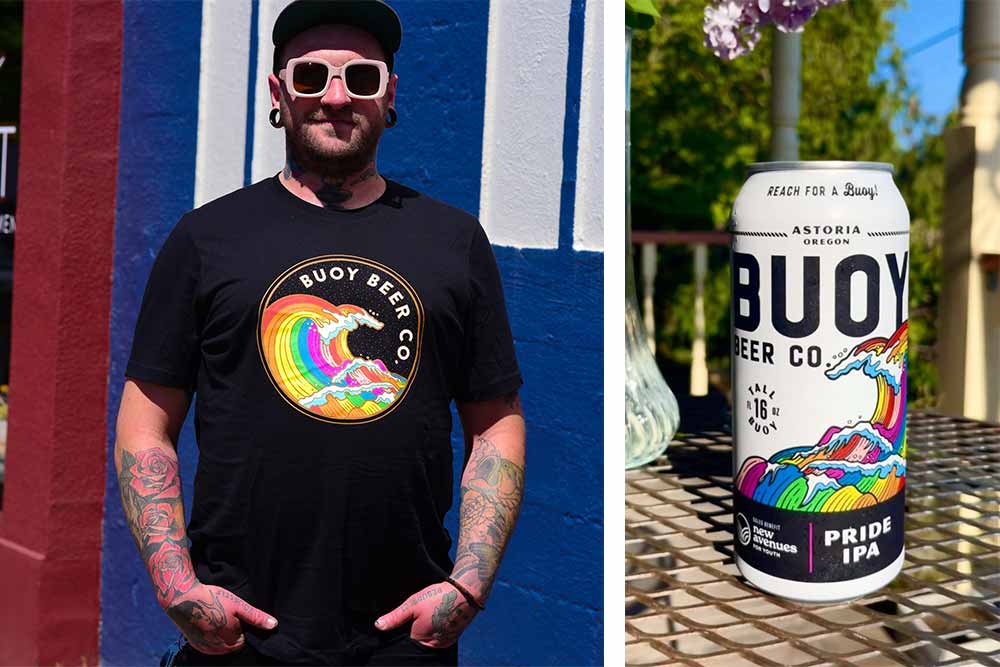 Since 2017, Buoy Beer has celebrated the Queer community a little differently. For the last six years, this Astoria-based brewery created a unique Pride Tee, released each June with all proceeds benefitting The Lower Columbia Q Center, which provides a welcoming space and support services to the LGBTQIA+ community in the Lower Columbia Region.
Additionally, this year, for the first time, Buoy brewed a Pride IPA to complement its already established merch program. The West Coast IPA raised funds for New Avenues For Youth, an organization providing services to celebrate and support Queer and trans youth at risk of homelessness.
"Buoy team members who also identify as members of the LGTBQIA2S+ community were invited, if comfortable, to lead the way in the development of this Pride IPA," says Amy Still, Buoy's Quality Assurance Lead in a press release. "This included discussing its can art and design, media surrounding it, and how to use the proceeds. This involvement, as well as sales from the beer benefiting a local organization supporting queer youth, is a step in the right direction for diversity and inclusion to grow and prosper at Buoy and within our community."
But perhaps, Buoy proved its true allyship when Hop Culture Senior Content Editor, Grace Weitz reached out earlier this year to ask for assistance. Hop Culture's Queer Beer Box partner Meals On Us PDX, a Queer-, BIPOC-owned organization providing free chef-cooked meals to trans folx who recently had gender-affirming surgery, posted a plea on Instagram.
Two brewery partners that previously committed to providing beer to their Gender ReMeal company fundraiser pulled out last minute when they found out the event supported trans folx.
Weitz knew of Buoy's support of the Queer community, so she reached out to see if the brewery could connect with Meals On Us PDX to potentially provide beer.
Incredibly, Buoy Beer Marketing Manager Jessyka Dart-Mclean responded within three minutes (!), writing "Donating beer is my favorite thing to do. Yes please, connect us!"
It's one thing to post on Instagram on June 1st expressing your support for the Queer community, it's another to brew a Pride beer that donates proceeds to a Queer organization, but it's on a whole other level to rise to a call to action without hesitation.
Buoy Beer's actions speaks so much louder than its words. This brewery has earned Hop Culture's trust as one of the top Queer-supporting breweries in the country.
Cerebral Brewing
Denver, CO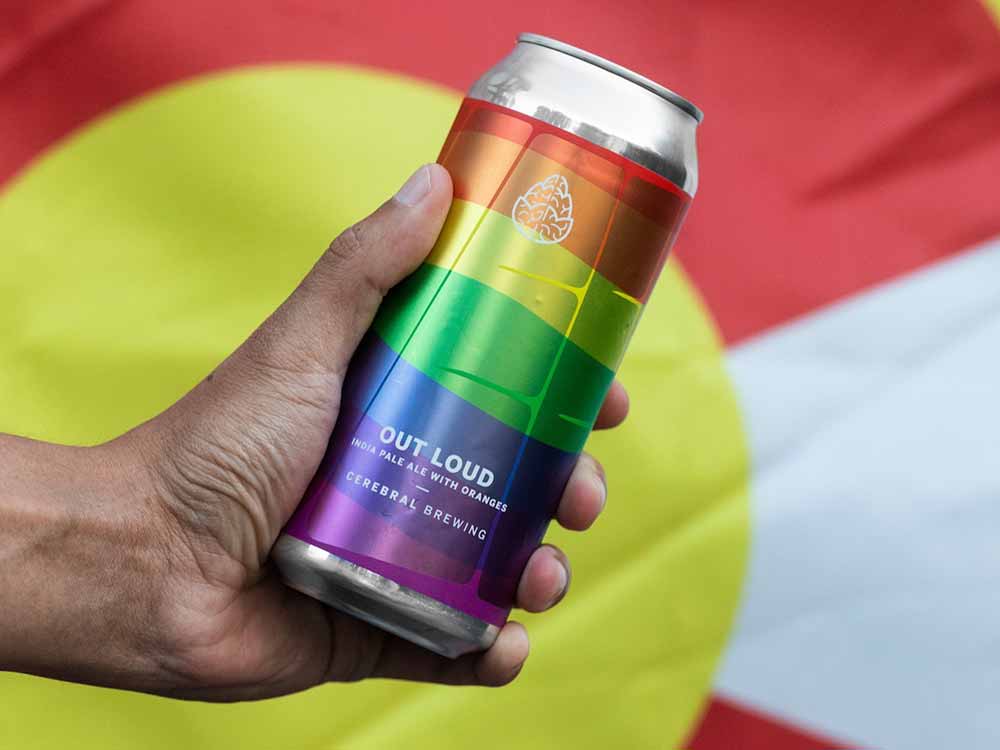 Director of Operations Anne Abrahamson has proudly represented as a gay female on the Cerebral Brewing leadership team since joining the brewery four years ago. Abrahamson has directed many of the brewery's DEI efforts on the Queer community including launching a Pride beer called Out Loud that benefitted the Transformative Freedom Fund, an annual Pride Kick-Off Party, and a monthly "Queer Beers" event where "we celebrate the value of Queer space and give back to a rotating local LBGTQ+ organization," Abrahamson wrote to me in a email. Cerebral is the perfect example of how breweries can support the Queer community for 365 days out of the year and not just in June.
And this year, Cerebral joined Hop Culture in its new Queer Beer Box with its incredible IPA—Rare Trait.
City-State Brewing
Washington, D.C.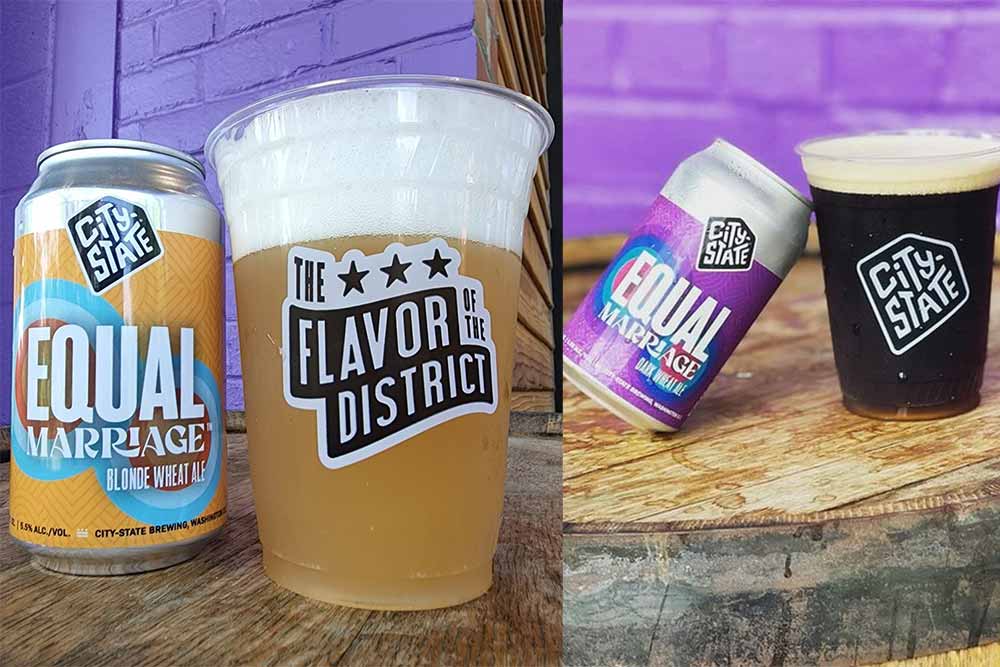 A Queer-owned brewery with a strong core of Queer owners and investors, City-State Brewing offers a Pride beer all year round. Supporting the Queer community in craft beer and beyond takes work 365 days out of the year, not just in June, so it's even more important to see a brewery like City-State spreading that ethos.
Equal Marriage celebrates how "the District has pioneered marriage equality across race, gender, and religion," writes the brewery on its website.
City-State brews a couple of different versions of this beer, including a blonde wheat and a dark wheat. And while both beers are delicious, for us, it is all about what the liquid represents.
Find Equal Marriage blonde wheat in our 2023 Queer Beer Box.
CraftRoots Brewing
Milford, MA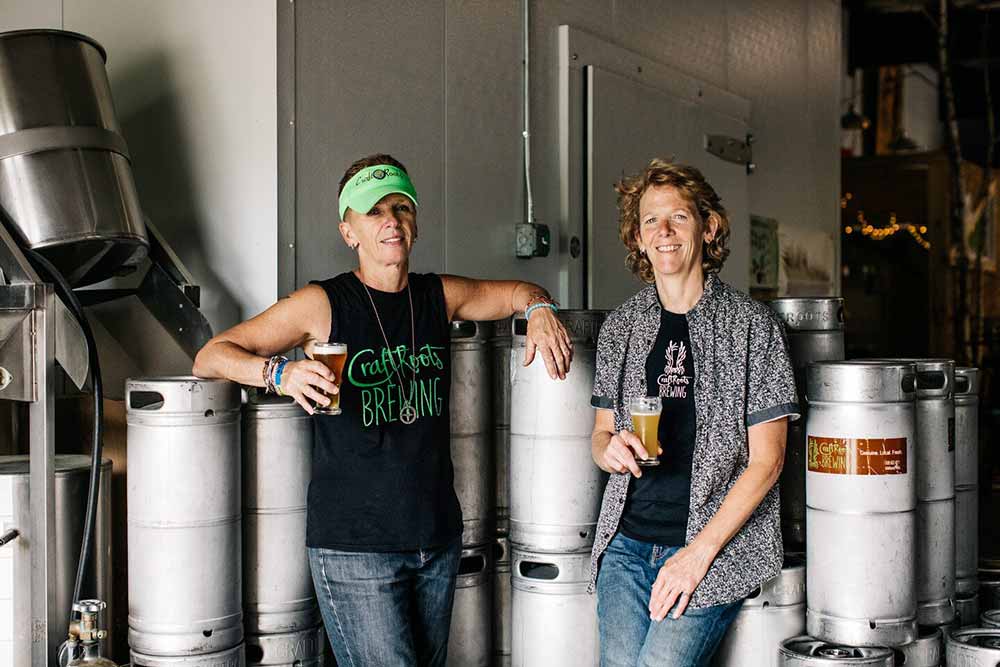 In 2021, Maureen Fabry, co-founder of CraftRoots Brewing in Milford, MA, joined us during our inaugural Queer Beer for a discussion on How to be an LGBTQ Leader in Craft Beer presented by Samual Adams. That should tell you all about how important Fabry and her wife, Robin Fabry, have been in the craft beer community.
Maureen and Robin opened CraftRoots in 2015. Then, and even now, the brewery is one of only a handful of Queer- and woman-owned breweries in the state. At CraftRoots' taproom, the goal is to make people feel comfortable drinking beer no matter how they identify. And while Queer representation may remain small in the industry, folks like Maureen and Robin are setting the standard for equality and inclusion.
DC Brau
Washington, D.C.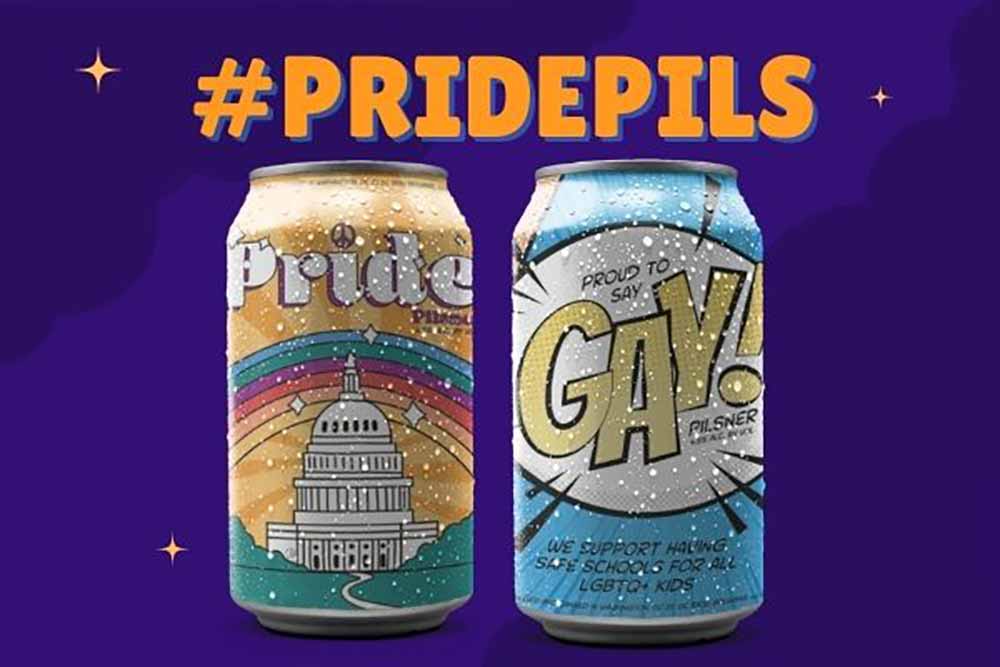 The country's capital has become a powerhouse for Queer-owned and Queer-allied breweries. Every June, the D.C.-based brewery rebrands its flagship Brau Pils to Pride Pils, collaborating with the Washington Blade, America's oldest LGBTQ newspaper that originated just a few months after the infamous Stonewall riots in 1969. All proceeds from the sale of the limited-edition beer benefit SMYAL, the Sexual Minority Youth Assistance League, and The Blade Foundation, which funds enterprise journalism projects focused on LGBTQ+ and other underrepresented communities. Since 2017, the Pride Pils Project has sold over 81k cans and raised over $42,000 for these organizations.
Last year, DC Brau held a contest asking fans to decide on the winning can design and joined us at Queer Beer in their home city.
We haven't heard anything yet on this year's Pride cans, but we'll keep our eyes peeled on DC Brau's IG for more soon.
Denizens Brewing Co.
Silver Spring, MD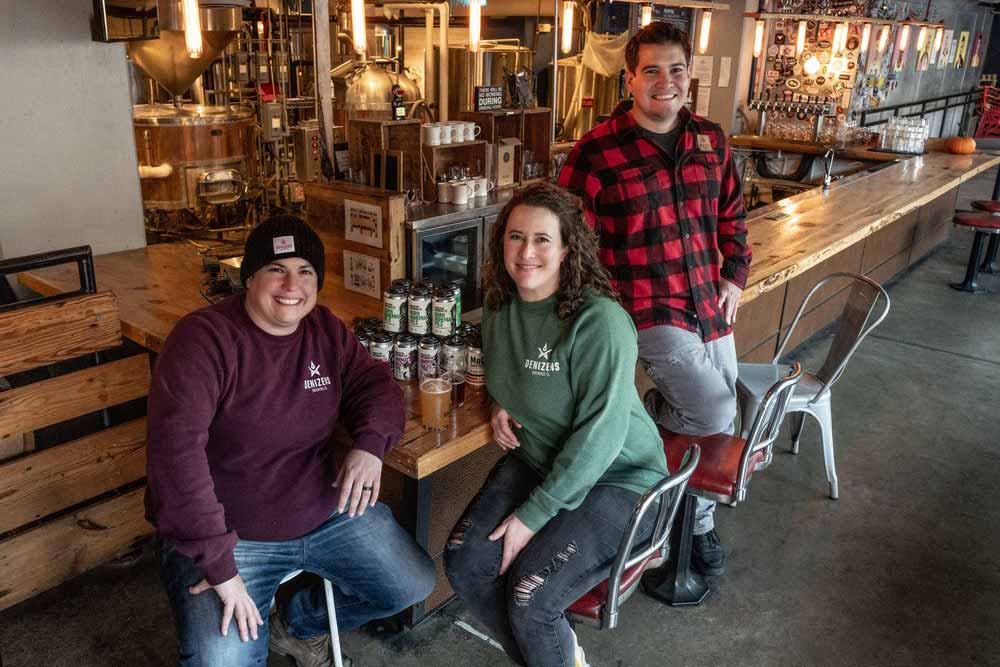 Since 2014, after co-founding Denizens in Silver Spring, MD, wife-and-wife team Julie Veratti and Emily Bruno have been consistent advocates and voices for the Queer community in the craft beer industry. As one of Maryland's only women- and minority-owned-and-operated breweries, Denizens focuses as much on community organizing as on their crisp lagers, hoppy IPAs, and barrel-aged stouts.
The idea behind the brewery is to be a gathering place for all, often hosting craft fairs, trivia, live music, a running club, and drag shows.
And the brewery has often given back to specific LGBTQ+ organizations such as the Human Rights Campaign, the Sexual Minority Youth Assistance League, and the MoCo Pride Center.
Outside the brewery, Veratti served as chair of the Brewers Association's Diversity Committee and received a presidential appointment to the U.S. Small Business Administration.
In October 2020, Veratti joined us during our Women in Beer Leadership Roundtable during Hop Culture's women in craft beer festival, Beers With(out) Beards.
And Veratti joined us in Washington, D.C., last year for our first in-person Queer Beer festival and will once again be participating in this year's Queer Beer Box!
Dorchester Brewing Company
Boston, MA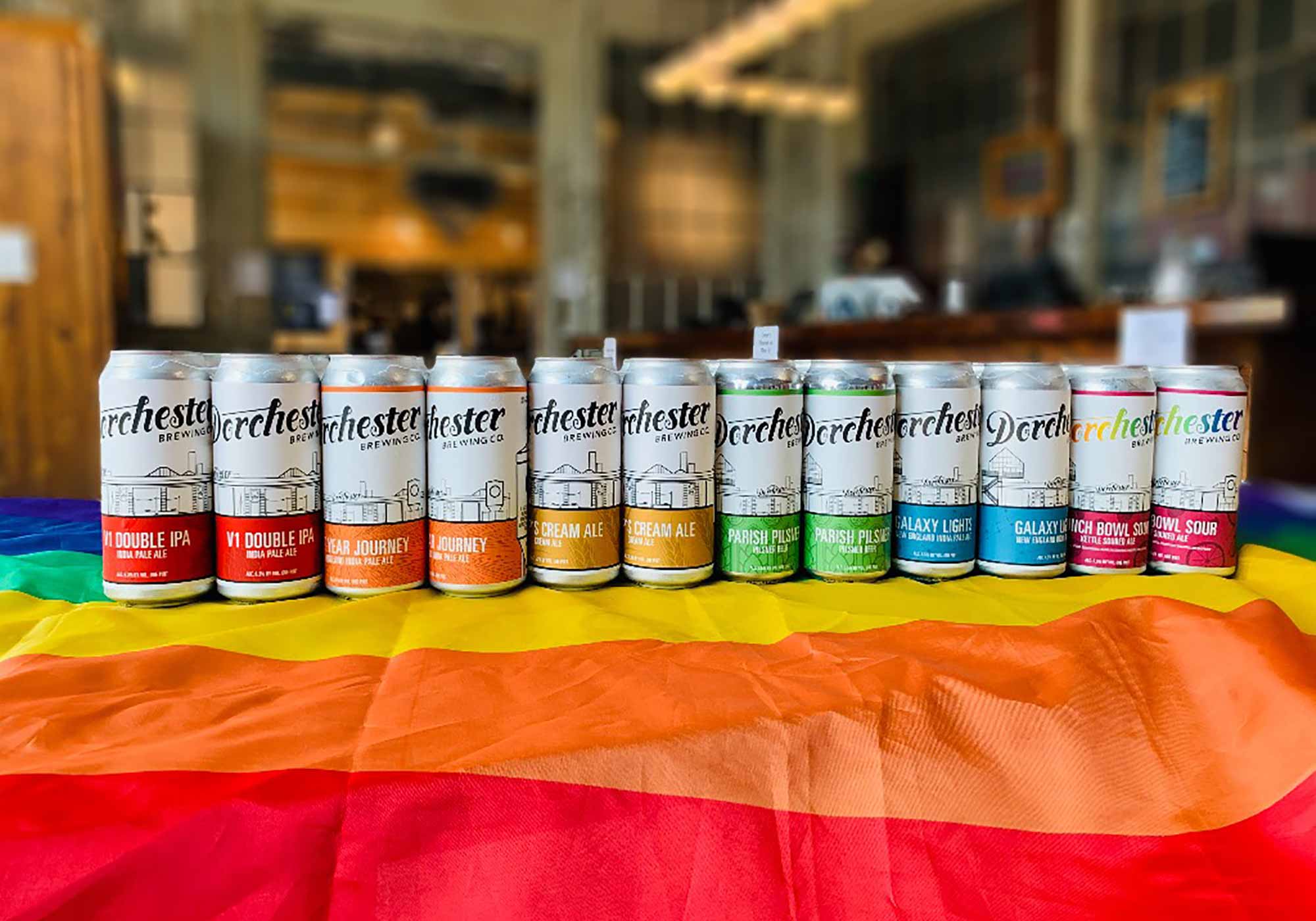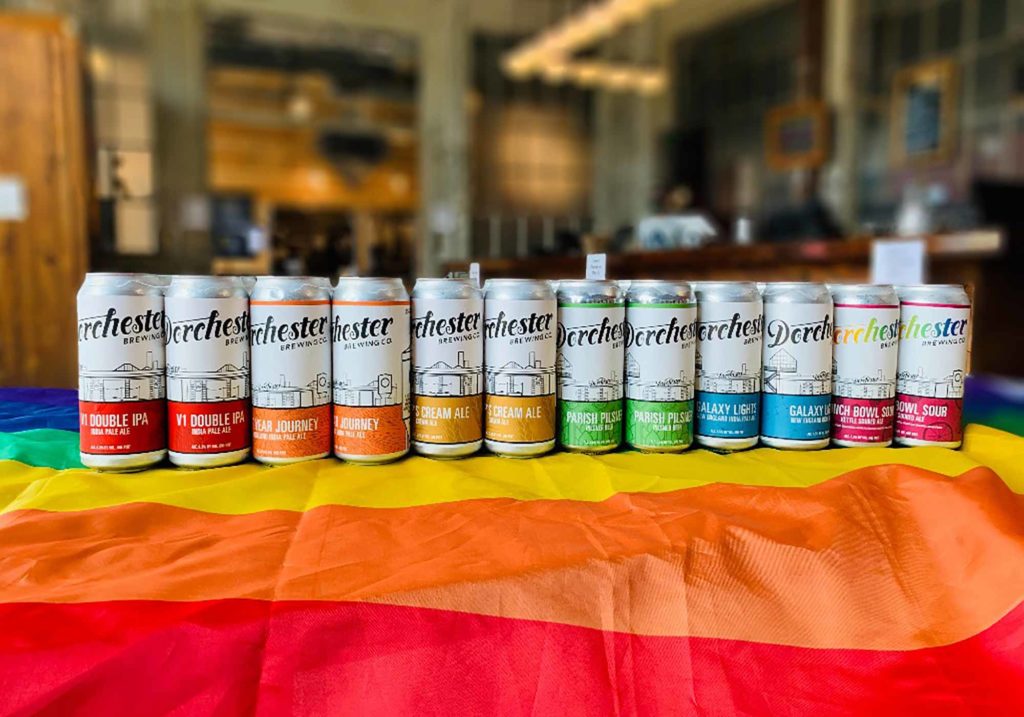 Massachusetts' gayest brewery makes damn good beer. Cool, modern, and relaxed, Dorchester Brewing has become a pillar of the sprawling Dorchester community since opening in 2016. Co-founder Matt Malloy and his husband moved there after leaving their South End home in 2006; like many other LGBTQ Bostonians, he craved the diversity for which the South End was once known. "Dorchester has been nothing but wonderful," Malloy says. "It's truly a community for everyone, not just black, white, but straight, gay."
Although many people look at him strangely when he says he lives in Dorchester (it was once considered uniquely dangerous compared to other areas of Boston), diversity and inclusivity make it an attractive place to put down roots.
"Beer and community are really the same things," Malloy says. "You don't just build a brewery to make great beer, but to serve a community and make people happy."
Malloy and the Dorchester Brewing Company (DBCo) crew take their responsibility seriously. DBCo serves the same gathering function as gay bars, which have slowly been disappearing from places where once they were cornerstones, leaving Queer people in short supply of spaces to call their own.
That means hosting gay-oriented events (like Bears, Brews, & Boys) and participating in citywide events (like the Boston Pride Parade, which awarded DBCo Best Float in 2019). Additionally, the brewery works with Boston BAGLY, the Boston Alliance of Gay and Lesbian Youth.
DBCo is the Queer-owned community space in Dorchester. And that's exactly what Malloy has been trying to achieve.
Dyke Beer
New York
Started by grassroots activists Loretta Andro Chung and Sarah Hallonquist, Dyke Beer "honors and celebrates LGBTQIA+ spaces and history." Dyke Beer started when Andro Chung and Hallonquist saw a lack of good craft beer in lesbian bars. They thought they could create one.
"People could grab a Dyke Beer to go and bring home some solidarity with them," Dyke Beer writes on its website. "Dyke Beer says, 'You exist, and you are important.'" Beerwise, you'll find each release supporting the community in myriad ways.
For example, most recently, Dyke Beer dropped Out Stout and participated in Have a Beer in NYC, a city-wide collab beer to raise awareness around and support reproductive rights in the NYC beer community.
Beyond the beer, Dyke Beer hosts events around NYC, including Queer brunches, battle of the bands, festivals, film screenings, and more.
Earthbound Brewing
St. Louis, MO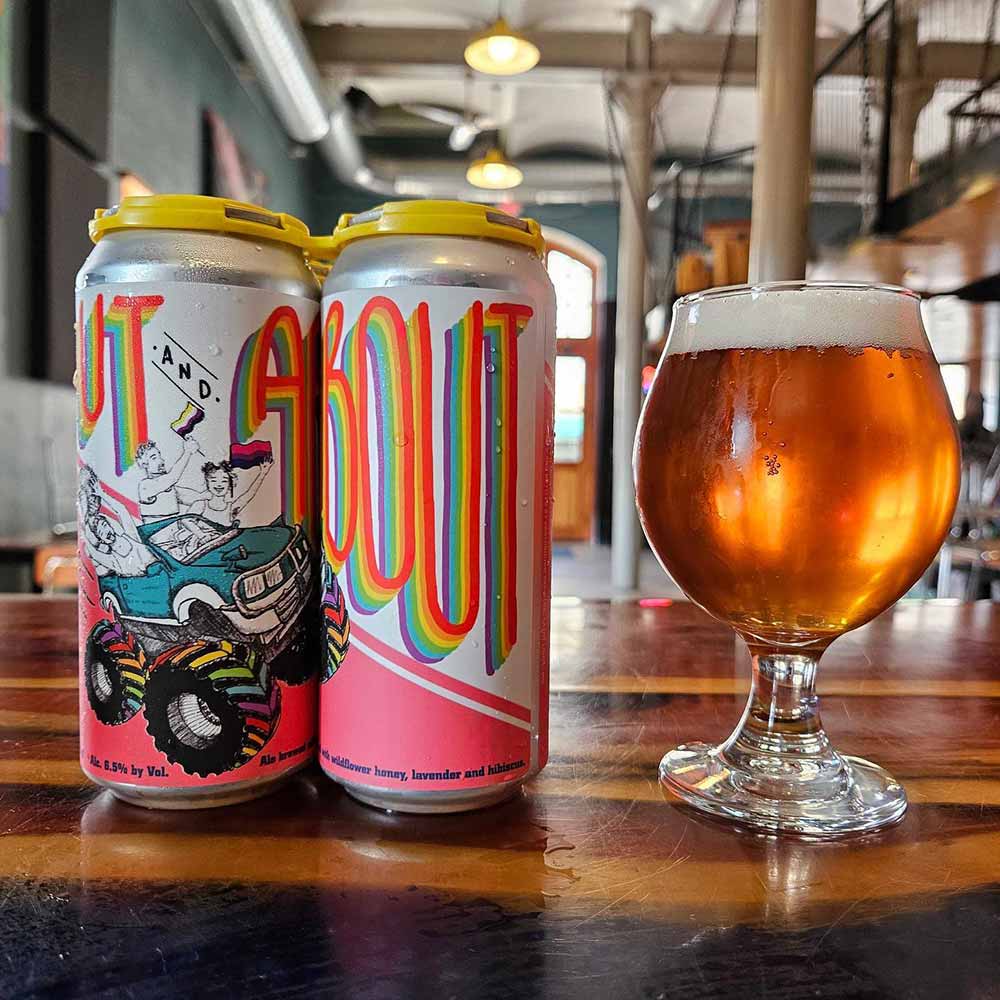 Earthbound Brewing Head Brewer Danielle Snowden, who identifies as Queer, started at the St. Louis-based brewery as a weekend bartender in 2017. Over the years, Snowden worked her way up to head brewer, a position she earned last year.
Snowden's Queer perspective influences her brewing and the brewery's initiatives. Every year for Pride month in St. Louis, Snowden brews an Out and About braggot, donating a portion of the proceeds to local LGBTQIA+ organizations such as the Metro Trans Umbrella Group.
To make its taproom a safe space for all, Earthbound hosts happy hour fundraisers for local Queer-supporting organizations such as Missouri Abortion Fund, Planned Parenthood, PROMO, Missouri's statewide LGBTQ+ advocacy organization, and SQSH, peer support helping Queer-identifying folks in St. Louis, among others.
Perhaps, most inspiringly, Earthbound rents out its facilities for weddings at a mere $1,000, noting many of its clientele have identified as Queer. "Weddings are expensive, and unfortunately, a lot of Queer folks' marriages are not always supported by family. Hence they don't have a large budget to work with," Earthbound told us. This is something we've rarely, if ever, seen at any other brewery nationwide. Kudos to Earthbound for going the extra mile to provide a safe space for Queer couples to celebrate their love.
El Sueñito Brewing
Bellingham, WA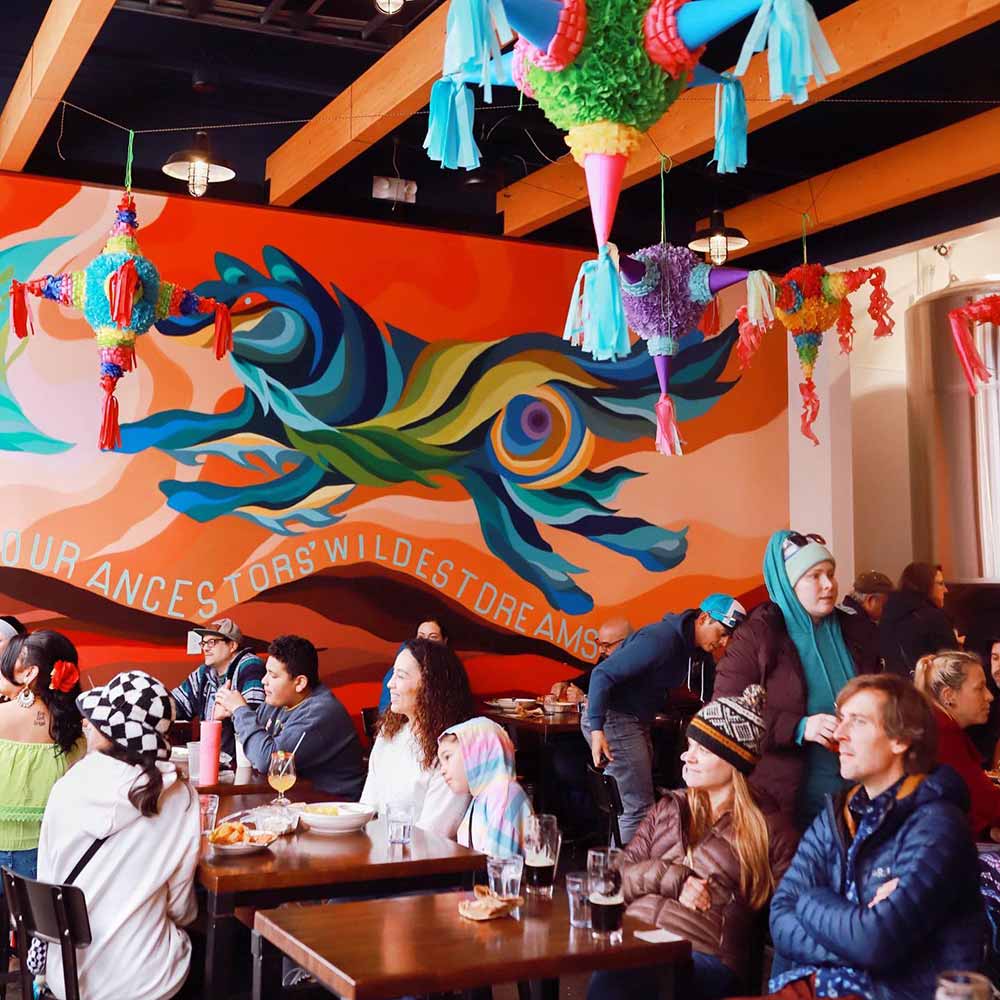 When we put out a call on IG last month to help expand our list of Queer-owned and Queer-supporting breweries, El Sueñito immediately reached out to us! A small gay and Mexican-owned brewery that opened only earlier this year, El Sueñito has already made a big impact on its community.
Following the belief that "a brewery is more than just good beer, it's about community," El Sueñito doesn't just brew incredible beer, they aim to change the world for the better. Following values such as "building community, remaining humble, and celebrating culture, co-founders and life partners Dennis Ramey and Osbaldo Hernández, who also own the family-run tamale shop Frelard Tamales, have created El Sueñito to be a hub for the Queer, BIPOC, Latine community and more.
For instance, the brewery recently launched a free meal program (something they started at Frelard Tamales during the pandemic), where anyone in the neighborhood can come ask for a free meal, no questions asked. And during Pride month, El Sueñito plans to host a series of events celebrating Queerness and contributing to the LBGTQIA+ community. Despite being a new brewery, El Sueñito has already become a brewery empowering and inspiring the Queer community.
Everywhere
Orange, CA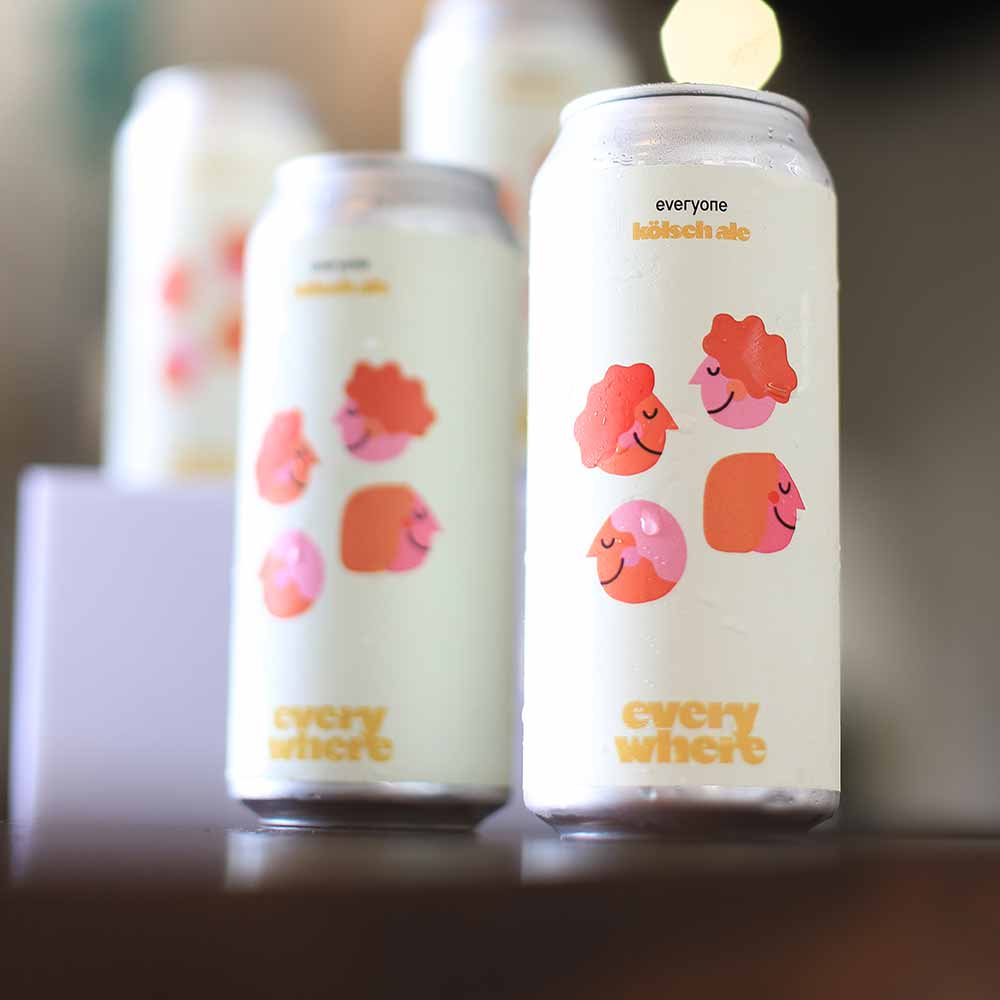 According to Everywhere co-founder Daniel Muñoz, "Our whole philosophy is based upon inclusiveness and community. We like to think that we create an environment that makes everyone feel welcome at Everywhere."
With that in mind, Everywhere wrote a very detailed code of conduct posted throughout the brewery to show its customers and staff the values they live by at the brewery.
This year, for Everywhere, who has customers, family, and friends a part of the Queer community, that meant donating twenty percent of the taproom sales from its kölsch—Everyone—to The Trevor Project.
"We chose The Trevor Project because it came highly recommended by our friends in the Queer community," says Muñoz.
A beer meant for everyone, a brewery meant for everyone, Everywhere shows exactly what it means to create a safe, welcoming space in the community.
Fullsteam Brewery
Durham, NC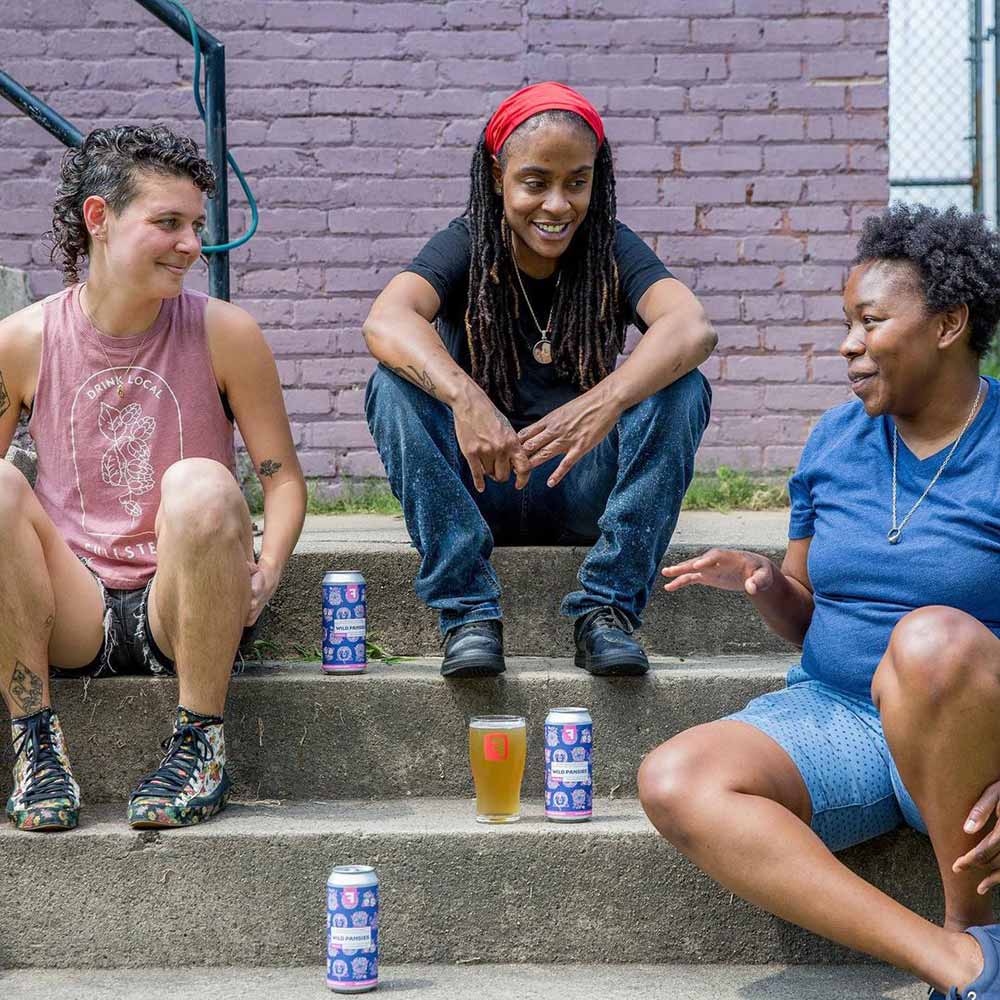 Fullsteam Brewery's Director of Taproom Operations Ari Sanders and Creative Director Chelsea Amato have helped create a more inclusive environment at the Durham-based brewery. Whether by putting up inclusive bathroom signage in the taproom, a massive step for breweries looking to be more gender inclusive, or selling Pride merchandise year round (because supporting Queer folx is a 365-day-a-year kind of thing, not just something to only celebrate in June) and ensuring that BIPOC and Queer artists make it into the music rotation at the brewery. Last June, Fullsteam made a beer called Wild Pansies, reclaiming a once derogatory term towards Queer folx and sending a message that, like pansies, Queer people are thriving and growing everywhere. Fullsteam donated a part of the process to the LGBTQ Center of Durham, acknowledging that while many Queer folx can come out for fear of oppression, small, local LGBTQIA+ centers provide safety and security for many.
Gay Beer
Brooklyn, NY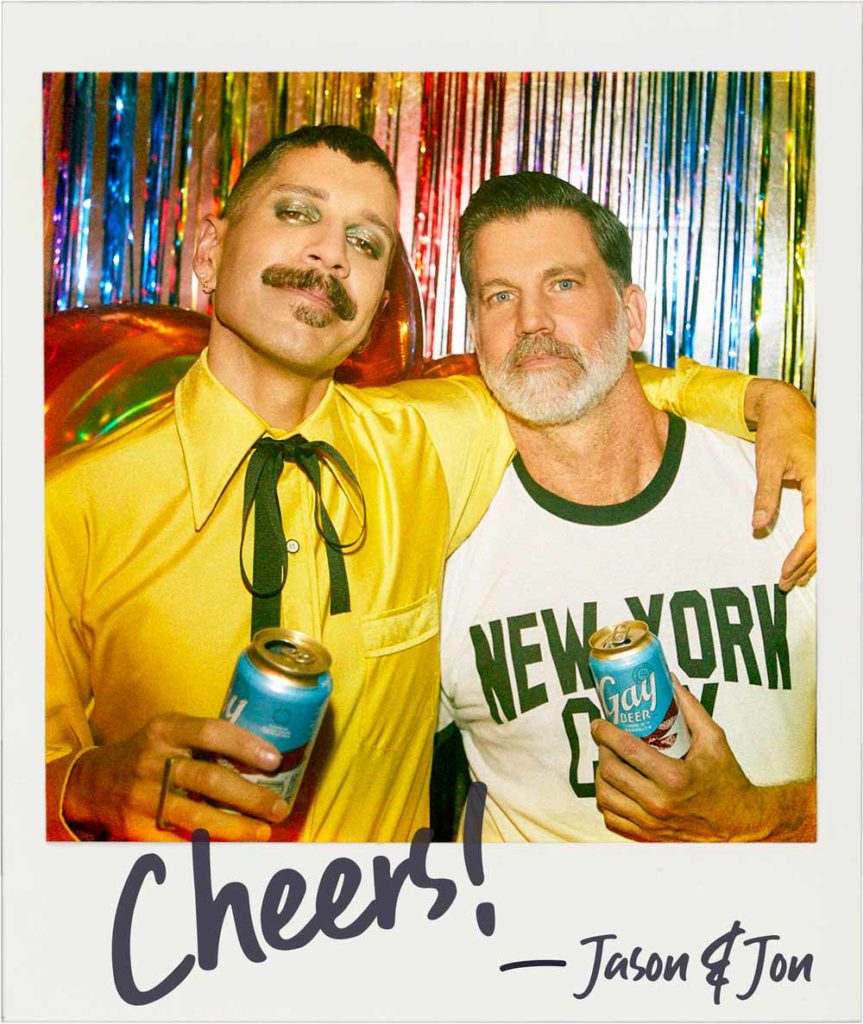 Like Dyke Beer, Gay Beer encourages inclusivity in craft beer. Started by craft beer lovers and members of the Queer community, Jason Pazmino and Jon Moore, Gay Beer honors the heritage of the Queer community and speaks directly to a diverse audience.
Beer cultivates conversation, so Gay Beer, in particular, emphasizes how we can make the industry more diverse. All over a great beer.
With all this in mind, a portion of proceeds from the sale of Gay Beer goes directly back to supporting LGBTQIA+ advocacy. In the past, Gay Beer has worked with organizations like Project Renewal, Center for Black Equity, Housing Works, and more.
Giant Jones Brewing
Madison, WI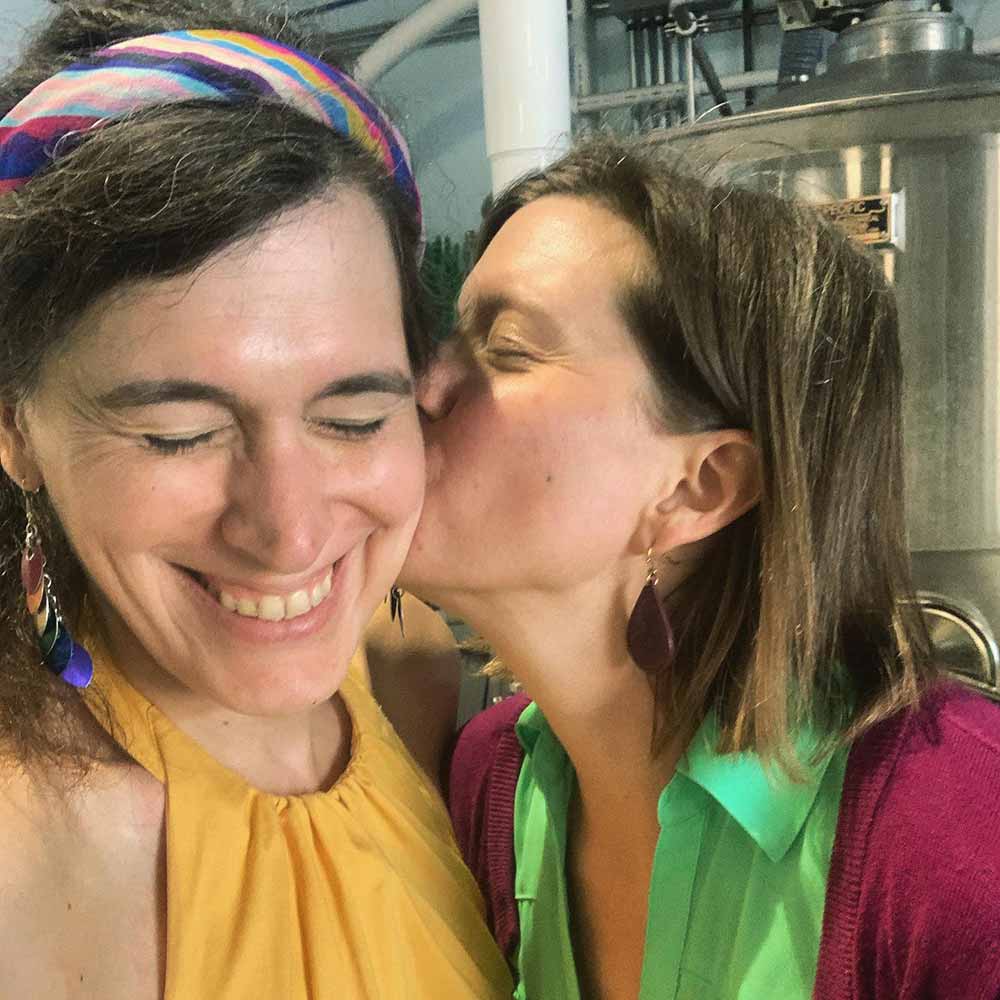 Queer-, Trans-owned Giant Jones Brewing is the creation of Erika and Jessica Jones, who opened the certified organic brewery in Wisconsin in 2018. Since the beginning, the brewery has made bold moves, focusing on big beers like its Double International Pale Ale and putting its beer in returnable bottles, encouraging folks to bring them back to the brewery for credit to buy more beer.
Giant Jones also focuses on giving back to the local, national, and international community, joining the Brew for Ukraine initiative last year, and hosting a Cookie Grab that raised more than $34k to support women's health and abortion rights. They also participated in Black Is Beautiful, brewing a beer that raised funds for Freedom, Inc., an organization centered on fighting for racial, gender, and Queer justice for the Black and Southeast Asian communities in Madison.
Goldspot Brewing Company
Denver, CO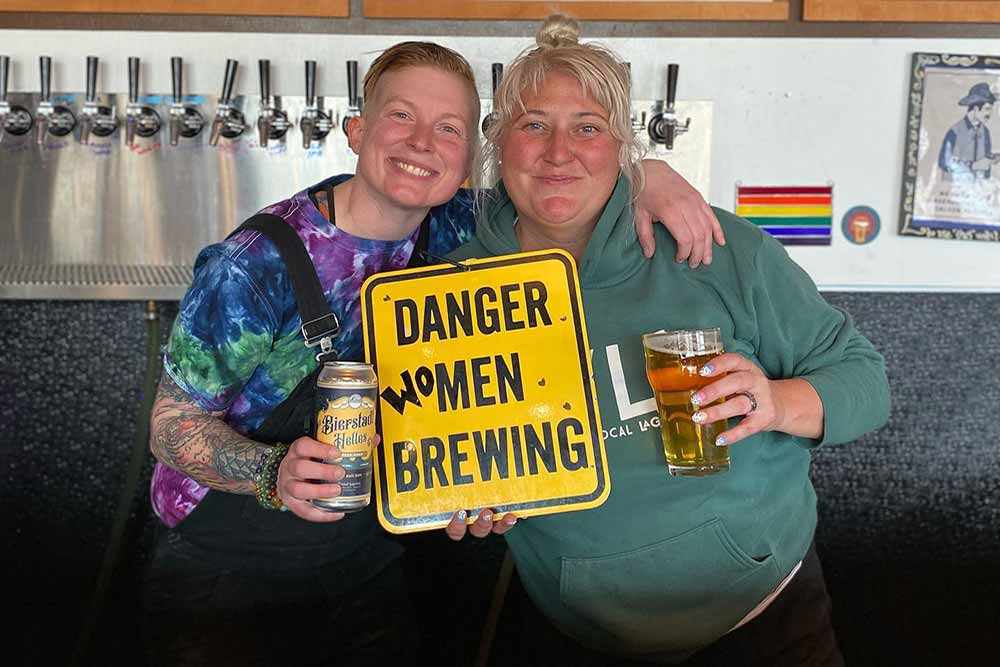 A one hundred percent Queer- and women-owned brewery in Denver, CO, Goldspot Brewing Company has become a pillar in the community. It's a brewery with an interesting trajectory. For example, Goldspot wasn't always Queer- and women-owned. Now-owner Kelissa Heiber (who identifies as Queer) moved to Denver to attend the Applied Craft Brewing Program at Regis University in 2012. After school, a stint at TRVE Brewing led to a bartending job at Goldspot Brewing, where Heiber would move on to assistant brewer and then head brewer. At the time, Matt Hughes and Alex Sward owned the brewery. But in 2018, the duo sold to Ryan and Winnie DuBois, with Heiber purchasing a thirty-percent stake. In February 2021, Heiber bought out the DuBois to assume full ownership, making Goldspot a one hundred percent Queer- and women-owned brewery.
Accordingly, Heiber has been able to lay the groundwork for the brewery as a community-driven, inclusive business. Which meant hosting the first-ever festival dedicated to LGBTQ+ causes called Big Queer Beerfest, featuring Pride-focused beers, last year. Or hiring an entirely Queer staff and posting signs around the taproom that say racism and homophobia won't stand.
At Goldspot, Hieber hired Safe Bars to train her entire staff, giving them tools to handle situations in the taproom.
"If you have someone being misogynist and…saying it so loudly to the group of people they're with so that the whole taproom can hear it…how can you safely de-escalate that?" says Hieber. "What is the line that's breaking our community standards? If someone is doing any of that stuff, [we want] to kick them out of the taproom because everyone can hear and see that."
Although Hieber emphasizes that, with an entirely Queer staff, she only encourages employees to act if they feel safe.
The taproom has become a hub for the Queer community, with Goldspot hosting everything from Queer Dungeons & Dragons to craft markets featuring Queer-owned businesses to open mic nights with Queer performers and gay dance parties.
One of Hieber's favorite events, Homos and Homies, invites a BIPOC vegan food truck and a Queer-owned one, along with Queer artists and vendors, to set up on Goldspot's patio. Ten percent of all sales that day go to a different local food justice or advocacy group. Goldspot raised $300 during the last Homos and Homies, but each participating vendor donates too, bringing the grand total to a couple of thousand dollars. Hosting one every quarter, Hieber says, "It's the most racially diverse that you'll ever see at the brewery, especially in Denver… It's really diversifying the type of people that come into the space… You're just hanging out with friends, raising money; it's always a poppin' time… Everyone is in a good mood; the vendors are doing well; it's very cool."
Additionally, over the last few years, Hieber shares that Goldspot has donated tens of thousands of dollars to various organizations from their benefit beers or events.
For instance, Gender Fluid originally started as a beer to raise money for one of her bartender's gender-affirming surgery. Matching the amount raised from $1 per pint poured, Hieber morphed that beer into a series, donating to a different organization every time, such as Denver Community Fridges or the Transformative Freedom Fund.
Most recently, Hieber started the Out Loud Beer Project with Everywhere Is Queer, a collaborative beer recipe open to anyone to brew as long as they donate twenty-five percent of all profits to Everywhere Is Queer and a Queer non-profit of the collaborating brewery's choice.
A paragon of Queer-owned breweries, Goldspot will be a feature in Hop Culture's 2023 Queer Beer Box!
Guardian Brewing Company
Saugatuck, MI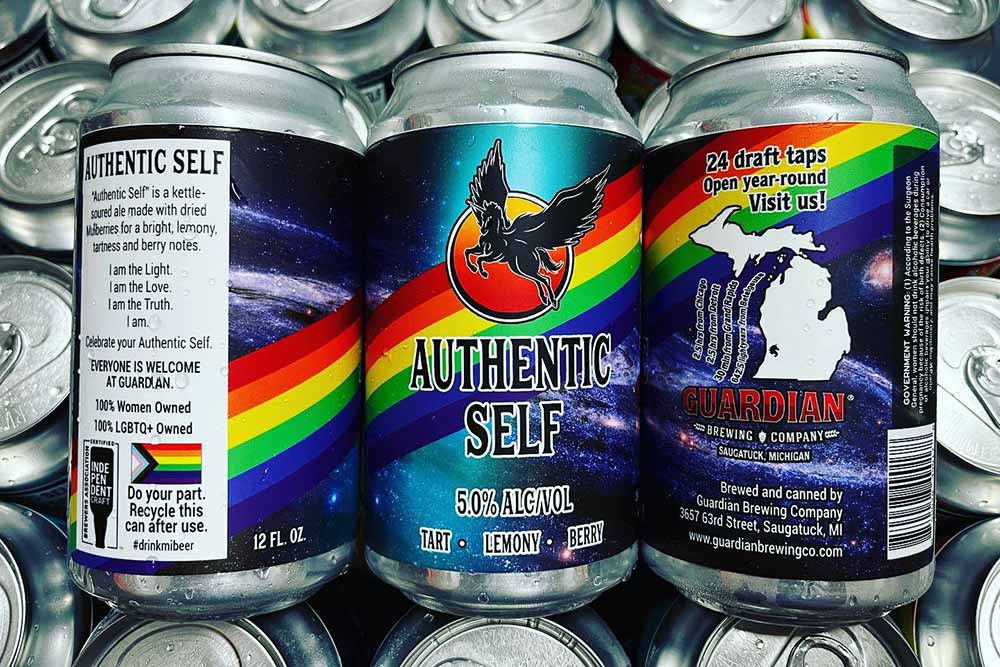 Another one hundred percent LGBTQ- and women-owned brewery, Guardian Brewing Company "is for everyone," as they proudly proclaim on their homepage. Kim Collins and Dr. Catherine Bishop co-founded the Saugatuck, MI-based brewery in 2018.
The beer is indeed for everyone, with twenty-two taps dedicated to year-round, seasonal, one-off, and barrel-aged beers across various styles. For instance, fresh cans of the kettle sour Authentic Self.
But way beyond the beer, Collins and Bishop have dedicated Guardian to supporting the community, donating to organizations like the Lakeshore Ethnic Diversity Alliance, Out on the Lakeshore, and Drag Queen Story Hour, while also hosting their own events.
Hillcrest Brewing Company
San Diego, CA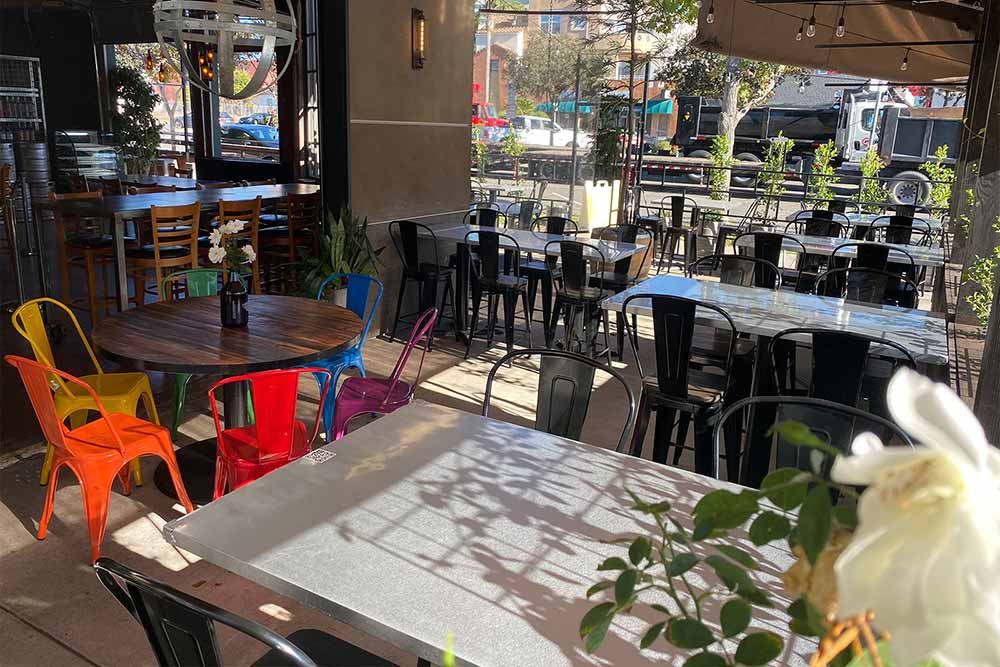 The first and only LGBTQIA+-owned brewery in San Diego, Hillcrest invites you to come in, enjoy a beer, watch the game, and "be yourself with like-minded individuals." Owned by Joey Arruda, Hillcrest is at the core of the Queer community in San Diego. With its colorful chairs, beers, and staff, this very well could be "the first gay brewery in the world!" as it proclaims on its website. We can neither confirm nor deny that, but Hillcrest is an incredible example of inclusivity in craft beer.
Honeygirl Meadery
Durham, NC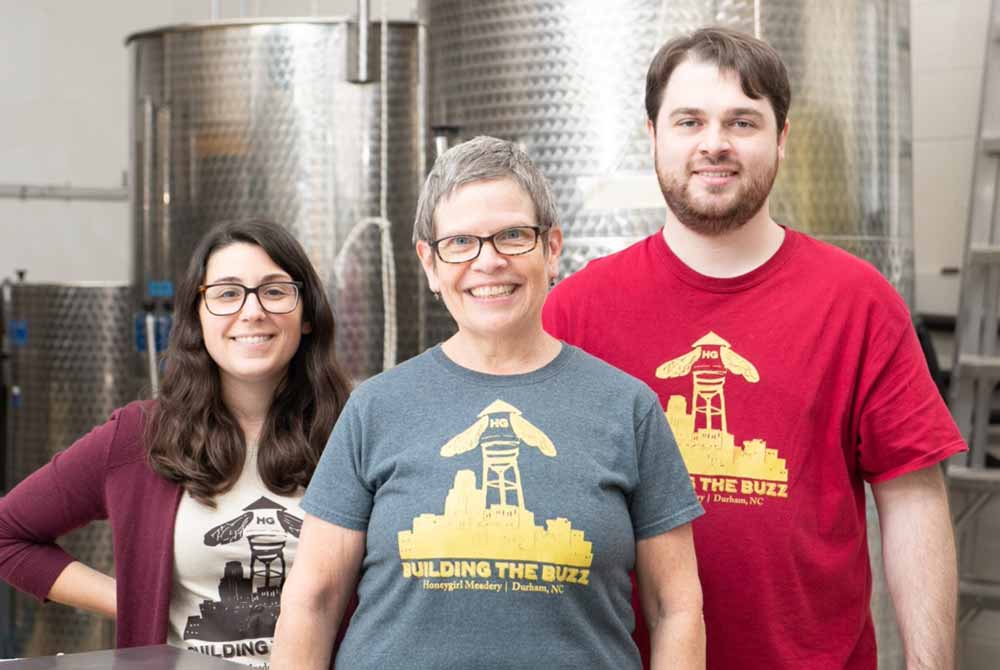 The Triangle's (that's Durham, Chapel Hill, and Raleigh) first meadery, Honeygirl Meadery, has racked up awards for its small-batch seasonal meads. Queer owner and head mead maker Diane Currier first discovered mead at Ring of Fire Meadery. Now she ferments incredible creations with fruits, botanicals, and flowers at her own place, much to the delight of folks all around the state.
Hyllie Bryggeri
Malmö, Sweden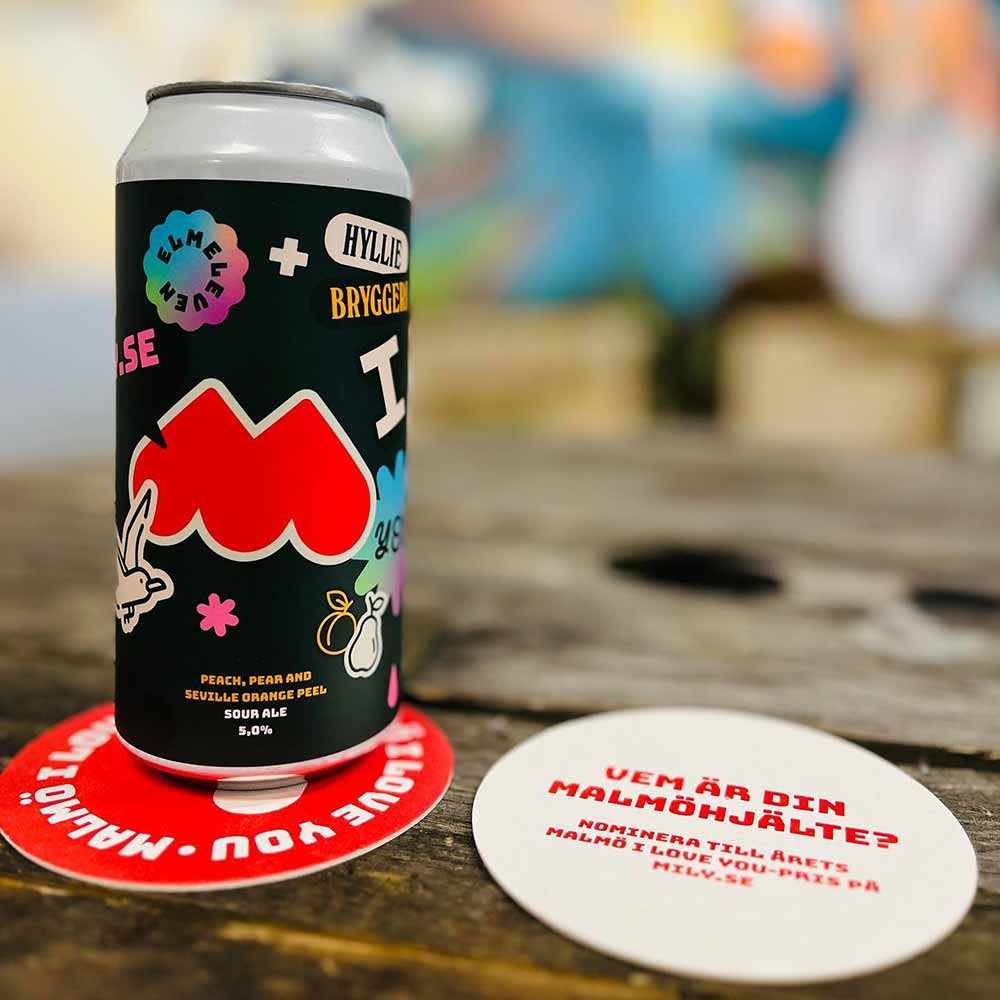 It's always refreshing to see breweries in other countries support the Queer community. Hyllie Bryggeri in Sweden works closely with The Villbergs and Drag Queen Story Hour Malmö, an incredible nonprofit where drag queens spread inclusivity by reading stories to kids.
Last year, the brewery chose Drag Queen Story Hour as the winner of its Malmö I Love You award, a competition run by Hyllie Bryggeri to recognize those who make a difference in the local community.
Hyllie Bryggeri also told us that they welcome a local non-binary beer group to meet in their taproom, offering special prizes to those who come to drink.
Lady Justice Brewing Co.
Aurora, CO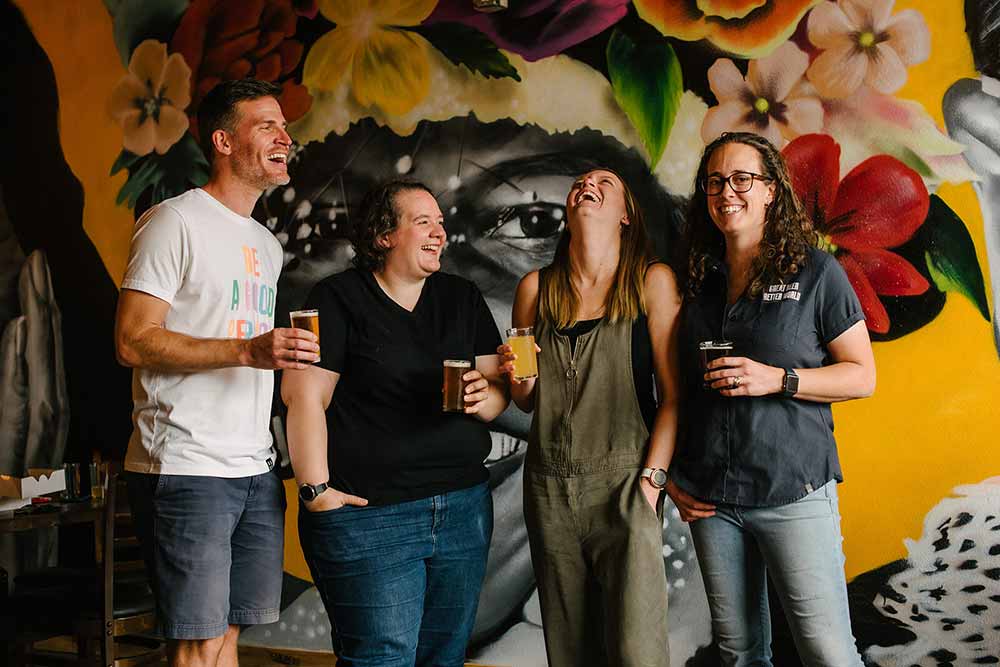 Queer- and woman-owned and Latina-founded Lady Justice Brewing Co. in Aurora, CO, set out to make beer for a better world across all genders, nationalities, races, and sexualities. Founded in 2010 by Betsy Lay, Kate Power, and Jen Cuesta, Lady Justice holds the distinction as the world's first fully female-owned and philanthropic brewery when it opened.
The entire model of the brewery is to give back consistently. They call it Pouring Goodness, so $1 from every 13oz pour of the Pouring Goodness tap in a given month goes to a local organization. Since opening, Lady Justice has raised $32,000 and counting for more than thirty organizations.
Such as Women's Wilderness, whose mission is to cultivate courage, confidence, connection, and environmental stewardship among girls, women, and the LGBTQIA+ community through year-round outdoor immersions; and The Gathering Place, the only daytime drop-in center in Denver serving transgender individuals experiencing poverty.
In addition to donations, Lady Justice employs a Queer staff, creates a safe space for Colorado's LGBTQIA+ population, and brews a Pride beer with rainbow glitter that has benefited the Transformative Freedom Fund.
Another example of an absolutely incredible Queer-owned brewery, Lady Justice is participating in our Queer Beer Box with its Strawberry LaLager, named after a local drag queen.
Ladybird Brewing
Winfield, KS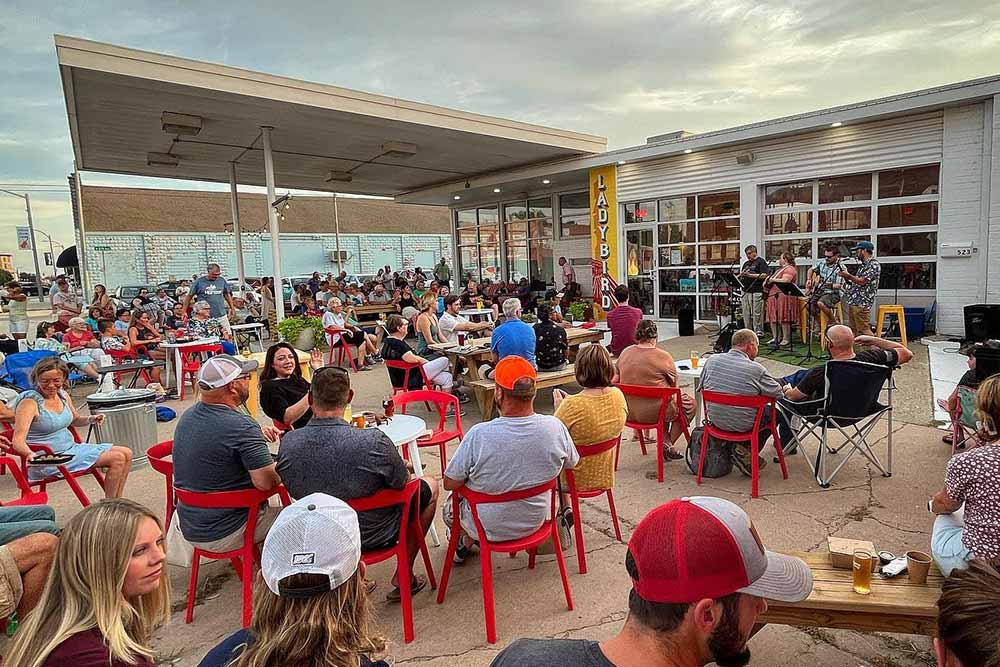 Started by life and business partners Kaydee and Laura Riggs-Johnson, Ladybird Brewing began, like many a craft brewery, in a garage. Setting up a ten-gallon SS Brewtech system in heir home in Winfield, KS, Kaydee and Laura created a kegerator out of an old fridge they found in the trash at church. Named after Kaydee's nickname, Ladybird likes to brew beers emphasizing local Kansas-grown ingredients.
LIke the newly released Peach Cruiser, a kettle sour peach ale that rested on three pounds per gallon of Palisade Peaches, along with Madagascar vanilla bean and cinnamon sticks.
With their taproom officially opening in November 2021, Kaydee and Laura no longer need to make beer out of their home, but that idea of celebrating community continues to live on.
@everywhereisqueer, a world-wide map of Queer-owned businesses, perhaps said in best in its post on Midwestern Queer businesses to support, "Stop in for a gorgeous pinta and great company!
The bird is the word!
Local Brewing Co.
San Francisco, CA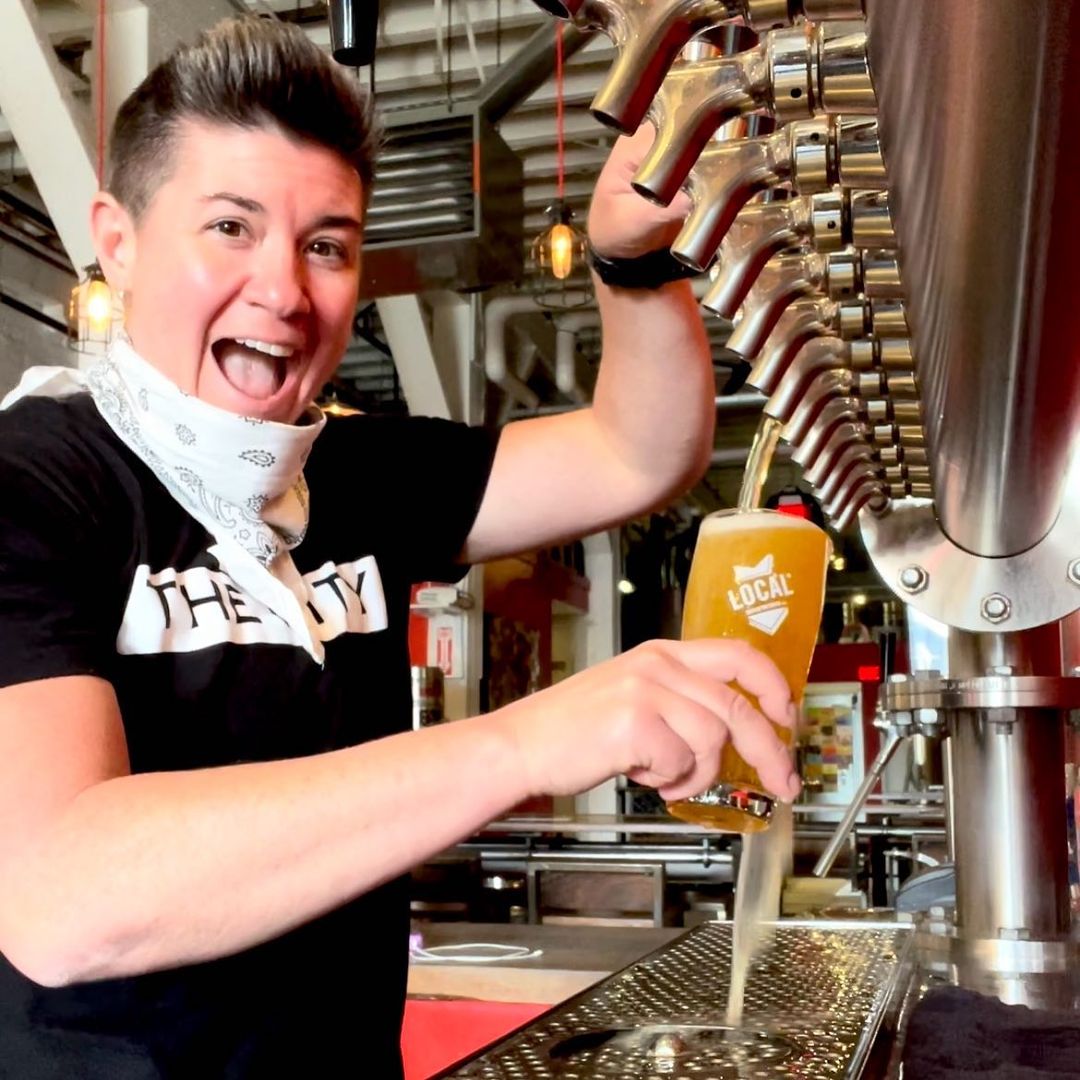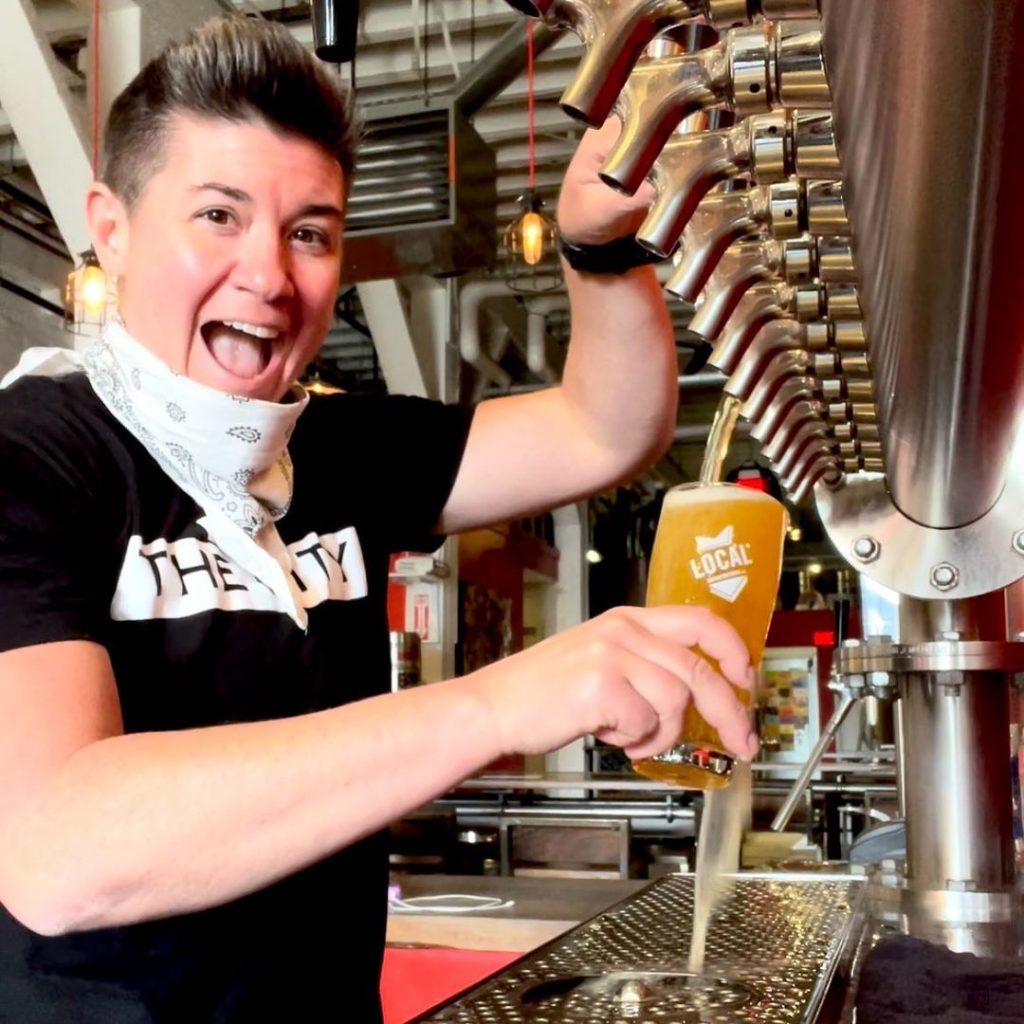 Queer co-owner Regan Long is just quite simply a badass. She's holding down the fort as one of the only Queer woman brewery owners in the Bay Area. And it shows.
Local Brewing Co. is a favorite among SF residents, whipping up delicious, inventive craft beers. But Long and her co-founder Sarah Fenson have also built a place dedicated to inclusivity for everyone.
That includes making beers across a variety of styles with the common theme of accessibility. From citrus-forward hazy IPAs to rich, robust black lagers, there's something for any drinker. Plus, the brewery releases exciting limited-edition offerings in colorful, artistic cans. And sometimes you'll find a beer like Gay Beach (named after a nickname for San Francisco's Dolores Park, a well-known venue for Pride) released for Pride 2018 that explicitly shows the brewery's Queer roots.
Unfortunately, a fire that broke out on the second floor of Local's taproom in early December means the brewery will be closed for the foreseeable future. But you can still find Long and Local around town brewing collabs and making the best of a challenging situation. Hopefully, we'll all be able to get back to enjoying a beer in Local's safe space sometime soon.
Lost Boy Cider
Alexandria, VA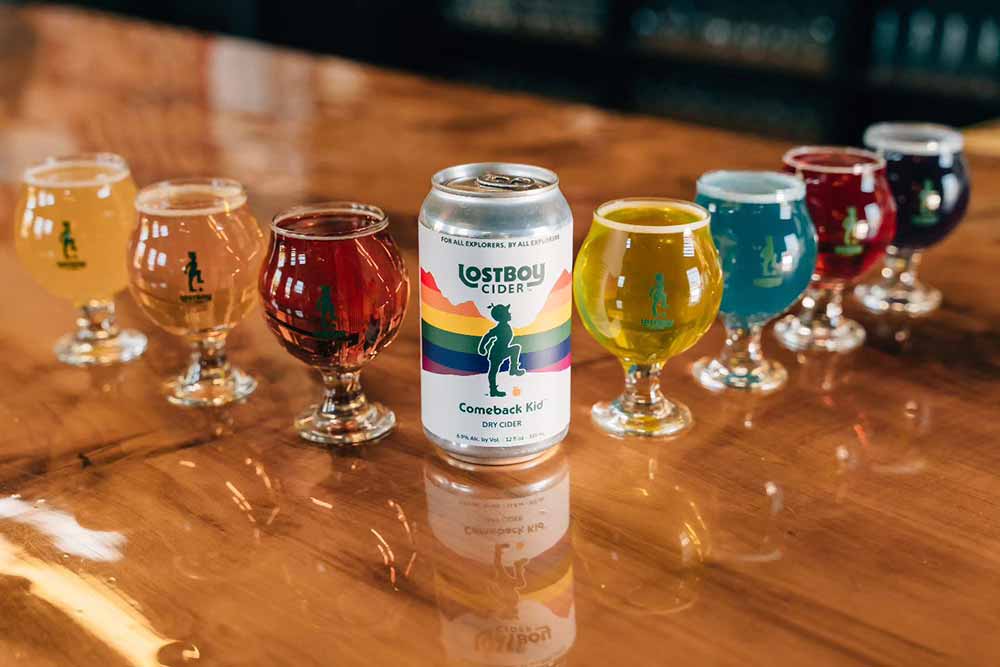 With a Queer staff, including its cidermaker, Lost Boy Cider conscientiously supports its local Queer community first and foremost by displaying a Pride flag in the cidery. Additionally, during Pride month, they host vendor markets and raise funds for various organizations, such as The Trevor Project and Safe Space NOVA
Lucky Pigeon Brewing Company
Biddeford, ME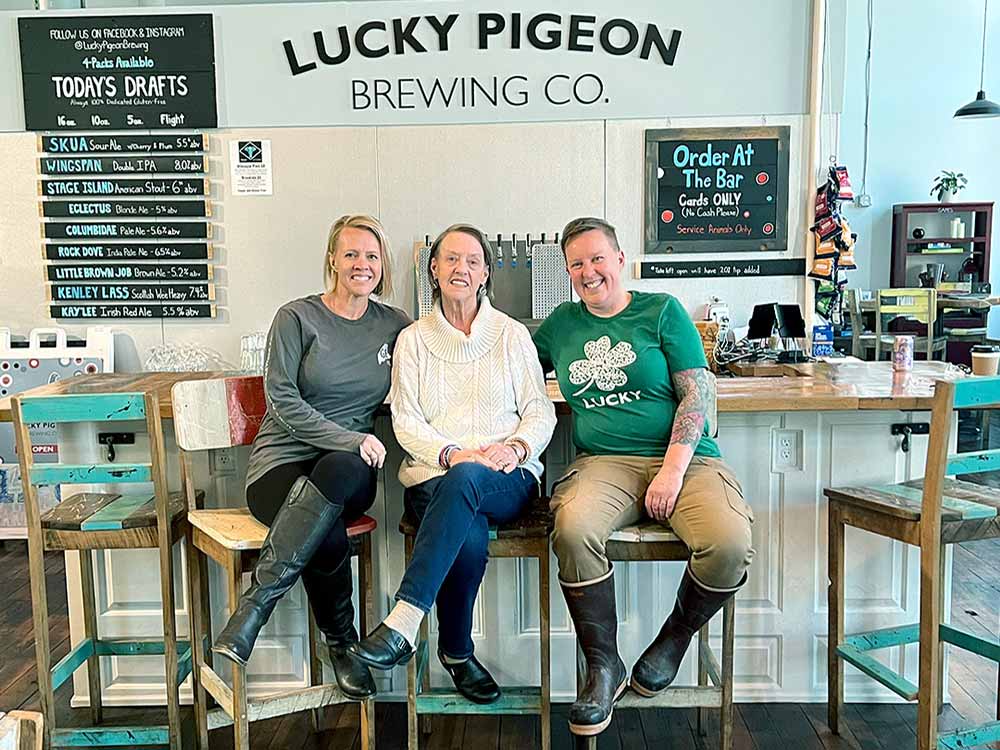 Co-founded by Bev Pigeon, her wife Pidge, and two others, Lucky Pigeon focuses specifically on gluten-free beers. Swapping out gluten-rich grains for those gluten-free grains such as rice, millet, gluten-free oats, and buckwheat, Lucky Pigeon makes beers for all. And in the year and a half the taproom has been open it has become a welcoming, safe space for the local LGBTQIA+ community.
Marz Community Brewing
Chicago, IL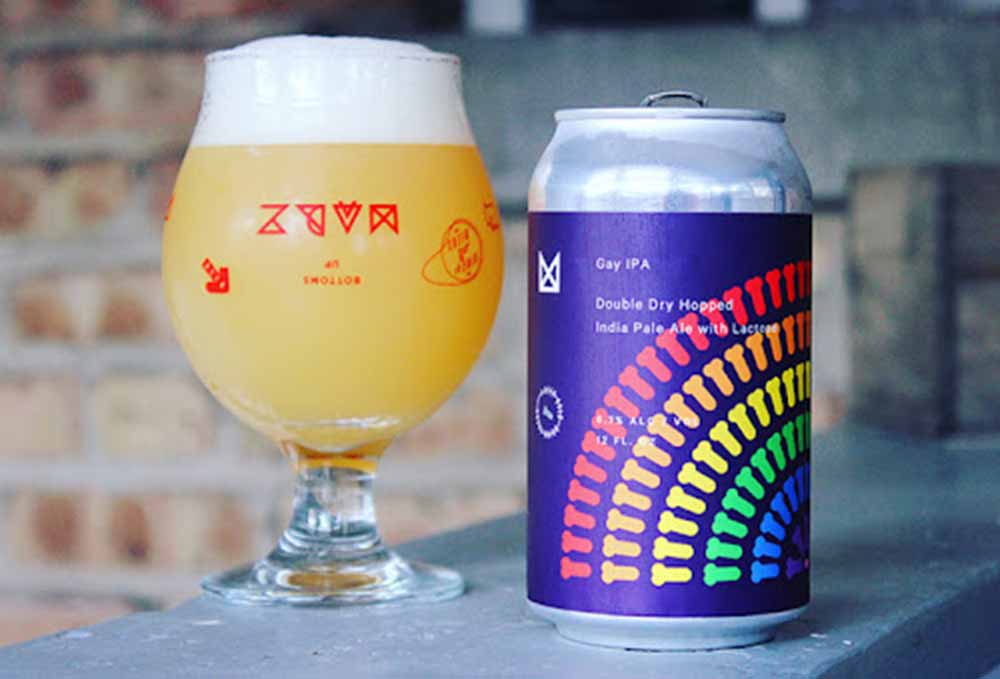 Marz Community Brewing isn't pulling any punches here. The Queer Beer veteran and Chicago-based brewery's Gay IPA represents exactly what the name says—being gay. And being proud to be gay. Queer, Chinese-born designer, art director, illustrator, and animator Zipeng Zhu (@zzdesign) designed the colorful phalluses, razzle-dazzling anyone who looks at them.
Beyond turning heads, Marz's Gay IPA also supports the local LGBTQ+ community with a portion of the proceeds from sales donated to organizations such as The Legacy Project, Equality Illinois, and ALMA Chicago.
What we love so much about this double dry-hopped hazy IPA is that Marz has been unapologetically unafraid to embrace Queer culture and proudly and loudly represents what makes the Queer community so colorful and spirited.
Find this Gay IPA and eleven more beers in our Queer Beer Box.
Mountain Toad Brewing
Golden, CO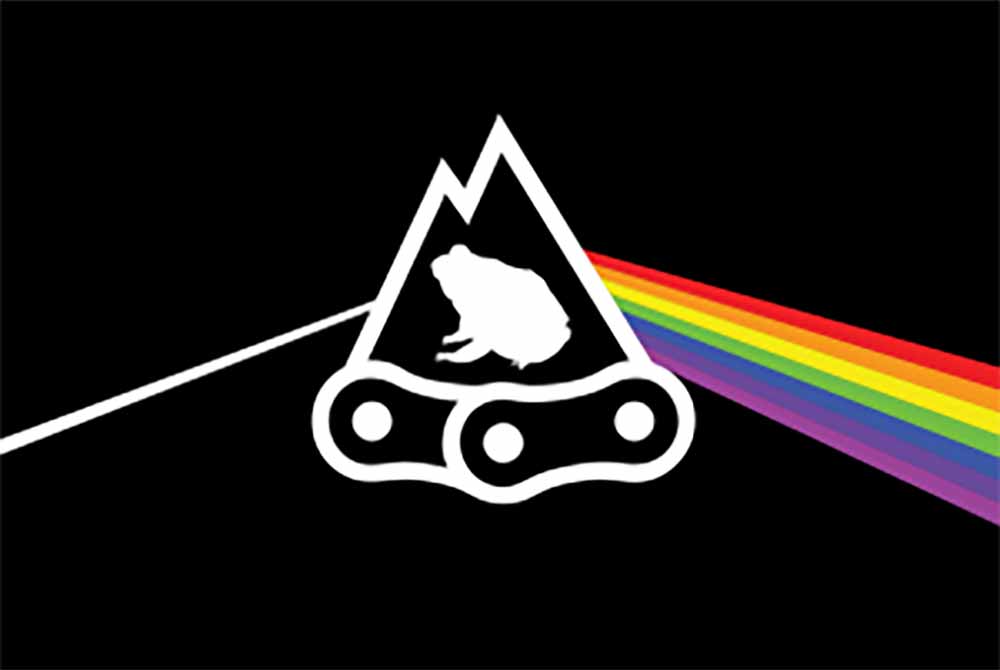 Thad Briggs and his partner Brian Vialpando own Mountain Toad Brewing, a small community-focused spot in Golden, CO. Mountain Toad joins other Colorado breweries on this list—such as Goldspot and Lady Justice—as a taproom committed to creating an atmosphere inclusive to all.
Necromancer Brewing Co.
Pittsburgh, PA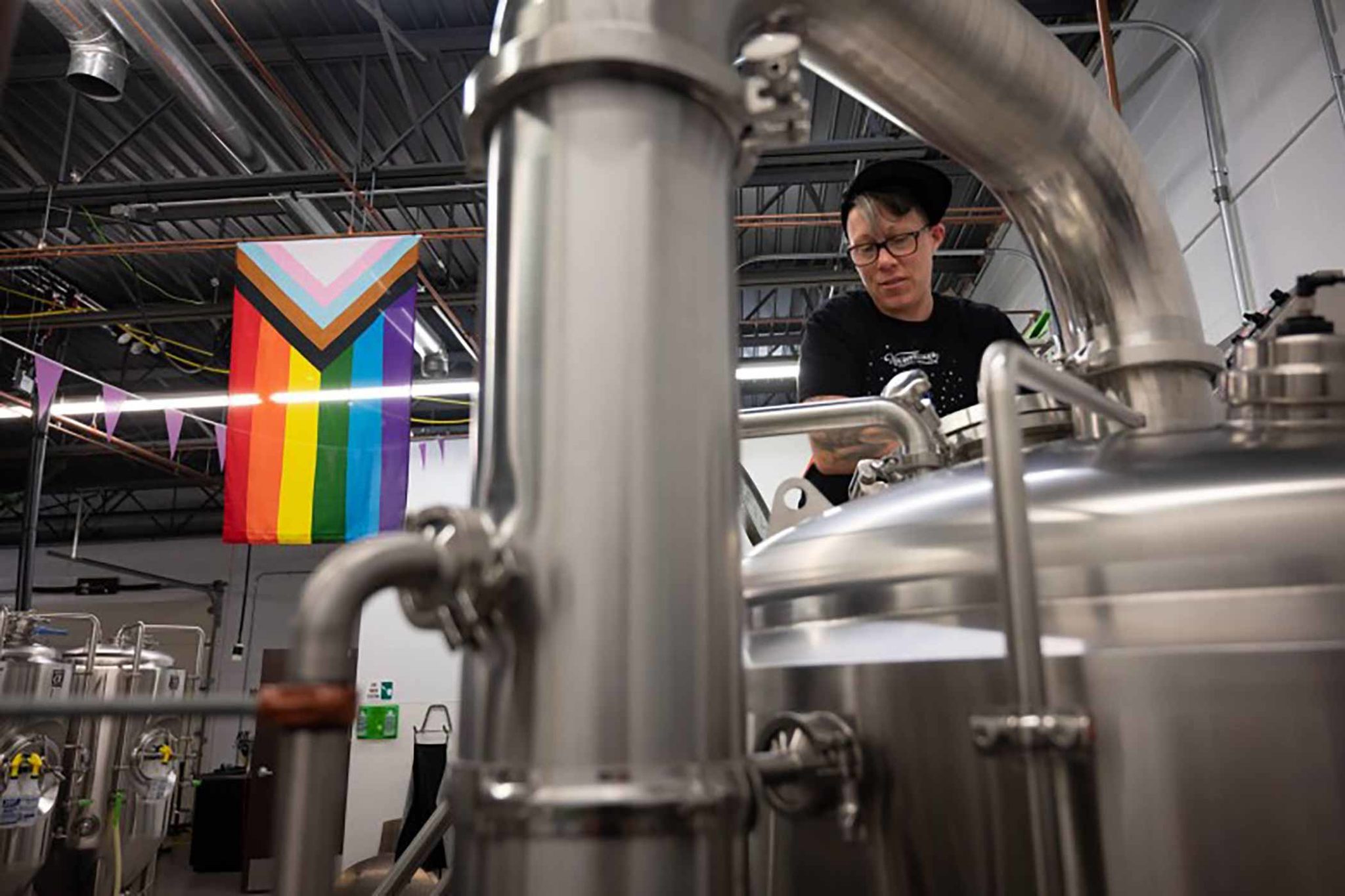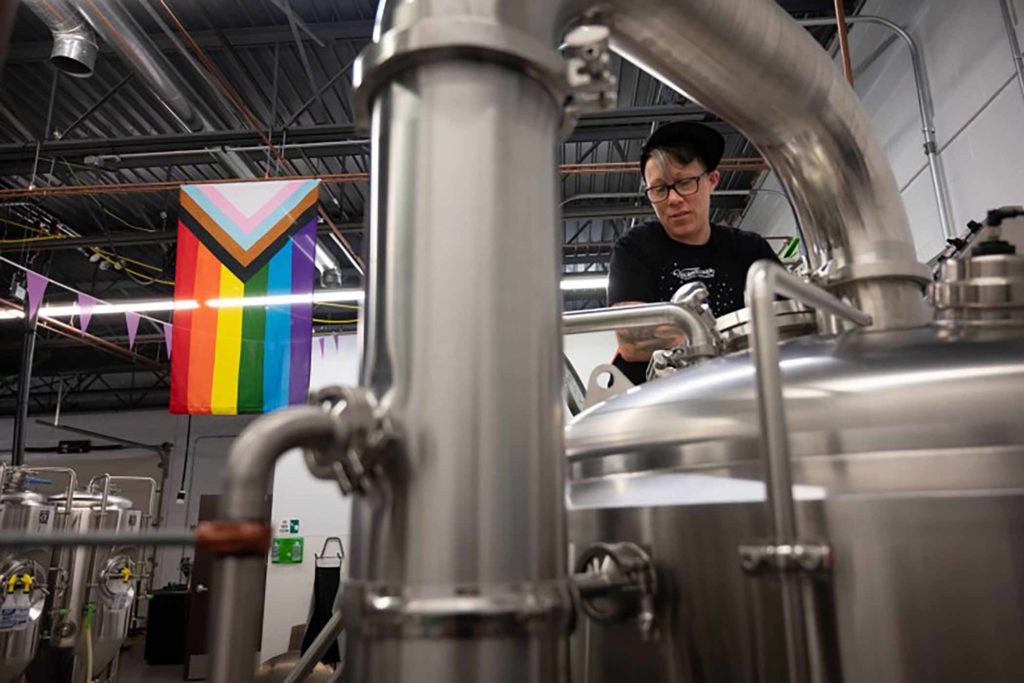 At Necromancer Brewing Co., diverse management has been a lynchpin for Head Brewer Lauren Hughes (one of our "23 People to Watch in Craft Beer in 2023"). The Queer, female-identifying brewer says Necromancer has been the first brewery where she's brewed that she can feel safe being herself.
"I've worked at many breweries, and while they're good companies to work for, you still have this wall or guard up," says Hughes. "[But at Necromancer], you can completely be yourself and not worry about it."
Hughes says that feeling starts with representation. Currently, in the back-of-house at Necromancer, the entire production team identifies as Queer, including Assistant Brewer Nina Santiago and half of the taproom staff.
And, oh, by the way, Necromancer is owned by a straight, cis-gender white man, but that hasn't stopped founder Ben Butler from understanding the importance of creating a safe environment for the team.
"A core component of our culture is the intentionality of diversity, equity, and inclusion," says Butler, acknowledging that his team of two Queer, female-identifying brewers has guided him along the way. "As a cis-white guy, I wouldn't have the credibility to do this all by myself, nor should I without the right advisors in my life."
Seen as a safe place to work, Necromancer has been bombarded with Queer applicants.
"People have seen us not only talk the talk but walk the walk, go toe to toe with people who have made remarks and done things that we've taken stands against," says Butler. "People feel like…they can be safe working here, and they'll know that, from a leadership perspective, we'll protect them."
And a more diverse management team has had a trickle-down effect in the brewery.
At Necromancer, Hughes says on any given day you'll see a diverse group of drinkers when you walk in. Something she's fiercely proud to accomplish. "It's great to see and hear from customers, 'Thanks so much for making this a safe space because I've never felt comfortable going to other breweries, but I can come here and not worry,'" says Hughes. "To us, that means more than being like, 'Hey, we make great beer.'"
Although Hughes, Santiago, and Co. do make incredible beer!
You'll be hard pressed to find another brewery like Necromancer, which focuses on resurrecting bygone beer styles (hence the name Necromancer… Get it?). For instance, a grodziskie, a sort of sparkling Polish oak-smoked wheat beer, a maibock, and an English best bitter, to name a few.
It's a love of oft-forgotten styles that put Necromancer on our best new brewery list in 2021. And landed them on many of our best-of lists including "The 27 Best Beers We Drank in 2022."
But Hughes, Santiago, and Butler's incredible work to create a safe space for the Queer, non-binary, and trans community (including starting a Queer Beer Club) will keep us gratefully consuming Necromancer's beers for years.
And if you want to as well, find Hughes and Santiago's cream ale in our 2023 Queer Beer Box.
New Belgium Brewing
Fort Collins, CO, + Asheville, NC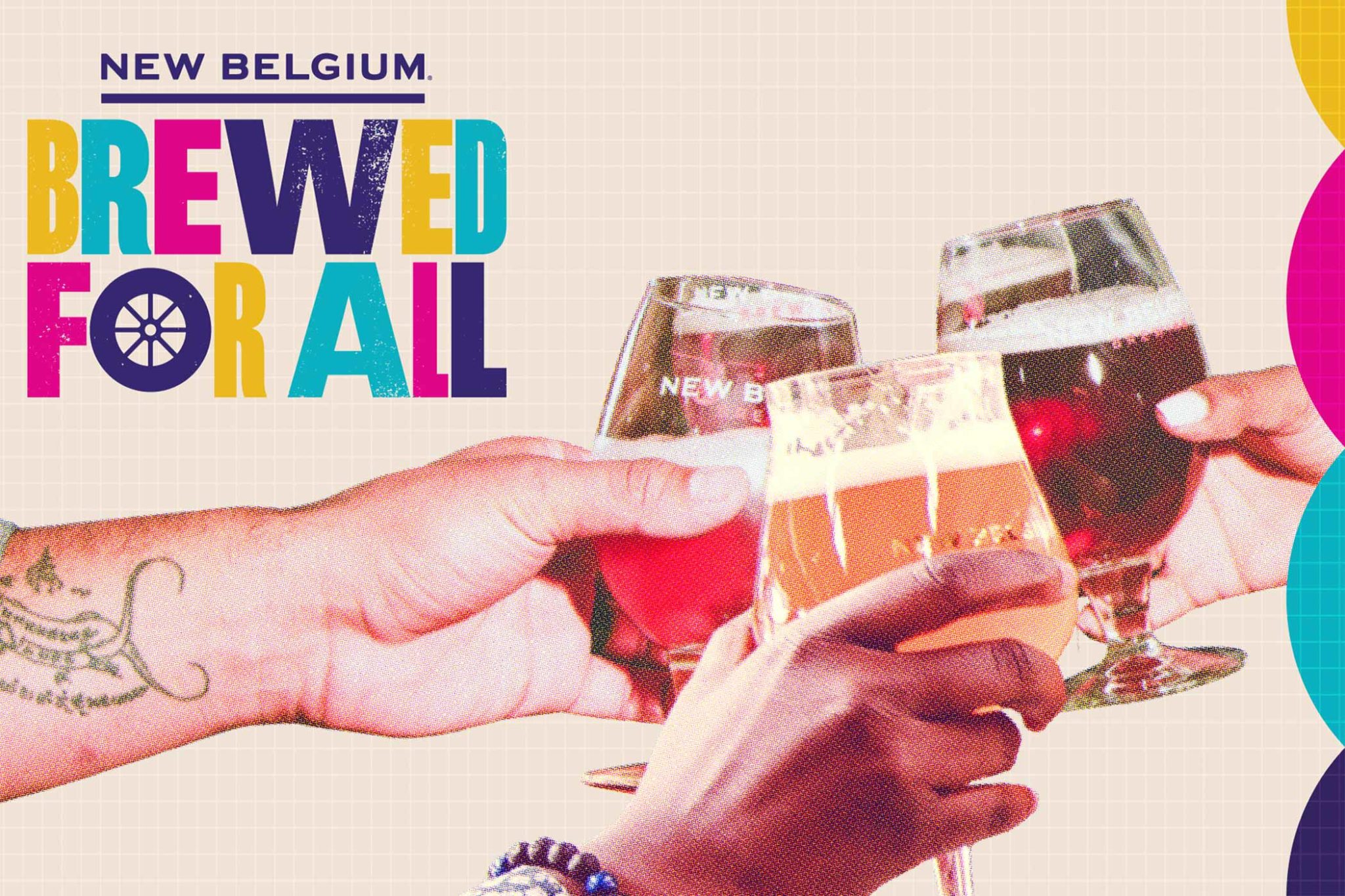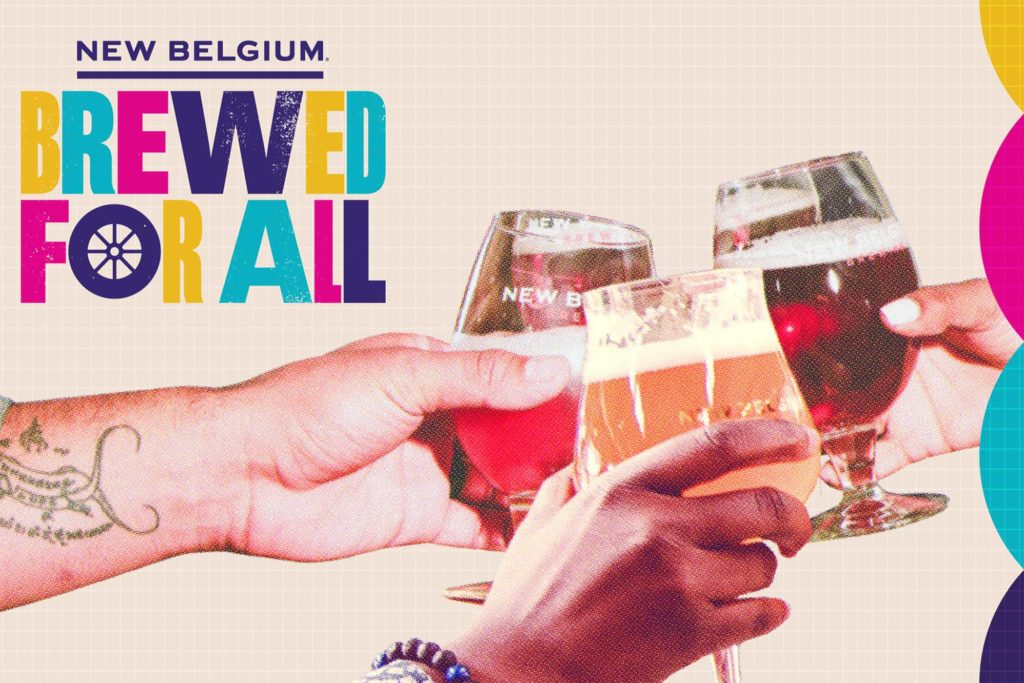 Three years ago, New Belgium became the first brewery in the country to hire a diversity, equity, and inclusion (DEI) specialist, Patrice Palmer (they/them/theirs). With the goal to build up diversity and inclusion at the brewery, Palmer pioneered programs, including adding pronouns to the signature line of interested New Belgium employees; starting Pride@NBB, an LGBTQIA+-friendly affinity group for both Queer and allied coworkers; and introducing Queer Sips, a series inviting folks to talk about policies and how they could affect the community.
Patrice also supported the brewing of Biere De Queer, a purple ale dreamed up and brewed for the past three years by Kelly McKnight, New Belgium's lead pilot brewer, in support of LGBTQ+ equality. One hundred percent of proceeds from every Biere de Queer sold benefits New Belgium's hometown LGBTQ+ communities. New Belgium released a batch just in time for Pride month last year.
When Palmer left, New Belgium invested time and effort to find the right person to take up the mantle. When New Belgium acquired Bell's Brewery in late 2021, Courtney Simmons had just started a job leading DEI at Bell's—and it soon became clear that Simmons was the best candidate for an expanded role overseeing DEI across both businesses.
Simmons has been busy growing New Belgium's DEI program from outside and, most importantly, within this past year.
"If we're not taking care of the people in own business, how can we possibly expect them to take care of the people that come through our doors," says Simmons.
For that very reason, New Belgium released a free training resource last year called Poured For All, dedicated to providing brewery, bar, restaurant, and store owners with a carefully crafted guide on creating more inclusive environments for LGBTQ+ patrons.
Designed in tandem with Hospitable Me, Poured for All drew on expertise from both organizations to create complete training on how to approach supporting the LGBTQ+ community, especially during Pride in June.
Expanding that conversation to all women-identifying, BIPOC, and LGBTQ+ patrons, this year, Poured For All will be a free resource for "anyone in hospitality that cares about the kind of environment they're creating for their patrons to learn from that content and make more inclusive, welcoming spaces for the people that enter them," says Simmons.
And last June 3rd, the brewery published a comprehensive "Guide to Rainbow Washing," which refers to an all-too-common practice where companies slap a rainbow flag on something or add rainbow colors to one of their products throughout Pride month without backing up that action in the Queer community.
"It is really important to understand why only putting out Pride flags doesn't necessarily help the community," says Simmons.
New Belgium hoped their "Guide to Rainbow Washing" would be a resource for consumers interested in flexing their personal economic power to support companies walking the walk for LGBTQIA+ equality and for companies genuinely interested in authentically supporting the Queer community. The guide features a compilation of research, resources, and expertise from internal members of the LGBTQ+ community and allies at New Belgium, along with outside experts. Specifically, the brewery worked with the Equality Federation, as well as its internal LGBTQ+ community of coworkers, for guidance.
At the end of the day, it's important to remember that there is not a one-size-fits-all solution to improving an organization's DEI policies and programs.
"There is no one quick solution to doing this work, no checklist of go-do-these-things-and-everything-will-be-perfect-and-you'll-have-arrived," says Simmons. "This is long-term generational work. I'm not interested in just checking the box, and neither is New Belgium."
But New Belgium and Simmons are certainly writing the guide (literally) on how more breweries can start taking steps forward. Even if they're baby steps.
We'll definitely be keeping an eye on new initiatives from Simmons and New Belgium in 2023.
Nine Pin Cider
Albany, NY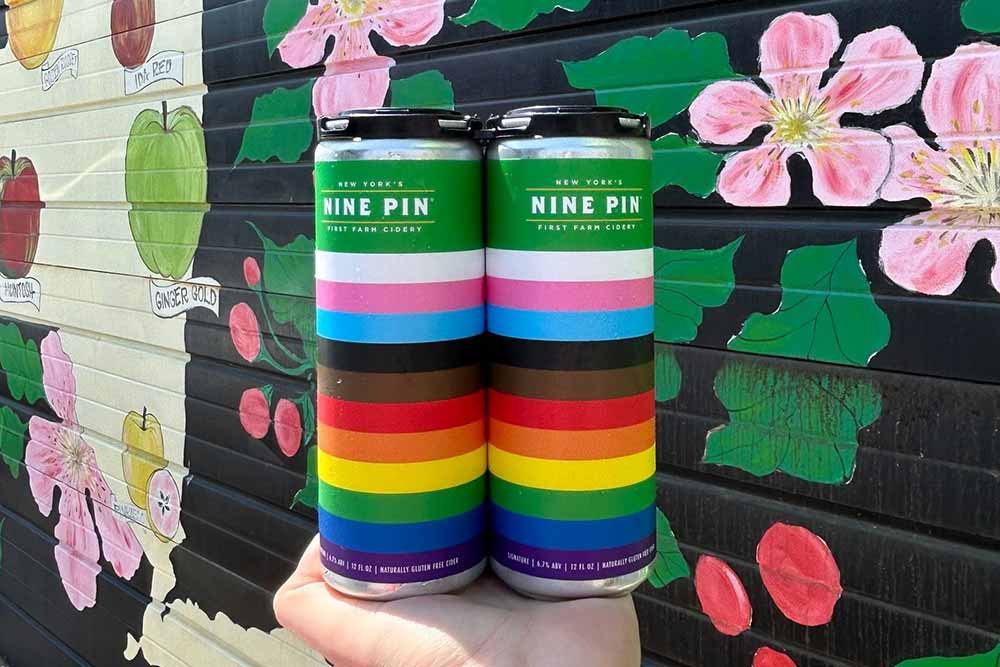 With Queer representation on staff in the front and back of the house, Nine Pin Cider releases an annual Pride cider. While we've seen many Pride beers come down the line over the last few years, we've been hard-pressed to find a hard cider (cider pun!).
A portion of the sales from Nine Pin's Pride cider support a local LGBTQIA+ organization with OutHudson as a favored recipient.
The cidery also hosts Queer-supporting events such as Drag shows and Drag trivia.
Olde Mother Brewing Co.
Frederick, MD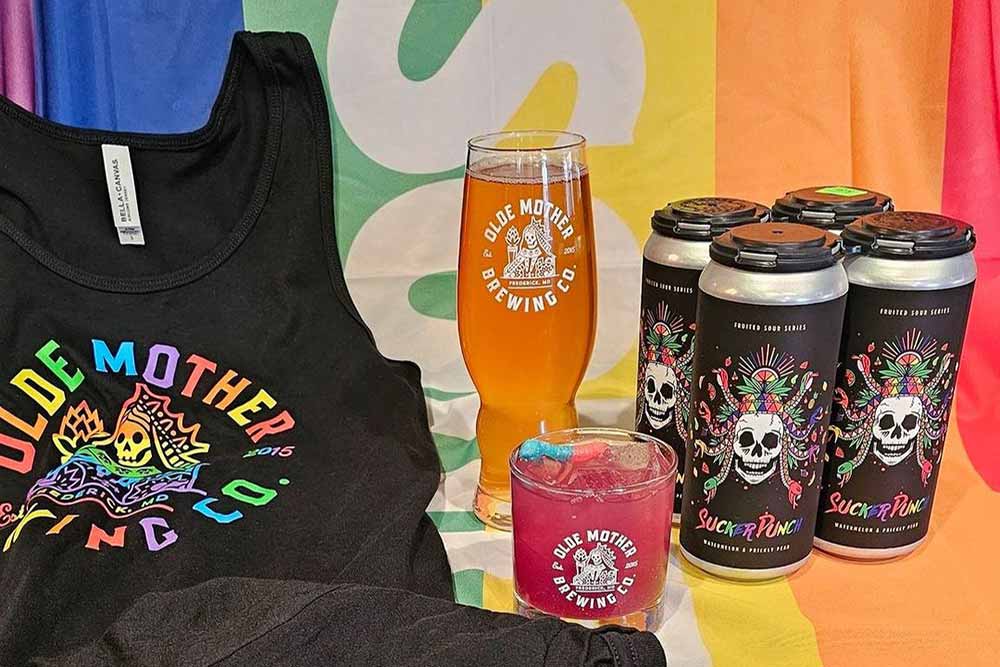 A Queer-led brewery with Queer representation on staff, Olde Mother Brewing Co. hosts yearly Pride events and brews a Pride-themed beer called Sucker Punch Pride, a watermelon and prickly pear sour.
Plus, during Pride, Olde Mother also whips up a Pride-themed cocktail, creates Pride merchandise, and partners with The Frederick Center for a Queer open mic night. The brewery donated proceeds from that event and its first-ever Drag Brunch to the local LGBTQ+ advocacy group.
Olive Pit Brewing
Lisbon Falls, ME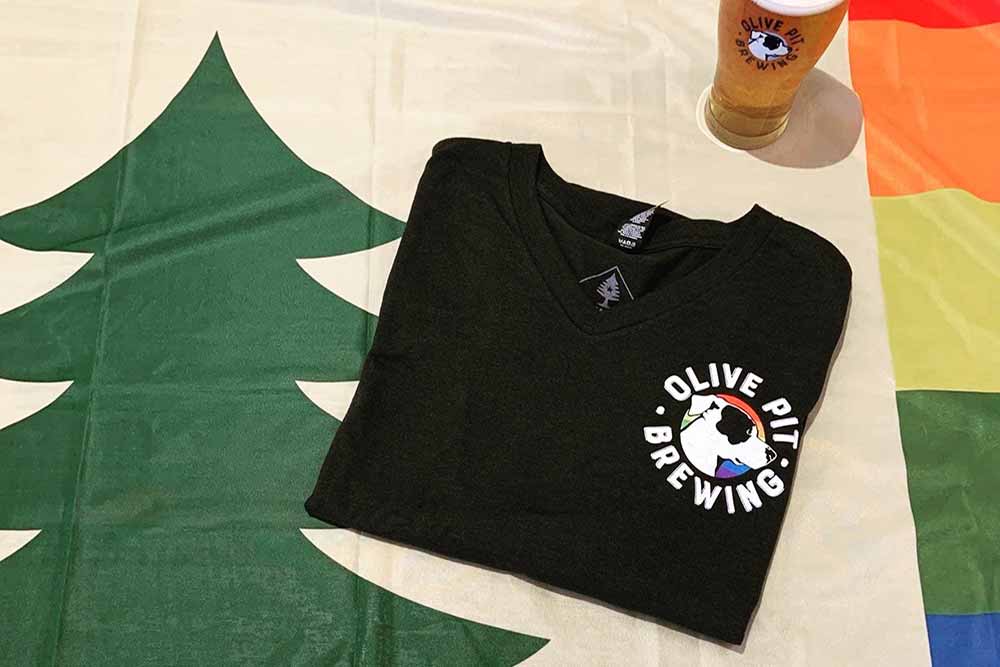 When Christy Cain opened Olive Pit Brewing in Lisbon Falls, ME, last year, she claimed the title of the town's first brewery owner. Cain went off to brewing school after she and her wife had a hard time finding beers they liked. After earning a diploma in brewing science, Cain decided to brew them instead! And that's the ethos at Olive Pit: to be a welcoming place for all beer consumers and the entire community.
Last June, Olive Pit made a limited edition Pride shirt, donating the proceeds to the Trevor Project, supporting gay youth.
Provincetown Brewing Co.
Provincetown, MA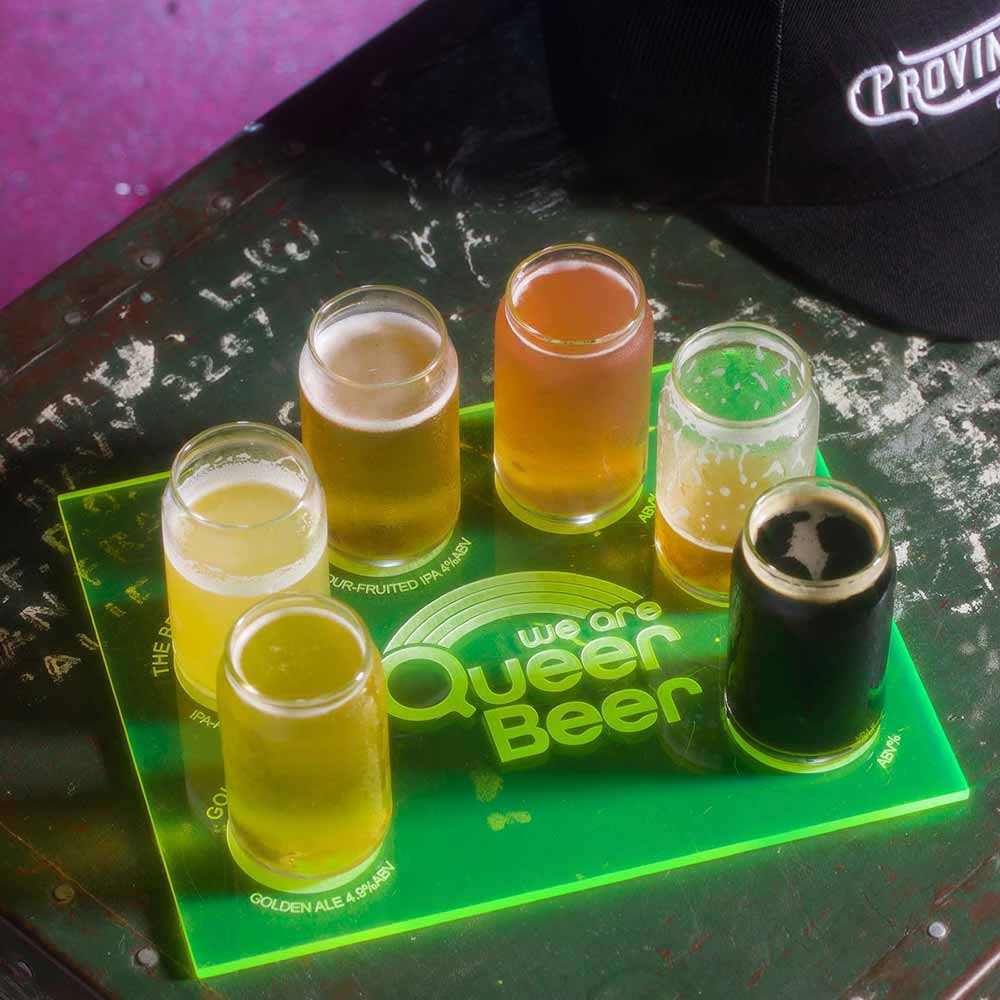 Founded on progressive ideals and activism as its ethos, Provincetown Brewing Co. (PBC) brews beers that highlight a cause or organization important to them. From LGBTQIA+ rights to conservation and more, charities receive a percentage of sales from each product sold.
For instance, on April 16, PBC will host a Spring Queening Drag Bar Swap with proceeds benefiting the Verna Felton Drag non-profit, supporting unique opportunities and safe spaces for the LGBTQIA+ community. The event is a direct response to Tennessee Gov. Bill Lee passing a law restricting "adult cabaret performances" in public or the presence of children.
People from far and wide come to Provincetown (a self-proclaimed safe space for Queer folx that attracts thousands of LGBTQIA+-identifying people, especially during the warmer months) and love it for its unique character. PBC is the taste that will take you back to Provincetown year round.
Queer Brewing
London, England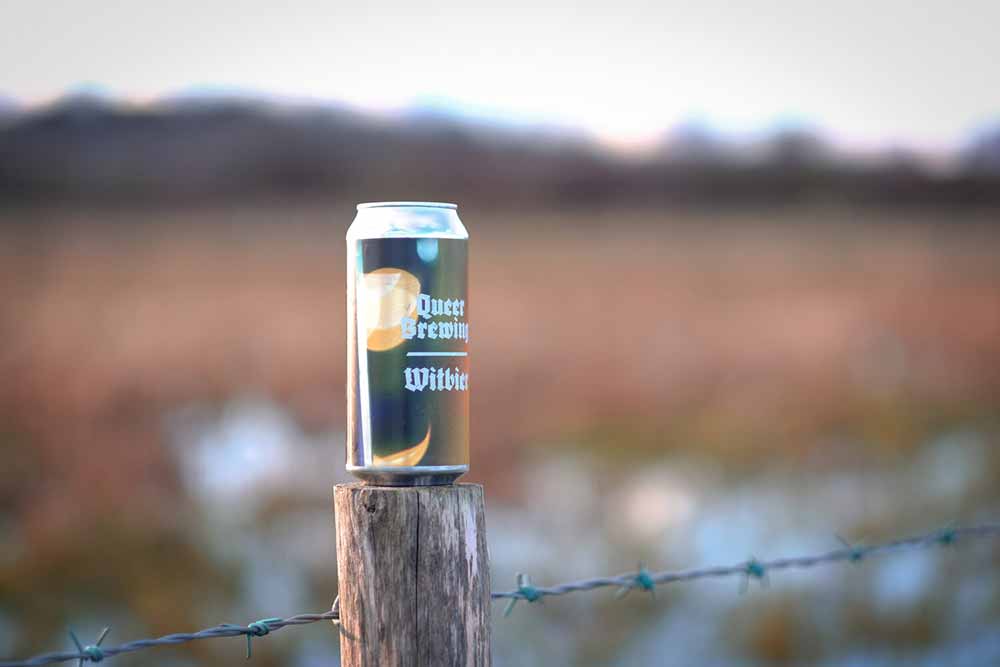 Queer Brewing, founded by Lily Waite, a Queer, trans woman, builds community and fosters advocacy for LGBTQ+ rights by brewing beer. How? Waite, who has worked in the industry at places such as Good Beer Hunting, We Are Beer, and Wild Beer Co., traveled around the world brewing specific Queer-focused collaboration beers with well-known breweries. Beginning with Marble Brewery's Dinosaurs Will Die, a beer brewed in an art exhibition during Manchester Beer Week in 2018, Waite would craft over thirty collaborative beers in five different countries, raising tens of thousands of pounds for LGBTQIA+ charities. Each time, Waite set out to unveil the intersectionality of the Queer and trans communities in craft.
In 2020, Waite served as the first participant in Cloudwater Brew Co.'s Wayfinder program. Wayfinder serves as an incubator for those looking to create a positive change in the beer industry. Waite gained more experience through working with the Cloudwater team and ultimately crafted some exciting releases—including Statement of Intent, pictured above and as the featured image in this article!
Popular breweries she collabed with include Fifth Hammer Brewing Co, New Belgium, and 7venth Sun Brewery (and that's just here in the U.S.). Together these beers have raised thousands of dollars for LGBTQIA+ charities.
Today, Queer Brewing also makes its own beers, including a witbier, pilsner, pale ale, and IPA. During Queer Beer in 2021, Waite joined us for a panel during our inaugural Queer Beer festival called "Authenticity in Queer Spaces in Craft Beer Presented by New Belgium" and made our list of "The Most Important Voices in Craft Beer in 2020."
Red Bear Brewing Co.
Washington, D.C.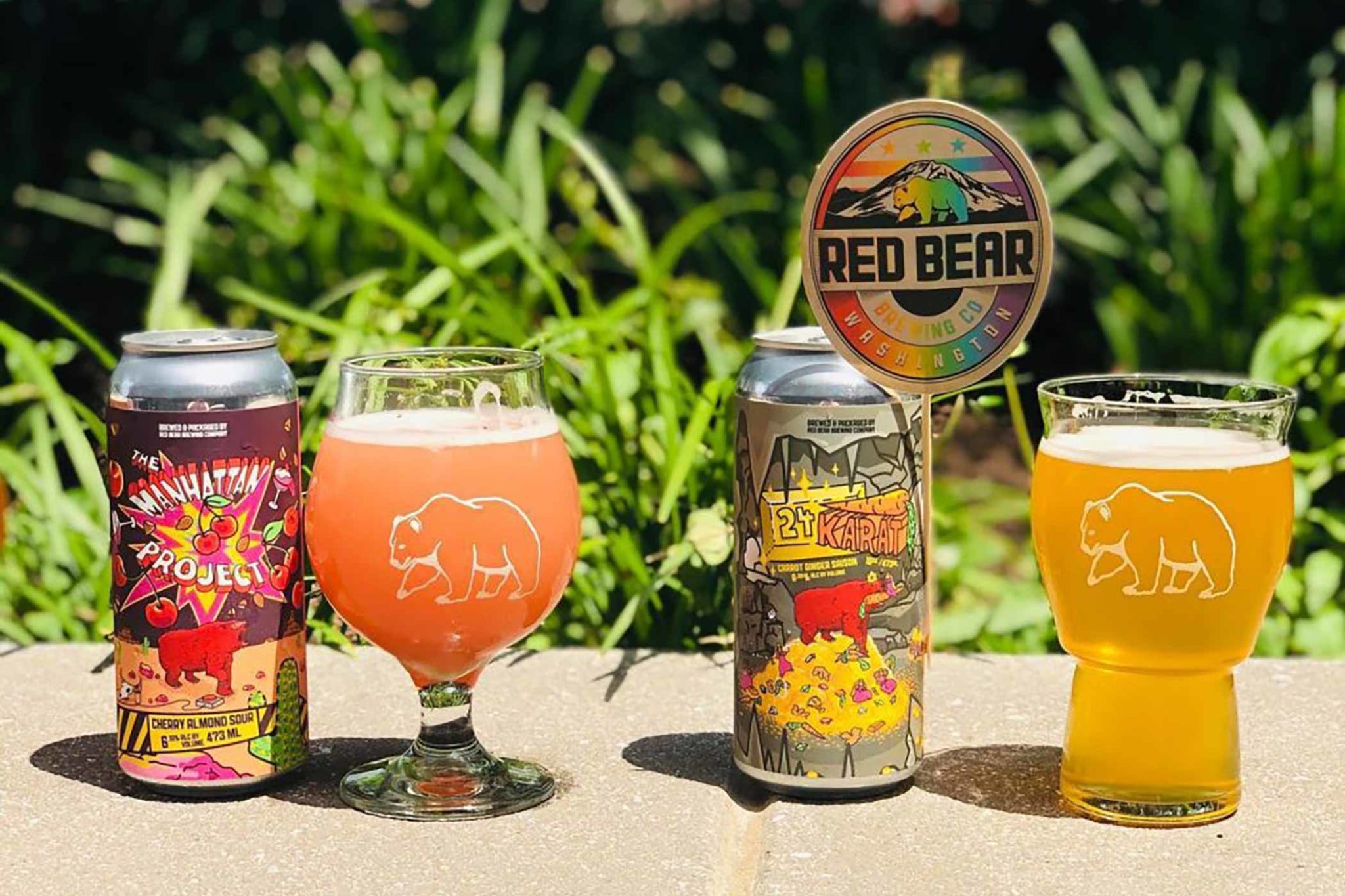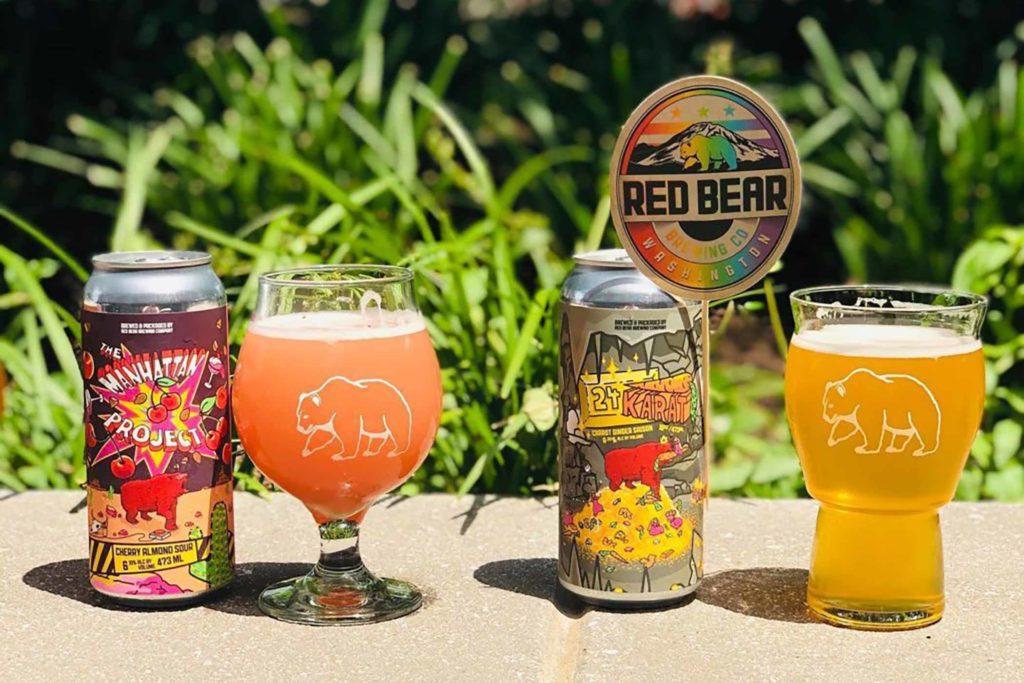 Call Red Bear Brewing Co. a safe space. Call it Washington, D.C.'s only one hundred percent gay-owned brewery. Or just call it a fantastic taproom and community hangout. But don't just call it a "gay bar." This proud place strives for equality and inclusivity in a safe and positive environment.
Started by Bryan Van Den Oever, Simon Beer, and Cameron Raspet—all who identify as Queer—Red Bear aspires to be a community place for its diverse team members and neighbors. "We have a slogan: Just like craft beer, diversity is delicious," said Van Den Oever in an article for CraftBeer.com. Peruse the brewery's core values and you'll find diversity listed as one of its top core values, along with adventurous, quality, conscientiousness, community, you, aka embracing the spirit of the unicorn, which is why we were honored Van Den Oever and the team joined us for Queer Beer last year!
Redemption Rock Brewing Company
Worcester, MA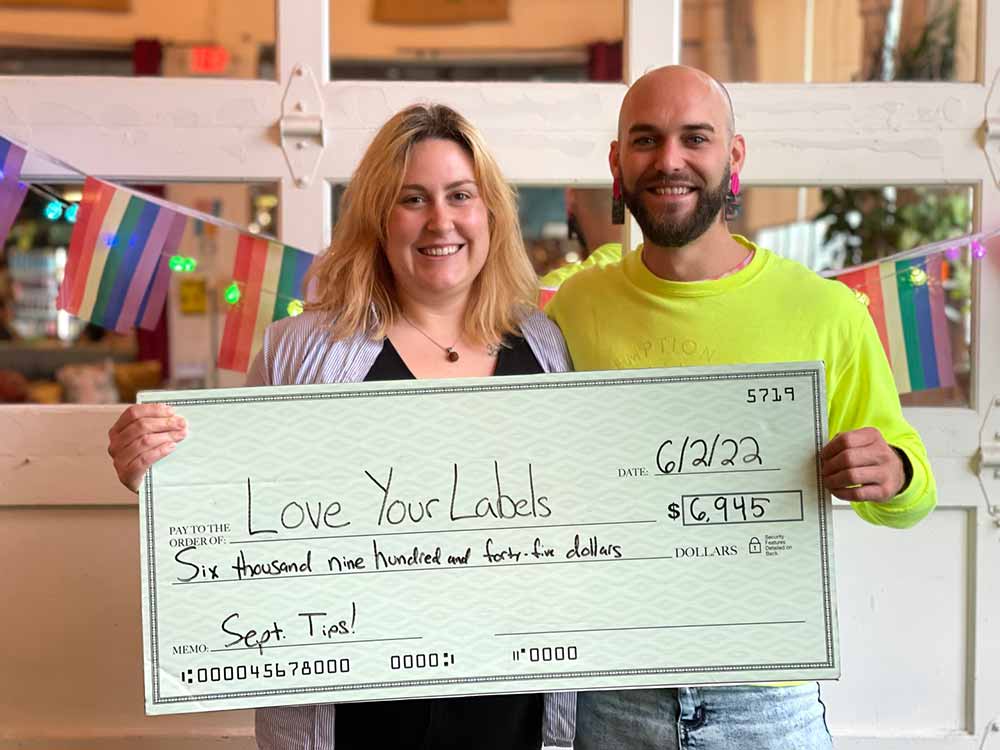 We learned about this brewery thanks to our fans on Instagram. The female-owned brewery has been a staple in the Worcester community since opening in 2019. Most notably the taproom has become a popular hangout for the Queer folx in the area thanks to its programs such as Drag Queen Story Time and practice of donating taproom tips to different organizations each month. Come September i.e. Worcester Pride, Redemption Rock often teams up with Love Your Labels, an organization supporting LGBTQIA+ youth through art, fashion and design. Last year, Redemption Rock donated almost $7 thousand to the organization creating inclusive and loving spaces for all.
Additionally, in 2020, Redemption Rock achieved B Corp Certification, a designation recognizing that a for-profit business "meets the highest standards of verified performance, accountability, and transparency on factors from employee benefits and charitable giving to supply chain practices and input materials," per the organization's website. Redemption Rock scored highest in the "Community" category, earning the most points for its diversity, equity, and inclusion programs.
An incredible ally in the space, Redemption Rock proves how easy it can be to make breweries a safe space for all.
Rising Tide Brewing
Portland, ME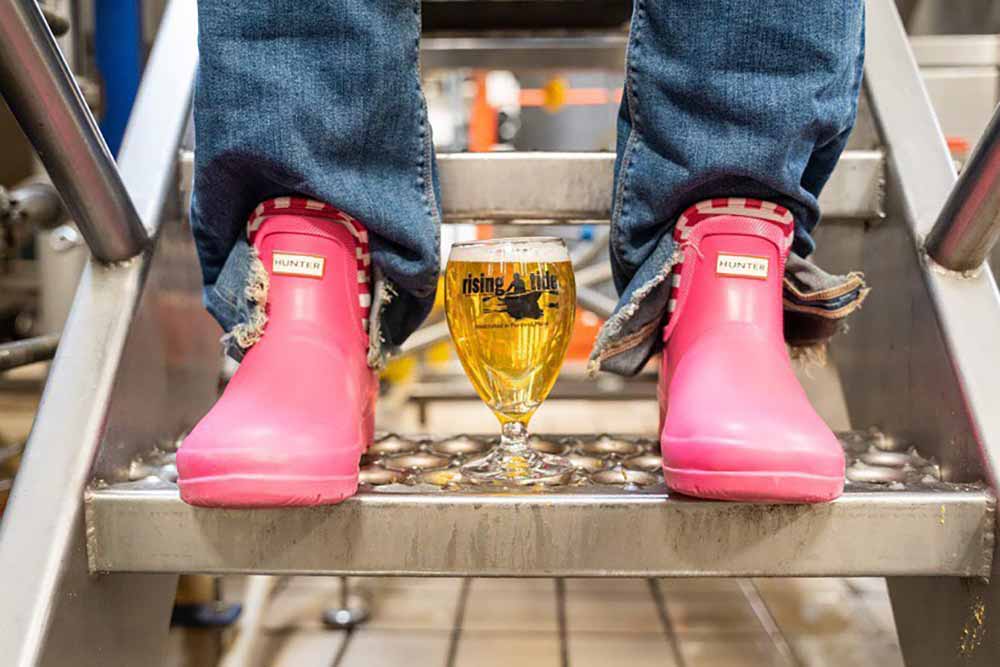 You don't often find an ally brewery specifically stating its dedication to giving back to the Queer community in its mission statement. But that's what you'll find at Rising Tide Brewing. Guided by their community, Rising Tide states explicitly, "We take pride in our investment in the revitalization of our neighborhood and the great Portland area and strive to give back as much as possible to create a thriving and safe space for all. We focus our efforts on supporting economic development, LGBTQ+ issues, BIPOC equality, women's reproductive health, combating hunger, stewardship of Maine's oceans and rivers, local land trusts, and outdoor activities." For that reason, Rising Tide joined us for the first time at Queer Beer last year.
SaltFire Brewing Co.
South Salt Lake, UT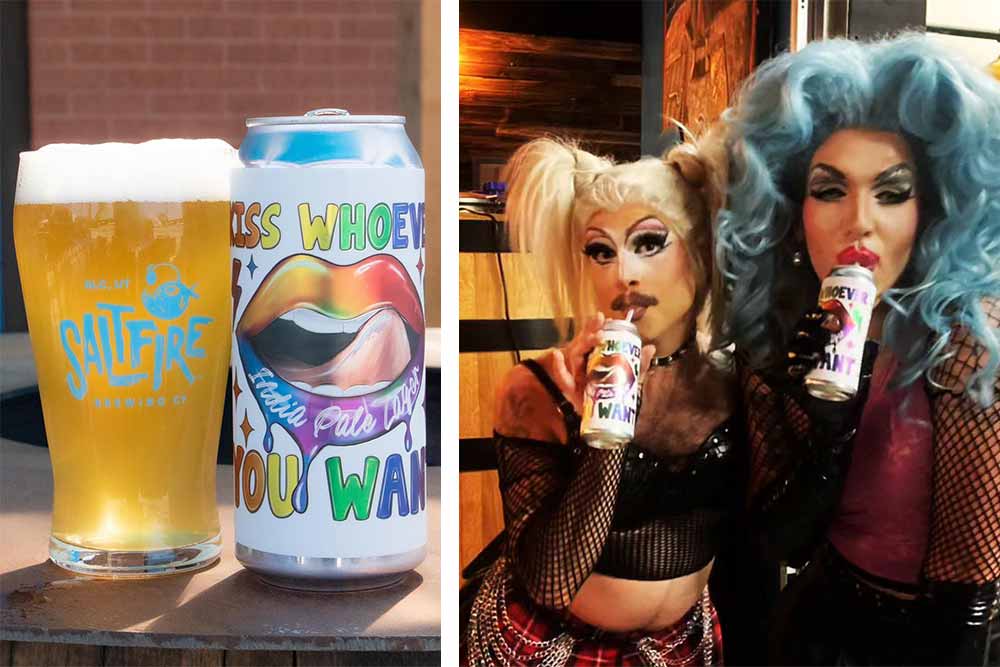 SaltFire told Hop Culture that a whopping sixty percent of its staff identifies as Queer! Accordingly, the brewery has ensured its team and customers feel safe, starting with gender-neutral restrooms.
In the back, you'll find SaltFire Head Brewer Jae Vanderwerf (she/they), a proud Transwoman, and Assistant Brewer Tanya Sapula (she/her), who identifies as Queer.
Uniquely, SaltFire goes an extra step for its Pride beer, inviting all LGBTQ+ brewers in the Salt Lake Area to brew together. This year, the brewery donated proceeds from Kiss Whoever You Want to Project Rainbow Utah, a local LGBTQ+ nonprofit.
You'll also find events in the taproom, like drag brunch and other Queer nights.
Samuel Adams
Boston, MA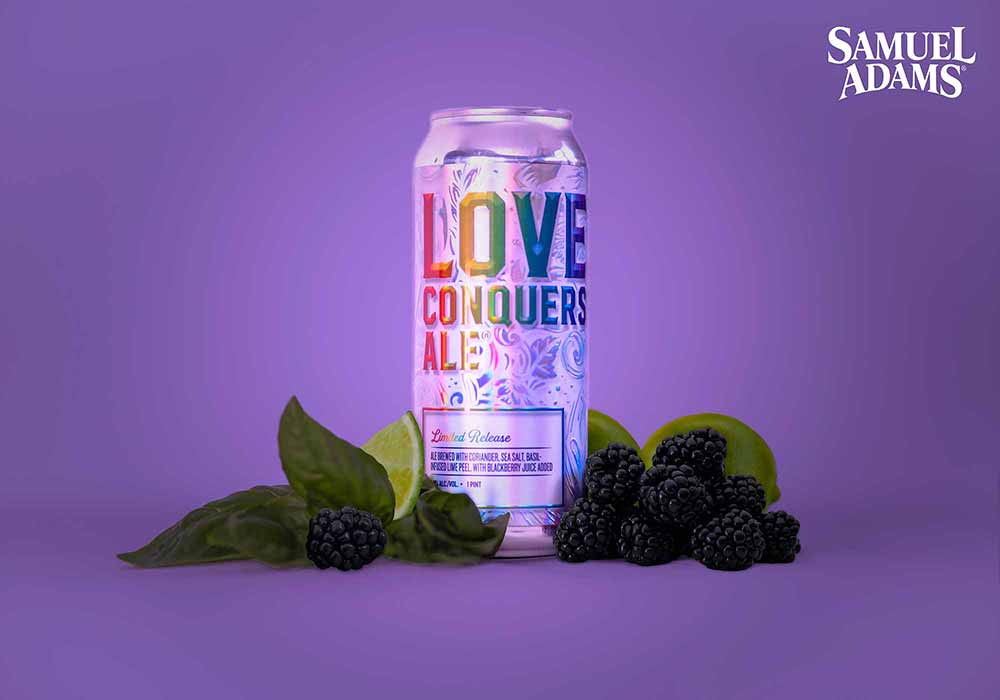 Samuel Adams has been a pioneer of the entire craft beer movement and supporting the LGBTQ+ community. The brewery's work includes a $100,000 donation in 2020 to GLAAD, the creation of Love Conquers All, brewing Love Conquers Ale, showcasing a powerful video series called Poetry of Pride, and forming its own internal diversity and inclusion group called Labels Out. From top to bottom, inside and out, Samuel Adams has made considerable strides to support the Queer community. Hop Culture was honored to partner with this revolutionary brewery as a presenting sponsor for its inaugural Queer Beer Festival in 2021.
Servaes Brewing Company
Shawnee, KS
Queer-owned Servaes (pronounced like service) in Shawnee, KS, is helmed by Courtney Servaes. Courtney started homebrewing in 2012 before eventually turning her hobby into a professional career, opening Servaes Brewing in April 2019. The 2,700-sq-ft brewery and taproom have become Courtney's mad scientist laboratory. There she cooks up crazy sours and barrel-aged beers with everything from red velvet cake to pumpkin pies. Courtney has even pioneered a line of craft sodas named after her son (who loves soda). Aaron's Craft Soda features unique flavors inspired by her family.
Sloop Brewing Co.
East Fishkill, NY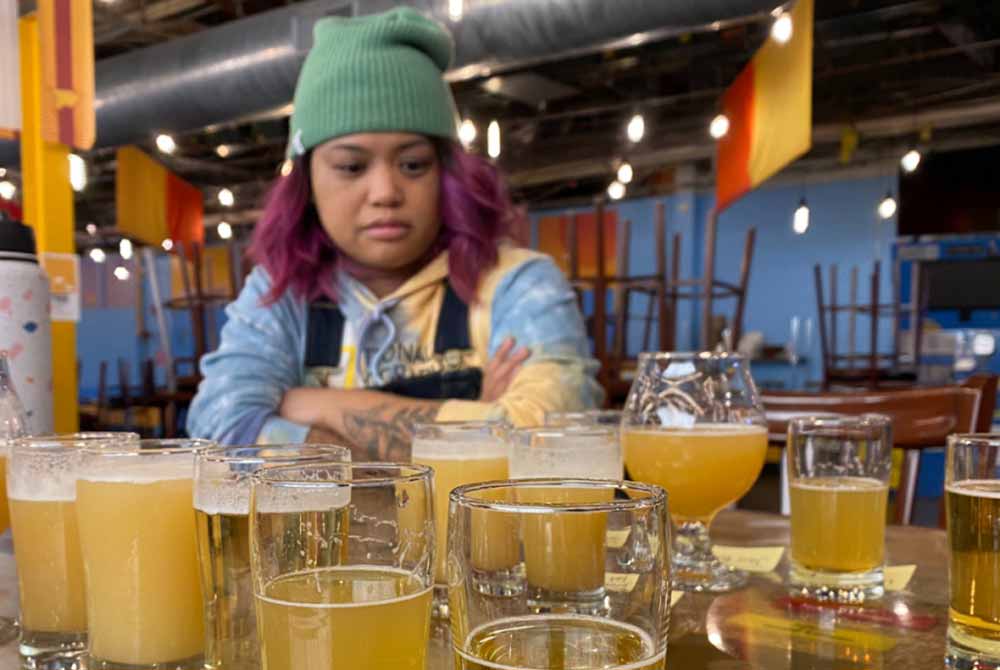 In the summer of 2020, Sloop Brewing did something practically unheard of up until that point; they started the Open Waters Internship Program, an internship aimed at giving Black, Queer, women, and other minority folks a chance to gain an educational experience in a brewery.
Helmed by Marquita Reese, a Black female Queer brewer at Sloop, who also serves as the chairwoman of the brewery's diversity and inclusion committee, the internship program has broken barriers in the industry.
For example, Michelle Demetillo, a Queer woman of color in the brewing industry, accepted an open position in the program. We hope that for years to come, more Queer and minority individuals will have the opportunity to "dismantle barriers in the craft beverage industry and pave the way for positive change in the world of brewing and craft beer by creating a more diverse and inclusive industry," as it says on the brewery's website.
Which is the whole point of Sloop's groundbreaking initiative.
And we hope more breweries will take Sloop's example and start something similar in their spaces.
Stoup Brewing
Seattle, WA
Robyn Schumacher, who identifies as a Queer cis-woman, co-owns Stoup Brewing in Seattle, WA, with husband-and-wife team Lara Zahaba and Brad Benson. A former high school science teacher turned brewer, Schumacher became the first woman in the state of Washington to become a Certified Cicerone. Today, Schumacher and the brewery continue to strive to create a safe, equitable space for all to drink whether that's hosting a Queer as Funk Tea Dance Party or brewing a Stoup Pride month IPA.
Syncopated Brewing Company
Lakewood, CA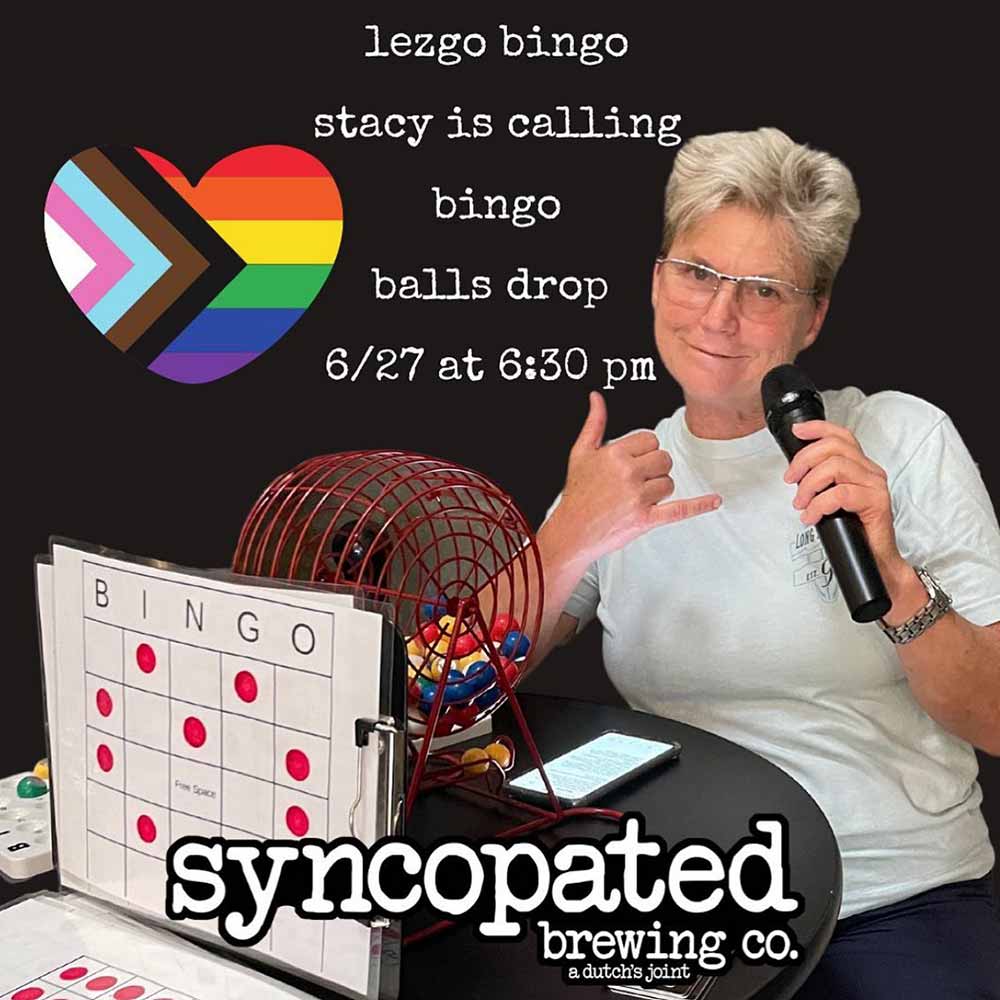 Queer-owned Syncopated Brewing has always marched along to the beat of its own drum. Started by self-proclaimed "off-beat" Jason Van Fleet and Chris Klein, who you may know for brewing some of Ballast Point's most iconic beers like Sculpin, Syncopated brings together a bunch of funky beers (and personalities) all under one roof.
Among other things, Syncopated hosts drag shows and lezgo bingo and raises money for local LGBTQ+ charities.
TALEA Beer Co.
Brooklyn, NY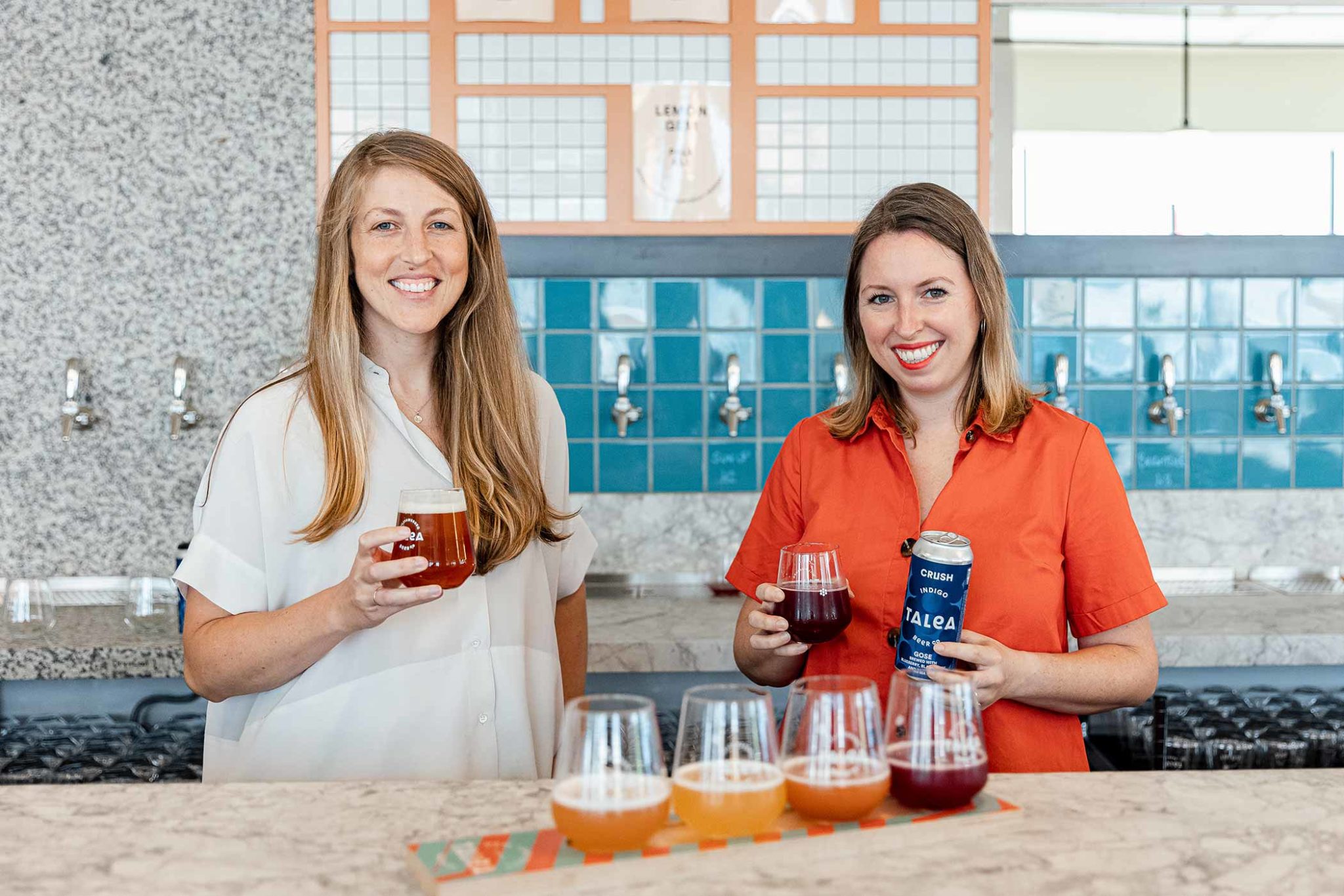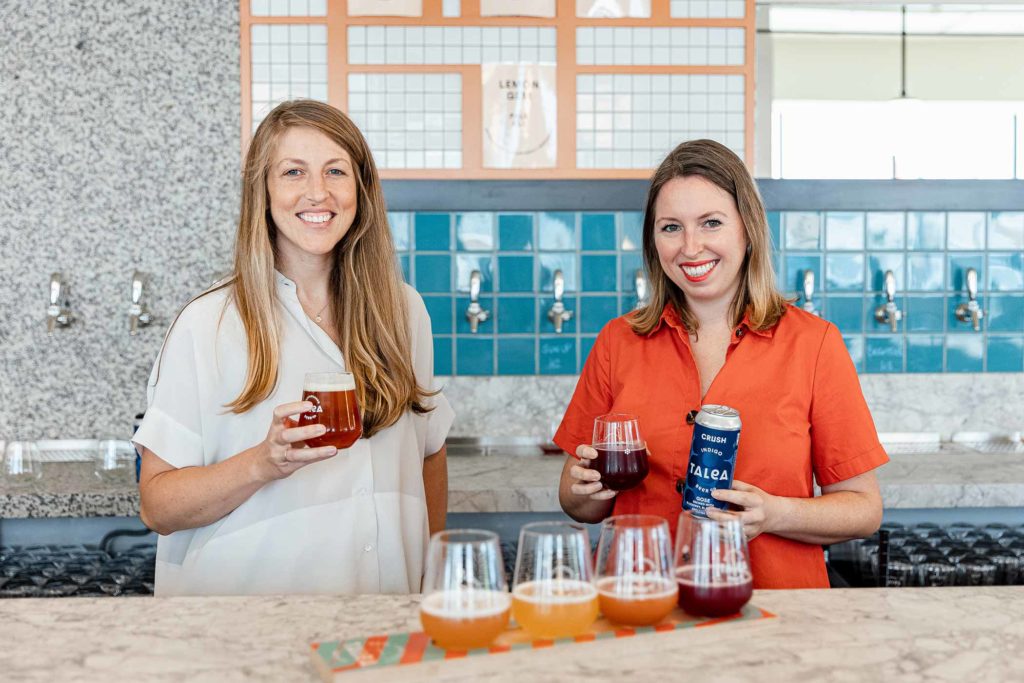 We've rained praise down on TALEA Beer Co. in the past for many reasons. The all-woman and veteran-owned brewery in Brooklyn was started by Tara Hankinson and LeAnn Darland. And while neither identify as Queer, they have consciously decided to cultivate an inclusive culture, from their packaging meant to attract all types of consumers regardless of gender to their incredibly friendly space to hiring Ariel Schwarz (they/them) as lead brewer.
Last year, Ariel joined us at our fourth annual Beers With(out) Beards to walk us through how they are making some of the softest, most pillowy, juiciest hazy IPAs.
If you're looking for an example of one business that is just doing it right, look to TALEA Beer Co., and find their Weekender Pink Lemonade Lager in our new Queer Beer Box!
Temescal Brewing
Oakland, CA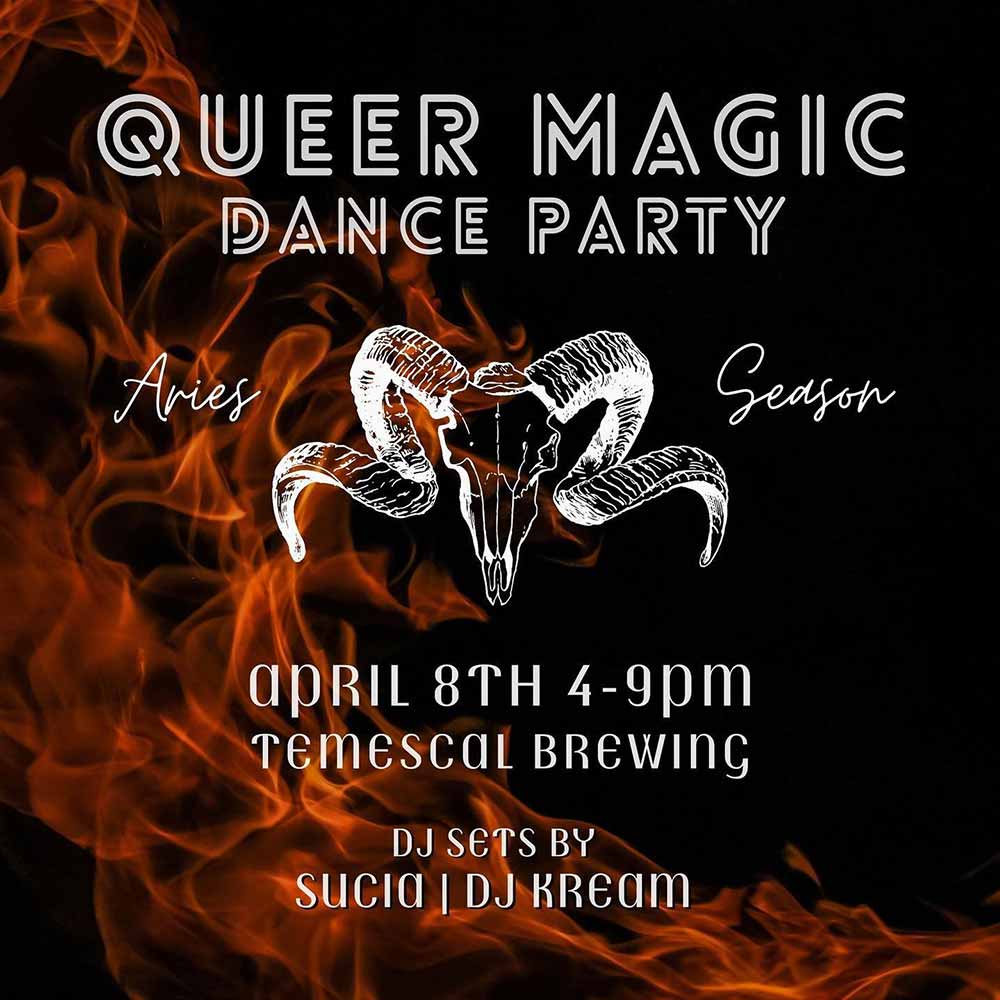 Live in Oakland, CA, for any amount of time, and you'll quickly learn about Temescal Brewing's Queer First Fridays. In fact, I visited Queer First Fridays with my wife the weekend after moving from NYC to CA in March 2020. Actually, it was the last public gathering I went to before the global pandemic forced breweries and taprooms to shut down.
The event, held monthly on the first Friday of each month, brings together Queer musicians and drinkers to celebrate a night uniquely Queer. The event gained popularity in the area for crafting a safe space for Queer folks to hang out with friends and listen to great music while also enjoying incredible beer. These vibrant, often wild nights were the brainchild of then-bar manager Theresa Bale, who planned the inaugural Queer First Fridays as her birthday party. Without a place precisely for the Queer community to congregate outside of late-night clubs, none too concerned with craft beer, Bale created her dream Queer party that married the two. And the Queer community took notice, with over 500 people showing up to dance and drink at the first Queer First Fridays.
These days, Temescal hosts Queer Magic Dance Party, a dance party and fundraiser for the Trans Advocacy & Care Team (TACT) that champions trans wellbeing.
Ten Eyck Brewing
Queenstown, MD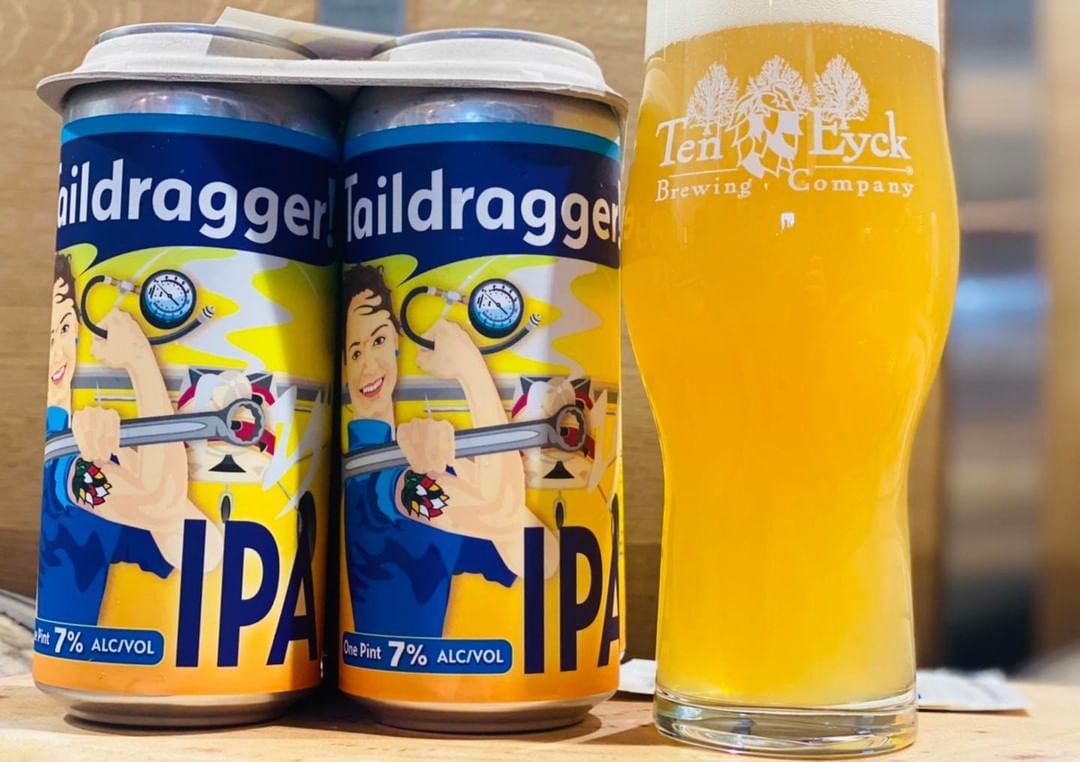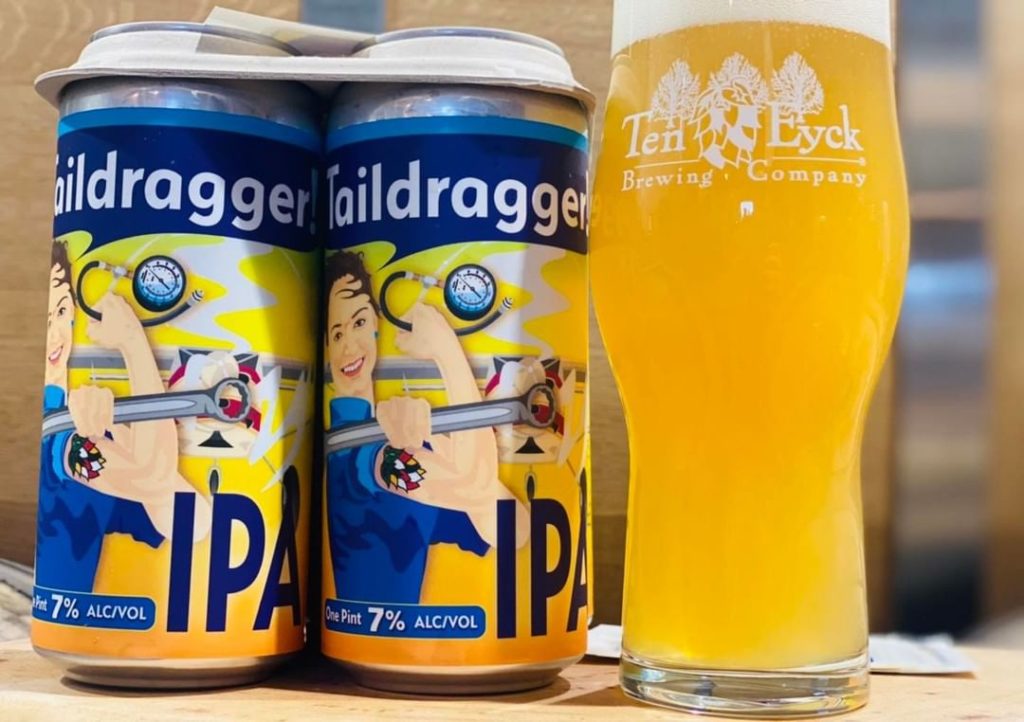 Owned by a team of Queer women veterans and first responders, Ten Eyck Brewing Company makes it a mission to bring delicious craft beer to their Eastern Shore community. Ten Eyck features a standout crew of seven women making their mark in craft beer. We met many of them, including Yancy and her partner Jessica and Nicki, at our fifth annual women in craft beer festival, Beers With(out) Beards (and they also joined us for Queer Beer last year). We can tell you unequivocally that this incredible group of people dedicates themselves to promoting inclusivity and equality in craft beer.
Find Taildragger IPA from Ten Eyck in our new 2023 Queer Beer Box.
Trace Brewing
Pittsburgh, PA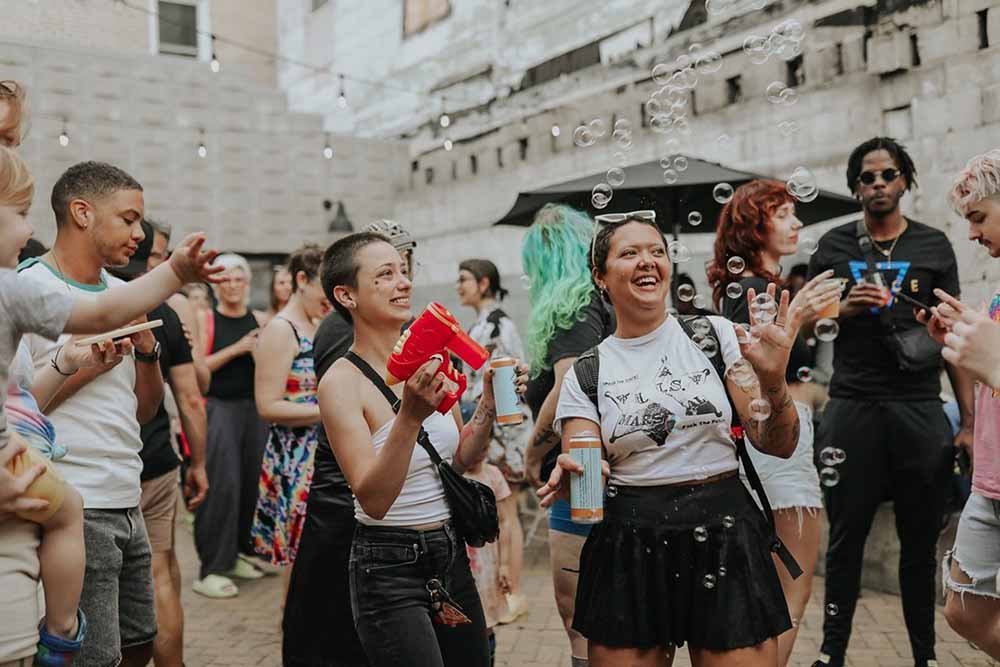 Recently, we featured Trace Brewing heavily in our ten-part series on "Creating Safer Spaces in Craft Beer" Why? Because their business model is one all in the industry should research, study, and replicate.
Quite simply: Trace has made it its mission to be a leader in supporting underrepresented communities. They actively go above and beyond to create a safe taproom—even bypassing Allegheny County laws to build gender-neutral restrooms—and develop programs to lift minority groups in craft beer.
For example, Trace's vocational program offers 6-month, paid hands-on brewery training aimed at providing brewing opportunities to historically marginalized groups. Two of Trace's vocational brewers are part of the Queer community and now hold full-time brewing jobs in the industry.
Additionally, Trace hosts Queer-led and Queer-friendly events in its taproom, such as Drag Brunches and Drag Bingo. Trace Brewing even co-founded and co-organizes the yearly PRIDE Festival in its neighborhood.
The Alementary Brewing Co.
Hackensack, NJ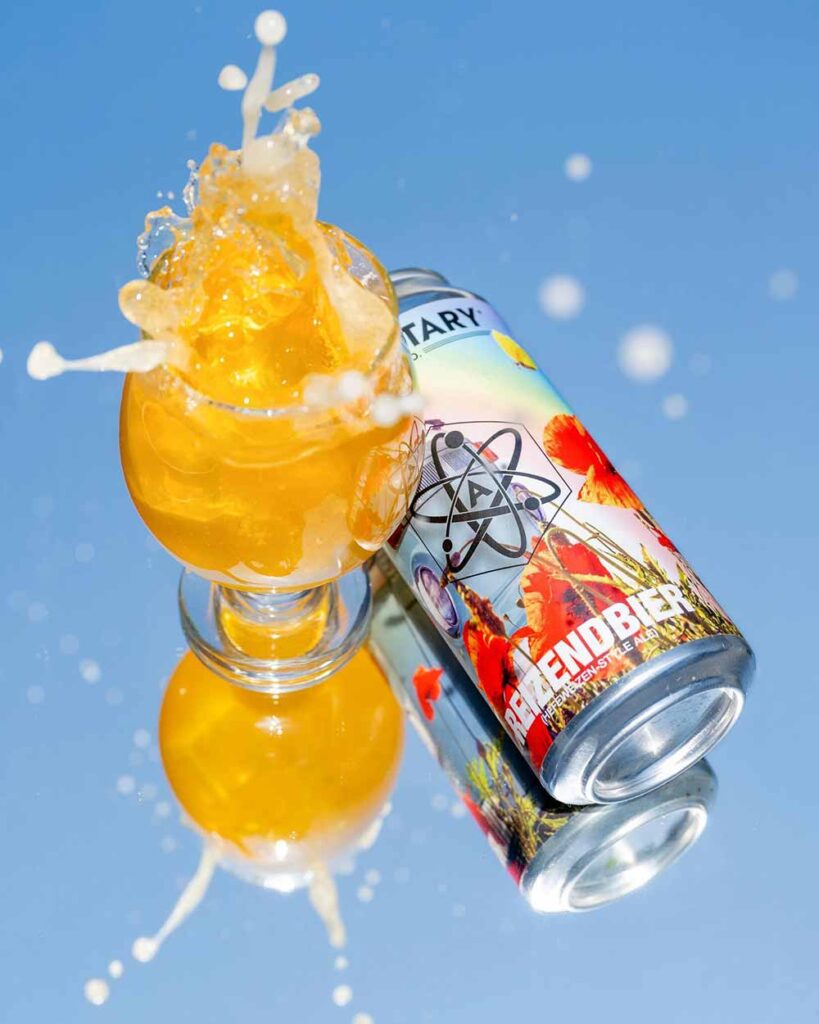 Founded in 2016 by Mike Roosevelt and Blake Crawford, a chemical engineer and molecular biologist duo, The Alementary Brewing Co. is also proudly gay-owned. As the brewery wrote in a recent Instagram post, "As a gay-owned, family business, Pride isn't just one month for us…it's 365!" We couldn't agree more.
In addition to hosting a variety of Queer-themed events, the New-Jersey-based brewery also releases an unofficial Pride hefeweizen called Reizendbier in June and works to raise funds for The Trevor Project, The Marsha P. Johnson Institute, and Garden State Equality.
The Good Hop
Oakland, CA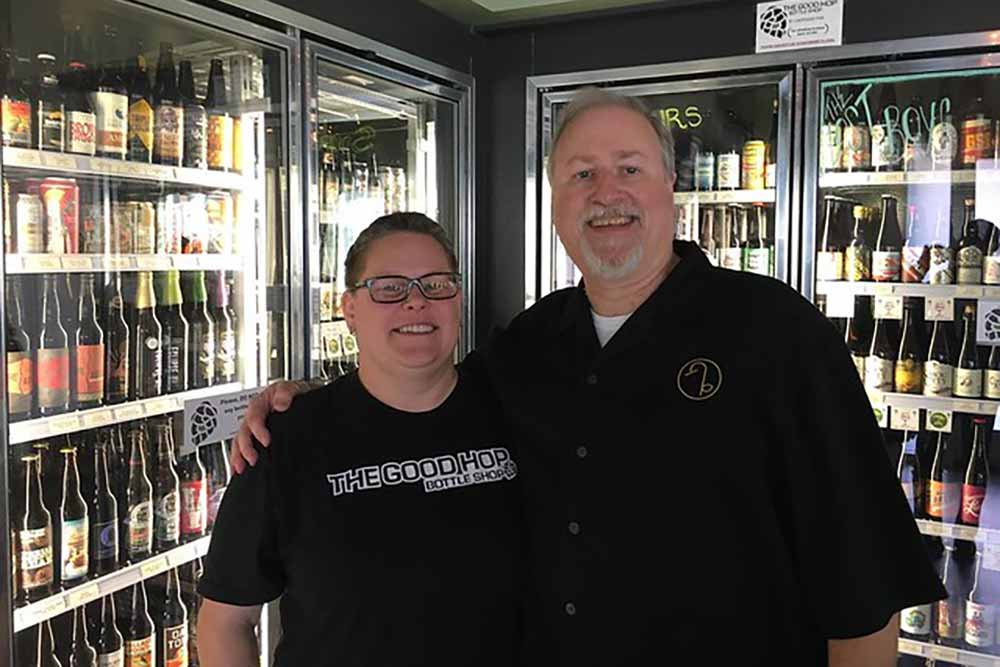 Although not technically a brewery, The Good Hop, a Queer-owned craft beer bar and bottle shop in Oakland, has become such a pillar in the community that we had to include them on this list. Owner Melissa Myers worked as a professional brewer for sixteen years before eventually starting her craft beer shop.
Myers joined us for our inaugural Queer Beer in 2020 on a panel called "How to be an LGBTQ+ Leader in Craft Beer," sharing how craft breweries and bottle shops can support their Queer community.
For The Good Hop's part, the shop participates in Pride collaborations, carries Queer-owned and Queer-supporting breweries' beers, and fundraises for Sisters of Perpetual Indulgence, an organization giving back to the local Queer community.
The Virginia Beer Company
Williamsburg, VA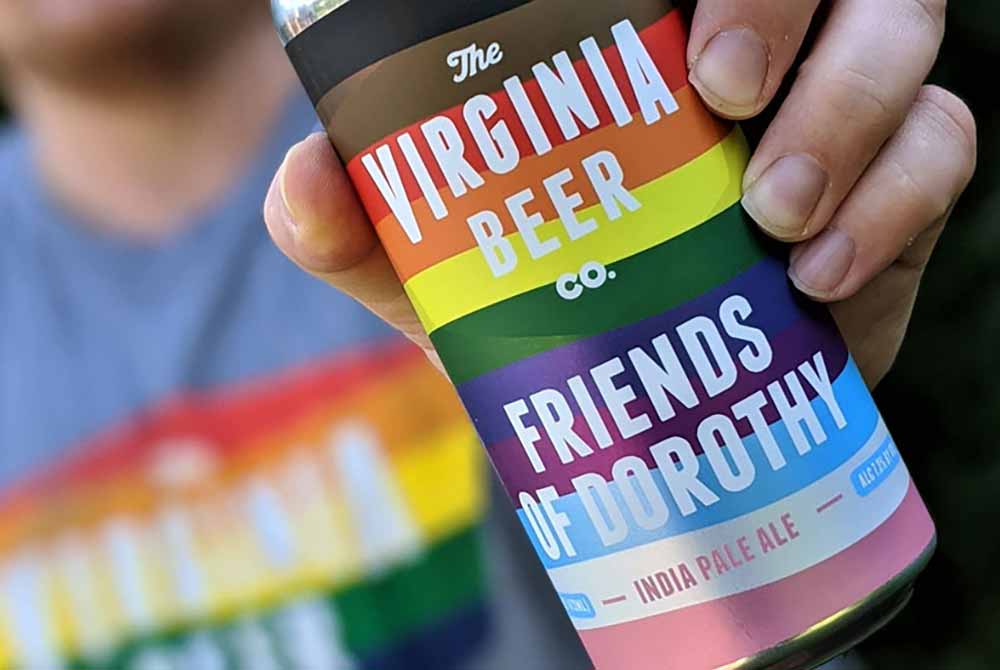 Chris Smith and Robby Wiley started The Virginia Beer Company with a goal: to change Williamsburg and to be a place that's comfortable for anyone. For Smith and Wiley, that means supporting the LGTBQIA+ community.
The brewery's Friends of Dorothy is one of the more well-known Queer-supporting beers in the country. The beer, named after the phrase "a friend of Dorothy," symbolizes the secret signal used by gay men dating back to at least World War II when being Queer was illegal. Saying you were "a friend of Dorothy" signified your orientation in code.
The beer respectfully nods to a very tough time for the Queer community. One where we persevered and survived.
Friends of Dorothy may be a Pride IPA, but the beer's meaning hits us and proves that Virginia Beer Co. embodies equality all year, including joining us at Queer Beer in 2022 and in our 2023 Queer Beer Box, which you can nab right now!
Thin Man Brewery
Buffalo, NY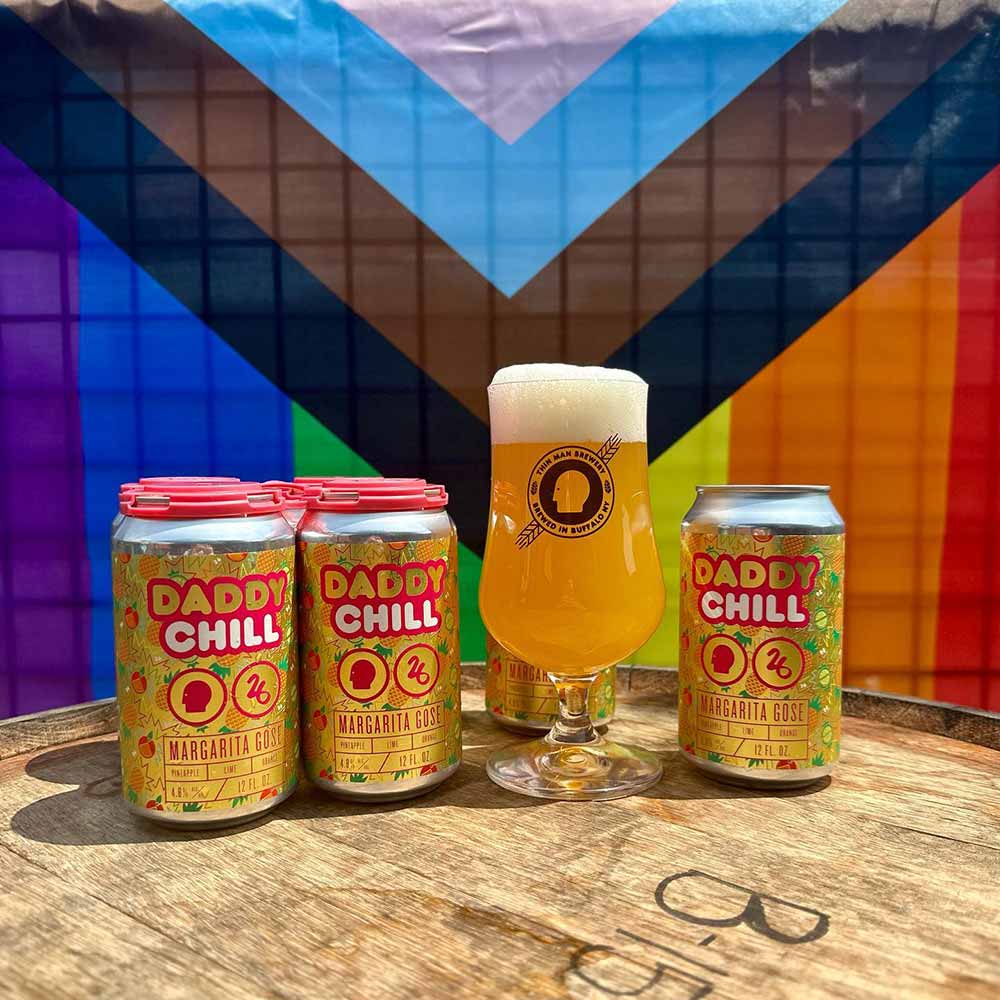 One of Buffalo, NY's best breweries, Thin Man includes Queer representation on staff, hosts Drag Brunch every month, and makes tons of Queer-friendly beers, including Daddy Chill, One of Amanda's Friends, and Minkey Lizzy, the latter whose proceeds Thin Man donated to Insight, an LGBTQ+ organization fighting for human rights in Ukraine.
Threes Brewing
Brooklyn, NY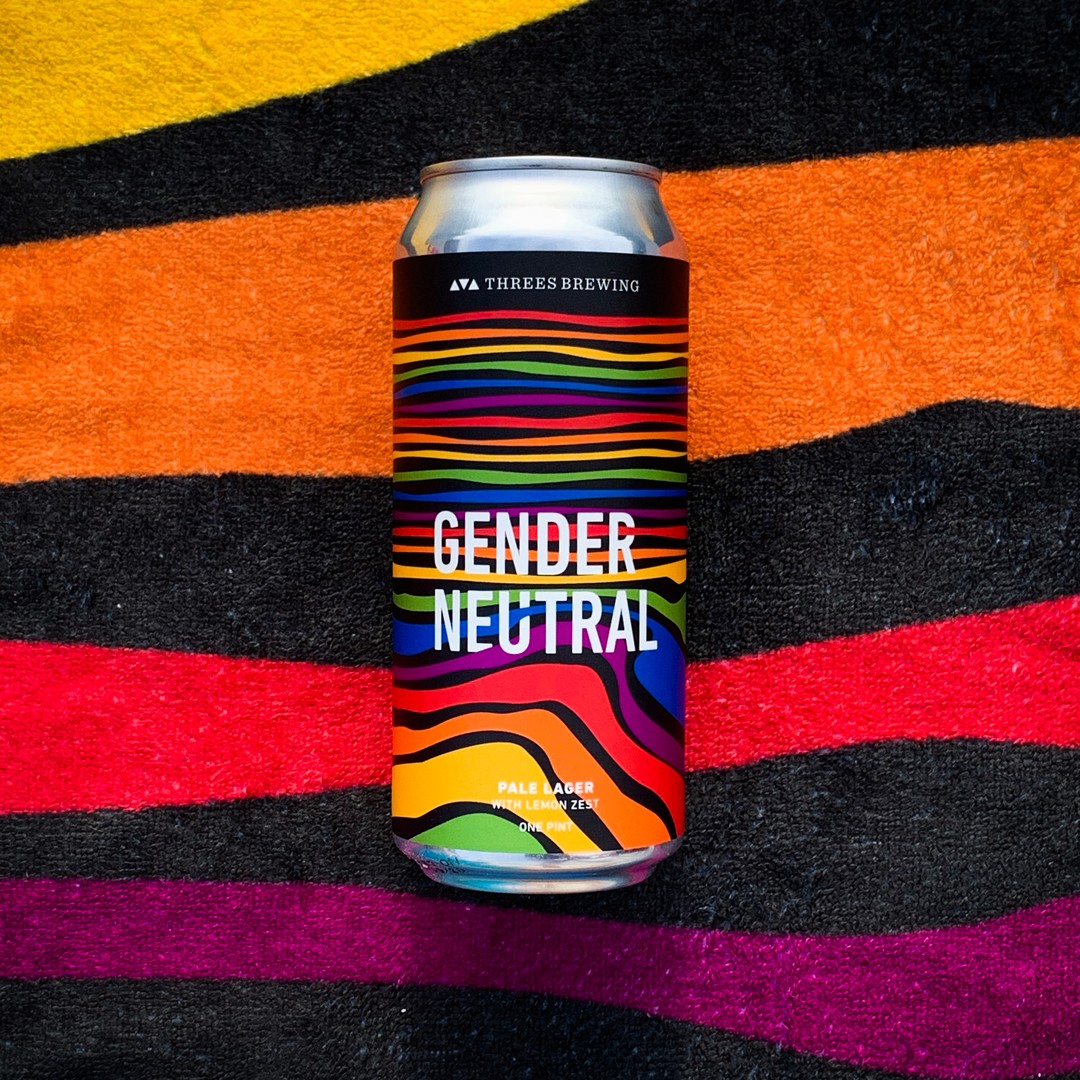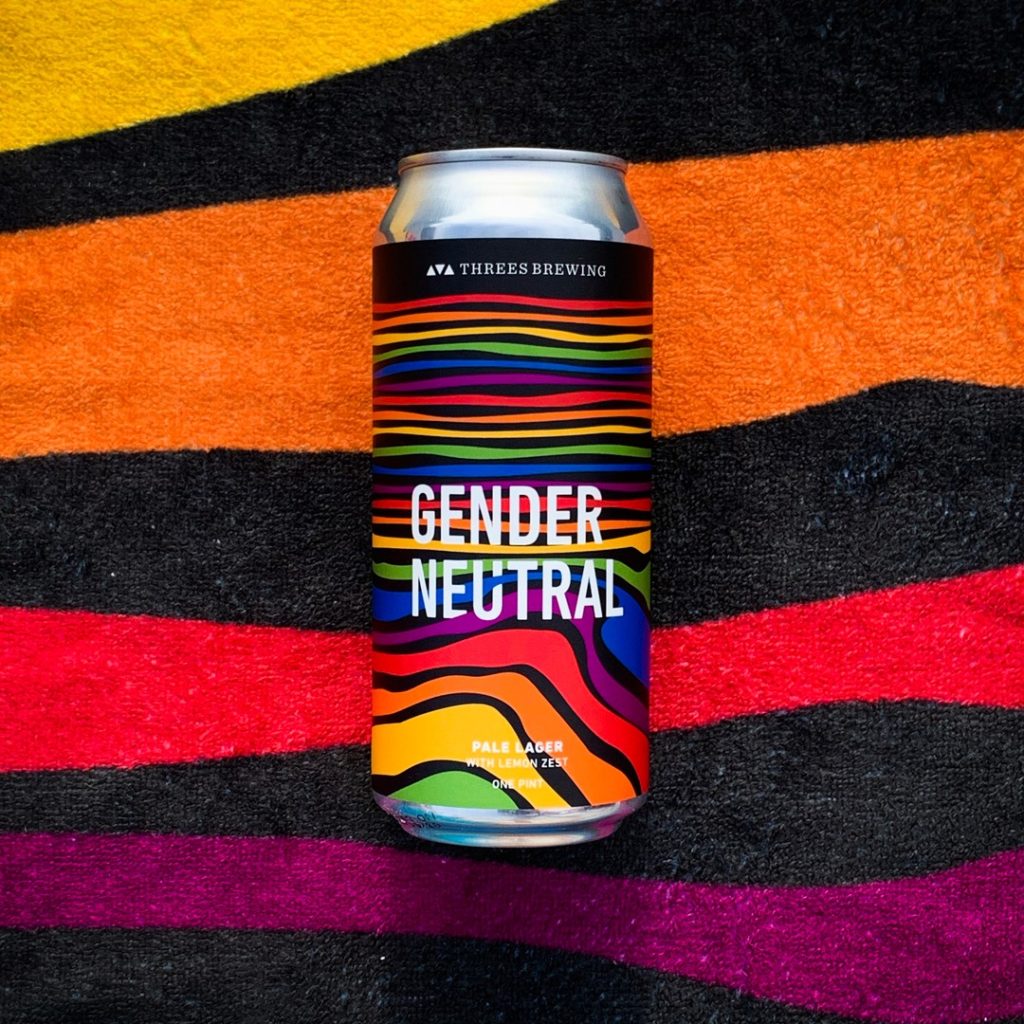 Threes brewed a Pride beer before Pride beers were a buzzword. Back in 2017, after the nation elected former President Donald Trump to the White House, the Threes team tried to think of ways they could do something to respond. The brewery wanted to find a cause they believed in and support it to the hilt—Gender Neutral was born. Made to represent the full, colorful spectrum of gender identities, Gender Neutral has been canned and released in June each year since to "make a broader commentary on human nature and society at large."
With ten percent of all sales of Gender Neutral donated to various LGBTQIA+ organizations over the years, such as the Human Rights Campaign or Anti-Violence Project, an NYC-based organization that works with LGBTQIA+ and HIV-affected communities, Threes' dedication to the LGBTQIA+ community has been unparalleled.
Truro Brewing Company
Truro, Nova Scotia, Canada
The Queer-owned, Queer-led Truro Brewing Company told Hop Culture that seventy percent of its staff identify as Queer! Founded in 2019 by Jana and Trish Dellapinna, Truro proudly proclaims on its site that they are a Queer-owned and friendly space. "Anyone sharing our space must be supportive of the ENTIRE Queer community. PERIOD," writes the brewery under its House Rules. The brewery's code also establishes that those who visit do not discriminate, do not harass, and do not resort to any sort of hate speech or violence.
"At Truro Brewing Company, we stand behind the belief that at birth, all humans deserve equal rights, opportunity, and respect," writes the brewery under its mission statement. "Our entire team is committed to embracing diversity in all forms. … Our aim is to offer a safer place for Queer & Trans communities, as well as those who support us, to be authentically true to ourselves without fear."
Last week, the brewery posted about becoming Rainbow Registered, a Canadian accreditation for 2SLBGTQI+-friendly businesses and organizations. According to Canada's 2SLGBTQI+ Chamber of Commerce, which provides the recognition, companies must "meet a stringent set of standards to ensure customers 2SLGBTQI+ customers feel safe, welcomed, and accepted.
Urban Growler Brewing Co.
St. Paul, MN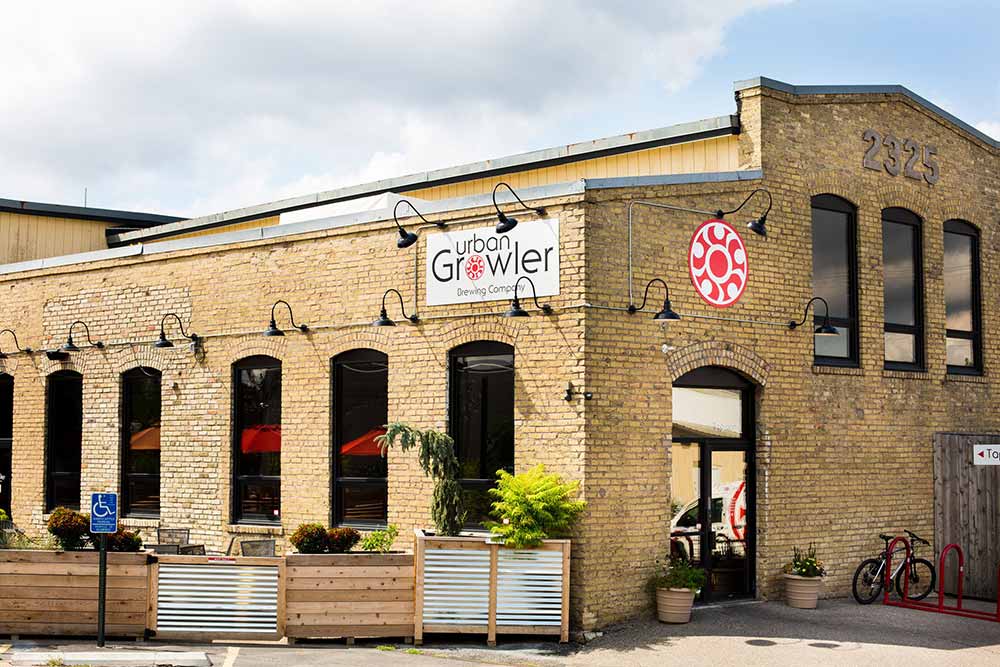 The first women-owned craft brewery in Minnesota also happens to be Queer owned. Helmed by partners Jill Pavlak and Deb Loch, Urban Growler Brewing Co. is the perfect example of breaking through industry barriers. Pavlak and Loch had a dream: to open a brewery. But banks wouldn't take them seriously. "We heard ridiculous things like, 'How will you girls carry those big heavy bags of grain? How will women your age keep those late-night hours? What if you get divorced?…' Would you ask that of a heterosexual couple?" said Pavlak in an article for October magazine. But the couple never quit.
They brewed beer, printed t-shirts, sold shares in their future brewery, and raised over $500,000. Still, the banks turned them down. Finally, at the suggestion of a friend, the ladies visited Pioneer Bank in Mankato, MN, and secured their loan. Seven years later, Urban Growler has become a beacon in the industry. Their annual Pride beer Let's Dance, a lavender lemon summer ale, celebrates the Queer community. But the story here of perseverance and tenacity makes Urban Growler such a special place.
UTOG Brewing Co.
Ogden, UT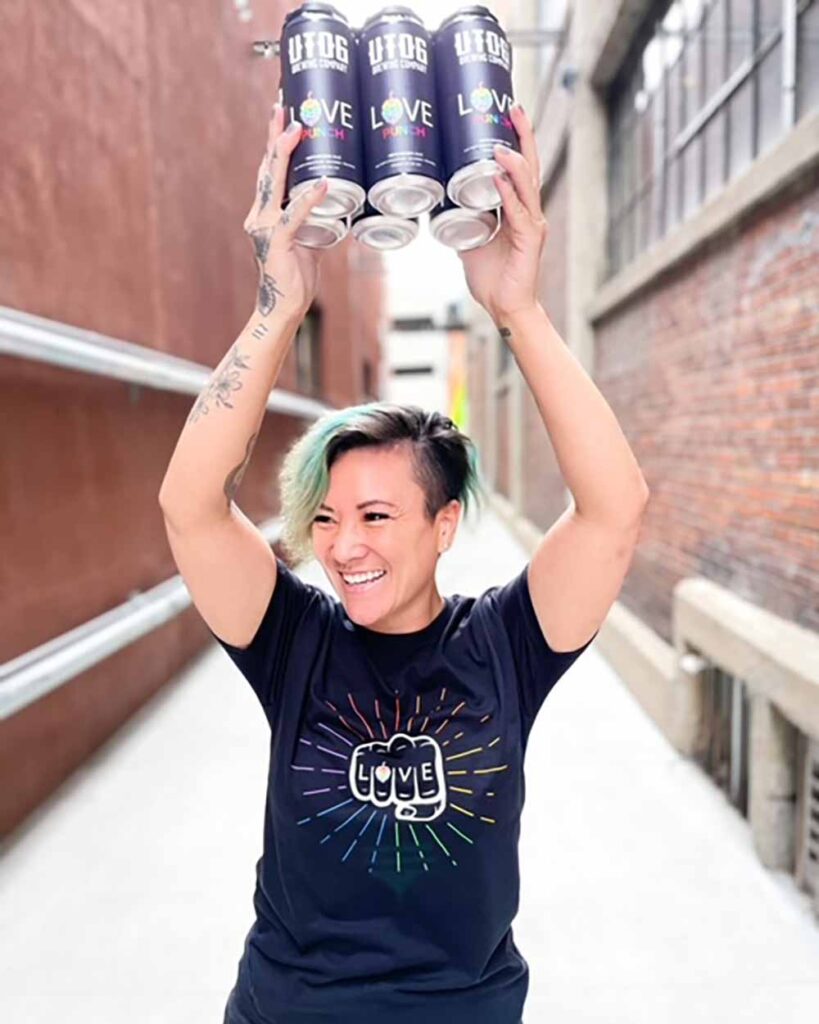 UTOG Brewing's Sales and Marketing Director, Jazmin Tom, who identifies as Queer, told us UTOG brewed its first Pride beer in 2023. Made by one of UTOG's brewery sales reps and his husband, LOVE PUNCH is a tropical hefeweizen whose proceeds benefitted Project Rainbow Utah, a non-profit promoting LGBTQ+ visibility in Utah. UTOG went further by encouraging all bars or restaurants that carried the Pride beer to donate. Additionally, the label design included a QR code so customers could donate directly while enjoying those sweet suds.
To support the Queer community 365, Tom told us UTOG collaborates with local LGBTQ+ bars and restaurants, putting on tap takeovers that raise money for Project Rainbow and other local non-profits.
Liked this article? Sign up for our newsletter to get the best craft beer writing on the web delivered straight to your inbox.