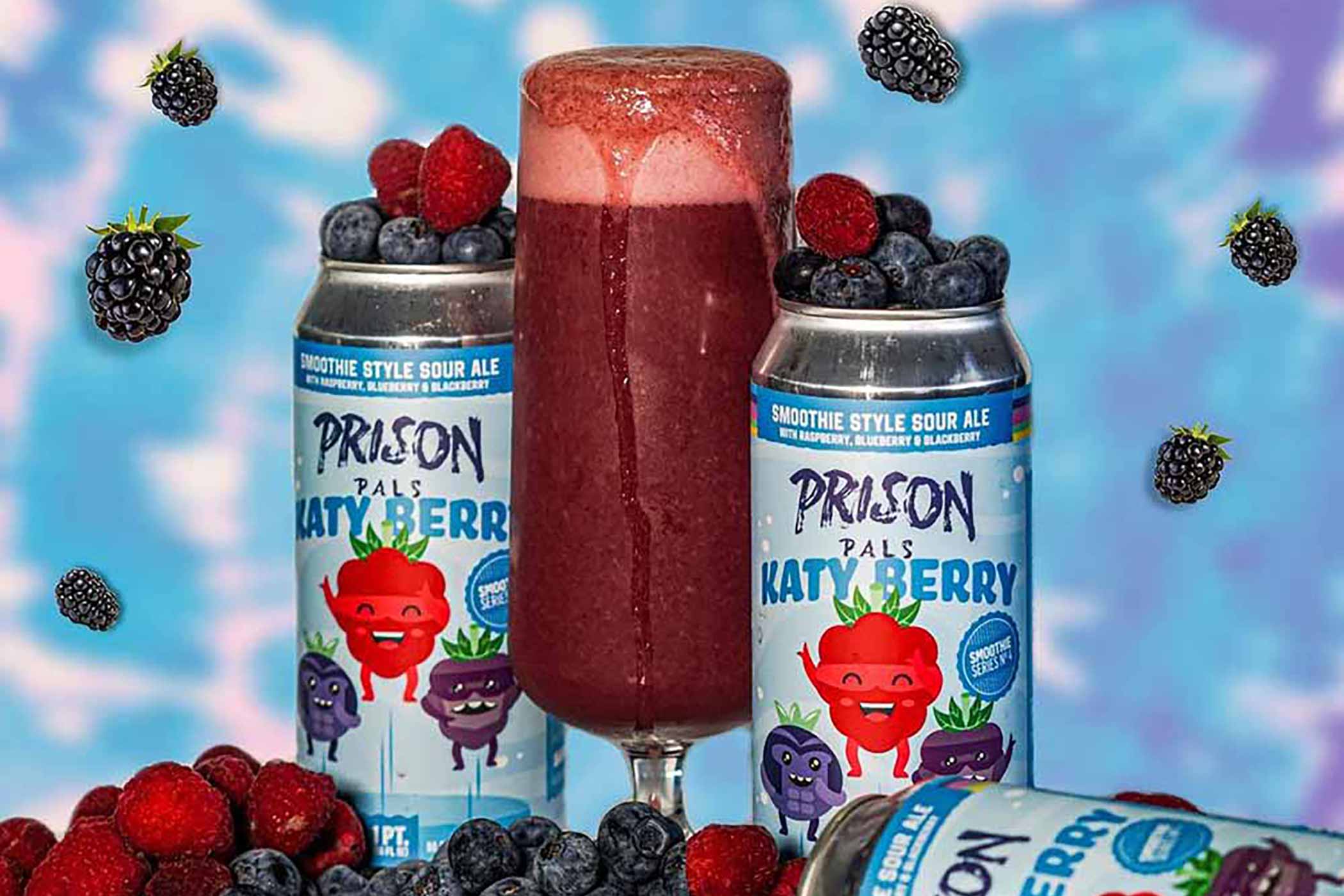 Photography courtesy of Prison Pals Brewing Company
In recent years, South Florida has become a hotbed for breweries, welcoming standouts such as Unseen Creatures, 3 Sons, Odd Breed, and Tripping Animals into the everglades and onto the white sand beaches. Most recently, Prison Pals Brewing Co. joined the ranks of these incredible taprooms.
Prison Pals Brewing Co. in Doral, FL, could just be the hottest brewery to land in this state (or the United States) since well, when we named Tripping Animals Florida's hottest new brewery. We got it right then, and we have a sneaking feeling we're nailing this one now.
And surprisingly (or maybe unsurprisingly), the two breweries share a lot in common.
Started by four guys from Argentina, Prison Pals has made a name for itself by producing sensational jam-packed fruited smoothie sours, hoppy hazy IPAs, and lights-out lagers. And in a state where the sun shines enough to give it a nickname, Florida seems to be the perfect landing spot for a brewery looking to break free.
The Origins of Prison Pals Brewing Co. (What Is Prison Pals Brewing Co.?)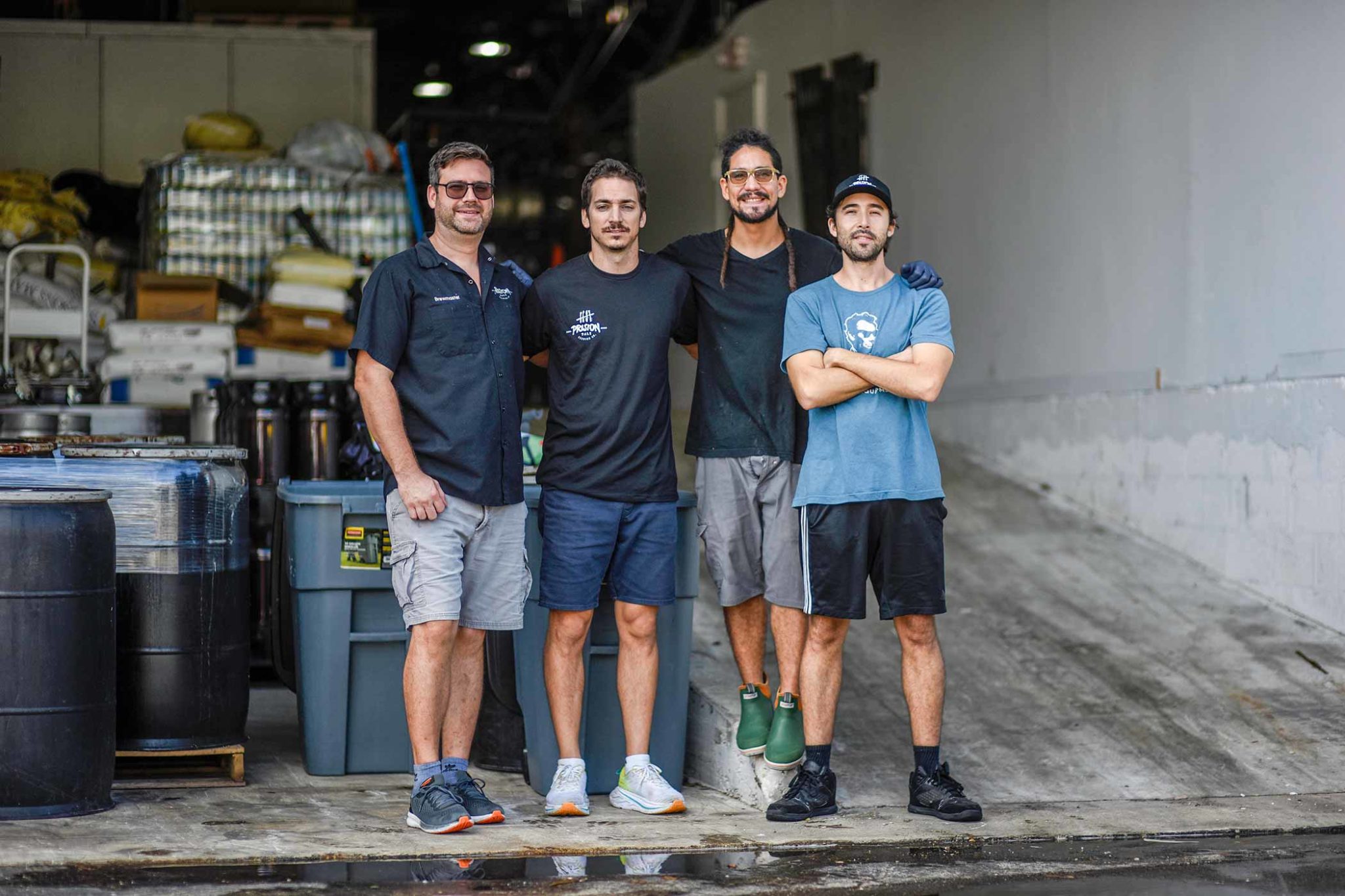 Founded in 2019 by four Argentinians, Juan Pipkin, Diego Setti, Bruno Laperchuck, and Matias Moroni (who just joined the team this year to help with the franchising and marketing of the brand), Prison Pals was originally the brainchild of Pipkin.
A professional race car driver in Argentina, Pipkin had friends who owned breweries, so he began to invest in the process. "I was very interested to learn about breweries and beer," says Pipkin. "And I loved to drink… I only wanted to drink good beer."
So Pipkin recruited Setti, who joined as the brewmaster, and Laperchuk, who became the head brewer and lab manager in charge of everything from quality control and yeast propagation to maintaining the quality standards of the beer and high level of sanitation.
But Pipkin didn't want to open his own place in Argentina, where the craft beer industry has limitations and has been growing much more slowly than in the United States.
Since he already had family in Miami, Pipkin began to explore opening a brewery in America.
In January 2020, Pipkin and Setti visited Florida, touring through Miami, Tampa, and Naples, exploring breweries. "We did a lot of miles in two or three days and drank a lot of beer," jokes Pipkin.
But in all seriousness, Florida seemed like the perfect place for Prison Pals. When Argentina allowed residents with tourist visas to leave the country, Pipkin and his co-founders made the move, setting up shop in Doral, FL, in early January 2021.
Within three months they had built pretty much everything in the brewery. "We are handy people," says Setti. "Except for the electricity and some piping for water, we made everything by ourselves. We were so excited about building our own brewery, so why not?"
In May 2021, Prison Pals officially opened to the public.
The Significance of the Name Prison Pals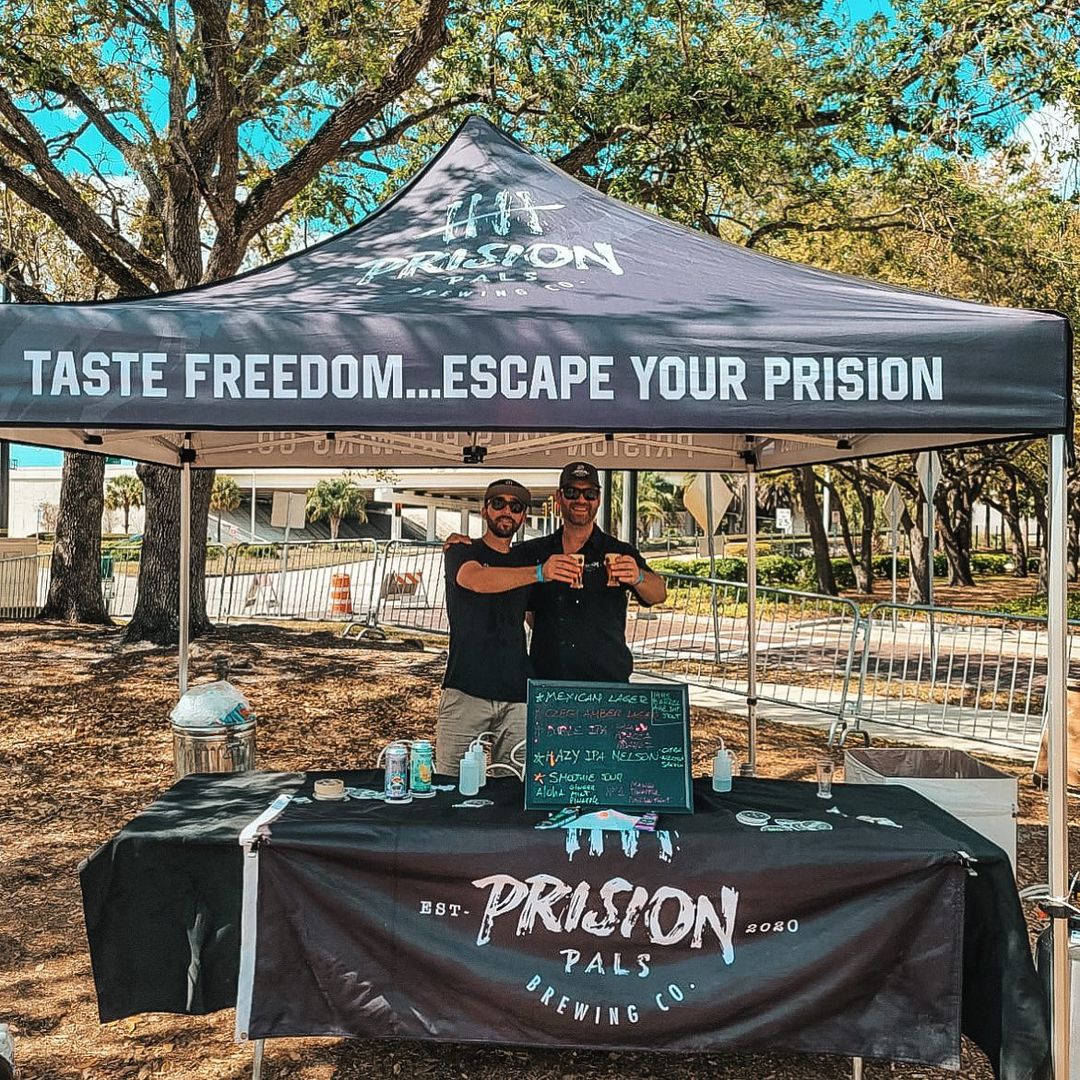 The name Prison Pals* is very important to Pipkin, Laperchuck, and Setti, who used the first letters of their last names to form the word Pals.
But perhaps it's the first word of their brewery name—Prison—that holds the most significance.
"We escaped the prison," says Setti. "The prison was Argentina."
According to Setti and Pipkin, the economic situation in Argentina is very challenging.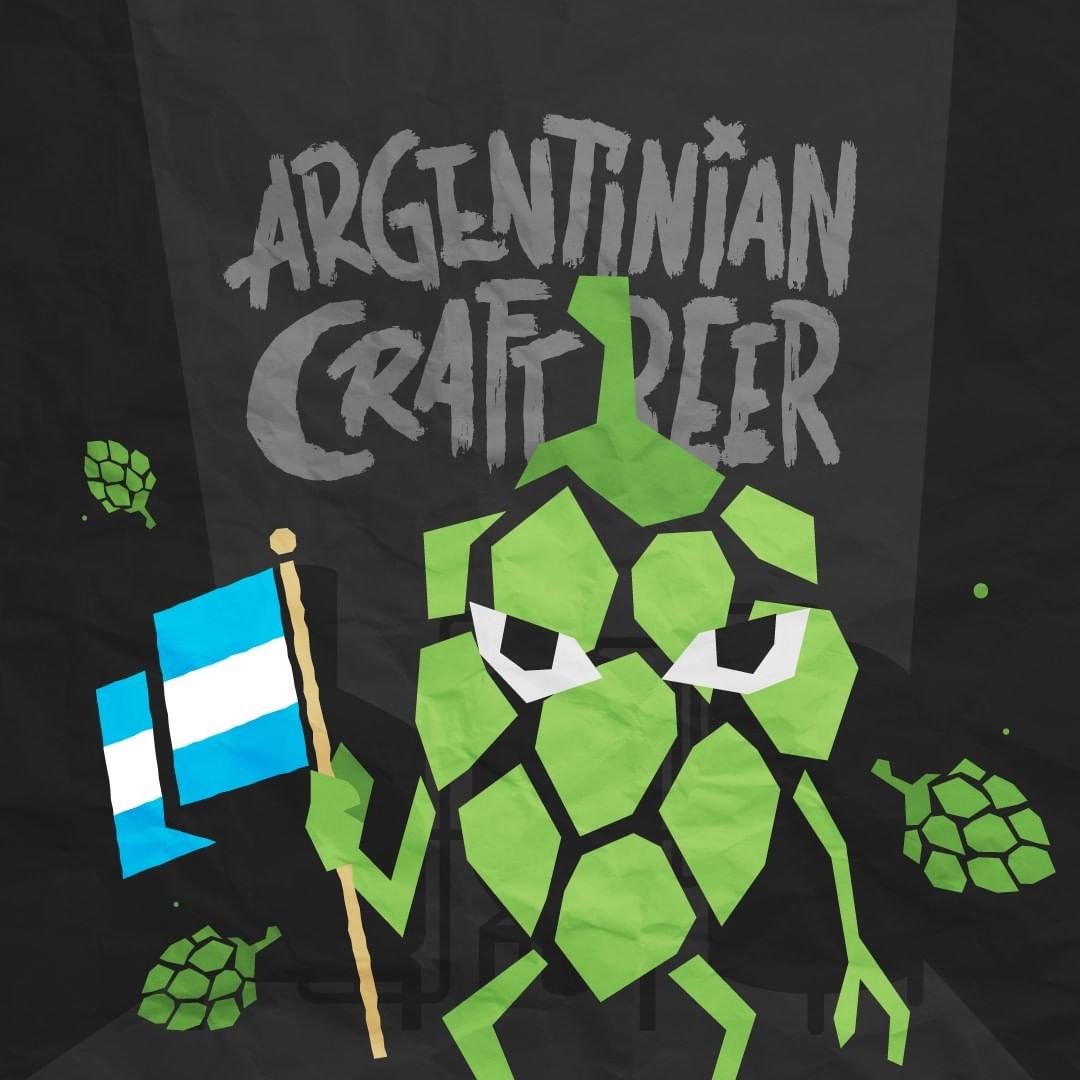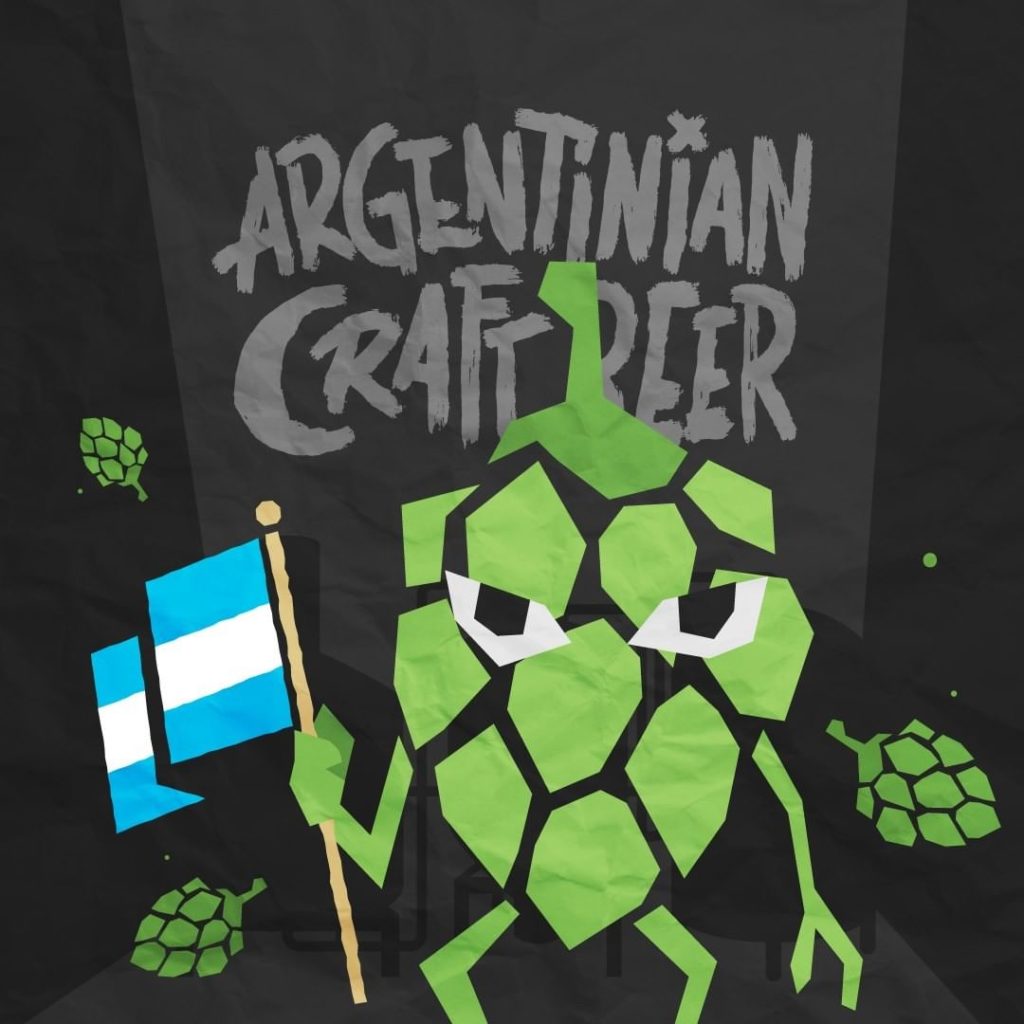 "For example, this project made in Argentina would take me sixty to eighty years to recover the money we invested," says Pipkin. "Or we'd have to get lucky and be bought by AB InBev."
Especially when it comes to the brewery industry in Argentina, there are many challenges. Setti experienced first hand these hurdles.
Originally an IT professional who started homebrewing fourteen years ago, Setti educated himself enough to start his own brewery. After years of reading books, taking courses, and earning certifications (including as a Certified Beer Judge), Setti started Mental Brewing in Argentina. "We only brewed historical beers… To brew a beer like that you need a lot of knowledge or research," says Setti. "It was mental because it was something you had to put a lot of brains towards…but also the brewery was 500 miles away from my home. That was mental!"
He also began an institute teaching courses on hopping techniques, beer styles, and traditional ways to brew beer. And even began beer consulting on the side.
For one project in particular, he needed to rewrite all the recipes after the Argentinian government suddenly stopped allowing imports from Germany. However, Setti says six months later the government started accepting German imports again. "The rules are changing every minute," says Setti. "That's why we feel like we escaped a prison. In a fun sense, but not that funny."
So Pipkin, Setti, and Laperchuck "ran away" to Florida to open a brewery.
"All the people here and all the owners of breweries have helped us a lot," says Pipkin. "We thought it would be difficult, but all these people make us feel like we're home in Argentina."
So much so that by the spring of 2021, Pipkin, Setti, and Laperchuck had Prison Pals up and running, cranking out sensational smoothie sours, turbid hazy IPAs, and delightfully light lagers.
*Editor's Note: Prison Pals was originally named Prision Pals, using the Spanish word for Prison. However, Constellation Brands issued the brewery an injunction because the name too closely resembled the brand's The Prisoner Wine Company, forcing the quartet to change the name to Prison Pals
Breaking Free with Smoothie Sours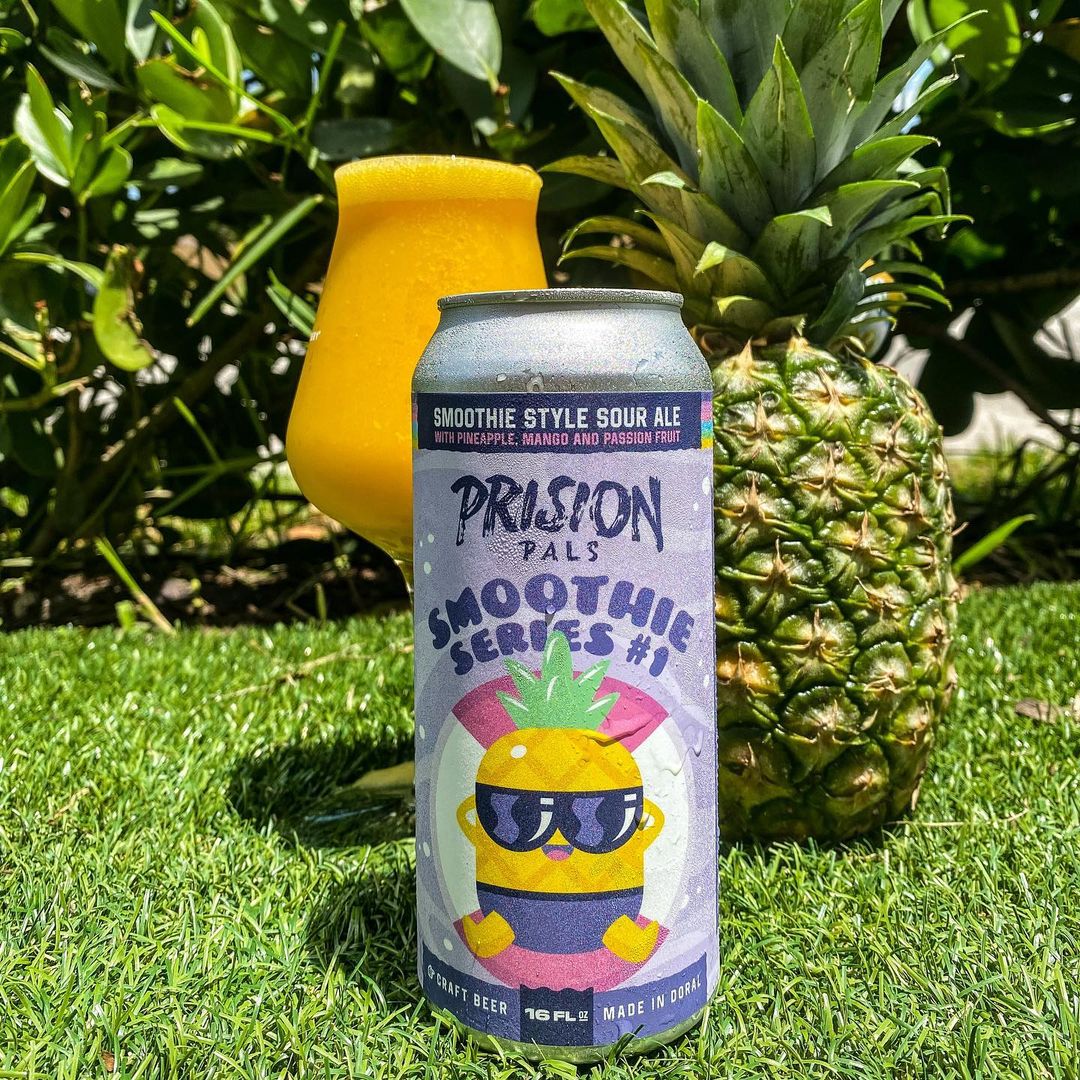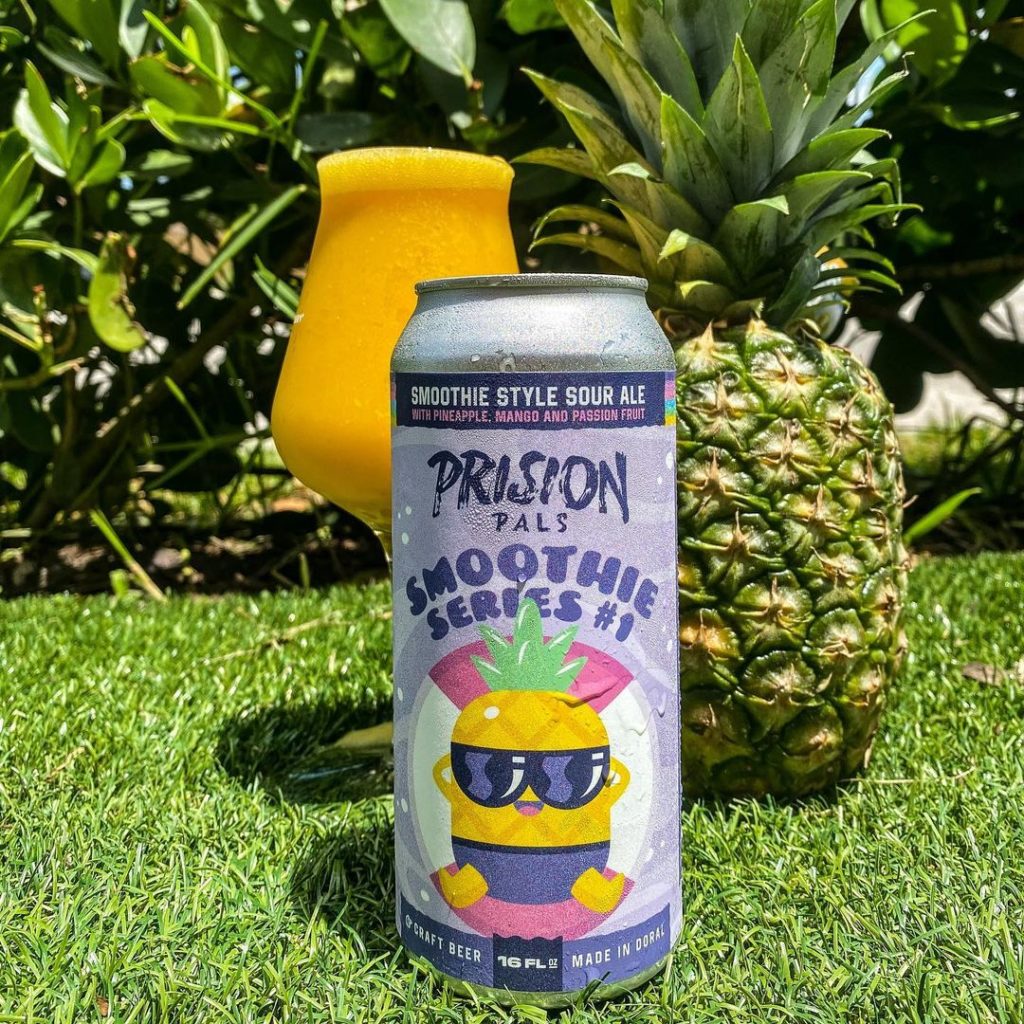 Once you try any beer from Prison Pals' portfolio, two things standout right away: the high quality and high drinkability.
"The first thing we agreed on was to brew quality beer," says Setti.
Pipkin continues, "We try to make all our beers with a lot of drinkability."
To reflect those qualities, Prison Pals focused on three styles: smoothie sours, hazy IPAs, and lagers.
Perhaps most unique to the brand are their incredibly thick, heavily fruited Smoothie Series.
After that initial trip to Florida, Pipkin and Setti knew they wanted to brew kettle sours with a hint of fruit to combat the intense heat.
But Pipkin had a crazy idea.
What if instead of a hint, they added a lot (and we mean a lot) of fruit to those kettle sours?
"When I say a lot, I mean a lot of fruit," says Setti. "I'm talking about forty percent fruit by weight"
Fruits like mango, passion fruit, and peach. All which went into Smoothie Series No.1.
The result? An intensely thick, intensely fruity, intensely tropical sour creation that sold out in less than a week.
Since that initial release Prison Pals has gone on to brew almost a dozen beers in their Smoothie Series with a whole orchard worth of different fruits.
"We're always trying new, different flavors," says Setti.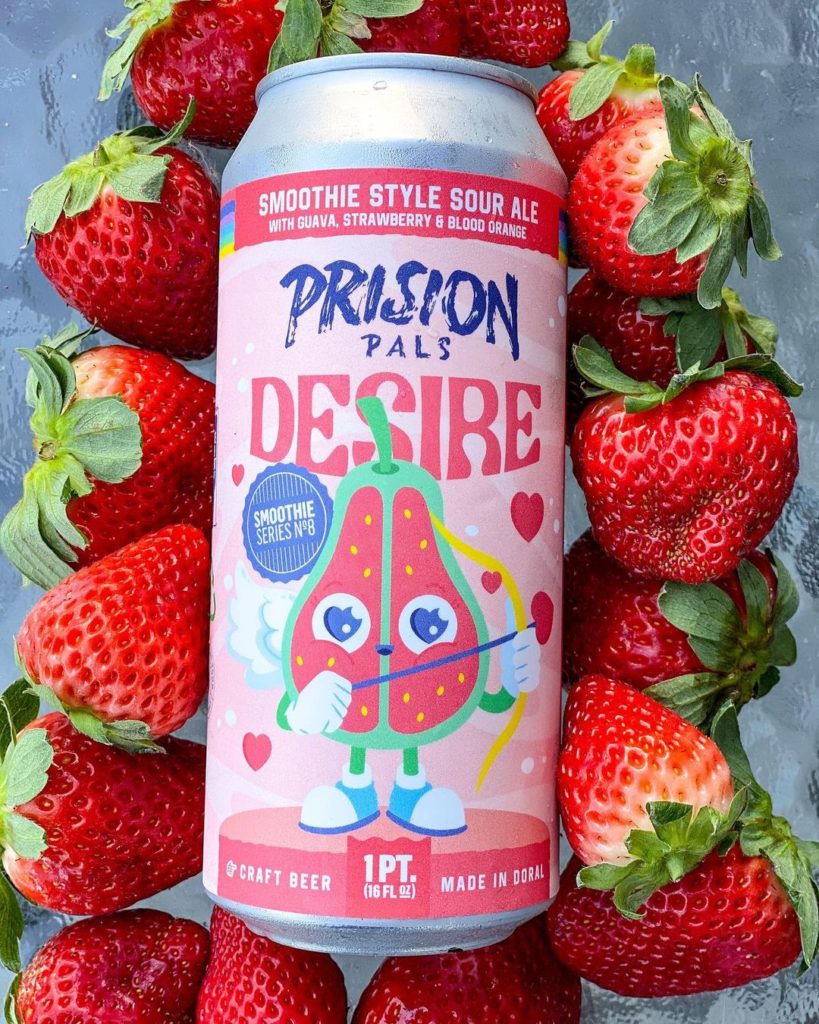 For instance, guava, strawberry, and blood orange went into Desire, Prison Pals' most popular smoothie sour.
And raspberries, blueberries, and blackberries showed up on stage in Katy Berry.
While yuzu and strawberry will be making appearances in the brewery's newest release called Hanami.
Inspiration can come from everywhere. "We'll be in the streets and see a smoothie juice and say, 'Hey, we can do this,'" says Pipkin.
To design these whimsical creations, each beer starts with an intense mad-scientist-taste-testing process.
The team brings in samples and works with a chef/brewer to hone in on the right combination. "It's a mess because we have fifty to sixty different glasses with different amounts of fruits," jokes Setti.
Once the fruits are decided, Setti brews a base beer usually between 7.5%-9% ABV, which gets a dose of lactobacillus for forty-eight hours before hitting the fermenter for a week or so. Afterwards Setti filters the base beer and adds that huge amount of fruit. The number depends on the recipe, but usually he says it's somewhere around 2,000 pounds for 15bbls of beer. Finally, Setti will fine tune the smoothie sour in the tank until it's perfect.
In the future, Setti hopes to dial in the exact sugar, acidity, pH, and viscosity of every fruit puree Prison Pals uses to get brewing these smoothie sours down to a science.
"Right now we're taking samples, blending, mixing them, trying them…and then scaling up to put on the big fermenters," says Setti. "But I'm looking for a different approach that's more scientific where we can predict everything."
And while the smoothie sours have proved extremely popular, especially in the Florida heat, Prison Pals' hazy IPAs have also been killing it.
Honing in with Hazy IPAs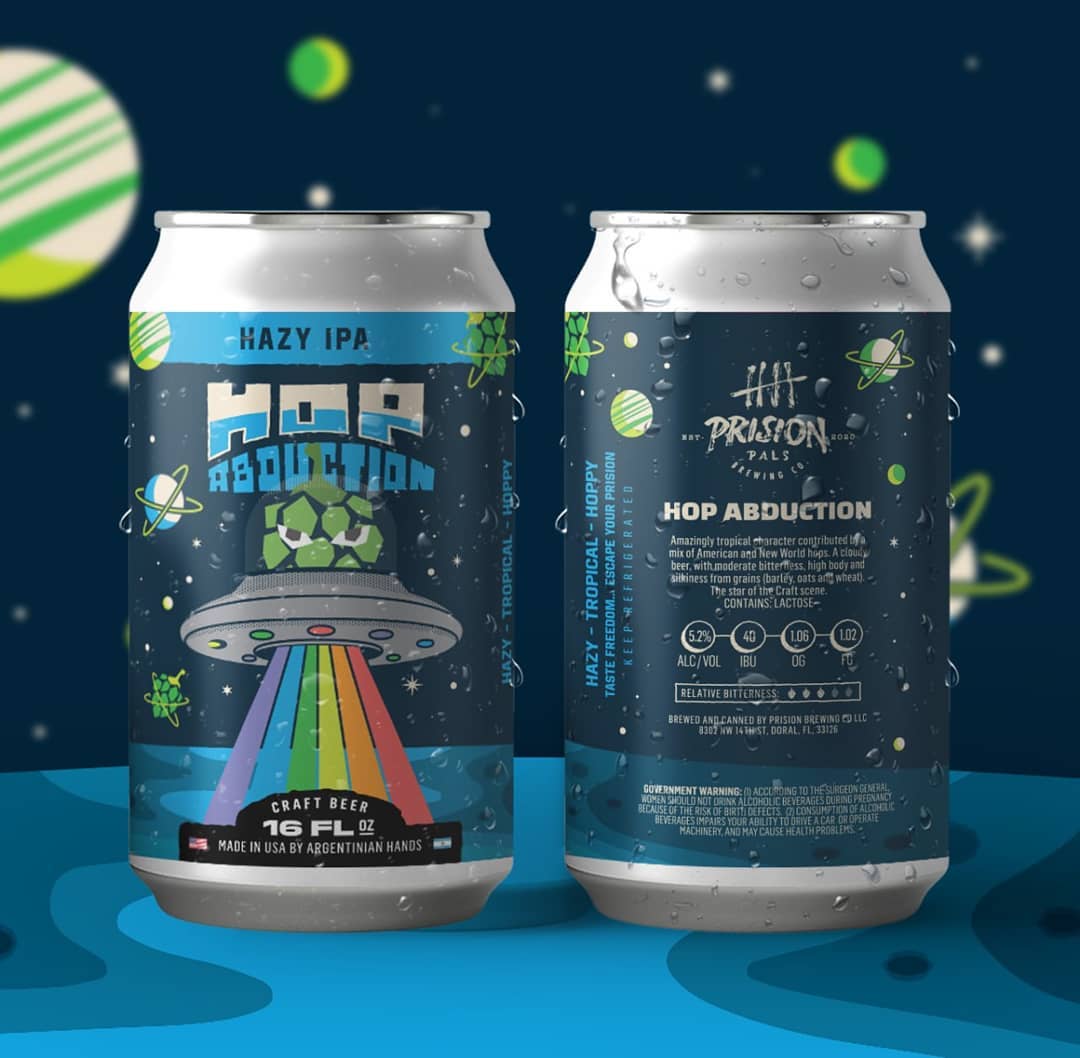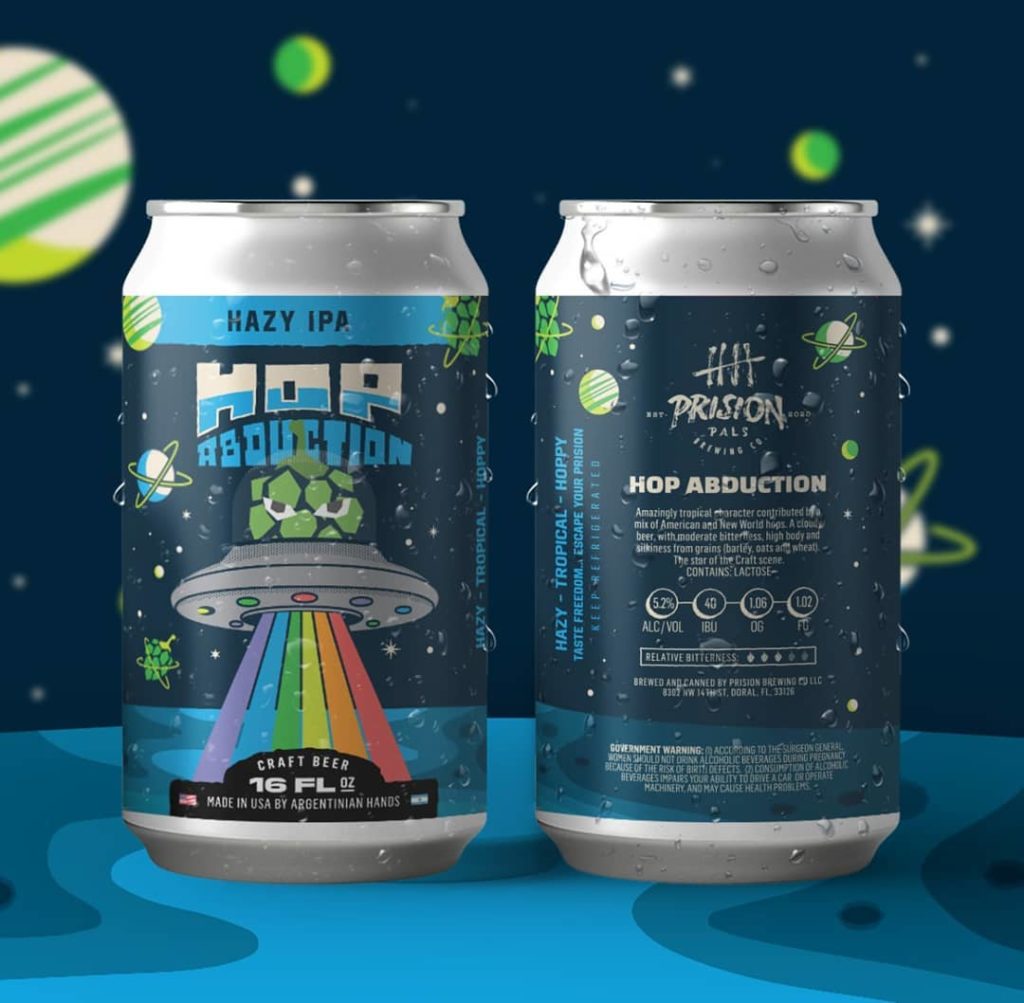 When Pipkin and Setti started researching craft beer in the United States, they immediately picked up on the popularity of hazy IPAs. So they knew it had to be a core style at Prison Pals.
The brewery's first hazy IPA called Hop Abduction was actually the first IPA Setti ever brewed. "I'm not a hop head," says Setti, who lived in Germany for half a year learning how to brew traditional, historical beer styles. "Now I'm doing pretty much the opposite, riding the wave of the trends. But I'm having a lot of fun and the brewery is doing great."
For example, Prison Pals' flagship hazy IPA, called quite simply Nelson, seems to be a crowd favorite. Probably due to the tons of Nelson, Citra, and Bravo hops.
"It's a tropical beer with a lot of Nelson hopping, so it has this peach, white grape, lychee notes," says Setti. "It's really hazy and really thick with a lot of hops, almost seven pounds per barrel, so it's really hoppy, but it's not a beer that is too bitter. It's like a New England IPA from the book; it's something really representative of the beer style."
According to Pipkin and Setti, Nelson has also caught fire in Florida.
What's the Verdict on Prison Pals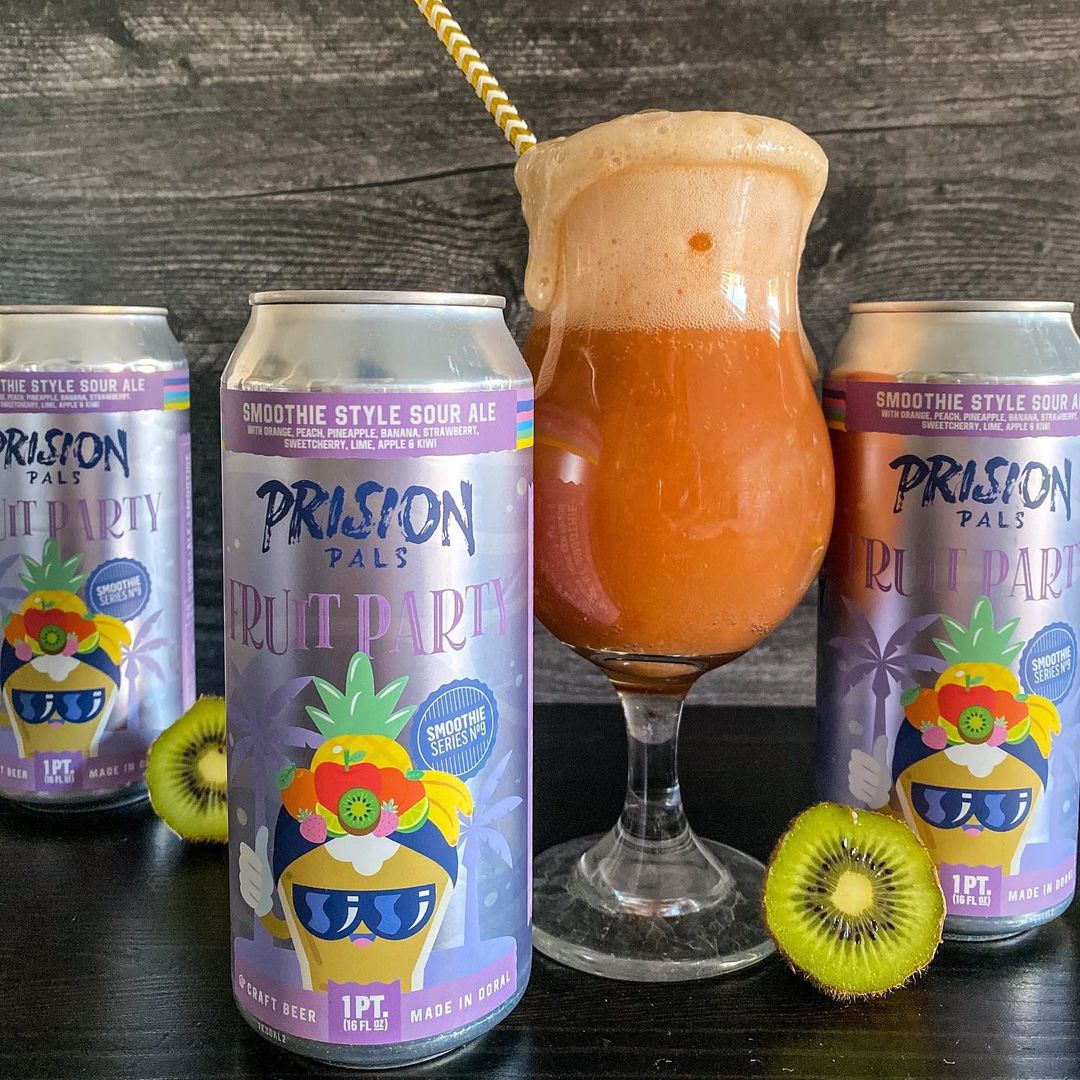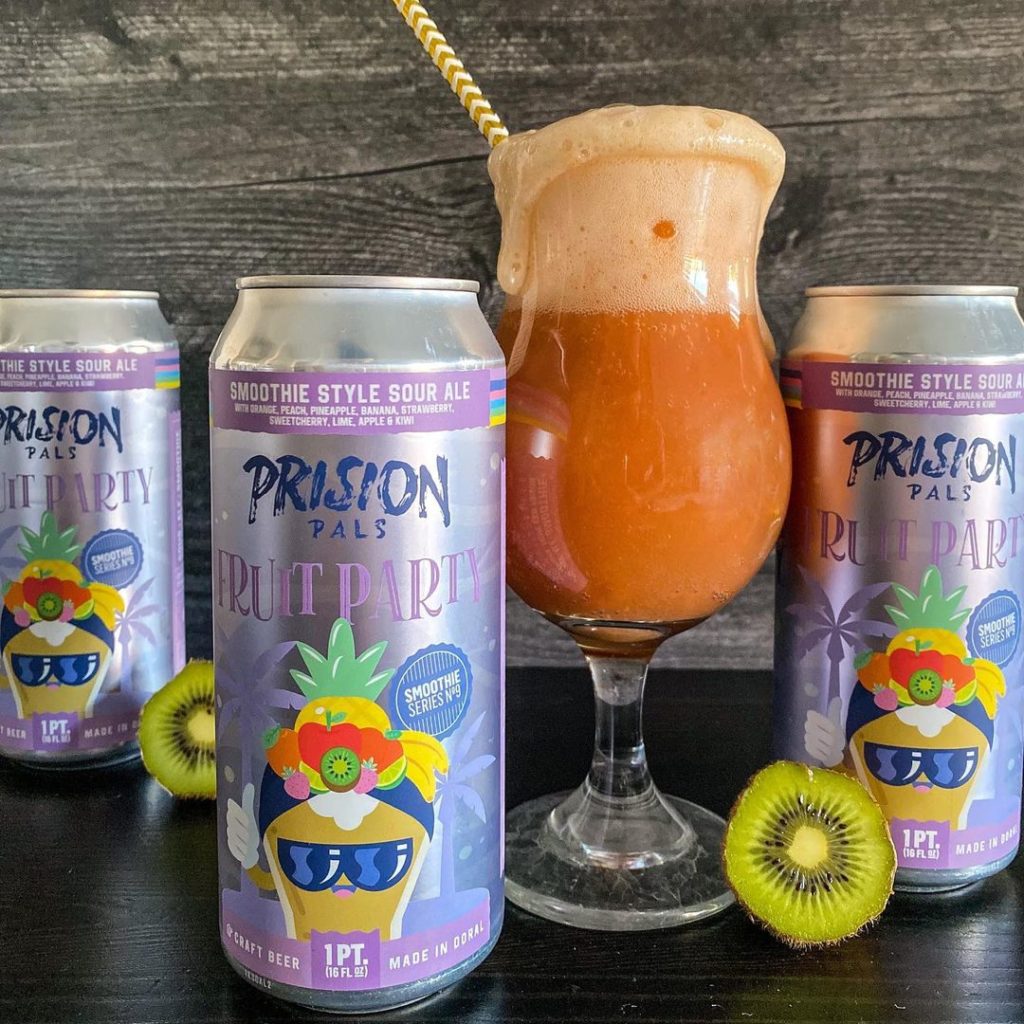 We had the chance to try five of Prison Pals' beers across both their smoothie and hazy IPA series including: Aloha (Smoothie Series No.6), Fruit Party (Smoothie Series No. 9), Tiki (Smoothie Series No. 10), Nelson hazy IPA, and Mega Hazy.
On the smoothie side, all three beers stood out for their fierce fruit-forward characteristics.
Fruit Party was a party of oranges, peaches, pineapples, bananas, strawberries, sweet cherries, limes, apples, and kiwis in our mouths. While Tiki punched us in the face with blueberry, blackberry, banana, coco, and pomegranate.
Perhaps our favorite of the three though, Aloha brought a bright acidity with pineapple complimented by a cooling mint and slightly spicy ginger kick. Aloha whisked us away to white sandy beaches with rollicking ocean waves.
On the hazy side, Nelson drank amazingly tropical thanks to the mix of American and new world hops. A moderate bitterness hit our body first with a finishing silkiness from the barley, oats, and wheat. This was definitely a thick boi hazy, foggier-than-a-San-Francisco-morning Nelson
Similarly, Mega Hazy was well…exactly like it sounds…mega hazy. If we put our fingers behind the glass we would lose them immediately. Taking the first sip immediately reminded us of pulpy Florida orange juice straight from the bottle. Melon, grapefruit, peach, gooseberry, passion fruit, and lychees backed up the initial citrus explosion. All coming from the extraordinary combination of Amarillo, Cashmere, Citra Cryo, and Galaxy hops.
The best way we can describe drinking Prison Pals beers: We're walking through Willy Wonka's factory, but instead of sucking on Everlasting Gobstoppers and Lickable Wallpaper, we're sucking on outstanding smoothie sours and hair-raising hazy IPAs.
These are quirky beers dialed up to the nth degree—massive fruits, massive hops, massive flavors.
All in all, we're beyond excited to see the new heights Prison Pals soars to in its second year.
Prison Pals Opens New Taproom: The Future of Florida's Hottest Brewery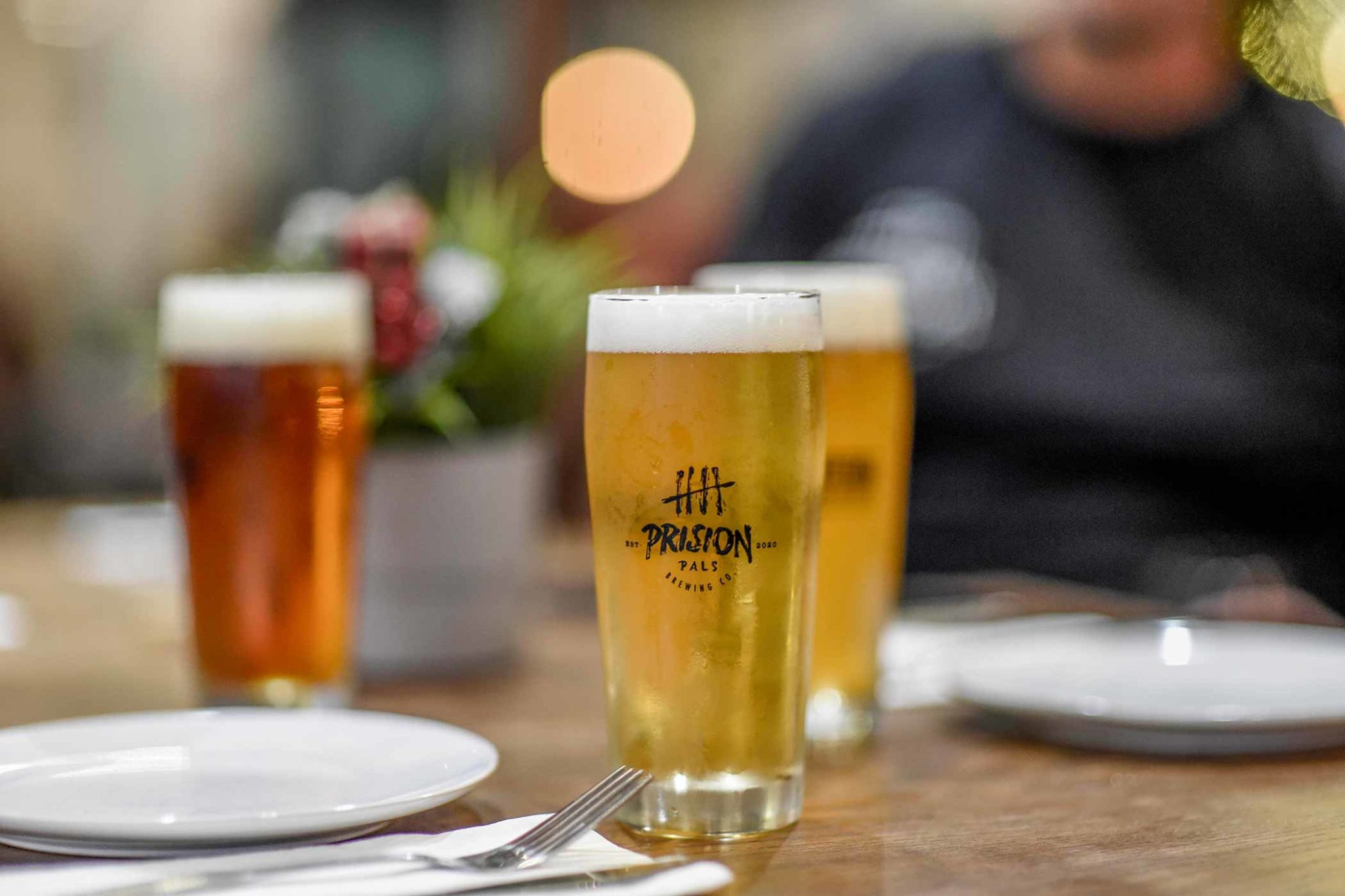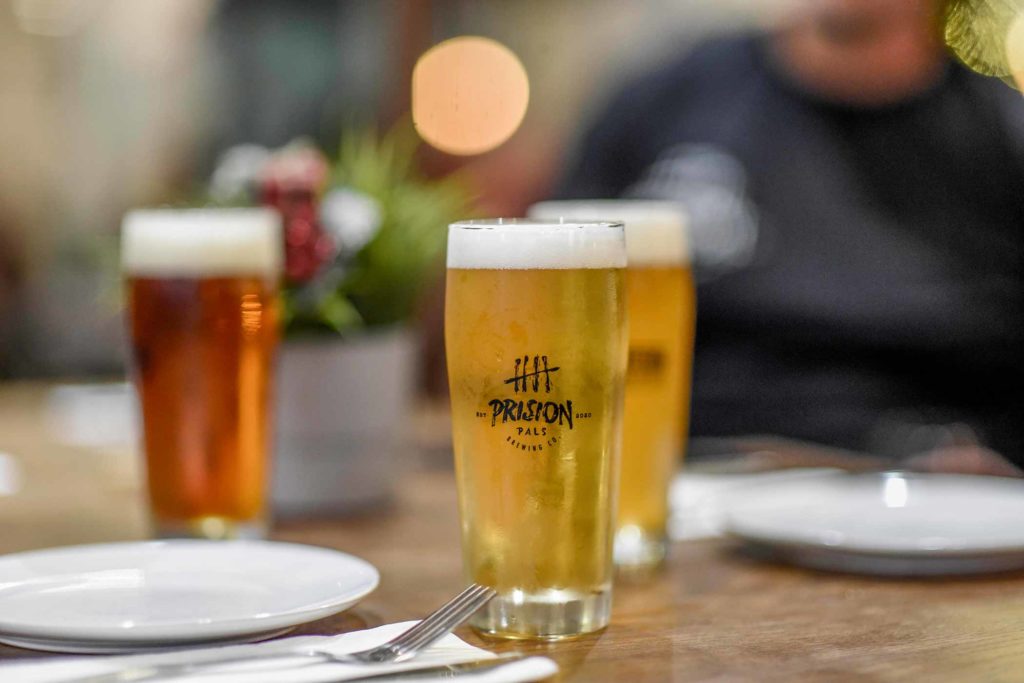 Officially open a little less than one year, Prison Pals has already caught blaze as Florida's hottest new brewery.
"We've had a lot of great feedback and are loving it," says Setti. "We hear a lot of things, which is great because that encourages us to keep following this same path."
Looking ahead, Prison Pals is mere days away from opening its own taproom. Only operating as a production facility up until this point, Prison Pals hopes to have its tasting room open by the end of April (at the time of publication, the brewery was waiting on just one more piece of approval, according to Pipkin).
Plus, the brewery will continue to expand. Expected to brew 5,000bbls this year, Prison Pals recently purchased four new 60bbl tanks that will increase their brewing capacity to 7,000bbls next year.
For now, Prison Pals will continue to execute its sensational Smoothie Series and hazies. "We're focusing on new fruits and new blends, so from the smoothie side it will be really exciting," says Setti.
It's early days still, but it seems that Prison Pals has broken free and that Florida's hottest new brewery is only just getting started.
"The sky's the limit," says Setti.