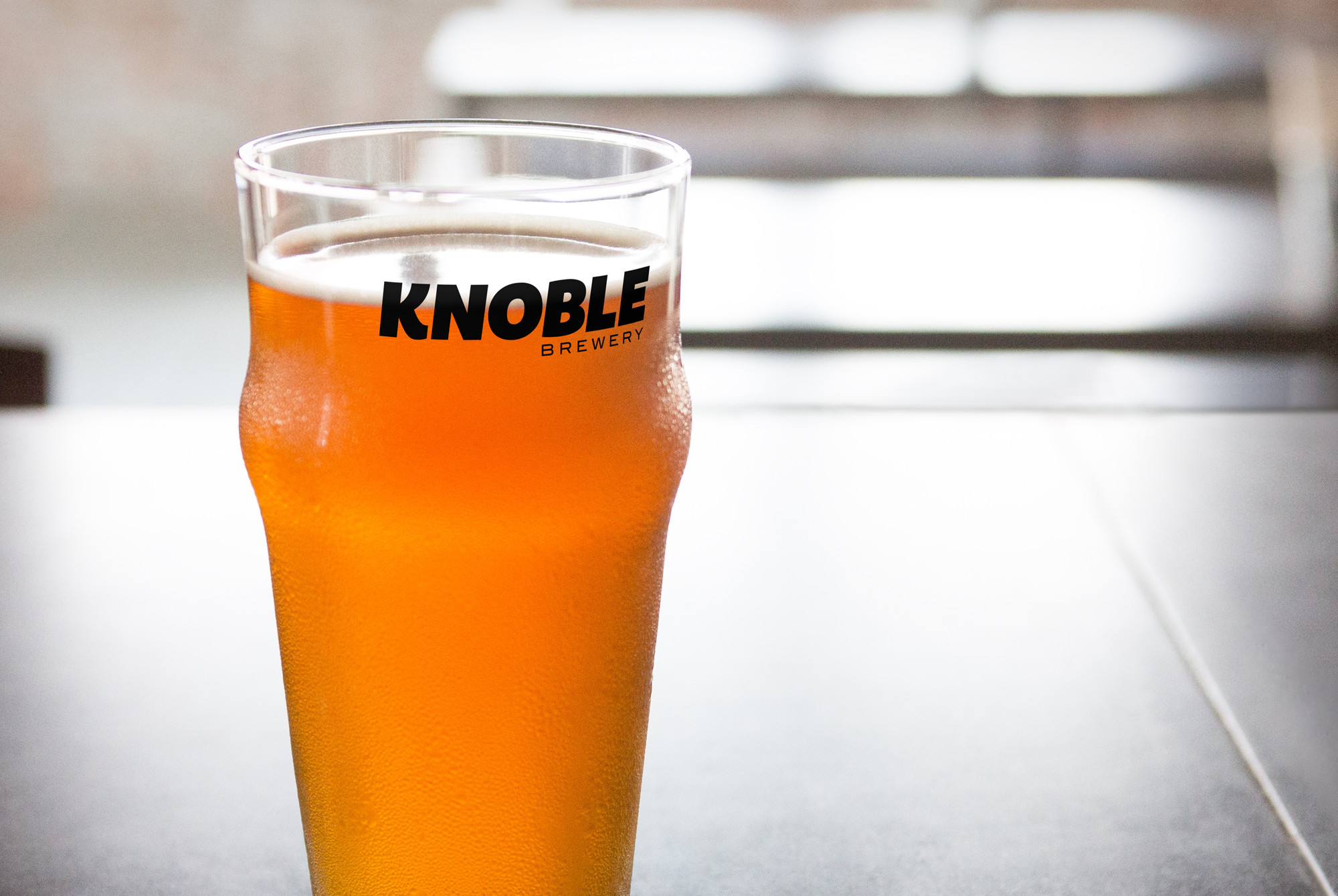 In early 2017, we heard about a gentleman from Upstate New York who was beginning an ambitious project. With "Resurrect Beer," designer PJ Engel is creating new branding and packaging for a defunct brewery from each state. The project is a fascinating lesson in history, design, and culture.
This week we venture into Arkansas's past with Knoble Brewing. Actually called Joseph Knoble Brewing, the beer maker started operations in 1850 with a three story stone building in the town of Fort Smith. The third floor was for production while the bottom floor was the tavern. The structure is still standing and used as a restaurant. As the only example of brewing from the mid 19th century in the state, it was added to the National Register of Historic Places in 1972. Here's how the brewery might look if it was still open today.
Man in Black
Style: Lager
ABV: 5.3 percent
Description: After being questioned many times about his stage clothing of all black garments, Arkansas native Johnny Cash wrote the song Man in Black. For all the forgotten and less fortunate, he is the man in black for them. "I'd love to wear a rainbow everyday, to let the world know everything is okay", is a fitting lyric for Cash. His poor and rough past in Kingsland Arkansas shaped much of his lyrics and outlook as he became a household name. Recording a hit live record in prison helped the mystique a bit too.
Hope for Summer
Style: Watermelon Sour
ABV: 4.9 percent
Description: The self proclaimed watermelon capital of the United States is Hope, Arkansas. To add to the claim, they are the home of the world's largest watermelons and have three Guinness world records for that category. If you choose to visit for the festival you should probably practice before entering in the seed spitting contest. Last year the "Oak Ridge Boys" were the headliner with Miss America as a special guest. I can picture it now; a small town festival in the heat of summer with watermelon. And now, a few watermelon beers to go with it.
Cash Crop
Style: Lager
ABV: 4.6 percent
Description: Arkansas farms provide 46 percent of the rice consumed in the U.S. every year. When I eat sushi I have never thought of Arkansas. It's probably safe to say that unless you live in Arkansas, you're of the same mindset. Now that I'm still thinking of sushi, thoughts lean towards sake, sake bombs, ginger, and Japanese beer that I don't enjoy very much. So I wanted to create an American beer to pair with sushi using home grown rice. Kanpa!
Dover Lights
Style: Old ale
ABV: 6.2 percent
Description: There is a strange and unexplainable phenomenon in Arkansas called the Dover Lights. First observed in the late 1800's, the series of lights has its fair share of folklore. One legend is of a mine collapse that killed a handful of miners and their ghosts wander the hillside at night. Spanish conquistadors searching for gold is another far fetched reason for the nightly illumination; gold has never been found in Arkansas. I lean towards the legend of a Native American burial ground nearby: The lights are spirits of tribal leaders trying to lead their people on to the next life. To represent this nighttime occurrence, an old ale style of beer from England seemed fitting.
Toad Suck
Style: Abbey Ale
ABV: 8.2 percent
Description: Why Toad Suck? Because there is a town with that name in Arkansas. More of a community with the name..maybe a hamlet. So it's a small community with an odd name. Having many theories for the origin of the name, there is one that I was drawn to. In the steamboat era, the river bordering this area was quite shallow, especially for the large paddle wheel boats. Once the tide went out, the crews would tie up and head into town to drink and wait for the water to rise. The townsfolk recorded their visits as, "sucking on the bottle until they swelled up like toads". And that is how the name Toad Suck began.
Next Week: Connecticut