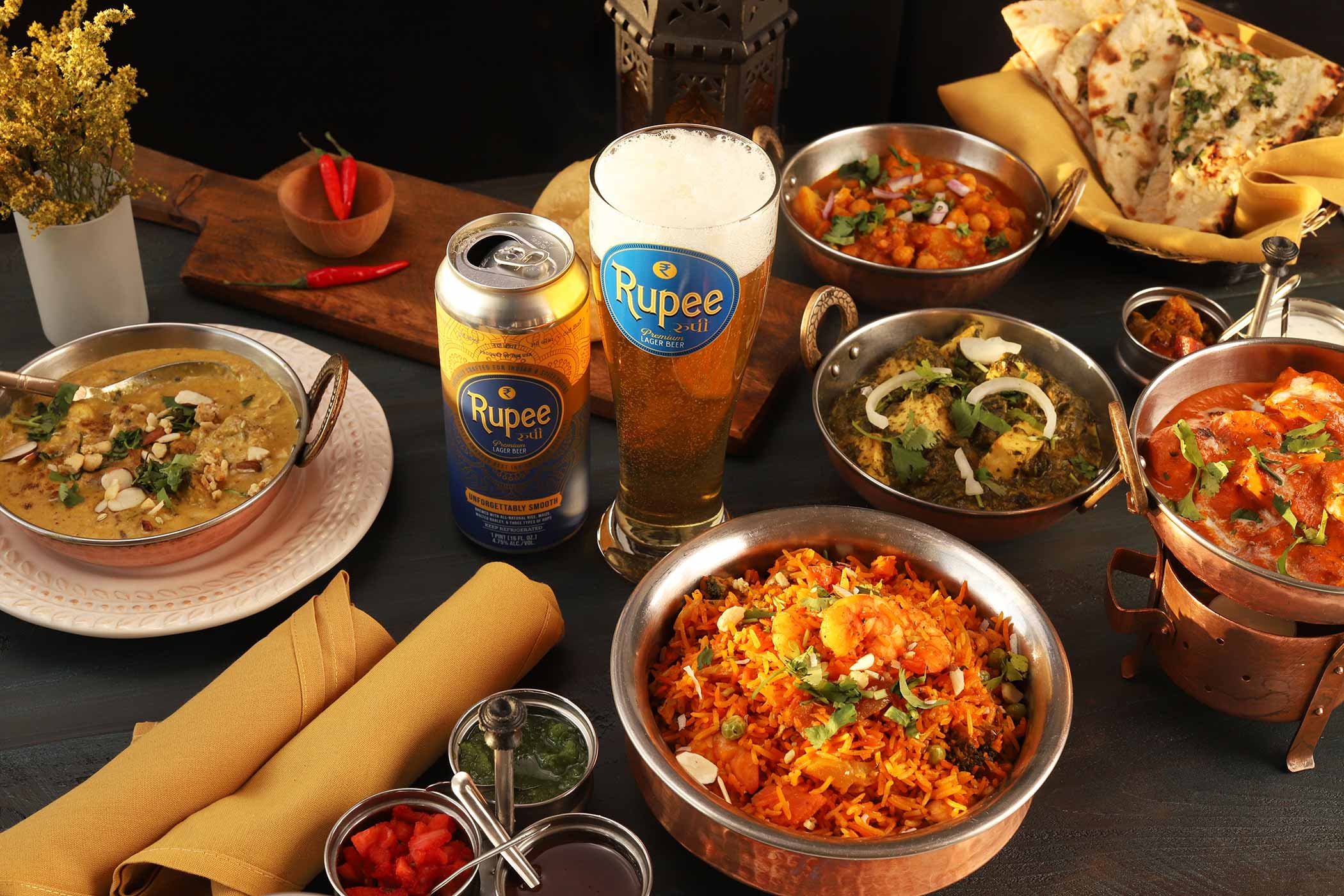 Photography courtesy of Rupee Beer
Chicken tikka masala, vindaloo, butter chicken, naan. What is the best beer to pair with these Indian dishes?
That's the question brothers Van and Sumit Sharma set out to answer when they started the now-award-winning Rupee Beer fourteen months ago.
A beer built as the "global beer for curry," Rupee Beer is on a mission to be the smoothest, lightest, crispest, best beer to pair with not only Indian dishes, but food from around the world.
Because for Van and Sumit, food is a universe they have lived in their entire life.
Growing Up in a Family of Fifth-Generation Indian Restaurateurs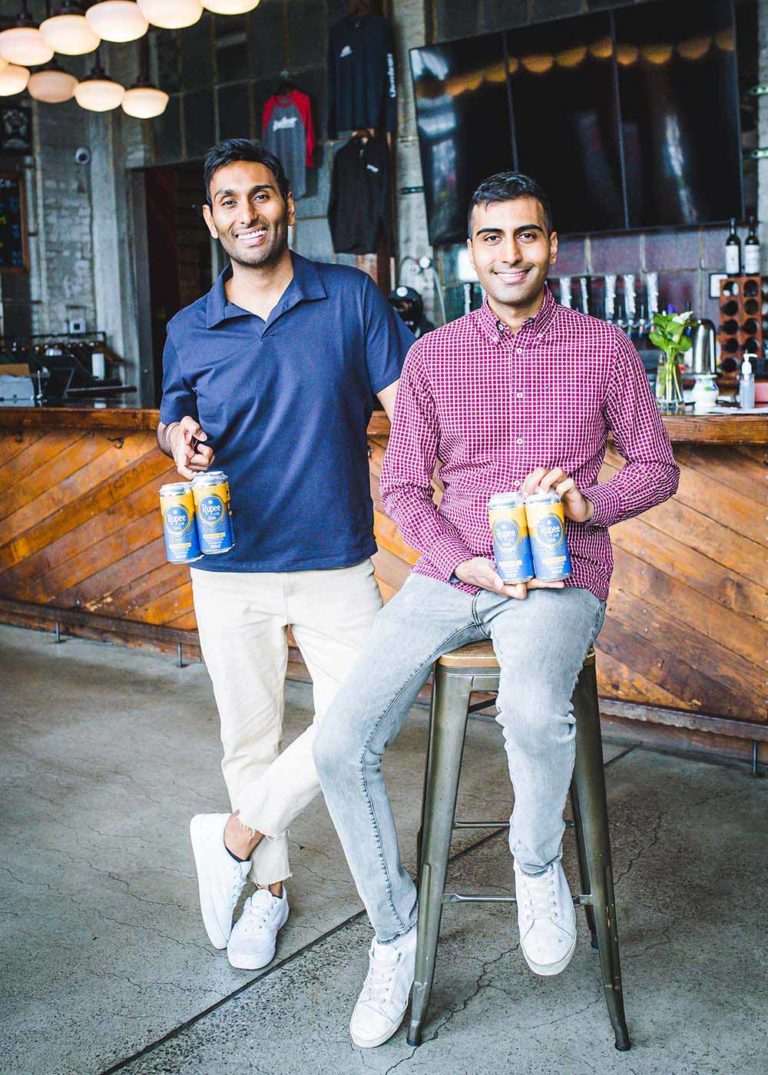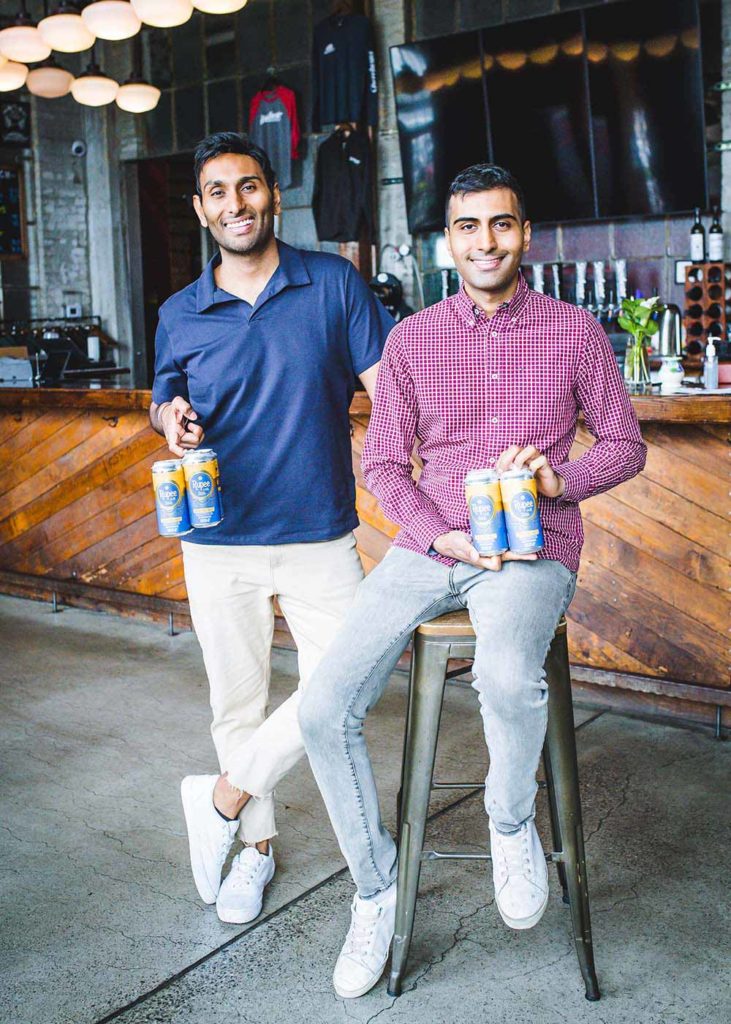 The sons of fifth-generation Indian restaurateurs, Van and Sumit grew up immersed in Indian food culture.
Born in West London, an area historically known to have one of Europe's largest South Asian communities, Van and Sumit moved to Portland, ME, in the early '90s after their parents took a trip to the U.S. and fell in love with New England.
With a family history of over forty-five years in the restaurant business, Van and Sumit's parents carried that legacy to the States, launching three Indian restaurants in different cities across Maine.
But it's not a stretch to say that the Pine Tree State was very different from England.
"Ironically, in the largest city in Maine, we were still the only Indian kids in school," says Van. "Growing up in that space with Indian restaurants, for me it felt as if I was the odd one out in my group of friends."
Van and Sumit went from living in one of the neighborhoods with the largest South Asian population and thriving food culture to a place very much the opposite—predominantly white.
"There is a lot more appetite and knowledge around Indian cuisine for your average Brit," says Van. "I always say what Mexican food is to America, Indian food is to the U.K."
At that time, now-more-commonplace Indian dishes such as chicken tikka masala, samosa, and naan were unknown in New England.
"It was so foreign," says Van.
Today, Portland has become synonymous with words like "foodie" and "craft beer," but back in the '90s that wasn't the case.
Indian restaurants were pretty unheard of at the time, and there certainly wasn't a lot of diversity in culture, food, or beer.
Even Indian import staples such as the iconic Kingfishers and Taj Mahals were noticeably vacant from beer shelves.
Fast forward a few decades and an exploding craft beer scene has certainly changed the landscape in Maine, but Van and Sumit still couldn't find a perfect craft beer designed to pair with the spicy, sweet, creamy flavors often found across Indian dishes.
So they set out to create one.
A beer, actually more like a currency, that could become a legacy to hand down for generations.
Just like their family's restaurants.
Rupee Beer, A Can Full of Currency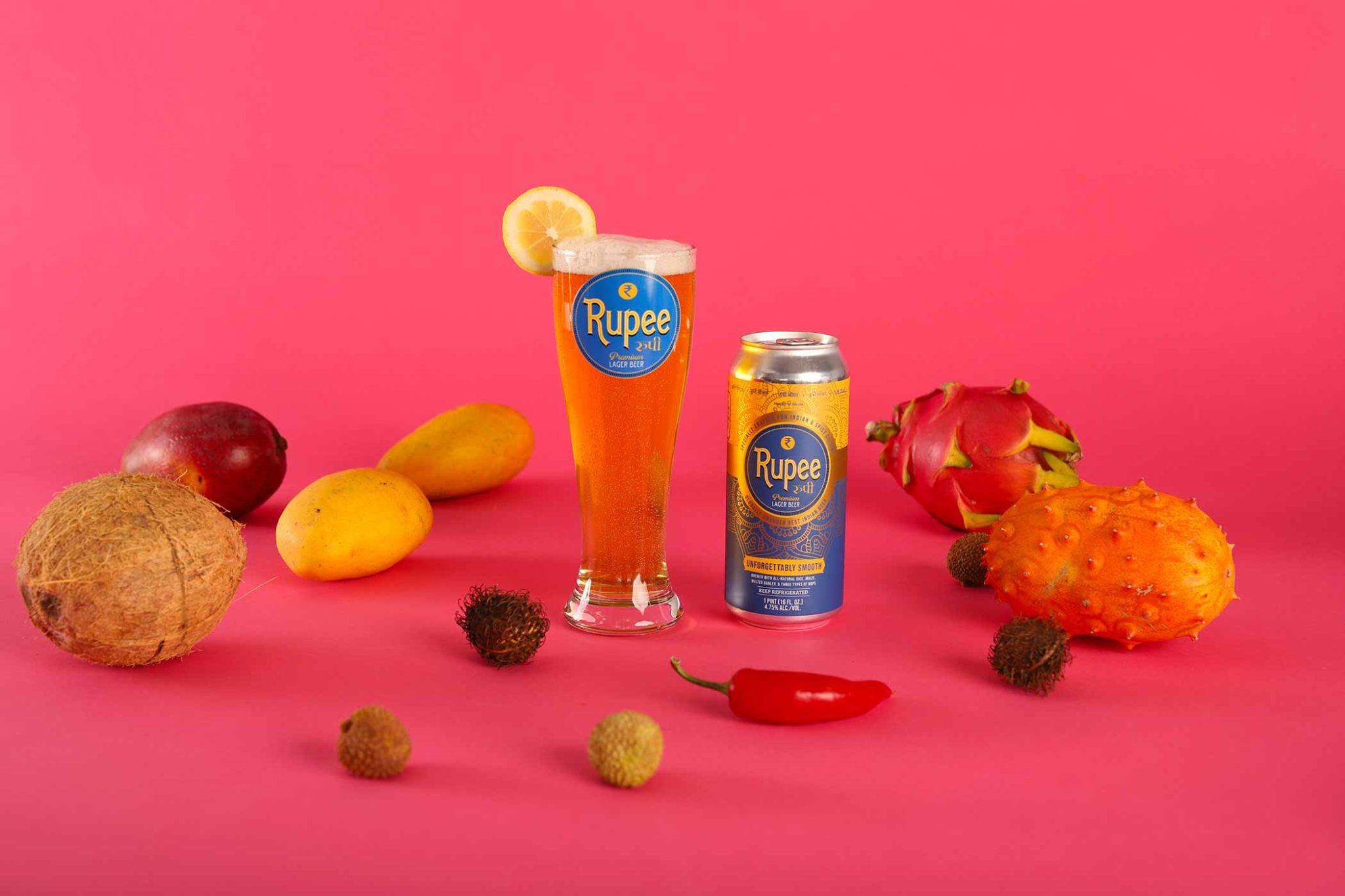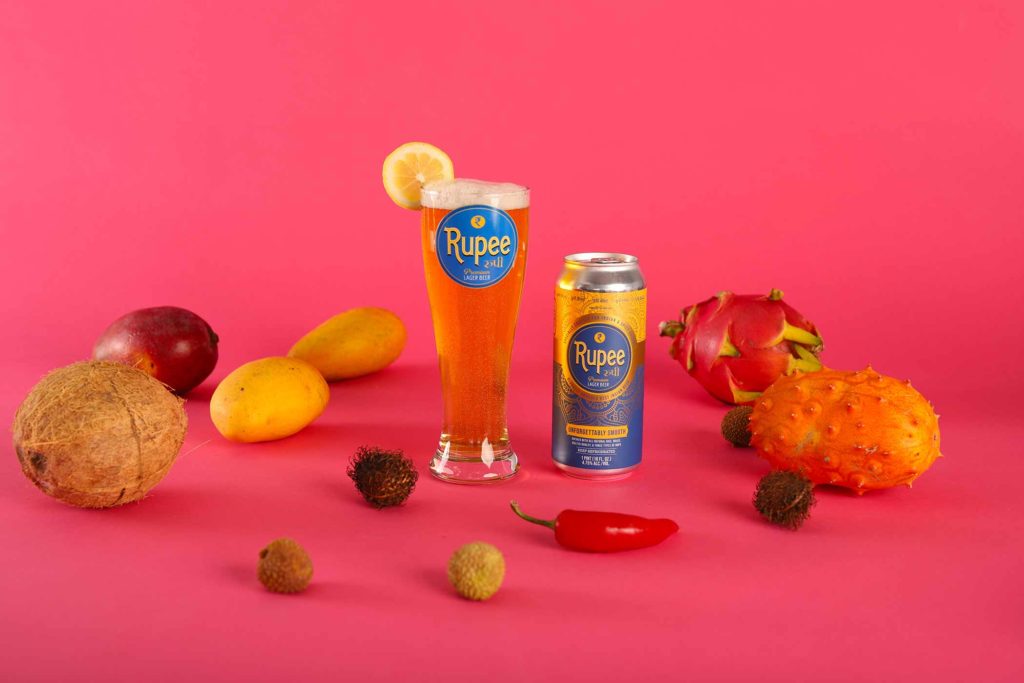 When the pandemic hit in 2020, both Van and Sumit had returned home after living abroad in London and Australia, respectively.
Back with their family, they were once again immersed in the restaurant. And once again noticed the dearth of Indian beer in a state now known for being a craft beer destination.
"A lot of our customers said, 'Key, we want to do takeout during the pandemic, but can I still get beer?'" says Van. "We didn't have any available options."
So the brothers got to thinking.
Big beer drinkers and travelers themselves, Van and Sumit would always check out the local lager in any destination they visited (that and the Indian food scene, of course).
"Anthony Bourdain said something once that anywhere you go, the best way to figure out the vibe of a place is to figure out the local beer people are drinking on tap," says Van. "That's our ethos as well."
But they couldn't find a craft light lager meant to pair with the Indian food they were eating in their own family's restaurant.
"Why are Indian beers so bad?" Van posited.
Perhaps the question is more: Why aren't there beers designed to pair with Indian or global foods?
Just think about it: Do you want to drink a super fizzy, aggressively hopped beer alongside a robust chicken tikka masala and toothsome naan?
"Take a highly carbonated beer and pair it with robust Indian flavors, especially if you weave in Indian bread, which are super heavy, like naan—that combination can leave the diner feeling super bloated, super uncomfortable," says Van. "It's the worst possible combination… That's not the vibe to go out on a Saturday or Friday night after a meal at an Indian restaurant."
Or what if you're eating a super spicy vindaloo, a curry dish known for being pretty fiery?
"When you're eating something spicy and your tongue is on fire…that irritation on your tastebuds, your palate, your tongue, carbonated beverages actually irritate [and make everything] worse," says Sumit.
Could the whole experience be better if you had something like a crisp, clean, smooth, lightly carbonated lager?
Named after the iconic currency of India and seven other countries, Rupee Beer fills that void.
It's a lager that Van and Sumit hope will pay homage to their family's history in restaurants.
A history that includes breaking through the barriers of a predominantly white community in a predominantly white industry.
Bringing an Indian-Style Lager to American Craft Beer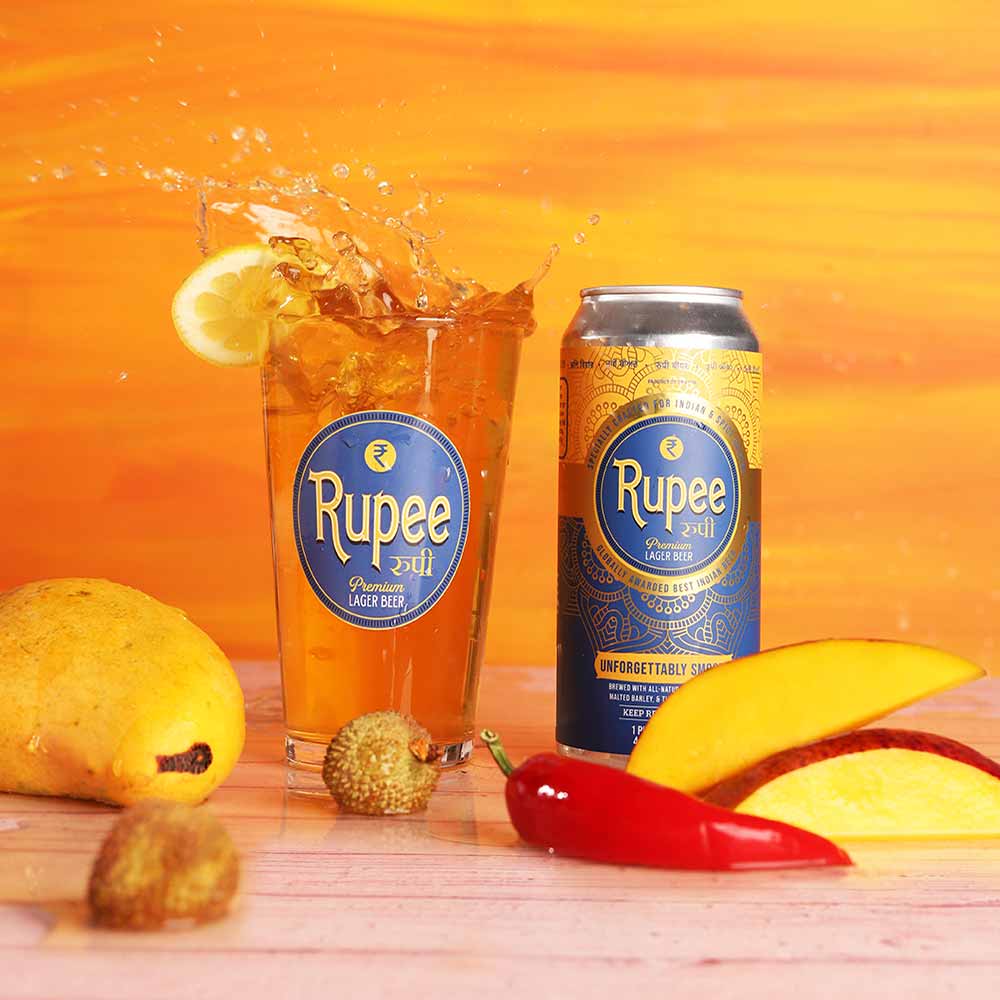 Yes, the food and beverage landscape in Maine and the entire United States looks much different than it did in the '90s. But as we all know, there are still some significant hurdles for South Asian brewery owners and underrepresented communities to jump over to survive in the craft beer industry.
From the very beginning, when Van and Sumit started pitching Rupee Beer, "we got the impression a lot of folks were like, 'Hey, do you even know anything about beer? Why are you doing this?'" says Van.
People didn't understand the brand. Or thought it was only for such a small, niche market.
When in fact, Van points out, the Indian demographic is now the second-largest immigrant group in the country behind Mexican Americans.
"Our parents weren't doctors, they weren't lawyers, they weren't accountants or in sales, they were Indian restaurateurs," says Van. "Naturally, I've always felt I have to be an ambassador for India, especially living in a place like Maine where you have to stick up for your country and your heritage."
There is just a general lack of knowledge not only around Indian food, but also around Indian drinking culture.
Van says there are a lot of preconceived notions they've had to battle such as "Do you guys even drink?" he says. "Or do they even drink over there?"
But Van and Sumit stayed the course. "We're doing our own thing," he says. "We're trying to drive our mission to educate more people on the beer and ethnic food angle of pairing, but also our mission to bring more craft Indian beer to the world."
And eventually, after pounding on enough doors and picking up the phone enough times, they found someone who shared their vision.
The Master Brewer of Shipyard's Pumpkinhead Ale Joins Rupee Beer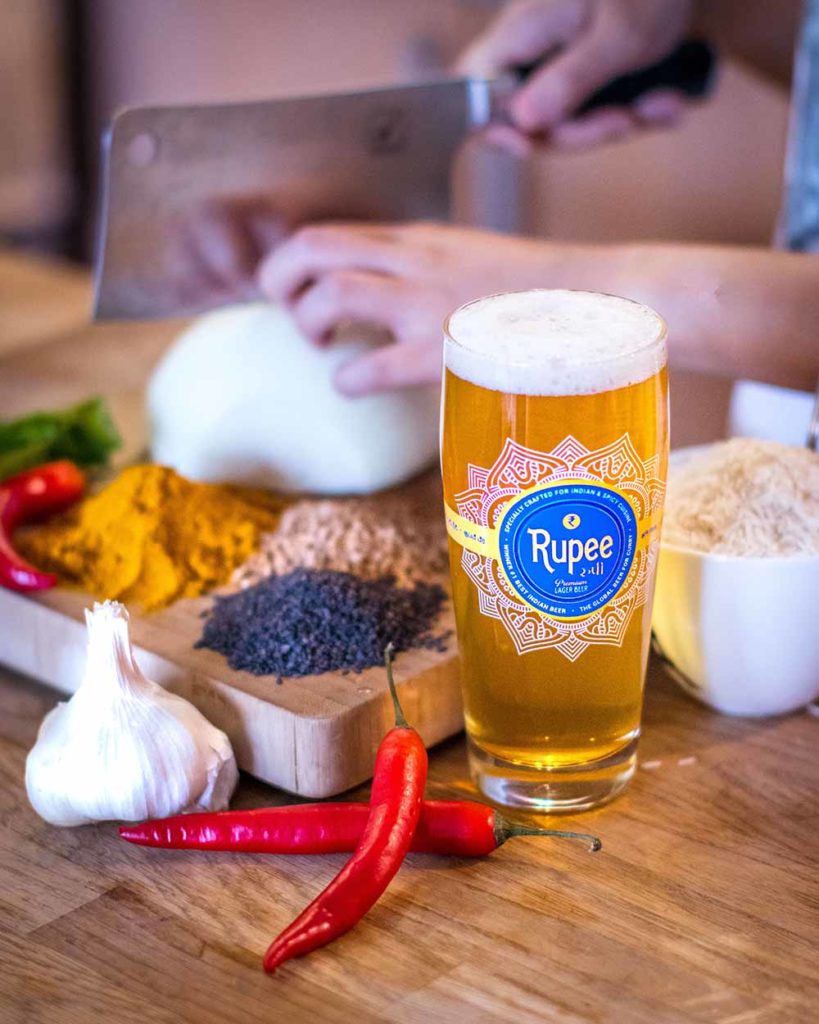 Perhaps fortuitously, Van and Sumit found that a master brewer, Certified Cicerone, and all-around legendary brewer known as the "Johnny Appleseed of Craft Brewing" lived right down the road from them.
British ex-pat Alan Pugsley founded Shipyard Brewing Co in 1994, pioneering the brewery for the next seventeen years and inventing the famous Pumpkinhead Ale.
Since then, he's helped consult on and launch over eighty brands internationally.
With Pugsley only a hop, skip, and jump away, Van did what all good entrepreneurs do: He randomly called him.
When Van reached out to him, Pugsley said from the start Rupee Beer "piqued his interest."
Growing up in England, Pugsley says he "always had a love of Indian food," but "in reality, up in New England there isn't a lot of exposure to Indian restaurants."
So Pugsley met up with Van and Sumit at one of their family's restaurants—Bombay Mahal—in Brunswick, ME, which is actually the oldest Indian restaurant in the state. "We had a chat and had our chef bring out an assortment of different Indian dishes," says Van.
They also got around ten different beers to taste test. "We literally brought in a wide variety of beers from around the globe, from mass-produced to craft," says Van. "We did a tasting…taking notes of the profile and the carbonation levels."
They weren't just looking for the beers they liked the most, but for the beers they thought paired best with the Indian dishes they were eating.
"We honed those in with some Indian food—spicy, non-spicy, sweet—a whole different array of dishes," says Pugsley, noting they pared it down to two or three beers they liked the most.
Based on those notes, Pugsley went to work.
Writing the Recipe for Rupee Beer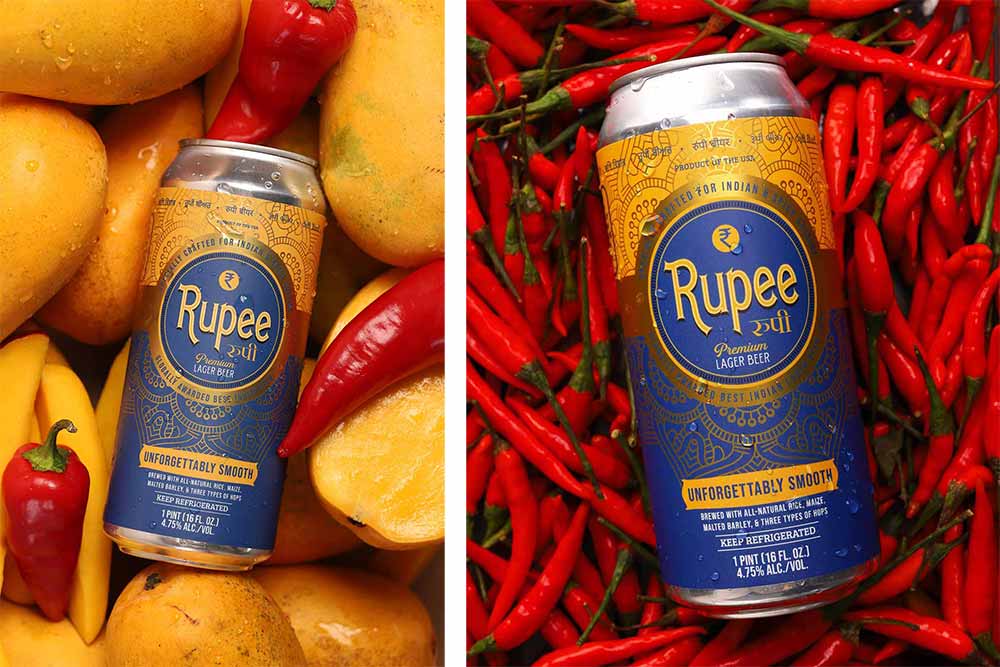 Based on a helles-style lager, Rupee Beer starts with a base of five malts, including light Munich for a bit of color, and unique ingredients indigenous to India such as rice and maize.
"Rice in many parts of Asia is considered sacred," says Van, explaining that India is considered a rice nation because those who live there consume a lot of the grain. "The rice aspect was really important for us to have not only from a tasting standpoint, but also from a legacy and heritage standpoint."
A nod to their heritage, rice is also an ingredient that gives Rupee Beer a great foundation.
"It imparts residual malt sweetness to the beer which plays well with spicy food," says Sumit.
Along with the light malt backbone, Pugsley knew he needed to be careful with the hopping rate, keeping it gentle to make what he calls a "really nice drinkable helles lager."
Three different European noble hops—Saphir, Hallertau, and Saaz—give the beer a slight earthy spiciness and bitterness, but nothing over the top.
"That's one of the things we didn't like about beers we tried," says Sumit. "Anything overly bitter and hoppy overpowered the dishes we're trying to complement with the beer."
With four different subtle kettle hop additions, Pugsley kept Rupee Beer to around 16-17 IBUs. In addition, he treated the water appropriately for the style and used a nice lager yeast that ferments out in about a week before the beer cold ages for about two weeks.
Meaning when you drink this lager alongside something spicy or heavy, you keep going back to that can for an exhilarating reprieve.
"It's very refreshing and moreish," says Pugsley, using a primarily informal British term that essentially describes a food or drink that makes you want to have more of it.
Rupee Beer is just that. Something you want more of, honestly, no matter what you're eating.
Tasting Through Rupee Beer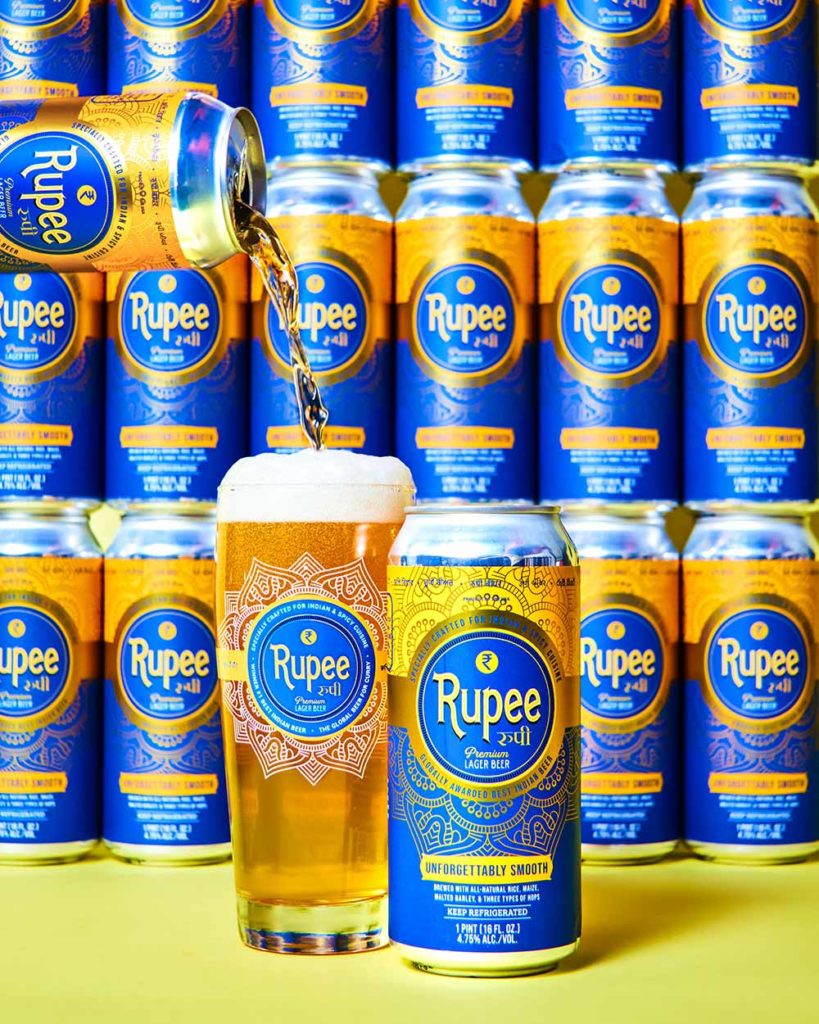 Pouring out a nice light golden, blondish color, Rupee Beer has a very subtle hop aroma on the nose, which Pugsley says is courtesy of the Saaz hops.
From a taste perspective, "it gets a nice dry crisp bite but finishes off fairly smooth with a little sweetness and a real good balance between the hops and the malt," says Pugsley.
Really it's the perfect dish to pair with a variety of Indian and global dishes.
Van says that, since his family is North Indian and he partially grew up in England, his favorite pairings are butter chicken and chicken tikka masala, an Indian dish that's actually said to have originated in Great Britain.
"A lot of people would say chicken tikka masala is not even Indian, that's from England, that's not traditional," says Sumit, who is on the same page as his brother, but adds naan into the mix too. "But you have to think about that we grew up in Indian restaurants, so we've been eating Indian-style restaurant food our entire lives."
So for Van and Sumit, those two dishes resonate the most.
"Those are the standard dishes that always satisfy me if I'm having a bad day," Van says. "They can take a bad day and make it really great."
Now they've created the perfect beer to pair alongside those Indian dishes they grew up eating.
And it works both ways.
Van says that you can often find his dad, Raj Sharma, on his day off or after work with a Rupee in his hand. And that even though their mom, Bina Sharma, is more of a mango margarita kind of drinker, she loves to sip on a Rupee.
A family of historic restaurateurs can now add a couple of brewery owners to their legacy.
The Future of Rupee Beer
With only fourteen months under their belt, Van and Sumit are already looking ahead.
"We're laser focused on expansion and bringing Rupee and our specific lager to more markets across the U.S.," he says.
Additionally, the brothers have started to lay the groundwork for expansion into the European Union, the U.K., and other international markets.
In terms of other SKUs, right now Sumit says they're focused on the OG lager, but that doesn't mean there won't be other beers in their portfolio later down the line.
They're just taking their time and being super intentional with all of their decisions.
"Anything we do or plan to make has to go back to the original reason why we made the beer," he says. "We wanted to make a beer that pairs well with the food we grew up with, that's the litmus test, we have to make something that stays true to that."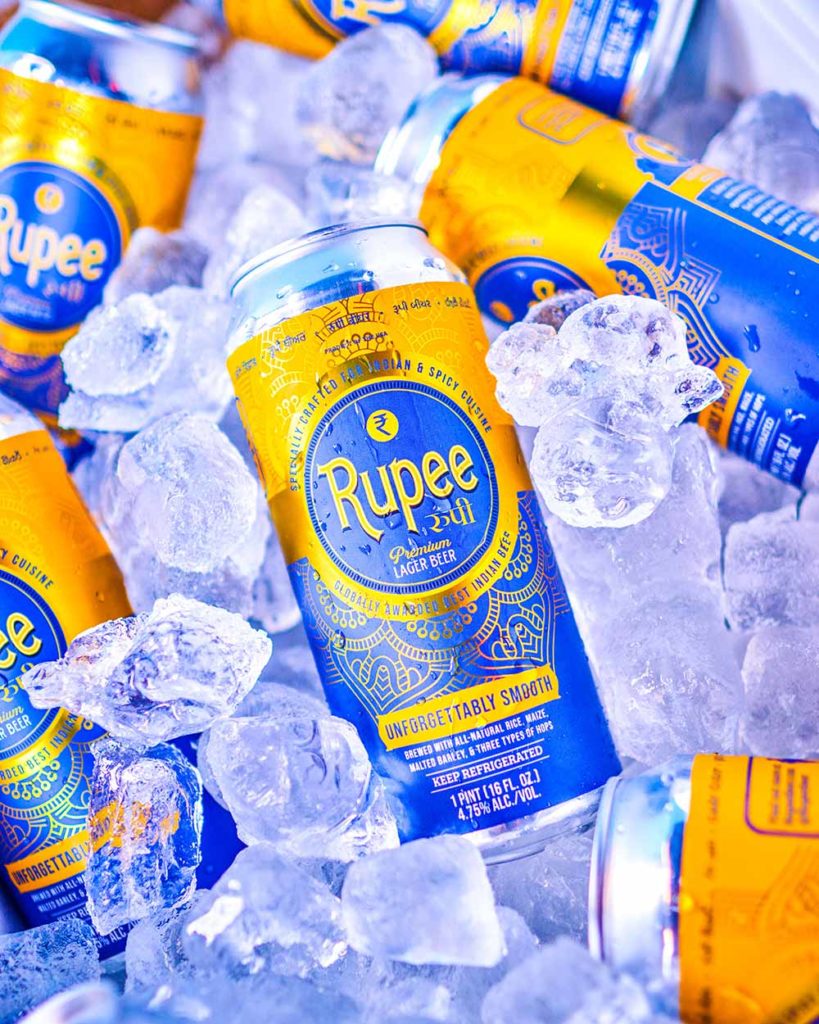 Where Can I Find Rupee Beer Right Now?
Currently you can order Rupee Beer through Half Time Beverage to ship to over 30 states, including: AZ, CA, CO, CT, DC, DE, FL, GA, ID, IL, IN, KY, LA, MT, NE, NC, ND, NH, NM, NY, NJ, NV, OH, OK, OR, PA, RI, TX, VA, WA (not all zip codes eligible).
You can also find Rupee Beer at select regional retailers such as Costco, Whole Foods, Total Wine & More, and most recently Trader Joe's.
And of course, in many Indian/South Asian restaurants.
"A couple months ago I stopped at an Indian place in Biddeford to pick up some takeout… I walked in wondering if they had Rupee [Beer] and there were empty Rupee cans on every table," says Pugsley, who drank two Rupee Beers while he waited for his food. "Why order stale beer from India when you can have fresh Indian-style beer made locally?"