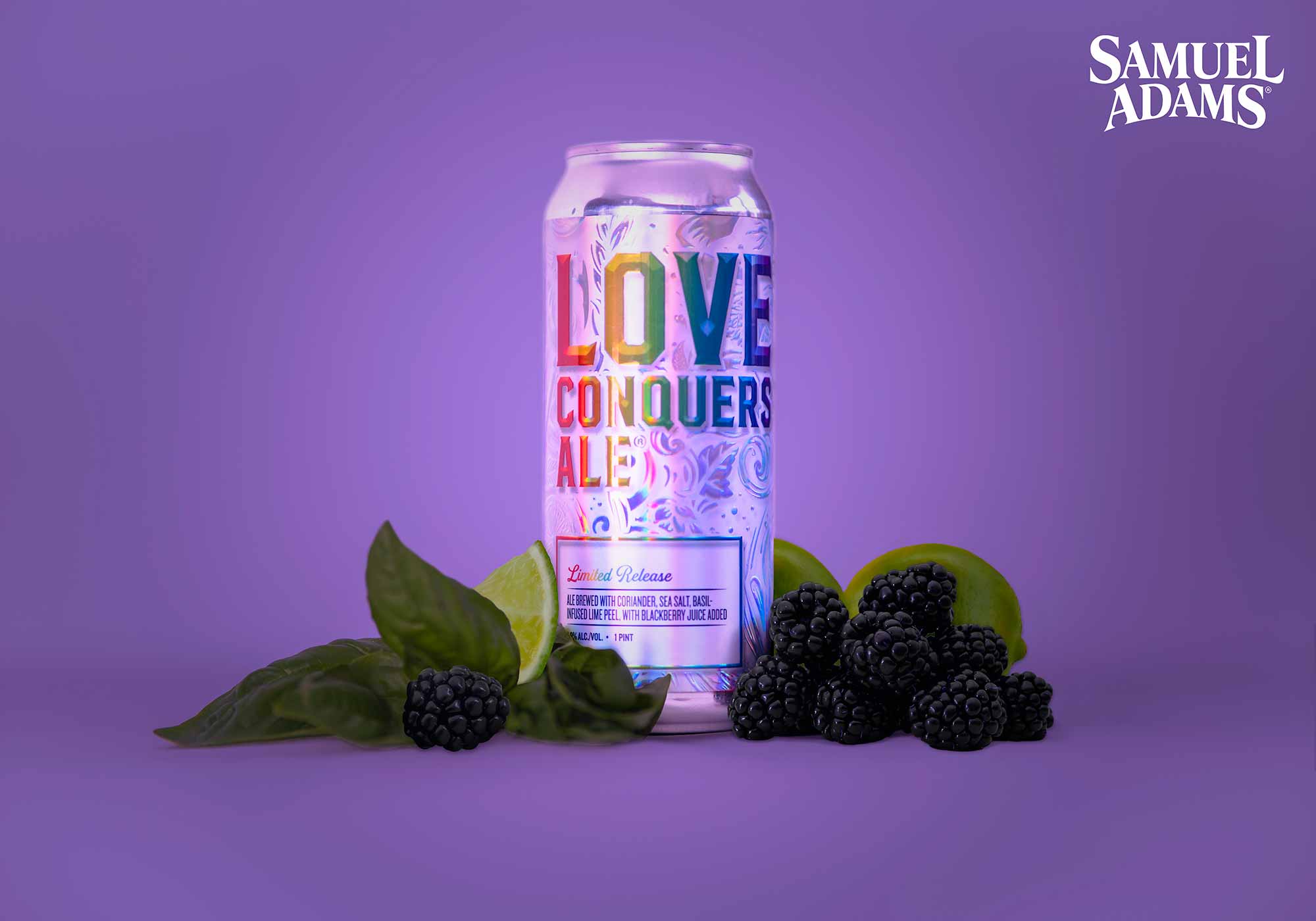 Photography courtesy of Samuel Adams
Editor's Note:
Join us on June 5th, 2021 for the Hop Culture x Samuel Adams Queer Beer Fest! Click here to get your tickets.
All across the beer industry, LGBTQ+ brewers and their allies are speaking up in favor of the value and voice of the queer community. And on June 5th, 2021, Hop Culture will team up with Samuel Adams to host its first ever Queer Beer Fest, an event showcasing the LGBTQ+ brewers, drinkmakers, and tastemakers in craft beer.
Although it's our first time partnering with Samuel Adams, it's not the brewery's first time supporting the LGBTQ+ community. Through their unique Pride platform Love Conquers All, Pride-exclusive beer Love Conquers Ale, and inclusive internal company network called Labels OUT, the revolutionary craft brewery has made it a part of their mission to support and encourage peers and fans as members and allies of the LGBTQ+ community.
What Is Samuel Adams' Love Conquers Ale?
One morning, Boston Beer Company's Brewing Innovation Manager Shelley Smith stopped at a coffee shop and saw a blackberry basil lime donut on display. She started thinking about how she could translate those flavors into a beer.
"So I wrote the recipe and then shared it with the brewing team, who thought I'd lost my mind," says Smith.
However, the Blackberry Lime Gose hit on all the right notes. It looked celebratory and tasted delicious. It contained several unique and seemingly disparate ingredients that came together to make something incredible.
In essence, the beer metaphorically represented the queer community, with people from all different walks of life, ethnicities, genders, nationalities, races, and more coming together to form something beautiful.
"The recipe itself brings together ingredients that at first pass may not seem cohesive, but together make a unique and beautiful beer," says Smith. "The bright fruit notes, refreshingly light body, pink hues, and interesting aroma make this the perfect brew to celebrate love!"
Deriving its name from the Supreme Court decision in 2015 that legalized same-sex marriage in all 50 states, Love Conquers Ale truly represents its namesake.
"This was an amazing milestone in history that we felt embodied not only our celebration during Pride month, but also our values in acceptance, inclusivity, and allyship," says Jennifer Glanville, Brewer and Director of Partnerships at Boston Beer.
Crafted each year to, "celebrate [Pride in] all of its color, unique spirit, and energy," Love Conquers Ale has become a cornerstone of Samuel Adams' Pride platform.
Okay, Then What Is The Samuel Adams' Love Conquers All Campaign?
Love Conquers All is a Pride platform created by Samuel Adams to celebrate and amplify the voices of the LGBTQ+ community.
"We started the platform as a way to live our brand values and strongly communicate our message of inclusiveness and unity as allies of the LGBTQ+ community," says Glanville.
Last year, Samuel Adams donated $100,000 to GLAAD, an organization committed to rewriting the script for LGBTQ+ acceptance. At the same time, the brewery created a powerful video series called Poetry of Pride. Filmed inside the historic Stonewall Inn, the series featured original poetry written by Teddy Geiger and Richard Blanco, recited by notable Broadway members of the LGBTQ+ community.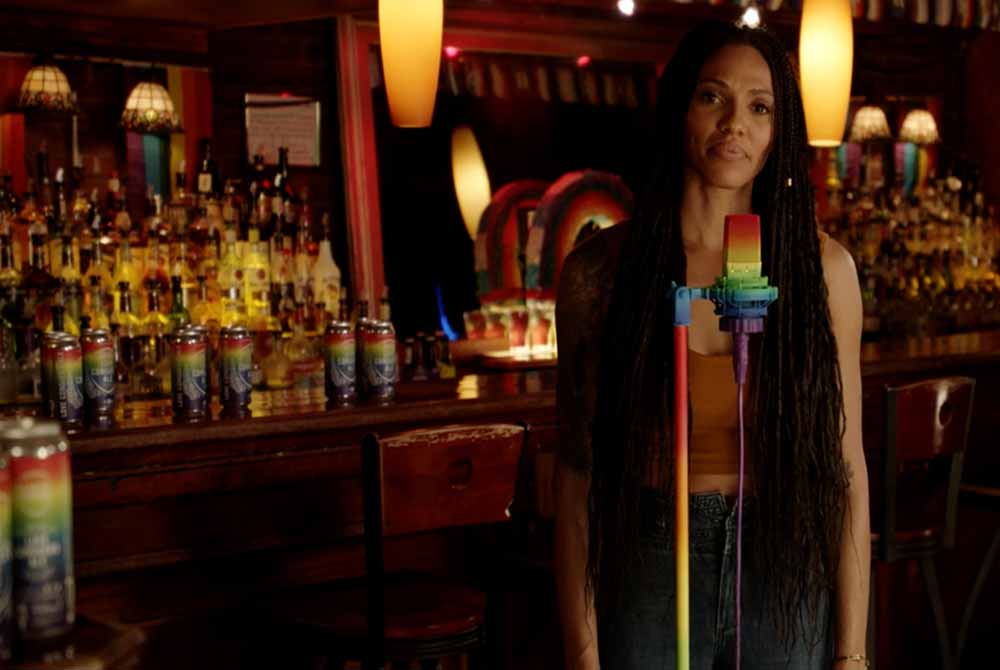 "Both of our organizations have similar stories, and we both share values of community building, inclusivity, and representation," says Gabe Colon, Philanthropy and Internal Communications Specialist at Boston Beer.
Beyond working together with GLAAD on Love Conquers All, the brewery is supporting the GLAAD Media Institute (GMI). GMI will serve as a resource to ensure Samuel Adams and the entire Boston Beer Company can successfully address issues facing the LGBTQ+ communities, both internally and externally.
What Is Labels OUT?
In June 2019, Samuel Adams hosted a discussion series for co-workers in its Cincinnati taproom. The panel featured three co-workers across different roles and locations, as well as glasses of Love Conquers Ale. When the event came to a close, the team realized they didn't want the conversation to end.
Born from that discussion series, Labels OUT is an inclusive network of Samuel Adams co-workers dedicated to supporting and celebrating its peers as members and allies of the LGTBQ+ community.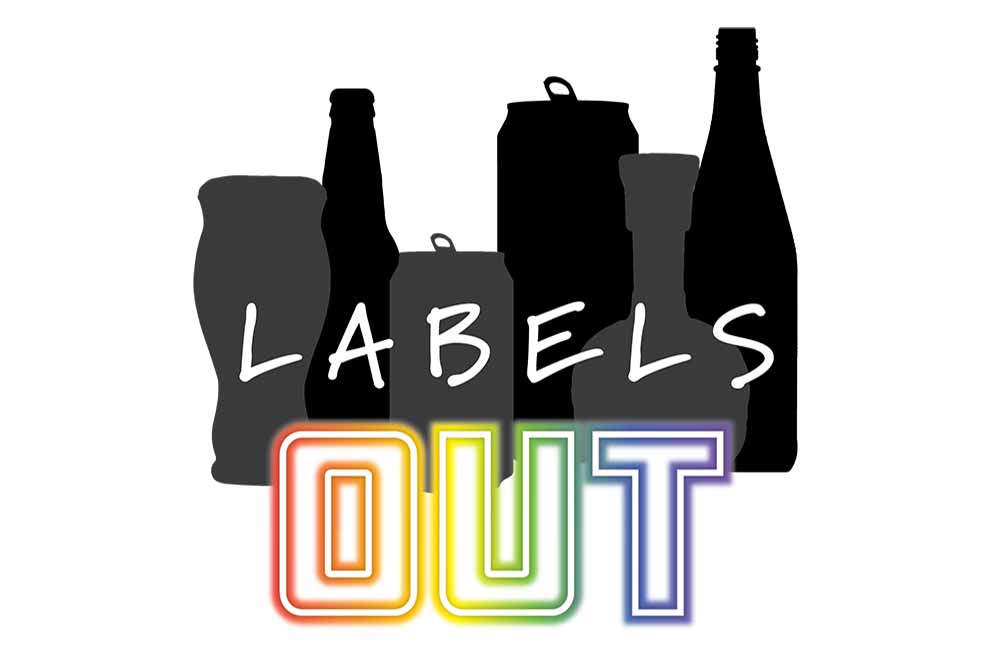 "Our goal is to steward and develop positive impact for all co-workers by providing a forum for education and awareness, advocating for inclusion and authenticity, and supporting professional growth," says Colon. "Through equal and active demonstration of our company values, we strive to create an authentic and safe space for all LGBTQ+ coworkers and allies."
Integral in advancing the Love Conquers All platform and working with sales teams to produce authentic Pride activations, Labels OUT also meets bi-monthly to design content for the Samuel Adams community. In the past, programming they've created includes a viewing party of Paris Is Burning and an interview with Cesar Valentino for a discussion on LGBTQ+ people of color. The program has also organized a conversation with the Dru Project in regards to LGBTQ+ youth and the five year memoriam of the Orlando Pulse Nightclub, as well as a night with comedian Fay Jacobs for LGBTQ+ History Month.
Additionally, Labels OUT has partnered with the Samuel Adams communications and HR teams to develop language and understanding around the use of gendered pronouns in email signatures and business cards. They've also hosted open forums and meetings to support their networks and members, and advocated with leadership to grow the Boston Beer Company networks and invest in a Director of Diversity and Inclusion role.
Overall, Labels OUT is setting the tone for the future of diversity and inclusion at Boston Beer Co. and beyond.
What's In Store for Love Conquers Ale, Love Conquers All, and Labels OUT?
Samuel Adams provides an example of inclusion, equality, and justice in the craft beer industry. And, their programs show no signs of slowing down.
"Beer has brought people together for centuries and this year our desire is that [Love Conquers Ale] and Pride month support the hopefulness of the things to come and that people feel connected, inspired, and ready to keep thriving," says Glanville.
By supporting Queer Beer, Love Conquers Ale, Love Conquers All, and Labels OUT, Samuel Adams will continue to be a pioneer in the craft beer industry.
Note: Looking to get your hands on some of this limited-edition ale?
You can find Love Conquers Ale in our official Queer Beer Festival Beer Box or as an exclusive release for drinkers to enjoy locally at Samuel Adams' Boston and Cincinnati tap rooms, as well as their Boston Brewery in Jamaica Plain.
Buy Tickets to the Hop Culture and Sam Adams Queer Beer Festival