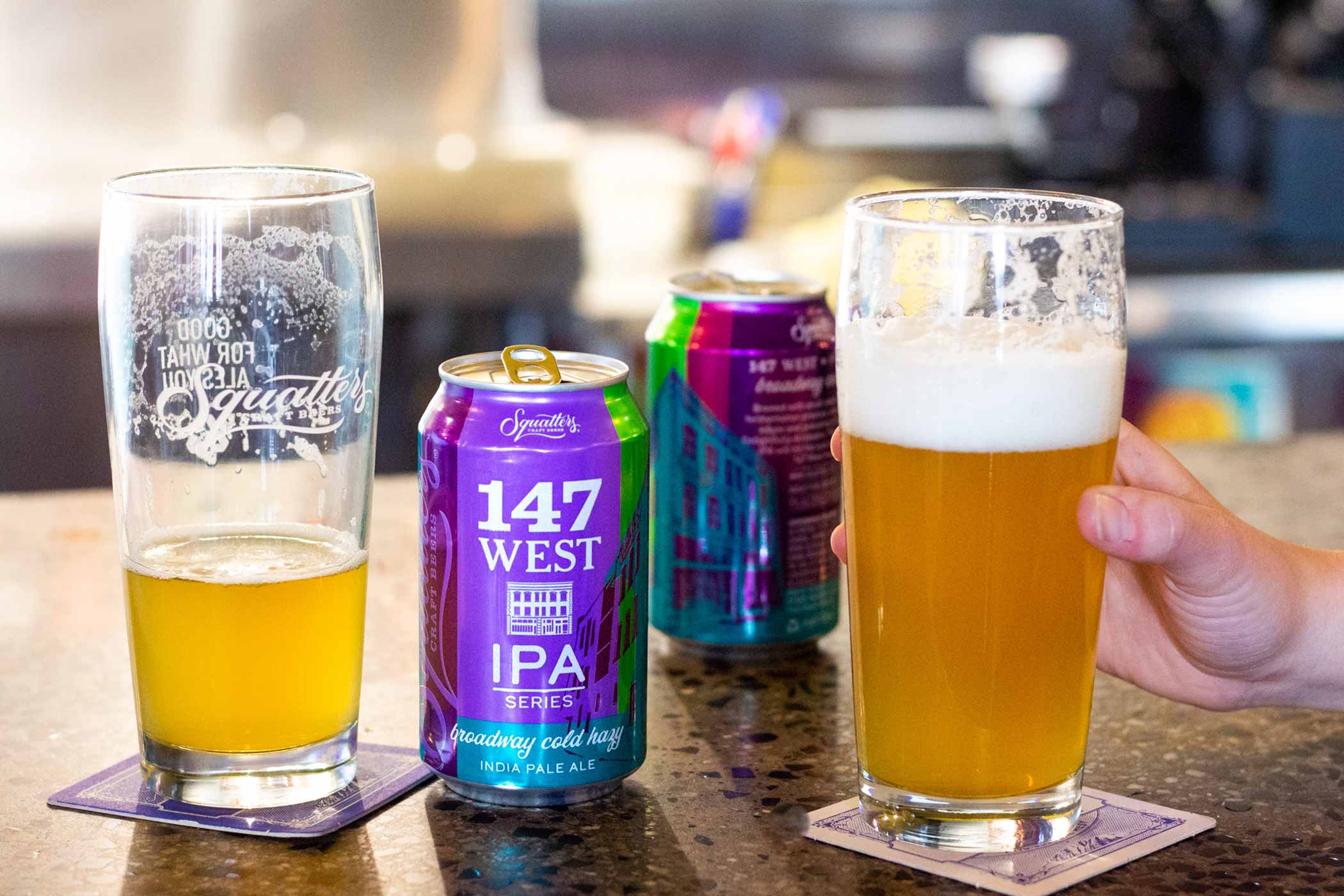 Squatters Craft Beers new experimental hop series | Photography courtesy of Squatters Craft Beers
If Wasatch Brewery is like the quintessential mountain town brewery in Utah, then Squatters Pub Brewery is like the city slicker.
Contemporary, convivial, and community-driven, Squatters has been setting the bar for craft beer in Utah for over three decades.
Although started as separate breweries and brands, Squatters and Wasatch combined forces in 2000 to cut down on costs and make distribution, production, and shipping easier and more efficient.
In a state like Utah, with stringent alcohol laws (it was only in 2019 that new Utah liquor laws allowed beer up to 5% ABV to be served on draft), combining forces proved very powerful.
In fact, we're pretty sure if we asked you to name a couple breweries in Utah, Squatters and Wasatch would come top of mind.
And for a brewery with a legacy as rich as Squatters, innovation and creativity have been key to driving the brewery forward.
Afterall, Squatters was one of the first craft breweries to open in Utah for a reason.
Squatters: The First…Okay, the Second. But Who's Counting?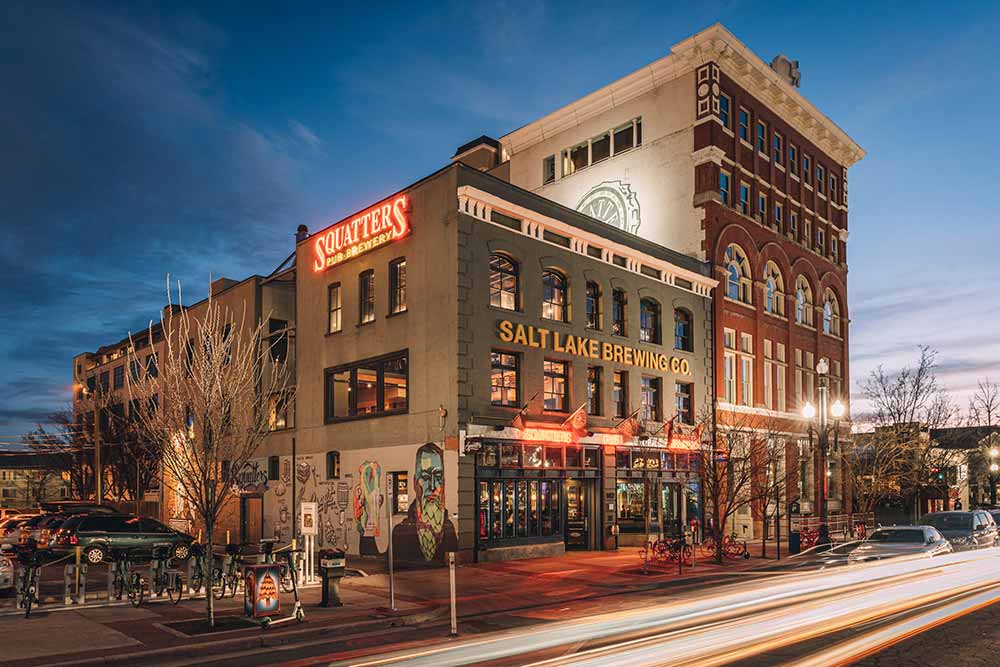 After visiting more than forty brew pubs across the West and Northwest, business partners Jeff Polychronis and Peter Cole decided they wanted to bring a local hangout to Salt Lake City.
Opened in downtown Salt Lake City on Sept. 5th, 1989, Squatters Pub Brewery ended an over two-decade-long drought of beer in this metropolitan city.
In fact, when Squatters officially threw open its doors at 147 West Broadway in Salt Lake City, it was only Utah's second brewery and pub. The first? Wasatch Brewery in Park City, of course, started by Greg Schirf in Park City, UT, in 1986.
And for the last thirty-three years, Squatters has grown into one of the most successful breweries in the entire state.
Squatters beers have nabbed twenty-six Great American Beer Festival medals, including fourteen gold, and fourteen medals from the World Beer Cup, one of the most prestigious beer competitions in the world.
Perhaps most well-known for its Hop Rising Double IPA, one of the best-selling beers in Utah that has gained recognition nationwide, Squatters recently kicked up its innovation.
Now the brewery that has set the standard for craft beer in Utah is pushing the frontier a little farther.
Squatters Introduces New Experimental IPA Series
In September 2021, Squatters launched the 147 West series, named after the very street that is home to the brewery's auspicious beginnings.
Designed to rotate every six months, the limited-edition lineup aims to capture a different IPA trend with each beer release.
"There are so many IPA trends, so many things going on in the IPA world, that we want to capture whatever trend is hitting that season…and bring our own spin to it," says Kristin Martino, marketing manager for CANarchy Craft Brewery Collective, who welcomed Squatters into its portfolio in 2017.
For example, the lineup launched with 147 West Broadway Hop.
147 West Broadway Hop: Proving West Coast IPAs Are Popular Again
Earlier this year, we wrote about the epic return of the West Coast IPA, a style that has become absolutely iconic in the American craft beer scene.
What better way to launch its rotating IPA series than to make a beer that paid direct homage to Squatters' West Coast roots?
"It was a nod to our origin, reminding people of our history, of our legacy, of this place that does feel like home to so many people," says Martino. "It's such an iconic place in Salt Lake City; it's a very recognizable location and we're reminding people that this is…what you love about Squatters."
A 5% ABV West Coast IPAbrewed with hop varieties including Cascade, Simcoe and Ekuanot , 147 West Broadway Hop punches us in the nose with bold aromas of grapefruit and orange. On the palette we get a white peach sweetness with notes of spruce and cedar and a bright, crisp finish.
"West Coast IPAs have been hitting really hard, so this is a nice clean, hoppy, fresh-tasting, well-rounded [version] that's not too bitter and not too malty," says Martino.
Perhaps conveniently, since Utah liquor laws require that any beer served on draft stay at 5% ABV or below, 147 West Broadway Hop falls into that fairly sessionable category. You can drink one or two of this West Coast IPA and still head out on a hike or hit one of the eleven ski hills around Salt Lake City.
"It pays homage to the local community and how we want to stay relevant," says Martino.
Which became even more apparent with Squatters' second release in the 147 West series.
147 West Broadway Cold Hazy IPA: Tapping One of the Hottest Trends Around the Country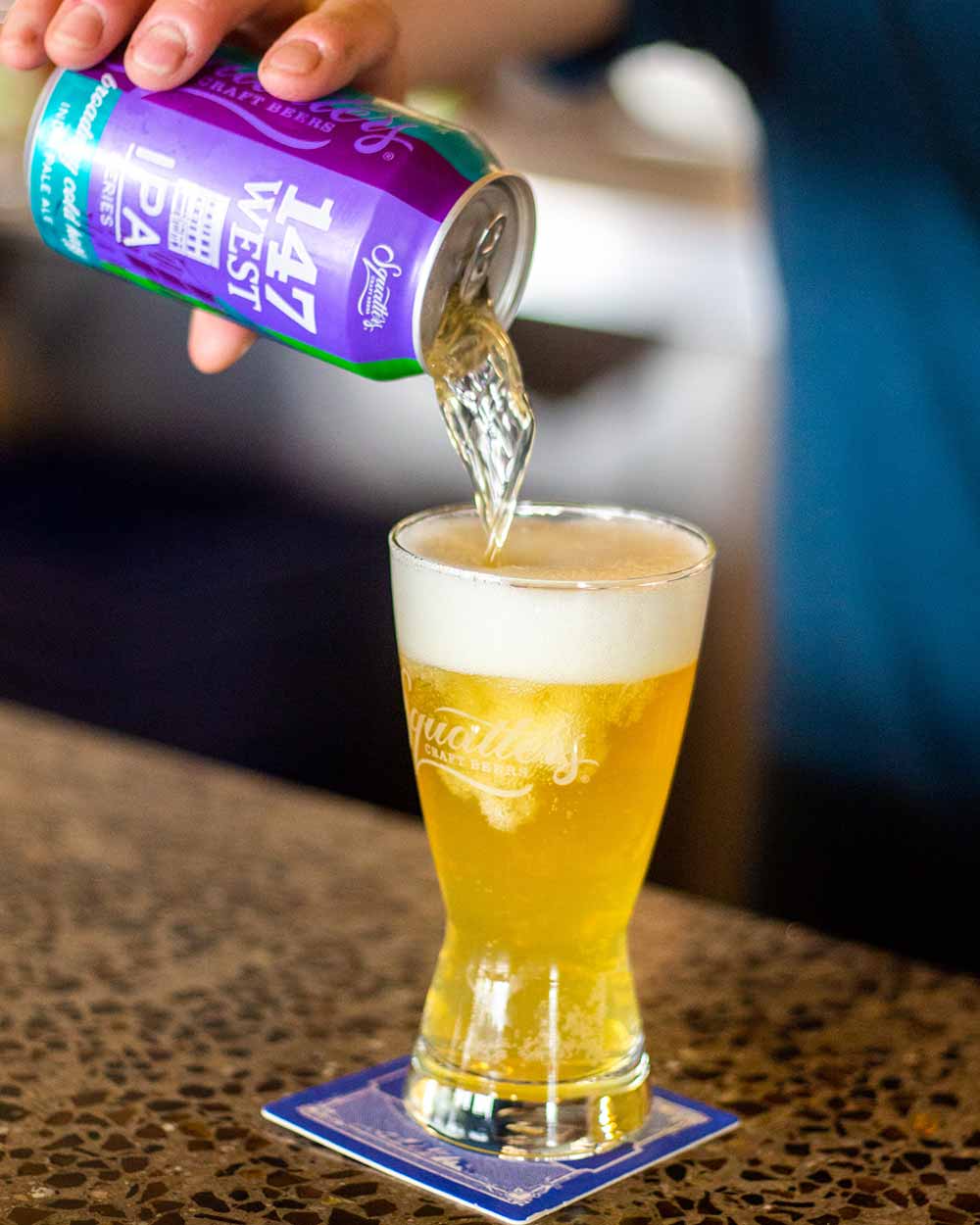 The next launch in the series, 147 West Broadway Cold Hazy IPA, tapped into what is now one of the hottest IPA trends in the country—cold IPAs.
Essentially, it's a dry-hopped IPA fermented with a cold-loving lager yeast. The result is an IPA that's bold in flavor and aroma, but finishing crisp and clean like a lager.
Featuring Nectaron, Cashmere, and Mandarina Bavaria hops, this East Coast-style IPA drinks with a super malty smoothness you don't often find in a typical IPA.
The beer hit home hard. "I want to say we were just on the start of that trend," says Martino. "It started to explode more as the beer went out into the market, but I feel like we really hit it at the peak."
To the point where Squatters almost didn't want to rotate it out of the market. "It was so good we didn't want to get rid of it," laughs Martino.
But that's the whole point of this experimental series: to be at the vanguard of what's unique and new in the industry. Hit it out of the park as one trend is peaking and then take it away as soon as it starts to plateau.
Certainly no easy task.
But for Squatters, a brewery that literally opened as just the second in the state, they're no stranger to exploring new frontiers.
Capturing Lightning in a Can and Flashes in a Pan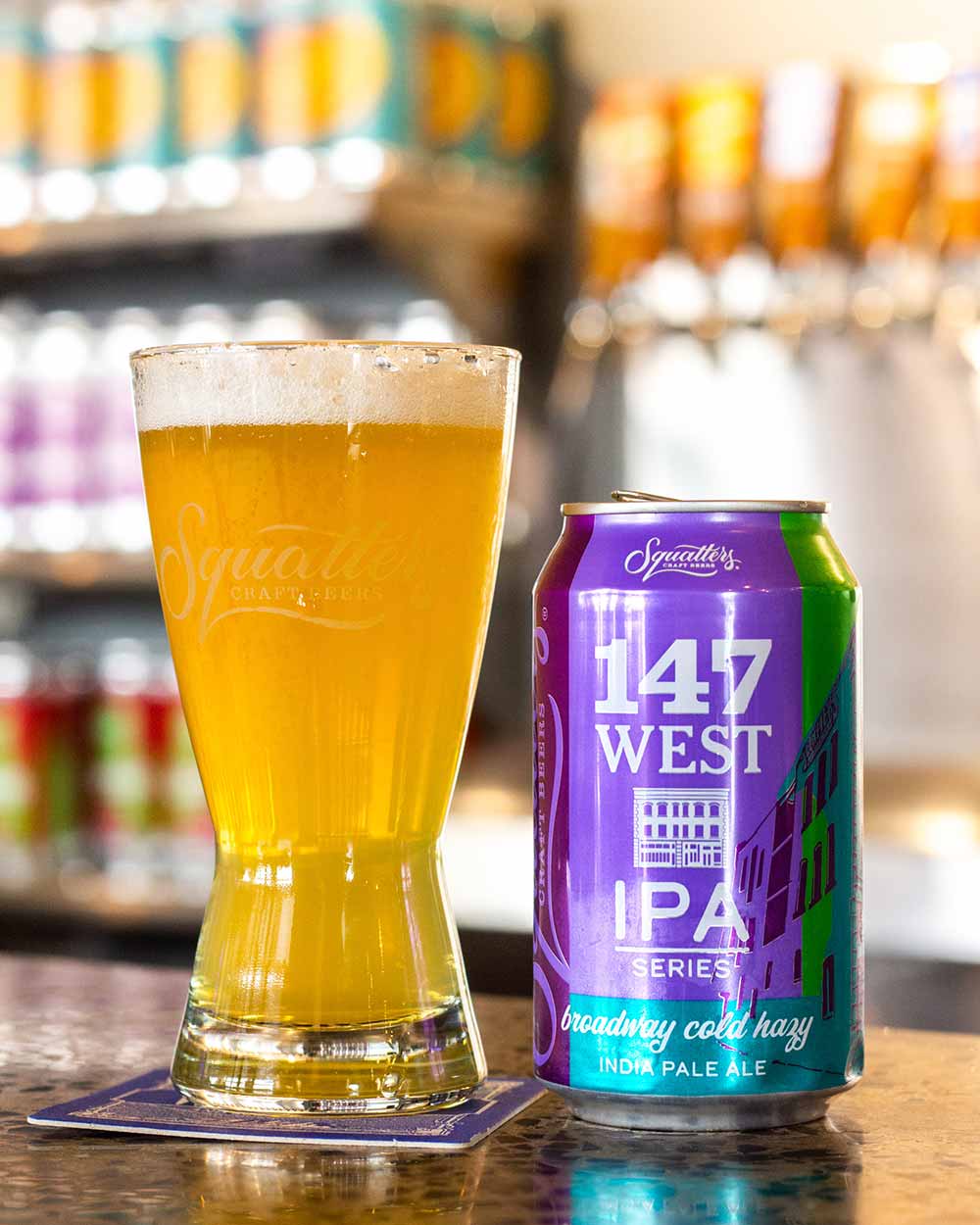 Driving the recipe creation and brewing of the 147 West beers is a dedicated brewing team with their ears to the ground and their eyes looking ahead to the future of the industry.
"The rotating series is an awesome opportunity for our brewmasters to get fun and innovative and have their own spin on a new IPA," says Martino. "They know what's up; they hear the whispering on the streets and they come up with their creations, recipes, and take on trends."
And because it's usually something so new like a cold IPA, "they have to become the newest experts," says Martino. "We're trying to be the first in the market with a particular trend so they're…paving the path for other brewmasters behind them because they're crafting the trend as the trend is building."
Consider these beers like capturing lightning in a can or watching a flash in the pan. "We want to hit while it's lasting and goes away as soon as people have moved on or it's gotten a lot of traction and then we're like, 'Nope, we're on to the next,'" says Martino.
Get These Beers Before They're Going, Going, Gone
With the idea to hit trends at their peak before moving on to the next big thing, all the 147 West beers are only on shelves for a limited amount of time. Meaning if you don't get it when it's hitting the market, "you may have missed your chance to taste the newest, freshest IPA that Squatters came out with," says Martino. "And our brewmasters always hit it out of the park… So get excited for the next one, because you'll want to get that one just as quickly and enjoy it for however long it's on the shelf."
While Martino says they could potentially bring really successful versions of any of these exclusive beers into year-round production, for now, if you don't try a 147 West beer while it's out, you may never get to drink it again!
147 West Citrus IPA: Taking a Peek at What's Peaking
To continue capturing these elusive moments, Squatters will be exploring the tantalizing flavors of citrus in IPAs for their next 147 West release.
Landing in the spring of 2023, 147 West Citrus IPA will be "super fresh in fruits and bringing zests to the IPA," hinted Martino. She couldn't share much more than that, so you'll just have to stay on the lookout for this next trend-setting beer landing next year.
Where Can I Find 147 West?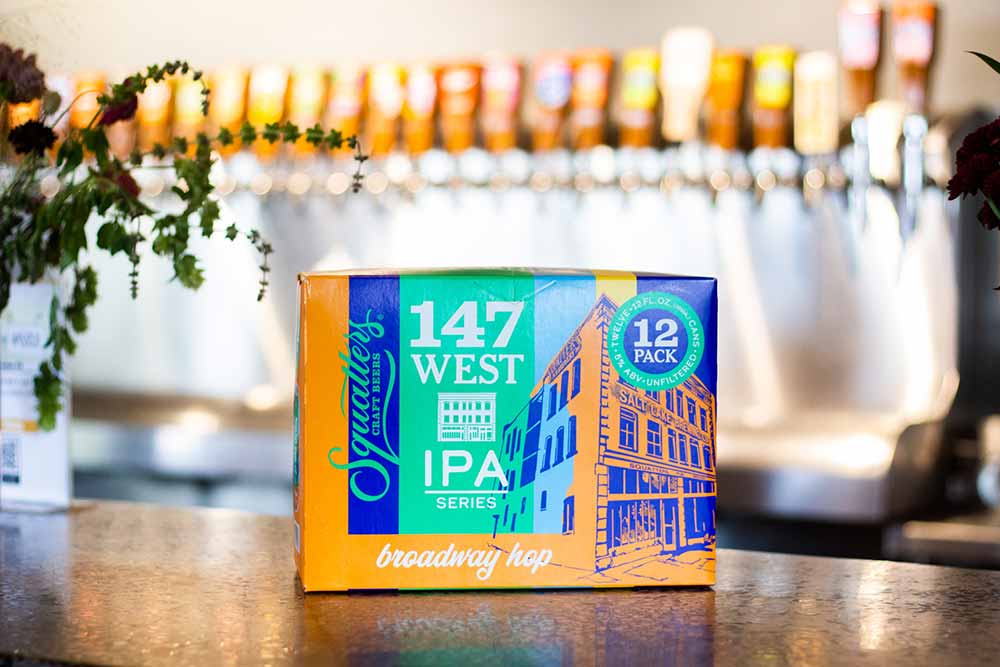 In the meantime, you can currently find the original 147 West Broadway Hop IPA back on shelves.
Look for 147 West Broadway Hop or any of the beers in this series on draft at your favorite local bar or restaurant in Utah.
In addition to being available on draft, 147 West beers are packaged in 12oz can 12-pack cases in local grocery, multi-outlet, and convenience stores.
And of course, you can drink the freshest 147 West right at the Wasatch and Squatters brewery at 1763 S. 300 West in Salt Lake City.
To find the newest 147 West beer near you, check out Squatters Beer Finder.