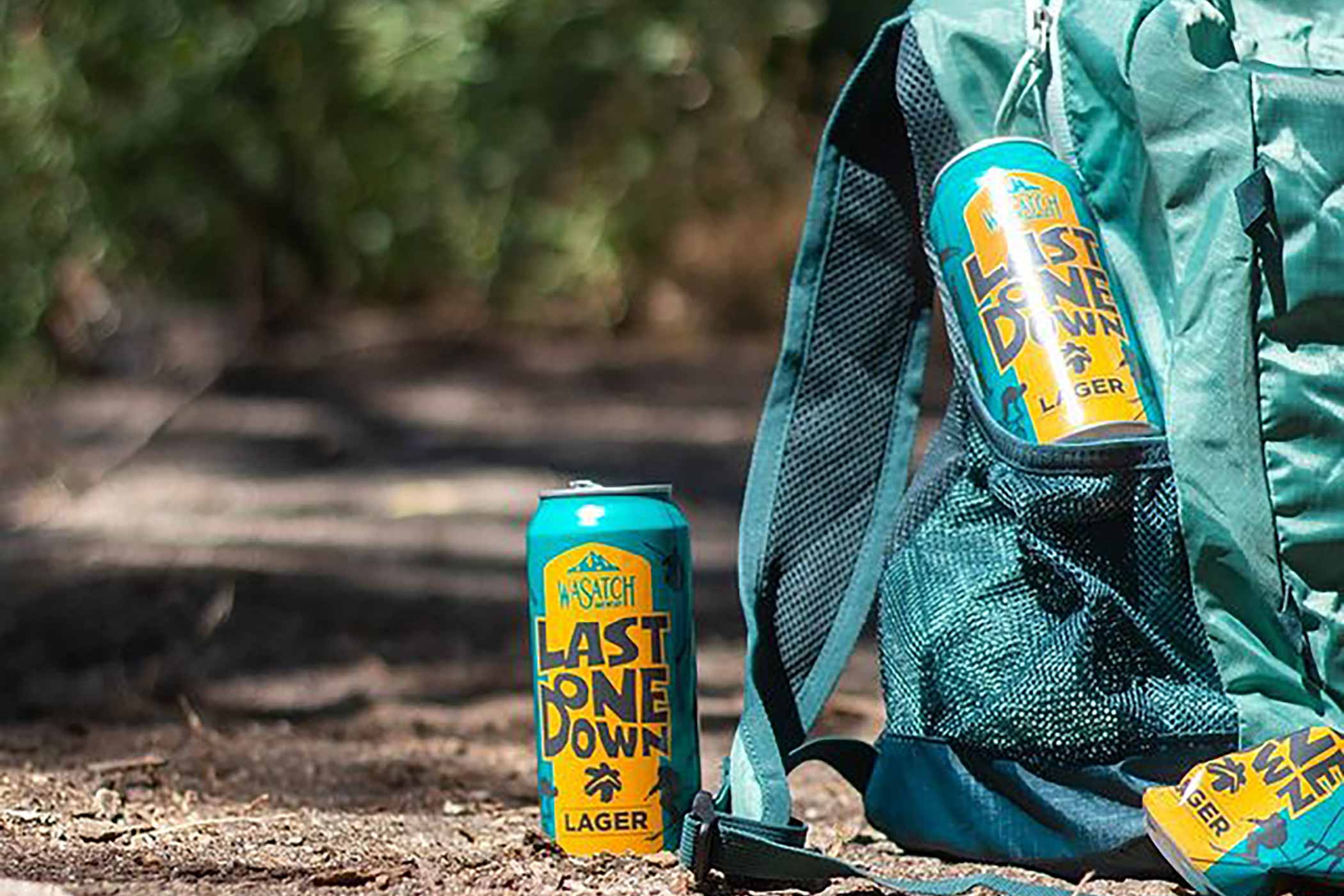 Photography courtesy of @wasatchbeers | Wasatch Brewery
Every state has something special.
In Minnesota, they spend summers boating and winters ice fishing on one of the 14,380 lakes.
In California, they surf. Period.
And in Utah, they ski, hike, and bike the mountains. Often from sun up until sun down. It's not uncommon at one of the twenty-one ski resorts (ten of which are considered world class and located within a one-hour radius of the Salt Lake airport) in the Beehive state to find folks who are the first one up on the mountain and last one down.
That's the vibe Wasatch Brewery wanted to capture with its newest beer, Last One Down.
"We're combining love for the mountains, all the activities that go along with it, and sharing that experience with your buddies and friends," says Kristin Martino, marketing manager for CANarchy Craft Brewery Collective, who welcomed Wasatch Brewery into its portfolio in 2017. "You're getting out there by cracking open a beer after, before, or during those activities," whether that's hiking during the summer or skiing during the winter.
Last One Down is much more than a beer. It's a way of living life, a liquid inside a can that represents Utah and Wasatch to the core #livingthatmountainlife.
Wasatch Brewery: Utah's First Brewery Broke All the Rules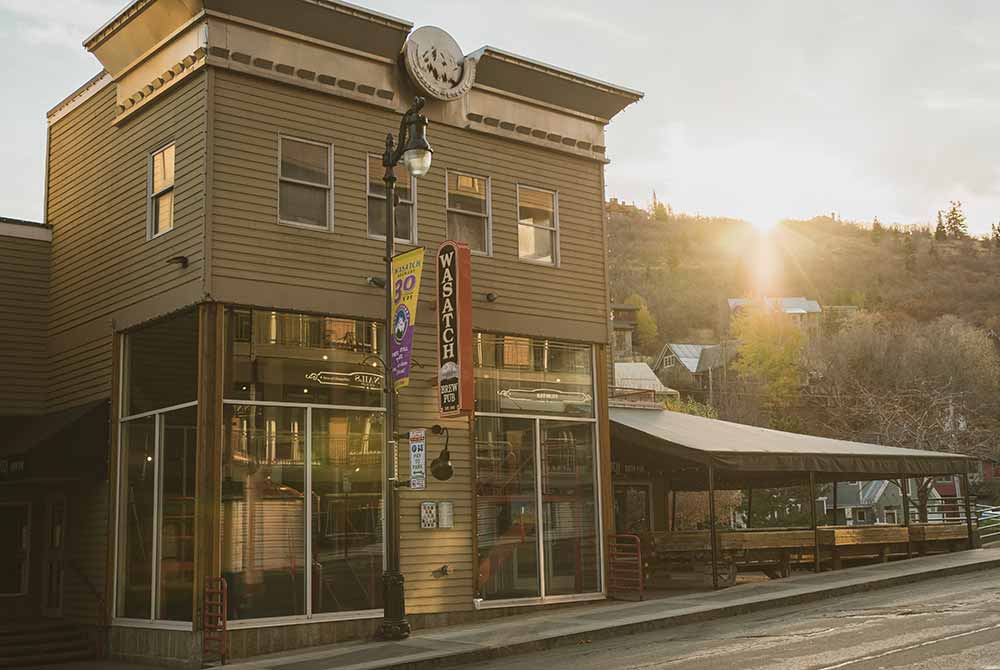 To understand Last One Down, you first have to understand Wasatch Brewery.
Founded by Greg Schirf thirty-six years ago in 1986, Wasatch holds the distinction of Utah's first craft beer microbrewery.
Since the very beginning, Schirf always did things a little differently. Literally, on the brewery's opening weekend, he put an ad in The Park Record that said, "Brewery Grand Opening, All Welcome. Free Beer." At the time, and based on Utah's liquor regulations, Schirf broke a bunch of laws.
But that didn't deter Wasatch at all. And it's an ethos that would set the tone for the brewery for the next three plus decades.
After all, "You never forget your first." A tagline the brewery came up with to recognize the 35th anniversary of Wasatch Brewery seems to describe Schirf's approach to the brewery perfectly.
Starting a string of firsts in Utah, Schirf began by getting a bill passed in the Utah legislature in 1988 that changed the licensing for beer distribution, allowing brew pubs to operate.
And he never shied away from playing into Utah's religious proclivities, giving tongue-and-cheek names to his beers. For instance, Polygamy Porter, 1st Amendment Lager, and Evolution Amber Ale (now Evo Amber Ale).
Each beer seems to have a purpose and tell a story of life in Utah
Polygamy Porter, for example, alludes to Utah's long history with having more than one spouse at the same time.
While Schirf brewed Evo Amber as a response to the Utah legislature considering a law that would require teaching creationism in public schools.
Similarly, Last One Down carries its own distinct narrative.
Keep Your Tips Up With Last One Down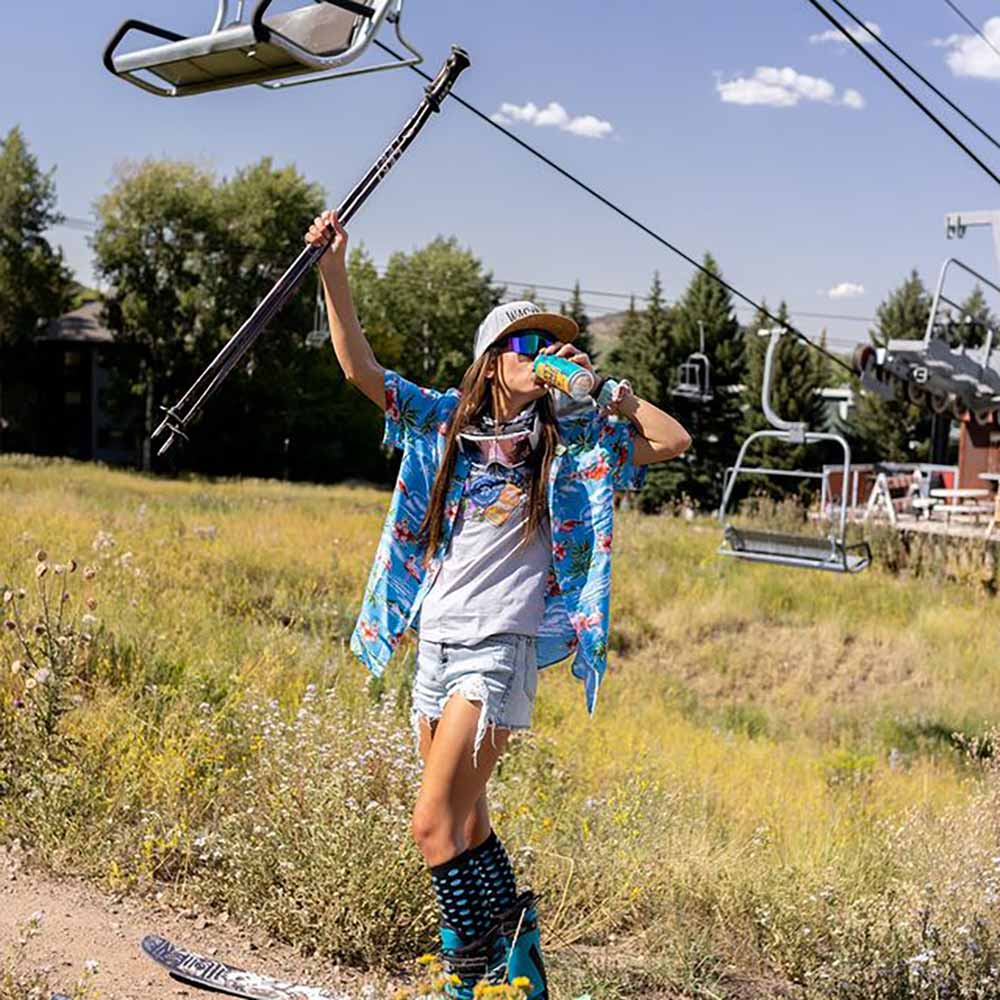 A collaboration with Ski Utah, Last One Down is a direct nod to Wasatch's location in Park City, UT, aka ski and mountain town USA.
Located at the top of Main Street, "Wasatch Brewery is the last stop as you're about to hit the mountain," says Martino. "Either coming off that mountain, that's where you end up, or you're about to go up the mountain and you gather there."
With such a perfect location right by the mountain, Wasatch wanted to brew a beer that encapsulated that peak life.
"In Utah, we don't have a professional football team," says Martino. "We're a very ski-town-focused brewery… When you think of Utah, you don't have as many people sitting at home on Sunday watching football; instead, people are out on the mountain."
As a result, Wasatch designed Last One Down to be a beer for the mountain biker, the all-day skier, and the weekend hiker.
"We want this to be a beer where you're enjoying your time on the mountain so much that you're the last one down, you're taking your time, taking in the scenery," says Martino. "You're sleeping in your car the night before, you're the first one on the chairlift…but the last one down because you're taking in every single second of the ski day."
And for one who wants to spend their entire day at a higher elevation, Wasatch brewed a beer that's low in ABV and super crushable. You know, to ensure that you can be the first one up and the last one down (without tumbling down the mountain…).
Last One Down: A Beer Built for the Outdoors

Photography courtesy of @wasatchbeers | Wasatch Brewery
"If you're the last person off the mountain because you love being in that space so much, this beer has to be light, easy, and something you'll want to drink after you are the last one down," says Emily Abels, marketing coordinator at CANarchy Craft Brewery Collective.
If you want to ski, hike, or bike for the entire day, you can't carry around a high-gravity stout, for example. Instead, Wasatch needed to design a recipe built for the outdoors.
"We made it a super light, crisp, easy-drinking lager because not only are you drinking it after you get off the mountain, but you might be throwing it in your backpack to drink while on the chairlift or taking a break," says Martino.
Which is why you'll also find Last One Down available in 16oz cans "so it can last a little bit longer," says Martino.
Tasting Through Last One Down
What you'll notice first about Last One Down is that it's as smooth as taking that first crack at a run of fresh powder.
"Three words: malty, crisp, and clean," says Abels.
Martino continues, "We use the term crushable." At only 5% ABV, Wasatch again wants to ensure that you can drink one or two on the mountain over the course of the day and maybe even another once you're the last one down.
"A little bit more on the malt side with a sweeter backbone," says Martino, Last One Down also has a nice lightly floral hop.
In other words, this is the all-season, all-year, all-sport beer built for wherever your adventures to higher elevations take you, whether that's skiing, hiking, backpacking, biking, or more.
Where Can I Find Last One Down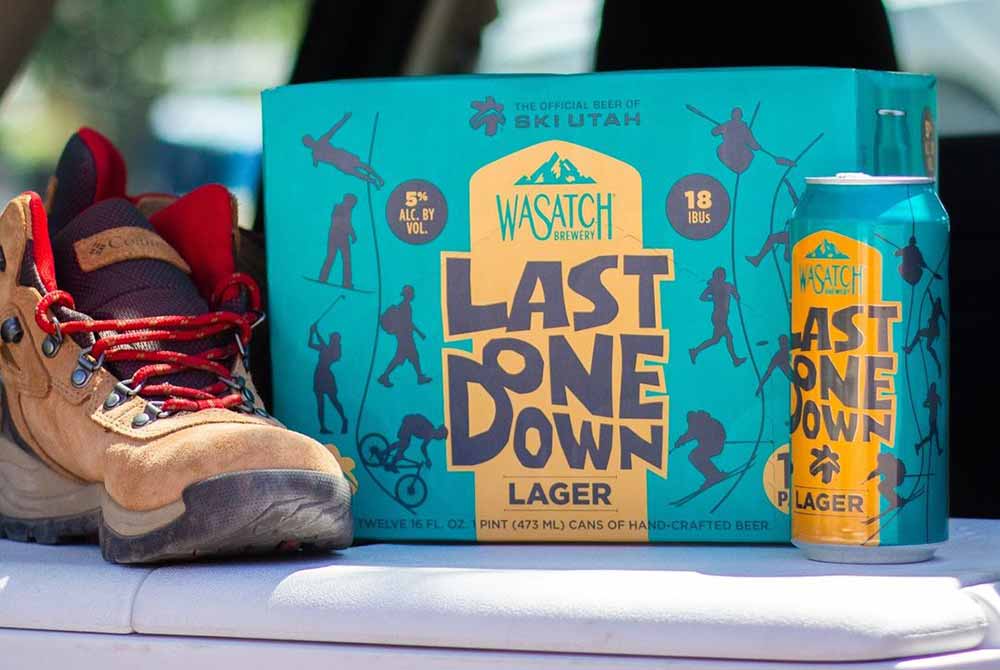 Before heading up the mountain, stock up on Last One Down at any grocery store, multi-outlet, or convenience store within Wasatch's footprint in Utah. Available in 12-packs with 16oz cans (what Martino calls "a hefty pack"), Last One Down can also be enjoyed at the brew pub itself.
At The Cold Beer Store in Salt Lake City, Wasatch keeps the beer cold, sells it in individual cans, and even stays open on Sundays (in Utah, liquor stores are not allowed to sell on the last day of the week).
However and wherever you decide to nab your Last One Down, just make sure you get your hands on one.
Don't be the last one! Because "after spending a whole long day in the sun being active, this is how you're going to wind down, with our Last One Down," says Abels.