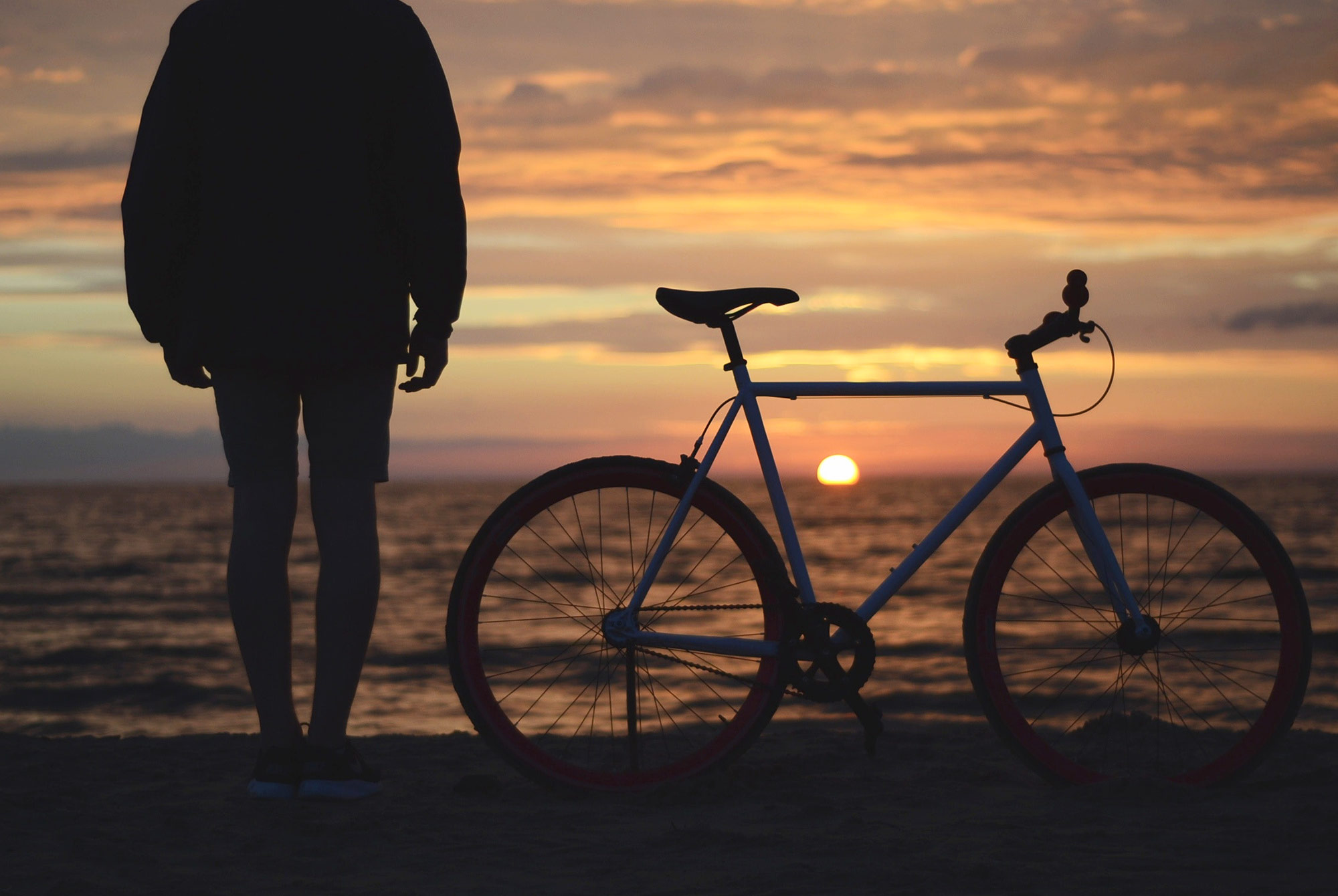 Ed. Note: This list is intended to serve as loose inspiration, not be followed to the letter. We don't accept responsibility for any legal trouble or mid-life crises encountered while trying to hoof it from brewery to brewery on an antique Schwinn.
Instead of Ubering to your favorite brewery, why not take a bike to find your next pint? Although it's brewed in urban spaces much more frequently, historically beer was more commonly shared between farmers after a long day in the fields. Even today, open air fermentation and the tradition of farmhouse ales ties contemporary beer to its bucolic roots.
But you don't have to trek hours to remote breweries to enjoy nature. There are plenty of breweries around the country that you can get to without a car. Hop on your bike and hit the nearby trails to find great local beer. Or, weave your way through the city on two wheels for a DIY beer crawl. Here are a few of the best boozy bike trails for getting lost in the great outdoors and enjoying a few beers.
The Best Beer Bike Trails In America
Longmont to Boulder, CO
Colorado is the perfect place to get lost in the great outdoors. Hiking along the Rocky Mountains, whitewater rafting down the Colorado River, or biking through the San Juan National Forest offers a great chance to explore nature. And thankfully, a brewery is never too far away. One of the many Colorado bike trails connects Longmont to Boulder, aptly named LoBo, is ideal for a biking brewery crawl.
1. Just two miles north of the official start of the trail is Left Hand Brewing in Longmont, home of Left Hand Milk Stout.
2. Continue on down the trail a few miles before stopping off in Niwot to visit Bootstrap.
3. If you feel like continuing all the way down into Boulder, be sure to end your bike ride with a visit to Asher and Avery.
Portland, OR
For a lot of people, Portland is synonymous with beer. There's also a pretty intense bike scene. Pair the two and you've got a DIY bike beer crawl through PDX.
1. Start in the Pearl District at Back Pedal Brewing and then hit up Rogue's Public House for a bite across the street.
2. Head north a few blocks to stop at BridgePort for a pint and then cross the Willamette River. Grab a pretzel and beer at Widmer and head up into the Boise neighborhood.
3. Pop into Ecliptic and/or StormBreaker for a few beers and a delicious meal. Sit outside to enjoy the quieter neighborhood.
4. If you're still thirsty, head a couple blocks over to 5th Quadrant and end your night with Argentinian sliders on their outdoor patio.
Minneapolis, MN
The Twin Cities has an abundance of beer on both sides of the Mississippi, so it's not hard to spend a whole day drinking. Minneapolis is steadily becoming one of the more popular Midwestern cities — and it's strong craft beer scene is one reason why. Plus delicious food and the friendly Minnesotan vibe. Although the Twin Cities does have a public transportation system, hopping on a bike is the best way to get around. And if you're in need of a set of wheels, Minneapolis has a great bike share program with locations all over the city.
1. Start your trip in the North Loop at InBound, Fulton, and Modist. Fill up on food at one of the nearby food trucks before crossing the Mississippi through Nicollet Island and taking a scenic ride along the water.
2. If you're still hungry hit up Kramarczuk's or Brasa.
3. Continue your trip over to Surly for a beer or two before stopping by Bang Brewing and Urban Growler, which are technically in St. Paul — Minneapolis' twin. Bang, also known as The Bin, is only open Thursday to Saturday but it's worth trying to make it over to the eco-conscious brewery if you can.
4. Wrap up your booze-filled day at BlackStack Brewing just down the road from Bang.
The Washington & Old Dominion Trail
If you're looking for a long ride with stellar breweries, hop on The Washington and Old Dominion Trail, which starts in Purcellville, VA and ends just outside of DC. The W&OD takes you through the suburbs of northern Virginia and offers a quiet escape from the bustle of D.C. Take on the entire trail or just enjoy a few miles, either way, great beer is never that far.
1. Start in Leesburg and check out Crooked Run and Blacknut Brewing. Plus, pop into Delirium Cafe, the first US bar from the international chain of Belgian bars.
2. Continue on to Ashburn, where Old Ox Brewery has set up shop right along the trail. Park your bike at their bike racks and get a beer and some food from one of the local food trucks.
3. If you happen to be biking between Thursday and Sunday, veer off track after about half a mile to stop at Aslin Beer Company and pick up some of their highly sought after, hard to find liquid. You'll have to take this beer to go but it'll be a pretty fantastic way to end your trip.
4. Once you're back on track, stop at Caboose Brewing, right off of the mile 19 marker for a bite and a beer.
5. Wrap up your trip at the end of the trail with a celebratory beer at Capitol City Brewing in Arlington.