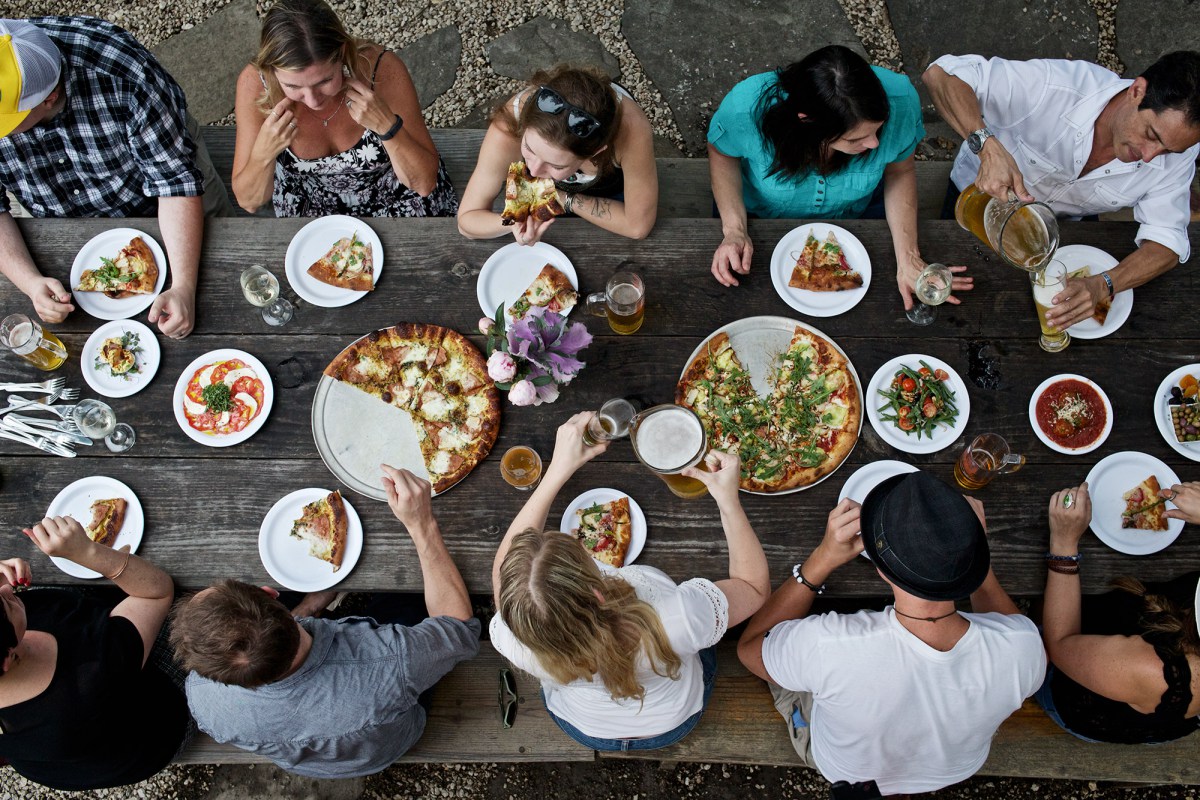 Image Courtesy of Austin Beer Garden Brewing Co.
Austin, Texas is an enigma.
The capital city of a state awash in oil money and bursting with Lone Star pride and guns is one of the great melting pots of culture. Smithsonian Magazine described Austin as "the perfect combination of Southern heart, Western spirit, and Yankee intellect."
For most people, your introduction to Austin comes through public television or sports. Austin City Limits, filmed at Moody Theater, has aired on PBS for decades, showcasing musicians from across the spectrum. The University of Texas football and basketball teams are mainstays on cable television sports networks with a massive international web of alumni and fans. Its evolution into a magnet for hipsters and intellectuals spawned SXSW, the film, music, and tech festival that descends on the town each March.
Where there are hipsters and endless live music, you can almost certainly count on there being beer. And, it does not take a lot of work to find it.
Friday
Mort Subite
308 Congress St | (512) 861-5044
11 AM– Congress Street is home to the first bar in the United States to sell Belgian beer — bottles of Duvel — back in 1979. Mort Subite revives the Belgian beer tradition in the capital, a few doors down from the original Belgian bar. It's also a good spot to set a base before you wreck your palate on hops. Grab a crepe from DJ Crepes food truck out front–the Cannes with mozzarella, prosciutto, basil, and tomato pairs nicely with whatever Brouwerij Boon lambic is available.
Zilker Brewing Co.
1701 E 6th St | (512) 712-5590
1 PM– Head from Downtown to East Austin and visit what The Austin Chronicle called the most underrated brewery in Austin last fall. Zilker's storefront taproom is moderately-sized and patrons at the bar face the glimmering steel tanks off in the background. The coffee milk stout is modeled after Cuban coffee with a soft, creamy texture and sweet caramel flavor. Don't sleep on the Parks & Rec Pale Ale, which is a well-balanced, clean-drinking standout.
Lazarus Brewing Co.
1902 E 6th St | (512) 394-7620
2:30 PM– You're less than a two-block walk to Lazarus, so it's worth stopping in for their European-inspired tap and bottle list. You'll see Belgian, German, and British styles brewed here, in addition to the standard lineup of American IPAs and pale ales. We really enjoyed the Darkhaven, a nitro-pushed English mild brewed with Earl Grey. Lazarus roasts its own coffee and espresso beans, and a shot of caffeine wouldn't hurt at this point.
Hops & Grain
507 Calles St #101 | (512) 914-2467
4 PM– Hops & Grain is a 20-minute walk from Lazarus and it wouldn't kill you to stretch your legs. The taproom is small, so enjoy the patio if you can. If you consider yourself a hophead, dive into whatever Recreational Series beers are available. The brewers take traditional styles, including porters and pilsners, and generously hop them. Hang out for a very fun 5 PM brewery tour, which does a good job of bridging the knowledge gap between newbies and beer nerds.
The Brewer's Table
4715 East 5th St | (512) 520-8199
6 PM– There's something for everyone at The Brewer's Table. With a crew that wants a refined dinner? Go sit in the main dining room and enjoy one of the shareable feasts or the smoked rabbit carnitas. Are you okay with eating a reuben made with house-smoked pastrami? Then sit in the lager garden. Either way, you can order the house brews — Brewmaster Drew Durish's common lager is anything but — or access the carefully curated tap list at the bar.
Craft Pride
61 Rainey St | (512) 428-5571
8:30 PM– Let's circle back toward Downtown. Craft Pride doesn't look like much from the outside, but inside is another story. Rustic wood walls line the bar, while a wooden cutout in the shape of the Lone Star state is suspended from the ceiling. Fifty-four beers are on tap, all made in Texas. Find out what's on cask and check out the bottle list for any rarities from Saint Arnold or Jester King.
At this point, you're on Rainey Street and not lacking in things to do. Camp out at Craft Pride or move next store to Banger's Sausage House and Beer Garden. It's tough for us to say no to sausage, especially when it's paired with more than 200 draft beers. That's not a typo.
Saturday
Jester King Brewery
13187 Fitzhugh Rd
12 PM–It's about a half-hour drive southwest from Austin to Dripping Springs, where Jester King makes its home, and it's worth every mile and dollar you spend. The bucolic setting in Texas Hill Country pairs beautifully with each beer served at the four bars on the ranch. Grab a pizza or some charcuterie for lunch, order a draft, and enjoy the view. Drink in the beer and nature and then grab a refill and jump on the 1 PM tour of the brewhouse and barrel room (bring your beer with you). Take the 2 PM farm tour, where brothers Jeffrey Stuffings and Michael Steffing are raising animals and growing hops and wine grapes.
We highly recommend buying a shipping box at the beer-to-go stand, loading it up with bottles to go, and dropping this back at your hotel before leaving. After all, what's a brewery visit without a souvenir?
Austin Beerworks
3001 Industrial Terrace | (512) 821-2494
3:30 PM– Let's head north of the city and work our way back. Austin Beerworks is the ubiquitous beer brand synonymous with the city. Try any of the seasonal releases or whatever fresh hoppy experimentation is available.
Draught House Pub & Brewery
4112 Medical Pkwy | (512) 452-6258
4:30 PM– Draught House and Craft Pride are considered by most to be 1A and 1B in the "Best Beer Bar in Austin" rankings. Housemade and in-state beers dominate, though there are quite a few solid domestic and import selections.
Pinthouse Pizza
4729 Burnet Rd | (512) 436-9605
6 PM– It's a half-mile walk to Pinthouse Pizza, which doubles as a brewery. You probably had pizza at Jester King for lunch, but get over yourself and get the Banh Mi pie made with local sausage and pickled vegetables. Its Green Battles IPA won gold at the 2018 Great American Beer Festival and World Beer Cup, and its range of IPAs are the best in the state.
Austin Beer Garden Brewing Company
1305 W. Oltorf | (512) 298-2242
8 PM– We're saving one of the best for last. Well, at least the best in the city limits. Austin Beer Garden Brewing racks up medals from the Great American Beer Festival like Michael Phelps at the Olympics. Their latest haul included honors for Rocket 100, a pre-prohibition style pilsner that won gold. Don't sleep on Hell Yes, a beautiful Helles lager with just the right amount of spice. The long beerhaus-style tables fill quickly, particularly on Saturday night when the bands take the stage, but it's absolutely worth fighting the crowd.
Liked this article? Sign up for our newsletter to get the best craft beer writing on the web delivered straight to your inbox.