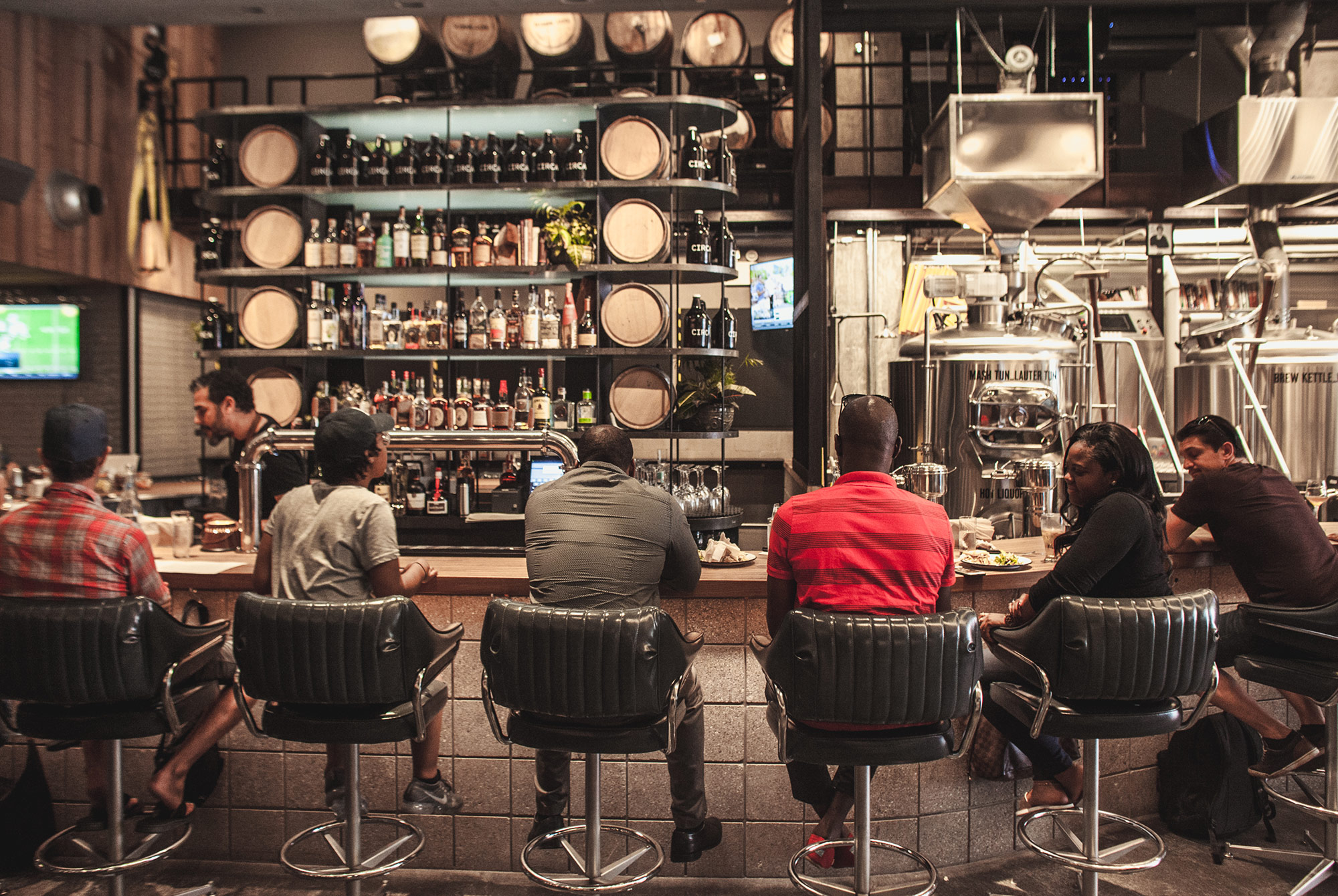 Dating in the 21st century is unique. Dinner and a movie doesn't cut it as an acceptable first date anymore. Moody cocktail bars or artful, "hygge"-inspired coffee shops make up the dating arena. Or — as craft beer continues to become mainstream — you could also hit up the modern taproom.
To be honest, I haven't been on a first date in nearly seven years, so I might not the best person to give advice. But I've dragged my girlfriend to plenty of taprooms, so I can tell you which ones to find for a successful date night.
Choose a taproom with an experience, or plan to visit on a night with live music. Bonus points if the brewery serves good food and has a comfortable vibe. Most importantly, bring your date somewhere they want to go. In other words, it's poor form to make someone stand in a can release line (unless that's their thing, then by all means).
Here are fifteen of our favorite breweries for a first date. And on behalf of the whole Hop Culture team, good luck out there.
Brewery Bhavana
218 S Blount St, Raleigh, NC | (919) 829-9998
This was an easy choice. Brewery Bhavana is redefining the American brewpub with its lush, progressive space, delicious food, world-class beer, and unique flower shop and book store. The staff puts hospitality first and will help curate a lovely evening. Of course, the dim sum is not to be missed, and be sure to ask for beer pairing suggestions. For a picture-perfect evening, stop by the flower shop and pick up a bouquet on your way out.
Threes Brewing
333 Douglass St, Brooklyn, NY | (718) 522-2110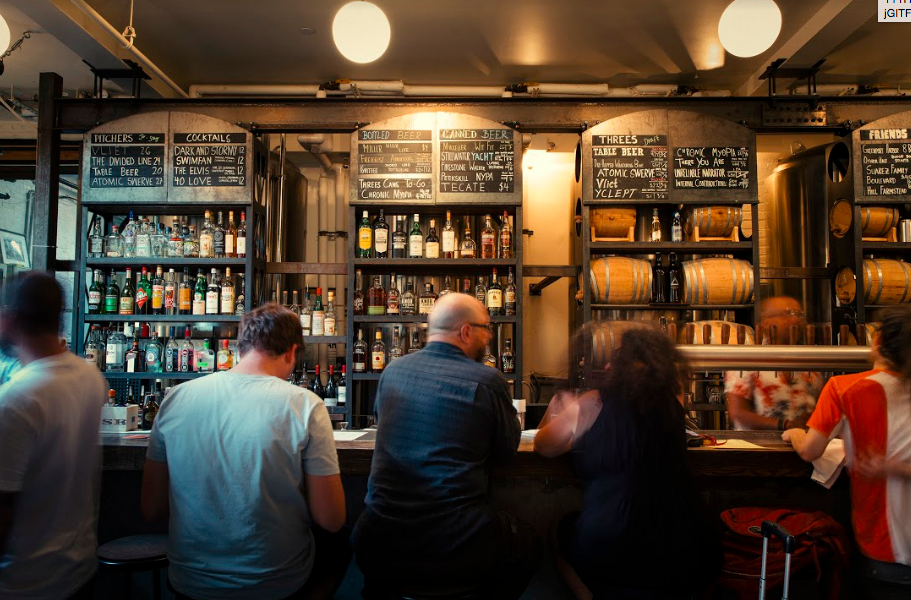 I've found that Threes is one of the best date spots in New York City. Walking in, you wouldn't even assume this was a brewery. The food from the Meat Hook stationed at the front of the brewery is superb (I recommend the hot chicken sandwich, but everything is good). Don't want to do dinner? Grab an afternoon coffee upstairs. The bar has plenty of Threes' beers pouring but you'll also find guest taps and cocktails. Plus, if the weather is warm, you can hang out in the back garden.
Homage Brewing
281 S Thomas St #101, Pomona, CA | (909) 461-6962
On the other side of the country in Pomona, California, Homage Brewing is producing some of the best sour beer around. The brewery's well-lit and airy taproom makes for a comfortable afternoon enjoying basket pours of fruit-forward beers or cans of double IPA. Homage doesn't serve food, but you're welcome to bring outside food in. Make some sandwiches — maybe a cheese plate if you're feeling adventurous — and enjoy a cozy date in downtown Pomona.
Hoof Hearted Brewery and Kitchen
850 N 4th St, Columbus, OH | (614) 401-4033
Who would've thought that a brewery named after a fart joke could make for a romantic outing? Well, Hoof Hearted delivers. The brewery and kitchen in downtown Columbus features a stylish Danish design and plenty of artwork from Thom Lessner. The food is fantastic and the beer is always crazy and delicious, but one of the coolest features of the space is the backyard pool. Visit during the summer and have an unforgettable poolside date.
Foam Brewers
112 Lake St, Burlington, VT | (802) 399-2511
Foam Brewers' waterfront taproom is a Burlington cultural hub, sporting live music and some of Vermont's best beer. The space is industrial chic with eye-catching metal sculptures. The brewery serves charcuterie plates but there's often a food truck parked right outside. Check the website to see who is playing music that night and settle in with a few pilsners.
Brewery Vivant
925 Cherry St SE, Grand Rapids, MI | (616) 719-1604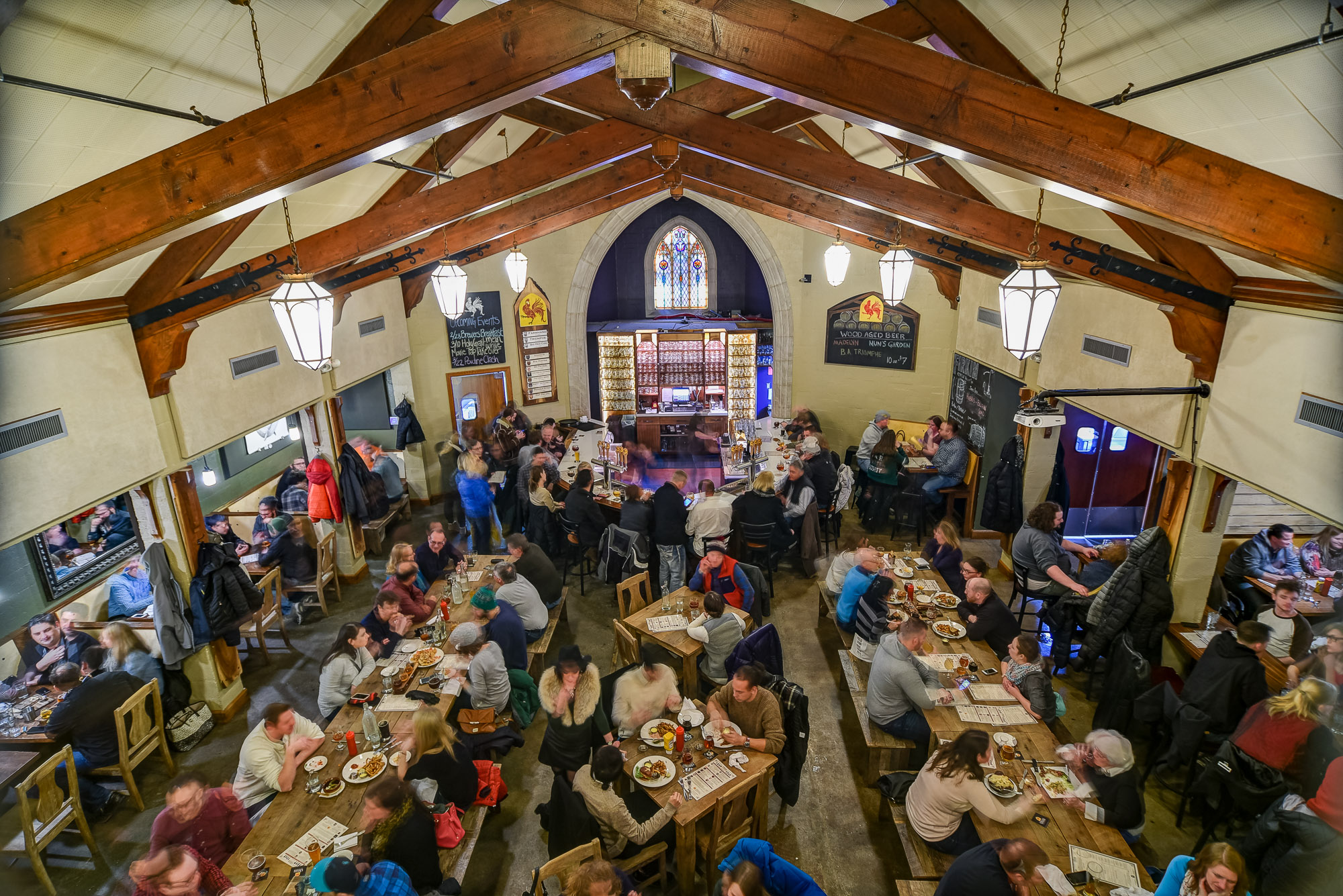 Have you ever had a date in a refurbished funeral home? Now's your chance! Brewery Vivant dishes out farmhouse beers and European eats in a rustic setting. The brewery may be historic and the beers traditional, but the experience will be fresh and exciting for you and your date.
Right Proper Brewing Co.
624 T St NW, Washington, DC | (202) 607-2337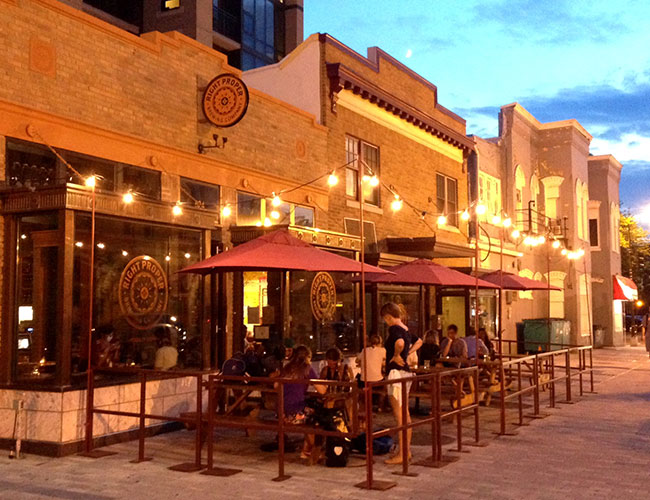 Right Proper serves up some of the best beer in the D.C. area. There are two Right Proper locations but we're sending you to the Shaw Brewpub, which has a full kitchen and beer list. The brewery prides itself on making "beer for the soul and food for the belly."
After strolling through the capital and checking out a few museums, Right Proper makes for a great dinner date.
Circa Brewing Co.
141 Lawrence St, Brooklyn, NY | (718) 858-0055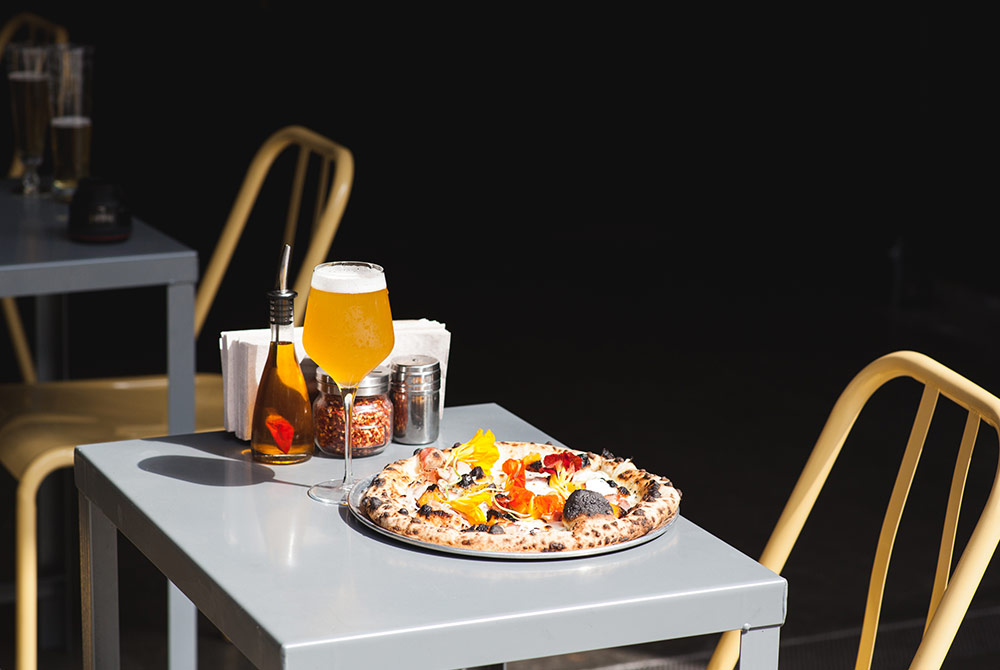 One of New York City's latest additions, Circa Brewing Co. provides everyone's favorite pairing: beer and pizza. The beer, produced in the open-concept brewhouse, is great, but Circa's pizza is among the best in New York. That's high praise, but it's well deserved. The brewery itself is gorgeous, but enjoy a pie or two with a few beers before playing some shuffleboard in the back.
Scratch Brewing
264 Thompson Rd, Ava, IL | (618) 426-1415
Now this one is a bit of an adventure. It might take some convincing to bring a first date to this farm brewery in southwest Illinois, but the trip is well worth it. Scratch Brewing is a brewery like few others. Take a tour of the farm and enjoy beer and food made with hand-picked ingredients. If you're daring, make a long weekend of the trip and camp nearby.
Grimm Artisanal Ales
990 Metropolitan Ave, Brooklyn, NY | (718) 564-9767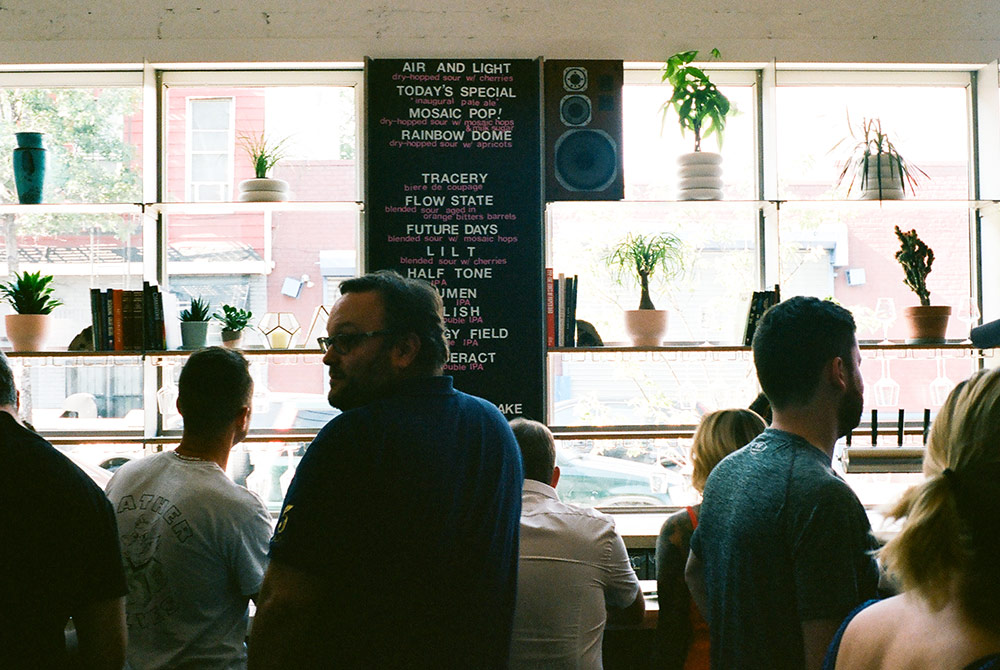 We're taking it back to the big city with one of New York's most stylish breweries. The newly opened Grimm Artisanal Ales taproom boasts a 90s-era plant culture vibe with a side of shawarma — seriously, Samesa has a pop-up kitchen at the Williamsburg brewery. Come for the bottle pours of barrel-aged sours and stay for the groovy tunes and Instagram-worthy lighting.
Marz Community Brewing Co.
3630 S Iron St, Chicago, IL | (773) 579-1935
Marz is more than a brewery — the team has transformed their chic warehouse space into a taproom/gallery/restaurant with a full bar, art, and a kitchen serving lunch and dinner. Take your date to Marz for an artsy experience with culinary-inspired beers and elevated bar snacks.
Jester King Brewery
13187 Fitzhugh Rd, Austin, TX
This is another destination date. Jester King is located off the beaten path outside Austin, Texas, but once you're there, your needs are taken care of. Tour the farmhouse brewery and sample some of the rustic food and drink. Jester King is a destination for craft beer aficionados but, with its natural beauty and farmstead charm, it makes for an unforgettable date.
Wolf's Ridge Brewing
215 N 4th St, Columbus, OH | (614) 429-3936
Another Columbus classic! Walking into Wolf's Ridge, you might assume it was just another upscale American restaurant. But take a quick trip to the downstairs bar and you'll see one of Columbus' best breweries tucked away in the basement. The beer is great, but we're sending you to Wolf's Ridge for its stunning dining room and stellar menu.
Humble Sea Brewing
820 Swift St, Santa Cruz, CA | (831) 431-6189
If you're searching for a date spot in the Santa Cruz area, look no further than Humble Sea Brewing. The Humble Sea crew makes a diverse range of styles and the Bruxo Food Truck, serving delicious food, is always stationed outside. Start your day with some surfing and end at the Humble Sea taproom for a sunny, adventurous date.
Austin Street Brewery
115 Fox Street, Portland, ME
Portland, Maine is perhaps one of the best cities in America for a first date. From seafood dinners to a day trip hike in Acadia National Park to the limitless craft beer options, you're sure to find something to wow your date. Austin Street Brewery, one of our favorite beermakers in all of Vacationland, recently opened their immaculately designed Fox Street location. Enjoy a beer and whatever food truck option happens to be parked outside before taking a stroll through downtown Portland.
Liked this article? Sign up for our newsletter to get the best craft beer writing on the web delivered straight to your inbox.