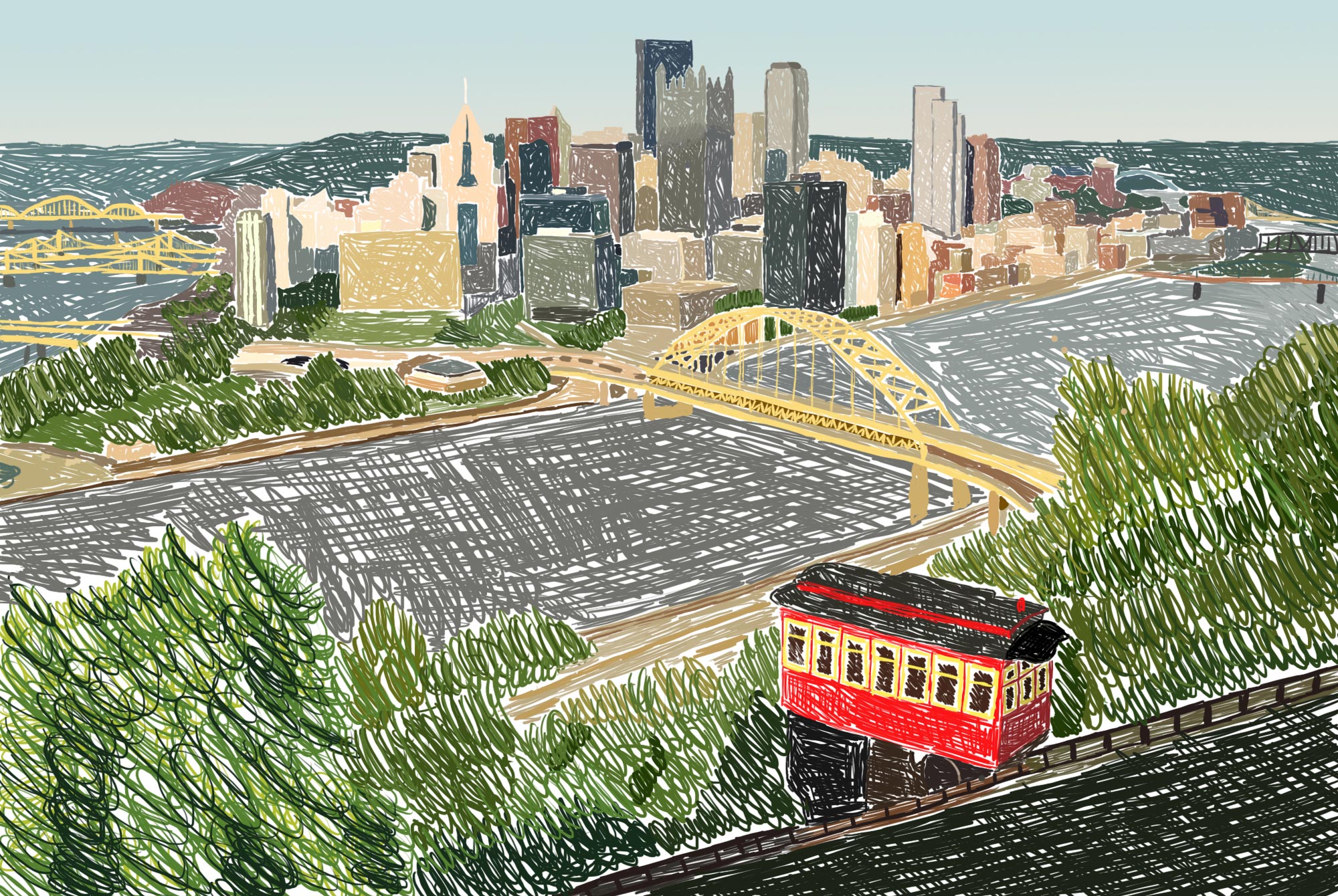 "Just growing up in Pittsburgh and knowing different neighborhoods, having family there and just loving it, it's like no other place."—Wiz Khalifa
Once known only in the context of depressed post-industrialist Rust Belt cities, Pittsburgh has grown from its rock hard roots to become one of the most exciting and livable cities in America. Boasting cheap rent, four distinct seasons, and some of the rowdiest sports fans in America, it's a mecca for the young and educated. In January 2006, Google opened an office in dahn-tahn, and 2011 saw them moving into Bakery Square, so named because they took over the 100-year-old Nabisco cookie factory building. And while the Steel City may bleed black and gold, it's green that dominates, with several thousand acres of public park within city limits. All of this, plus a red-hot food and beverage scene paint an attractive picture for growing families. But if you don't know the lay of the land, the twisting roads, tunnels, bridges, and right-turn-onlys can leave you lost.
Apis Mead & Winery
11:00 AM — What's mead? Think beer, but instead of fermenting sugar from grains, mead uses honey. And if you're Apis Mead, you use local honey, along with a variety of fresh, natural ingredients: blackberries, peaches, apricots, and lavender, just to name a few. With flavors like Mango Habanero and Lemon Bourbon, Apis is crafting some of the finest meads in the industry, let alone Pittsburgh. If only they weren't so far from the city… only a few miles, but in Pittsburgh, any destination in the South Hills feels as far away as Brooklyn to Manhattan, or San Francisco to Oakland.
Wigle Whiskey
12:30 PM — The Strip District is Pittsburgh's Brooklyn: gritty and dirty, with plenty of old warehouses. With all the great beer options in the Steel City, why do we have a whiskey distillery on the must-visit list? For one, all of their offerings use local, often organic ingredients. Perhaps more importantly, they're the most awarded craft whiskey distillery in the country. The name "Wigle" is an homage to Philip Wigle, one of two men sentenced to hang for their roles in the Whiskey Rebellion. But don't worry—President Washington pardoned both.
Gaucho Parrilla
1:45 PM — Gaucho Parrilla in Pittsburgh's Strip District serves up wood-fired meats, seafoods, and vegetables that taste so good, you'll forget to leave room for dessert—a shame, because the colorful alfajores taste divine. Guests are served in "crash the counter" style, meaning that you order at the counter before finding a table. This means the line at one of Pittsburgh's best-kept-secrets moves quickly, but be careful—the place gets packed, especially around lunch.
Grist House Craft Brewery
2:45 PM — Picnic tables, food trucks, corn hole… Grist House is everything that you've come to expect from a modern brewery. Oh, and they have good beer too. Grist House makes a variety of styles, from kolsch to Belgian tripels, and despite the lack of specialization they manage to do everything right. As an added bonus, the atmosphere at this laid-back brewhouse is so chill that even your dog is invited.
Dancing Gnome Brewing
4:00 PM — One of the newer players in the Pittsburgh beer game, Dancing Gnome has also quickly become one of the greatest, churning out dank and juicy hop bombs in a refined, modern setting. How did the 27-year-old owner and brewmaster manage to go from zero to hero so quickly? We'll chalk it up to magic from the beer gods — er, gnomes—and the time he spent hanging around Brew Gentlemen (see below).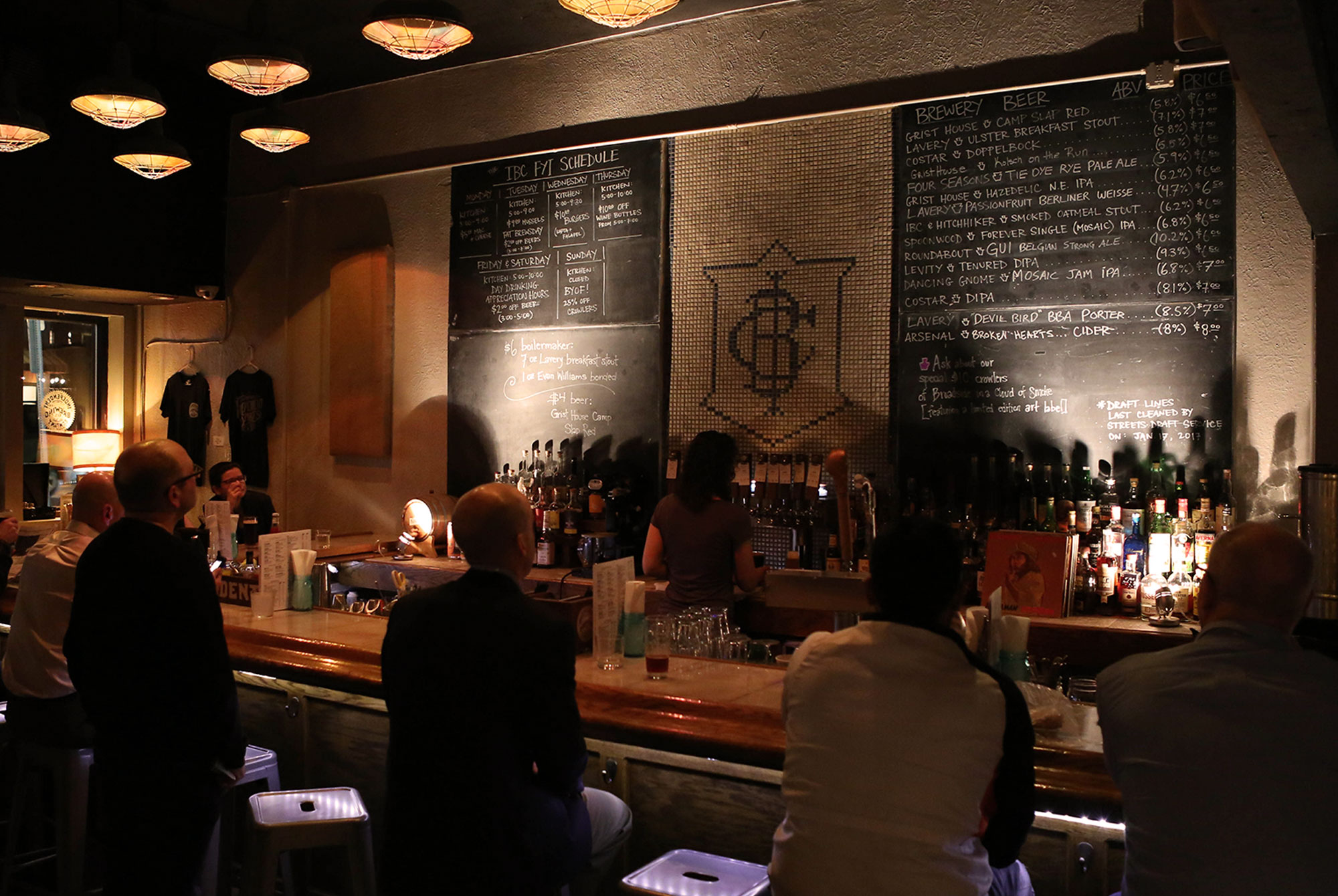 Want to Learn More About The Independent?
We've got you.
Here's why we're endorsing the Independent as one of Pittsburgh's best bars.
Independent Brewing Company
5:15 PM — That's right—a craft beer bar in Pittsburgh's Squirrel Hill neighborhood that only serves select offerings from Western Pennsylvania breweries. Stop in to talk to the knowledgeable bartenders and snag the latest from small, hard-to-find breweries like Costar, Four Seasons, and Spoonwood. Generally a cider is also available, thanks to the delectably local Arsenal Cider. All beered out? The Independent Brewing Company's owners also run Hidden Harbor, the tiki-themed bar next door.
Noodlehead
6:30 PM — Weird Pennsylvania alcohol laws actually play to your advantage at this hip BYOB Thai joint, located on one of Pittsburgh's up-and-coming foodie streets. Next door is Millie's Artisanal Ice Cream, and across the street is Casbah, which serves one of the best weekend brunches in town. Go for the Street Noodle #1, a delicious dish of fried chicken over noodles, or the hearty Chiang Mai Curry, better for drinking like a soup than ladling over rice. Feeling daring? Try spice level #5. Just make sure you've got a few good beers to cool your burning mouth.
Want to Learn More About Brew Gentlemen?
We've got you.
Check out our report on how Brew Gentlemen became one of Pittsburgh's best.
Brew Gentlemen Beer Company
7:45 PM — If you're the kind of drinker who likes the aromatic and unfiltered IPAs of Massachusetts, Maine, and Vermont, you're going to love Brew Gentlemen, which offers creatively named brews like Certified Public Accountant (a Citra Pale Ale), Asset Purchase Agreement (an American Pale Ale), and Garden Party (a cucumber wheat beer). Check the online calendar for a list of food trucks—in the summer, there's at least one every Wednesday through Sunday.
The Summit
9:00 PM — On your way into the city from Apis, be sure to stop at the Summit, a relaxed bar on (the summit of) Mt. Washington that creates some of the city's more innovative cocktails. In addition to the killer drinks, a short walk gives you a view of downtown Pittsburgh that has exploded many an Instagram account. Regular cocktail competitions, beer dinners, and charity events help make this mountain-top bar a destination.