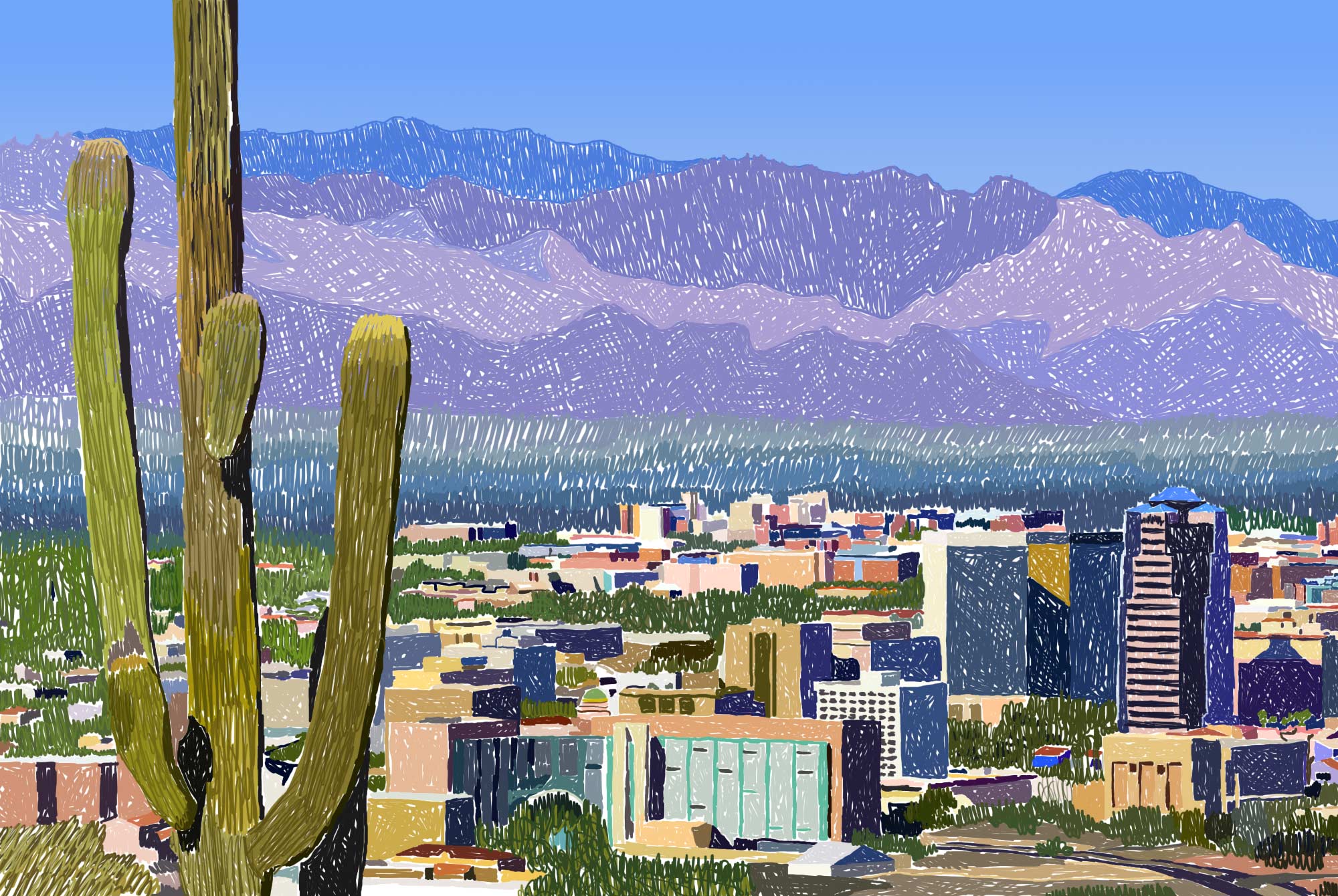 Photography by Courtney Bruch
In David Foster Wallace's sprawling novel Infinite Jest, one narrative arc features a Quebecois radical and an agent from the U.S. Office of Unspecified Services meeting in the hills of Tucson. Written in 1996, well before Tucson's beer boom, one wonders if the story might have looked a little different if composed in 2017. For instance, would Remy Marathe have been so hostile if he'd met Hugh Steeply at Crooked Tooth Brewing instead of out in the desert? We'll let you decide.
Where To Find The Best Beer and Breweries in Tucson, Arizona
Bison Witches
11:00 AM — There's no shortage of places to eat in downtown Tucson, but we want you to start your day with Bison Witches, a combination pub, soup, and sandwich shop. With its friendly atmosphere and sandwiches piled high with meat, it's the kind of place you might see on Diners, Drive-Ins and Dives (now in its 24th season… my god). If you feel like starting the party before you start the party, let your hair down and order the 32-ounce chalice of Budweiser.
Crooked Tooth Brewing Company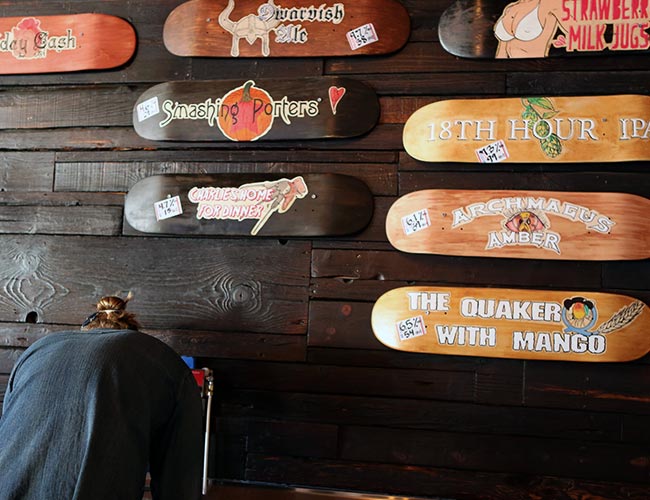 12:00 PM — Ben Vernon was an environmental chemist. Armondo Basurto was a car salesman. Their kids went to the same school.
Somehow that led to Crooked Tooth, a celebration of beer, nerds, and skateboard culture. Flights arrive on actual skateboards, and you won't meet a friendlier proprietor than Julie Vernon, Ben's wife and one of Crooked Tooth's four cofounders.
As a bonus, the brewery sells awesome hats—not something that came out of skateboard culture, Ben says, but because they just like cool hats.
Tap and Bottle
1:00 PM — Easily one of the area's best bottle shops, Tap and Bottle features a draft list of 20 beers and six wines by the glass, as well as several fridges stocked with rarities from around the country. Expect to see plenty of selections from craft beer's newest darling, Arizona Wilderness, as well as less common selections and one-offs from bigger breweries like Ballast Point, Firestone Walker, Deschutes, and Lagunitas. This classy bottle shop takes freshness so seriously, they use their website to denote beers tapped within the last 48 hours.
Borderlands Brewing Company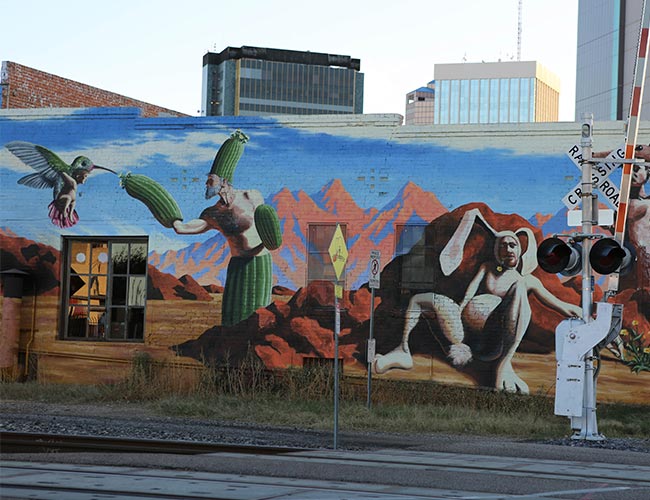 1:45 PM — It's hard to miss this brewery. It's a stone's throw away from Tap and Bottle, and it also features one of the coolest/creepiest murals in all of brew-dom (we dare you not to think of Donnie Darko). The brewery's brick walls make a terrific showcase for local art, and their spirit of experimentation and appreciation for local agriculture yields some of the area's more interesting beers: try the Prickly Pear Wheat or the Noche Dulce Vanilla Porter, which uses earthy Mexican vanilla.
1702 Pizza and Beer
3:00 PM — If you went to the University of Arizona, you're familiar with 1702, a student favorite for salads, beers, and 'za. Get a flight of rare beers from the 46 taps, which include selections from The Address, 1702's in-house microbrewery. When you're done inside, head around the back of the restaurant to access 1702's carefully curated bottle shop, a hidden gem that's easy to miss if you don't know it's there.
Tucson Tamale Company
4:15 PM — The eternal dilemma when you find a delicious restaurant: tell the world or keep it a secret? Thankfully for our consciences, when you make the best tamales in a city known for tamales, you can't stay hidden for long. The Tucson Tamale Company offers 20 flavors in three locations, though we like the one in Midtown, which sits close to the University of Arizona and the majority of Tucson's beer-centric destinations.
The Independent Distillery
5:15 PM — Character. That's the best word to describe The Independent Distillery, founded in 2012 by Don Northrup. The distillery serves whiskey, gin, vodka, and rum over a hand-built bar made from salvaged Douglas fir, and Northrup is currently partnering with the Tohono O'odham Nation to grow a 4,000-year-old strain of heritage blue corn as well as Sonoran winter wheat. If you're interested in craft spirits, these are some of the best that the desert has to offer.
Pueblo Vida Brewing Company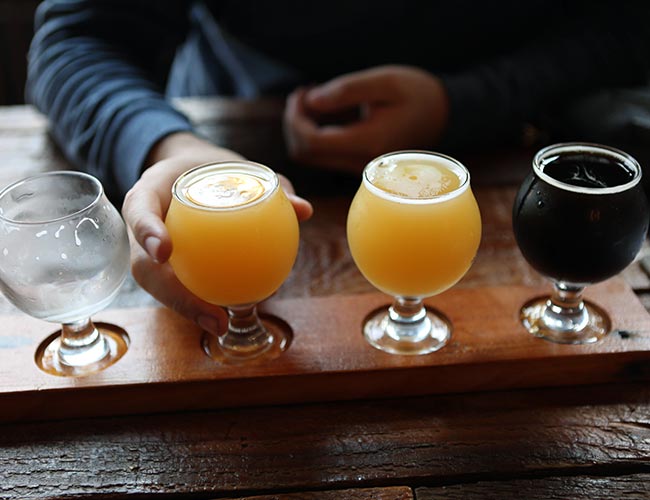 6:15 PM — Although every brewery on this list deserves acclaim, we found ourselves entranced by Pueblo Vida, home to some of the juiciest beers outside New England. Their Bavarian Hefeweizen is another fan favorite. We recommend visiting for the best beer in Tucson, as well as for the smell: we hypothesize that the exposed-brick walls trap the scent of warm grain, but for whatever reason, this place smells like beer-lover's nirvana.
Cup Cafe
7:30 PM — In this part of town, finding a solid dinner becomes as simple as closing your eyes, spinning around, and walking until you hit a door. We recommend Cup Cafe, an eatery located in the historic Hotel Congress. With gluten-free and vegan options available, they serve creative entrees for everyone's palate. For an appetizer, try the Heartbreaker—goat's milk brie served with artichoke hearts, roasted garlic, sliced apple, grape compote, and honeycomb.