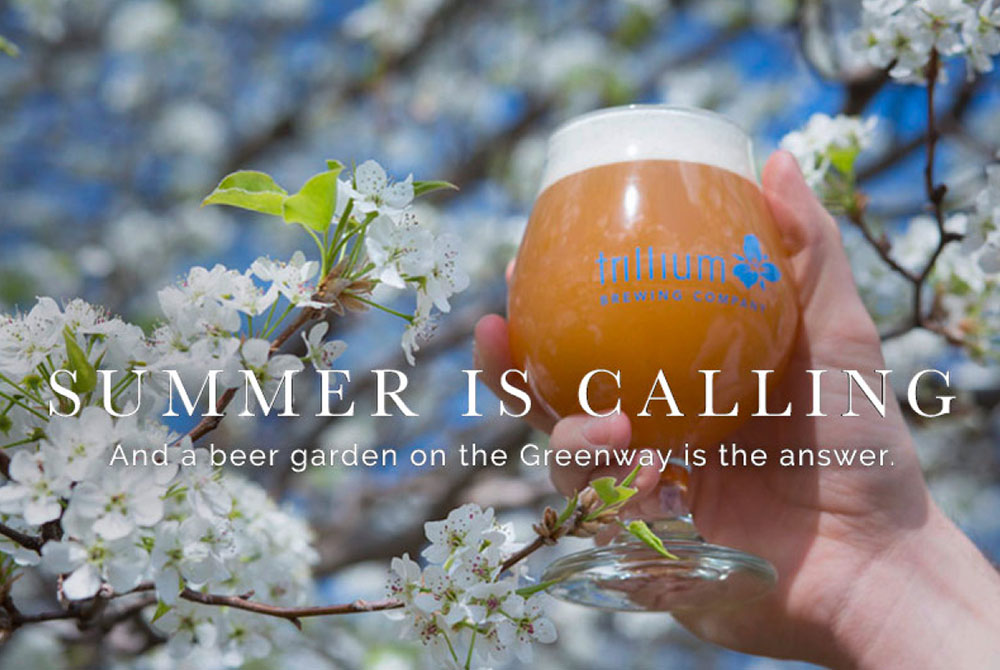 Photography by Trillium Brewing Co., Greenway Conservancy
You've likely heard of Trillium Brewing Co., the Boston craft brewery that's amassed a cult-like following on the wings of its prolific repertoire of silky smooth hop-forward beers. Lesser known, I'm sure, is Boston's Rose Kennedy Greenway, a beautiful stretch of grass that comprises a 1.5-mile public park through the heart of the city.
Previously happy to co-exist, the two forces have officially joined as one: Beginning this June and lasting through October, Trillium will operate a beer garden in the center of the park, offering six to eight of its popular beers with views of the city and the harbor.
This is great news for the city's working class — the Greenway is a major draw during lunchtime and after hours, offering a host of food trucks, public art, live shows, and the like. Now that beer is in the mix — beer, mind you, from one of the world's best breweries — it's sure to attract even larger crowds.
And that's just what the the group responsible for keeping the park up and running, the Greenway Conservancy, is banking on. While the non-profit will lose some 40 percent of its funding when its contract with the state ends at the end of June, it insists it's on solid footing.
"We view the development of a Greenway Beer Garden as an amazing new park amenity that will also support the bottom line of our non-profit Greenway Conservancy," said Jesse Brackenbury, the Greenway Conservancy's executive director. "As the Conservancy has grown earned income from $69,000 seven years ago to nearly $1 million last year — almost 20% of our total budget — we have tried to assure new endeavors, like the beer garden, add to the vibrancy of The Greenway and support its continuing care."
The new beer garden, which will be open three to five days per week (with specific hours of operation forthcoming) is also a boon to a city notoriously archaic in how it treats the consumption of alcohol. Right now, laws are being looked at to bolster BYOB policies in Boston restaurants as well as to bring back a time-honored tradition outlawed in all of Massachusetts for the past 30 years: Happy Hour.
Cheers Boston!