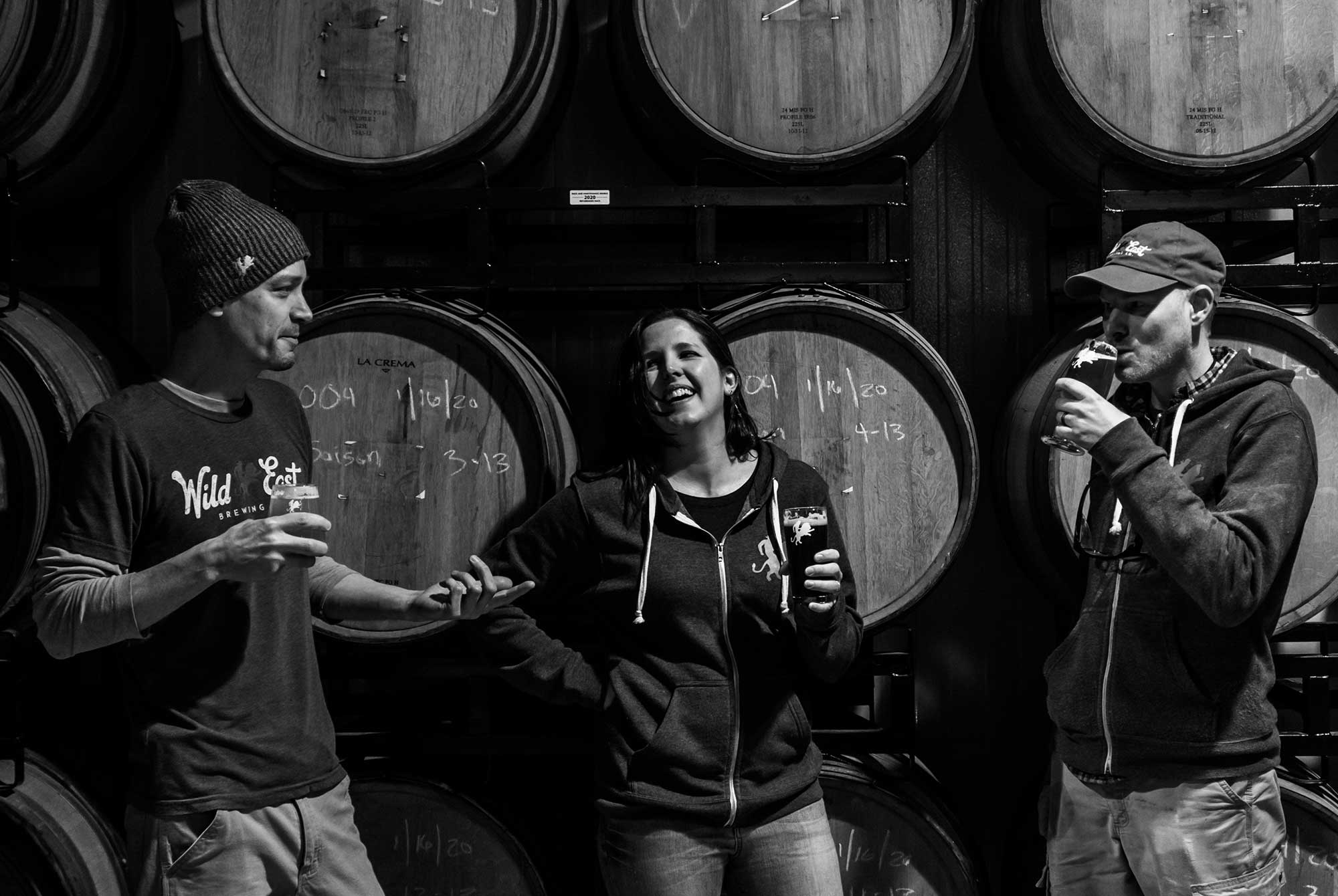 Photography by Kyle Gonzales
In the depths of winter, New York City's beer scene blazes and sizzles, and nowhere is it hotter than in Gowanus, Brooklyn. Recently, Finback Brewery revealed its plans for a second brewing facility in the neighborhood, an ambitious expansion project from the Queens beer maker that will also include a coffee roaster, a distillery, and even a dumpling shop run by one of the owner's mothers. And now, with the start of New York City Beer Week only a few days away, a brand-new brewery here has just released its first beers into the wild. And they have us excited.
Brooklyn's Newest Brewery
Wild East Brewing Company is founded by three staples of the city's homebrewing scene: Lindsay Steen, Tyler March, and Brett Taylor, who has professional experience locally, with stints at Keg & Lantern and Fifth Hammer. In a former restaurant supply warehouse on Sackett Street—a short walk from Threes Brewing, our pick for best brewery of 2018—the trio will follow a pursuit in production that requires more time, patience, and attention to subtle signals than most brewing interests. It's a somewhat unpredictable journey, working with an element of surprise, but it can lead to truly special results. You could call the process the slow burn of beer making, and we're seeing a growing number of brewers focus on it to differentiate themselves in an increasingly competitive industry—one that's now approaching 8,000 beer producers in America alone.
What's a Mixed-Fermentation Beer?
We're talking about saisons, pale ales, Berliner weisses, and more made with any combination of Saccharomyces cerevisiae (otherwise known as traditional brewer's yeast), ambient or wild yeasts like Brettanomyces, and bacteria that produce lactic acid like Lactobacillus and Pediococcus. These mixed cultures can provide greater depth and complexity to beers, contributing discernible funkiness, fruitiness, and acidity (which is why they're typically classified stylistically as farmhouse or sour ales, though that's not really accurate). But perhaps what's most interesting about using mixed-ferm blends is, because brewers often cultivate their own yeast, and develop them over time, they can help create and define a house flavor profile unique to its maker. "Mixed cultures can really act as a kind of terroir, and evolve along with a brewery," Taylor said on a recent afternoon.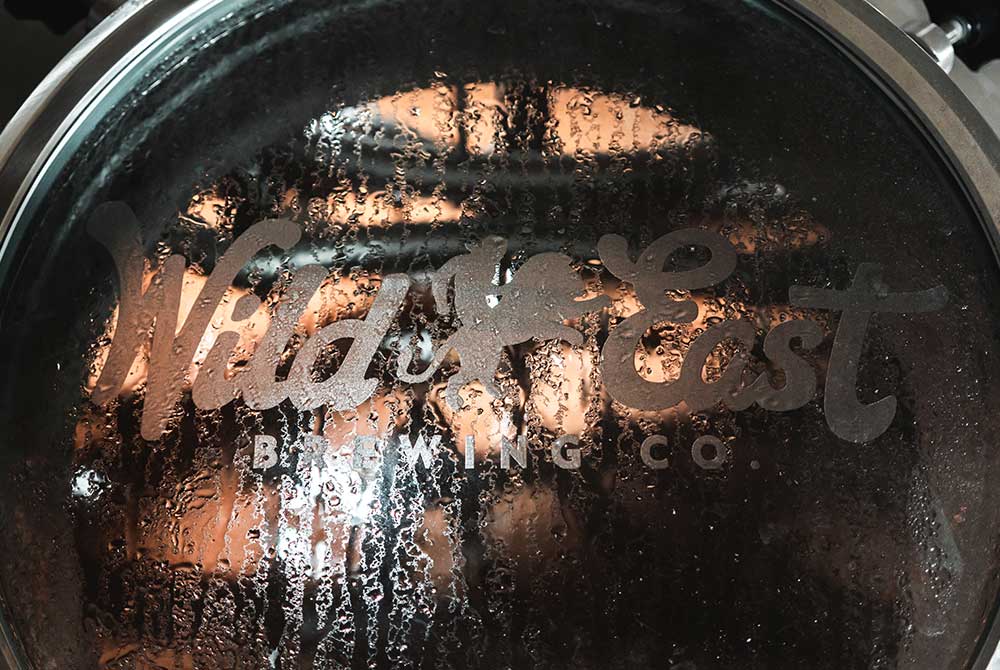 Wild East has plans to produce an array of wild, sour, and mixed-fermentation beers, and will place great importance on building a robust barrel-aging program. "Oak is the fifth ingredient in the types of beers we want to create," said Taylor, who will take care of most of the brewing. That's why, for example, the partners will use only traditional methods in making sour beers, through natural fermentation in wood using any number of yeast strains and bacteria, versus the more predictable and quicker-to-produce process of kettle souring solely via lactic acid bacteria. "There's a noticeable difference in complexity, balance, and acidity when beers are made like this," March said. "It's no coincidence that the best sour breweries in the world, like Allagash, Russian River, and Hill Farmstead create beers like this. They don't take any shortcuts."
"We want to offer drinkers unique experiences and flavors through conditioning and blending in oak," Steen, who will helm the brewery's lab, added, noting that the goal is to amass around 400 wood barrels in the 7,000-square-foot facility. Right now, there's a little over 50—most of them previously held wine—as well as two tall oak foudres sitting just outside the taproom, which the partners hope to open early next month. (Until then, ready beer is being distributed to bars and beer stores around New York City.)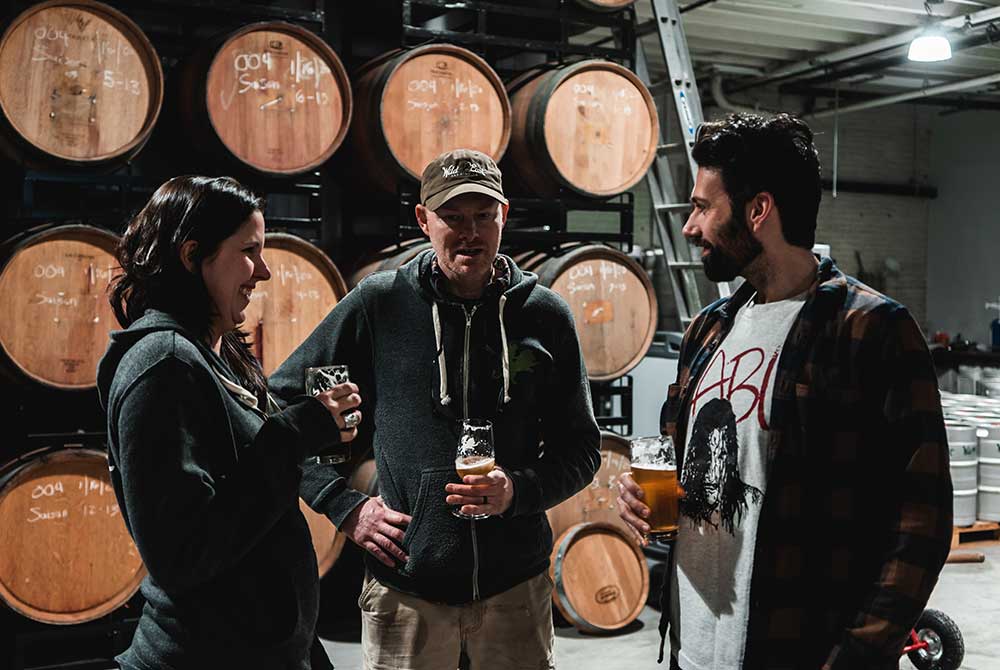 In the airy, rustic space, there's an inviting horseshoe-shaped bar with 20 taps to serve a combo of mixed-fermentation and "clean" beers like a hazy, New England-style IPA, a dark mild, and an unfiltered Czech-style pilsner. "That'll be poured from a special side-pull faucet," Taylor said proudly. Quite aptly, I visited Wild East on the day it was kegging its first wild offering: a farmhouse blonde, called Prescience, fermented with a Brettanomyces blend the brewery developed with New Jersey's East Coast Yeast. Bright and refreshing, with tropical flavors and a pleasing touch of funk, it was the perfect sipper for our conversation.
Wild East's Origin Story
Niko Krommydas: So how did the three of you meet?
Brett Taylor:​ I first met Tyler on the city's homebrew circuit in 2011 or 2012, when he won the Pride of Brooklyn competition. We were later in the same homebrew club, the Brewdies, and got to know each other better.
Lindsay Steen: I always had an interest in the business of craft beer, and also homebrewed myself. I had started a business plan with another partner, but she had to move back to Colorado and take over her family business. That's when I found Brett and Tyler.
NK: At what point did you decide to come together and pursue starting your own brewery?
BT: Tyler knew of my plans to start a brewery early on, and said he'd be interested as an partner, investor, collaborator, whatever. I knew it would be nearly impossible on my own, and I had great respect for his skills and knowledge of beer, and appreciated his background in marketing and advertising.
Tyler March: Brett was born and raised in Pittsburgh, and my parents had been as well. Most of my extended family still lives there today. That made the whole thing feel more personal than just a business partnership.
BT: We rewrote my original business plan and started fundraising.
TM: We met Lindsay at that point. Brett had already quit his job and was brewing for Keg & Lantern. I was working as a freelance copywriter, and ironically was lucky enough to have stretches of unemployment that allowed me to focus on the brewery 100 percent. We had hit a bit of a wall in terms of progress and it was clear she fit our mindset and the dynamic we had already established, plus she brought new skills and experience to the table.
NK: What got you interested in traditional barrel-aged, mixed-fermentation beers?
BT: I was winning a lot of awards for IPA, stout, and other beers as a homebrewer. But as a drinker, I got really into European sour beer like gueuze and Flanders-style beers, and the better American interpretations from Russian River, The Bruery, and Lost Abbey. So I started to challenge myself with making more complex, longer-aged beers.
You have to make a lot to have blending stock, so my fermenter collection multiplied from four to over a dozen. I started accruing small bourbon barrels. I didn't make particularly good sour beer in them, but it started me down the path of barrel maintenance. I developed a nose for specific strains of Brettanomyces and lactic acid. I had to learn precise bottle conditioning because you can end up with flat beer or gushers, depending on how you miscalculate. I also had to duplicate most of my equipment. There's not a lot of stainless steel in homebrewing, so clean- and sour-dedicated fermenters, hoses, etc., are all necessary.
TM: That's carried on to our brewery as well.
BT: Eventually my sours started winning awards at homebrew competitions, and that's when I started to think seriously about building a brewery and what that would look like.
TM: Brett and I always had a mutual respect for what we were doing in terms of styles and experimentation. But I knew Brett's talent clearly added a layer of "magic" to what a brewery could be. I saw the way people were reacting to his beers and their minds were blown. I knew we could be onto something big.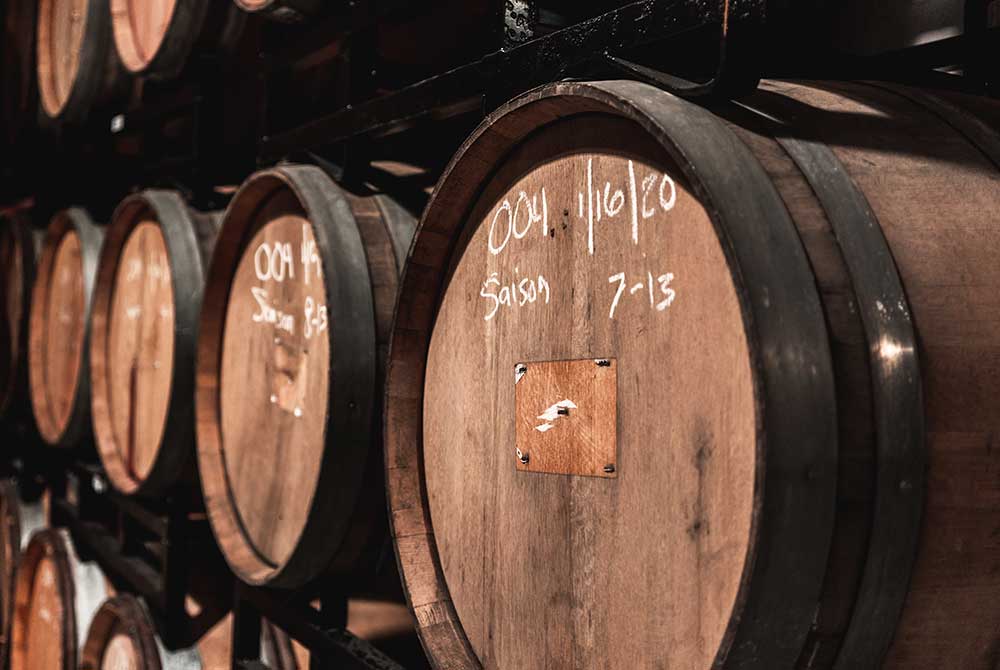 NK: Tell us about the brewery space in Gowanus, and some of the buildout process. You signed your lease almost a year and a half ago, right?
LS: So, the search to find a space was a very long and drawn-out process. New York City is a monster and the landlords definitely know how to play hardball with all of the opportunity arising in certain neighborhoods. We spent five months negotiating the terms of our lease, but we really fell in love with everything about the space: the location, the layout, the size.
TM: Out of the approximately 7,000 square feet, roughly 5,000 square feet is dedicated to production, storage, and barrel aging. We accepted the space in "as is" condition, and, to say the least, there was a lot of work to be done just to get the space in workable shape. On the other hand, it was a "vanilla box" which gave us a blank canvas to start fresh.
BT: And we can finally see the light at the end of the tunnel.
NK: You're close to opening the taproom. Tell us about your vision for the space.
LS: O​ur taproom fits the concept behind our beer: urban farmhouse. We wanted a cozy yet clean feel, but wanted to keep a touch of industrial-urban feel as to not lose sight that we are in Brooklyn. This evolved into a very wood-, steel- and glass-forward interior.
TM: Most taprooms have a straight, rectangular bar in the back or at the side, but we wanted a more intimate and communal feel. The concept of a U-shaped bar was very intriguing to us because it keeps everyone facing each other and hopefully interacting.
LS: We also made a note to include dynamic elements to our draft system, like our side-pull pilsner faucet and two nitro lines to enhance beers like our dark mild or various stouts. We'll offer three different sizes of pours for every beer, and we've spent a lot of time thinking about how our beers should be served. These seemingly small details are what we think will make a big difference in terms of customer experience.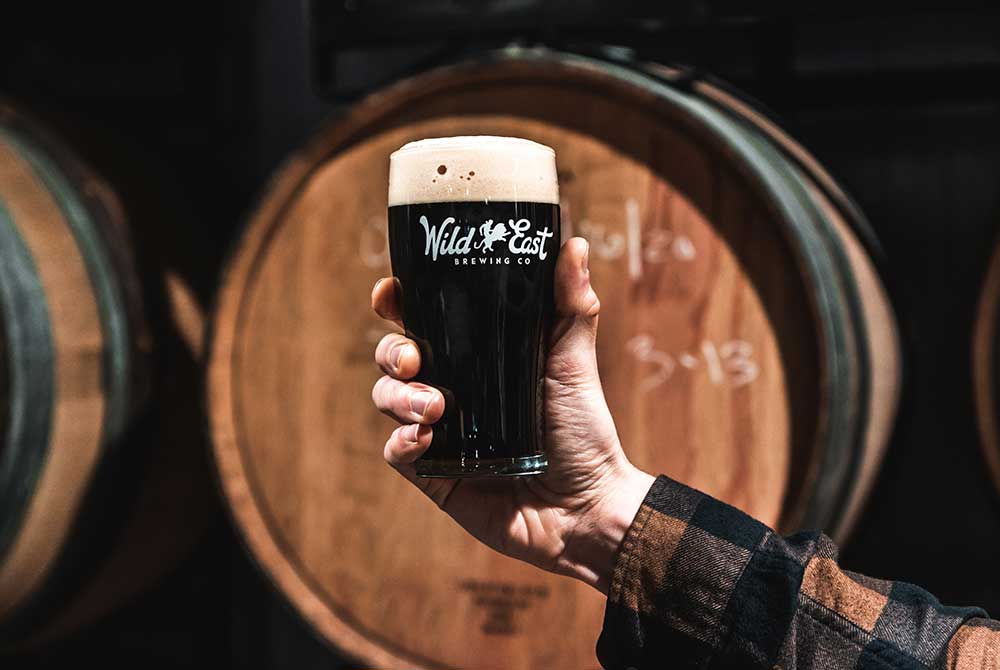 NK: You've started to send beers out to local bars and beer stores. What have you released so far?
BT: We've put out an extra pale ale with all New York State ingredients, a dark mild, a German-style pilsner, the Brettanomyces-fermented blonde beer Prescience that we're drinking now, a mixed-fermentation Berliner weisse, a New England-style IPA, an oatmeal stout with a touch of lactose …
NK: That's certainly a good mix.
TM: ​We're trying to present a balanced portfolio, to try to have at least one thing that appeals to every drinker.
LS: We'll probably always have a diverse lineup, so it was important to have 20 draft lines. That gives us plenty of room to curate and get creative with what we can offer. We'll also serve a few local ciders from our friends at Kings Highway and a few wines from our friends at Bridge Lane on Long Island.
TM: We want the draft list in our taproom to provide a spectrum to progress through at one's own volition, and delve deeper into styles they've never tried before. Depending on the customer's palate, there's a clear starting point followed by a slightly more challenging beer waiting on deck. Ideally, every beer is a potential gateway into something else that's familiar yet totally brand new.
LS: Education is going to be an important component of our taproom. It's something we'll focus on and keep advancing in terms of tastings, pairings, partnerships, outside events, and whatever else we can do to fulfill that mission of exploration.
NK: What do you have planned for your barrel program?
BT: ​We're off and running with filling our barrels. We've already done some mixed-culture saison, some Flemish-style red ale, a Lambic-inspired golden sour, and the Brett blonde. We want to get good blending stock that'll serve us for the next months and years, but also try some different things that we haven't seen around very much. Eventually we want to expand into spontaneous fermentation. But we need to walk before we run.
Kettle v. Barrel: The Sour Debate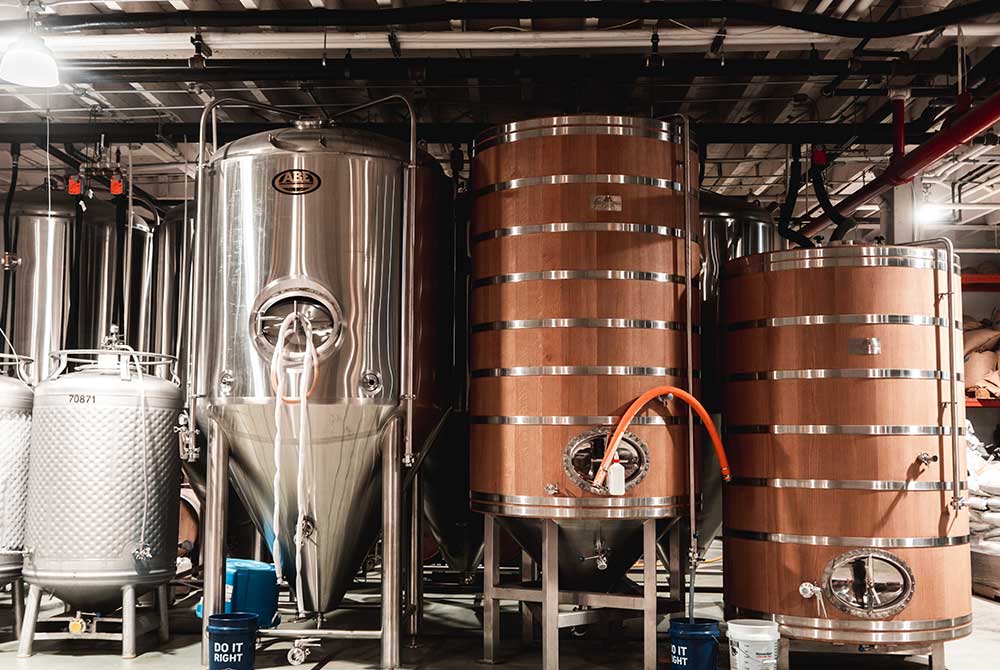 NK: There was a recent article on Good Beer Hunting about producers of barrel-aged, mixed-fermentation beers and their various struggles in 2019: changing consumer preferences, increased competition from other breweries that specialize in these kinds of ales, and less time- and labor-intensive techniques, like kettle souring. What do you think of that? Does that worry you at all?
BT: ​Not at all.
LS: In fact I think it helps.
BT: We've been so inundated with New England IPA for the past few years that, for some, it's the epitome of American craft beer. It's an easy entry point because it's not challenging, and the beers are often marketed with comparisons to juice. We're definitely seeing a softening in that, with more and more brewers advocating for balance and complexity and more and more consumers embracing it.
LS: It's like there's one big palate fatigue. The more brewers there are making these types of beers, the less rare they are, and the greater chance consumers will have to encounter them and try them. With more knowledge will come a better understand of the differences between kettle souring and mixed-fermentation beers. Both are good and relevant, neither will ever push out the other.
BT: I think a lot of the struggles come from larger brewers or those who want to pivot into mixed-fermentation beer from being known for IPA. It's hard to change your perception once you're known for something. I also wonder if those struggling breweries are trying to put their bottles on shelves rather than keeping focused on the taproom model.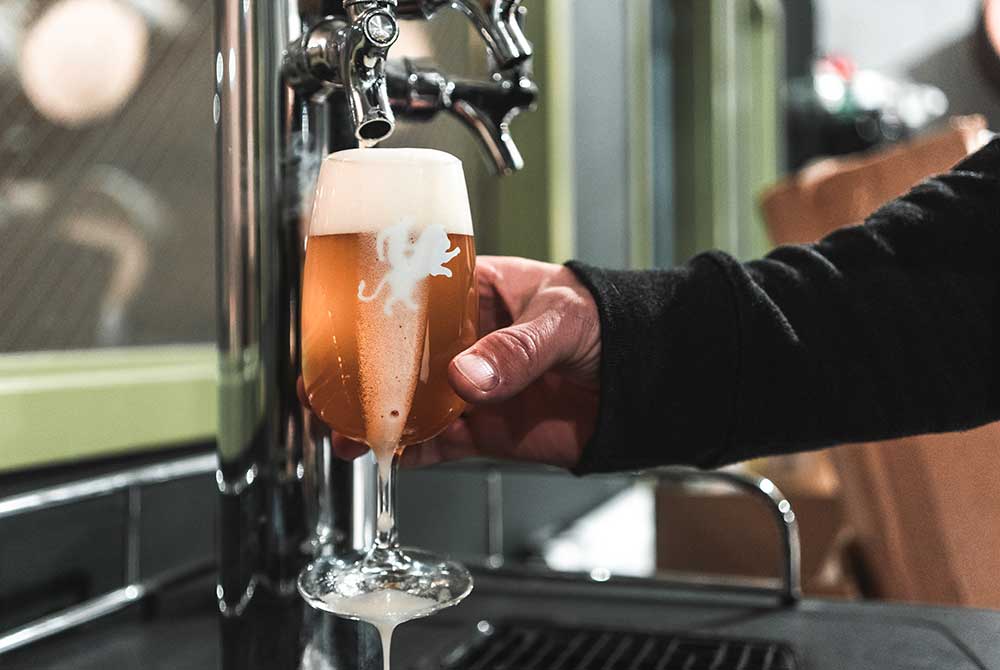 NK: Will you embrace the increasingly popular own-premise model for the taproom?
TM: ​Ideally, we'd like to sell all our beer through the taproom, but we also realize at our scale that's an unlikely reality. That said, if we could sell 60 or 70 percent of our beer [through the taproom] we'll be pretty satisfied. We also realize it's important to keep our local distribution active because it helps get our name out there.
LS: Though we'll most likely always be distributing to some extent, we'll have certain beers that never make it out, exclusive to our taproom.
NK: Do you plan to package your beers in bottles and cans?
TM: D​efinitely. We plan to start canning sometime this spring and we're hoping bottling will follow later in the year.
LS: Bottles will be for our specialty beers: lambic styles, Flanders reds, saisons, and other wild liquid works of art.
The Future of Mixed-Fermentation
NK: Let's get back to mixed-culture beers. Where do you think the category is headed in the coming years?
BT: ​I think we're going to see more and more information about these beers get out there, and we're going to see more appeal from wine drinkers. I also think we're seeing the gravities coming down on malted beverages in general. I don't see this hard seltzer thing being a game changer; I'm old enough to remember Zima. But I see it as a response to the 9 percent ABV, 500-calorie can. There will always be a place for that, but I think we're seeing a shift toward lower-gravity beers.
These things are cyclical. Certainly, the growing popularity of continental-style lagers and more and more "farmhouse" beer styles on menus is a harbinger. Maybe it's because we love to make these beers, but everyday someone tells me they want to see more saison, more tart beer. I also think we'll see some trends that we won't know until we see them.
TM: We didn't see sour IPA coming.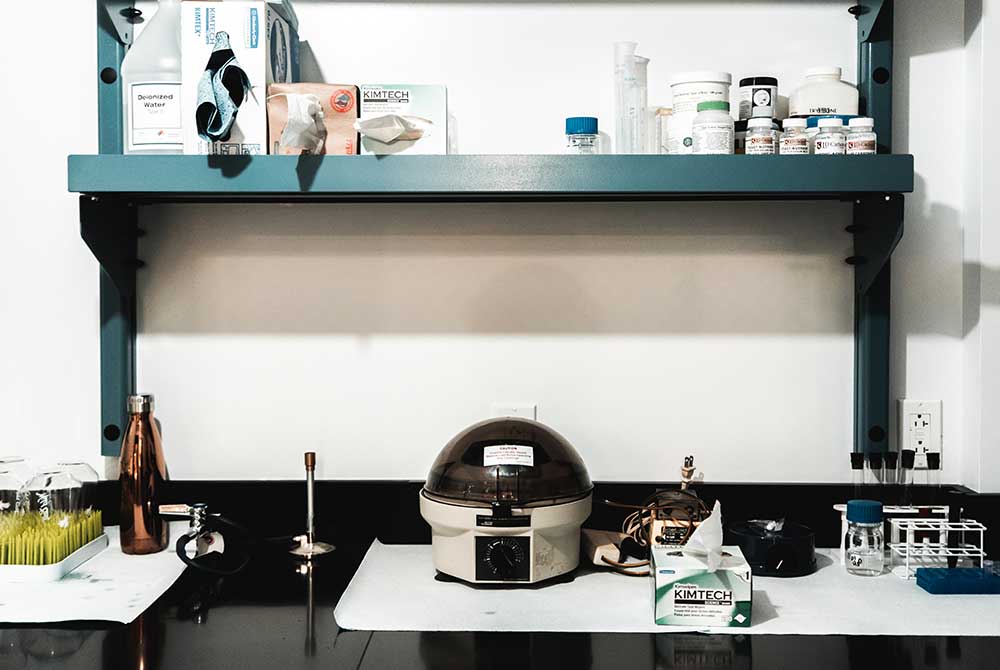 NK: Lindsay, how important is it for a brewery that's working with wild yeasts and bacteria to have a lab on the premises?
LS:​ Extremely important. Wild yeast can behave in a number of different ways and can also be very invasive to a brewery if not managed properly. On one side you have to be very careful in how you manage production to keep it isolated so that it doesn't contaminate other non-wild beers. There's always the risk of contamination, so that lab comes in handy to identify where contamination is occurring and where it came from.
Aside from this, a lab is very important to understand different strains and cultivate strains of interest. This is the part that I'm particularly excited about as we grow. As of now, our lab is primarily used for simple QA/QC processes as well as some yeast culture plating. However, as we grow we plan to grow our lab to be focused on cultivating and propagating our own in-house yeast cultures.
NK: Can you tell us about your mixed house culture, and how it was started?
BT:​ ​We have two right now. We have a "farmhouse" blend of Saccharomyces, Brettanomyces, and Lactobacillus, which we use for our Belgian styles and also for our Berliner weisse, which we make very traditionally, no boil. We also have a mixed culture of multiple commercial blends of yeast and bacteria, plus dregs from great bottles I've collected over the years and some native Brooklyn yeast and bacteria. That's what we use for our sour beers.
NK: Last question: What do you have planned for New York City Beer Week?
LS: You can follow us on social media to keep up with what we're doing, we'll be pouring Saturday at Opening Bash, and the following week we have a few more tap takeover events. The first is February 25 at Double Windsor in Brooklyn and then February 28 at Upright Craft Beer & Cocktails in Manhattan. Then we'll wrap things up at the Fifth Hammer Caskalot event on February 29.
TM: I'm sure we'll also be dropping by other events that some of our local friends will be involved with, or catching up on much-needed sleep.
Liked this article? Sign up for our newsletter to get the best craft beer writing on the web delivered straight to your inbox.