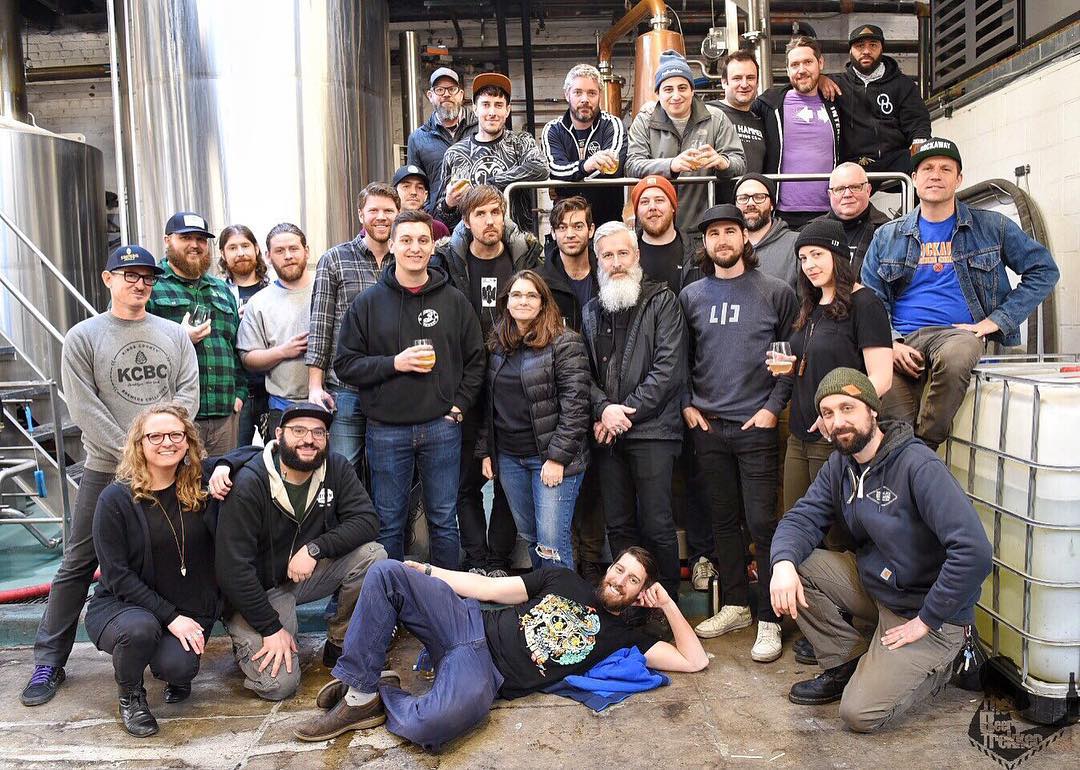 Editor's Note:
Tickets to the NYC Brewers Guild can be found here.
This is a sponsored post presented by the NYC Brewers Guild.
Over the past few years, New York City has proven itself as a bonafide craft beer destination. There's a diverse selection of breweries producing some of the best beer in the country, and the bar scene incorporates food, music, and eye-catching aesthetics. Now, the city has a whole slew of amazing festivals.
Last year, Other Half's inaugural Green City Festival welcomed the world's best brewers to Industry City. Hop Culture has thrown two Juicy Brews fests as well as the female-focused Beers With(out) Beards week.
To kick off 2019, the NYC Brewers Guild returns with an event that showcases the city's fantastic breweries.
What Is New York City Brewers Guild Opening Bash?
The NYC Brewers Guild's Opening Bash, which takes place over two sessions on Saturday, February 23rd, features over 30 New York City craft breweries, a handful of exciting New York state breweries, and some of the country's best craft beer producers. Opening Bash will also host international breweries like Northern Monk, Verdant, and Brewski. The full list of breweries is posted at the bottom of this article.
General Admission to the festival includes unlimited beer samples and a souvenir tasting glass. The VIP package includes unlimited pours, a tasting glass, the NYC collab beer 4-pack, and an hour of VIP-only tasting.
The Opening Bash festival kicks off a week of beer events that take place around the city like a beer and cheese pairing and a "mega tap takeover" at Clinton Hall.
What Breweries Are Pouring At The NYC Opening Bash?
NYC BREWERIES
18th Ward Brewing Co.
Alewife Brewing Company
Big aLICe Brewing Co.
Braven Brewing Company
Bridge and Tunnel Brewery
Brooklyn Brewery
Circa Brewing Co
Coney Island Brewery
Evil Twin Brewing NYC
Fifth Hammer Brewing Co
Finback Brewery
Five Boroughs Brewing Co.
Folksbier
Greenpoint Beer & Ale Co.
Grimm Artisanal Ales
Gun Hill Brewing Company
ICONYC Brewing Company
Interboro
Keg & Lantern
KelSo Beer Co.
Kills Boro Brewing Company
Kings County Brewers Collective
LIC Beer Project
Mikkeller NYC
Other Half Brewing Co.
Queens Brewery
Randolph Beer
Rockaway Brewing Co
SingleCut Beersmiths
Sixpoint
Strong Rope Brewery
Threes Brewing
Torch and Crown
Transmitter Brewing
NEW YORK STATE BREWERIES
Barrier Brewing Co
Common Roots Brewing Company
District 96 Beer Factory
Destination Unknown Beer Co
Equilibrium Brewery
Graft Cider
Greenport Harbor Brewing Co
Hudson Valley Brewery
Industrial Arts Brewing Co
Prison City Pub & Brewery
Sand City Brewing Company
Thin Man
West Kill Brewing
USA AND INTERNATIONAL BREWERIES
Barreled Souls, ME
Bissell Brothers Brewing Company, ME
Bottle Logic Brewing, CA
Brewski, Sweden
Brouwerij West, CA
Bunker Brewing Co, ME
Burial Beer Co., NC
Burley Oak Brewing Company, MD
Casa Agria Specialty Ales, CA
Civil Society Brewing, FL
Commonwealth Brewing Co, VA
Dancing Gnome Beer, PA
Exhibit 'A' Brewing Company, Inc, MA
Fair State Brewing Cooperative, MN
Foam Brewers, VT
Forest and Main, PA
Great Notion Brewing, OR
Icarus Brewing, NJ
J. Wakefield Brewing, FL
Kent Falls Brewing Co., CT
Magnify, NJ
Monday Night Brewing, GA
Mumford Brewing, CA
Narrow Gauge Brewing Company, MO
Northern Monk, UK
Oxbow Brewing Company, ME
Pipeworks Brewing Company, IL
The Rare Barrel, CA
Triple Crossing Brewing Co., VA
TRVE Brewing Co, CO
Verdant Brewing Co, UK
Liked this article? Sign up for our newsletter to get the best craft beer writing on the web delivered straight to your inbox.