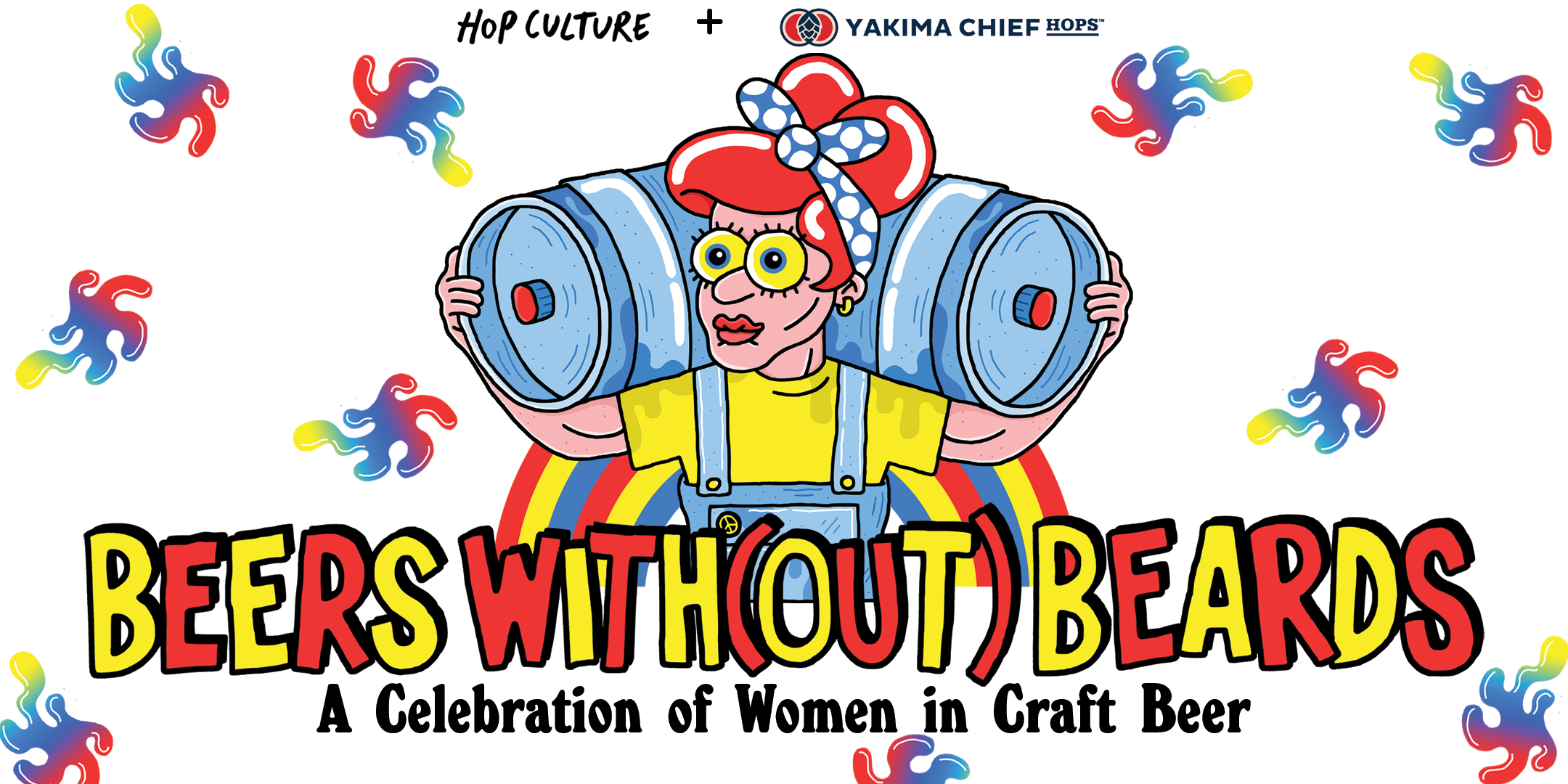 Editor's Note:
Tickets for Hop Culture + Yakima Chief Hops Present: Beers With(out) Beards Beer Fest are available now. Get your tickets here.
Festivals are hard. If you need any proof, look at Fyre Fest. Woodstock 50. Even at a smaller scale, there are a thousand little details to nail, from check-in to distribution to consumer experience.
A year ago, Hop Culture launched the first Beers With(out) Beards Festival to celebrate women in the craft beer industry. The festival came and went without a hitch, but we had big visions for the future of the event. I thought, How great if we could find a partner to lend us their experience. Someone who has been in the industry for a while and understands what we're doing.
I shot off an email to Yakima Chief Hops (YCH), which has been supplying products to commercial and homebrewers for the last 30 years. They had a female owner and five women on their leadership team, which I thought might give them a personal connection to our festival and its mission.
At the beginning of this year, I received an email for Alex Rumbolz, Communications and Outreach Manager at Yakima Chief Hops. A Yakima native, he'd seen my email and was intrigued.
"We love the mission," he said. "Let's talk."
So began Hop Culture's relationship with Yakima Chief Hops. Over the past several months, our team has had the chance to meet with Alex, and we've developed an incredible respect for him and his company.
For those who might not be aware, hops are cone-shaped flowers that grow on the bine of a female hop plant, scientifically named Humulus lupulus. Bines grow in rows that occupy more than 55,000 acres of Pacific Northwest farmland, and approximately 73 percent of that is grown in Washington state. You can make beer without hops, but it doesn't taste very good. In fact, hops are considered so integral to good beer that the German Purity Law of 1516 said that beer can only have four ingredients: water, barley, yeast, and hops.
There are hundreds of different hop varieties from different regions around the world, and each hop variety contains a different alpha acid and oil content, imparting different flavor and aroma characteristics to beer. YCH, with its mission to connect the multi-generational family hop farms of the Pacific Northwest with the world's finest brewers, is the leading grower-owned supplier of American hops in the world.
Yakima Chief Hops is passionate about promoting diversity in both the hop and beer industries, and I'm thrilled to announce that they'll be the 2019 title sponsor for the Beers With(out) Beards Festival.
"Beers With(out) Beards is a terrific example of how this industry is continuing to grow in a diverse way—with more and more female brewers and brewery owners stepping up to the plate to create amazing beer," Rumbolz said. "Yakima Chief Hops is proud to support and attend the event while engaging and educating attendees on how hops contribute to the flavor, aroma, and quality of their favorite beers."
In addition to Yakima Chief Hops, other supporters of the 2019 Beers With(out) Beards Festival include Brewery PAK, InTouch Labels, the Brewers Association, Green Mountain Energy, Marie Brizard, Jameson, YETI, and Twisted Truffles. Our malt workshop will be hosted by Origin Malt, and we'll have a beer and cheese pairing event sponsored by Troegs. Fort Point Beer Company and Two Roads Brewing Company will be hosting our beer dinner at Ivan Ramen, one of 2018's most popular events, and we'll also have an off-flavor sensory workshop run by Lallemand.
Last year, Beers With(out) Beards was an amazing success, and the support of our partners will continue to help us promote our mission to a larger audience. Thank you to all of our partners for supporting diversity in craft, and we hope to see you in Brooklyn on August 10th for the biggest celebration of female brewers in the world!
Liked this article? Sign up for our newsletter to get the best craft beer writing on the web delivered straight to your inbox.