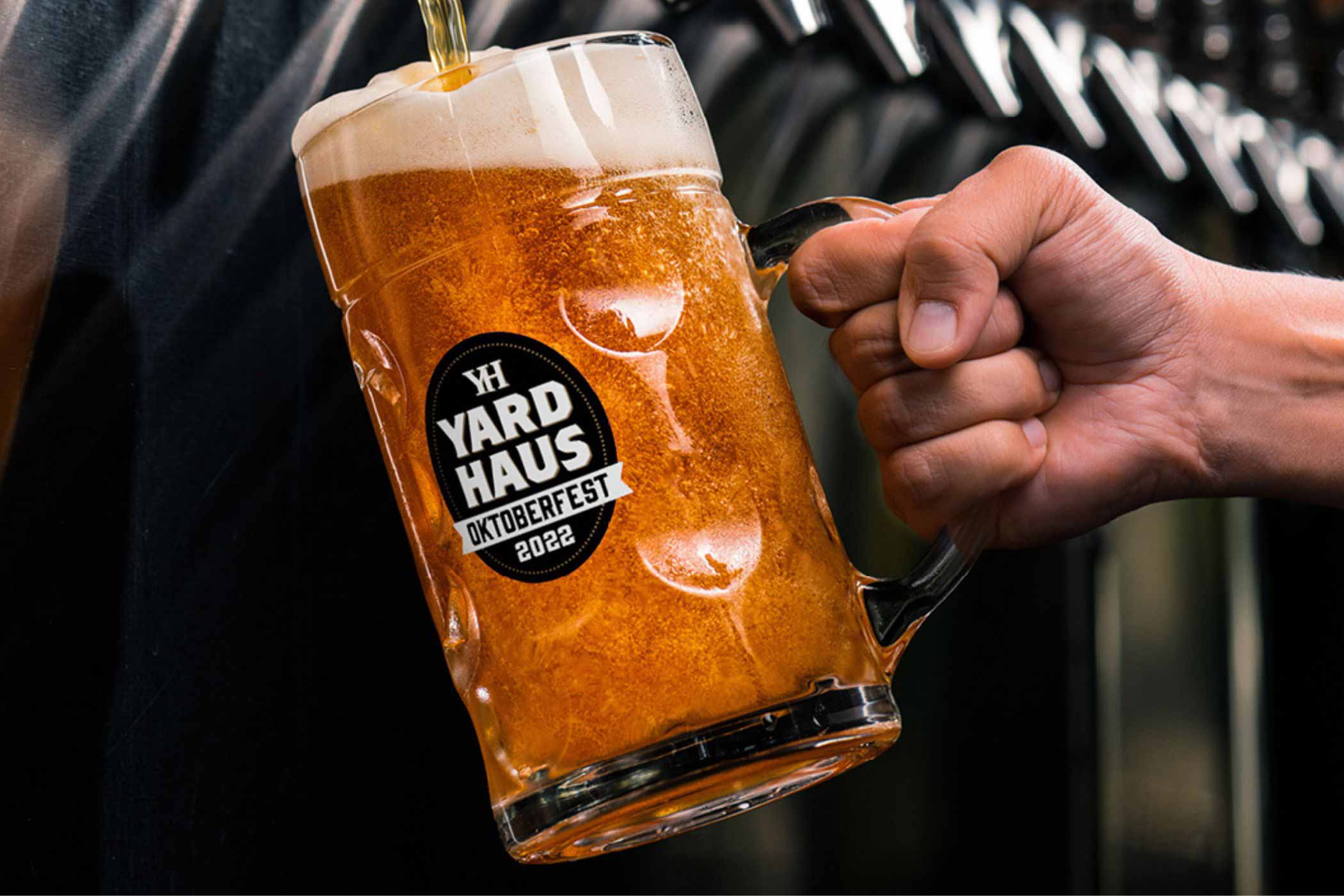 Photography courtesy of Yard House
Editor's Note:
This is a paid, sponsored post presented by our friends at the Yard House.
This is the most wonderful time of the year. The weather turns crisp and cool, the fall leaves start to change color, and the sweaters emerge from their winter boxes in the back of the closet. But most importantly, autumn signifies one of the best beer holidays: Oktoberfest.
An annual festival that attracts millions of visitors to Munich each year, Oktoberfest is a German tradition dating all the way back to the early 19th century.
Now, most of us probably won't be able to actually travel thousands of miles to enjoy the official 187th harvest fete in Germany. But that doesn't mean we need to miss out on all the fun.
Here in America, breweries and bars across the country find their own unique ways to honor Oktoberfest.
Those like Yard House, where beer and food lovers unite under one roof for unforgettable experiences.
During the fall, Yard House will be featuring five Oktoberfest beers on tap from German to American classics and even their own homemade collab with Bavarian brewery Schneider Weiss.
All in the spirit of keeping this iconic drinking derby alive and well across America.
Yard House Celebrates With Four Special Oktoberfest Beers + One Collab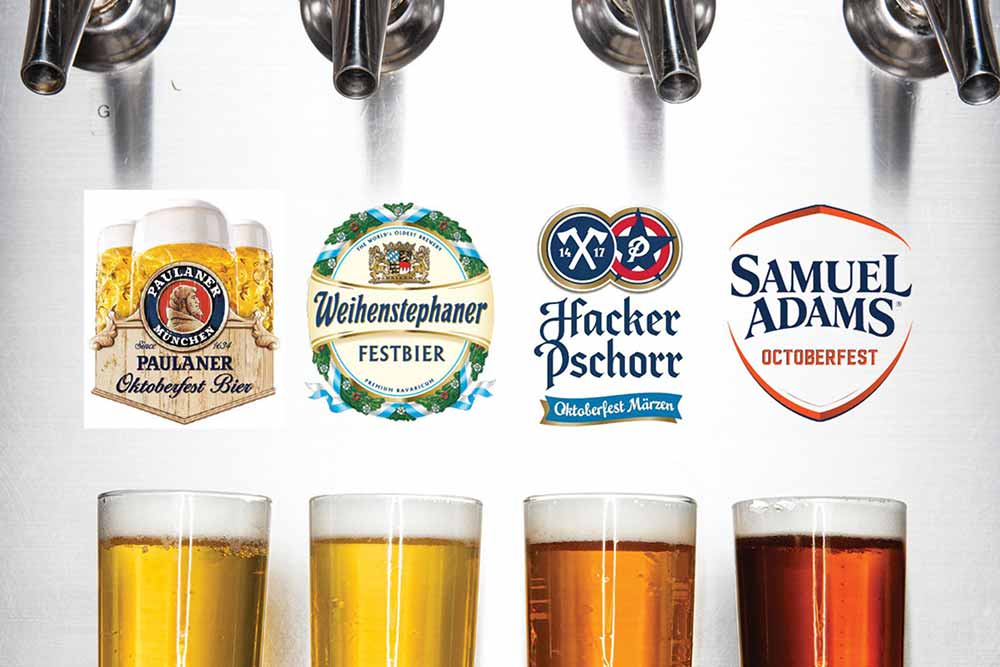 Just like Oktoberfest is one of the biggest beer festivals in the world, at Yard House everything is bigger. With one of the world's largest selections of draft beer, Yard House wanted to bring that same love for beer and food to its Oktoberfest celebrations.
And most importantly, bring a taste of Germany to its patrons who couldn't make it across the pond.
Accordingly, starting on September, 26, 2022, for four weeks the brewery will tap five different Oktoberfest beers including: Hacker-Pschorr Oktoberfest-Marzen, Weihenstephan Festbier, Paulaner Oktoberfest Bier, Sam Adams Oktoberfest, and their own house beer Give 'Em Helles Lager.
Yard House steins-a-plenty will be overflowing while recommendations will help you find the perfect pairing. For instance, Yard House finds its Jumbo Bavarian Pretzel best with a mug of Paulaner Oktoberfest Bier. And Chicken Nachos heaped with pinto beans, cheddar, Monterey jack, crushed avocado, and more give an unctuous crunch that Give 'Em Helles smooths out beautifully.
It's the popular sports bar's contemporary way of celebrating a festival brimming with tradition and history.
A Short History of Oktoberfest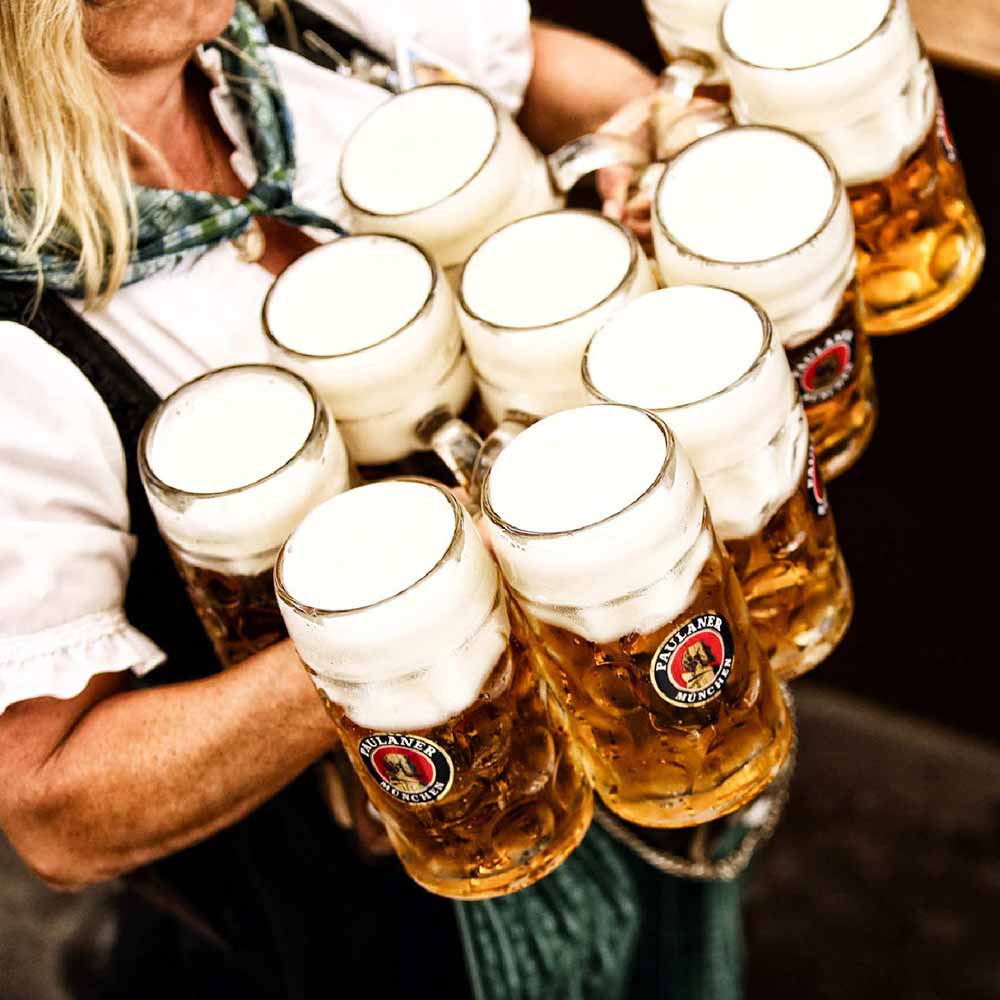 Essentially a lesson in German royalty, Oktoberfest started with a wedding. Bavarian Crown Prince Louis (later King Louis I of Bavaria) married Princess Therese von Sachsen-Hildburghausen on October 12th, 1810.
The nuptials included a raucous party open to the citizens of Munich on the fields in front of the city gates. Named Therensienwiese or Therese's Fields, the Wiesn or outdoor meadow hosted days of drinking and horse races. In the midst of the Napoleonic Wars (1803-1815), this party aimed to unite Germans during a tumultuous time.
Oh, and did we mention the royal family provided beer and food free of charge? So much fun was had by all that the festival became a yearly celebration (only stymied by hurdles like cholera and the COVID-19 pandemic).
"History, tradition, hospitality—Oktoberfest is not only the biggest but, I think, also the best beer festival in the world," says Christian Dahncke, head brewmaster at Paulaner, one of the six Munich breweries that actually has permission to brew and sell the original Munich Oktoberfest Bier. "It is a combination of old traditions…and a big beer festival, where each of the six Munich breweries tries to brew the best beer for this event."
In fact, Paulaner has a history with Oktoberfest almost as rich as the actual celebration itself.
Paulaner and the Tradition of Beer at Oktoberfest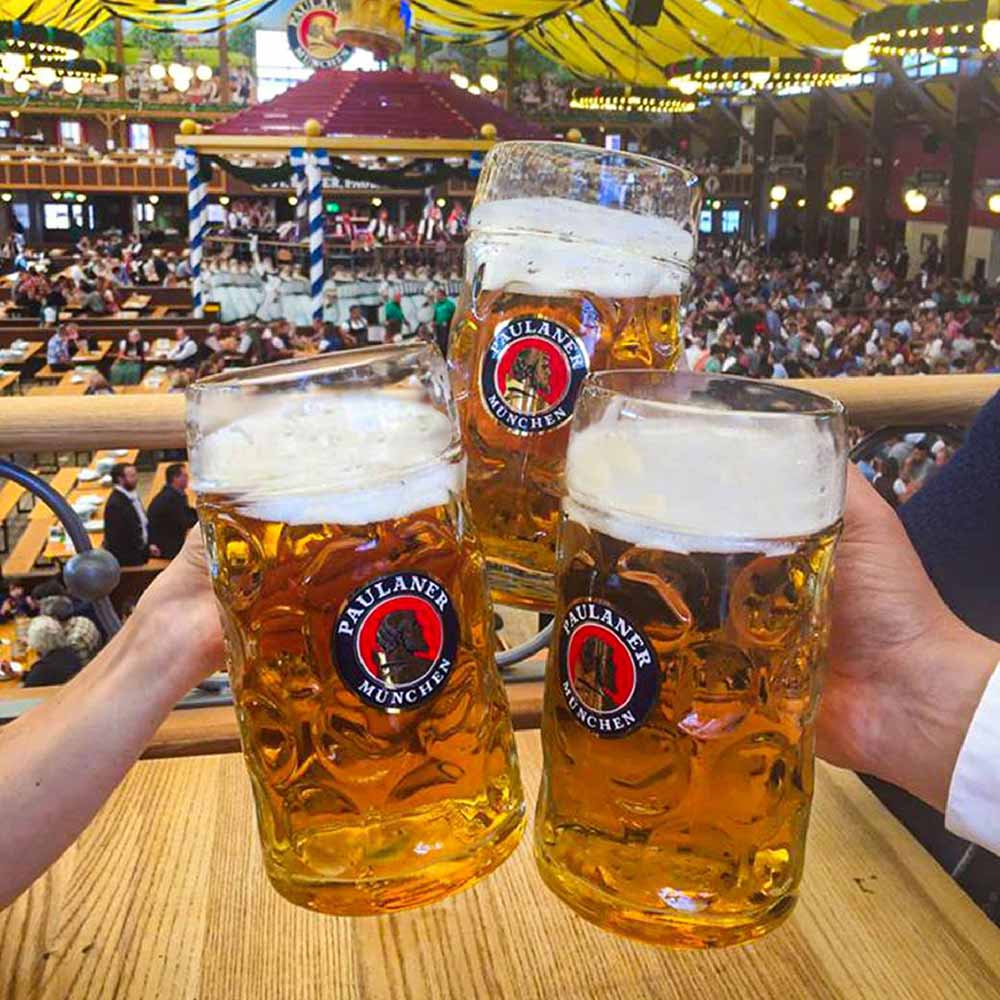 Historically, the beers served at Oktoberfest can only come from the large breweries inside Munich's city limits including Augustinerbräu Münche (Augustiner), Hacker-Pschorr, Hofbräu, Löwenbräu, Spaten-Franziskaner-Bräu (Spaten), and Paulaner.
"Paulaner brewery is a real traditional Munich brewery and has always played a big part in the history of the city's culture," says Dahncke. "[So Oktoberfest] is an event dear to Paulaner's heart."
Since 1818, Paulaner has brewed its Oktoberfest Bier, but it actually didn't gain popularity at the annual celebration until much later.
See, in Germany, the term Oktoberfest means the beer that is officially served at the festival.
During the first sixty or so years the darker Bavarian dunkel dominated. But by 1872 Spaten brewery introduced the more amber-hued märzen, which became the official beer of the fest.
And in the mid-1960s Paulaner's golden-colored Oktoberfest Bier, considered a festbier, began to take over.
Today, Paulaner's Oktoberest Bier is the most-served beer at Oktoberfest in Munich.
So, What's the Difference Between an Oktoberfest, a Marzen, and a Festbier?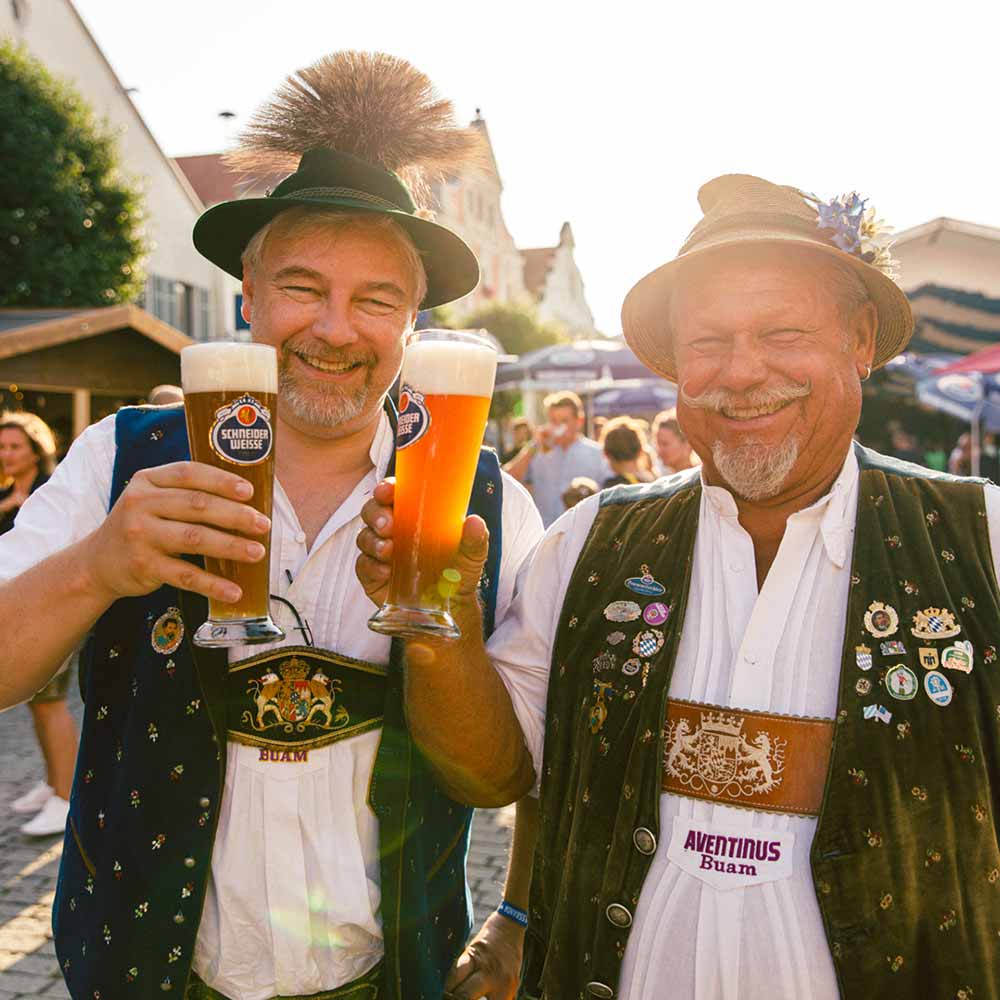 Great question!
Because here in America we tend to use Oktoberfest as a catch-all term to encompass märzens and festbiers.
When in fact these are two very distinct styles.
Märzens are German amber lagers typically anywhere from chestnut to russet in color. Smooth, toasty, bready, slightly spiced with a bit of a Noble hop bite, märzens hit around 5-6% ABV with a dry finish. First brewed by Spaten in Germany, in America this is the most common style of what we've come to call Oktoberfest or Oktoberfest-style beers.
On the other hand, festbiers are strong golden German lagers similar to a helles, but maltier. They're typically floral and spicy from the use of Noble hops, lighter bodied, and super drinkable for the two-week-long celebration.
First pioneered by Paulaner, festbiers in Germany today are THE official beer of Oktoberfest.
Why Paulaner's Oktoberfest Bier Is the Most Popular Beer at Oktoberfest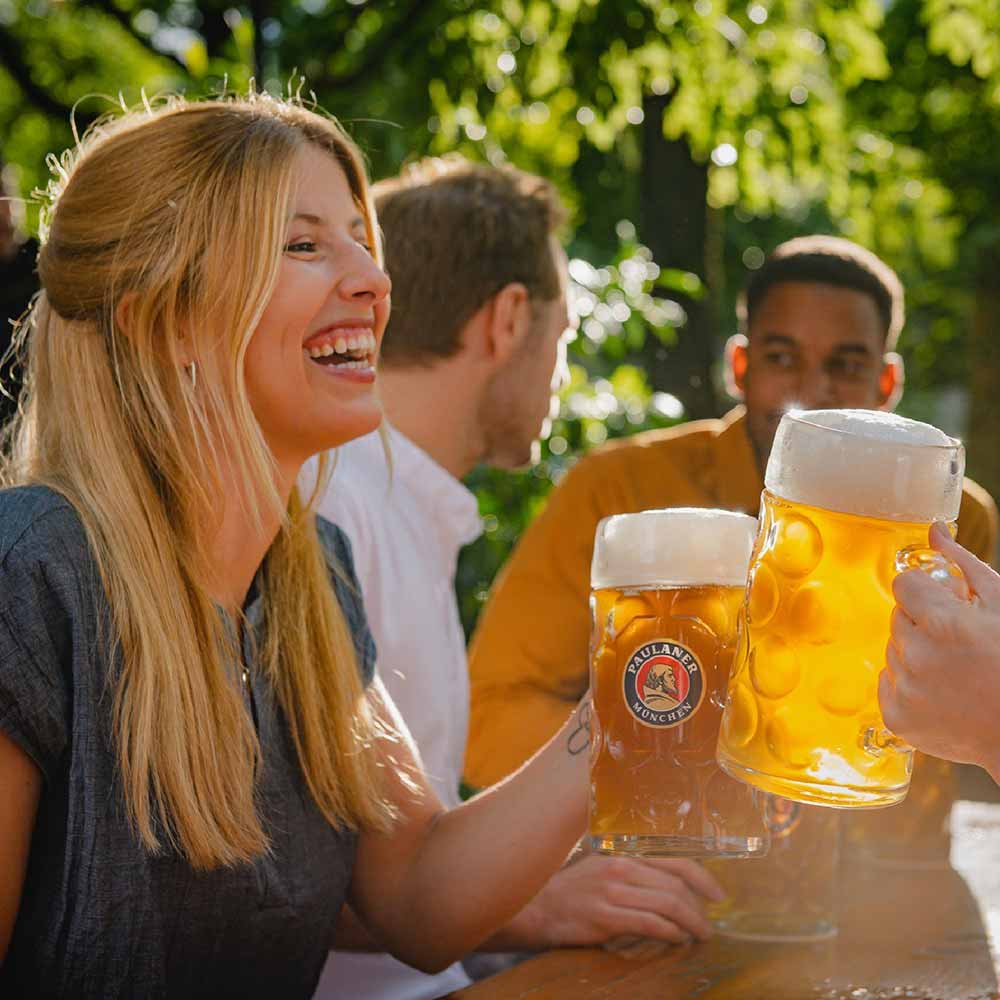 Perhaps it's the drinkability. Or maybe it's the use of regional malt and hops. Or conceivably, there is a little secret sauce to Paulaner's Oktoberfest Bier.
Afterall, they've had over two centuries to perfect the recipe.
For Paulaner's Oktoberfest Bier, Dahncke uses local ingredients, including a special Pilsner malt from regional Bavaria along with a small amount of dark barley malt for color, maltiness, and body.
And 100 percent Bavarian hops.
But the true secret according to Dahncke is the bottom-fermenting yeast, which builds a higher alcoholic content together with a full malty body.
"[Oktoberfest Bier] has a smooth, aromatic, malty taste, as well as a slightly delicate bitterness that makes the difference," says Dahncke.
It's Paulaner Oktoberfest Bier's history and popularity that makes the beer a perfect addition to Yard House's Oktoberfest lineup.
But it's not the only beer on the menu. Oktoberfest is so important to Yard House that they even went so far as to brew their own house beer in collaboration with Schneider Weisse.
Yard House Teams Up With Schneider Weisse for Feature Oktoberfest Beer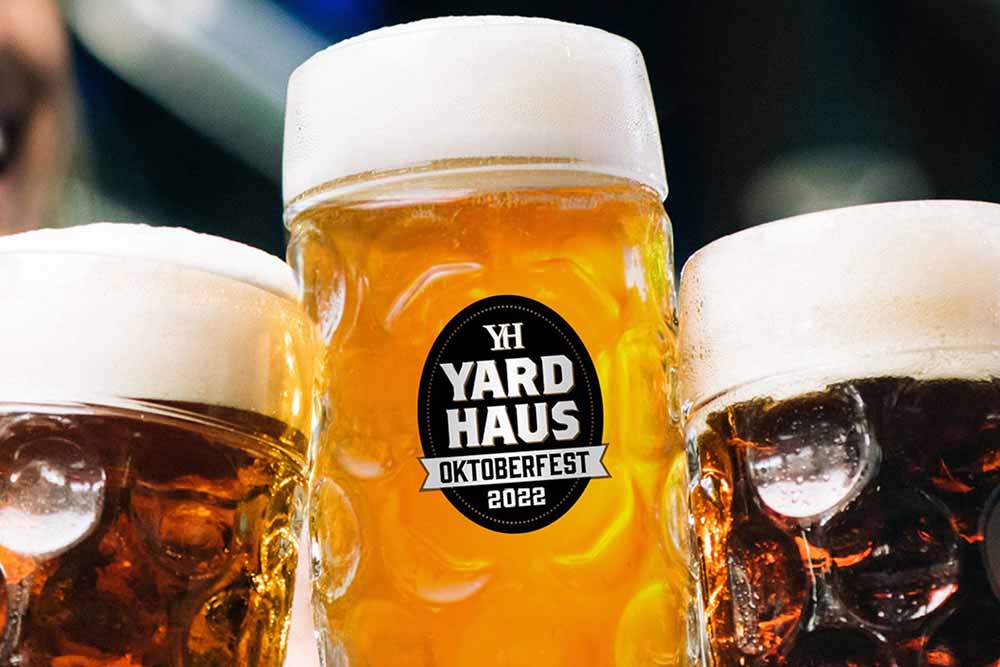 Actually debuting last December, Yard House's Give 'Em Helles follows a trend the brewpub noticed in "light, crisp, flavorful beers in the USA," says Schneider Weisse Braumeister Josef Lechner, who teamed up with Yard House to craft this beer.
A traditional German beer, helles actually translates to "light-bright," showcasing exactly what this beer offers: a light, bright, crisp body.
Inspired by the tradition of Landbier in Bavaria, which according to Lechner is "not a style per se, but a brewing philosophy," the Schneider Weisse Braumeister sourced all the ingredients for Give 'Em Helles from mere kilometers away from the brew house.
Located in a unique place in Germany, Schneider Weisse sits right in between the world-famous hop-growing Hallertau region and the Straubinger Gäuboden area known for its malt.
Accordingly, Lechner incorporates Hallertauer Tradition, Hallertauer Mittelfrüh, and Hallertauer Hersbrucker hops alongside one hundred percent Pilsner malt.
But just like Paulaner's Oktoberfest Bier, Give 'Em Helles has an ace in the hole.
According to Lechner, "Yard House Give 'Em Helles is the ONLY bottom-fermented beer released by the Schneider Family in the U.S." Since 1872, Scheneider Weisse exclusively brewed top-fermented Weisse beer for the public.
Until now.
The result?
A beer perfect for drinking during Oktoberfest. "This style of beer is literally 100 percent born from the Bavarian region," says Lechner. "At 4.9% ABV you can enjoy a few Give 'Em Helles, savor the classic lager beer flavors, which spark thoughts of the fall harvest. Hopefully you can enjoy a few in the outside dining areas. That's what Oktoberfest is all about!"
All Five Beers Pouring During Yard Haus Oktoberfest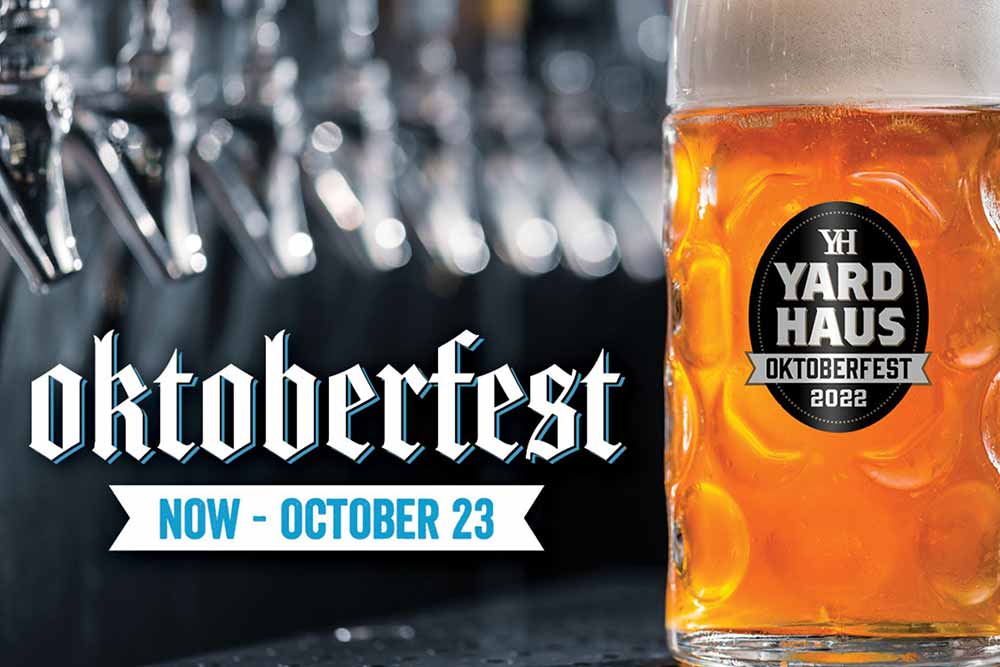 Alongside Paulaner's Oktoberfest Bier and Give 'Em Helles you'll find several other popular Oktoberfest beers.
Yard House x Schneider Weisse Give 'Em Helles Lager
An exclusive to Yard House, Give 'Em Helles is Schneider Weisse's only bottom-fermented beer to debut in the United States. Meaning if you don't try it now, during the most perfect time of the year, you might not ever try it at all.
A mildly bitter beer that has a "pleasant bite at the finish…without overpowering the delicate malt flavors in a beer of 4.9% ABV," says Lechner.
Hallertau hops add a mellow bitterness and earthy-floral aroma that add "another dimension of complexity," says Lechner. "Super clean and crisp with nutty notes of grain and a touch of malt sweetness," Give 'Em Helles is probably best for pairing with one of Yard House's jumbo Bavarian pretzels. Lechner calls it, "the perfect pairing!"
Paulaner Oktoberfest Bier
Currently the most-served beer at Munich's official Oktoberfest, Paulaner Oktoberfest Bier is your best chance to down a stein of history. All without paying for a plane ticket.
"You'll first notice the malty aroma, followed by a pleasant fresh and hop flower aroma," says Dahncke. "After the first sip you will get the perfect balance from the strong note of malt in combination with some bready and toffee notes, but always the bitterness remains in the back."
Yard House recommends pairing this one with their Nashville Hot Chicken & Pancakes.
Sam Adams Octoberfest Seasonal
An American classic of the Oktoberfest-style, Sam Adams' version is smooth, roasty, sweet, and delicious.
Brewed with a 2-row pale, Munich-10, Samuel Adams Octoberfest, and Caramel 60 malts, Oktoberfest pours a beautiful deep amber. But it's not just the color that captures us. Roasted toffee, caramel, and toast notes balance with a light Noble hop character for one of the ultimate American versions of this seasonal sensation.
Weihenstephaner Festbier
Weihenstephaner Festbier stays true to the style. Pouring a brilliant gold, Festbier hits your palette with notes of baked bread, toasty malt, and a slight hop character. At 5.8% ABV it's the perfect Oktoberfest crusher.
Hacker-Pschorr Oktoberfest-Marzen
Brewed in reverence to the Bavarian Purity Law of 1516 known as Reinheitsgebot, Hacker-Pschorr's Original Oktoberfest-Märzen is a perennial favorite. Amber in color and stunningly smooth, this märzen stands for everything the style represents—a perfect marriage of sweetness and maltiness.
Oktoberfest Is Our Favorite Fall Celebration
No matter which beer you drink for Oktoberfest, just remember that this event started as a royal celebration.
Meaning you should live it up and Give 'Em Helles. After all, it's tradition.
With over eighty Yard House locations all across the country, the next step is to find the one closest to you. Then order a Paulaner Oktoberfest Bier or Yard House Give 'Em Helles, settle back with a jumbo Bavarian pretzel, and celebrate Oktoberfest in your own backyard.