Bokkereyder might be the Beatles of lambic beer. Sure, there aren't throngs of thumping, jumping, flailing, shrieking, squealing teenagers fainting at first sight of a bottle of Framboos Noyaux, a two-year-old lambic aged in pinot-noir barrels with fresh Pajottenland raspberries, Madagascar and Tahitian vanilla beans, and apricot pits. But close enough. With a growing fanbase and crowds clamoring at rare stateside appearances to taste some of Bokkereyder's dazzling lambics, the tiny blendery from Belgium has quickly become one of the hottest names in spontaneous fermentation. Someone call Flanders REd Sullivan!
Unsurprisingly, Bokkereyder does not comprise of four mophead musicians from Liverpool. Instead, it's the work of one humble, experimental Belgian, Raf Souvereyns, who started blending and barrel aging lambic only four years ago. Success has been immediate. Bokkereyder was awarded Best New Brewery of 2016 by RateBeer, and appearances at major beer events, like the Copenhagen Beer Festival in Boston, have been met with lines akin to a new Supreme release.
If you search online or speak with someone who has had the opportunity to try Souvereyns' beer, which is so limited it's almost not commercially available, you'll likely encounter descriptors like beautiful, distinctive, and absolutely delicious. Aaron Goldfarb, a fellow beer writer, is a newfound devotee, having dropped $350 on bottles on a recent trip to Copenhagen. "I thought it couldn't possibly live up to the hype, but they were world class," he said. "So good, so one of a kind, I wasn't even regretful of the money. I just prayed my wife didn't notice the charge."
To learn more about Bokkereyder and its growing popularity, we recently spoke with Souvereyns about his production process, how he became interested in blending, what makes a good lambic, his future plans to distribute in the U.S., and if his favorite Beatle is Paul or John (kidding).
Niko Krommydas: At the Copenhagen Beer Festival (CBC) in Boston in September, you served a 12-liter bottle of one of your lambics. That's almost 50 pounds. How did you manage to start pouring it?
Raf Souvereyns: Pouring it is easier than you might assume. It's the same as with a regular-size bottle, just a bit heavier. But it is a bit more complicated to bring through baggage claim. The bottle was one piece of luggage, with a lot of bubble wrap around it. Quite a thing to carry with you through an airport. [Laughs.]
NK: Your first appearance in the U.S. was last fall, also at CBC, which got a lot of American beer lovers buzzing. Did this year's festival feel any different given more people knew about you?
RS: This year was very humbling, but maybe it was a bit too much. We brought more beer than we were allowed to, but we ran out very quickly. It's sad to disappoint people who waited in line, but when we run out of beer for a certain session there is no more beer.
"I think every beer has its moment of drinking, whether it be seasons, time of the day, setting. I think in those terms."
NK: When was the first time you tasted lambic?
RS: In my early twenties, when I got into craft beer. An American university researcher took me to several breweries and beer bars and I was hooked immediately! I came from being in school and drinking whatever shitty macro lagers were available. I remember lambic being very different from any other beer, and was interested to find out more. The first gueuze I had was a Cantillon gueuze after we took the tour at the brewery. That place breathes a long history and tradition. It's mesmerizing.
NK: You only started blending four years ago.
RS: Yes, I started in 2013. After knowing Uli [Ulrich Kremer, owner of Huisstekerij h.ertie, another blendery in Belgium] for many years and talking about blends, I made my first few small batches of gueuze. That year I also filled a 30-gallon barrel with lambic and sour cherries, which went into the drain half a year later. There was something wrong with it, and to this day I still don't know what. It just tasted off in the worst possible way. But next year I made another kriek, which was quite nice.
NK: What initially interested you in blending and barrel aging?
RS: A combination of the inspiration I got from what Uli was doing, and also from visiting wineries and talking to winemakers about the process of barrel aging and blending. I've learned a hell of a lot from them.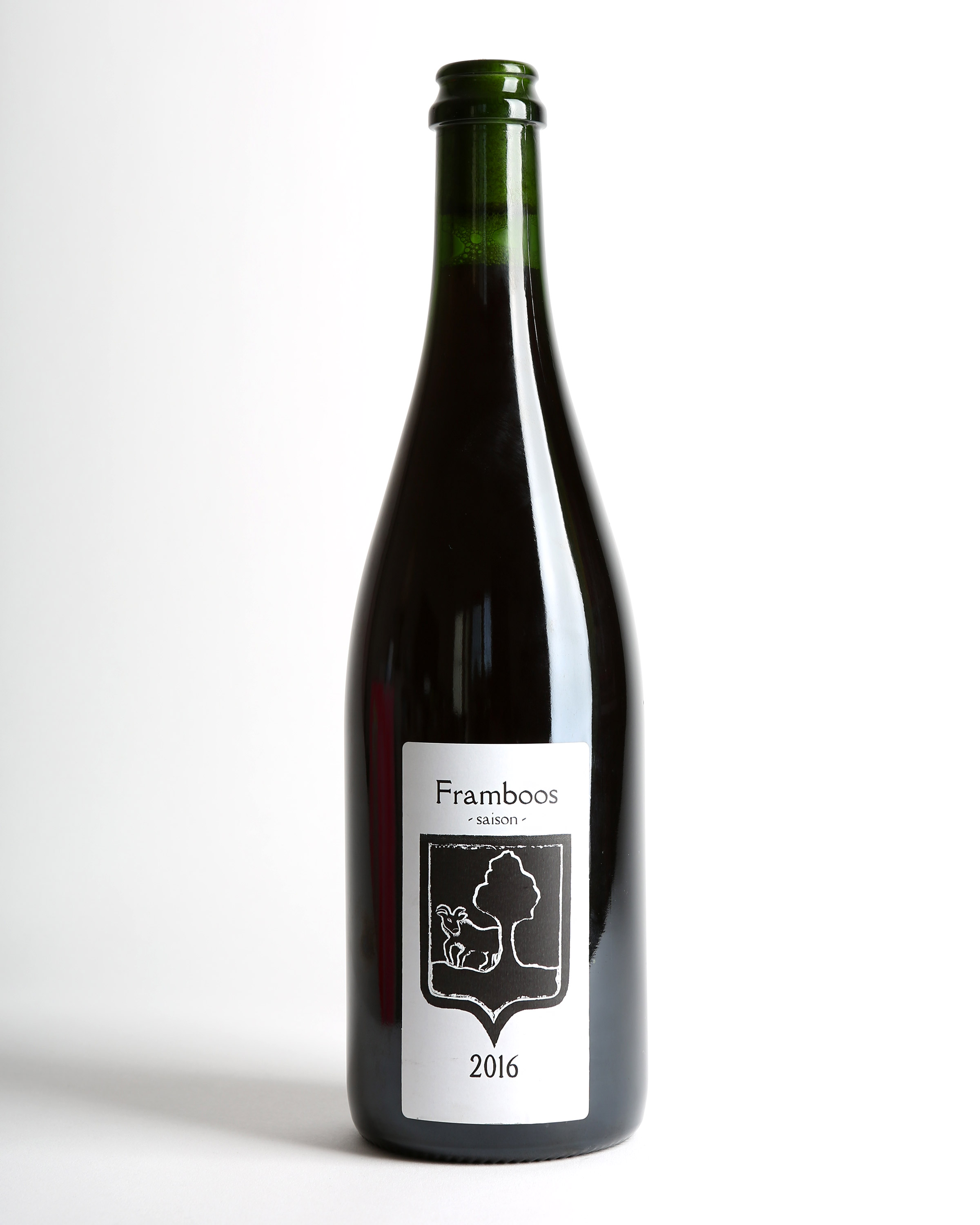 NK: What would you say is the most important thing you've learned from winemakers?
RS: That you have to respect nature. During the barrel-aging process the beer undergoes a whole transformation. It takes experience and a lot of trial and error to find out when a beer is ready, and which beers can be blended to aim for a certain result.
NK: Did brewing your own wort interest you at all?
RS: There are brewers in Belgium who have a lifetime of experience brewing lambic, and I respect them. But I'm learning about the brewing process, as it's part of how my products come into existence.
NK: What's your guiding motivation when blending?
RS: To make good beer. Initially I don't have an idea of where I want the liquid to go because I'm fermenting wort into lambic; not much I can do about that. But during the blending and aging process I have an idea in mind of where I want to take a particular blend to. I think every beer has its moment of drinking, whether it be seasons, time of the day, setting. I think in those terms.
"I feel like you can make a million interesting blends with lambic as it is a beer with so much potential."
NK: What makes a good lambic for you?

RS:
It really depends on what specific blend I want to make. My Oloroso 2016 is a gueuze from one-, two-, and three-year-old lambics that was aged in an oloroso sherry barrel. The "dark" character of the wine is very complementary with a dark lambic, so that blend is very much Girardin forward. Girardin has a soft acidity and a very complex dark character to it.
A completely different blend is the elderflower lambic. I recall making it for the first time in 2014. It was bottled for three months and I didn't like it, so with an open bottle I started blending it with different lambics in a glass. I found out that blend was screaming for more De Troch. The refreshing character of the elderflowers is something that needs the brightness, citric notes, and light body of De Troch lambic. As a result of that, I dumped the whole batch back into a bottling tank, blended it with more De Troch and bottled it again. It turned out so much better!
NK: Each of your blends has a story behind it. Can you tell us about one?
RS: One of the most recent blends is a gueuze blend that's aging in a Macvin du Jura barrel now. It's basically impossible to get a hold of a barrel that contained this elusive wine. Thanks to Wouter [De Bakker] from Terrovin, a distributor focusing on natural wines, I received a freshly-emptied barrel a month ago. And it had one of the most intense aromas I've ever smelled from an empty barrel.
I made a blend of one-, two-, and three-year-old lambics to age in that one barrel. I chose a blend that goes well with the character of the wine. To get a good extraction from the barrel, I blended the lambics in such a way that fermentation started immediately. The old lambics were long done fermenting, but still high in density. The young lambic was very low in density. When blended, the young lambic continued fermenting the old lambic. My hope is that it will ferment out really dry, in order to get a good expression of the Macvin barrel.
NK: You've referred to your lambics as "traditional, but with a modern twist."
RS: Yes. There are many things I do differently from traditional blenders: different aged lambics in one barrel; barrel aging after fruiting; adding herbs and spices; adding exotic fruits. I feel like you can make a million interesting blends with lambic as it is a beer with so much potential. I do this all while I respect the tradition, history, and cultural value of traditional lambic, gueuze, and kriek.
NK: What were your thoughts on the conflict last year between Jester King and the High Council for Artisanal Lambic Beers over the use of the term "Méthode Gueuze"?
RS: I'm not affiliated with any of those parties and I don't do politics, so I don't feel like expressing my thoughts. I just want to make beer.
NK: Your capacity is small. How small?
RS: I have about 100 sixty-gallon wine barrels. The biggest batch I have done so far was Zomersaison, which was 350 bottles. The blendery grows every year, but the focus is on quality, not quantity. There are limitations in terms of how much one person can do. Right now I work seven days a week. That's enough for now. [Laughs.]
NK: Lastly, are there plans to do more festivals and events here in the U..S.? What about distribution?
RS: There are some U.S. events coming up next year, and distribution should start around the same time. But it takes time. For the last two months, I have made zero bottles in total. Bottling happens throughout the year, but during summer I have to focus on harvesting the fruit. Also, so far every bottle is bottled manually, meaning filling one bottle at a time from a beer gun, which takes a lot of time.
But I want to bring my beer to America because they go crazy about lambic. It's a very nice crowd, they really want to hear the stories behind the beers and all the details. The bars that serve my beers in Europe get priority to everyone else, but some will be shipped across the big pond. Batch sizes are increasing, so I think there will be enough to divide it well.