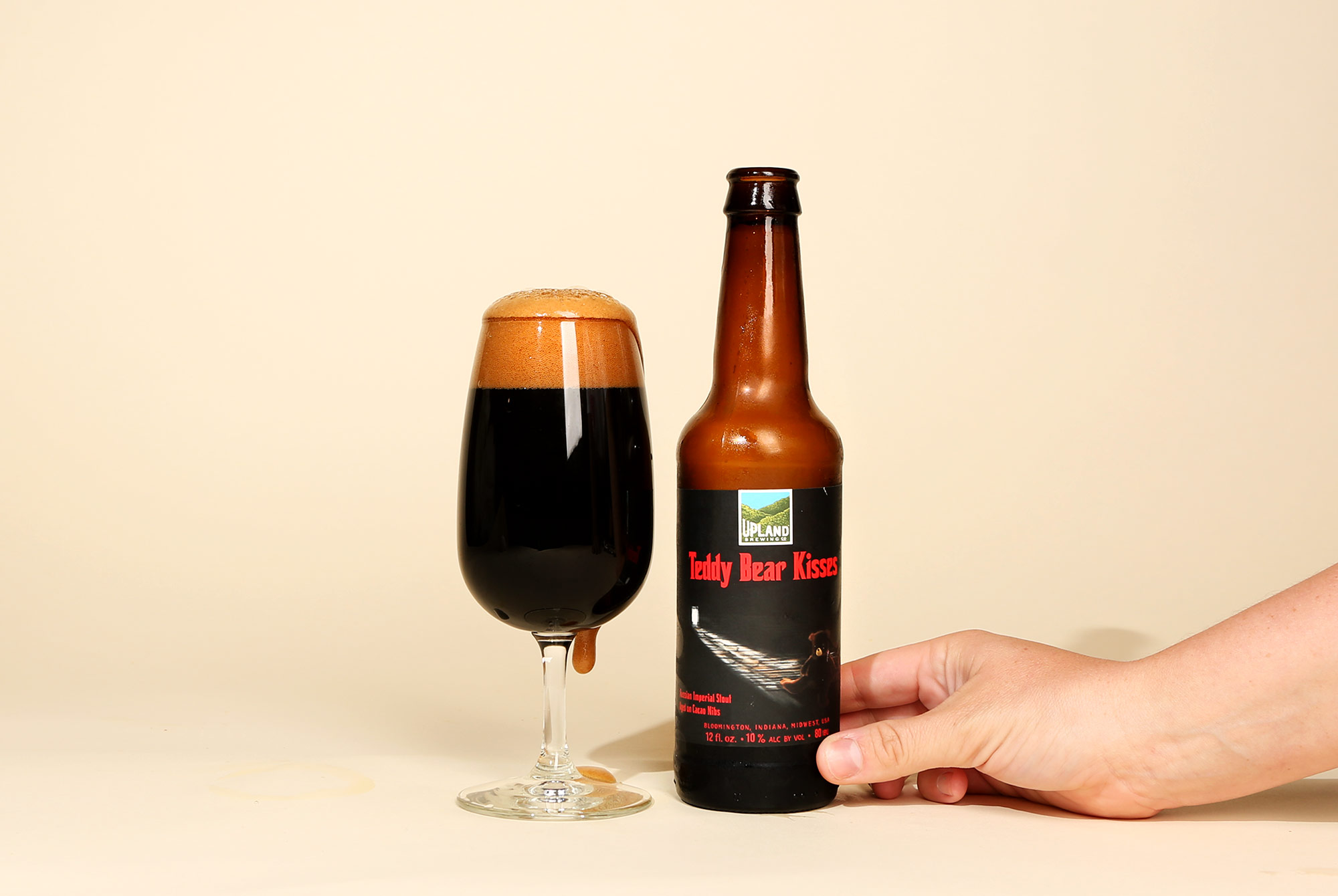 Photography by John A. Paradiso
Editor's Note:
"From the Cellar" is an editorial project that publishes every other Friday with a beer from Hop Culture's cellar. Have a vintage bottle or cellared beer you think we should try? Drop us a line at hello@hopculture.com with the subject line "From the Cellar."
Teddy Bear Kisses at a glance:
Teddy Bear Kisses is a Russian Imperial Stout brewed with dark malts (Pale, Munich, Crystal 60, Crystal 120, Chocolate, Black, Oats) by Upland Brewing Co. in Bloomington, Indiana.
Teddy Bear Kisses is released in 12 oz. bottles. This bottle has been in the Hop Culture cellar for at least two years.
The beer is a pitch black, 10 percent ABV robust stout. It has a creamy head and strong chocolate notes.
The Story:
I've found a love for Upland Brewing Co. through their perennially refreshing and crushable Champagne Velvet and their revitalized line of bottled sours. In my experience, the brand has historically excelled at the two ends of the spectrum — unfussy light lagers and complex, nuanced, fruited sours. But what about something different?
For a while now, I've noticed the 12 oz. bottle of Teddy Bear Kisses ever time I've gone into the Hop Culture bottle cellar. Jet black with a playfully creepy label, this beer was intriguing. However, the packaging seemed a little outdated and I'm not a huge fan of Russian Imperial Stouts, so I left Teddy Bear Kisses to age for a while before deciding to sample it for our series "From the Cellar." And I'm glad I did.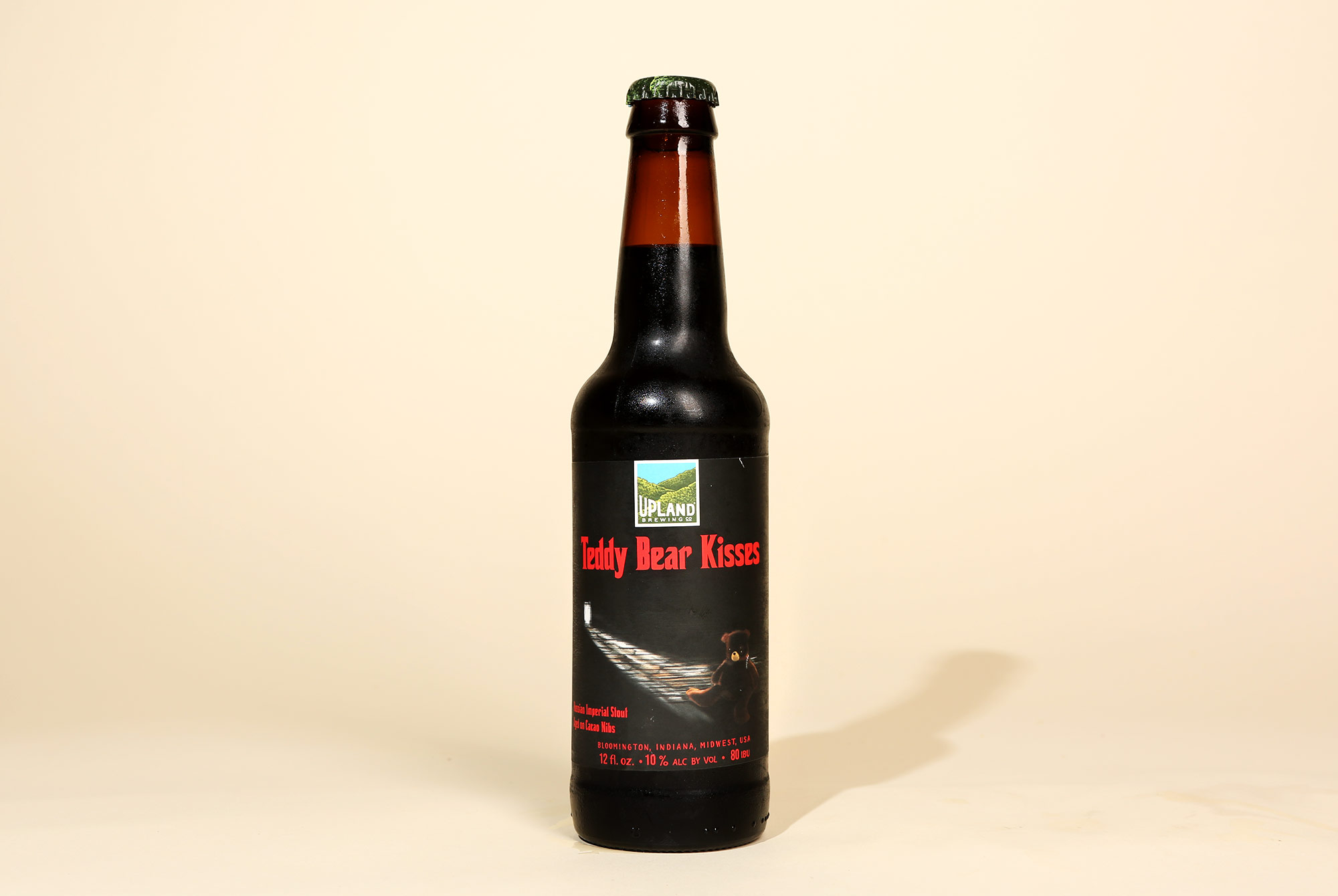 It seems like age did wonders for this beer. It still had quite a bit of heft, but it was mellow and velvety, like a rich hot chocolate. It still has that lightly bitter edge typical of the Russian Imperial Stout style. Like properly roasted coffee, there's a background sharpness lurking beneath the cocoa notes. Head Brewer Patrick Lynch agreed that age would do Teddy Bear Kisses well, saying, "The bottles I've had at home rarely make it two years before I'm tempted to pop them open, but this is a beer that we did design to be cellarable. I would recommend picking up a four-pack or two this fall and beginning a collection to do an annual vertical tasting."
The rich and varied flavor profile of this beer isn't its only mystery, as there's some myth and legend surrounding its name.
"There's a video floating around YouTube with a few theories behind the name," Lynch says with a laugh. In fact, the brewery itself released the video to try to explain the strange beer name. "Ultimately, it just comes down to wanting our biggest, boldest beer to have the softest, cuddliest name we could think of. Caleb, our former head brewer, came up with the name originally."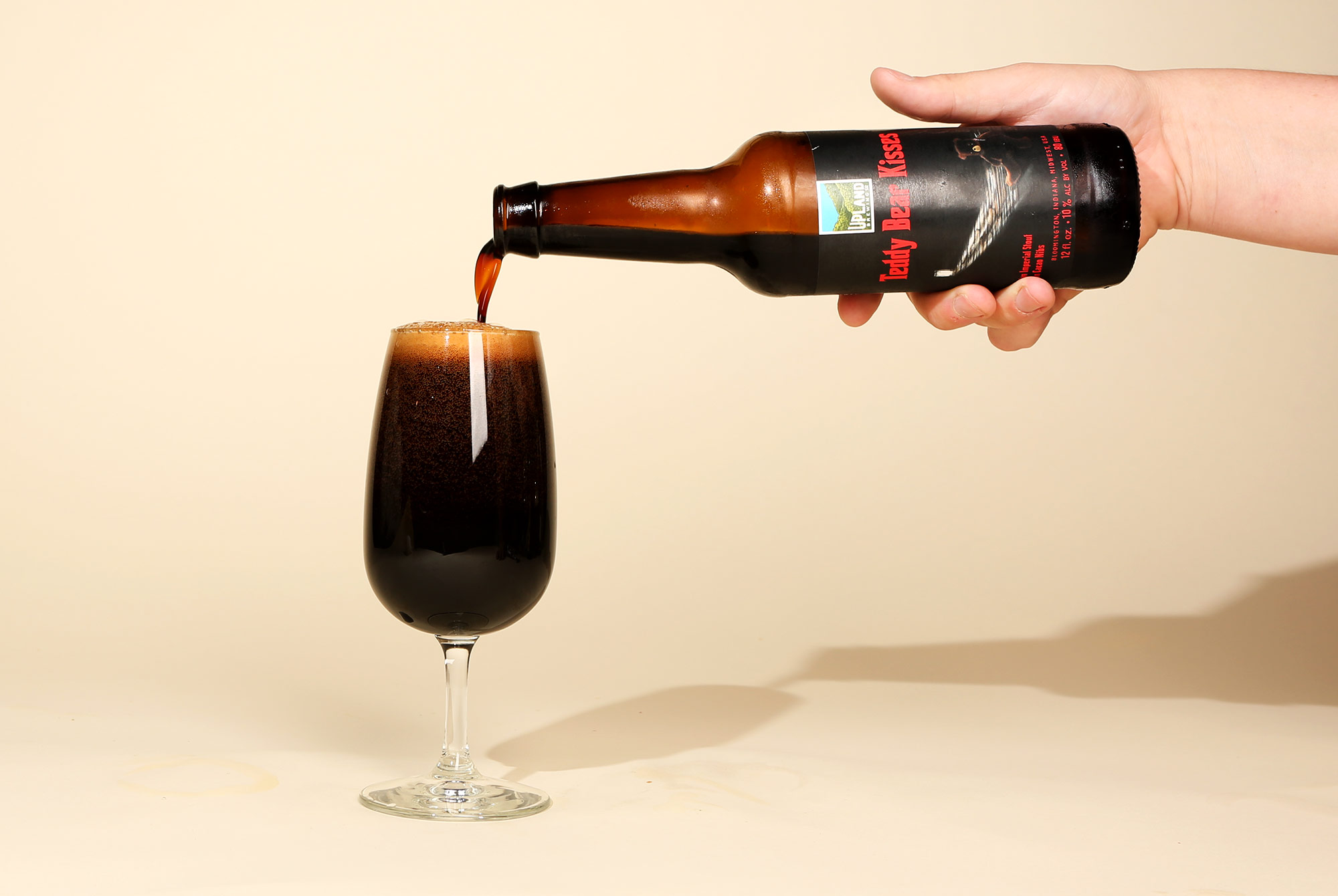 But don't let the innocuous name fool you — this is a beast of a beer.
"Teddy Bear Kisses really pushes the limits of our brewhouse," says Lynch. "It has double the amount of grain as some of our standard recipes and fills our mash tun to its absolute maximum capacity. It's designed to be big and bold, rich and chocolatey, roasted and warming. It's flavorful enough to stand on its own, whether fresh or cellared, but also lends itself well to barrel-aging and small-batch variants with additional ingredients: coconut, orange zest, or mint for example."
Not unlike Dark Apparition from Jackie O's, a beer previously featured as part of our 'From the Cellar' series, Teddy Bear Kisses isn't as sexy or sought-after as modern pastry stouts. But, the beer showcases the skills of the brewing team and provides a delicious beer that rewards you as time goes on. On a spectrum of irreverent lagers to high-end sours, Teddy Bear Kisses is somewhere in left field: a fun and impressive Russian Imperial Stout.
What Teddy Bear Kisses is like:
Pours a deep black with a creamy, tan head.
Smells like cocoa and deep coffee roasts with a touch of vanilla.
Drinking the beer is a smooth, warming experience. It sips like velvet.
Strong flavors of coffee and bittersweet chocolate. Still a little bit of vanilla sweetness.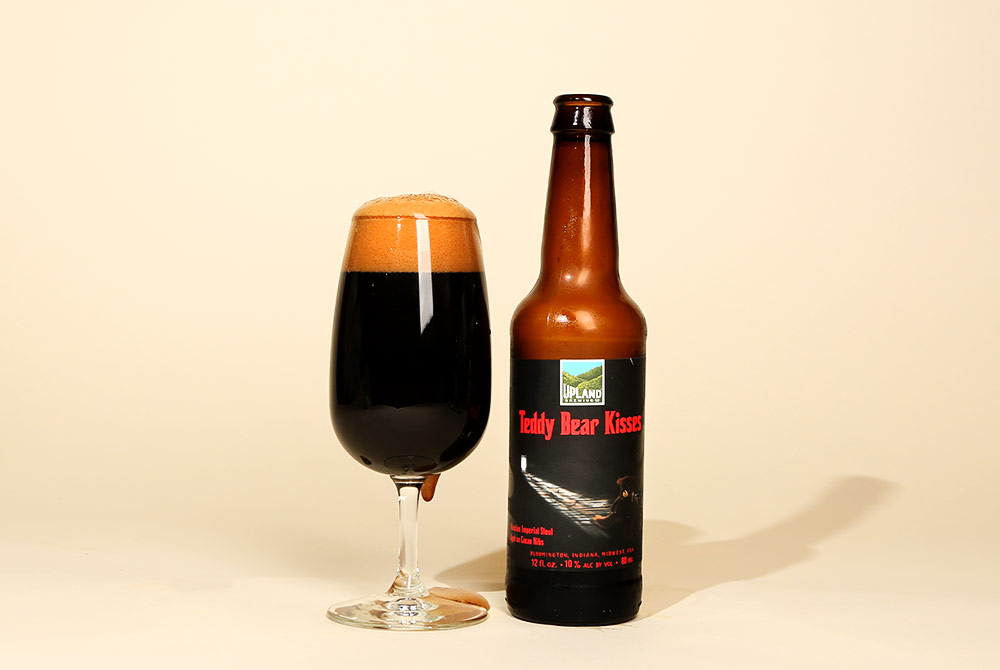 Final Thoughts:
My only regret with this beer is that we didn't have examples from different years to sample. I can only imagine that the coffee flavors might die down as sweet, warming chocolate notes rise up. In any case, this was a delightful beer that succeeds without adjuncts.
Luckily, Teddy Bear Kisses is a relatively accessible stout.
"Teddy Bear Kisses will be released in October, followed by barrel-aged versions released in November," Lynch says. He also revealed that in 2019, Teddy Bear Kisses will be released in 12 oz. cans for the first time. Will we see it in larger format bottles? That remains unclear. But, the Upland team still has a lot of fun experimenting with Teddy Bear Kisses.
"Brewing this beer has allowed Upland to partner with several other local businesses in fun and interesting ways" Lynch shares. "We team up with Willett Distillery to source bourbon barrels every year to age Teddy Bear Kisses. A few years ago, we partnered with Cardinal Spirits in Bloomington where we brewed Teddy Bear Kisses wort that they distilled into Black Bear Bierschnaps, a tasty and truly unique spirit."
"This is hands down our most challenging, longest brew day with an extra-large grain bill and three-hour boil," Lynch continues. "But it is all worthwhile when we get to enjoy the finished product."
Liked this article? Sign up for our newsletter to get the best craft beer writing on the web delivered straight to your inbox.