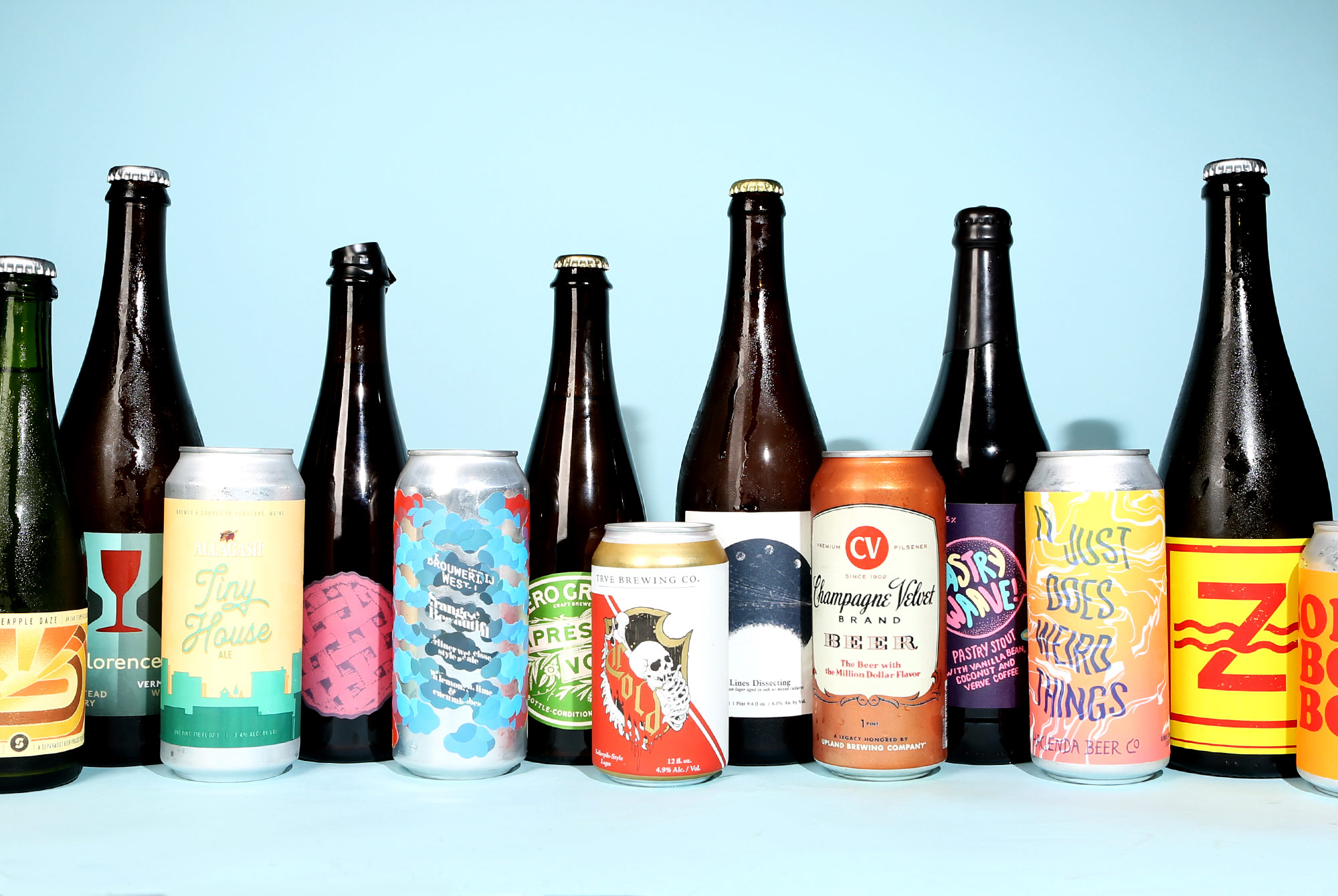 Photography by John A. Paradiso
Editor's Note:
This list represents a cross-section of beers. Some are available around the nation. Others will be challenging to find anywhere but the brewery. Make it a summer treasure hunt and catch 'em all!
It's summertime, baby. And you know what that means. Barbecues. Concerts. Beach trips. PILSNERS. In a word: Relaxation. It's too unbearably hot to fuss over complexities. The summer of 2019 is about taking it easy. You'll find me lounging in the backyard, reading the latest issue of Record, sipping on Champagne Velvet or a Shacksbury cider, and enjoying the calming tunes of Bill Callahan.
But I took a break from that to present you with the best beers for summer. Unfortunately, our founder wouldn't let me put together a list of 20 pilsners (it would just be alternating paragraphs of Suarez Palatine Pils and Threes Vliet), so I gathered up a healthy selection of the best beers (and ciders) you should enjoy this summer. You might be surprised to find a few heftier on this list; however, I don't discriminate. Drinks just need to bring those summer vibes.
I'm going to return to lounging. You should crack open one of these beers and enjoy your summer. Peace.
Tiny House
Allagash Brewing Co. — Portland, ME
House Beer– There's no question that Allagash White is the perfect beer for the summer, if not all seasons. But, you don't need us to tell you that. Allow us to recommend Tiny House, a lightly dry-hopped table beer that's both refreshing and flavorful. Plus, the 16 oz. cans make this beer pleasantly portable — bring them on your next weekend picnic or share with friends over burgers and corn on the cob.
Pie Time: Batch 1
Barrel Culture Brewing and Blending — Durham, NC
Wild Ale– Like a pie cooling on a windowsill just waiting for a cartoon character to smell it (you know what I mean), the first batch of Pie Time from Durham's Barrel Culture is enticing and dangerously delicious. You'll find notes of freshly baked pie: a flaky vanilla crust and rich blackberry, raspberry, and black currant flavors.
Strange Beautiful
Brouwerij West — San Pedro, CA
Berliner Weisse– You might be a little skeptical about a beer with cucumber. And that's fair. But you're wrong. This beer is the essence of relaxation. Channeling the energy of a spa day, Strange Beautiful is purely refreshing with tart citrus notes and a fresh cucumber flavor. What time is my massage? Oh yeah, right now.
Compact Disc
Foam Brewers — Burlington, VT
Pilsner– Compact Disc is all about nostalgia. It's full on light lager vibes with a flavorful, German-inspired twist. Crisp and crushable, the 12 oz. pilsner from Foam Brewers is BBQ-ready. Plus, that gorgeous can art is going to stand out in your favorite cooler.
It Just Does Weird Things
Hacienda Beer Co. — Baileys Harbor, WI
New England IPA — I know all you haze bois and girls just breathed a sigh of relief. "Finally! John included a juicy brew!" Summer 2019 would not be complete without at least one hazy IPA, so we're going to make it a good one. You can't go wrong with a New England IPA from the aforementioned Foam Brewers, but we've been particularly impressed with Midwest darlings Hacienda Beer Co. It Just Does Weird Things–amazing name–is a wonderful beer, perfectly balanced and expressive with strong citrus notes and a subtle earthiness. This is my ideal poolside beer.
Florence
Hill Farmstead — Greensboro, VT
Wheat Ale– This is our flex pick for the summer. Just about any farmhouse ale from Hill Farmstead would suffice for the summer, but we were particularly enamored of Florence, a Belgian-inspired wheat ale brewed with American and European hops. It's soft, gentle, and beautiful. It tastes like rolling hills and fresh flowers–seriously. Getting a bottle might be a challenge but if you find one, snatch it up immediately.
Pastry Waave!
Humble Sea Brewing Co. + Moksa Brewing Co. — Santa Cruz, CA + Rocklin, CA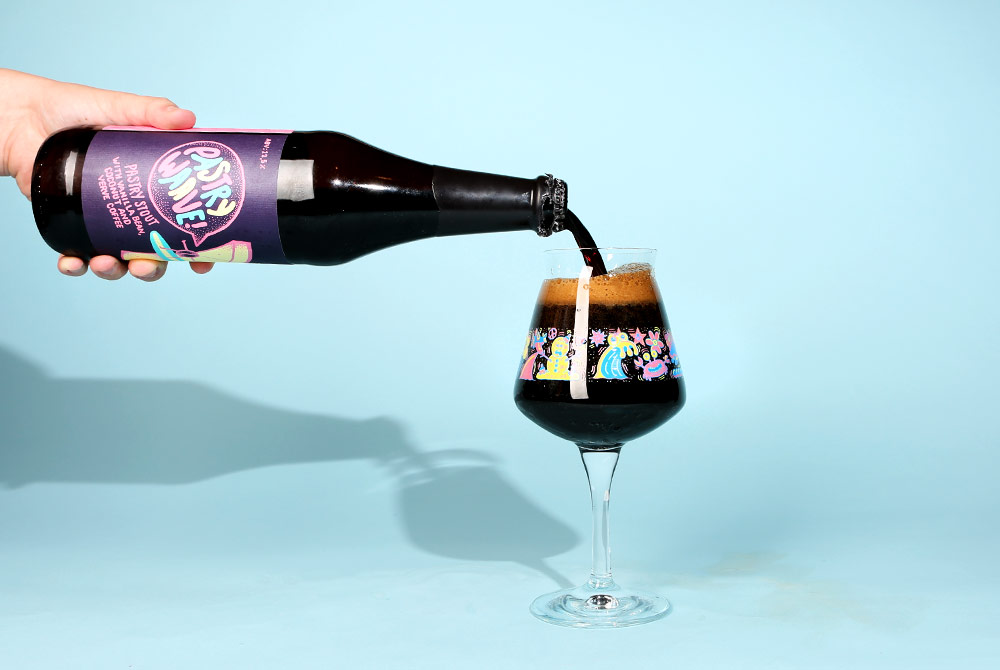 Imperial Stout– Big imperial stouts are typically reserved for the colder months but the kooks at Humble Sea managed to brew a summer pastry stout. Pastry Waave! was brewed with vanilla beans, coconuts, and coffee from Verve Coffee Roasters. The result is a thick, rich stout with huge vanilla and coffee notes and a tropical coconut backbone. After a long day of surfing, split a bottle of Pastry Waave! with some friends alongside pizza.
Keiki No More
Jolly Pumpkin Artisan Ales — Dexter, MI
Saison– This fruited saison from Jolly Pumpkin is overflowing with tropical vibes. Brewed with raspberries and lime juice and then aged in oak barrels, Keiki No More is pleasantly tart and juicy without tasting too much like an overly sweet summer cocktail…though I wouldn't get upset if you added a little umbrella to this one.
News From Nowhere
Modern Times Beer — San Diego, CA
Flanders Red Ale– Modern Times gave a classic beer a modern twist with the addition of boysenberries, peaches, and vanilla. This version of News From Nowhere is bright, acidic, and flavorful. There's a creamy mouthfeel and sweet vanilla note balanced by tart fruit flavors. Save this for the end of the night and surprise your friends with a complex, delicious beer.
Camper's Reserve
Perennial Artisan Ales — St. Louis, MO
Belgian Pale Ale– This is the perfect beer for your summer camping trip. Obviously, bottles are a little harder to transport than a 4-pack of 16 oz. cans, but we recommend going through the effort. Camper's Reserve is an oak-aged Belgian Pale Ale that is fermented with Brettanomyces and dry-hopped with Cascade, Simcoe, and Mt. Hood. It's a beer that echoes West Coast hoppy ales with a decidedly Belgian flavor. It's your reward after a long day of hiking.
Rain
Pure Project Brewing — San Diego, CA
Pilsner– Like a rainstorm after unbearably hot summer days, this German-inspired pilsner from Pure Project is cooling, refreshing, and much-needed. It's not a necessarily sexy beer, but it absolutely gets the job done with a flavorful and crisp malty backbone. Cool off in the dog days of summer with some Rain.
Pineapple Daze
Separatist Beer Project — Easton, PA
Saison– I tend to prefer un-fruited saisons, but Pineapple Daze from Separatist Beer Project captured the perfect amount of pineapple flavor. It was refreshingly tart with a gentle oak flavor. I'd recommend enjoying this beer alongside a light salad or maybe even a pulled pork sandwich.
Lover Boi
Shacksbury Cider + Butch Judy's– Vergennes, VT + Brooklyn, NY
Botanical Cider– Our friends at Shacksbury teamed up with the incredible Brooklyn bar Butch Judy's for a cocktail-inspired cider. Butch Judy's channeled their love of vermouth and blended a Shacksbury barrel-aged cider with botanicals. Folks, this cider is phenomenal. It is a genuinely perfect summer drink with a lovely spritzy effervescence and beautiful herbaceous notes thanks to the addition of hibiscus, mace, and pink peppercorn. Plus that can design has us feeling some type of way. Round out your beer cooler with a pack of Lover Boi.
Small Acts
The Rare Barrel — Berkeley, CA
Grisette– For those who might be wary of intensely sour beers, let me introduce Small Acts from The Rare Barrel. Small Acts, a 4.2% ABV Grisette, is an easy-drinking, tart ale that is prime for summertime. You'll find notes of ripe pear, flowers, and a fresh country breeze. There's a crisp bready structure offset by a light prickly yeast expression.
Cold
TRVE Brewers — Denver, CO
Pilsner– This beer is as straightforward as it gets. The wizards at TRVE Brewers delivered a light and crushable Keller-style pilsner that is perfect all summer long. Cold is a perfect replacement for whatever macro lager might find it's way into your beer cooler this summer. Stock up on 12 oz. cans of cold and enjoy your backyard BBQ in style.
Champagne Velvet
Upland Brewing Co. — Bloomington, IN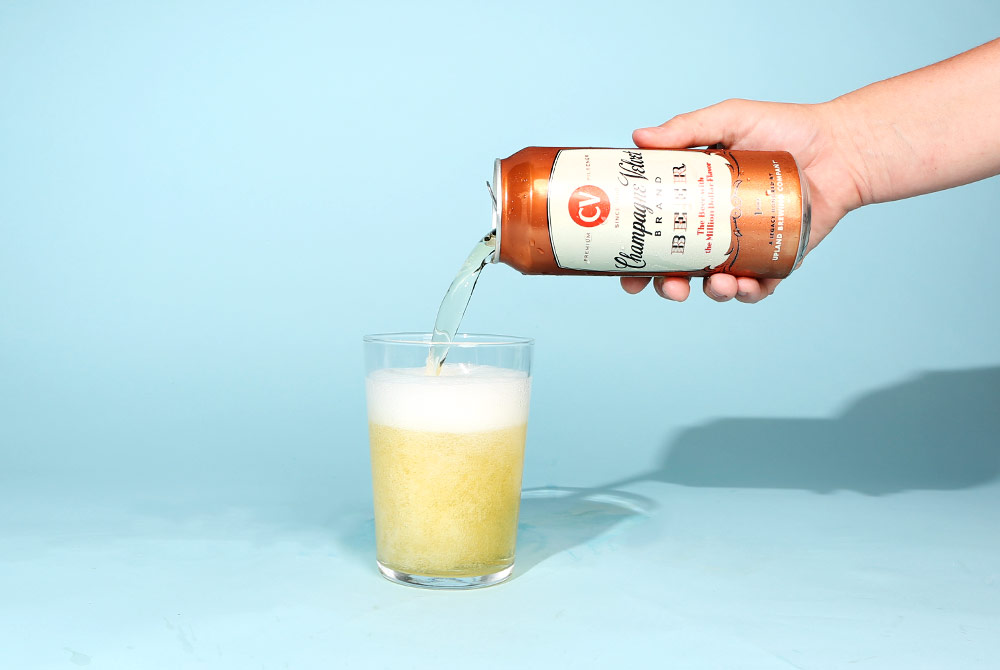 Lager– This is one of my all-time favorite light lagers. It's unfussy, uncomplicated, and delicious. Champagne Velvet, "the beer with the million dollar flavor," is my ideal summer brew. It goes great with lounging in Adirondack chairs or at the beach. The perfect pairing is a loaded hot dog and GoldLink's new album. It's a velvet vibe.
Steel Toed Flip Flops
Wren House Brewing Co. + Mikkeller SD — Phoenix, AZ + San Diego, CA
Imperial Stout– Like our friends at Humble Sea, Wren House achieved the impossible with this beer: A summer stout! Steel Toed Flip Flops, a collaboration with Mikkeller SD, is a big, rich imperial stout aged in Woodford Reserve Double Oak barrels. Surprisingly, there are no adjuncts in this beer; all of the vanilla sweetness and roastiness comes from the base stout and the oak barrels. I wouldn't necessarily recommend bringing this one to the beach, but it makes a great end-of-the-day beverage after you've soaked up some rays.
Lines Dissecting
Yeast of Eden + Council Brewing Co. — Carmel-by-the-Sea, CA + San Diego, CA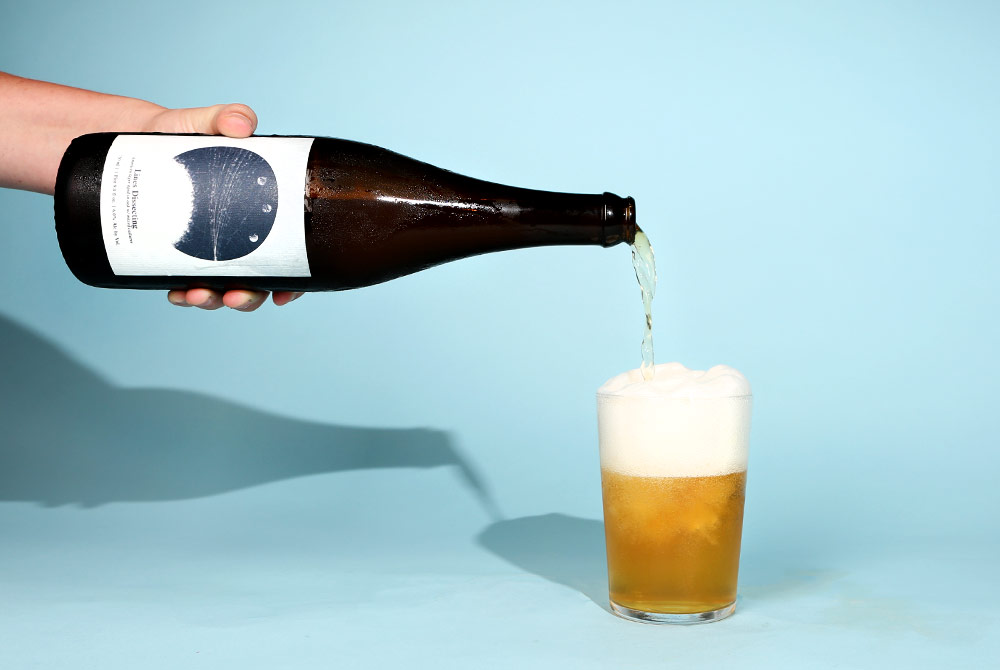 American Lager– This was a superb beer. Yeast of Eden, a side project brewery and restaurant from Alvarado Street, teamed up with Council Brewing to produce Lines Dissecting, an American Lager aged in oak with mixed cultures. The result is a beautiful beverage full of depth and complexity. For those who wish their light lager had more character, this will satisfy you. And if you're mixed-culture beer is a little too nuanced for your liking, enjoy how incredibly refreshing Lines Dissecting is. The blend of tart acidity and bready maltiness works perfectly and makes this beer a phenomenal summer refresher. It's easily one of the best beers we've had this year.
Apres Vous
Zero Gravity Brewing Co. — Burlington, VT
Saison– Après vous š'il vous plaît. This charming beer from Zero Gravity in Burlington, VT brings with it lovely herbaceous notes. Apres Vous is a saison aged in Tom Cat Barr Hill gin barrels and delivers a bright, delightful beverage. You'll find citrus as well as floral and funky notes. I'd suggest bringing this one along on a picnic with a robust cheese plate.
Peaches
Zillicoah Beer Co. + Hi-Wire Brewing — Asheville, NC
Sour Ale– Another oak-aged lagerbier made its way onto this list. Unlike the Yeast of Eden beer, Peaches received a healthy addition of, well, peaches. This collaboration beer from Zillicoah and Hi-Wire, two of Asheville's best breweries, is tart and bursting with fresh peach flavor. It's balanced, refreshing, and vibrant.
Liked this article? Sign up for our newsletter to get the best craft beer writing on the web delivered straight to your inbox.