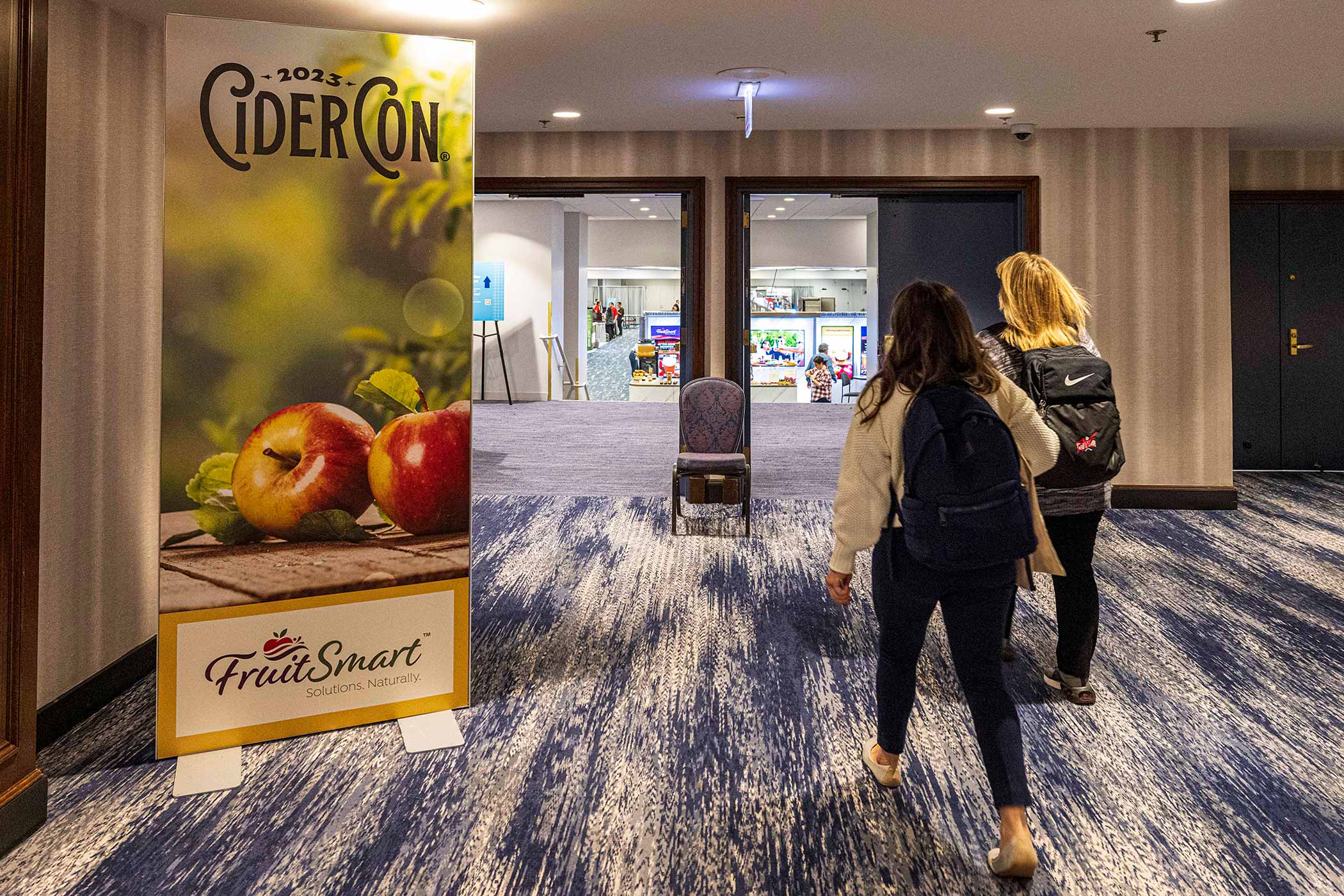 Photography courtesy of Brandon Buza
The 13th annual CiderCon conference took place from January 31st to February 3rd 2023 in Chicago, bringing together cider industry professionals from across North America and beyond to learn, share, and celebrate all things cider and perry.
For the third year, the CiderCon offered a dedicated scholarship program for BIPOC candidates trying to enter the industry, supporting eight candidates of color to attend the event, with sponsorship from Yonder Cider and Beer Kulture.
As one of the eight scholarship recipients and a beer writer, I took a leap from mashing to pressing, offering eight key insights from my first CiderCon experience.
First, What Is CiderCon?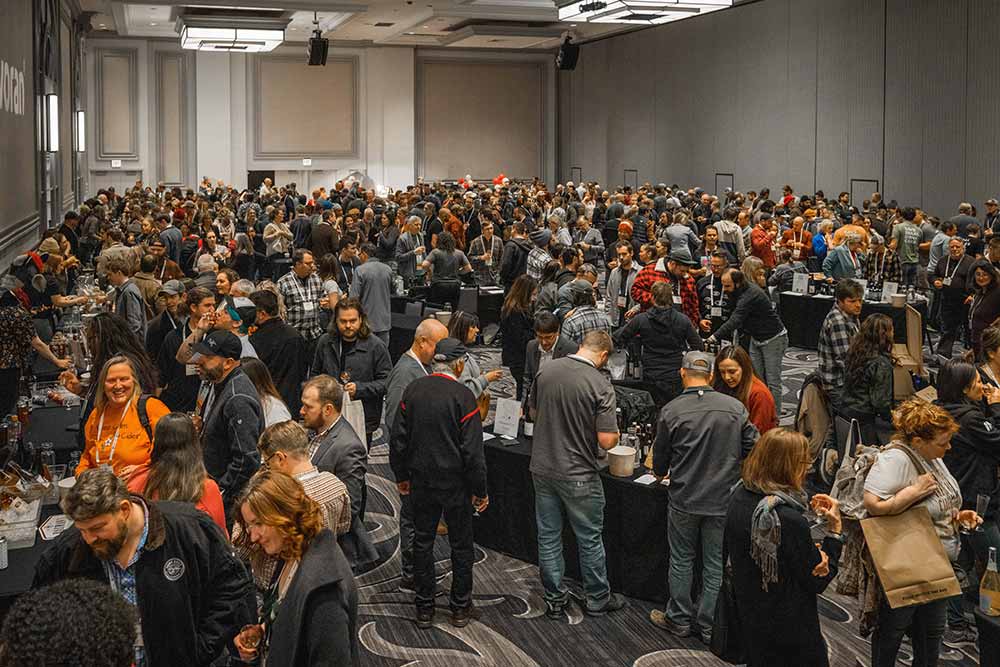 CiderCon is the biggest cider industry event in the U.S., with this year's conference hosting 965 delegates from forty states, and offering thirty-eight panel sessions of cider learning. Although the U.S. craft cider industry is nine times smaller than the craft beer industry (just over 1,000 producers next to just over 9,000), it is a buoyant, passionate space eager to welcome cider newbies.
And How Do Their Scholarships Work?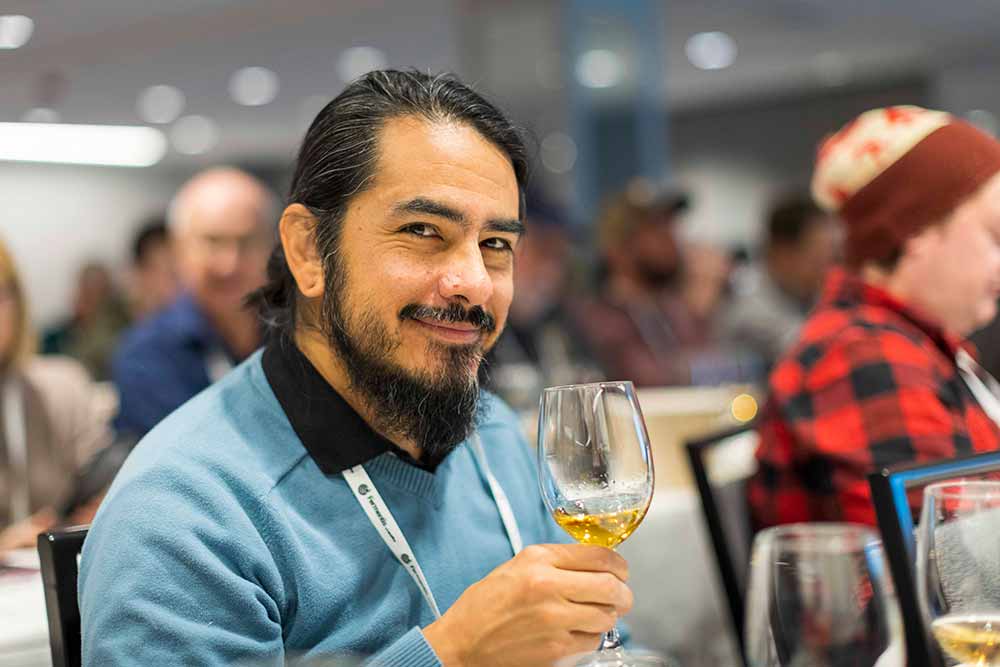 The American Cider Association, hosts of CiderCon, launched their Antiracism, Equity and Inclusion Committee in 2019. The began their BIPOC scholarship scheme at their 2021 virtual conference, continuing it with the return to an in-person format in 2022.
"The U.S. is increasingly multiracial and cider needs to ensure it is a safe and inclusive community to grow with the country's demographics," says ACA executive director Michelle McGrath. "Research shows that diversifying ownership is a pathway to diversifying customers. CiderCon® is an excellent opportunity for new cider professionals to learn about the industry, so we are prioritizing making CiderCon® more representative of the U.S. population as a whole."
Sponsored by Yonder Cider and Beer Kulture, the initiative enabled eight BIPOC candidates who are new to the industry, several of whom have backgrounds in beer, to attend CiderCon and expand their industry knowledge and cider learning.
What Is Diversity in Cider Important?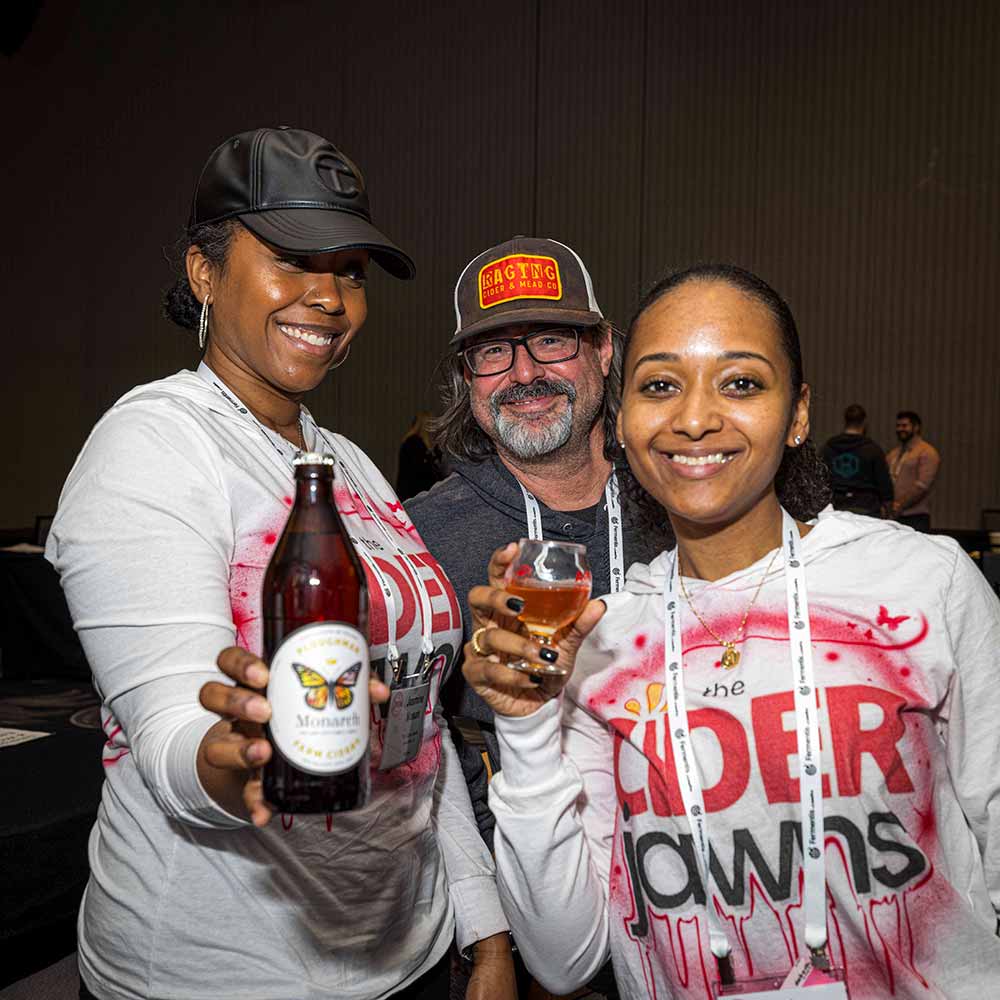 Yonder Cider founder and CEO Caitlin Braam also believes that diversity is key to the success of the cider industry. "This scholarship is really a gift for the cider industry as a whole," she says. "Diversity brings more ideas, new creativity, and broader perspectives, ultimately making a stronger and better cider community."
For Green Bench Brewery and Cidery and Beer Kultuer Vice President Khristopher Johnson, bringing Beer Kulture's mission of equality and accessibility into the cider world has been a natural fit.
"Two of our passions at Beer Kulture are people, and beer. The reason we fell in love with beer was because it's a community focused product that can be shared with others," he says. "Exactly like our exploration into the world of beer, we wanted to bring as many people from as many diverse cultures as possible along for the ride. That's why it was so important for us to get involved with CiderCon and the ACA."
Being offered such a great opportunity to understand the world of cider, this beer writer spent CiderCon soaking up as much cider knowledge as possible, along with a good amount of cider—for context of course.
Here are the eight things I learned about craft cider.
Eight Things a Beer Writer Learned at CiderCon
Cider Is for Beer Drinkers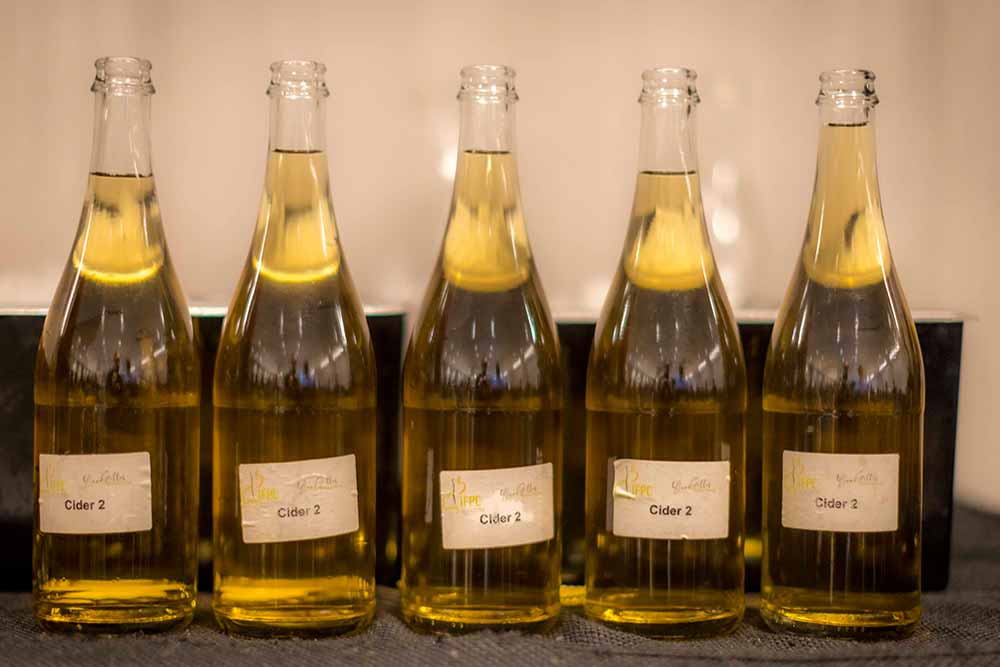 We know cider is made from apples and pears (for the purposes of this article, cider will refer to both ciders and perries). But beyond that, for many beer lovers, our understanding of and appreciation for cider can fall into past associations or stereotypes, the sweet yellow fizz that dominated your student bar or the earthy local fare you picked up on your last camping trip.
Although cider remains a small segment of the U.S. drinks market at approximately 2%, it is growing in both size and sophistication. The number of cideries in the U.S. is up sevenfold since 2011, and cider is now made commercially in all fifty states.
Over 7,500 apple varietals exist in the world, with over 2,500 grown in the U.S. —far beyond the supermarket selection non-cider folks are used to. Many of these are local to particular regions, some are historic heirloom varietals, while others have been purpose-bred like modern hop varietals, all with their own terroir-specific flavors.
Knowledge of the flavor properties of each varietal is crucial to cider makers as they consider the best ways to ferment and blend them to maximize their flavor potential.
While conversations about terroir in beer are becoming increasingly significant as producers and consumers place growing importance on sourcing local, this has always been a crucial factor for cider producers, and one that feeds into many of the key differences between beer and cider.
So for beerfolks ready to make the gentle leap into the world of cider, here are seven points to help guide you on your cider journey.
There Is No Mash, but There Is a Press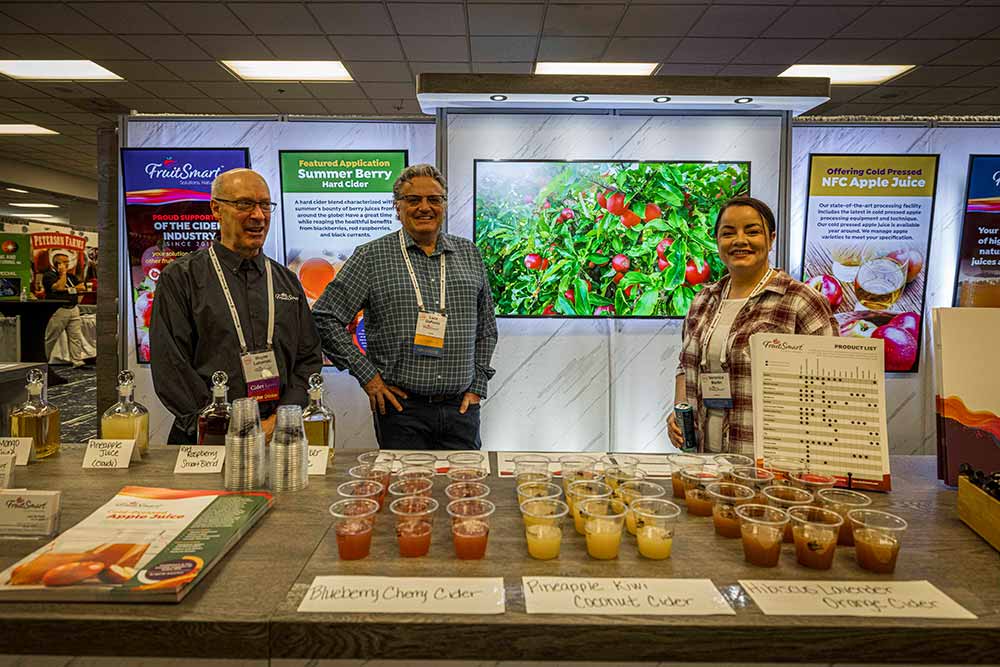 This one sounds obvious.
But understanding the basic mechanics of cider production makes grasping the differences in the way cider is tasted and evaluated, packaged and marketed, a lot clearer.
"I would say the most interesting thing I learned was that cider doesn't have to be brewed,: says BIPOC scholarship recipient and beer professional LaShanda Poteat. "The juice from the apples or pears already has enough sugar to be able to start the fermentation process just by adding the yeast to it."
After harvesting, apples and pears are washed and sorted (culling), milled by machine into a pomace, then pressed, creating juice ready for fermentation full of natural fruit sugars (sucrose).
While there are some single varietal ciders, the majority of ciders are made from blending multiple varietals, which can occur at any stage in the production process. Like pressing, the process of blending likens cider more to wine than beer, but like beer, cider can ferment in tanks and/or barrels, and can also bottle-ferment.
Cider can be still, sparkling—made with added CO2 like beer—or 'pet-nat'—short for pétillant naturel, a cider that is packaged before fermentation is complete so that it retains a small amount of carbonation. While the terminology may sound confusing, tasting a few examples of each style makes them much easier to identify.
A (Slightly) Different Way of Tasting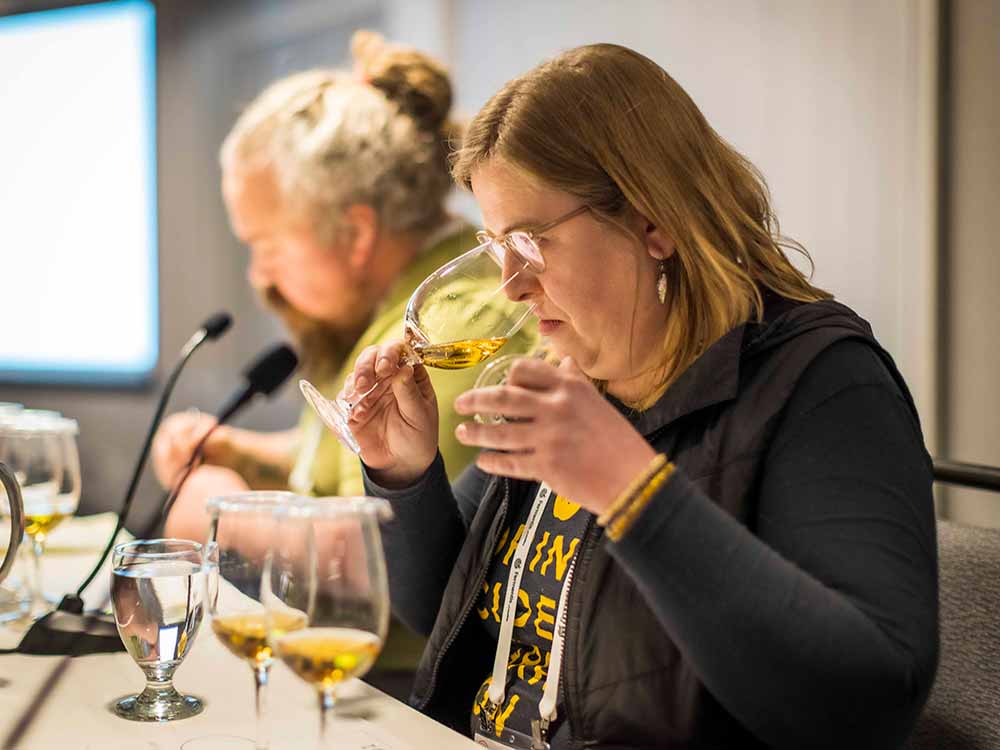 Because cider is produced differently to beer and has different properties, the criteria for tasting also differs somewhat.
Apples are classified by their acidic and tannic content—expressions we come across when tasting beer but are rarely dominant sensations. Ascertaining a cider's level of acid and tannins are key factors in ascribing its identity, along with its sweetness, body, and carbonation levels.
For beer tasters, prioritizing the presence of acids and tannins is the biggest change to your palate. However, as with beer, the fruit, herbal, floral, spice, and other flavors and aromas experienced when tasting a cider are the result of both the ingredients and production methods.
Cider professionals may be able to swiftly ascribe a cider's flavor profile to a particular apple varietal or production method.
Newcomers, on the other hand, can get an adequate understanding of a cider by identifying the most prominent flavor characteristics with the same sniffing and retronasal breathing techniques used when tasting beer.
Color is also judged on a similar scale to beer, while carbonation is either still, sparkling, or 'pet-nat'.
Regulations Around Cider Production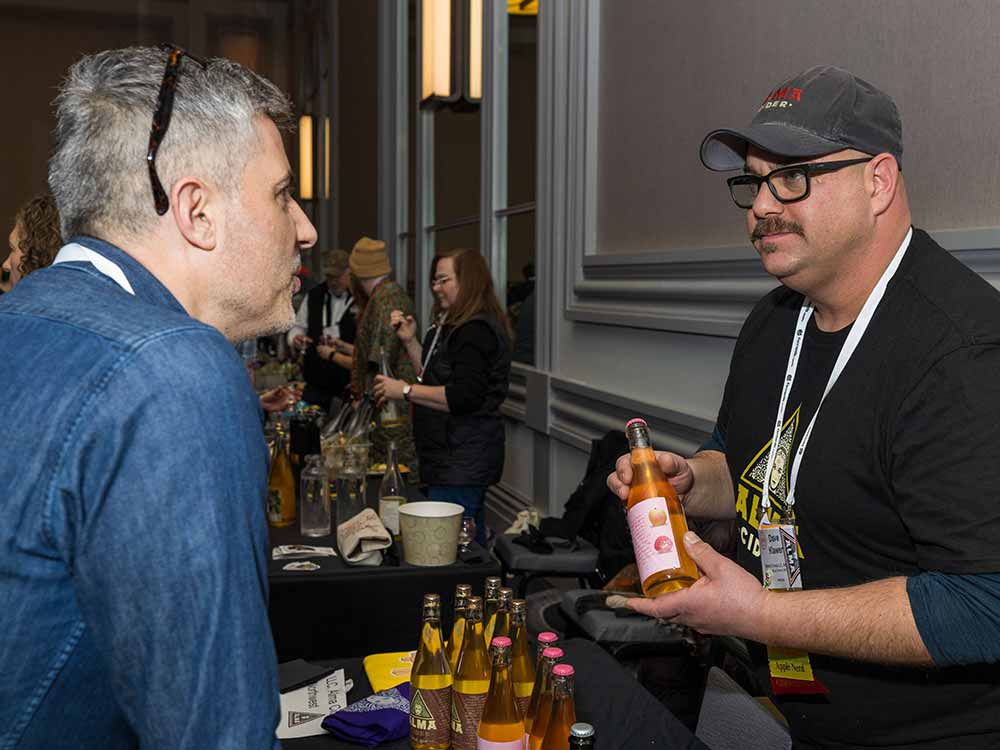 While there are undoubtedly challenging factors affecting brewing and beer distribution, particularly at state and local levels, cider production is also hampered by substantial red tape. These barriers can hold back production, making marketing cider unnecessarily difficult and limiting accessibility and understanding about the product.
Beer and cider writer Beth Demmon, author of the forthcoming book 'The Beer Lover's Guide to Cider, explains the issues cider makers face.
"There are a number of top-level things that need to change for the cider industry to be able to thrive: things like streamlining tax structures, reducing the costs for co-ferments or fruit additions, and adding certain sizes to wine's (and thus cider's) standards of fill."
While issues like bubble taxes and labeling restrictions continue to act as barriers to entry, Demmon believes the industry is heading in the right direction.
"The American Cider Association is making great strides in advocacy, already helping to ease penalties and restrictions on packaging, imperial ciders, and more—their efforts are the domestic cider industry's best chance at success," she says.
Cider Can be Spontaneous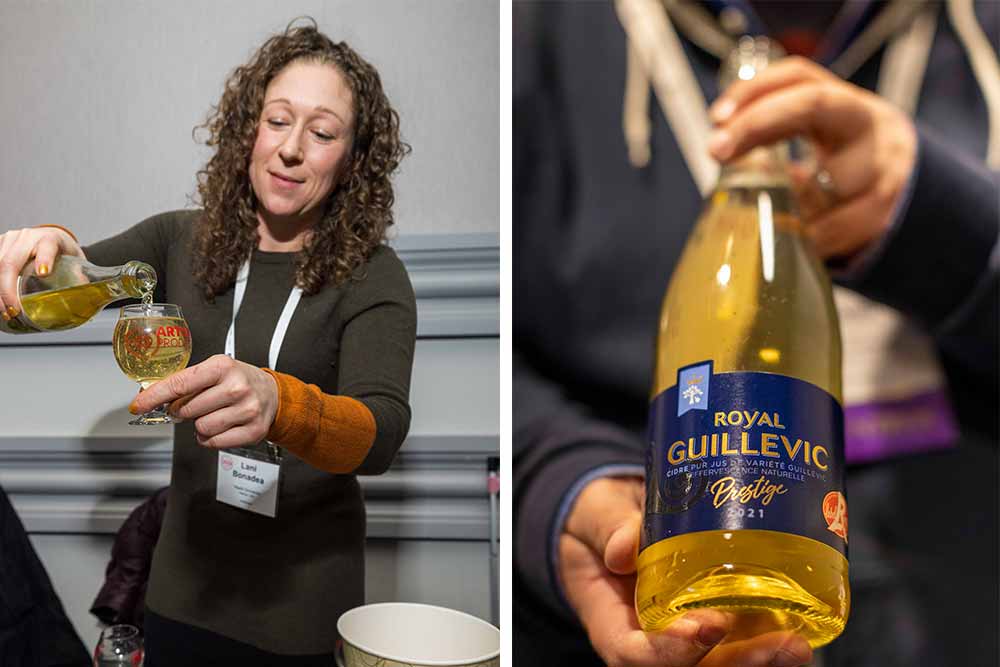 For us wild beer geeks, it's very exciting to know that not only can cider be spontaneously fermented, but that there are even cideries who specialize in funky terroir-yeast-driven ciders.
Cider makers like California's Tilted Shed, Florida's Green Bench, Minnesota's Milk & Honey, and Indiana's Overgrown Orchard specialize in creating ciders that are either fully spontaneous or made with wild/natural yeasts to yield beautiful delicate flavors of live yeast that are similar yet different to the sensations so beloved by wild beer fans.
Often combined with foeder aging and low-to-zero sulfite production, these most natural of ciders form a delectable industry niche that's the perfect gateway for spon-beer lovers.
The tradition of spontaneous cider fermentation comes from traditional French cidermaking, and CiderCon 2023 attendees were treated to a full analysis of how French cider is made by Hugues Guichard from the Institut Français des Productions Cidricoles. His talk was accompanied by two delectable samples of wild French cider—something well worth seeking out for anyone who loves their funk.
The Language Barrier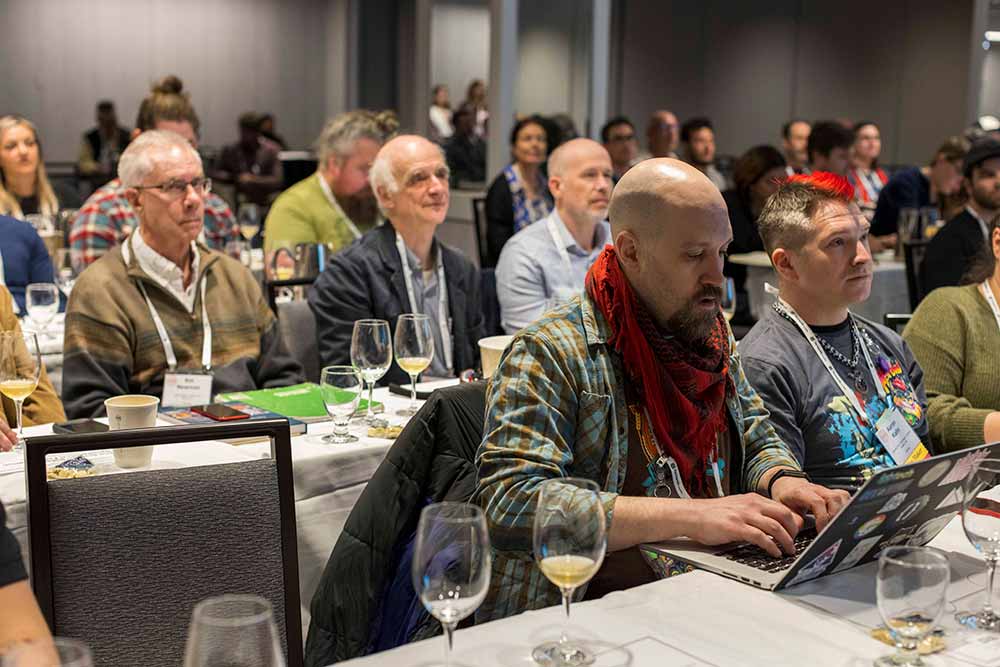 For beer drinkers, hearing terms like bittersweet and bittersharp being thrown around may be confusing and off-putting, as might conversations about keeving and polyphenols. Cracking the terminology of another discipline is always tricky, but beer language isn't as far removed from cider language as it may initially seem.
When describing cider people select a level of sweetness out of the four designated terms—sweet, semi-sweet, semi-dry and dry. You might feel anxiety about getting it wrong. But many of the same off flavors occur in both beverages and are described in similar language, as are the properties bestowed by wild yeast and Brett.
And while there is a bit of a learning curve, the cider community is happy to share knowledge and answer questions to help grow their ranks. Even among cider makers, there can be confusion about the meaning of particular terminology, which is why the American Cider Association has brought in its Certified Cider Professional and Certified Pommelier exams to help create a more clear and universal cider vocabulary.
However, as with craft beer, the best way to learn the language of cider is to keep trying it and asking questions.
How Cider Is Judged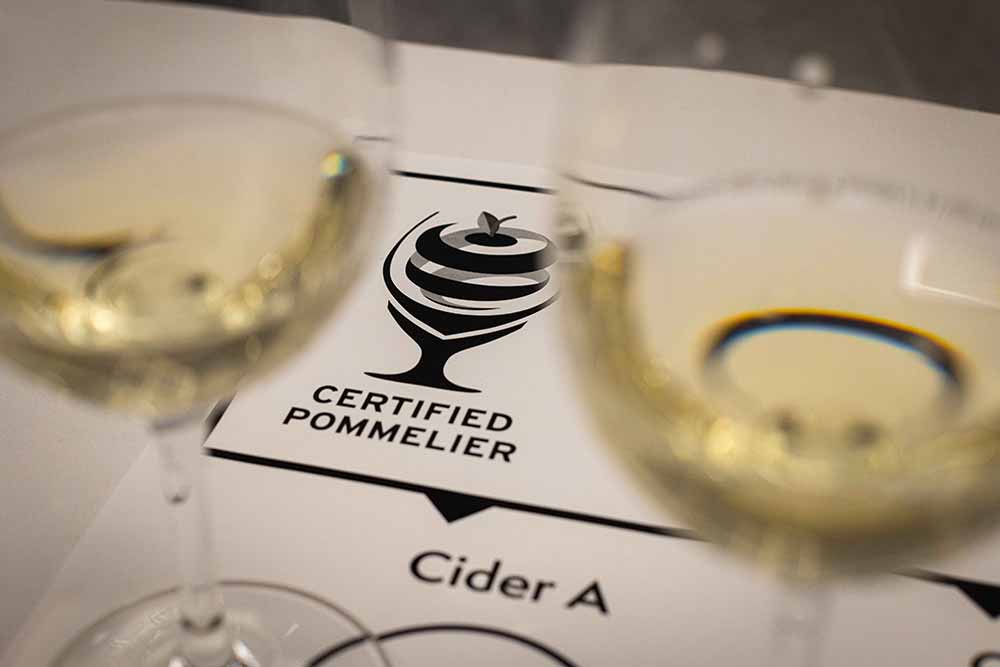 Studying for a Cicerone or BJCP qualification requires learning the parameters of different beer styles— the key characteristics expected from a good example of style, as well as identifying off flavors. While there are certain similarities, cider is evaluated a little differently. If you're thinking about taking the Certified Pommelier exam, there are a few key points to bear in mind.
As cider author, educator, and judge Darlene Hayes explains, "With both [beer and cider] you are evaluating elements like appearance, aroma, and flavor, but with cider you give more consideration to some of the basic structural elements like levels of sweetness, acidity, and tannin, and how those all balance with one another."
Ciders aren't divided into specific style brackets but rather judged universally. This can be a bit of a learning curve for beer judges, but this comes from the nature of cider production.
As Hayes explains, "The fundamental character of a cider begins with the fruit—the variety and how and where it is grown. To many, the cidermaking is all about capturing that character and not about manipulating it to fit with some predefined style."
Flexibility in Flavor (Desire to Learn From Other Beverages)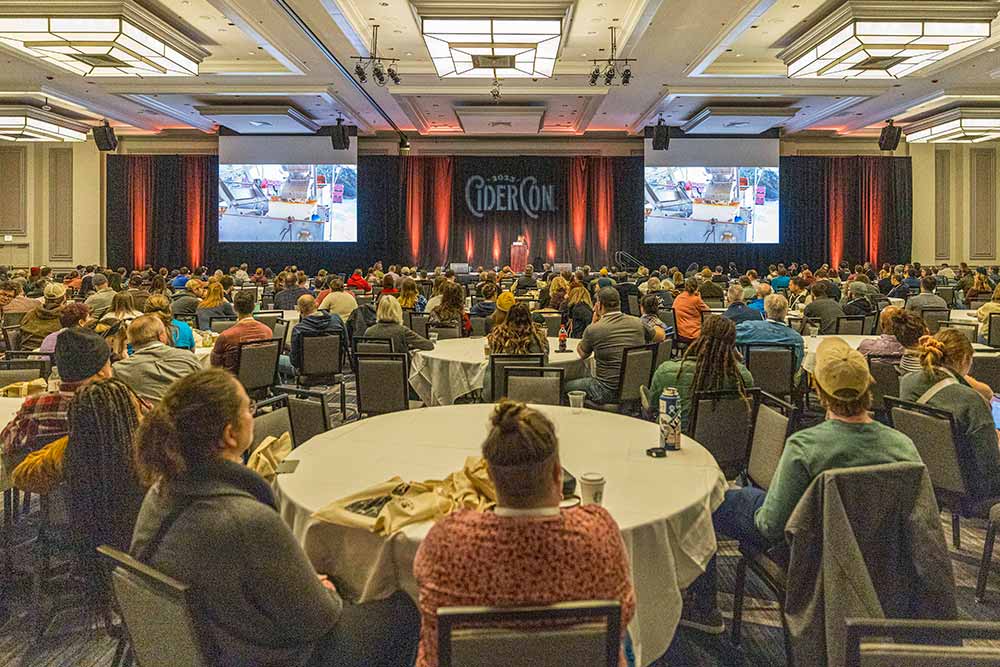 Cider is an agile industry with the scope to adapt its many different styles to appeal to a broad range of drinkers, including beer lovers.
Bryan Roth, analyst with Feel Goods Company, a full-definition beverage development studio presentation, gave a CiderCon presentation specifically to tap into the potential this offers the industry. The Cider-Only Consumer No Longer Exists offered precise and perceptive insights into how cider makers can capitalize on the growing market of cross-category drinkers who prioritize flavor profile rather than type of alcohol.
"Flavor-driven brands are what's thriving across all categories, whether you look at beer, wine, spirits, and even cider," says Roth. "As people look for new kinds of flavor experiences, cider has a fun advantage of being able to play on expectations and show drinkers it's not just an apple-based monolith."
Roth highlighted key growth stats, such as the nineteen percent increase in cider consumption among weekly drinkers of alcohol from 2019 to 2022, emphasizing that the industry has the capacity to evolve to meet consumers whose drinking habits are changing, with contemporary cider now offering a wealth of different flavor experiences to whet the palates of flavor-focused beer drinkers.