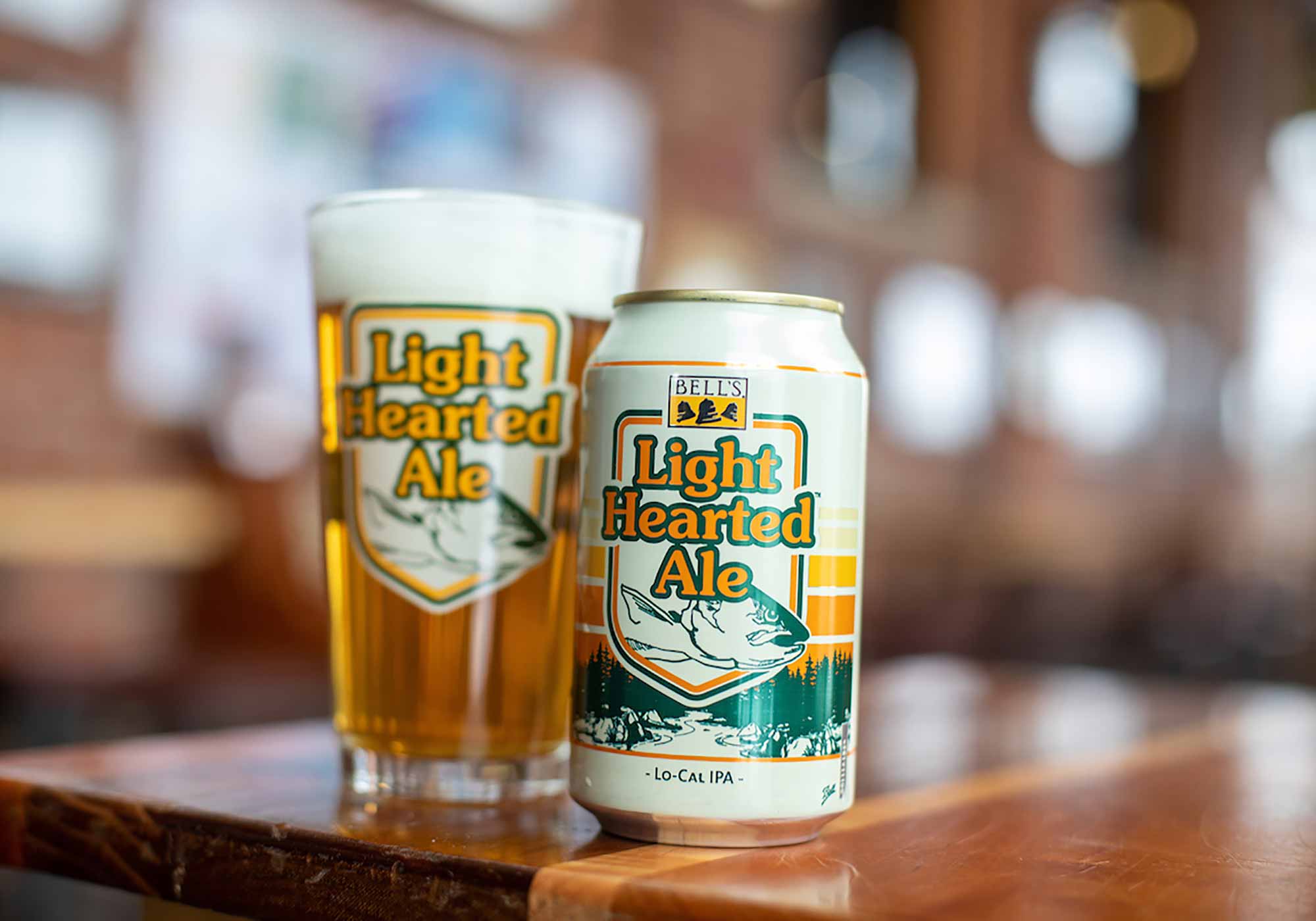 Photography courtesy of Bell's Brewery
In 1997, Bell's Brewery debuted its now-iconic Two Hearted Ale. Over the years, the tremendously successful American IPA has won numerous awards, including four straight years as Zymurgy Magazine's "Best Beer In America." In January 2020, Bell's launched Light Hearted Ale, a low-cal, low-ABV session IPA inspired by Two Hearted. At only 100 calories, 8.7 grams of carbs, and 3.7% ABV, the newest addition to the heralded Hearted IPA family retains all the hallmark flavor and quality one might expect from Two Hearted but in a lighter package.
Why Is Bell's Brewery Making a Low-Cal IPA?
When you think of Bell's Brewery, you might not necessarily think about a better-for-you IPA. In fact, the 36-year-old Michigan-based brewery has made a name for itself by brewing hop-forward, well-balanced beers. But, the Bell's team saw a trend in the market and an open space in its portfolio for something lighter.
Andy Farrell, Brewing Innovation Manager at Bell's, notes that in 2019 the industry saw a lot of innovation around flavorful, better-for-you beverages.
"We doubled down on who we are and what we love about beer," says Farrell. "We love ingredients, raw materials, and making really flavorful beer. Another hallmark of Bell's beer is balance, so with Light Hearted we were really trying to maintain balance and have impactful hop aromatics that made an overall flavorful beer."
From conception to shelf, it took Farrell and his team over a year to bring Light Hearted to life. The biggest challenge with low-ABV beer is that highlighting a light beer matrix often leads to reduced flavor. To avoid this, Farrell made intentional choices about Light Hearted's ingredients.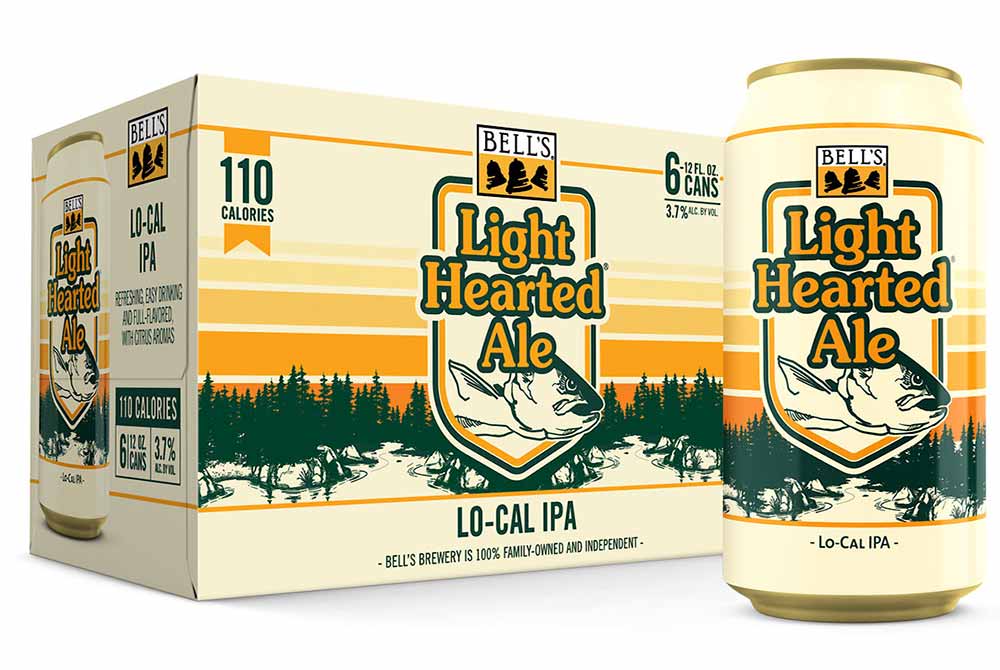 "I couldn't wrap my head around something that didn't incorporate Centennial," says Farrell, who conceptualized Light Hearted as a hundred percent, Centennial-hopped beer. But as Farrell and his team started brewing initial test batches, they quickly realized that Light Hearted would need something more.
So while their original recipes focused on a "mini Two Hearted" that simply cut all the current Two Hearted ingredient amounts in half, Farrell and the team eventually experimented with other hops.
"We found that playing with some more modern hop varieties brightened up the profile," says Farrell, who settled on Galaxy for its tropical, stone fruit, and citrus notes.
The combination of hops brings an intense fruitiness to the beer. However, the blend of specialty malts adds depth to the body. To develop a strong backbone, Farrell created a malt bill that includes Two Row malt, Munich malt, C-40 malt, and Pale Ale malt.
Interestingly, Munich malt isn't included in the original Two Hearted recipe, but the grain offers Light Hearted a strong foundation necessary in a lighter beer.
"John Mallett [VP of Operations at Bell's] and I always talk about light beers and the hollow middle," says Farrell. "With many light beers there is a component that's kind of hard to put into words, but you notice when it's not there and it's not inherent in stronger beers."
How Does Bell's Brew a Lighter, Low-Cal Craft Beer?
The short answer? Through experimentation.
"One thing I can promise you is that we didn't underthink this beer," jokes Farrell.
From a technical standpoint, there are many ways brewers can lower the ABV and calorie count in a beer. For Bell's, it was important to stay true to their identity, so they ignored techniques that cut ABV through added enzymes or backsweetening.
For Farrell, it came down to the mash tun and developing the right profile that would hit the targets they had set for themselves.
"Through the innovation process we tried to understand where the cut-off was for us and where we felt like we could deliver the flavor experience customers expect from our beers while also driving this innovation," says Farrell. "We went through the process with an open mind and critically assessed along the way."
Over the course of several batches on Bell's pilot system, Farrell found that Light Hearted fermented a lot more quickly than other Bell's beers. As a result, the timing for dry hopping Light Hearted was off. According to Farrell, it was actually during a sensory session that one of his tech brewers suggested they push forward the time they dry hop Light Hearted during fermentation.
"It was an incredibly good insight," says Farrell. "We adjusted the timing and the next time we brewed the beer it tasted better."
This delicate balancing act became essential to perfecting Light Hearted.
"We took many cracks at it," says Farrell. "There were always elements of good beer there the whole time. It just took us working through everything to make sure we had the essential balance to create a good consumer experience."
What Is the Verdict on Bell's Light Hearted?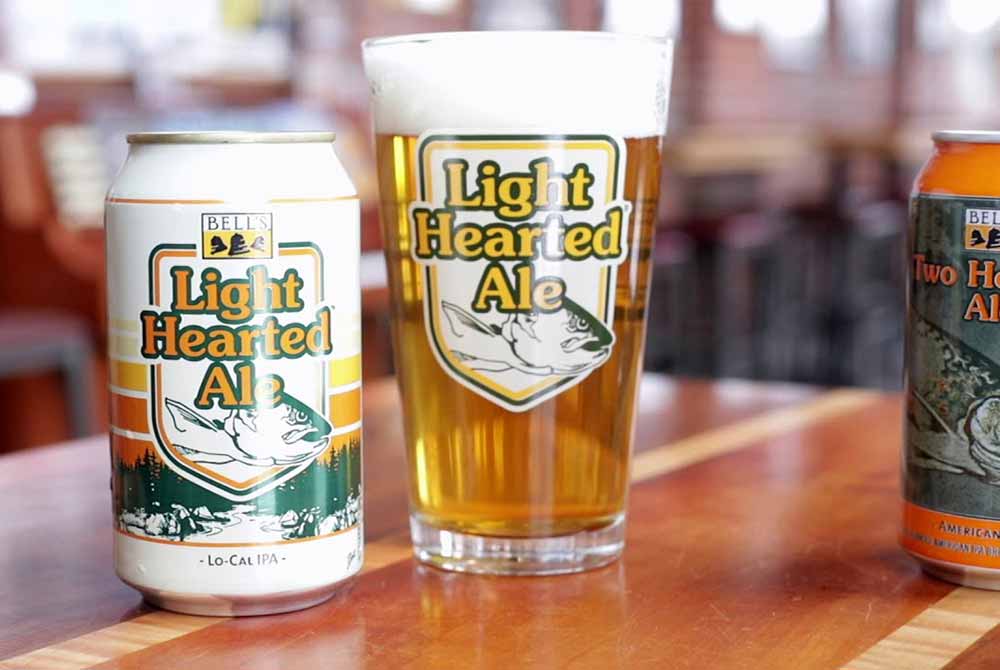 You'd be hard-pressed to know Light Hearted cuts on the calories because the amped-up flavor punches harder than a lot of other sub-100 calorie beers. In every sip, a balance of citrus, floral, pine and malt.
"The first thing you smell in the glass should be vibrant hops," says Farrell. "You have some of those classic hop notes with a little citrus, light peach, and some floral notes in the background."
The specialty malt bill rounds out the body and delivers a robust mouthfeel. The beer finishes crisp and clean.
If you're looking to drink a couple of IPAs on the weekend by the pool, in the backyard for a barbecue, on the beach for a holiday, or while mowing the lawn, Light Hearted should be in your rotation. It's the incredibly easy-drinking, refreshing beer that just crushes summer.
Where To Buy Bell's Low-Cal Light-Hearted IPA
If you're looking to stock up on Bell's Light Hearted IPA, you can find it in 6-packs, 12-packs, 19 oz cans, and on draft throughout the Bell's distribution footprint. Check out their beer finder at bellsbeer.com/find
This is a paid, sponsored post presented by Bell's Brewery.
Liked this article? Sign up for our newsletter to get the best craft beer writing on the web delivered straight to your inbox.