Flowers budding, sun shining, snow melting, baseball bats cracking. And, Bell's Brewery Oberon flowing.
Certainly for those in Michigan and now for people around the country, the release of one of Bell's most popular seasonal beers signifies the first signs of spring.
For now almost 29 years when spring rolls around, the revered brewery in Kalamazoo and Comstock, MI shakes the snow from its boots, stows aways its shovels, stores its winter jackets, and prepares for Oberon Day, the official release day of Bell's Oberon, an American Wheat Beer synonymous with sunshine in a glass.
In fact Larry Bell, President and founder of Bell's Brewery, originally named the beer Solsun to reflect his desire to create the perfect summer beer, pulling on inspiration from Belgian saisons.
Looking back on almost three decades of this revered Bell's beer illuminates a journey at times as difficult as a Great Lakes region winter.
But, just like with every year as we and life around us emerge from the dark winter months alive and excited for the warmer times ahead, Oberon has survived and endured, becoming more than a brand, but a symbol for spring and the coming summer.
From Solsun to Oberon: The Beginning of This Belgian-inspired Beer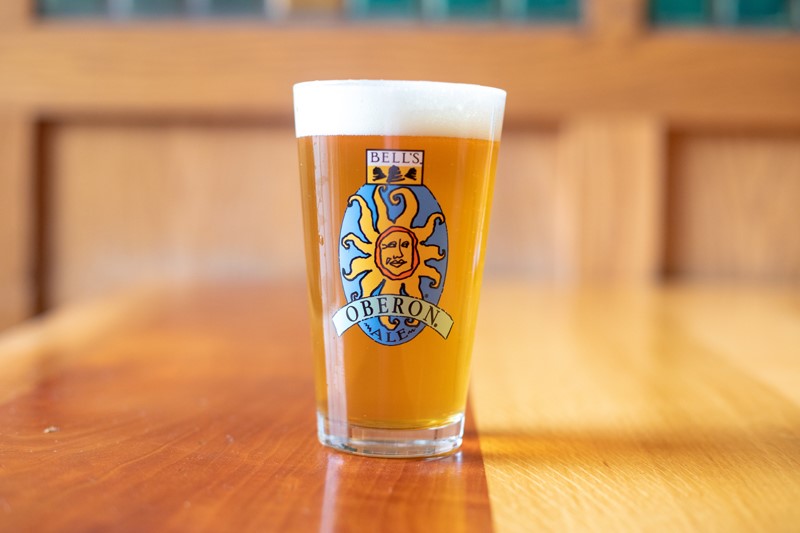 When Larry Bell first brewed Solsun, the original name of Oberon, in 1992 the beer style was something of an anomaly.
During the 1990s most breweries in America focused on reproducing English styles of beer because they were easier to make and required less equipment. Bell wanted Oberon to be different.
Motivated by the Belgian tradition of making lighter beers for farmers to drink in their field, Bell set out to make a refreshing summer beer.
Solsun took inspiration from the word saison, using Belgian malt and German hops, but added American yeast to craft a completely unique, cloudy wheat beer.
"I wanted to do something inspired by Belgian brews but dialed in for Americans [because] there wasn't much in the way of anyone doing anything Belgian-wise, that was pretty exotic," says Bell, who notes he designed Oberon at 5.8% ABV to be lighter than what Belgian's traditionally brew, but still pretty firm.
At the time Bell wasn't sure that this type of style would catch on. "I thought Americans would say it's cloudy and something is wrong," says Bell. But, the brewery had finally started to gain traction and Bell felt that he could experiment a bit.
"I had my legs under me and Bell's was starting to become profitable, so I felt like I could stretch a bit more," says Bell.
And, lo and behold the experiment paid off and the cloudy wheat beer caught on.
"It just became this juggernaut that took on a life of its own…especially in Michigan where we have long arduous winters. When Oberon came out [in the spring] people saw it as a celebration of having survived winter and summer coming," says Bell.
With that goal for Oberon to celebrate the first few days of spring and welcome the upcoming summer, Bell carried the theme across the name and the logo. An avid collector of carvings and masks, Bell had been inspired by a sculpture he found in the Muir Woods National Monument while visiting California in 1990 to give a speech at The American Homebrewers Association's National Homebrewers Conference. He bought a piece of art carved by the artist Tracey Allenberg from a fallen piece of redwood. "I had the artist take the face of the carving and insert it into the sun," says Bell.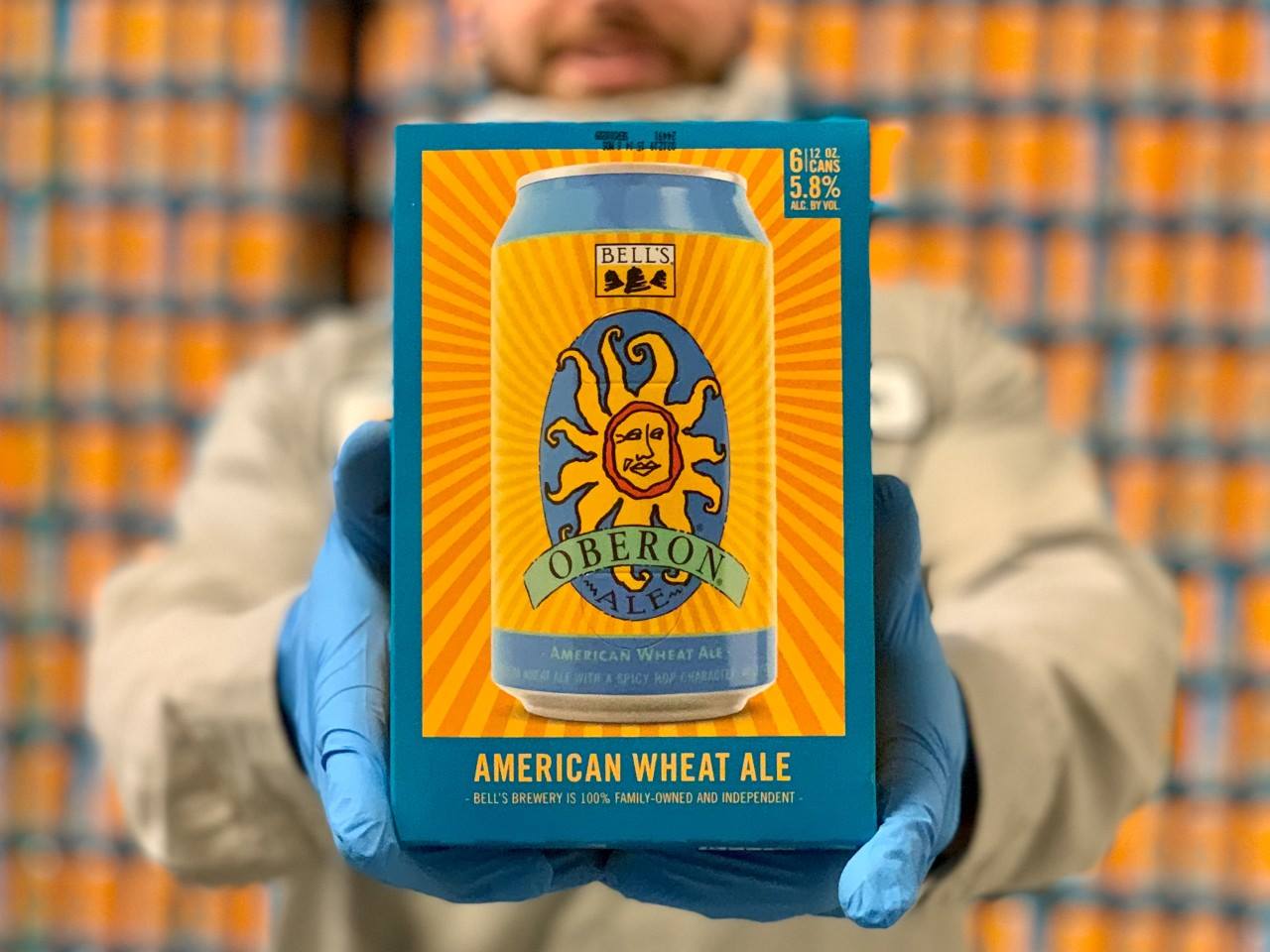 Actually, it's that iconic sunny logo and a little unintended help from the local sorority that skyrocketed Bell's Oberon into the national spotlight.
As the story goes in 1996 one of the sororities over at Western Michigan took the assertively sunny then-Solsun logo and slapped it on a t-shirt, printing 600 to give out during their rush ceremonies. "That was the moment things jumped the shark," says Bell.
Bell realized that he needed to trademark the Solsun name. When he filed the papers a big brewery called Cervecería Cuauhtémoc Moctezuma, which brewed a flagship beer called El Sol (the sun), caught wind of Solsun. The brewery opposed the trademark because the name sounded too similar to their own beer. Bell's lawyer suggested that instead of spending millions of dollars fighting a much bigger and older brewery for naming rights, he simply change the moniker.
Renaming the beer to Oberon, Bell kept the spring theme by giving a nod to the King of the Fairies character in William Shakespeare's A Midsummer Night's Dream, a role he'd actually played in his sixth-grade rendition of the play.
Under a new name, but with the same sunny vibes, the beer continued to shine brighter each and every spring.
Michigan's Official Beer of Spring and Summer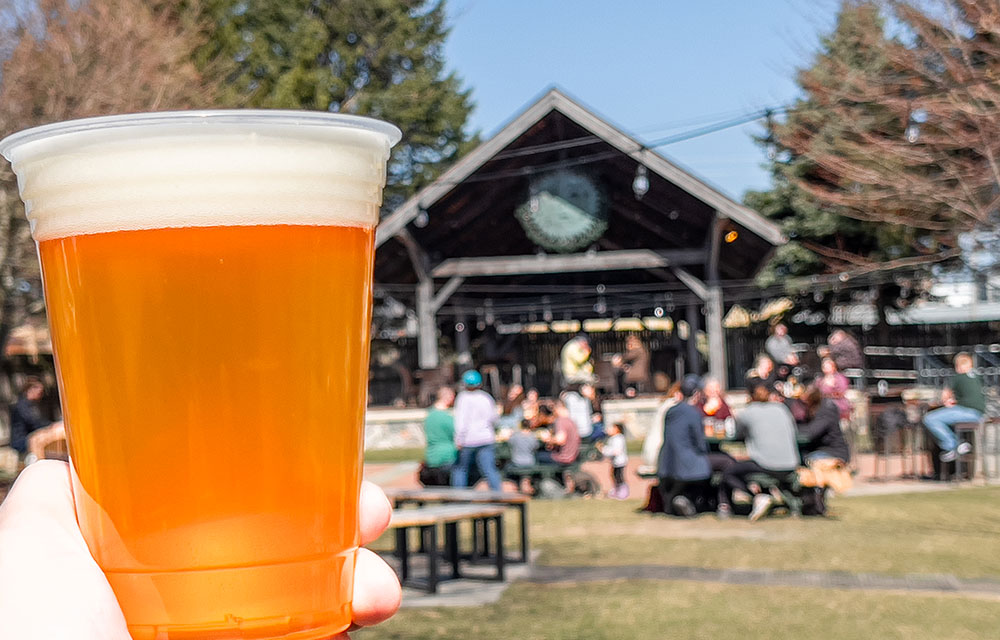 Bell's Brewery as a whole has become synonymous with local craft beer in Michigan. Which certainly helped Oberon grow. But it was also Oberon's reputation as the spring and summer beer that fueled its rise to stardom.
"Oberon marks the first sign of spring for us Michiganders, we made it through another winter and spring is here now," says Amy Richards, the Key Partnerships and Promotions Manager at Bell's, who actually started working as a beer-tender at Bell's Eccentric Café in 2001, "Oberon means sunny days with friends, beach days, floats down the river, grilling out in the backyard, playing bags on a summer day, music in the beer garden, festivals, and just about every activity you could do in the summer months with a cold beer."
It's a sentiment that many people around Michigan share.
"I would often grab one or two [Oberons] after work and head out to catch up with my friends. It's the perfect bonfire beer," says Shelly Claflin, the Tour Manager at Bell's. "Oberon means a new beginning."
Beyond just the turning of the seasons, the release of Oberon every March also coincides with the beginning of Major Leagues Baseball.
An avid baseball fan, Bell loves to not only enjoy an Oberon or two in Northern Michigan in the summer, but also at Wrigley Field in Chicago, IL. Actually, he lives just a four-block walk from the Cubs home stadium.
For him, Oberon connects to not only spring and the beginning of warmer, sunny days ahead, but also to baseball. Sitting in the bar after a baseball game is one of Bell's favorite places to enjoy an Oberon.
"When I think of summer…I go over to Wrigley Field in Chicago," says Bell. "After the game, I go to The GMan Tavern right by the field [for an Oberon]. In the late afternoon, the sun hits the windows on the building across the way and shines into the bar. It will light up your Oberon."
Plus, it's the perfect baseball beer. "It's solid enough to know you're drinking a good beer, but not so strong that you miss the seventh-inning stretch," says Bell.
While everyone has their own favorite place or way to drink Oberon, whether out on the trail, building a bonfire at the beach, or sitting back at a baseball game, this beer unequivocally has come to represent the changing of the seasons. In fact, the release of Oberon every March reached such a frenzy over the years that Bell and his team decided to dedicate a signle day to the release of the beer. Oberon Day has become almost like an unofficial holiday in Michigan.
Oberon Opening Day: An Unofficial National Holiday
Despite being only a seasonal beer for Bell's, Oberon's popularity has grown exponentially year after year.
Currently, both Bell's Two Hearted, a year-round American-style IPA, and Oberon make up 80 percent of Bell's annual production. Which is pretty incredible considering Oberon is only a seasonal beer available for six months out of the year. And, during the summer months in Michigan, Oberon holds the top spot as the brewery's number one selling beer.
To match the frenzy and celebrate the launch of the seasonal beer, Bell's began hosting annual parties on Oberon's release day, normally in March around Major League Baseball's official Opening Day.
Oberon Day became an ode to the beer's release and a celebration of spring.
"I call Oberon the national beer of Michigan," says Bell, who actually talked to the governor of Michigan about naming the release day of Oberon a national holiday. Although there hasn't been an official designation, Bell's aficionados now look forward to the unofficial holiday every year for its midnight tappings, vibrant parties, and signal to start emerging from hibernation.
Of course, this year things looked a little different.
Because of the COVID-19 pandemic, Bell's couldn't host their traditional celebrations this past March. But they still found a way to revere the tradition, welcoming people to enjoy freshly tapped Oberon at the Eccentric Café Beer Garden with limited capacity while following strict social distancing and safety practices. Additionally, the brewery hosted a virtual event called Wake Up! with Oberon, which included a coast-to-coast virtual toast, and interviews with an all-star line-up of guests including Bell himself.
"[This year] we needed to find a way to encourage people to celebrate safely at home, especially our locals who would have descended upon the Cafe like a massive flock of migrating birds following the sun," says Claflin, who remembers that in 2019 they blew through 90 half-barrels of Oberon in just one day!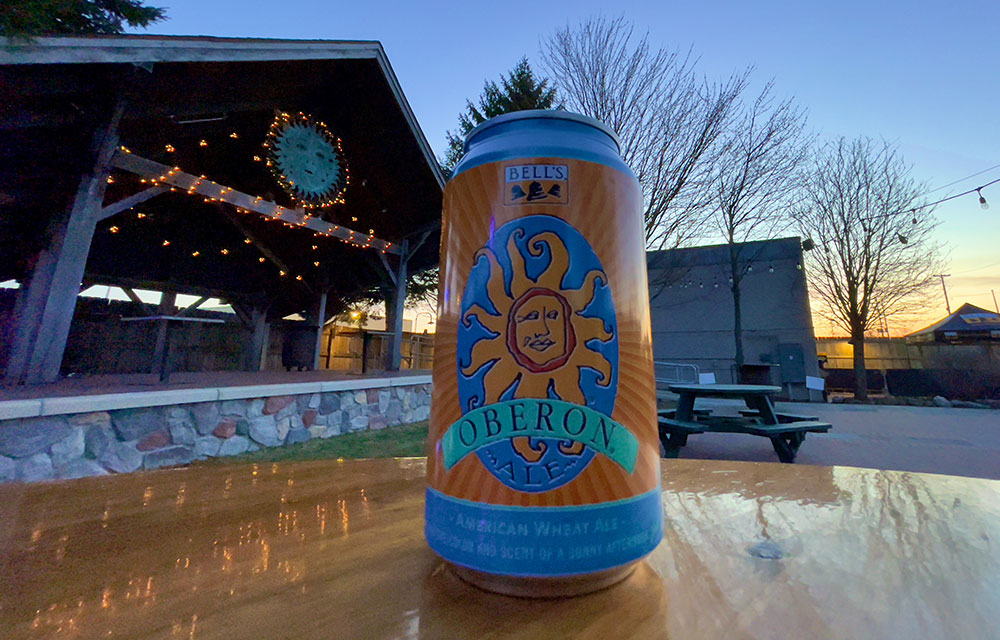 Going even further, Wake Up! with Oberon opened up the doors for people across the country to tune in.
"Nothing beats being crowned King or Queen of Oberon at midnight after you sang your heart out to a room full of strangers, but maybe you aren't anywhere near Kalamazoo, or Michigan for that matter, and you still got to tune in and hang out with us," says Richards, who notes that over 1,000 people joined them online.
In addition to a unique virtual celebration this year, the brewery also announced a new partnership with the North Country Trail Association (NCTA).
Creating a special design for its five-liter Oberon mini-keg, Bell teamed up with NCTA to help support and promote America's longest scenic trail – the largest section of which passes through Michigan and the heart of Kalamazoo. The trail's 1150 miles are perfect for hiking and adventuring. And while Bell has been a supporter of the path for many years, he never found the time to actually hit the trail.
Until last year.
In 2020, Bell had, what he calls, a cancer event. "It was sobering," says Bell, who took a look at things and thought he'd better start getting out and hiking. His long walks helped him get his mind off his health issues and get outside for some exercise. During a year that saw most people confined to their apartments as the COVID-19 global pandemic forced city shutdowns across the country, having an outlet to get outside proved essential.
This year, Bell has pledged that he'll walk 250 miles of the trail and donate a portion of the proceeds from the NCTA designed Oberon mini keg to the eponymous organization. "I'm not going to get any younger, " laughs Bell. "I have no padding left in my feet and my knees are getting old and creaky, so before the years roll up too much I have to get out there!" Bell has already racked up 25 miles in January and has hikes planned throughout March and April.
While certainly not a normal year for an Oberon release by any means, the brand continues to burn bright and Bell is optimistic that next year everyone will be back out together in full force.
"I hope Oberon represents hope and celebration….this summer we can toast an Oberon in person with our friends and families and know that we have found a light at the end of this very long tunnel," says Richards.
What is the Future for Oberon?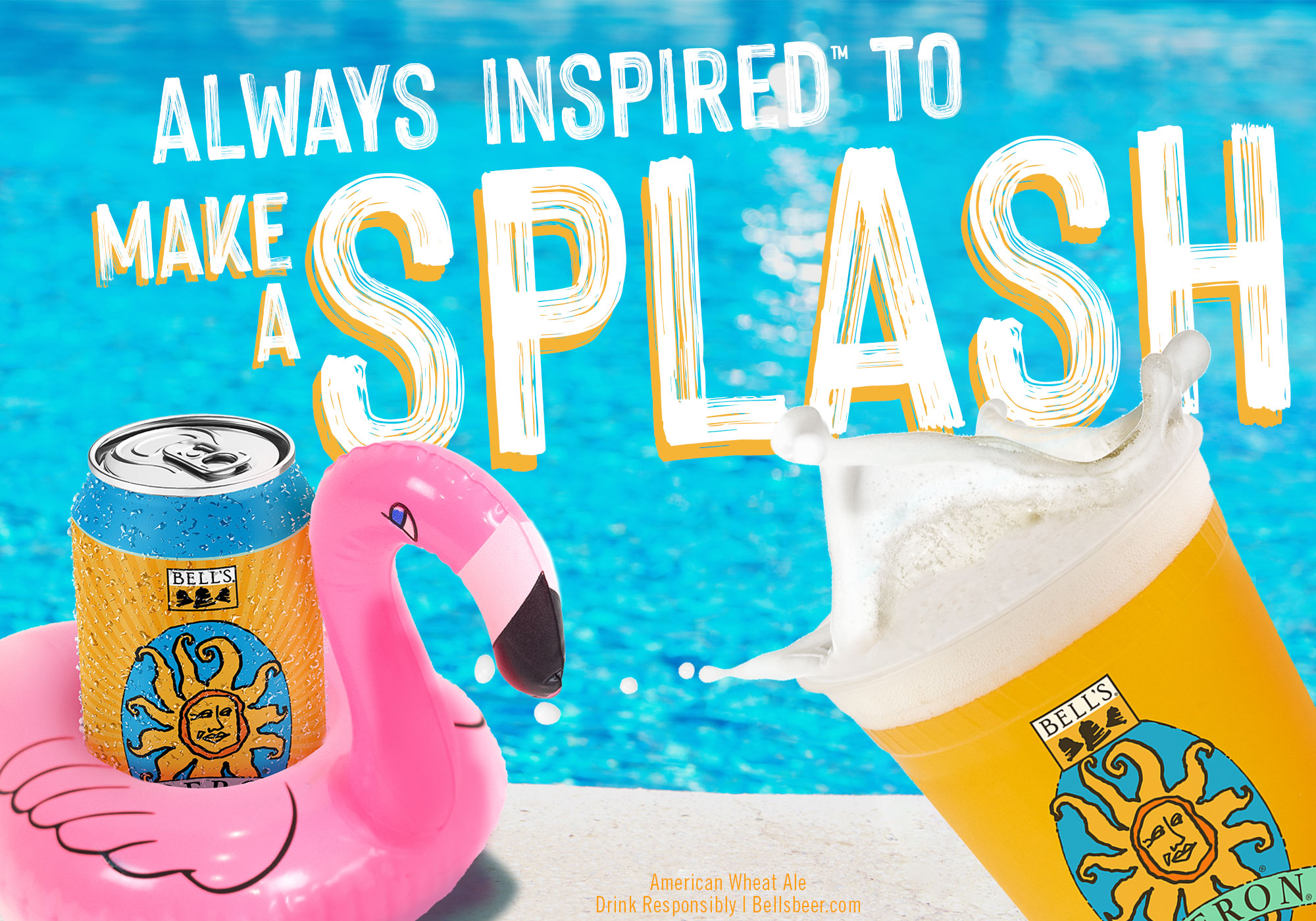 Oberon already has its place in Bell's and Michigan craft beer fans' hearts, but Bell says there are still potential innovations coming down the line.
The staff has come up with some fun variants from Cherry Oberon to Mango Habanero Oberon that are available in Bell's General Store.
In the mid-2000s, Bell's made Überon, a whiskey barrel-aged version of Oberon, so Bell half-jokes that, "Five years from now we might be talking about the non-alcoholic version called Soberon."
But, for the most part, the beer that's become the backbone of Bell's portfolio will stay the course.
"We're just going to continue to give all the love we can to that brand….and hope that we can make the next generation of beer drinkers happy and show them the enjoyment that comes along with that beer," says Bell.
Whether a revolutionary style of its time, the centerpiece of an unofficial holiday, a sign of spring, or a beacon of hope for the future, Oberon is perhaps best described by Bell with three simple words: "Sunny summer afternoon."
And, if you're looking for more ways to celebrate in the future this year the brewery will be hosting another event called "Bright Nights" also featuring Oberon and celebrating the Summer Solstice and the longest day of the year this Sunday, June 20th. Claflin says to keep an eye on Bell's social media channels and website for more to come soon.
This is a paid, sponsored post presented by Bell's Brewery.
Liked this article? Sign up for our newsletter to get the best craft beer writing on the web delivered straight to your inbox.