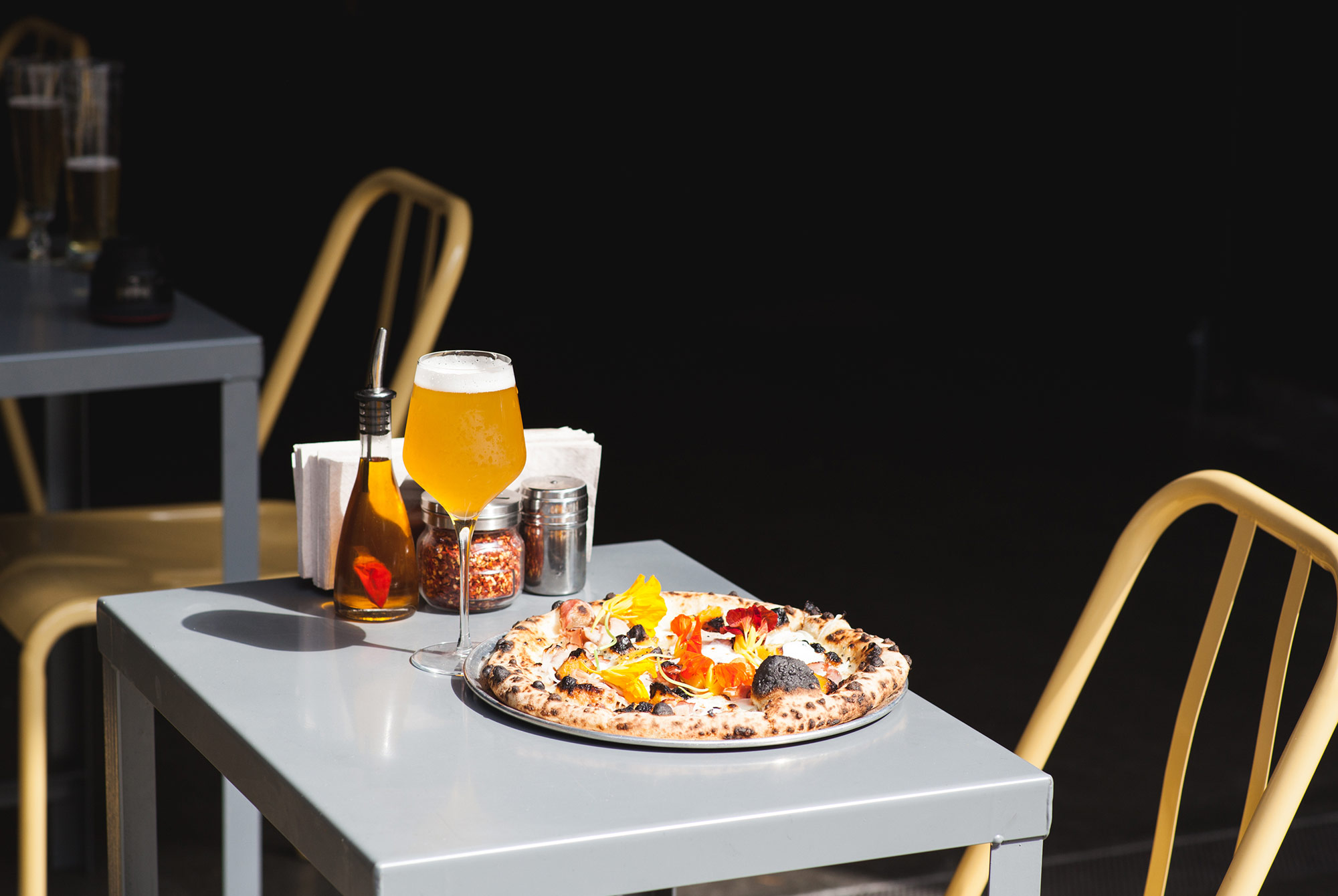 With close to 2,000 brewpubs in the country, picking one to visit is like choosing which holiday gift to unwrap first. So we've made a list and we're checking it twice, narrowing down the best new brewpub openings of the year (and to be clear, by brewpub, we mean a restaurant-brewery that sells 25 percent or more of its beer on site — thank you, Brewers Association). Perhaps you want to sip stunning lagers in an equally striking century-old warehouse, or maybe you'd rather munch on massive sandwiches and eclectic beer, or maybe you're more interested in seeking out a Curry IPA paired with Buffalo Cauliflower. Whatever your fermentation and food follies, we've rounded up the brewpubs with the most expertly-brewed and deliciously-executed edibles of 2017 (and late 2016). Sip. Bite. Repeat.
Circa Brewing Co
141 Lawrence St, Brooklyn, NY 11201 | (718) 858-0055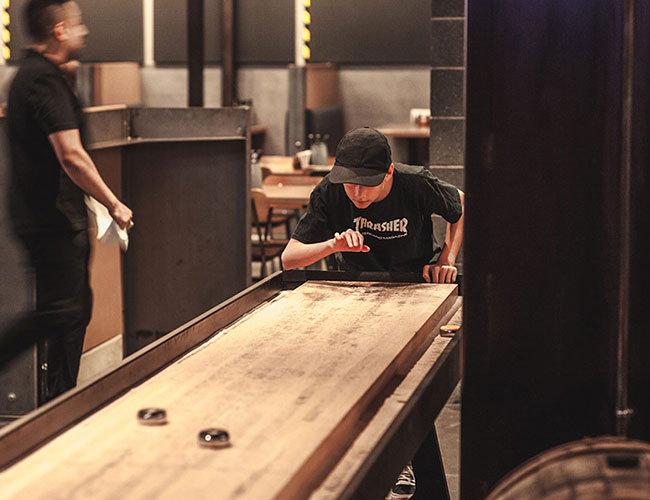 "Crisp, light malt, easy drinking." "Balanced, toast, thinking beer." Former Sixpoint brewer Danny Bruckert only needs a few words to describe each of his classically-framed, yet deceptively contemporary beers (a Pilsner and a Nitro Pale, respectively). "Pies, pints, and panache," are the only words we need to characterize Circa Brewing Co. Located in Downtown Brooklyn, the 5-month-old brewpub handcrafts 12 beers on-site in a stylishly sleek steel and concrete structure. The industrially-accented 6,000 sq foot space has plenty of room for Danny to man the mash tuns while his brother, Luke Bruckert, cranks out wood-fired Neapolitan pizzas like the "2 Cows, A Sheep & A Goat," a pie plumb with four different types of cheese — mozzarella, parmigiano reggiano, pecorino, robiola — coppa and greens. Combining the classics (pizza and beer) with class, Circa Brewing Co. attracts everyone from the suited afterwork throng to the weekend daters and casual imbibers.
Wayfinder Beer
304 SE 2nd Ave, Portland, OR | (503) 718-2337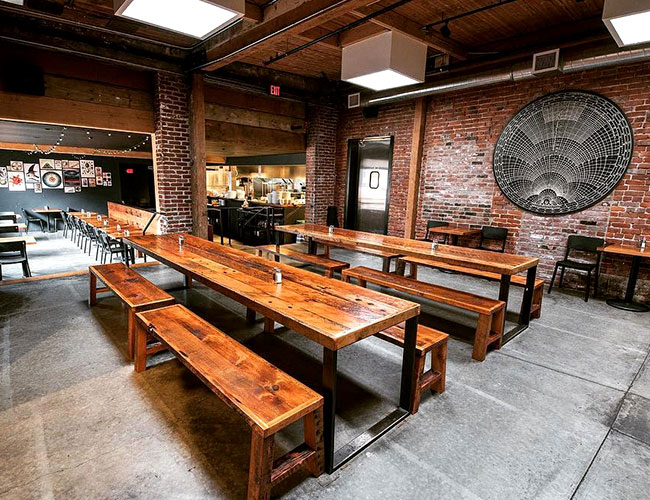 The space alone electrifies. Sprawled out over 8,900 sq ft of a century-old brick grain warehouse in Portland's Central Eastside, Wayfinder includes a 110-seat taphall, 2000 sq ft deck with a fire pit, a wood fire grill in the kitchen, and a four vessel, 10 bbl brewhouse. The newest brewery project from Charlie Devereux (co-founder Double Mountain Brewery), Matthew Jacobson (co-founder/owner of Sizzle Pie, Quality Bar, and Relapse Records), and Rodney Muirhead (co-founder/owner of Podnah's Pit and La Taq) seeks to "bring simple and authentic pleasures of the highest quality to the Rose City and beyond." And while the aesthetics alone may impress, "the real thrill is the beer," says Jeff Alworth, Portland resident and author of The Beer Bible. Under the command of GABF Gold medal winning brewmaster Kevin Davey, the beers tend European heavy thanks to a trip Devereux took to Bavaria and Bohemia before launching the brewery. A set list of hitters include Cerne pivo (Black Lager), a Decocted Pilsner, and a German Pils. However, the operation does pay appropriate homage to American craft beer with a trio of IPAs: Hazy, West Coast, and Triple. The food similarly tows the line between continents; get a pretzel with mustard and Ploughman's Platter or Pigs in a Blanket and "Freedom Hash" with smoked sweet potatoes, grilled vegetables, and Zhug, a hot sauce of cilantro and parsley. From the space to the food to the beer, Wayfinder has — as Alworth points out — "quickly jumped into my list of must-sees for people who come to town and want to see Beervana's best.
La Cabra Brewing
642 Lancaster Ave, Berwyn, PA 19312 | (610) 240-7908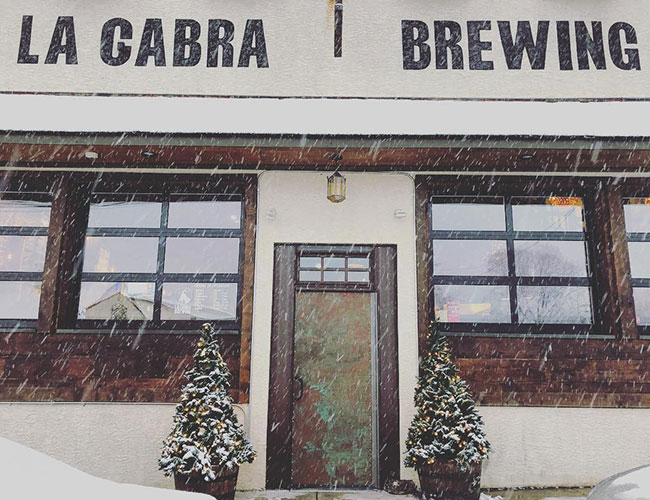 Philadelphia Magazines' Best Brewpub 'Burbs, 2017 Best of the Philly Beer Scene New Brewery of the Year, 2017 Business of the Year, County Lines Magazine 2017 Best Brewpub & Brewery… the list of accolades stretches farther than a brewer's beard for La Cabra, a gastropub with Latin American flourishes. Brewer Dan Popernack maintains a simple mission: to produce a wide range of solid beers. Following such an unfettered philosophy, Popernack experiments with everything from goses and saisons to American wild ales mixed with 200 pounds of berries. La Cabra's dedication to the kitchen and the keg means beer lends a subtle witty nod to starters like the "IPA" Mac & Cheese with Idiazabal cheese sauce, crispy Pork belly, and Applewood smoked bacon jam or the slightly heftier "Hangover Burger" with cream chipped lonzino, shredded potato hash, and crispy shallot.
Bear Republic – Rohnert Park
5000 Roberts Lake Rd, Rohnert Park, CA 94928 | (707) 585-2722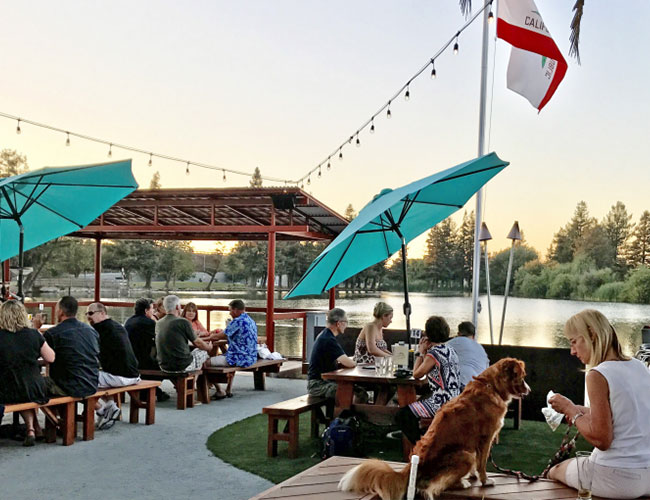 Since 1996, Racer 5 IPA has carried Bear Republic across the checkered line, dominating the West Coast and helping Bear Republic become the 40th largest craft brewery in the country. The brewery took a big step recently, investing $2.5 million to inaugurate their second brewpub in Rohnert Park, California. The opening comes on the heels of a rash of California wildfires that devastated a few of the Bear Republic brewers' homes. "The Bear Republic guys had some tragedy, losing their houses in a matter of minutes, but the fact they still went forward with their new, spectacular space is a feel-good positive story," said Gail Williams, author and beer appreciator who launched BeerbyBart in 2007 to cover the Bay Area beer scene. "In all of the bad news with the fires you have stop and appreciate the good news up there," said Williams. The perseverance of Bear Republic's new taproom rolls over into its beer. Anchored by a 10 bbl brewing system, Bear Republic has, "a great and pretty adventurous lineup of new beers coming through at all times," said Williams, whose favorite Hop Shovel West Coast IPA uses modern hops for a, "mouth filling hop goodness." Beyond the fermenter, Bear Republic emphasizes the precision of pairing food and beer on their menu. Try the Brewers' Mac and Cheese, an explosion of elbow pasta with a heavy dose of fontina and Gruyere bechamel cheese sauce. "Bear Republic's new place is fantastic," said Williams. "I only wish they had done it some years earlier!"
Edmund's Oast Brewing Co.
1505 King Street, Charleston, South Carolina 29405 | (843) 718-3224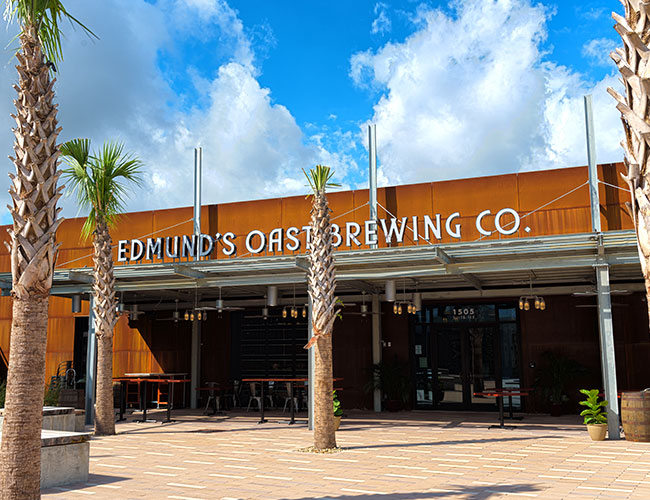 Rebellious in nature like its namesake American Revolution brewer, Edmund's Oast's newest brewpub burst into South Carolina with all the force of a loaded musket. Often brewing against the norm, the brand new 20,000 sq foot facility has been churning out quirky creations like Domesday, a medieval recreation brew with yarrow, mugwort, lavender and marshmallow flower, as well as The Abider, a coffee vanilla barleywine which uses milk sugar for a smooth, boozy sweetness. Helmed by Brewing Director Cameron Read, Edmund Oast opened in September decked out with all bells and whistles including an area for wild barrel-aging and a sealed space for sour and wild fermentation. Veteran chefs Geoff Marquardt and Johnny Singleton man the wood-fired brick oven and self-proclaimed Polish smokehouse; they also dish out Southern favorites like boiled peanuts and Lowcountry chowder along with contemporary sandwiches, pizza and charcuterie.
Foulmouthed Brewing
15 Ocean St, South Portland, ME 04106 | (207) 618-6976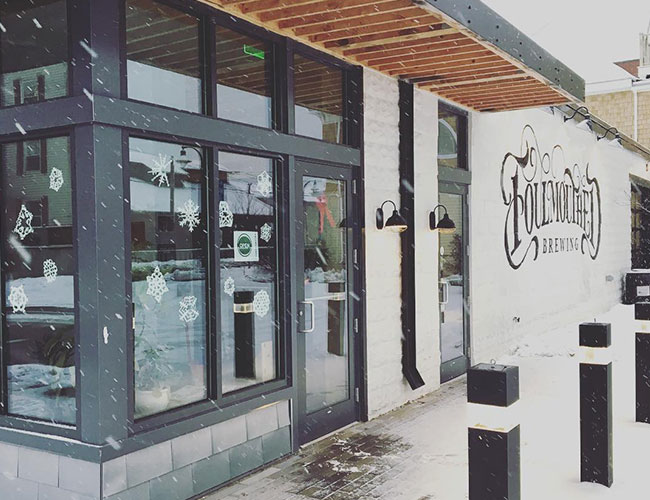 F**king kick-a** beer might aptly describe the lineup at Foulmouthed Brewing in South Portland. Revitalizing an old auto garage, co-founding couple Craig and Julia Dilger have fully embraced Foulmouthed's slightly off color branding. A few of the beers include the Yuzu Kosho Gose, which draws its telltale salinity from a unique Japanese spice blend of fermented yuzu peel (a fruit similar to lime), chilies, and salt. On the other hand, Portland Beer Week 2017 Pro-Am Winner Botanical Brett (brewed in collaboration with homebrewers Matthew Brown and Justin Henderson) showcases the spirit of Maine craft beer. The 100 percent Brettanomyces fermented beer slumbered in Tom Cat Gin barrels for an oaky, juniper-esque ale. On the food side, Foulmouthed's Jalapeno Popper Grilled Cheese with Cabot sharp cheddar, cream cheese, pickled jalapeno and smoked onion jam on Standard Bakery's Normandy bread will have you cursing five ways to Sunday. But, holy s*** if you don't get yourself to Portland soon, the only thing you'll be cursing is yourself.
Collision Bend Brewing Co.
1250 Old River Rd, Cleveland, OH 44113 | (216) 273-7879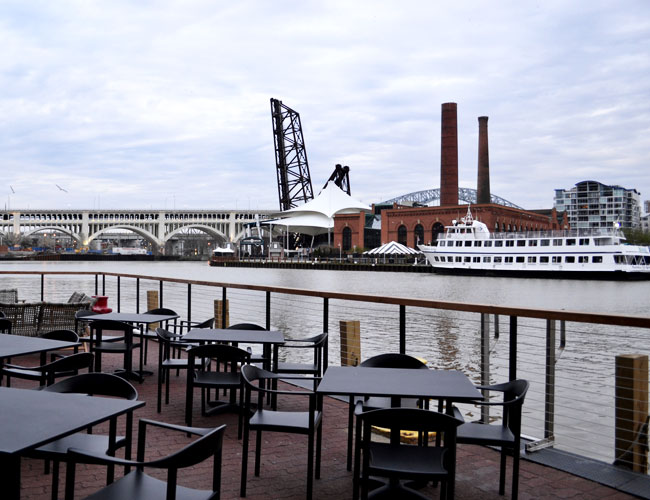 Barrel into Collision Bend Brewing Co. for crisp, bright beers from a former brewmaster of Great Lakes Brewing Company fame. Last April, Luke Purcell opened Collision Bend Brewing Co. in the Flats, a mixed industrial and residential area of Cleveland that has seen a recent revival. "It's eye opening to see this dead space in town… making a big comeback," said Purcell. Approved by the Ohio Craft Brewers Association as one of the best new brewpubs in Ohio, Collision Bend carefully pairs a variety of beers with an equally eclectic menu. At a brewery that prides itself on what Purcell calls a balanced lineup, start with a bang with the Big Cat American Double IPA. Later, while away the day with Purcell's suggestion, the uber popular Lake Erie Sunset blood orange American wheat. To satiate the appetite, try a slew of Southern California inspired small plates range from French Fries 420 Style with smothered cheese sauces, jerked chicken, cilantro, cabbage and crispy onions to a San Diego Fish Taco with beer battered cobia, cabbage, cilantro, red onions, queso fresco, salsa, and cream. Named for the tricky U-shaped turn in the Cuyahoga river, Collision Bend has successfully navigated a collision course of beer and food to became one of the hottest new brewpubs in the country.
Alulu Brewpub
2011 S. Laflin St, Chicago, IL 60608 | (312) 600-9865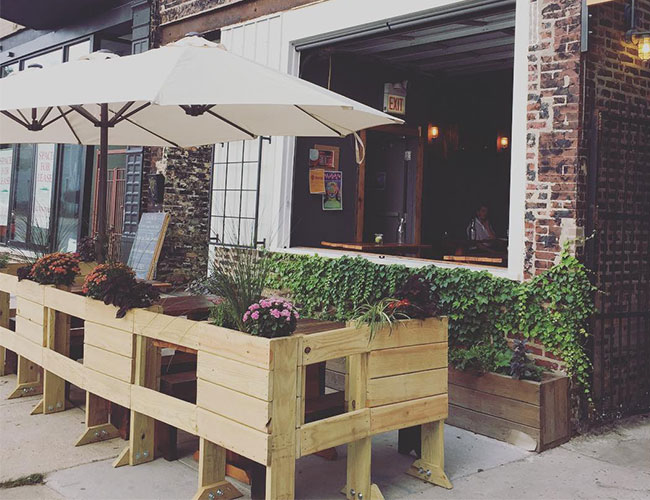 Enter a world of artistry and ingenuity at Alulu Brewpub in the heart of Pilsen — an equally bright and spunky Mexican-American community in Chicago. Not just inventive in name, Alulu's funky tap list and globe-trotting menu effuses a beat as vibrant as the cultural cornerstone of the surrounding neighborhood. The small-batch brewpub fits snugly into the mural speckled streets, colorful storefront galleries, and tantalizing bodegas, panaderias and cafés. The vivaciousness of the high-spirited brewpub flows over into the kitchen where dishes like Lumpia Shanghai, Chicago Pierogi, and Alulu Poutine with curds, fries, pickled peppers, and housemade pork and beer gravy straddle a main menu plump with global sandwiches and burgers. Following these brushstrokes, Alulu's brewers constantly tweak versions of familiar styles. The Ghostly Liso offers a crisp and balanced Mexican lager while the Fox de Locus, a watermelon kettle sour, uses the ubiquitous picnic as fruit puree for a sweet, tart punch. With 13 intrepid beers to choose from, we recommend the Hang Glide — a flight of five 5oz tasters for $15.
Second District Brewing
1939 S. Bancroft St, Philadelphia, PA 19145 | (215) 575-5900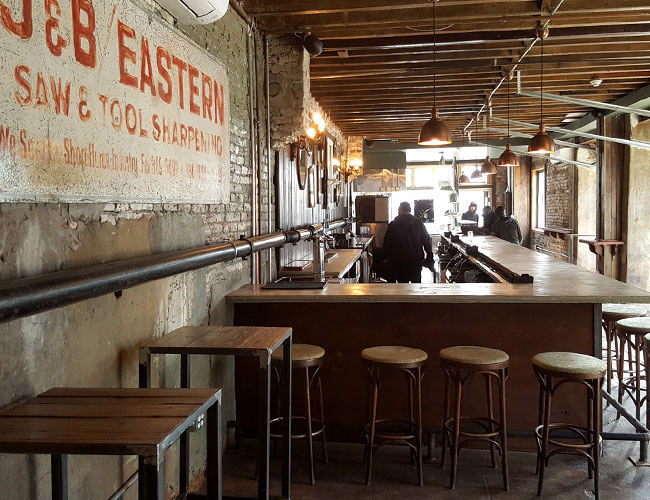 "We brew uncompromised quality from unconventional ideas," says the Second District website. Emphasis on the unconventional. From a Curry IPA brewed with a dash of Madras curry powder to a huitlacoche and sea salt saison, Second District Brewing in Philadelphia, PA punches traditional flavors in the gut. Built into an old South Philly garage, the 7 bbl brewhouse named after the City Council district appears tame — it's accented with warm wood touches and exposed brick. But, almost like the unassuming rags to riches boxer of Philly fame (Rocky, for those born before the 90s), Second District Brewing's modest exterior disguises an armada of bold, Willy Wonka-esque creations. Owner Curt Decker and brewer Ben Potts (former stints at Dock Street, Dogfish Head and Tired Hands) push the limits with their beers while Chef Doreen DeMarco infuses ale ingredients throughout her menu: for instance, the IPA Kettle Corn, the Spent Grain Burger with vegan herbed mayo, or the Buffalo Cauliflower served with hopped up vegan Buffalo ranch.
Bierstadt Lagerhaus
2875 Blake St, Denver, CO 80205 | (720) 570-7824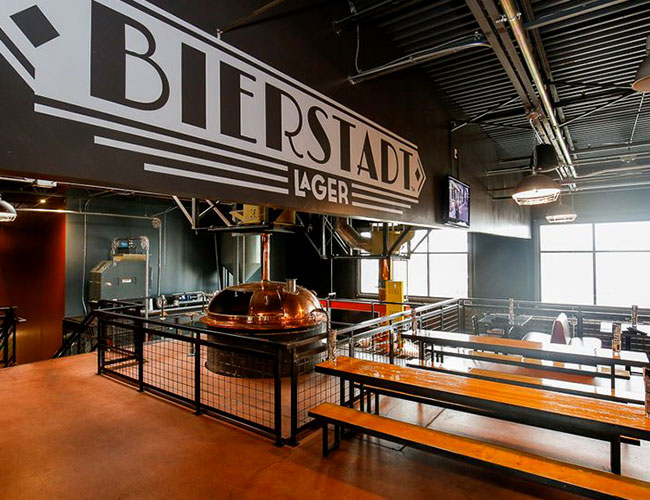 With new breweries pandering to gimmicks galore — pastry-stouts studded with quirky ingredients like cocoa nibs and donuts, and milkshake IPAs swirled with mango puree and milk sugar — Bierstadt Lagerhaus stands firmly rooted as a reminder of tradition. Using only the four ingredients required by German law — water, malt, hops and yeast — brewing duo Bill Eye and Ashleigh Carter opened their RiNo centered, Denver, Colorado brewpub in August 2016 after resuscitating an 84-year-old brew kettle from Germany. From the perfectly pitched, clean crispness of a Pilsner to the purified perfection of a lightly malty Helles and the garnet hued Dunkel, Eye and Carter have kept things simple and clean — like a good lager. On the food side, The Rackhouse Pub in the middle of Bierstadt's 21,000 sq ft facility follows the Brewed Food Movement, a food lab philosophy that combines fermentation applications and brewing ingredients. Highlights include Lager Battered Sausage with pils-battered, butcher's bistro dunkel sausage, helles mustard, and cider yeast sauerkraut, as well as the Salmon Bahn Mi with cider yeast glazed salmon, pickled fresno pepper, lager yeast fermented kimchi, wort soy, cucumber, cilantro, and sriracha aioli.