Photography by Benjamin Pratt
Photography by Benjamin Pratt
Photography by Benjamin Pratt
Photography by Benjamin Pratt
Photography by Benjamin Pratt
Photography by Benjamin Pratt
Photography by Benjamin Pratt
Photography by Benjamin Pratt
The beer scene in New York's Hudson Valley has grown rapidly in recent years. One of its newest occupants is the Hudson Valley Brewery, in Beacon, which produces some of the most interesting, creative, and exciting beers on the Northeast. It specializes in sour beers that spend some time aging in oak barrels, as well as the kind of canned hazy IPAs that draw Cronut-like lines of beer loons.
One of Hudson Valley's master strokes is merging the two focuses, resulting in IPAs that have matured in wood with various souring bacteria and Brettanomyces yeast. The result? Bright acidity, tart flavors, and increased complexity. Sometimes, these sour hop-forward offerings are made with lactose sugars (usually alongside oats, high-pectin fruits, and vanilla beans), transforming them into creamy ales reminiscent of milkshakes. (They bring all the neckbeards to the yard!)
On a recent summer afternoon at the brewery, which is housed in a former factory that dates to the 1880s, we met with Jason Synan and Mike Renganeschi, the brewers and two of the three owners (the third is John-Anthony Gargiulo), who had just finished canning three limited-edition IPAs. (They would be released in tandem the next day.) In the tasting room, we chatted about their process of barrel aging beers (and blending the results), the New England-style IPA craze, and how to liquify birthday cake.
Niko Krommydas: Can you talk about the beer we're drinking?
Jason Synan: This is called Ultrasphere, a sour IPA brewed with raw wheat and malted oats, Citra and Mosaic lupulin powder, and a bit of milk sugar. It was also conditioned on raspberries and vanilla beans.
Mike Renganeschi: There's a lot going on here, in terms of process and ingredients. But it's brewed with balance in mind.
NK: Could you describe it for our readers?
MR: Sure. There's a bright, quenching acidity from the bacteria (that's now pasteurized) that highlights the impression of ripe tropical fruit from the hops and the raspberries. And the raw wheat, milk sugar, and vanilla beans, they give a soft and pillow-like counterpoint to that juiciness.
JS: We wanted this batch to taste like birthday cake ice cream.
NK: I think you achieved that, so happy birthday.
MR: [Laughs] Thanks!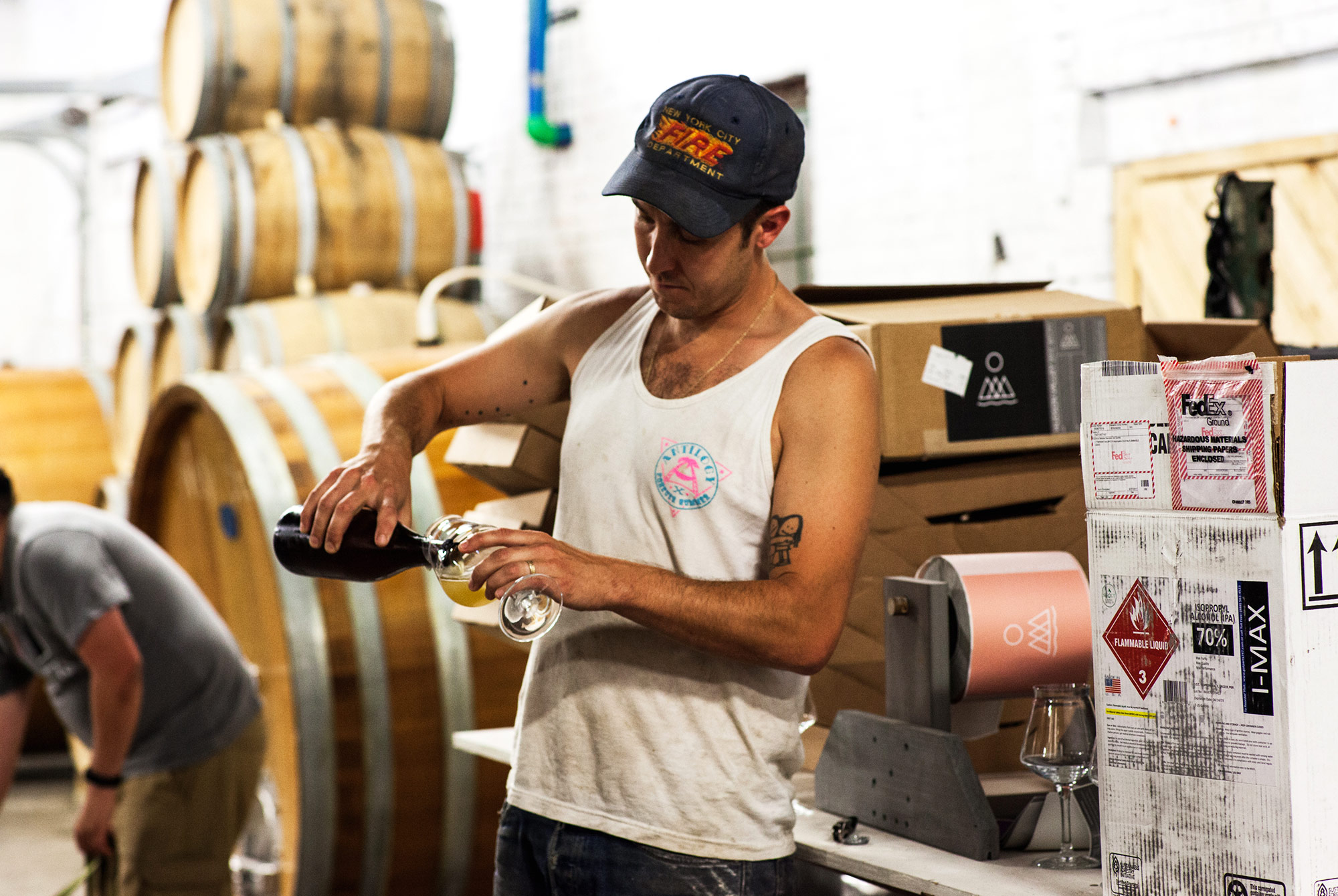 NK: Now, you focus primarily on oak aging, whether it's using foudres, puncheons, or wine barrels. What interests you about the process and the kinds of beers you can create from it?
JS: Microbes are incredibly sensitive and expressive organisms, so even small changes in things like temperature or pH in the localized environment of each barrel can have a significant impact on the direction and character of the fermentation of the beer that's inside over time. So each barrel has the potential to develop in surprising ways.
NK: I read that you don't really brew specific recipes, instead making your beers by blending the end results of barrel aging. I'm curious: Is there a different approach to brewing when the process isn't so linear and defined? Are you focused as much on the minutiae of brewing?
I think that the rise of NE IPA is due, at least in part, to its visual appearance and to the internet, more specifically to Instagram.
JS: We're absolutely focused on that. We put a lot of effort into improving our production process so that when it comes time to blend the beer, we can cast all of that technical stuff aside. Because we know the blending components are of the highest quality.
NK: What's your guiding motivation when blending? Do you normally have an idea of where you want a liquid to go?
JS: We want our finished beer to be a reflection of the multi-layered process used to create it: technical and creative, thoughtful and pleasurable.
MR: We have about 130 barrels right now, so we have a rich and diverse palette to choose from. We can get excruciatingly specific about what kind of character or quality we're looking for in a beer, and since we have so many barrels to pull from we'll likely have a few laying around to meet that specific need.
JS: It's like a box of crayons. Each barrel or character is a different color.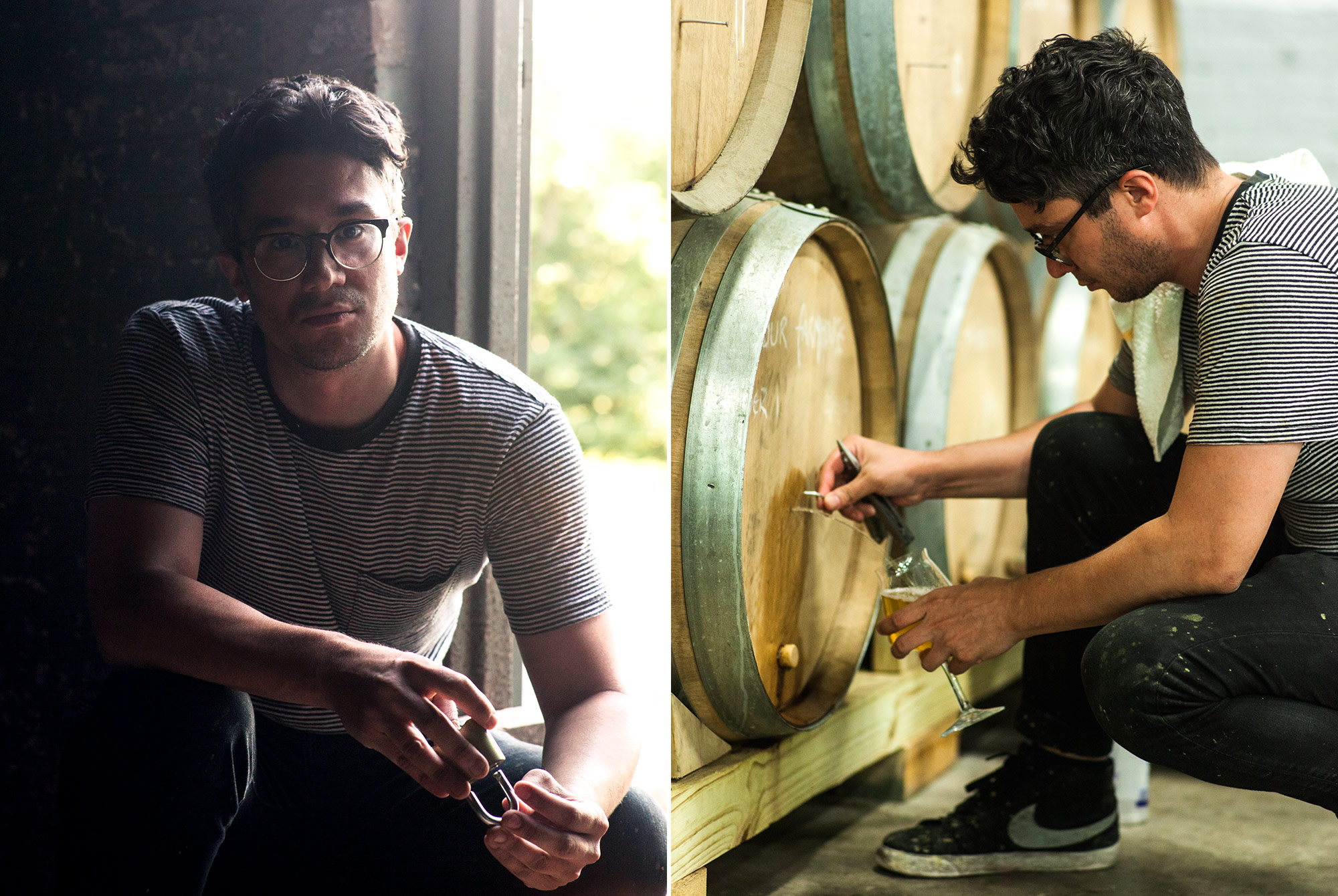 NK: In addition to blending, you may condition a beer on upwards of five different ingredients. How do you know when a beer's ready, or finished?
JS: Just by taste. They're done when they taste good to us. Also, they're done when Mike says they're done. He has a sixth sense for this kind of thing.
But you don't have to think about any of that shit if you don't want to; you can just drink it.
MR: We try to make our beer fun and pleasurable to drink without having to know a thing about "craft" beer. When you're drinking one of our beers, you can geek out about the process and ingredients, talk about whether it fits within a traditional style category or not, or whatever. But you also don't have to think about any of that shit if you don't want to; you can just drink it.
NK: Ultrasphere, what we're drinking right now, is a sour IPA, so you also use non-sour beers for blending. That's unconventional.
JS: We use hop character as a blending component like anything else.
MR: It's another crayon.
NK: Can you tell us where you got the inspiration for a sour IPA?
JS: When Mike and I first started brewing professionally, we didn't have anyone telling us what we could or couldn't do, and so over the years our process has become accordingly eccentric. Ultrasphere is an emerging reflection of that process: the individuation and refinement of concept and technique through years of discussion and countless hours of work. Style-wise, there is very little context for Ultrasphere, and on paper, from a commercial brewing standpoint, it makes very little sense. And then you pour it into a glass and you realize that it doesn't need to make sense. It's magic.
NK: What are your thoughts on the recent craze for the canned, New England-style IPA?
JS: I think that the rise of NE IPA is due, at least in part, to its visual appearance and to the internet, more specifically to Instagram. We are a visually oriented culture, and IG is an ever-persistent contributor to this visual orientation. The haziness of NE IPA, which up until very recently would have been considered an obscene stylistic flaw, has now ironically become the defining characteristic of the style and a visual marker for desirability, drawing attention toward the product on the internet, to the point that it has become a meme.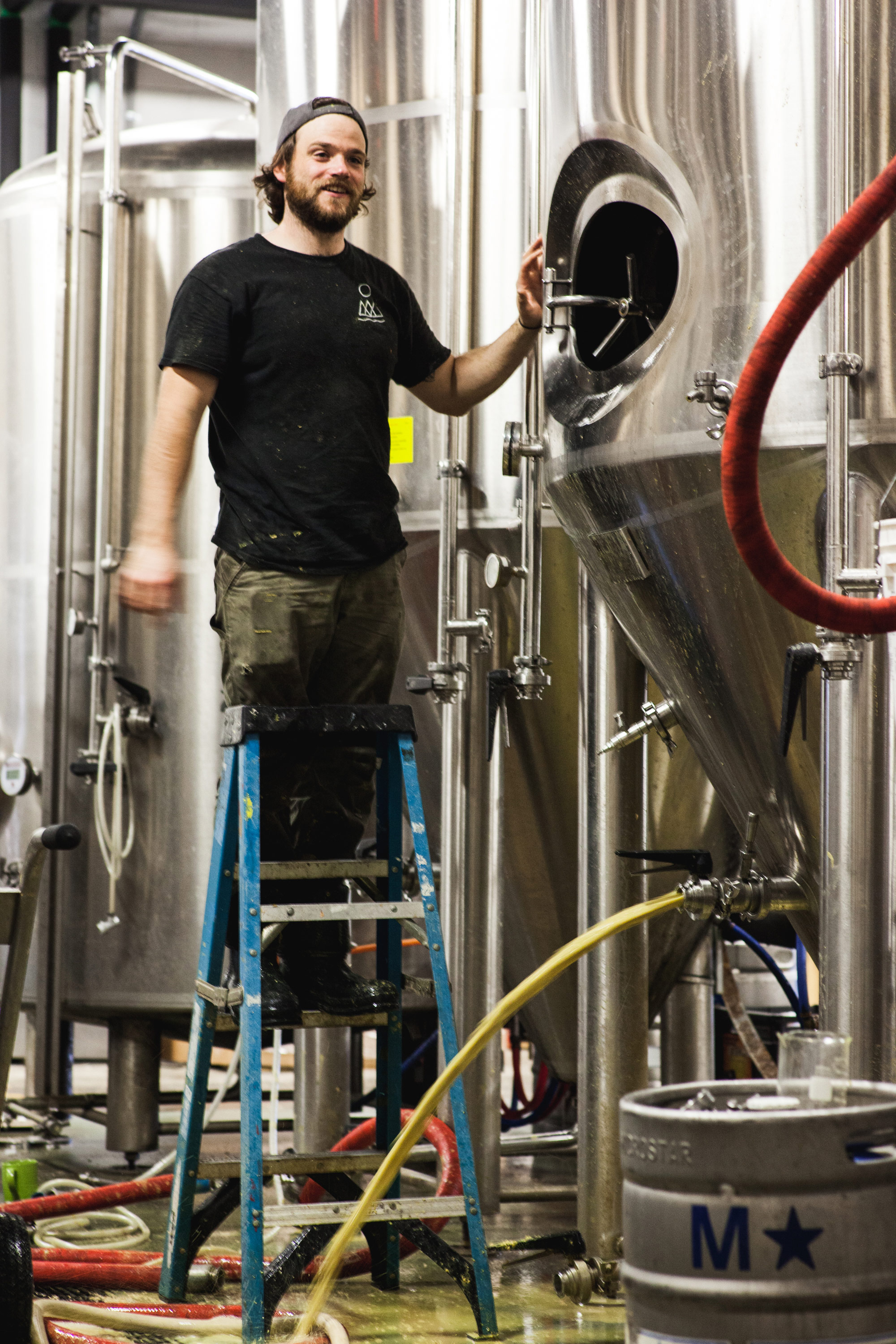 MR: I think the craze, from the long lines to the Instagram posts of hauls, show that the consumer is looking for a more meaningful collective experience in which the product, and the sharing and trading of that product, becomes a conduit and impetus for genuine human interaction. Good beer is meant to be shared.
NK: How would you define the perfect beer?
JS: When we're just hanging out, and not at work? Drinkable in large quantities, and cold AF.
NK: Favorite thing to do when you're not brewing or drinking?
JS: I read a lot: science fiction and fantasy, and some more "serious" books when I can manage. I'm currently reading through The Culture Series by the Scottish author Iain M. Banks. He was writing science fiction in the 90's, when nobody was taking the genre very seriously, and because of that he could produce novels which on the surface were just pure fun to read, but on a deeper level were deadly serious reflections on culture, technology, and the history of civilization. I'm drawn to art that can do both of these things at once, and Banks does so with a level of composure rarely seen. I'm also reading Ovid's Metamorphoses, which will serve as inspiration for our next can release — focusing on ideas of transformation and the relationship between the real and the imaginary.
MR: Running. We just started a running club at the brewery! It's a monthly bet among the brewery production team. Each person puts twenty bucks into a pot and is required to run 10 miles every week. At the end of the month, we take the money in the pot and go eat pizza or something equally unhealthy. The benefit is that our collective gut will grow at a slightly slower rate than it would otherwise!
NK: Best thing you ever drank?
JS: The first time we drank a sour from Russian River. It was Consecration, the one with the knife on it. It was a transformative experience.
NK: Worst thing you ever drank?
MR: Our own homebrew from back in the day. We were in the habit of drinking our mistakes.
NK: If you could have a beer with one person, dead or alive.
JS: Living: Kanye West. Dead: The old Kanye.