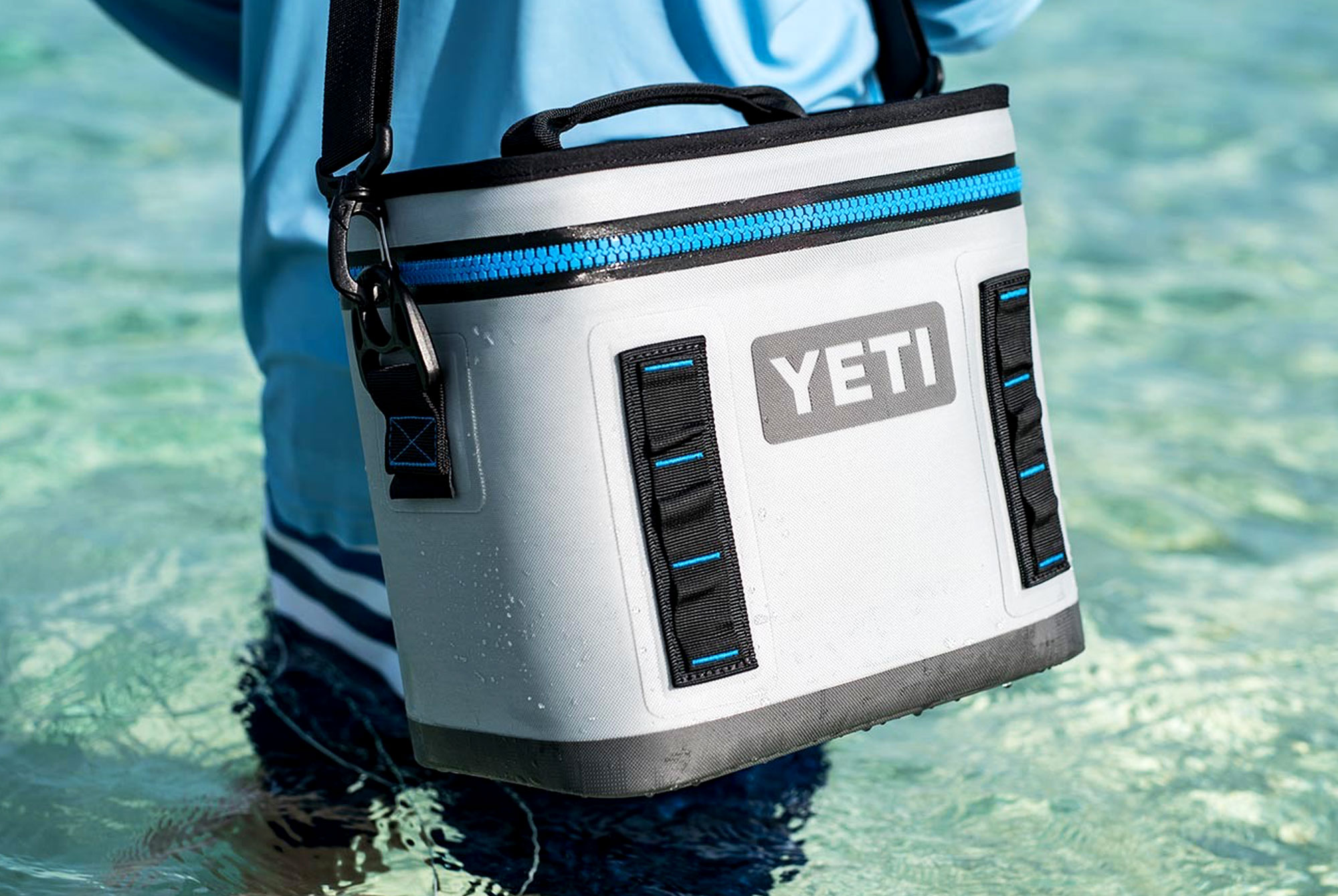 Lugging around cans of IPAs to the beach or BBQ can be burdensome, but with the right cooler you'll show up to the Memorial Day party a hero. All that's left is to pair your beer with the right food (hint: it's always pilsner).
We've picked out the most comfortable, durable, and stylish coolers that'll keep your beer cold all day long. So grab a few pilsners, fire up the grill, and enjoy your Memorial Day Weekend properly.
The ICEMULE Pro XX-Large (40L)
Versatile in shape, ICEMULE designed their Pro XXL backpack to be a high-performing, portable soft cooler. Shaped like a backpack this container can take your cans from high elevations to low sea levels. Leave your hard-topped cooler collecting dust in the garage and take this sleek, flexible knapsack on the road.
Capacity: 36 cans + ice
Size: 23″ x 11″ x 14″
YETI Tank 45 Bucket Cooler
This is the Hop Culture HQ cooler. It's indestructible and sleek. And while it might not be the best cooler for transporting beer, it's the best for our office parties. The Tank is always open and inviting, keeps beer cold for hours, and comes with a lid that doubles as a lime cutting station and an impromptu seat. If you host any type of BBQ regularly, this is our number 1 pick.
Dimensions: 21" x 21" x 16.25"
Capacity: 52 cans
Orca Classic 26-Quart Cooler
ORCA lives up to its name (the Outdoor Recreation Company of America) by constructing coolers meant to get dirty in forests, sandy on beaches, and muddy by the lake. The company's classic cooler keeps your beer cold for a solid 200 hours – that's a lot of trails to hike, fish to reel in, and burgers to grill before you ever have to think about your beer getting warm. Solid and reliable, this ORCA cooler gets the job done during any adventure.
Capacity: 24 cans or 18 bottles laying down
Size: 17 3/4″ x 23 5/8″ x 14 5/8″
25-Quart Bison Cooler (Gen2)
This Bison pack has been retooled and upgraded for a cooler that's tougher than ever. Big and strong like its animal namesake this leakproof chest is known for its reliability and comes backed with Bison's 5-Year Warranty. This is the sturdy, durable cold-storage box you need for long camping trips and off-road journeys.
Capacity: 21 12-oz cans or 32 lbs of ice
Size: 21″ x 17″ x 16″
OtterBox Trooper 20 Cooler
Built to be a trooper, the Otterbox Trooper 20 Cooler is perfect for those quick trips to the lake or beach. What this cooler lacks in size it makes up for in versatility, enjoyability, and durability. Certified Bear Resistant by the Interagency Grizzly Bear Committee this container was built to outlast not only wild animals, but also wild weather, and wild people. Take this cooler out on the road and wild adventures will follow.
Capacity: 28 12-oz cans
Size: 14.30"L X 17.50"W X 10.25"D
Igloo Trailmate Journey 70 Qt Cooler
Built to move, the Igloo Trailmate's oversized wheels take this container through sand, rocks, and other challenging terrains. With added features like a bottle opener and cup holders, this all-in-one cooler brings the party to any environment, whether it's just for a day trip or overnight at a campsite.
Capacity: 112 12-oz cans
Size: 34.59"L X 19.7"W X 23.61"H
Hydroflask Unbound 22 L Soft Cooler Pack
Like the grown-up version of a flask, this backpack keeps your beer cold for up to 48 hours. Packaged into a polished and uber-cool design, the Hydroflask Unbound Soft Cooler Pack capitalizes on watertight construction to keep your beer cold and comfortably contained on your back. Whether you're hiking the Appalachian or the streets of Williamsburg this hipster carrier takes the flask off your hip and puts it on your back.
Capacity: 22L
Size: 19.25"H
Yeti Hopper Flip 18
Perfect for day trips to the beach, weekend jaunts outside the city, and Sunday barbecues in the park, the Yeti Hopper Flip 18 comfortably fits twenty cans of beer. If you want to bring enough beer for the whole crew, this is the cooler that will get the job done while still promising to keep your beer ice cold. Built for rugged adventures and extreme conditions this compact icebox ups your cooler game without taking up space.
Capacity: 20 cans of beer
Size: 10 1/4" × 12 5/8" × 15 5/8"
Orion 25
This globetrotting version comes in over 20 hues for a cooler as colorful as it is practical. Durable and decked-out, the Orion 25 features low-profile cam latches, lock points, six tie-downs, a tough roto-molded shell, 2" of insulation, a padded top, Yakattack Tracks, a drain plug, motorcycle grip handles, and bottle openers for a complete cooler you can take anywhere in the world.
Capacity: 32 12-oz cans and 40lbs of ice
Size: 16.75"H X 20.5"W X 16.75"D
Pelican 45-Quart Wheeled Elite Cooler
Worth the price, this cooler combines wheeled-mobility with extensive durability. Guaranteed for life, Pelican promises to replace any product you break and ensures a high-quality case that keeps your beer cold during tailgating, weekend camping, backyard barbecuing, boat tripping, beach going, and park picnicking.
Capacity: 28 cans with 2:1 ice ratio
Size: 29.66"L X 20"W X 19.25"D