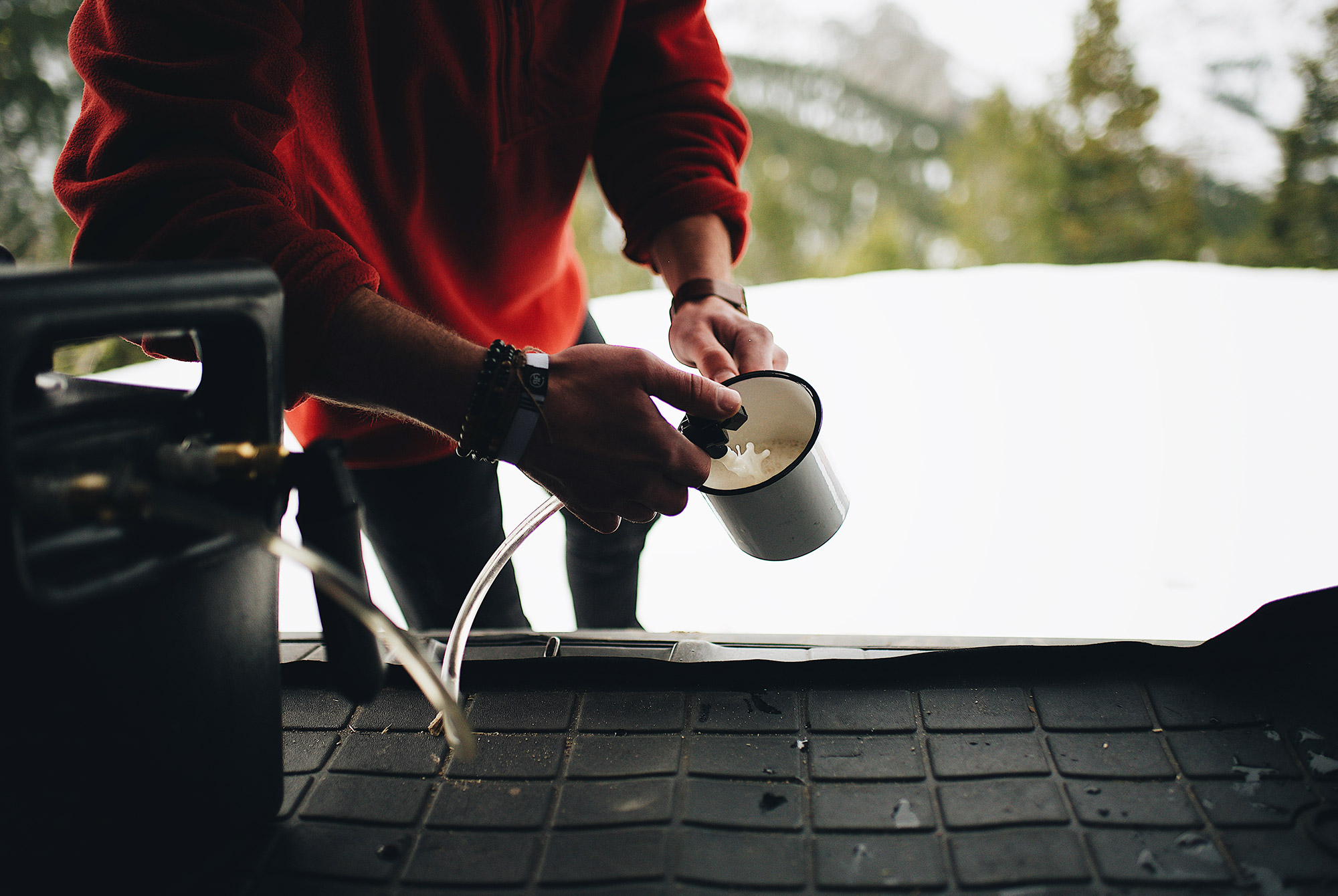 There's a reason that the traditional growler has fallen out of fashion. It's not particularly adept at keeping beer cold, or fresh, and the glass versions are prone to leaving 64 ounces of beer on your kitchen floor. At their most basic, growlers are oversized bottles, a one-size-fit-all solution to drinking taproom-only beer on the go. And once you open a growler, or the more recent crowler, you better be drinking that beer soon.
Luckily, with the rise of craft beer has come innovation in how to drink it. Growlers are no longer the only way to bring beer home from the brewery (outside of cans and bottles). Want to bring 4.5-growlers-worth of beer home? There's a tool for that. Want to tap brewery beer at home, and keep it fresh for up to a month? You can. Or maybe you want to pop into the brewery for a quick 16 ounces while walking your dog. It's practically 2018, no one can judge.
For those getting cans from a brewery, a trusty cooler can do the trick. But for those wanting exclusive, draft-only options at home, there are a few clever ways to keep beer cold and protected. Below you'll find some great options for drinking beer anywhere.
Our Favorite Alternatives To The Growler
ManCan Picnic Kit
For the Backyard BBQ: What ManCan lacks in the wokeness of its name it makes up for with product innovation. Modeled after that most famous of beer storage devices, the keg, this device holds up to 128 ounces of beer and even uses the same type of stainless steel commonly used for kegs. The picnic kit also comes with a hose tap for easy beer pouring, as well as CO2 cartridges to help keep the beer fresh.
Growler Werks uPint
For the Sideline Beer: GrowlerWerks has already helped take the growler into the 21st century with its uKeg. That device helped inspire the uPint, a stainless steel, double wall vacuum-insulated pint glass designed to keep your beer cold for a long time. It also comes with a lid if you want to cover your uPint up after getting it filled so you can save it for later. A great option for those who don't feel like carrying around or storing a full size growler.
Miir Insulated Pint Cup
For a Charitable Trip to the Brewery: Another great option for those just looking to fill up a quick pint of beer from a microbrewery, or to take a pint of beer on a trip and ensure it stays cold. (As an added bonus, this cup works to keep coffee hot.) It's also sweat proof, BPA free, and available in sleek-looking black, white, or stainless steel. Plus, some of the money spent on this cup will go to fund one of Miir's charitable initiatives.
Klean Kanteen Insulated Tumbler
For a Quick Trip to the Brewery: This pint-sized tumbler is intended to keep your coffee hot and your beer cold. And the lid is designed to keep leaks and spills to a minimum. Perfect those who want to fill up a pint and take it on-the-go.
Yeti Rambler 64 Oz. Bottle
For the Athletic Drinker: This is pretty much a growler, but we included it here because of the ease with which you could fill this with water and bring this on a trail or the gym during the week. For the weekend, Yeti bottle will keep a growler's worth of beer safe and cold, even during a hike or camping expedition. The stainless steel vessel is durable, has double vacuum insulation to keep drinks cold, and an insulated cap so it won't leak a drop.
My Bomber Jacket
For the Bomber Lover: Similar in purpose to the classic BottleKeeper, but sleeker and for bomber bottles (a favorite of the craft beer fanatic), My Bomber Jackets are the best way to keep a bomber bottle protected and cold. For when you aren't filling from the taps, but want to make an impression.