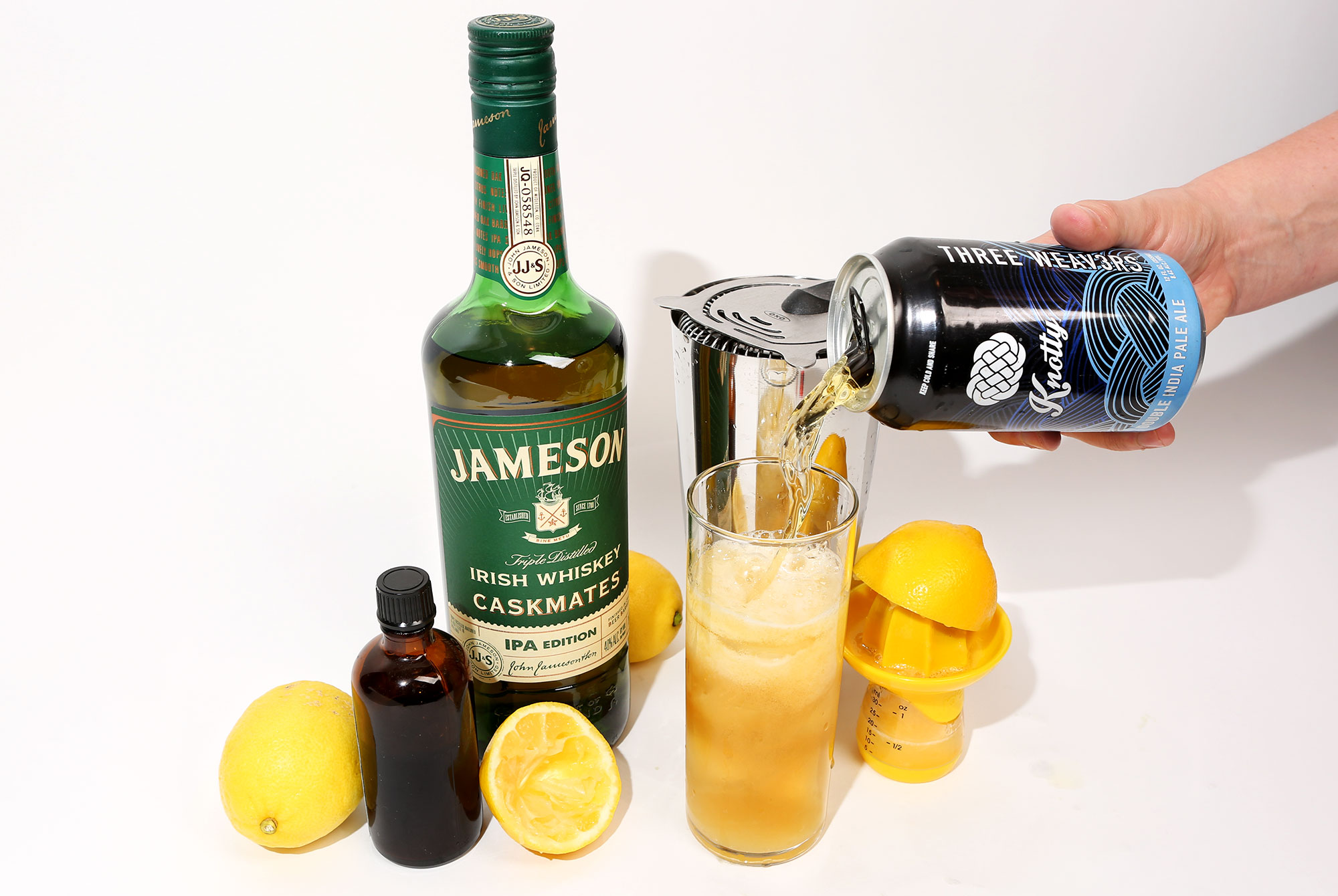 Photo by John A. Paradiso
Editor's Note:
This is a paid, sponsored article presented by our friends at Jameson.
Few pairings are as simple and perfect as a shot and a beer, either mixed or discreet. The boilermaker (as it's known) says to the world, "I've earned this." It's both an indulgence and an act of rebellion: You won't settle for your favorite pilsner or whiskey neat; you deserve both.
Some might suggest that there's no artistry to the boilermaker, and to them I say you've been doing it wrong. In fact, Tomaso's Canteen, which was one of our favorite bars of 2018, has a dedicated and curated shot-and-a-beer menu.
In the Caskmates Program, Jameson ships fresh barrels to partner breweries around the United States, which use them to age beer. Found in neighborhood bars all across America, these beers are considered the perfect pairing for Caskmates Stout or IPA. However some bars like to not only create boilermakers but use Caskmates and craft beer to create refreshing beer cocktails. We asked bartenders around the country to share their favorite boilermaker and beer cocktail recipes, making use of Jameson Caskmates Stout or IPA and below are ten of the best we found across the country.
The Paul Cleary Collins
Beaker and Gray, Miami
Jacob Jebeleon of Beaker and Gray in Miami's beer-loving Wynwood neighborhood recommended The Paul Cleary Collins, a summer-y, refreshing drink that includes Jameson Caskmates IPA edition, watermelon juice, Zucca, rosemary syrup, orange bitters, and lemon juice. The final touch is typically a Stone Ripper IPA, but any bright, juicy IPA will do. Jebeleon recommends pairing the drink with pork belly and a side of carrot puree and roasted hazelnuts.
Boilermaker
Spats, Berkeley
Craig Dollars, a bartender at Spats in Berkeley, California, recommends a no-frills beer and chaser. He pairs Jameson Caskmates IPA edition with whatever happens to be on tap from Laughing Monk, a San Francisco-based brewery. Order a classic cheeseburger on the side (with tater tots of course) and you're in for a relaxed night in the East Bay.
Apple Stout Shandy
The Octopus Bar, Seattle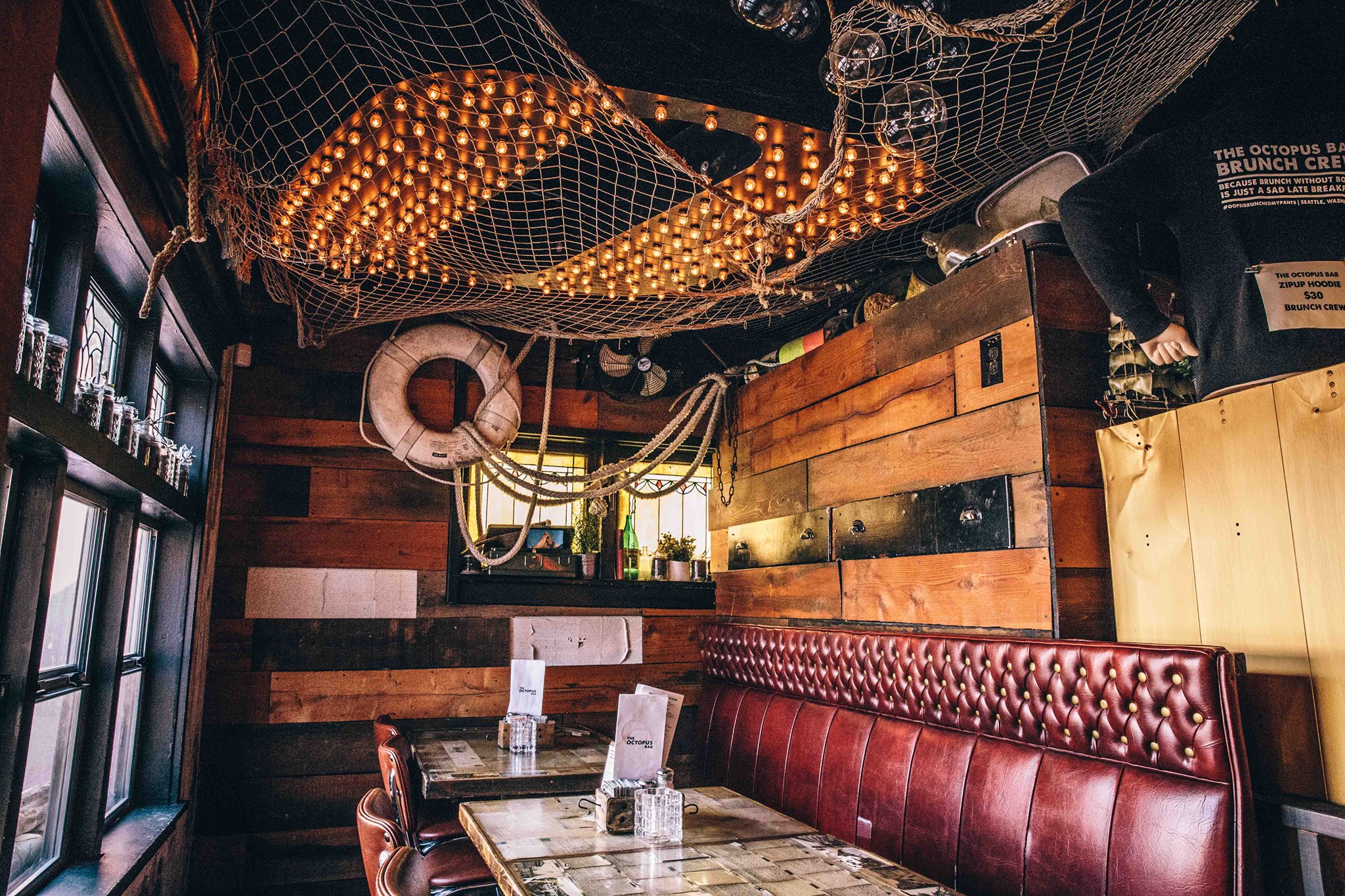 This is perhaps the pinnacle of Pacific North West boilermakers. Trevor Marsh of Seattle's The Octopus Bar combines Jameson Caskmates Stout Edition, Yakima's Brambling Route Apple Cider, pineapple juice, and bitters. The pineapple juice is a dash of sunshine in the winter and the Jameson Caskmates Stout introduces a little wintry depth to the cocktail. Pair alongside the "Captain's Plate," a rotating plate of two meats, two cheeses, dried fruit, jam, and flatbread.
Caskmates IPA Cocktail
Here Nor There, Austin
Terance Robson of Here Nor There, a members-only cocktail lounge in Austin, Texas, presented the Caskmates IPA Cocktail, a simple, refreshing drink for hot Texas days. Jameson Caskmates IPA Edition meets apricot, peach, local honey, chamomile tea, and champagne acid. Robson suggests topping off with a Golden Ale like Kona Big Wave. The Caskmates IPA Cocktail goes great with warm evenings and an order of shrimp or vegetable gyoza.
Caskmates Stout Cocktail
The George Jones, Nashville
Dessert in a glass? Yes, please! The Caskmates Stout Cocktail, presented by Alexa Slaymaker of Nashville's The George Jones, features Jameson Caskmates Stout Edition, Crème de Banana, and The Rose from The Black Abbey Brewing Co. Enjoy alongside The Rocky Top Sandwich, which includes house-smoked pork and chicken with slaw and mac and cheese on a brioche bun.
The Burbank
The Sherman, Los Angeles
Nick Detorri, bartender at The Sherman in LA's Sherman Oaks, suggests a Hollywood-worthy drink: The Burbank. Featuring Jameson Caskmates Stout Edition, Amaro Lucano, maple syrup, cinnamon, blueberries, and prosecco, this is basically a spritz-y blueberry pancake. Go full-on brunch-mode with fried chicken and biscuits.
Boilermaker
Brewski's, The Bronx
Brewski's in The Bronx is a classic joint, which is why bartender Brian Torressen recommended a classic boilermaker. He's pairing Jameson Caskmates IPA Edition with whatever local IPA happens to be on tap. Most likely, you'll find something from Sixpoint, Threes, or even Grimm. Get your shot and a beer with the Brewski burger.
Caskmates IPA Mojito
Rockit Bar and Grill, Chicago
Colleen O'Brien from Chicago's Rockit Bar and Grill was looking to get the summer party going with the Caskmates IPA Mojito. Simply top off your favorite mojito with a pour of Jameson Caskmates IPA Edition. That's it! Order up a buffalo calamari cobb salad for fresh, tasty, sunshine vibes.
A Full 8 Seconds
Tavern at the Beach, San Diego
A Full 8 Seconds from San Diego's Tavern at the Beach is basically summer in a glass. Jameson Caskmates IPA Edition meets strawberries, rosemary, fresh lemon juice, simple syrup, and St-Germain. Bartender Zack Jones suggests ordering Jameson BBQ Chicken Wings to pair with your delicious cocktail, and we wouldn't disagree.
Boilermaker
Recess Beer Garden, Denver
James Woolley of Denver's Recess Beer Garden isn't taking any chances and recommends a tried and true boilermaker: shot of Jameson Caskmates IPA chased with Great Divide Brewing Company's Titan IPA. For a perfect Friday night, get yourself the pretzel party board and split with a couple of friends.
This is a paid, sponsored article presented by our friends at Jameson.
Liked this article? Sign up for our newsletter to get the best craft beer writing on the web delivered straight to your inbox.