Photo courtesy of Rose Foods
Editor's Note:
Want to drink great beer in Portland, ME? Join us this summer at Mast Landing Brewing Co. on June 29th for Juicy Brews Island Getaway. Get tickets and more info here.
Before my visit last week, I think my most recent trip to Maine was with the Boy Scouts — well before I could drink or properly enjoy the state's cuisine. Still, I remember falling in love with Vacationland. There's not as much of a distinction between the Great Outdoors and everyday life; "the outdoors" is just Maine.
In true Maine fashion, Portland is not in opposition to the wilds of Maine. Nature breathes through the city; it's not shut off by it. The truly farm-to-table restaurants, agriculturally-minded shops, and lush green spaces remind visitors that the rest of Maine isn't too far away.
Portland's excellent food and drink scene has never been a secret, but whatever gems may have been hidden were unearthed when Bon Appetit named Portland its restaurant city of 2018 — a very well-deserved distinction. The beauty of a city like Portland, Maine, though, is that it never stops growing. Sure, your favorite little Portland joint may have blown up overnight, but there's going to be a new crop of hotspots just around the corner.
The Hop Culture team spent a short weekend exploring the best food and drink in Portland, attempting to come up with our own beer-focused guide to the city. Many of our choices are "easy" (Tandem, Drifter's Wife, Rose Foods Austin Street, etc.) but we hope you discover a few new favorites as we did.
The Best Breweries in Portland, Maine
Oxbow Blending & Bottling
49 Washington Ave | (207) 350-0025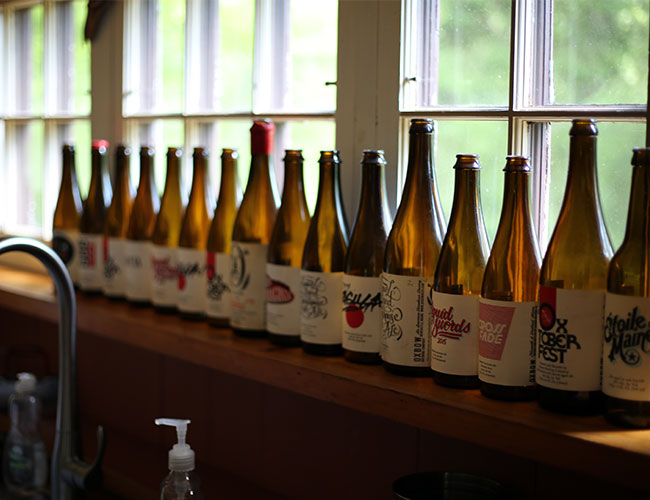 Frites and a beer. Some might recommend visiting on a sunny afternoon, but you should start thinking of Oxbow as the ultimate nightcap. After you've had your fill of beer and shot combos at Tomaso's, Uber on over to Oxbow's Portland outpost for a late night bottle pour of something funky and a heaping pile of fries.
With frequent DJ nights and vinyl swaps, the Belgian-inspired brewery is always a good time, particularly in the wee hours of the night. Plus, Oxbow is licensed to serve spirits, so you can end your night properly with a glass of amaro.
Austin Street Brewery
115 Fox St | (207) 200-1994
Start the brewery crawl. Everyone knows that the original Austin Street location on Industrial Way is part of the OG Portland brewery crawl, but the new Fox Street spot kicks off the new school brewery tour. The Fox Street taproom is beautifully designed and will soon sport a gorgeous outdoor patio and drinking area. Plus, it's conveniently located next to Rising Tide, another standout Portland brewery.
Be sure to check out Austin Street's website to see which local food vendor is popping up.
Allagash Brewing Co.
50 Industrial Way | (207) 878-5385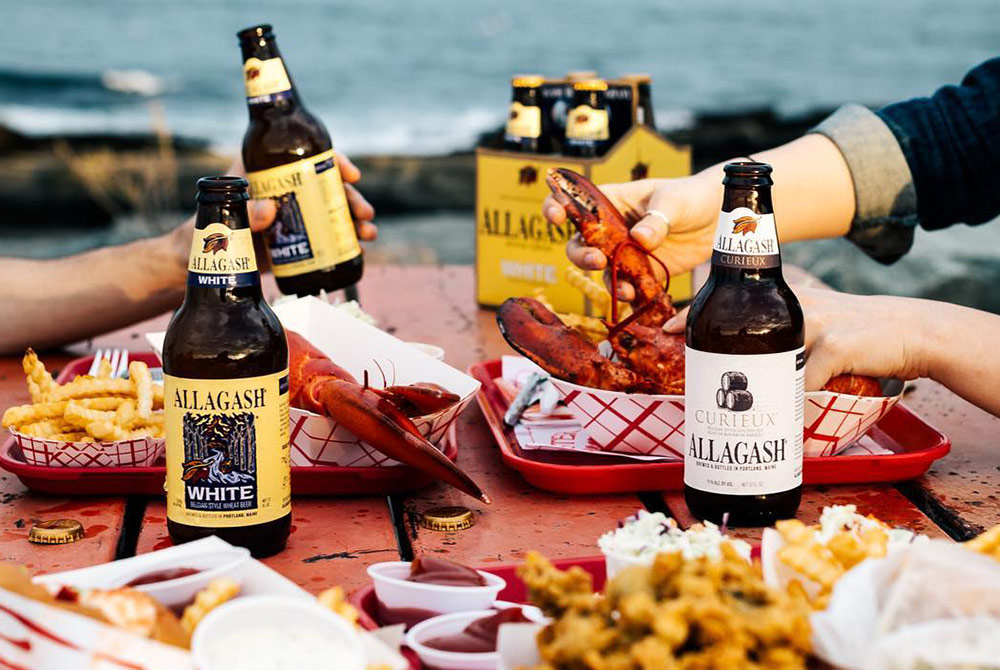 A beer for the road. It'd be heresy to visit Portland and not stop at one of the best breweries in the world. In fact, Allagash and Founder Rob Tod was just named the 2019 Outstanding Wine, Spirits, or Beer Producer at the James Beard Foundation awards.
While you're in the neighborhood, be sure to swing by the bevy of breweries on Insutrial way like Definitive, Foundation, and Battery Steele. Even if you can't stick around for a few beers, we'd recommending splurging and bringing some rare offerings back home with you.
Goodfire & Lone Pine
219 Anderson St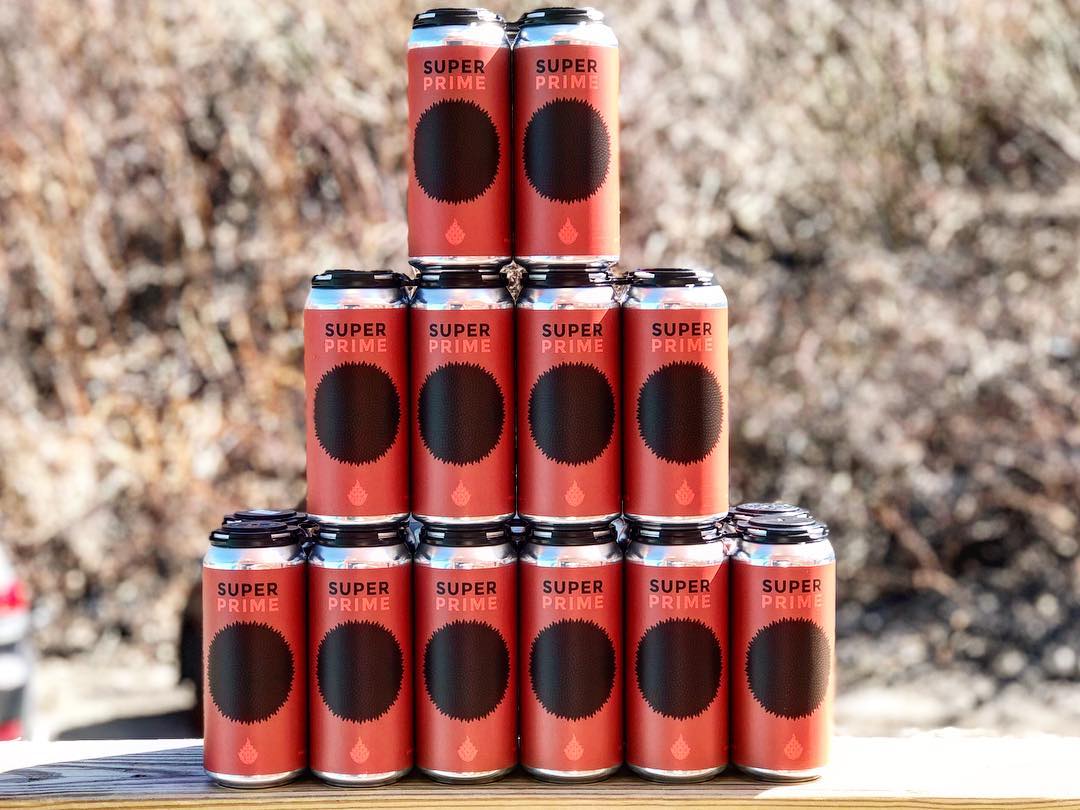 The haze craze. After enjoying the low ABV stylings of Austin Street, saunter over to the new guard of hazy producers. Goodfire and Lone Pine share a building just a short walk from Austin Street and are two of the most exciting new breweries in the state. Both have been making stellar New England IPAs (I particularly liked a recent DIPA from Lone Pine), but we also tried a very solid pilsner from Goodfire on this trip.
Pro tip: some of the best food trucks in town make frequent appearances, like Mr. Tuna (we're still dreaming about those hand rolls), so be sure to have a bit of an appetite.
Learn More: Goodfire Learn More: Lone Pine See on Map
The Best Bars and Bottle Shops in Portland, Maine
Tomaso's Canteen
18 Hampshire St | (207) 536-1285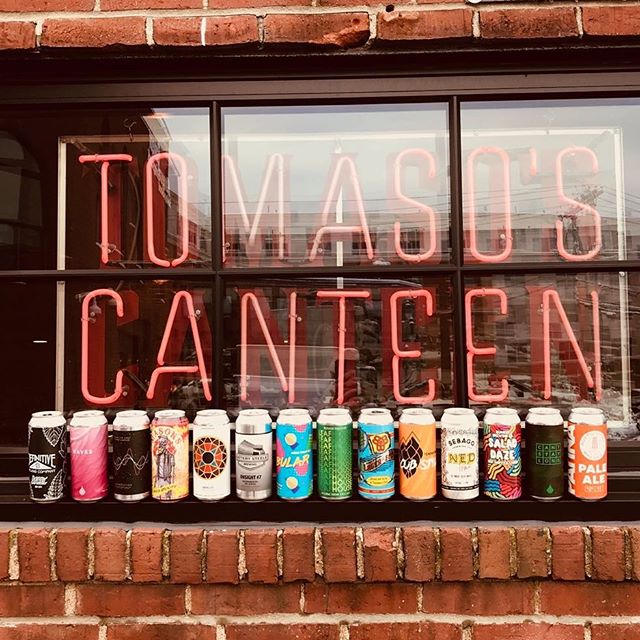 Shot and a beer. Tomaso's is just around the corner from The Honey Paw and is the best place to keep the party going. We named Tomaso's Canteen one of the best beer bars of 2018, and for good reason.
The dive-y Portland watering hole is low on frills, but high on amazing vibes. Unlike many other modern beer bars, Tomaso's focuses on packaged product and has an extensive list of fresh 16-oz cans from the best New England breweries.
Novare Res Bier Café
4 Canal Plaza Suite 1 | (207) 761-2437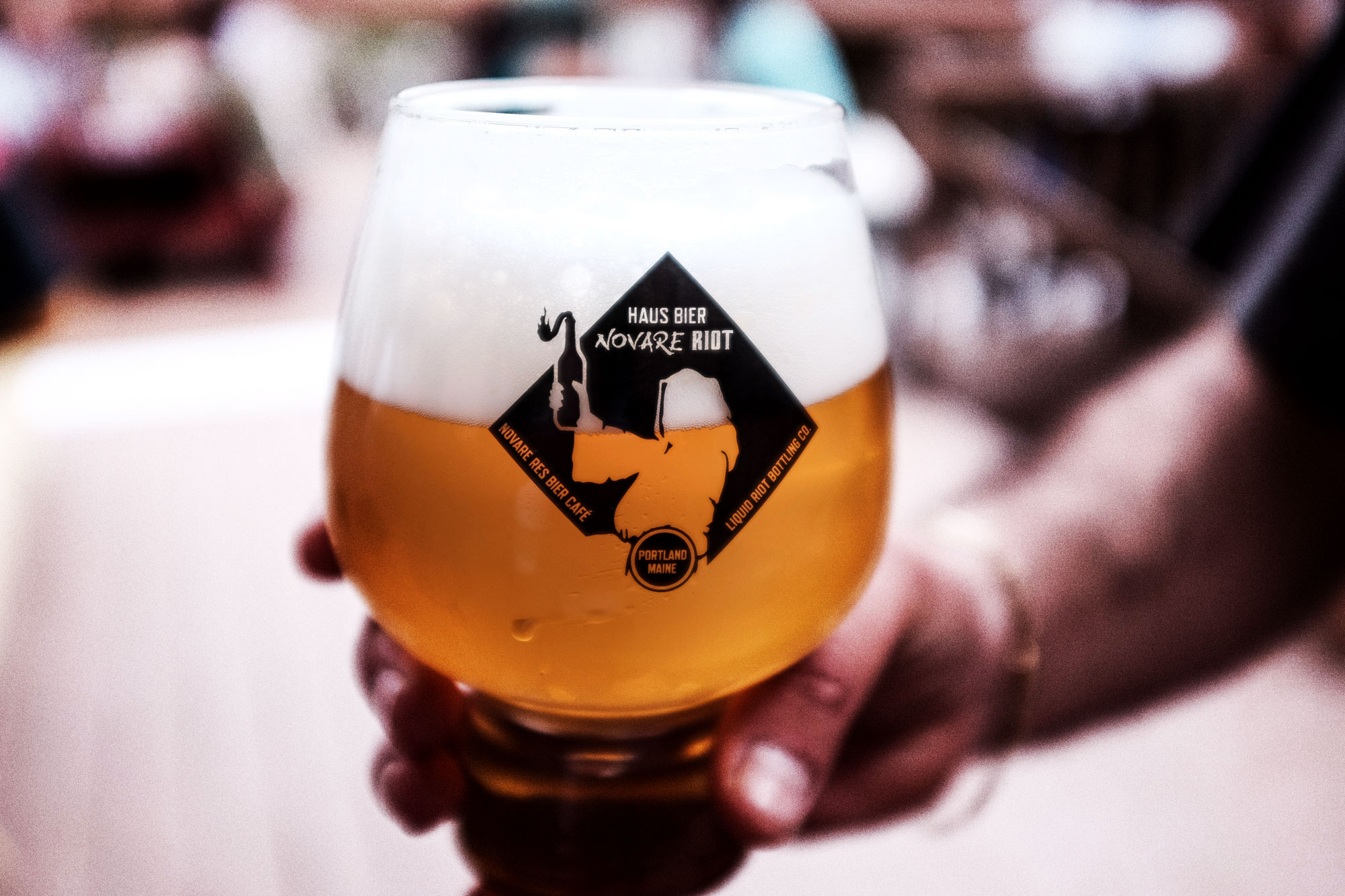 It's not too early for a beer. Novare Res is reason enough to visit Portland. Sure, it might only be noon on a Sunday, but why not enjoy a Cantillon bottle pour?
The Belgian beer café is tucked away in Canal Plaza and the bar has a warm, cellar-like atmosphere. If you're feeling a little stuffy, bring your lambic to the outdoor porch.
Novare sports an excellent tap list with exciting beer from Maine and beyond and a mind-blowing bottle menu brimming with rare and delicious beer.
Bier Cellar
299 Forest Ave | (207) 200-6258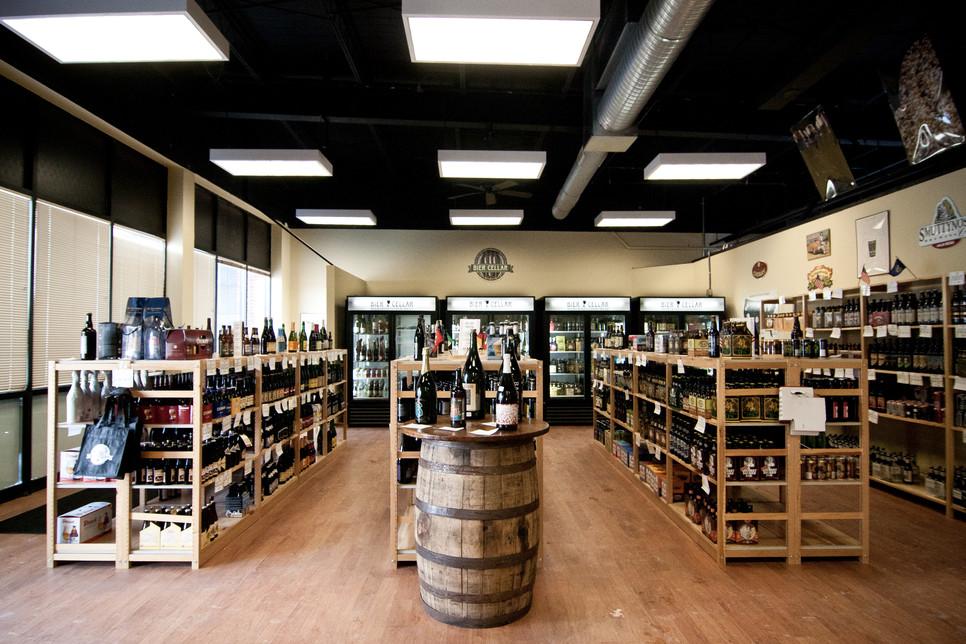 Beer to go. Just a short walk from Rose Foods is Bier Cellar, one of Portland's best bottle shops. Stock up on some bottles for your Airbnb or for an afternoon picnic. You never know when you'll need some beer on the go.
Drifter's Wife
59 Washington Ave | (207) 805-1336
Natty wine. Drifter's Wife is the wine bar in Portland. You'll find beautifully prepared seasonal dishes as well as a bountiful selection of natural wine, or as the Drifter's Wife team describes it: "Real wine." The natural wine craze has taken off quite rapidly but, as Drifter's Wife explains, quality natural wine simply means chemical-free farming and the use of native, wild yeasts. The result is a lively, lovely glass of wine.
The staff is well-versed and happy to help recommend a selection, but we'd suggest anything from Warren, Maine-based Oyster River Winegrowers.
On your way out, hit up Maine & Loire, the on-site wine shop for a bottle (or two or three) for your afternoon picnic.
The Portland Zoo
41 Fox St | (207) 536-0166
Don't feed the animals. There are no exotic beasts here; just drunk Mainers. A classic local dive bar, The Zoo attracts its fair share of characters and those looking for a nightcap or two.
If the weather is nice, enjoy a pint outdoors or just grab a seat at the bar. **Whatever you do, don't feed the animals.
The Best Restaurants in Portland, Maine
The Highroller Lobster Co.
104 Exchange St | (207) 536-1623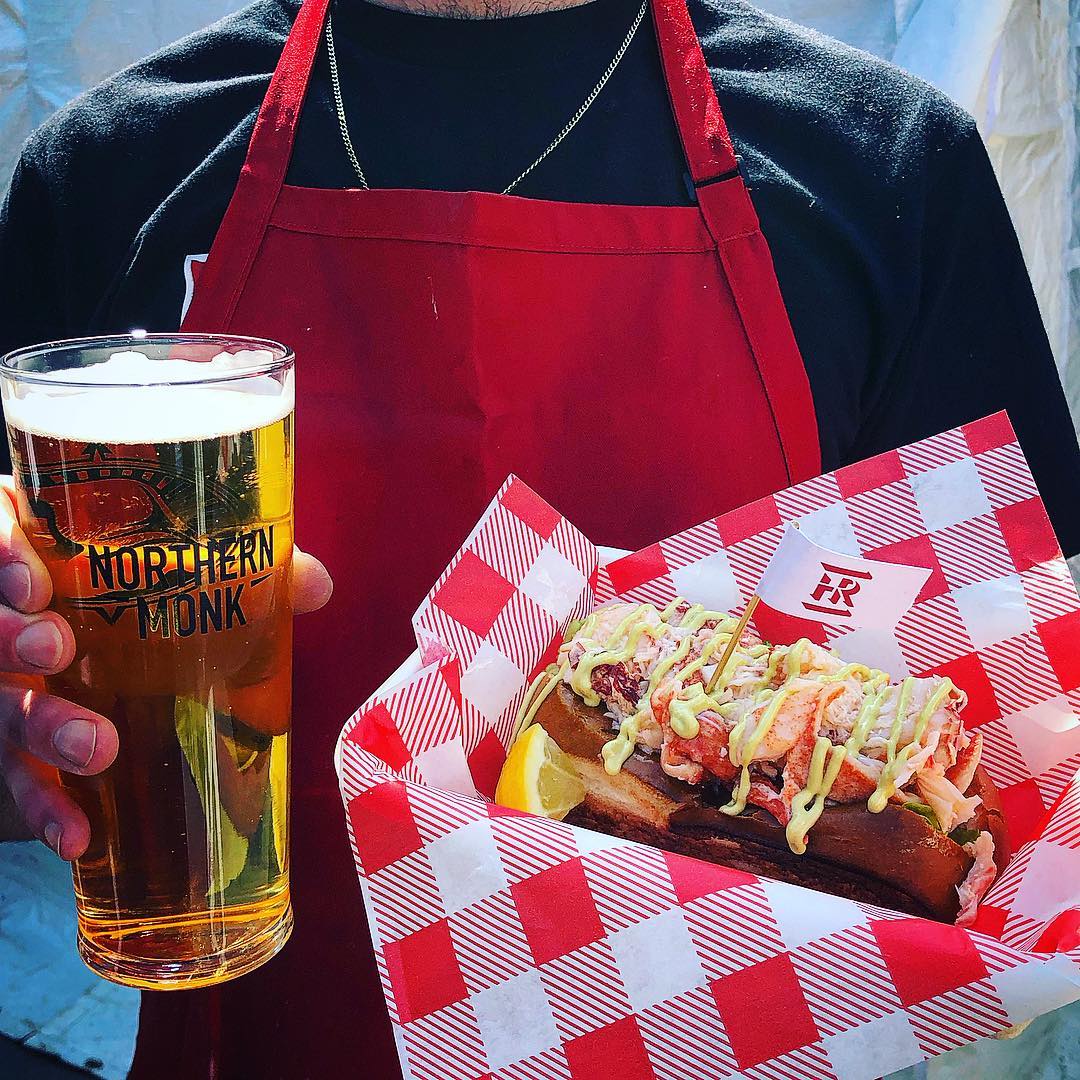 Bony Riga Tony Hypebeast lobster rolls. And amazing beer. That's what you get at The Highroller Lobster Co., an erstwhile food cart turned brick-and-mortar joint. The beer list is always stellar and the lobster is fresh and expertly prepared.
Go for a classic lobster roll or mix it up with a lobster cheese crisp taco. What other spot has a plastic skeleton as a mascot that flexes this hard?
The Honey Paw
78 Middle St | (207) 774-8538
Noods. Any weekend trip in Portland should start with food, and The Honey Paw is a perfect intro to Portland's food scene. The hip and sunny Asian fusion restaurant serves up delicious noodle bowls, local beer, and great music selections.
A&C Grocery
131 Washington Ave | (207) 329-4314
Italian punk sandwiches. If you're still hungry or need a new account to follow on Instagram, check out A&C Grocery. Part Italian market, part punk rock sandwich shop, A&C felt like a hidden gem.
We stumbled into the shop not knowing what to expect and were greeted by founder Joe Fournier, who has the air of a local legend. He makes his rounds as a "sandwich pirate" to local breweries offering the three-foot sandwich challenge to ambitious eaters and regular sandwiches to cowards.
Stop by for a sandwich — the Italian was phenomenal — or just sit down and listen to Joe's stories.
The Cheese Shop of Portland
93 Washington Ave #1 | (207) 400-5344
Say cheese. One of the latest additions to Washington Ave. is The Cheese Shop of Portland, a husband-and-wife Italian provisions shop. You'll find a gorgeous selection of meats and cheeses, as well as cooking essentials, plus beer, cider, and wine. Because everyone should be pairing beer and cheese.
Pick up some snacks for an afternoon picnic or just say hi to Mary and Will! They are Portland's resident formaggio experts so we'd encourage taking some cheese home with you.
Sumner Park
64 North St
Views and brews. Hopefully you stocked up on a few light bites at The Cheese Shop of Portland and a bottle of wine or beer because we have the perfect place for an evening picnic. A short hike from Drifter's Wife is Sumner Park. It's a little steep but the view of the city from the top of the hill is beautiful.
Cong Tu Bot
57 Washington Ave | (207) 221-8022
Pho. We can't get enough of Cong Tu Bot's janky website. Or their spicy noodle bowl. The Vietnamese restaurant doesn't take reservations but even if there's a wait, we recommend sticking around. The food is stunning and the atmosphere is rowdy and fun in the best way.
Baharat
91 Anderson St | (207) 613-9849
Cocktails. If you somehow still have an appetite, take a short walk to Baharat for incredible Middle Eastern-inspired food. If you don't have an appetite, grab some of the best cocktails in town. After settling down for a few drinks, we have a feeling that you won't be able to resist at least an order of some small snacks. In case you haven't noticed, this guide isn't about portion control.
The Best Coffee in Portland, Maine
Rose Foods
428 Forest Ave | (207) 835-0991
Quality. Vitality. Cleanliness. Rose Foods is one of those "obvious" choices I mentioned earlier. Everyone raves about this local Jewish deli and for good reason: it's the real deal.
Despite its hip foodie cachet, Rose Foods feels like a down-to-earth, local bagel shop. Except, unlike your local bagel shop, it's impeccably designed by the geniuses at Family Bros. and sports some of the best restaurant merch in the business.
You can't really go wrong with anything on the menu, but I had the Dill Motel and couldn't have enjoyed it more. And if you can walk out without at least buying one of their mugs, you have much more self-control than me.
Tandem Bakery
742 Congress St | (207) 805-1887
One last caffeine boost. Before you wrap up your Portland weekend, get yourself a coffee at Tandem — one of the best coffee roasters in Maine, if not the country. The Tandem Bakery on Congress Street is in a repurposed gas station and former laundromat and offers tasty coffee and delicious baked goods.
Get yourself some coffee beans to take home and, if you're going to take your coffee to go, be sure to bring a travel mug!
Belleville
1 North St | (207) 536-7463
The best croissants. What better way to wake up than with a flaky, perfectly baked croissant? Belleville delivers — and then some. Stop by for some of the best breakfast pastries around and get yourself a cup of Tandem coffee served in-house at Belleville. After last night at the Zoo, you'll need it.
Just For Fun in Portland, Maine
Portland Trading Co.
83 Market St | (207) 899-0228
The coolest shop around. Do you need a new candle or a book on the natural beauty of Maine? Maybe not. But, once you step inside, you'll want everything at Portland Trading Co. Shop owner Kazeem Lawal has impeccable taste and keeps his store stocked with stylish clothing and home goods.
We could listen to Kazeem's travel stories for hours while he spins jazz on the record player behind him. And if you're looking for your next spot to visit, ask him for a food, drink, or shopping recommendations and he's sure to point you in the right direction.
Liked this article? Sign up for our newsletter to get the best craft beer writing on the web delivered straight to your inbox.