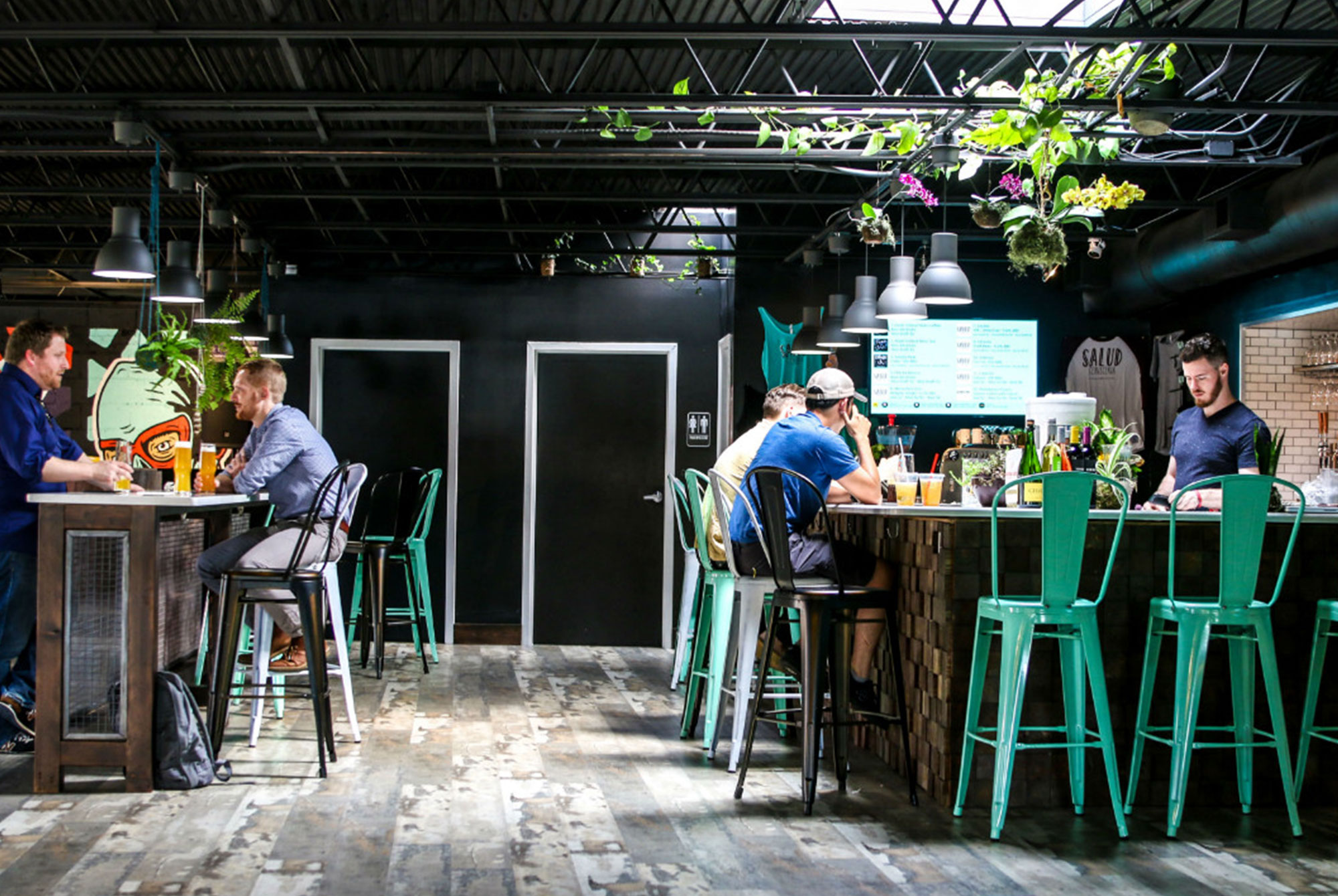 Photo courtesy of Salud Beer Shop
Editor's Note:
Want to drink some great beer in Charlotte? Join us for Juicy Brews March Madness on March 23rd at Resident Culture Brewing Co.
Did you miss out on an extra special can release and need some fresh beer? Worry not! Just pay a visit to your neighborhood bottle shop. Charlotte happens to have an excellent selection of beer stores that stock world-class beer and take good care of the product. Many of these shops have beer available on tap meaning you can sip while you shop.
If you're looking to stock up for a big weekend or just want to try something new and fresh, check out one of these bottle shops. These are five of the best bottle shops and beer stores in Charlotte, North Carolina. Our picks are presented unranked.
Salud Beer Shop
3306 N Davidson St | (980) 495-6612
Salud Beer Shop is the sister shop to Salud Cerveceria, which we included in our roundup of the best breweries in the Queen City. Not only does the beer shop have the freshest options from the brewery, but it also stocks a healthy selection of locally made beer, plus plenty of delicious beer from around the country. Don't skip on the international selection either; you'll find great Belgian, Italian, and German offerings.
Good Beer Co.
125 Remount Rd | (980) 495-6140
We named Good Bottle Co. one of the best beer bars in Charlotte, but the bar/bottle shop happens to be one of the best places to get beer to go as well. The string lights, spare design, and lush plants make for a comfortable and lovely vibe. Swing by and stay awhile for pizza and beers or just get a couple bottles and cans to take home with you. Or, if you're wise, do both.
The Hop Shop
818 Lamar Ave | (980) 859-7549
The Hop Shop is what happens when a coffee shop, beer bar, and bottle shop blend together. The Plaza-Midwood craft beer joint is an intimate, cozy bar that offers beer to go. You'll find exciting cans and bottles from breweries like Hoof Hearted, Allagash, Kent Falls, Burial, and more. Plus, if you want to stay awhile, choose from one of the 12 carefully curated taps.
Brawley's Beverage
4620 Park Rd | (704) 521-1300
Brawley's is a favorite among locals for the consistently solid selection of beer and the superb service. Need help picking out your haul for the weekend? The Brawley's team is more than willing to help out. Grab a pint at the bar and check out the extensive selection of bottles, there are usually a few rare gems hiding in the back.
Pop the Top
116 West Blvd | (704) 960-2859
Pop the Top has an exciting selection of beers both on tap and in cans and bottles to go. The South End neighborhood beer store keeps a regular supply of excellent North Carolina beer like Bond Bros., Resident Culture, Burial, and more. Not a fan of beer? You can find great locally made cider and even kombucha. Plus, you can fill growlers or crowlers of the beer on tap so you can enjoy a fresh brew from the comfort of your own home.
Liked this article? Sign up for our newsletter to get the best craft beer writing on the web delivered straight to your inbox.