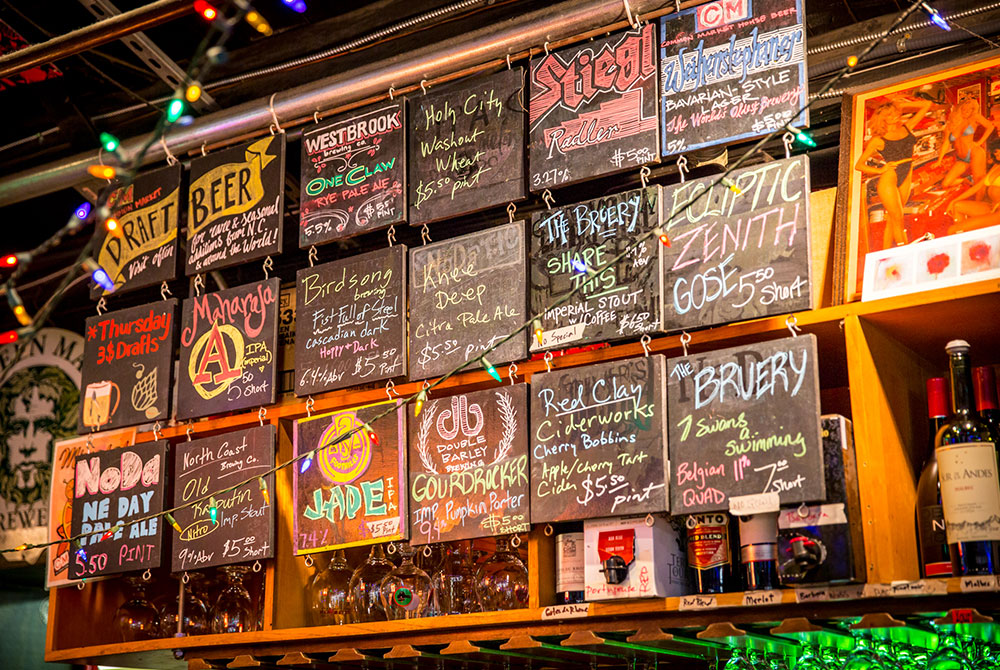 Photo courtesy of The Common Market
Charlotte boasts an excellent list of craft breweries, but I've found that a city's beer scene is made by its bars. The bars in the Queen City span a diverse range of styles, from upscale gastropubs to no-frills dive bars. The common denominator? Authenticity and great vibes.
If you can't make it to a brewery on your next trip to Charlotte or just want more selection, stop by one of these beer bars. These are five of the best bars in Charlotte, North Carolina.
Our picks are presented unranked.
Our Favorite Bottle Shops In Charlotte
The Common Market
2007 Commonwealth Ave. | (704) 334-6209
The Common Market is a one-stop shop for all your food and beverage needs. Part convenience store, part sandwich joint, part beer and bottle shop, The Common Market is a Charlotte beer institution.
Although The Common Market has three locations, we're sending you to the spot in Plaza-Midwood. Swing by the deli for a sandwich, belly up to the bar for a North Carolina beer, and grab a snack and a bottle to go on your way out.
Good Bottle Co.
125 Remount Rd | (980) 495-6140
Good Bottle Co. might be the most aesthetically pleasing bar in the Queen City. The Brookhill neighborhood bar and bottle shop regularly stocks the state's best, like Fonta Flora, Brewery Bhavana, and Casita Cerveceria. Take bottles to go or relax for an afternoon at the bar.
The Thirsty Beaver Saloon
1225 Central Ave | (704) 332-3612
No city's beer scene is complete without a proper dive bar. Pittsburgh has Gooski's. Buffalo has The Old Pink.
One of our first stops in Portland, Maine is Tomaso's Canteen. These are the places you'll find your favorite brewers after their shift is over.
In Charlotte, the number one spot is The Thirsty Beaver. Despite highrise development surrounding the beloved watering hole, the owners of The Thirsty Beaver refuse to move.
The bar isn't your chic, modern gastropub. It's a dive bar, plain and simple.
Stop in for a beer and listen to whatever's playing on the jukebox.
VBGB Beer Hall & Garden
920 Hamilton St | (704) 333-4111
There's nothing quite like enjoying a drink in a German beer hall. The team behind VBGB decided to bring some Bavarian charm to the Queen City. The VBGB kitchen will keep you fueled with brats, burgers, and sandwiches and the bar stocks a rotating selection of local and regional beers.
Cozy up for a night under the stars in the outdoor beer garden or stop in before a show at AvidXchange Music Factory next door.
Flying Saucer Draught Emporium
9605 N Tryon St A | (704) 717-8179
The chain of Flying Saucer bars boasts lengthy tap lists and a dedicated fanbase working to secure the immortal trophy: their name on a saucer on the wall of the bar. How does one attain such legendary status? Drink 200 beers.
The draft list includes a selection of local favorites and well-regarded out-of-state breweries.
Plus, the Charlotte location has $4 North Carolina beer Sundays, which are a great way to end your weekend.
Liked this article? Sign up for our newsletter to get the best craft beer writing on the web delivered straight to your inbox.