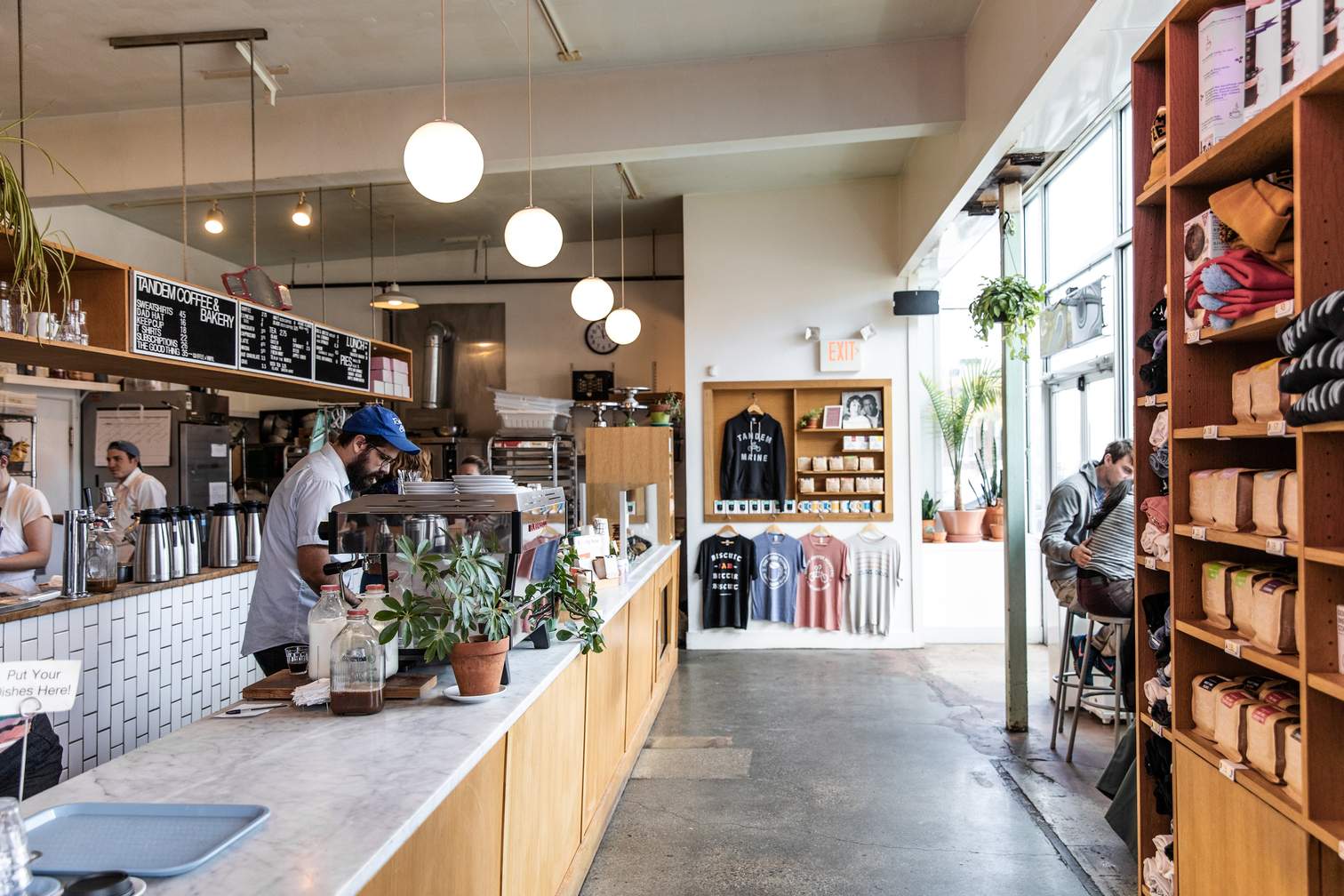 Photo courtesy of Tandem Coffee Roasters
Editor's Note:
Want to drink great beer in Portland, ME? Join us this summer at Mast Landing Brewing Co. on June 29th for Juicy Brews Island Getaway. Get tickets and more info here.
We've waxed poetic about Portland, Maine's beer scene and have listed its best breweries, bars, and bottle shops. But, there's much more to Portland than booze (though, again, it's very good). You'll find outstanding restaurants, clothing and home goods stores, and–unsurprisingly–great coffee. From the upscale bakery joints to the relaxed, laptop-friendly cafés, there's a coffee vibe for all drinkers.
We spent a weekend checking out the best food and drink Portland, ME has to offer. These are our picks for the five coffee shops in "The Forest City."
Tandem Coffee Roasters
742 Congress St | (207) 805-1887
Tandem is a personal favorite at Hop Culture HQ. Not only are they leading the coffee charge in Portland, but they also happen to be one of the better roasters in the country. We're particularly fond of The Good Thing, a coffee and vinyl subscription, but if you're looking to dip your toe into Tandem's offerings, we'd recommend the roastery's seasonal blend.
Tandem has two Portland locations and, while we absolutely encourage you to check out the original cafe and roastery location, Tandem Bakery, which is a stylish storefront in a former gas station, offers a mouth-watering array of baked goods and sandwiches. Be warned, there is no wifi for early morning work sessions; instead, bring a book or a magazine to peruse next to your espresso. Tandem has also taken steps to limit single-use paper cups by instituting an extra 25 cent charge on all to-go cups. So if you plan to take a coffee out, bring in your travel mug!
Bard Coffee
185 Middle St | (207) 899-4788
More centrally located in downtown Portland, Bard offers a quality cup of coffee and happens to be laptop-friendly. It's a convenient spot for a quick drip coffee on the go or for an espresso while you respond to a few emails. Bard sources all of its coffee from the same handful of farmers every year and roasts them in house. The result is a stellar cup of coffee however you order it.
Speckled Ax
567 Congress St | (207) 660-3333
Speckled Ax is another excellent Portland roastery. Initially founded as "Matt's Wood Roasted Organic Coffee," Speckled Ax (which definitely flows a little better) roasts its coffee using a wood-fired oven. The result is a beautifully expressive coffee owing to the roastery's thoughtful sourcing. The shop is fairly cramped, but we highly recommend getting an espresso and maybe some beans to go.
Belleville
1 North St | (207) 536-7463
Ok, we're not exactly sending you to Belleville for the coffee. You're here for the pastries. The husband and wife-owned French bakery serves expertly prepared Tandem coffee, which happens to pair perfectly with the best croissants this side of the Atlantic. Seriously. Breakfast is easily the best (though busiest) time to visit and load up on pastries, but Belleville also offers pizza for lunch and dinner, as well as the occasional wine tasting.
Higher Grounds
45 Wharf St | (207) 536-7550
Higher Grounds is a stylish coffee shop in Portland's historic Old Port 'hood. They serve a lovely selection of Speckled Ax coffee as well as locally sourced pastries, teas, and herbal goods. As you sip on a pour over, peruse the apothecary for skincare, botanicals, and herbal tinctures. You're sure to leave more energized than when you came in!
Liked this article? Sign up for our newsletter to get the best craft beer writing on the web delivered straight to your inbox.