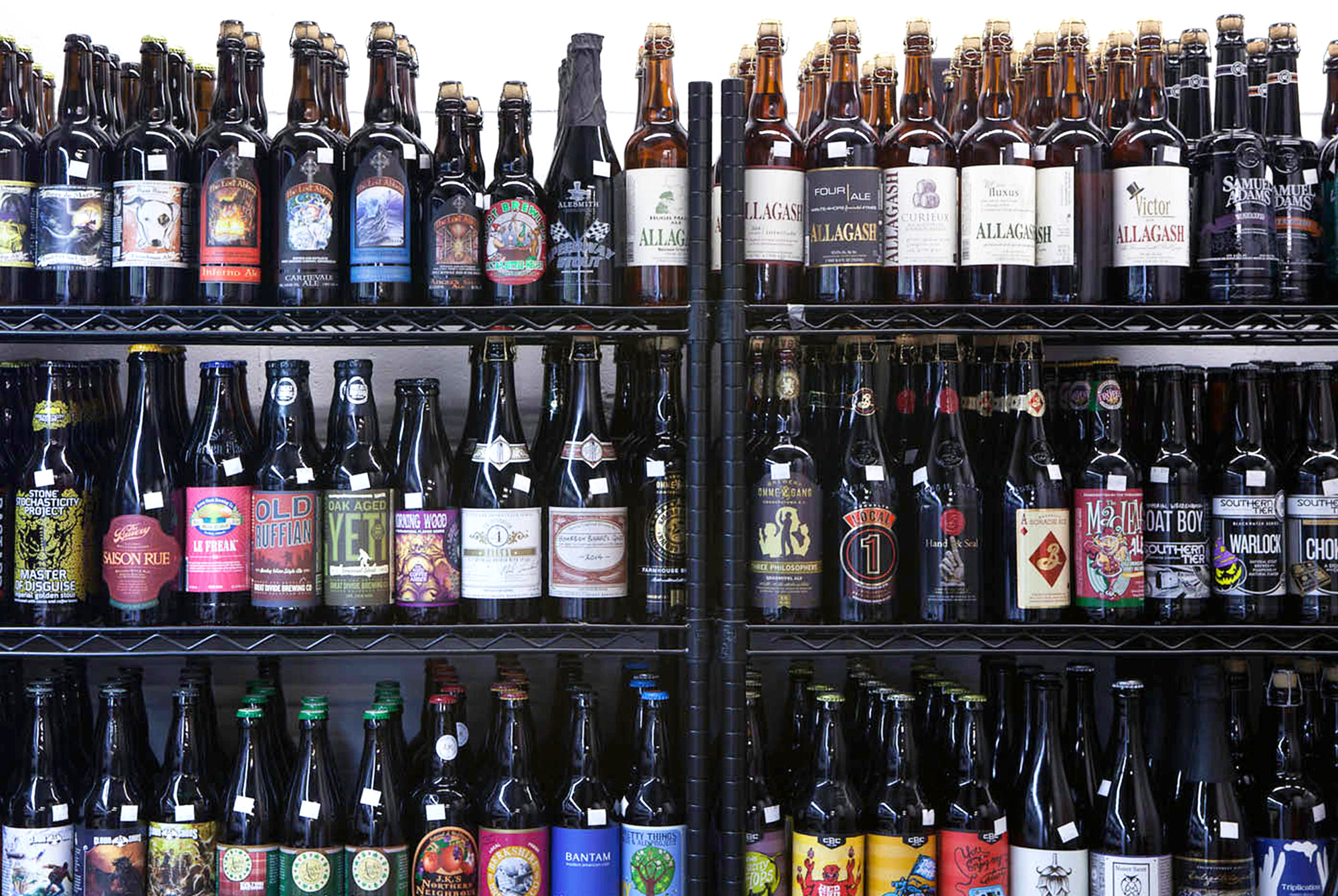 Editor's Note:
Want to enjoy some beer in Boston? On October 26th, 2018, Hop Culture is coming to the Cyclorama at the Boston Center for the Arts for Spooky Brews, a spooky scary Halloween party featuring some of the juiciest IPAs and sours in the country. VIP tickets go on sale at 12:00 PM EST on 7/31 and GA at 12:00 PM EST on 8/1.
Sometimes you don't have time to wait all day in that can release line, and sometimes you're just looking for a few beers to bring to a friend's party. Whatever the reason, it's good to have a neighborhood bottle shop where you can find local stalwarts, new releases, and solid crowdpleasers.
Boston has plenty of small liquor stores featuring a wide variety of craft beer. We've tracked down five of our favorite bottle shops in the Boston area.
Craft Beer Cellar
98 Van Ness St., Boston | (857) 250-2967
The Craft Beer Cellar, which started in Belmont, MA, has several locations around the country stocking some of the best craft beer options. There are four locations in the Boston area (Roslindale, Newton, Fort Point, and Fenway), but I'm sending you to the Fenway location. When I lived in Boston, I was there about once a week — usually picking up a bottle or two of Mystic Table Beer. It's a relatively central location, close to some great restaurants and, of course, the Red Sox home stadium. Stop by for a tasting or pick up a few cans from some great New England breweries.
Social Wines
52 W Broadway, Boston | (617) 268-2974
Social Wines has an incredible selection of delicious wines but its beer section is somewhat of a hidden gem. Tucked away in the South Boston, and a short walk from the Broadway T stop, you'll find great beer and cider options from Night Shift, Shacksbury, Grimm, and Lamplighter. The staff is friendly and knowledgeable about the local scene so swing by with any Boston beer questions. Better yet, pick up a few cans for a picnic in downtown Boston.
Cambridge Spirits
9 Broad Canal Way, Cambridge | (617) 494-9000
Cambridge Spirits, located right by the Charles River, stocks solid craft beer, wine, and liquor options. You'll find cans from great breweries like Fat Orange Cat, Finback, and Lamplighter, as well as limited releases like Founders' KBS.
Fort Point Market
369 Congress St., Boston | (617) 426-9988
This unassuming specialty foods market, grocery store, and bottle shop boasts a surprisingly robust craft beer selection. I found a couple bottles of Pretty Things (RIP) well after Dan and Martha had shuttered their gypsy brewery. Plus, the Fort Point Market is a convenient 40 paces from Trillium's Fort Point outpost. Find some rare gems before picking up your allotment of juicy IPAs.
Hopsters Alley
100 Hanover St., Boston | (617) 775-9514
Hopsters Alley is located inside the Boston Public Market, a year-round market that features fresh, delicious food. At Hopsters Alley, you'll find regular tastings, a diverse selection of New England craft beer, and knowledgeable staff who are eager to offer suggestions. Stop by Union Square doughnuts and then peruse the tasty brews.
Liked this article? Sign up for our newsletter to get the best craft beer writing on the web delivered straight to your inbox.