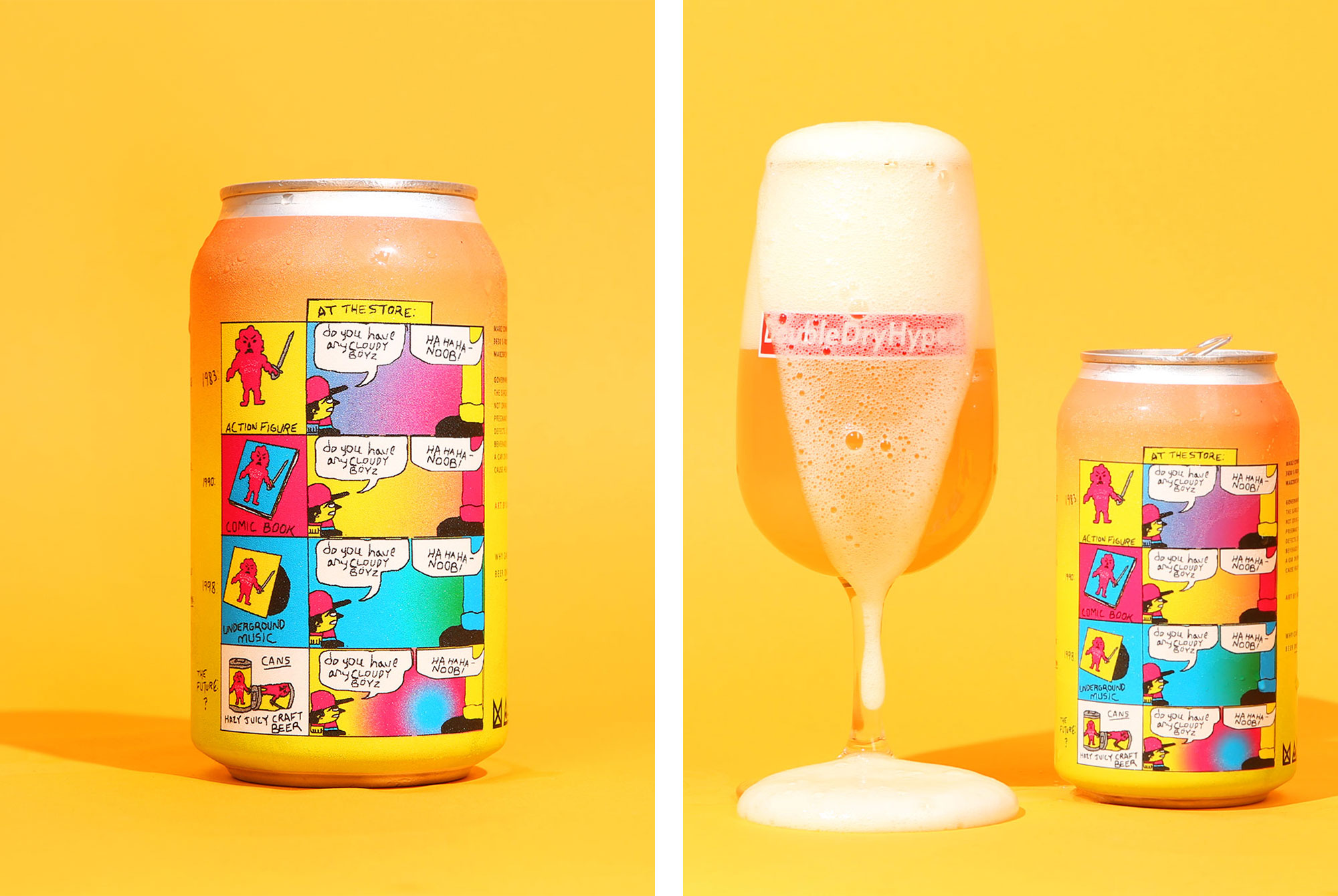 For better or worse, a stylish can or eye-catching bottle says a lot about a brewery. Sure, the liquid might be good, but throw it in a standard 12 oz. bottle with a bland label and you'll likely get passed on the shelf. More importantly, we've found that the best breweries invest in how their beer (and brewery) is presented. Whether that means selecting one artist that defines the visual expression of the brand, like Mikkeller and Hudson Valley, among others, or working with a rotating series of artists like Foam or Brouwerij West, beer art is recognizable and expresses something about the brewery. There's something to be said for thoughtful design.
In 2018, we came across a lot of great beer packaged in beautiful cans and bottles, but we limited this list to beers that we sampled in the office. Here are our favorite beer designs from the year. The beers are presented unranked with the exception of Cloudy Boyz, designed by Jacob Ciocci, which is our best beer design of 2018.
Cloudy Boyz
Marz Community Brewing + Collective Arts Brew — Chicago, IL + Hamilton, Canada
Art by Jacob Ciocci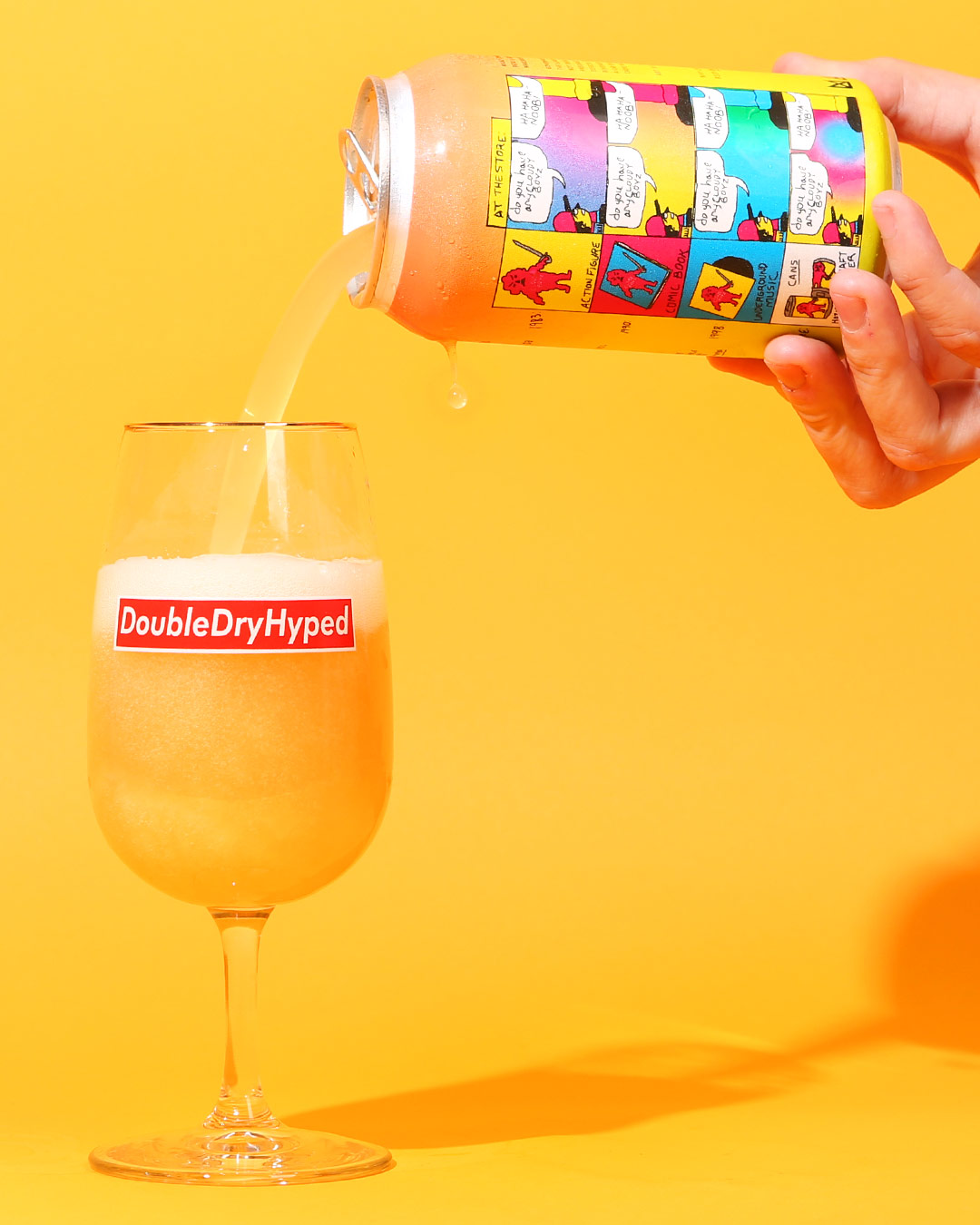 New England IPA– Marz got a lot of buzz for Chug Life, which is one of our favorite beers of the year, but we had the most fun with Jacob Ciocci's artwork on Cloudy Boyz, a delicious beer in its own right and our best beer design of 2018. The beautifully simple comic both pokes fun at the obsessive "collector" mentality of juice bois and derides those who turn up their noses at the trend. Every aspect of the can is great: the warm color palette, the pleading questions. "Why can't I taste beer online yet?" Both Marz and Collective Arts pride themselves on thoughtful design, and this can was a perfect representation of the breweries and beer culture in general. -Hop Culture
Murk Mobile
Pure Project Brewing + The Courtyard Brewery — San Diego, CA + New Orleans, LA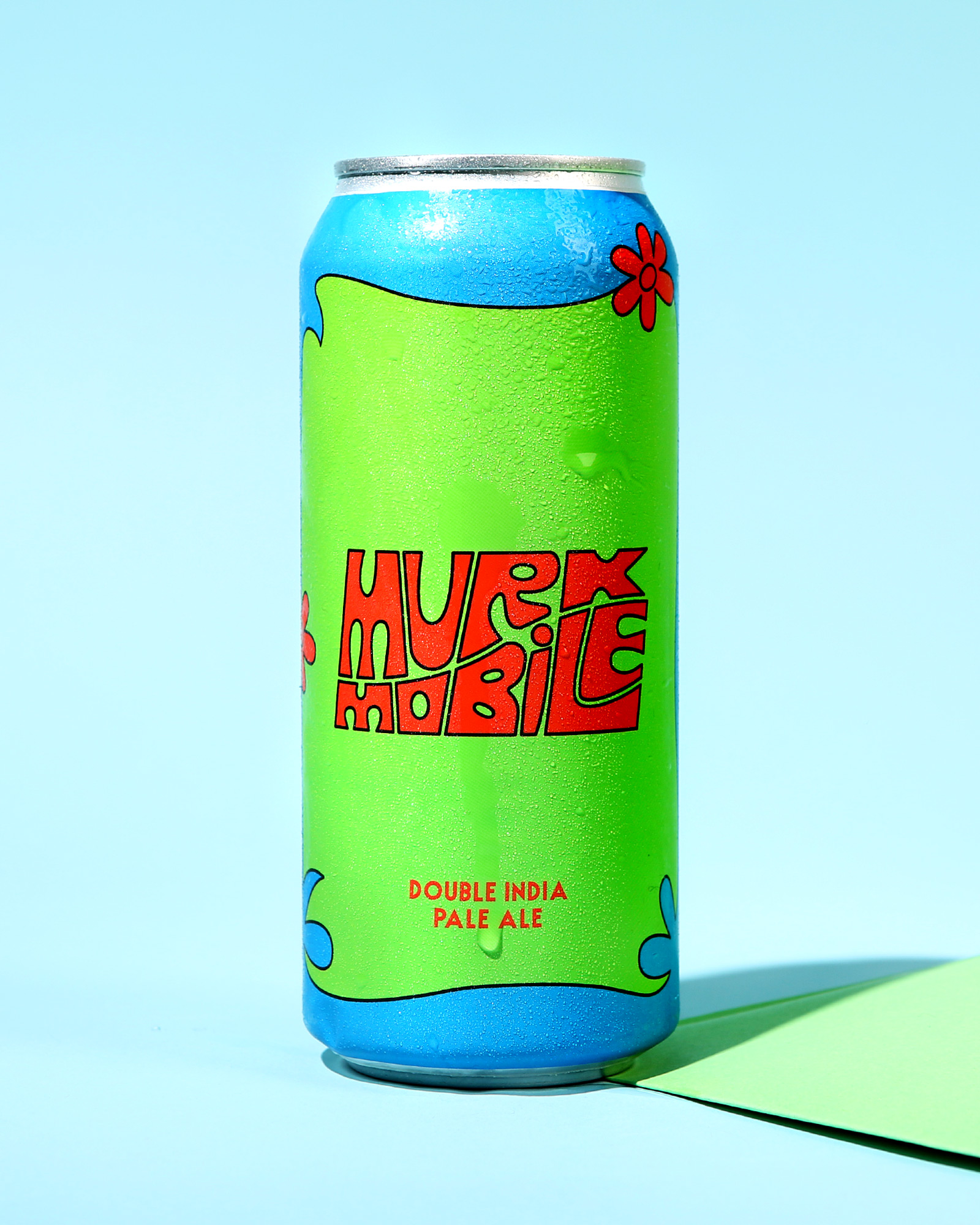 Double IPA– 2018 was the year of bootleg shit. From one of our favorite fashion brands to the nearly daily craft beer pop culture ripoffs (check out @intellectualpooperty for all of the hilarious examples), it seems like everyone is infringing on everyone else's copyright. So, we felt like we needed to include at least one legally gray label. Murk Mobile was among our favorites. Sure it's obvious, but we love being taken back to the days of Saturday morning cartoons… especially with a beer in hand. -J. Travis Smith
Cat's Out of the Bag
Ancillary* Fermentation — Raleigh, NC
Art by Stout Collective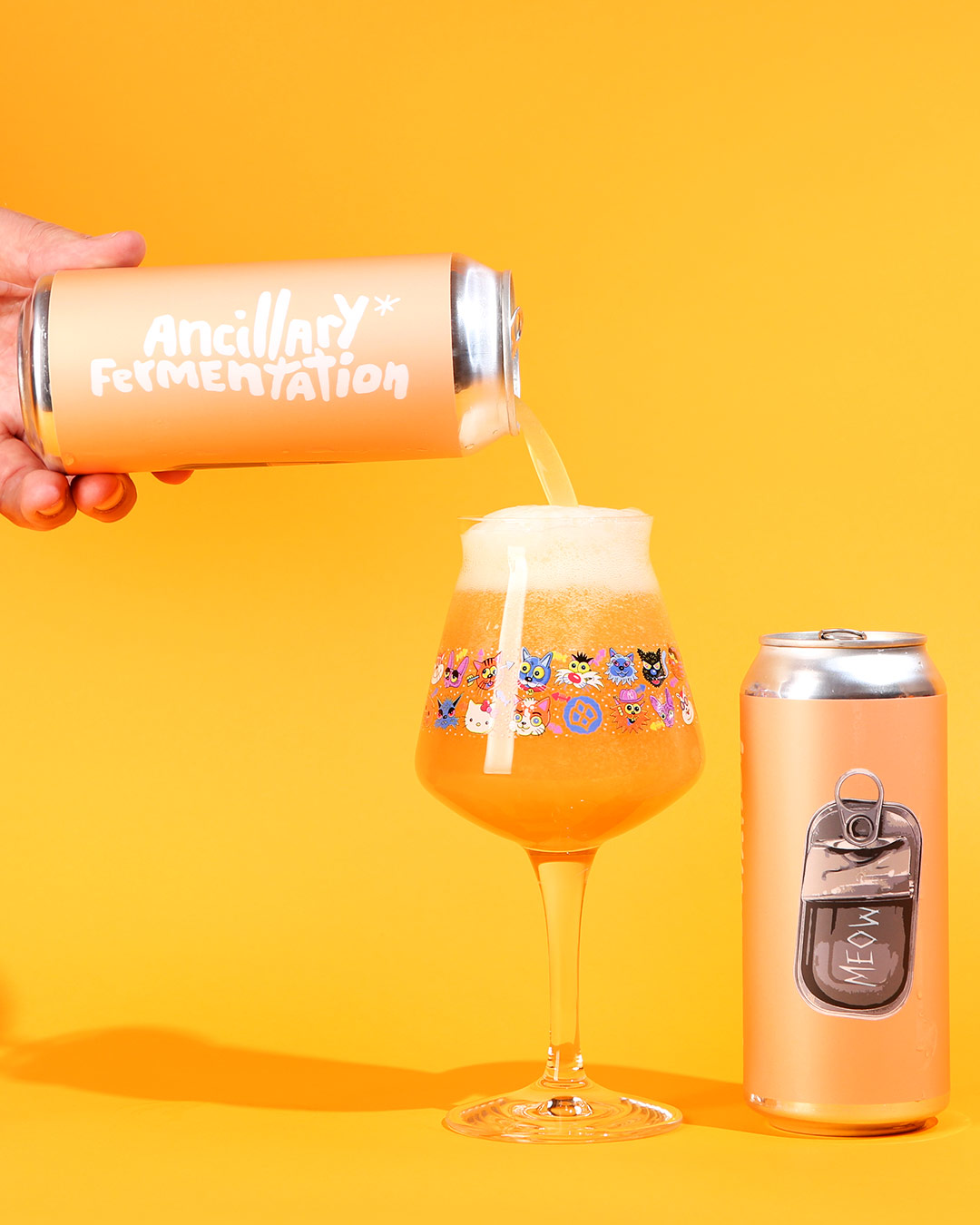 New England IPA– We've been thoroughly impressed by Ancillary* Fermentation, the creative side project from Whit Baker and Sean McKinney of Bond Brothers Brewing. The beer has been superb and the pop-up taproom idea is so rad. But, the can designs from Chicago's Stout Collective are equally striking. Cat's Out of the Bag, Ancillary's first release, was clean and extremely stylish. -John A. Paradiso
Bloom
Hudson Valley Brewery — Beacon, NY
Art by Evan M. Cohen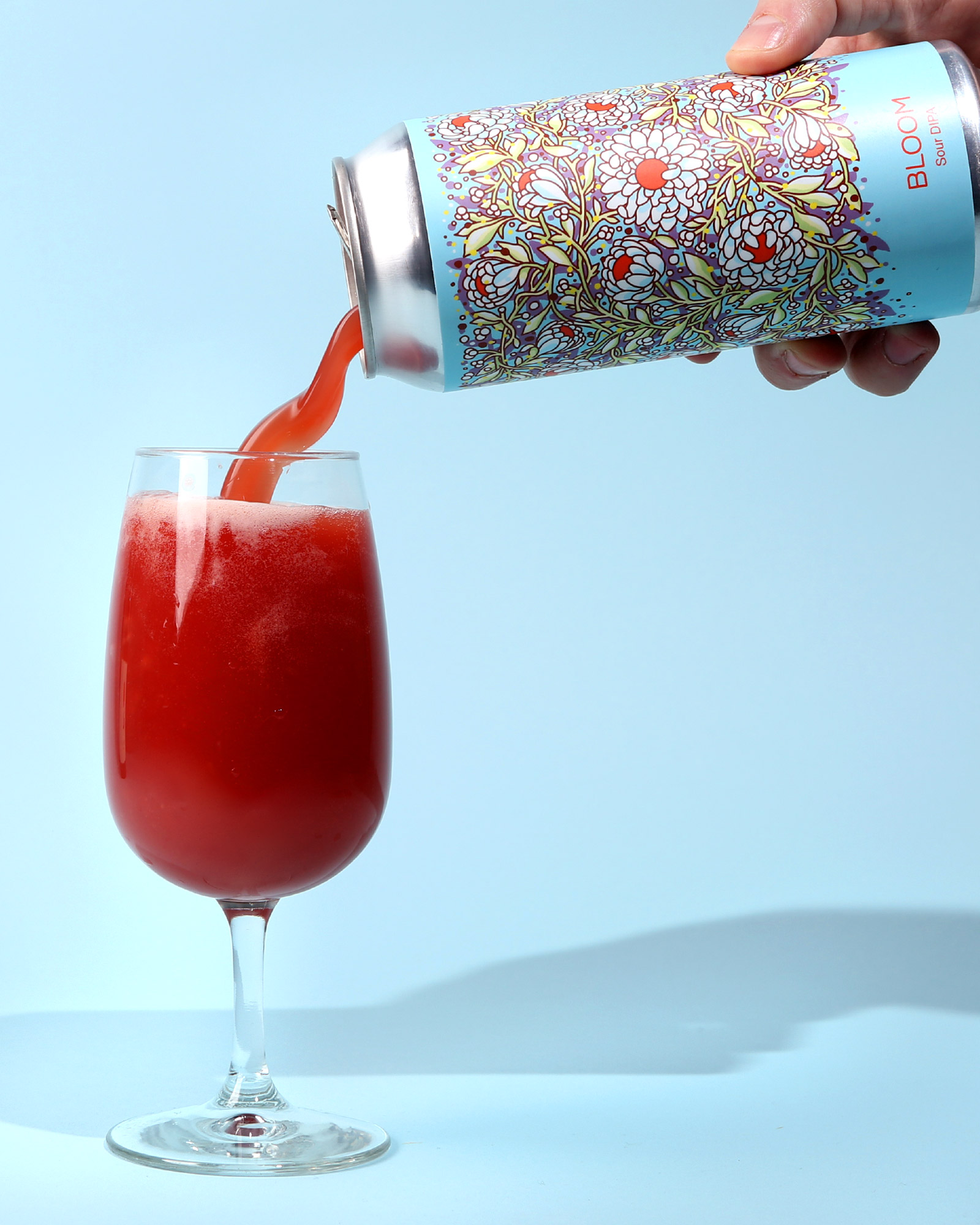 Sour IPA– By now, everyone who loves craft beer should be familiar with Evan M. Cohen's gorgeous work for Hudson Valley. Bloom, in particular, caught our eye. The colors are vivid and somehow managed to match the stunning liquid. With each can, Cohen encompasses the breadth of flavors the brewery is able to capture in the beer. -J. Travis Smith
Highway Vacay
Wren House Brewing Company + Mumford Brewing + Pure Project — Phoenix, AZ + Los Angeles, CA + San Diego, CA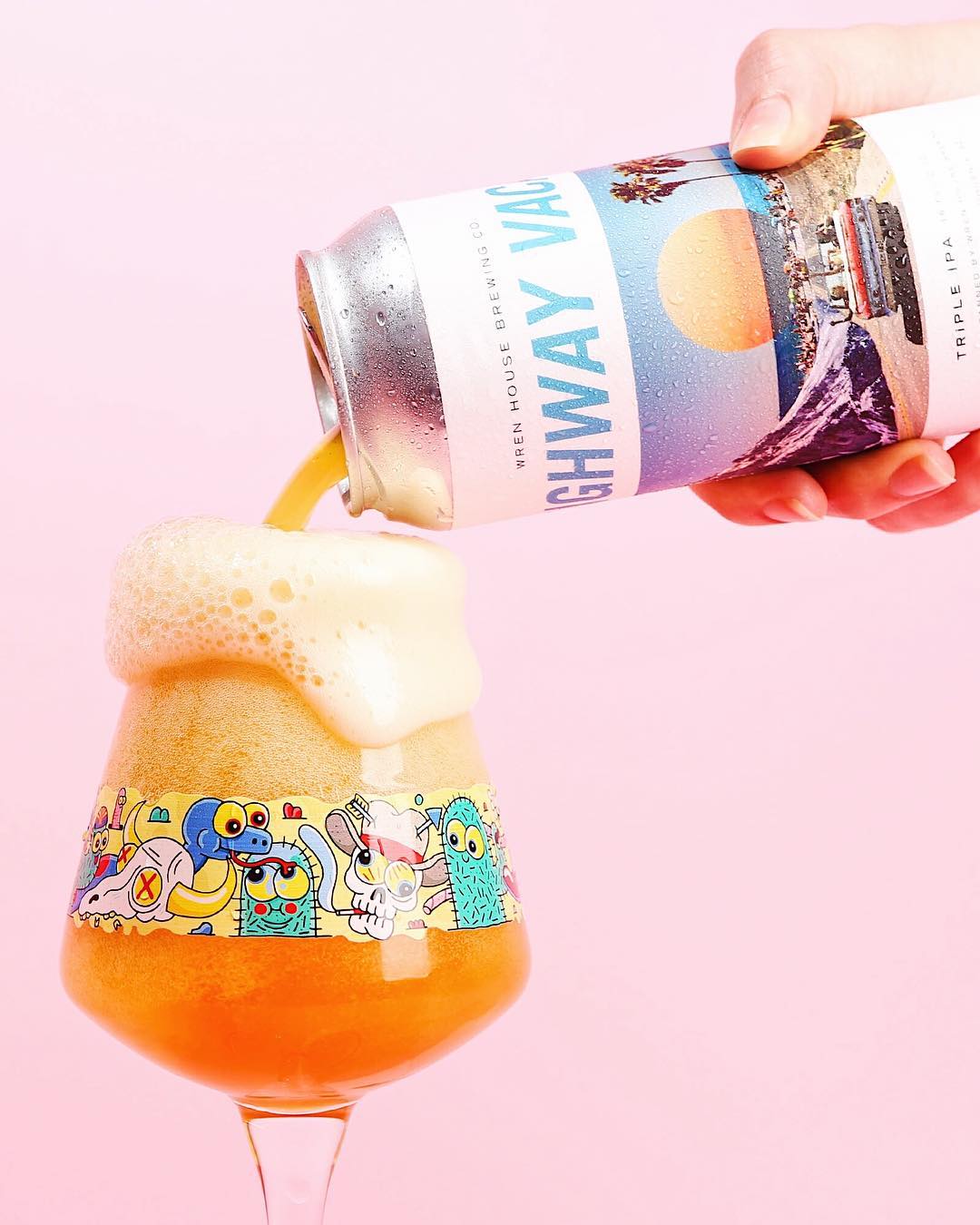 Triple IPA– We loved the retro, classic Cali-film, vaporwave-meets-surf-rock vibes of this can. It's nostalgic and progressive, and who would've expected it to contain a giant, juicy beer? It's rare that we find a can that can capture the essence of so many brewery collaborators, but Highway Vacay succeeds. -J. Travis Smith
Built to Spill
Foam Brewers — Burlington, VT
Art by Jackson Tupper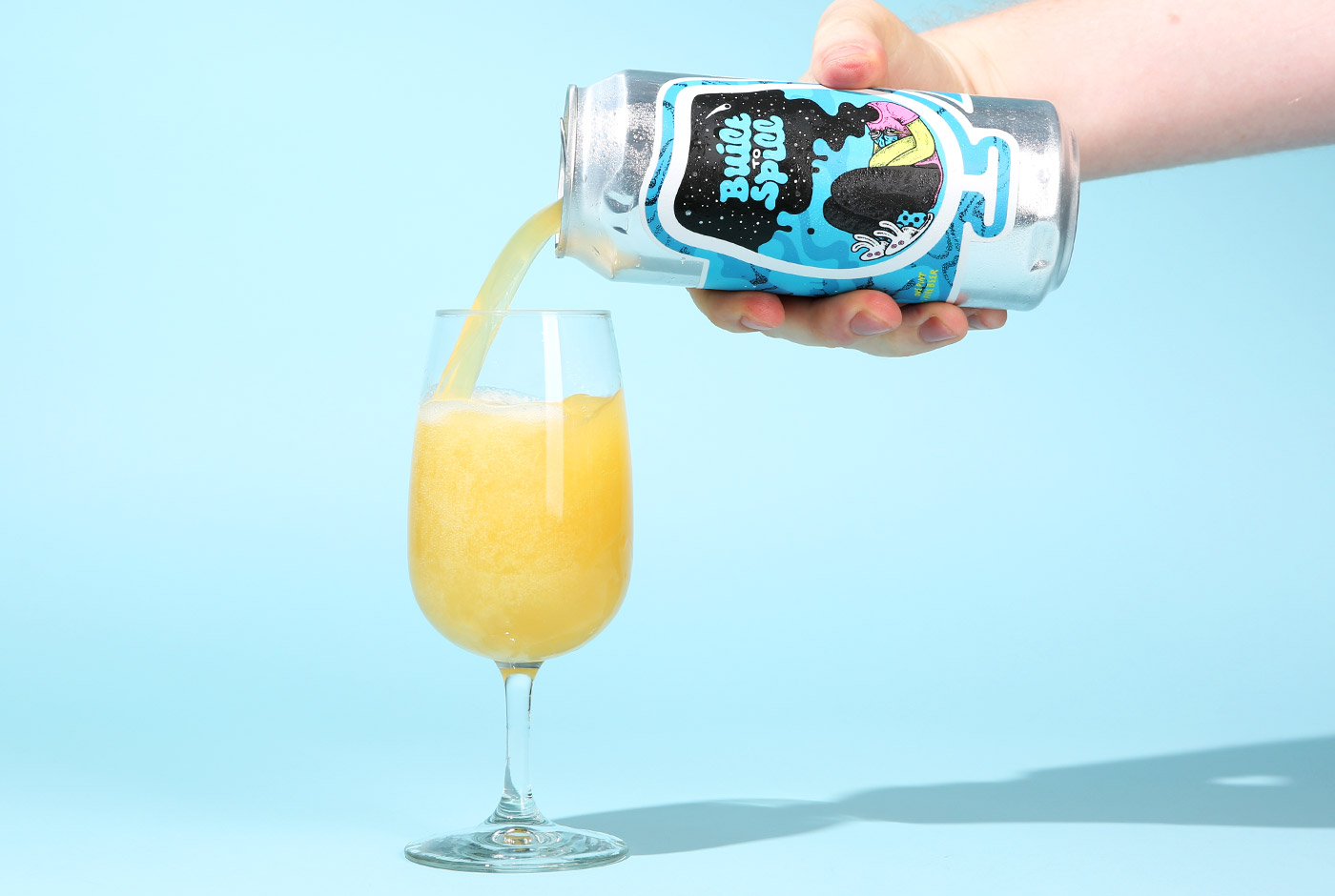 Double IPA– Foam's artwork is always spectacular. The Burlington brewery uses a rotating series of artists to design each can. Built to Spill was easily one of our favorite beers of the year and the design was equally enticing. The beer is named after the eponymous band; artist Jackson Tupper drew influence from their song "Big Dipper." -Olivia Hurley
Emptying Time II
Forest + Main Brewing Co. — Ambler, PA
Art by Daniel Endicott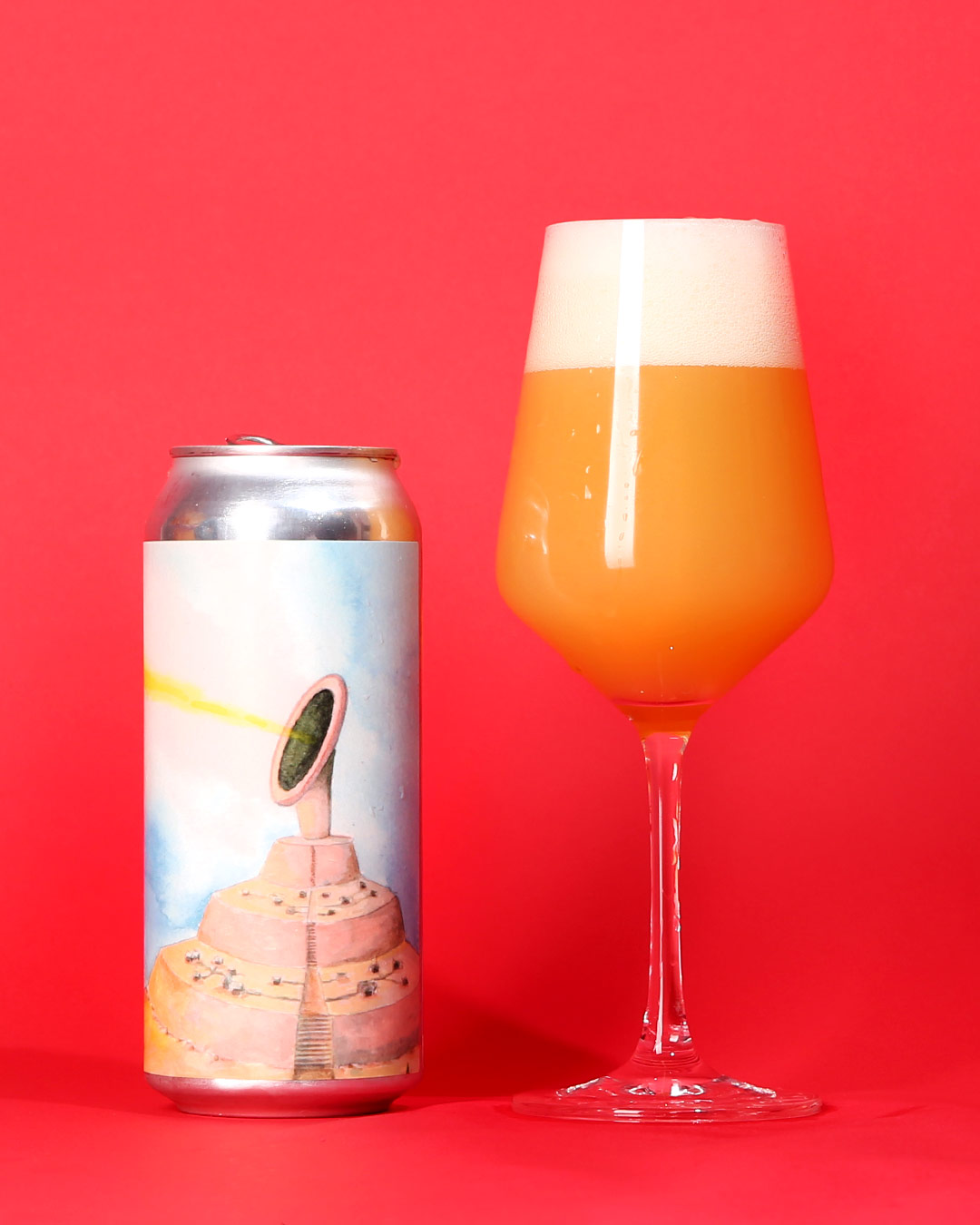 New England IPA– There's something about Forest + Main's abstract can art that we find compelling. I can never put my finger on what exactly the can is communicating, but I love it. In this case, a strange sculpture rises out of a soft background. What's happening, exactly? I'm not sure. But it's weird and wonderful all the same. John A. Paradiso
Brunchies
Aslin Beer Co. + Troon Brewing — Herndon, VA + Hopewell, NJ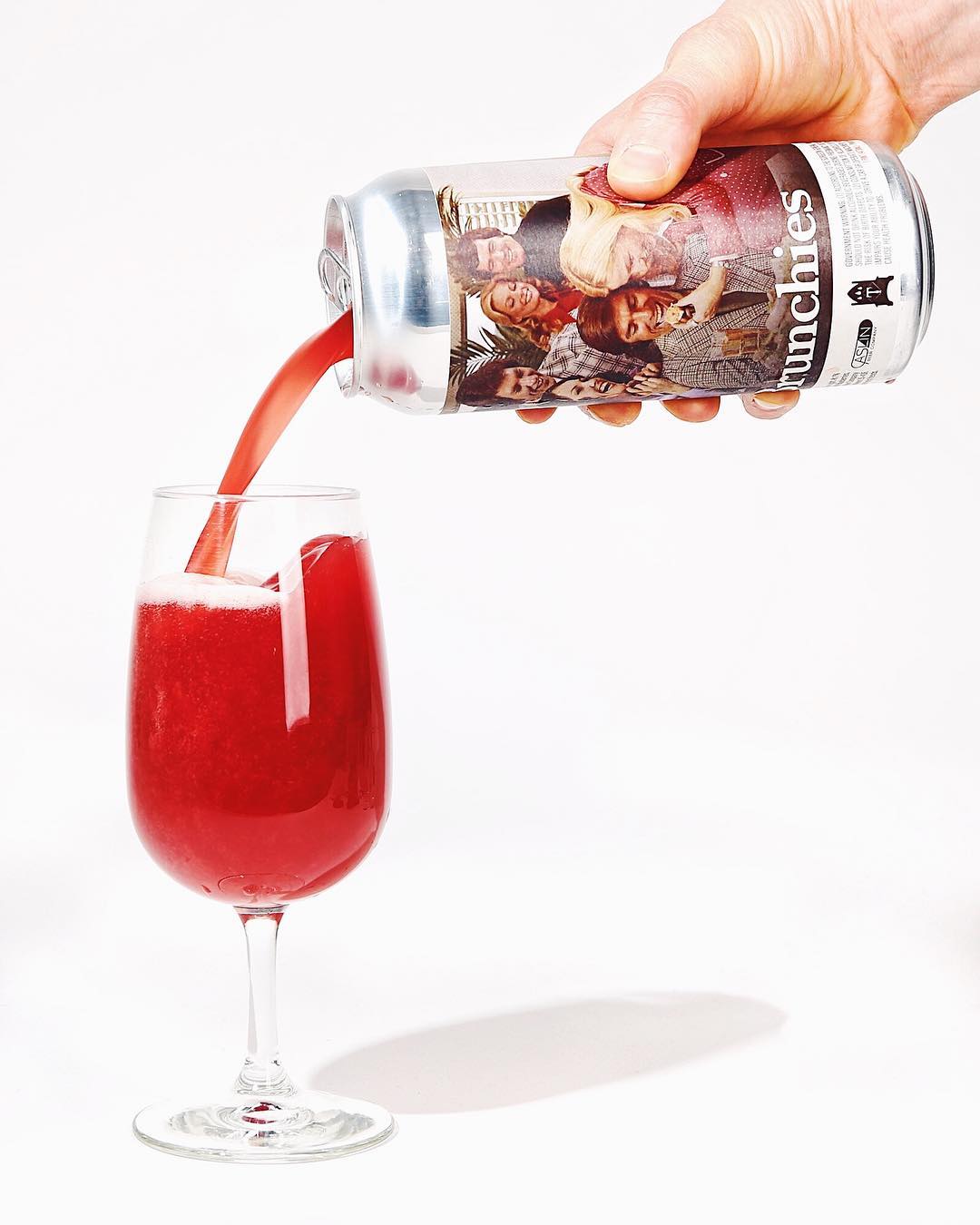 Sour IPA– The retro Norman Rockwell-esque artwork that Aslin used for its breakfast beer series quickly became a sensation on Instagram. We saw an increase in vintage can designs and that's likely due to Aslin's influence. This one, in particular, was extremely fun and presented an exciting collaboration between two amazing breweries. -J. Travis Smith
Toad Lilly
Dancing Gnome Beer — Pittsburgh, PA
Art by Chris Connolly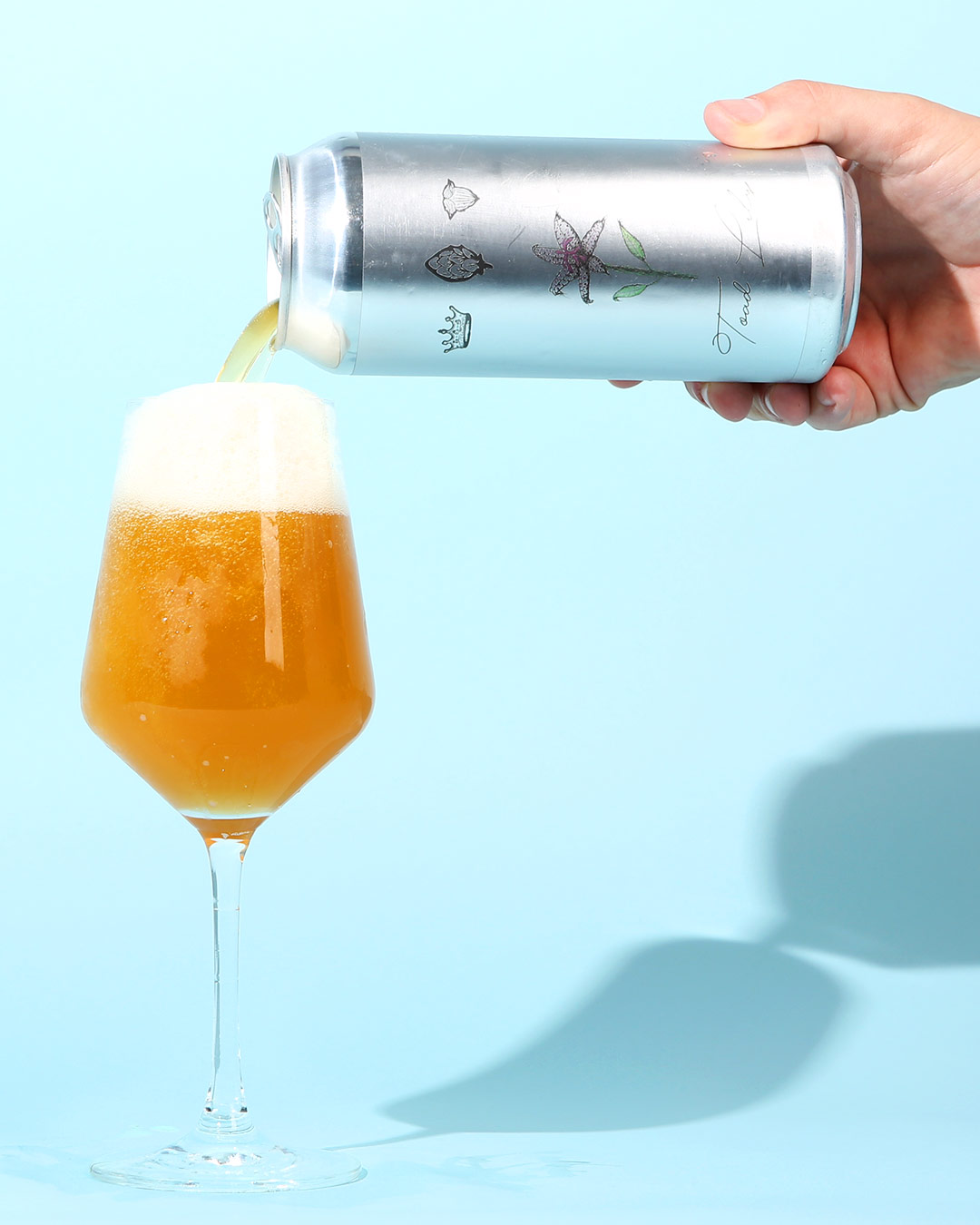 Double IPA– Each month, Dancing Gnome's Andrew Witchey features a single flower on a plain, metallic can. It's a simple yet stunning design that appropriately lets the beer do the talking. And all of the beer we've had from Dancing Gnome's flower series has been superb. -Olivia Hurley
Claim Preclusion
Troon Brewing Co. — Hopewell, NJ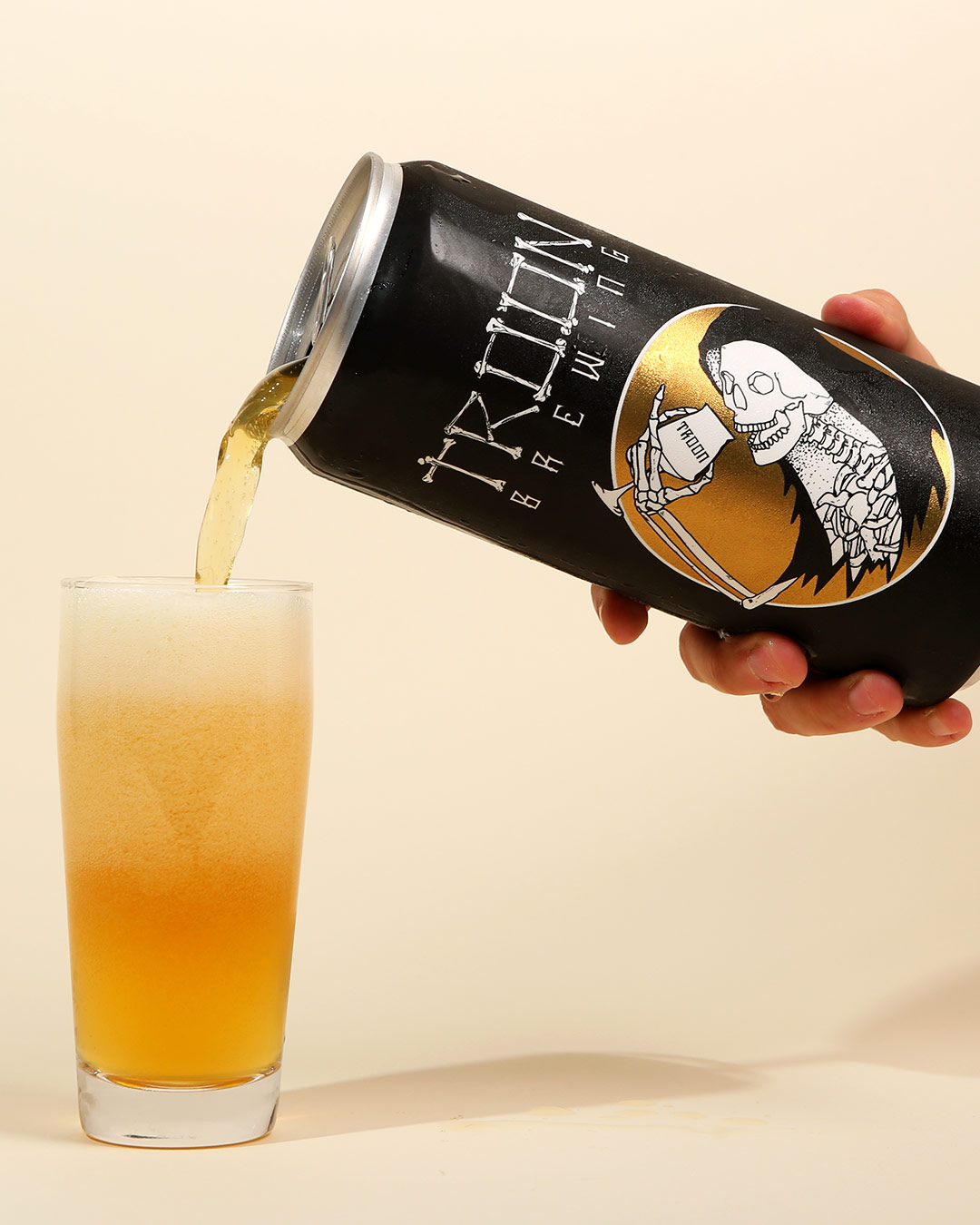 Pilsner– Troon's beer beer doesn't leave the small farm property unless it's in a crowler. Even then, the allotments are judiciously limited. Founder Alex Helms was kind enough to provide us with a couple of beers that were absolutely fantastic. Helms' juicy IPAs might be what get locals to line up for hours, but this Keller Pilsner is one of the best beers we had all year. And the badass crowler design sealed the deal. -John A. Paradiso
Kukmin IPA
The Booth Brewing Co. — Seoul, South Korea
Art by Soña Lee + Contraflow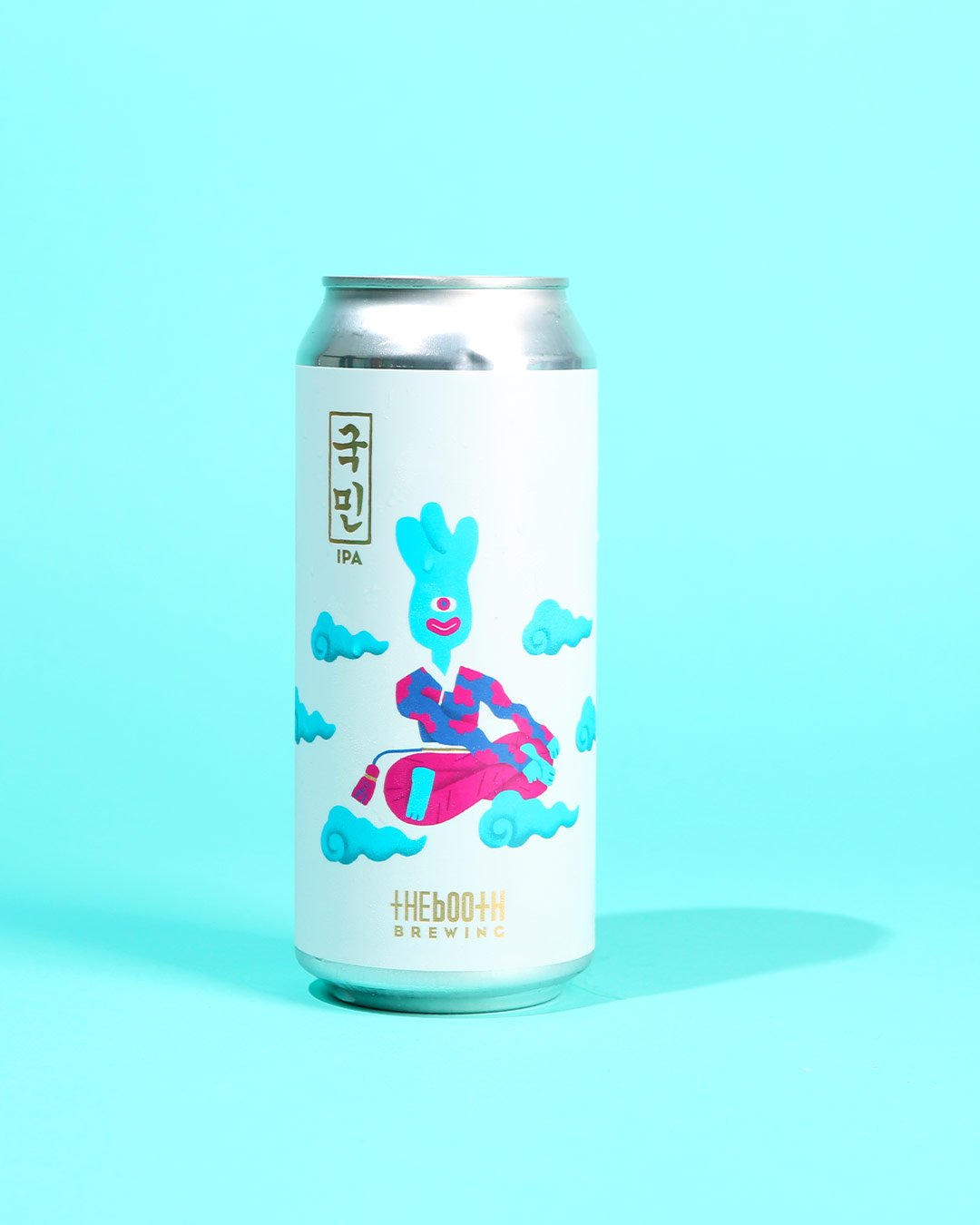 IPA– The Booth is our newest craft beer crush. Originally hailing from South Korea, they've set up shop in Eureka, California, but still managed to keep their home-base vibe. I mean, look at that blue thing just floating there! He looks so relaxed. But like, colorful. And deep. That's The Booth, in a nutshell. Call them the South Korean Mikkeller. The Booth might not have the exact same recognition as their Danish counterparts, but they're well on their way. -Kenny Gould
Seven Doors
TRVE Brewing Co. — Denver, CO
Art by Sam Turner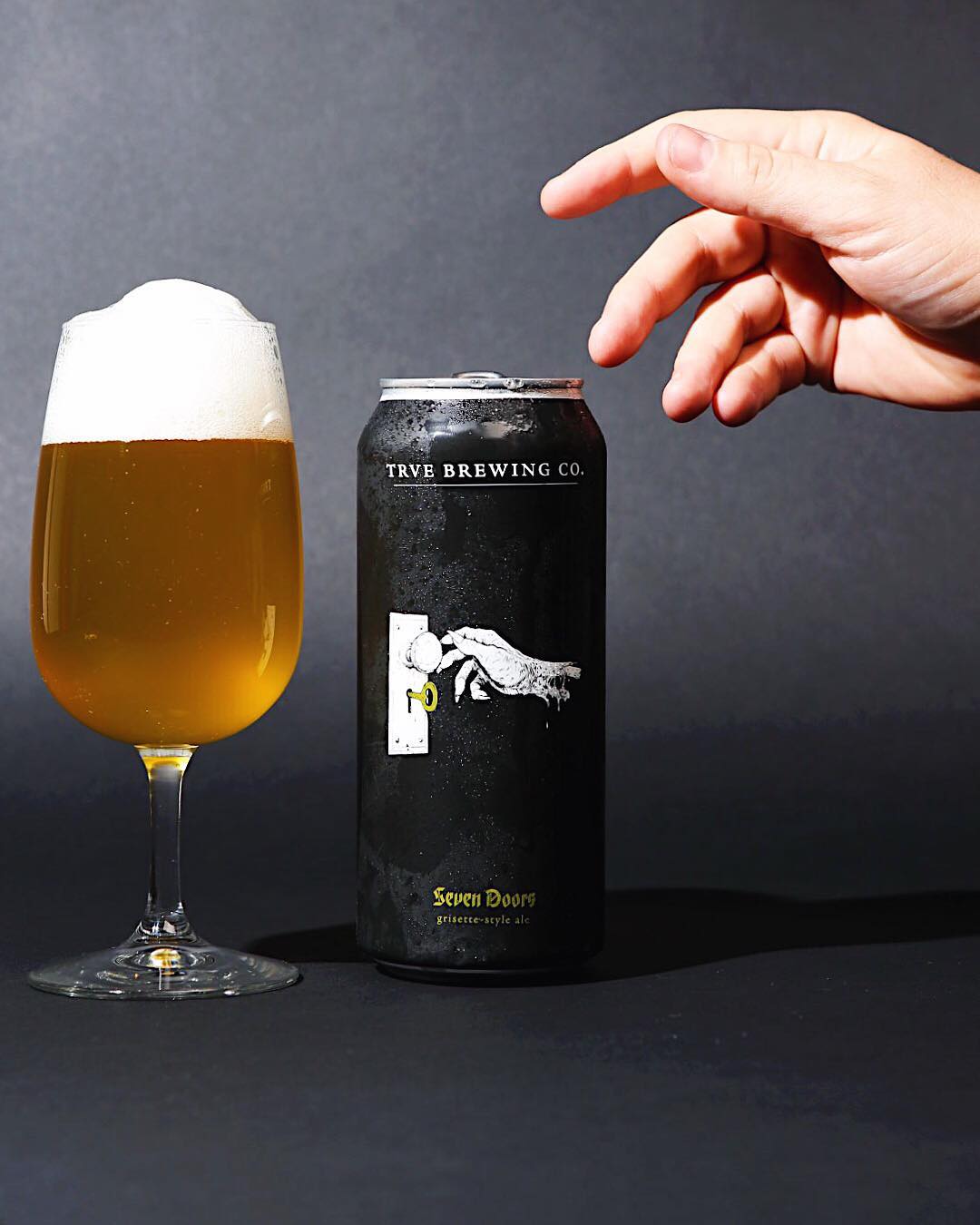 Grisette– Truly, any of TRVE's hardcore beer labels could've made this list, but we were particularly enamored by Seven Doors. The minimal design on a matte black background was sensationally eerie. Each TRVE can is unique, but together they perfectly capture the essence of the heavy metal-themed brewery. -Grace Weitz
Jackson Flavor
The Veil Brewing Co. — Richmond, VA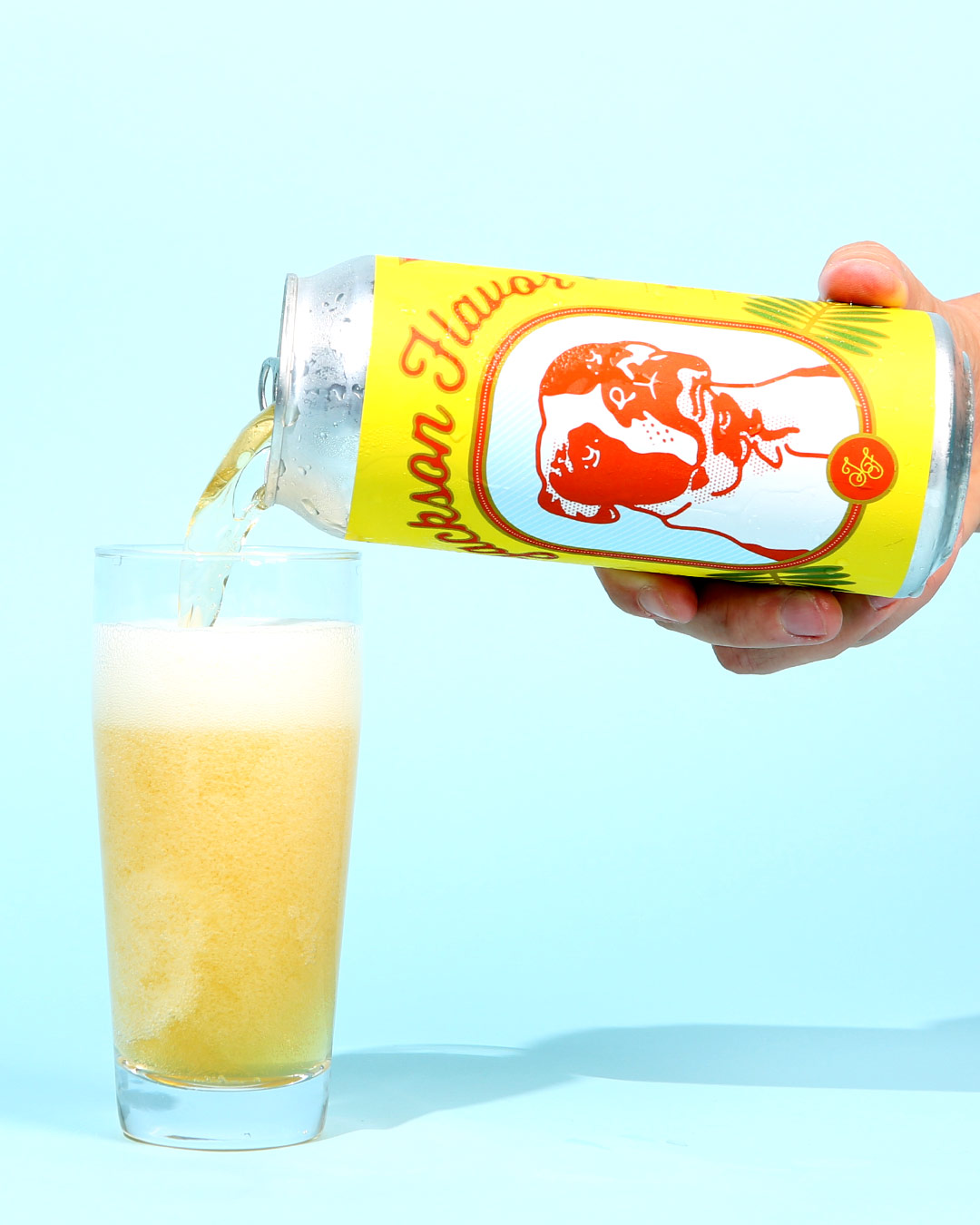 Mexican Lager– For a brewery known for their insanely juicy IPAs and fruited berliners, a Mexican lager was a unique choice. The can art was also a departure from the norm; the brewery tends to favor outrageous can designs and pop culture references. However, I loved the simplicity and subtle silliness of Jackson Flavor, so much so that I made this shot my desktop background. Something about the colors and the Andy Warhol-ish vibes does it for me. -Olivia Hurley
Sohei Scissor Kick
KCBC + Northern Monk — Brooklyn, NY + Leeds, UK
Art by Earl Holloway
Double IPA– KCBC's comic book-inspired artwork — led by Creative Director Earl Holloway — is fantastic. It's funny, nostalgic, and perfectly on-brand. The Sohei Scissor Kick label, in particular, is dramatic and fun with a Deathstroke lookalike taking center stage. -Grace Weitz
Starfish
Brouwerij West — Los Angeles, CA
Art by Muretz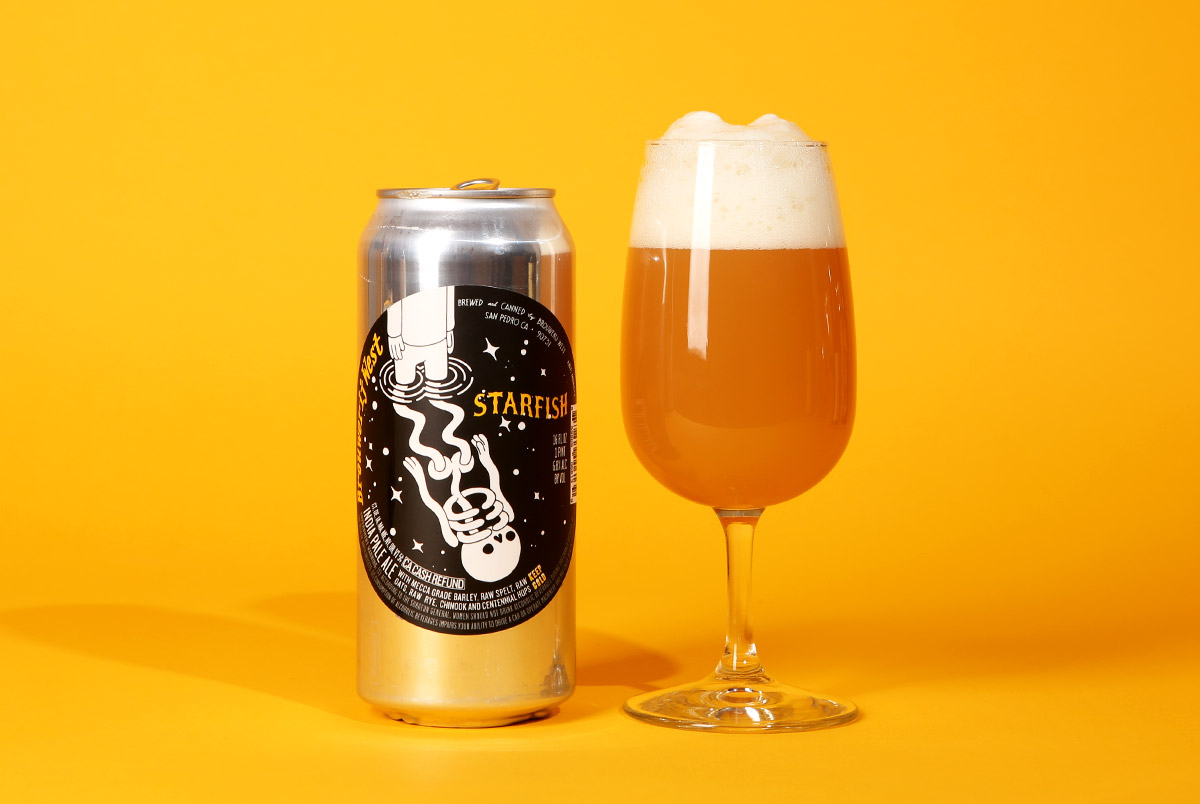 IPA– Unlike Hudson Valley or KCBC, Brouwerij West uses a different artist for each can label. Although each new design is unique, there's a spiritual through-line. Starfish is among our favorites. There's a classic cartoon feel and the retro and simple sticker label is a great design choice. The art is rad, whimsical, and says everything you need to know about the brewery and the beer. -Kenny Gould
Batida
Southern Grist Brewing Co. + Finback Brewery — Nashville, TN + Queens, NY
Art by Kyle Arnold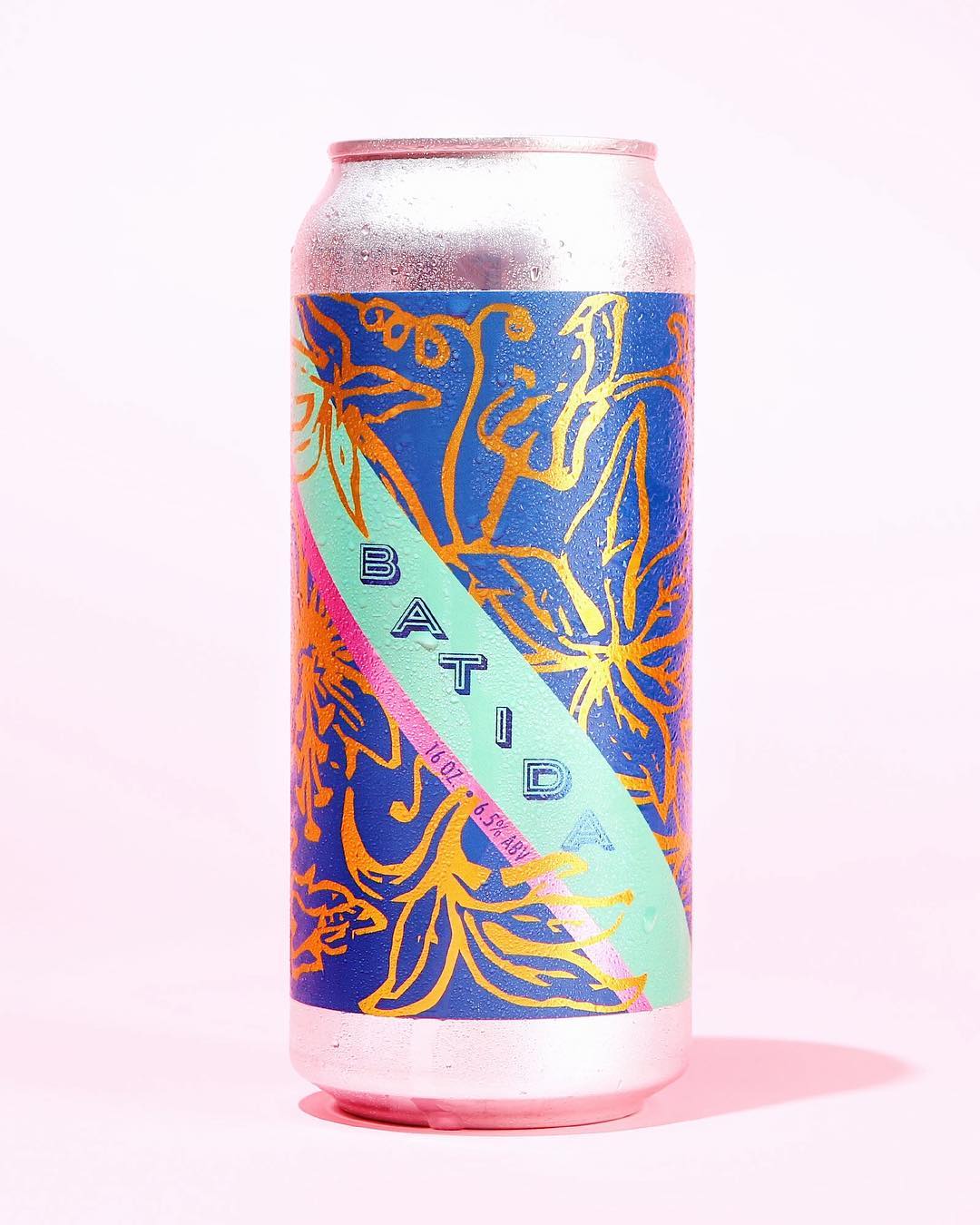 Sour Ale– Can we get this design in a wallpaper? This stylish, retro artwork with the name of the beer prominently displayed was an early contender for one of our favorite can designs of the year. -Olivia Hurley
General Store
Suarez Family Brewery — Hudson, NY
Art by Natalie Rengan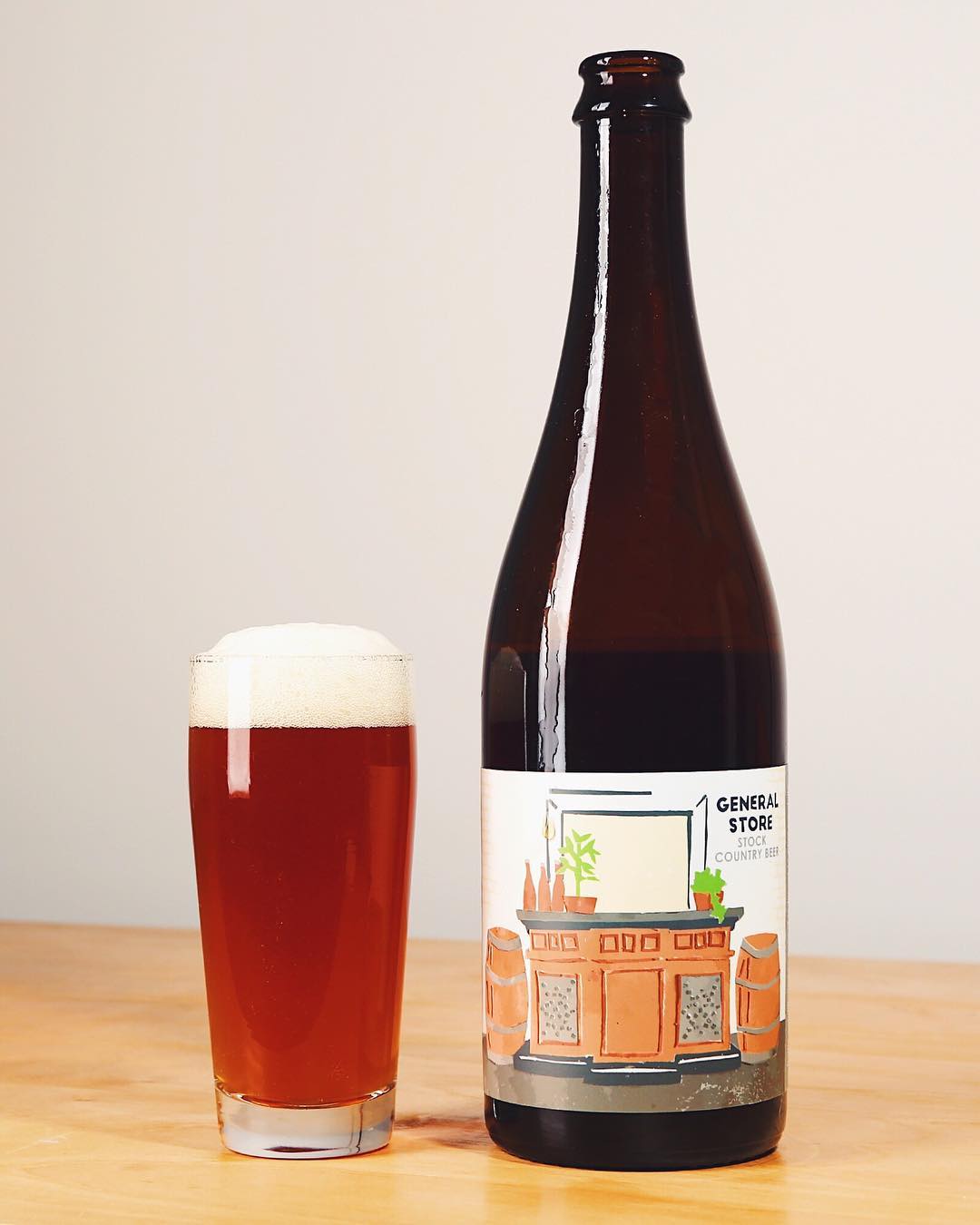 Bière de Garde– Often, well-deserved praise is heaped on Suarez's beers… while the fantastic designs too often go overlooked. Palatine Pils is simple, bold, and iconic. Kinda Classic is warm and evocative. General Store is pure fun. -Grace Weitz
Cider/Cider
Sundström Cider — Hudson, NY
Art by Efy Tal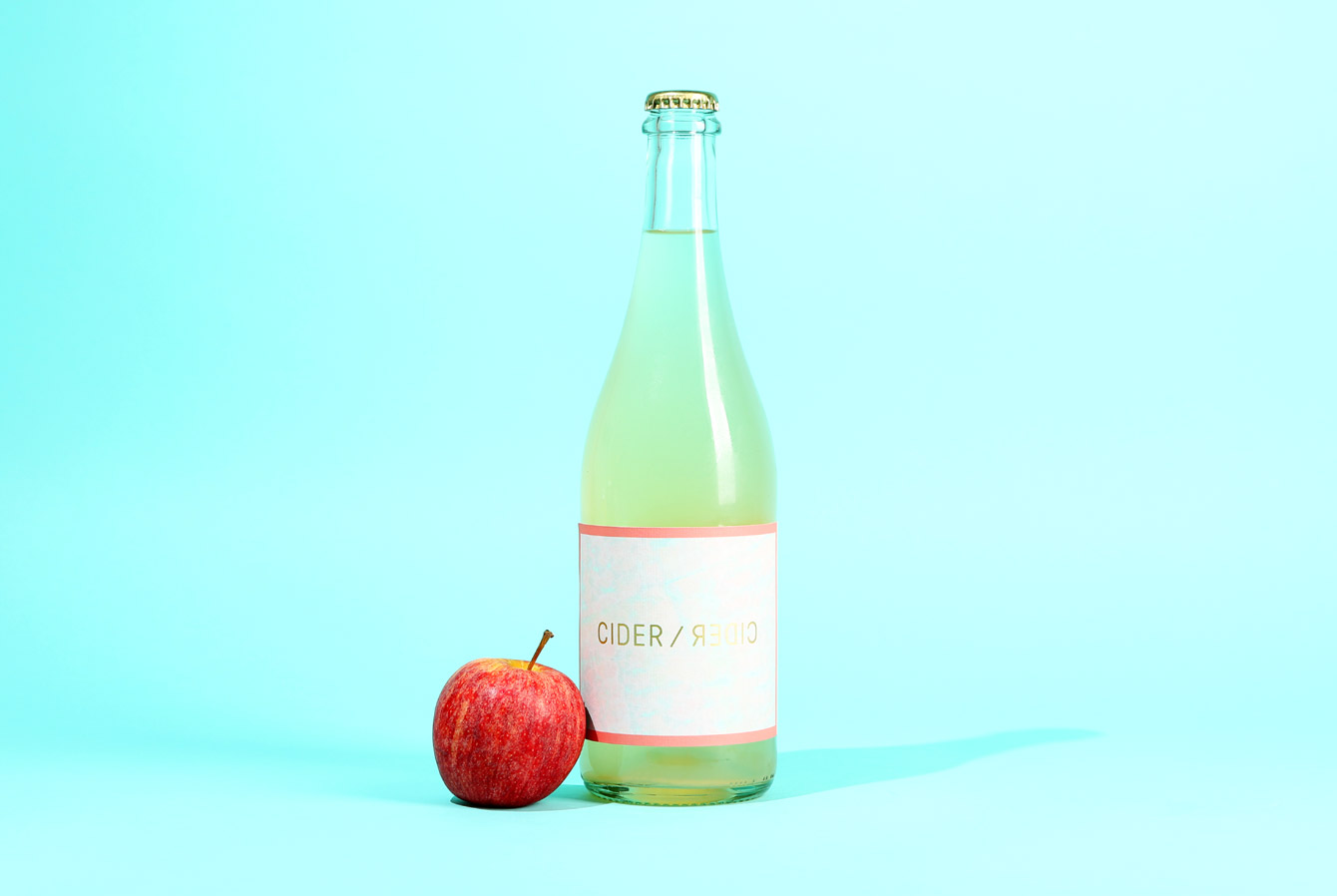 Cider– Technically not a beer, but we were enamored with the latest project from expert cider maker Leif Sundström, former taproom manager at Suarez. Cider/Cider, Sundström's daily cider, features a classic design. The cider is beautiful and the label is just as eye-catching. -Grace Weitz
Everything Eventually
Hacienda Beer Co. — Baileys Harbor, WI
Art by Garrett Wohnrade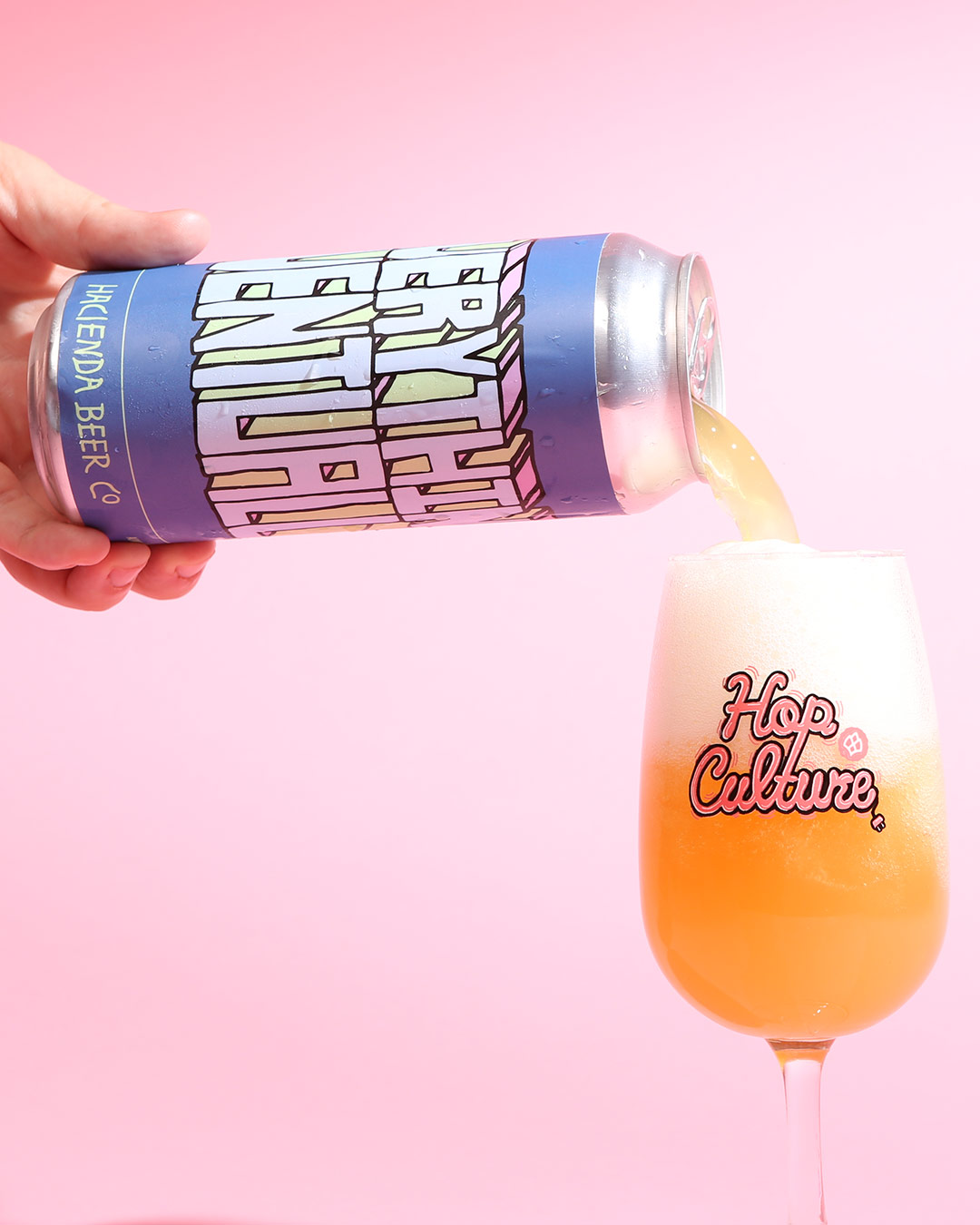 Pale Ale– We named Hacienda one of the best new breweries of 2018, and for good reason. They've nailed subtle saisons and expressive juicy beers, like this extremely balanced Pale Ale. Everything Eventually was the first beer we tried from Hacienda and the emphatic can design is part of why it was so memorable. The text is bold and fun, reminding me of skateboard artwork. The beer is excellent but we loved the label just as much. -John A. Paradiso
What Are the Odds?
Magic Rock + Verdant — Huddersfield, UK + Falmouth, UK
Art by Richard Norgate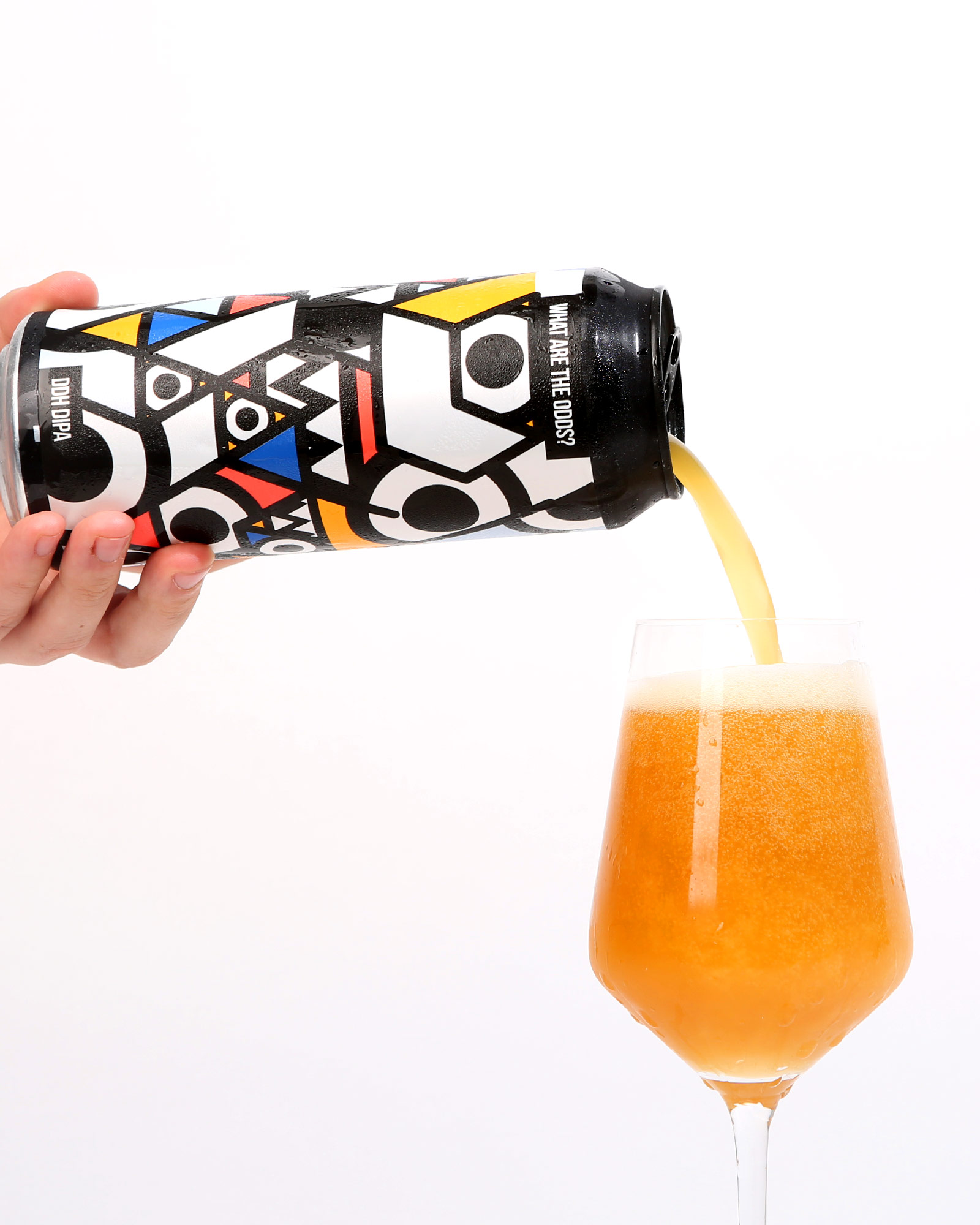 Double IPA– Another striking matte black can made its way onto our list. This time, the beer came from two excellent U.K. breweries: Magic Rock and Verdant. The geometric shapes and bright colors made this can feel more like a piece of art than a drinking vessel. -Kenny Gould
Liked this article? Sign up for our newsletter to get the best craft beer writing on the web delivered straight to your inbox.