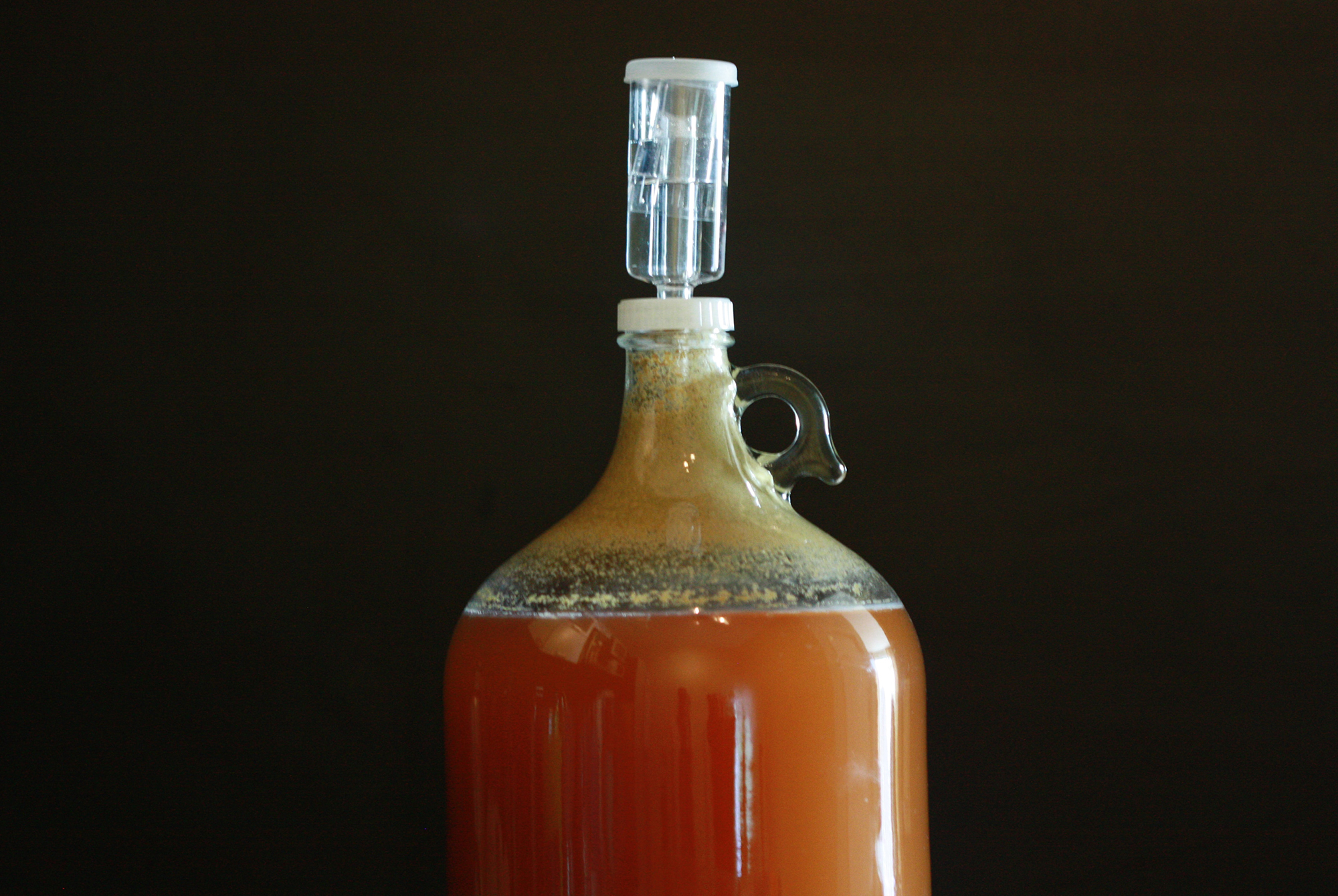 Updated on January 21, 2021
We at Hop Culture have quickly shifted to the work-from-home lifestyle. We've swapped happy hour at our local brewery to virtual drinks on Zoom. Trying that fresh new West Coast IPA at the bar has turned into purchasing cans online. So, with all this time at home, we've found that folks have quickly gotten on the homebrewing bandwagon.
Now is the perfect time to check "brew my first beer" off your bucket list. So, before you go stir crazy and fall victim to boredom, roll up your sleeves and put on your laboratory goggles (goggles are not necessary) it's time to start homebrewing.
Since the Hop Culture team has tested many homebrewing kits in our day, we thought now would be the moment to share our expert advice. Here are Hop Culture's picks for the top seven homebrewing kits to buy while you're under quarantine.
And while you're at it, grab a few of our favorite beer tools and take your beer education to the next level.
Blank Rastal Teku GlassesBuy Now: $55 for 6 pack
GrowlerWerks uKegBuy Now: $142
Apera pH Pocket Tester Kit Buy Now: $80
Torched Products USA Beer Cap MapBuy Now: 10% OFF With Code HOPCULTUREMAG
Happy homebrewing!
The Best All Around Homebrewing Experience
City Brew Tours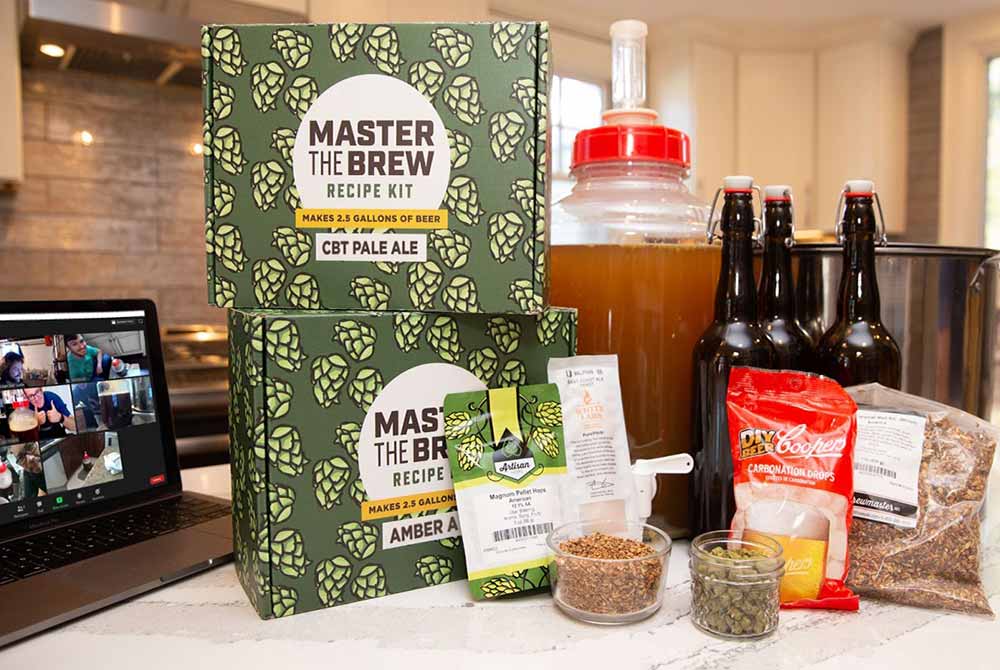 Always wanted to try homebrewing, but didn't want to do it alone? Opt for Brewvana's Beer Making Kit with Online Class and learn to brew beer right alongside a professional. Brewvana's beer experts have taken all of their beer knowledge and turned it into a virtual home brewing class. The Beer Making Kit with Online Class comes with all the equipment you need to start brewing! Once your kit arrives at your door, you'll jump on a Zoom call for two and a half hours of live instruction led by one of their professional brew guides. Your guide will brew right along with you and show you the process step by step.
Once you've started to make beer at home, you won't want to stop! Join Brewvana's Master the Brew Recipe Club and you'll receive unique beer recipe kits each month—delivered right to your door! Recipes introduce you to new beer styles and brewing practices, ensuring your brewing skills grow over time. You'll also have access to exclusive, virtual meet-ups with other home brewers. During these meet-ups we cover everything from advanced brewing techniques to conversations with Beer Industry Experts.
Our Favorite Kit: Brewvana's Beer Making Kit with Online Class. This is the best homebrewing experience from start to finish. Curated for the beginner, this kit comes with only the essential equipment you'll need to brew 2.5 gallons of beer. Buy the kit, sign up for a virtual brewing class – and get ready to learn and brew like the pros!
The Best Starter Beer Making Kit
Midwest Supplies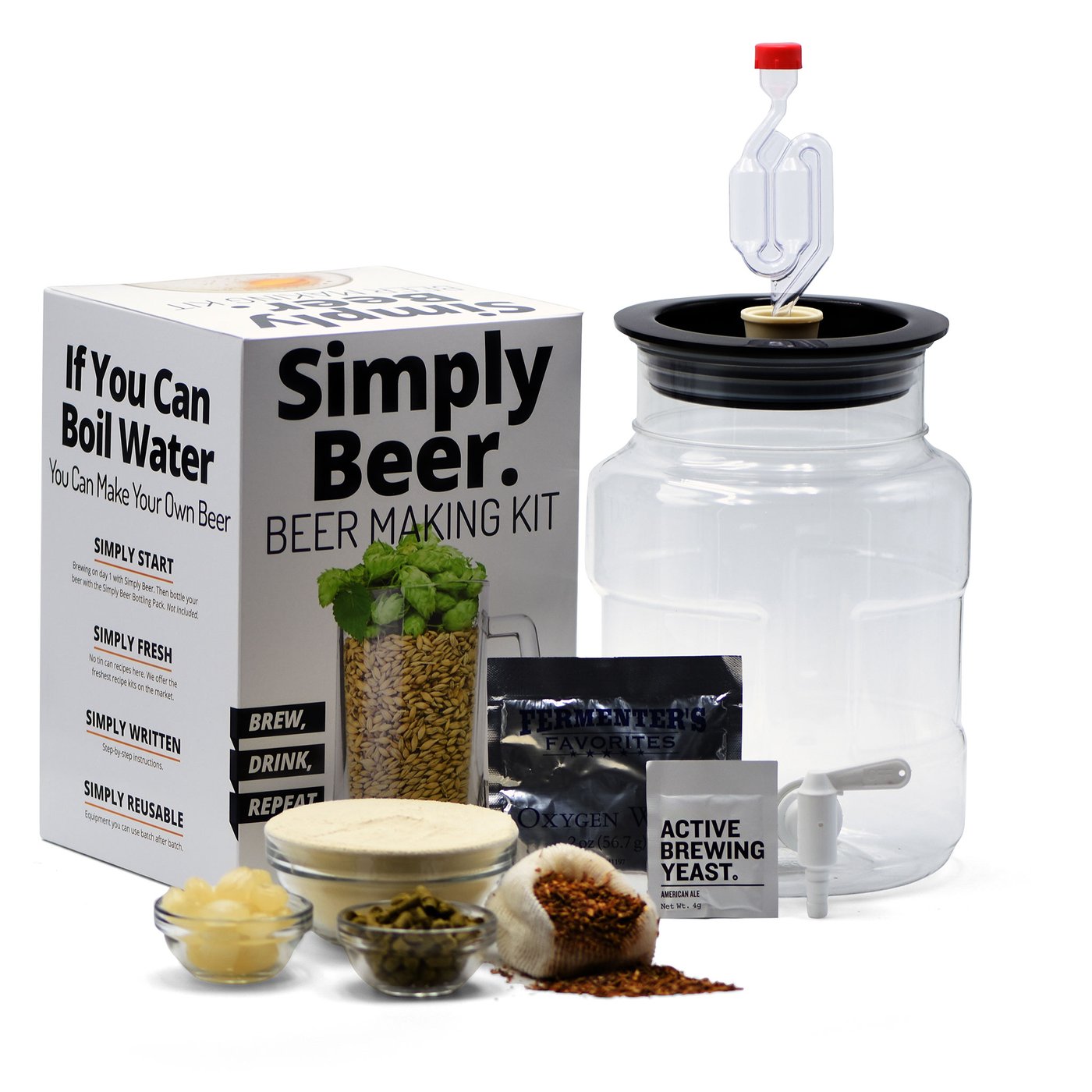 While it might be tempting to kick off your homebrewing adventure with the flashiest, most glamorous beer making kit, we recommend starting with the simplest option. And Midwest Supplies offers a beautifully simple homebrewing solution. Midwest Supplies stocks a variety of top-quality beer making and recipe kits making the homebrewing process a seamless one.
Our Favorite Kit: Simply Beer 1 Gallon Beer Making Kit. The Simply Beer Kit has everything you need and nothing that you don't. With easy to follow instructions, brewing a beer with this kit is a piece of cake. The kit includes the essentials: Siphonless fermenter, lid, and airlock. Plus, you'll get cleaner, complete instructions, and your chosen recipe kit ingredients. Like we said, this isn't the flashiest option but it makes for a great gift for the first time homebrewer.
The Best Bang for Your Buck
Brooklyn Brew Shop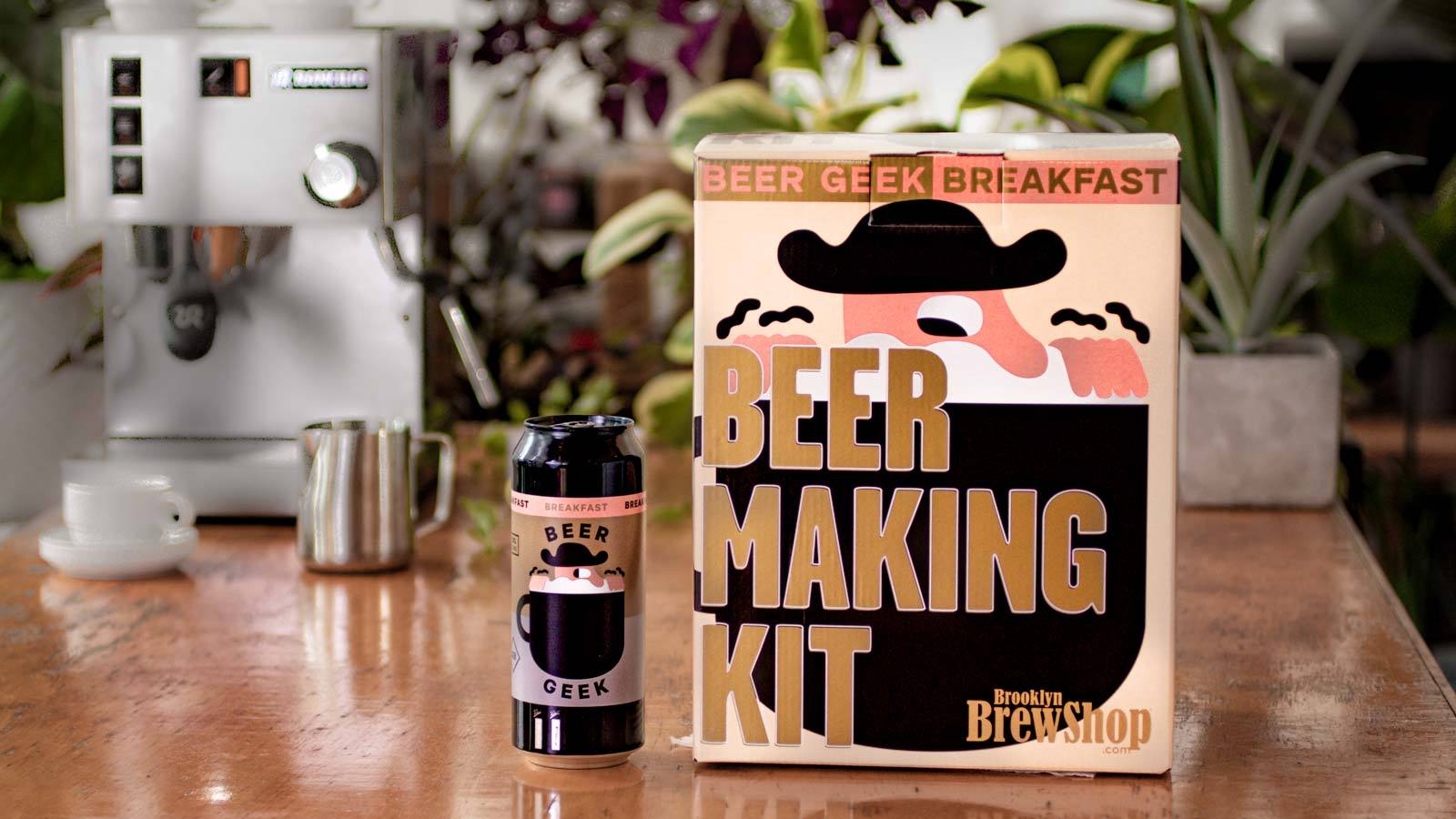 "Make Some Beer." Brooklyn Brew Shop's tagline is simple and impactful. Just like their homebrewing kits. Designed to be attractive, easy-to-use, and to fit into any New York-sized studio apartment, Brooklyn Brew Shop homebrewing kits have been empowering curious homebrewers since 2009. In these kits you'll find only the best ingredients often used by professional brewer's around the world. You won't find any extracts or sugar powders in these kits – only grain, hops, yeast and perhaps some extract magical spices or adjuncts. Brooklyn Brew Shop even collabs with well-known breweries to create kits such as Mikkeller Beer Geek Breakfast Stout, BrewDog Punk IPA and BrewDog Elvis Juice, Stillwater Gose Gone Wild, and Evil Twin Bikini Beer.
Our Favorite Kit: Mikkeller Beer Geek Breakfast Stout Beer Making Kit. While the Everyday IPA may be Brooklyn Brew Shop's most popular recipe if we're going to be spending our time brewing a beer we're thinking it should be something truly special. We're huge fans of Mikkeller's Beer Geek stout and any time we have the chance to replicate this recipe ourselves at home you can sign us up!
The Hottest Brewing Kit on the Market
BrewDemon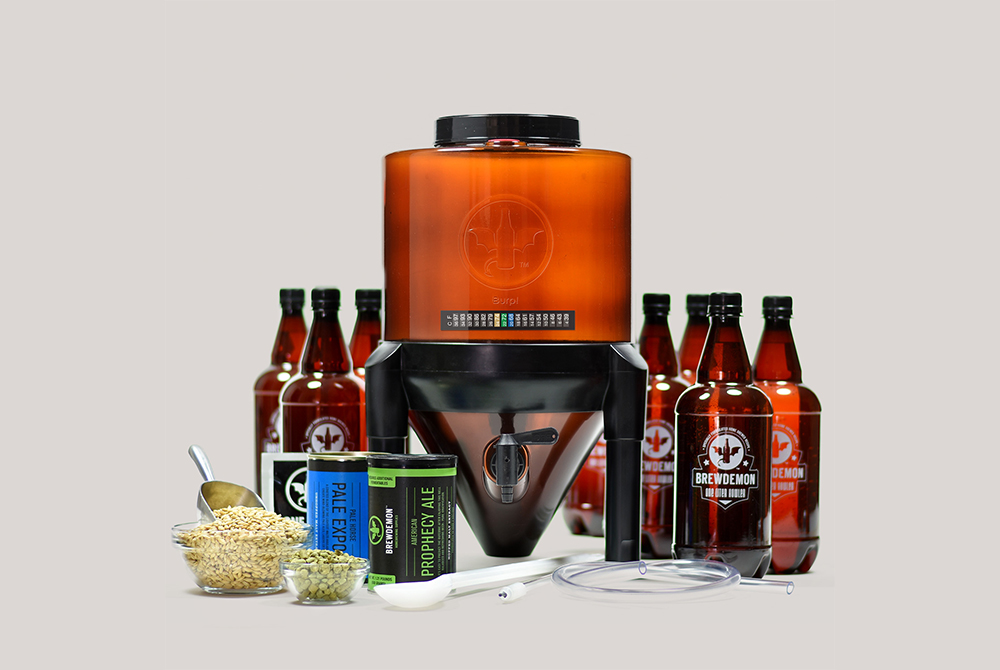 BrewDemon makes homebrewing devilishly simple (sorry couldn't help ourselves). In BrewDemon's own words, "our kits combine the finest ingredients with the best equipment, period. It's BrewDemon's revolutionary Big Demon Conical Fermenter that sets them apart from the homebrewing pack, helping you brew like a pro with complete easy-to-use Beer Kits starting at just $49. This at-home fermentation system lets you brew beer just like the pros only in smaller batches. Whether you're starting with the 2-Gal Signature Beer Kit or 1-Gallon IPA Beer Kit, BrewDemon makes the perfect homebrewing kit into one box delivered straight to your doorstep.
Our Favorite Kit: 2-Gallon Craft Beer Kit Pro . This kit includes all the bells and whistles. You'll get the world's first patented small batch conical fermentor, all the supplies you'll need for your homebrew, BrewDemon's most popular Signature Variety Recipe recipe, eight plastic amber bottles and reusable caps to serve your beer, eight custom bottle labels to put your own special spin on your beer, and easy to follow brewing instructions.
Buy Now: $109 for a 2-Gallon Kit Buy Now: $69 for a 1-Gallon Kit
The Fastest Way to Brew Beer at Home
Mr. Beer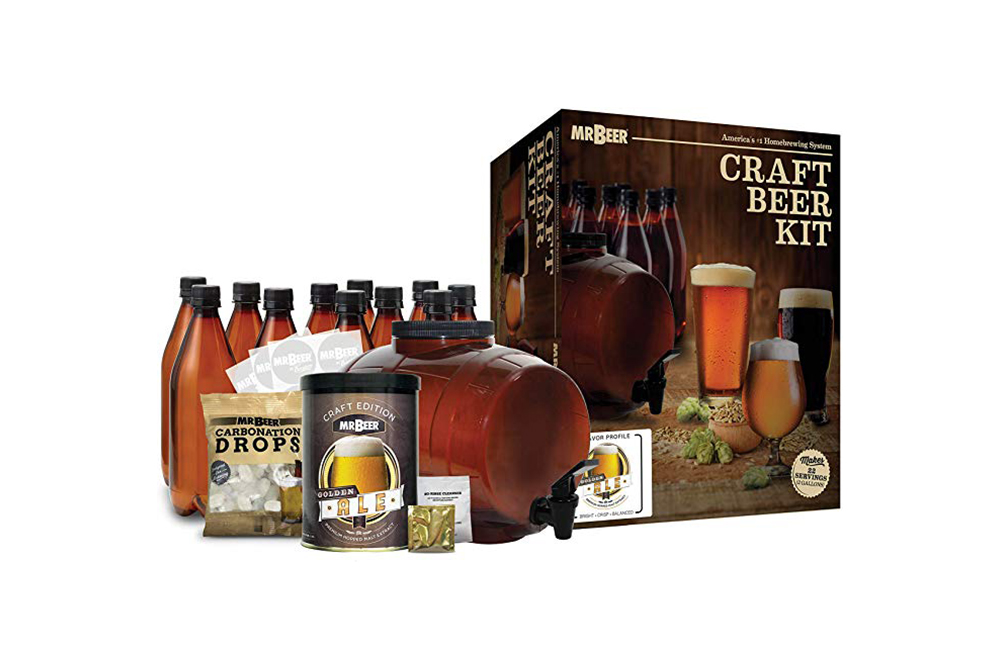 Designed for the first-time brewer in mind, Mr. Beer homebrewing kits only take 30 minutes of your time to brew! With step-by-step instructions, simple ingredients, and easy to use brewing equipment, Mr. Beer cuts down on time and comes with everything you need to brew your first batch of beer. This is a no-fuss, time-saving way to brew.
Our Favorite Kit: Mr. Beer 2-Gallon Complete Beer-Making Kit. The best part about this kit is that it comes with every and we mean every essential piece of equipment that you'll need to make a basic batch of beer. So that means no need to supply additional large pots, strainers, or brewing equipment. All you need is this kit, water, and common kitchen items to kick things off.
The Homebrew Kit Made by a Brewmaster
Northern Brewer
At Northern Brewer the philosophy is simple: Brew. Share. Enjoy. Made by actual brewmasters these all-in-one kits are backed by the experience and expertise of industry professionals. These guys are the experts! Northern Brewer Homebrewing Kits are designed to make sure you get your best batch of beer every time no matter your skill level. Whether you're a novice or an expert, these sets fit your style, streamlined with everything you need including Testing Equipment, a Brew Kettle, and afeature recipe to make sure you're drinking your own handmade beer in no time.
Our Favorite Kit: The HomeBrewer Starter Set. This is Northern Brewer's highest rated starter kit and includes additional testing gear along with their Block Party Amber recipe. This kit is a crowd pleaser – good for holiday gifts, father's day presents, and beginning brewers.
The Dressed to Impress Homebrewing Kit
Adventures in Homebrewing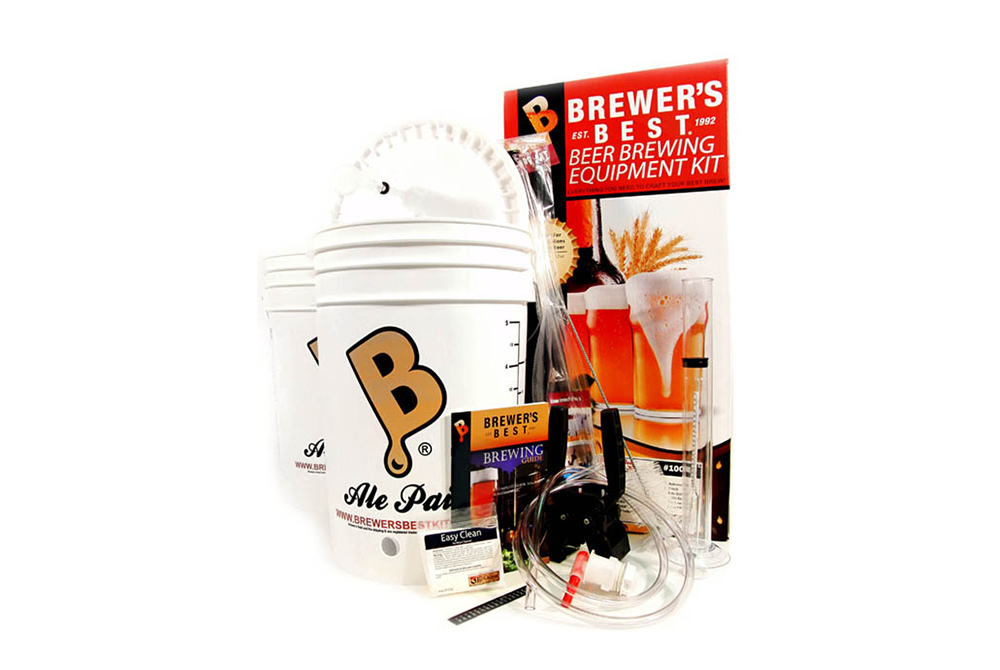 If you think homebrewing might turn from just a hobby into an infatuation then Adventures in Homebrewing has the kit for you. Learn the nuts and bolts of brewing with Adventures in Homebrewing. From 5-gallon Corny Kegs and Cereal Killer Grain Mills to Micron Stainless Hop Filters and Benchtop Can Steamers, Adventures in Homebrewing truly takes you on a homebrewing adventure. Get started with the Brewer's Best Beginning Homebrew Kit which will be the first step on your homebrewing journey.
Our Favorite Kit: Brewer's Best Beginning Homebrew Kit. This kit is a little more sophisticated. If you're really looking to make homebrewing more than a hobby this is the kit for you. It's a step above your average do-it-at home brewing kit with all the equipment you'll need. You've got a Fermenter, "Ale Pail" Bottling Bucket with Bottling Spigot, Easy Clean No-Rinse Cleanser, Airlock, Auto Siphon, Bottling Set-up, Instruction Manual, Hydrometer and Test Jar, Bottle Brush, Twin Lever Capper, and Liquid Crystal Thermometer.
BONUS: You've put your heart, sweat, and tears into making this special homemade brew. Show it off with a beer beverage cooler! We have a robust list of the best beer fridges, which are the perfect upgrade to your homebrew setup!
Unless otherwise noted, all of the products featured on Hop Culture are independently chosen by our editorial team. However, Hop Culture may earn a commission from purchases made through affiliate links on the site.
Liked this article? Sign up for our newsletter to get the best craft beer writing on the web delivered straight to your inbox.