What goes into a good beer fridge? "Good beer," you probably said. And you're right, you smart aleck. But aside from good beer? A good beer fridge should have a temperature range of 38 to 55 degrees Fahrenheit, as that's the range the Brewer's Association's Beer and Food Course recommends for storing beer. However, the ideal temperature depends on the style of beer, so having a variable temperature is a nice feature. (Those looking to cellar beer should invest in an external temperature regulator.)
Beyond that, a good beer refrigerator should be able to fit bottles. And a glass door is handy, because it allows you to look into your beer collection from afar. Of course, it also has to fit in your budget, which is why we've found a healthy range of prices for the list below.
Midea WHS-65LB1 Compact Fridge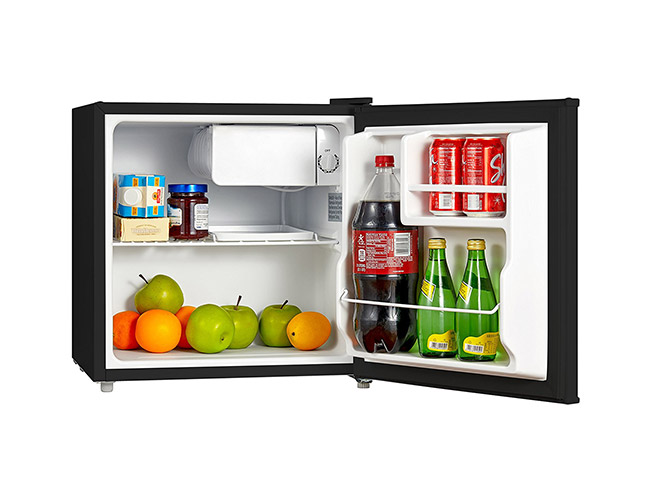 Smaller in design than the rest of the refrigerators on this list, this is a perfect beer cooler for those with limited space. Plus, it's cheaper than a full-size beverage refrigerator, and the temperature range is still big enough for whatever beer you have. And with a reversible door, you throw it into whichever corner in your garage is convenient.
Dimensions: 17.7" x 18.6" x 19.4"
Weight: 35 lbs
Capacity: 62 12 oz cans
Haier Freezer Chest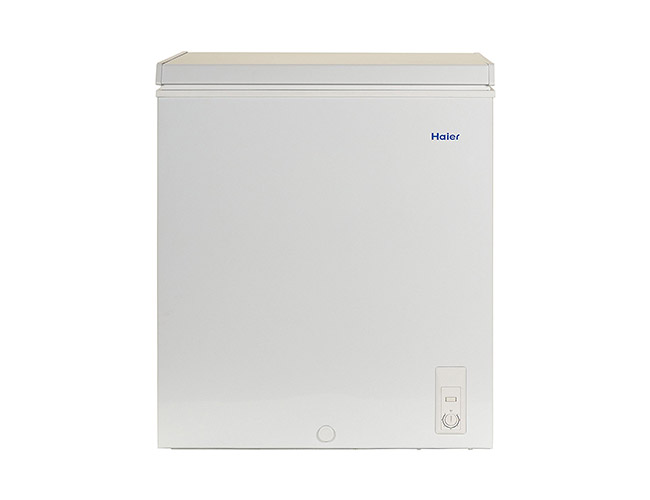 A freezer chest? This might seem like an odd choice, but for those homebrewers who monopolize the communal fridge with kegs and carboys, you may want to look into a freezer chest to store your brews. Being able to control temperature during fermentation is one of the easiest ways to improve your beer. Just be sure to get this with a temperature regulator, unless you like your beer frozen!
NewAir AB-1200 126 Can Beverage Cooler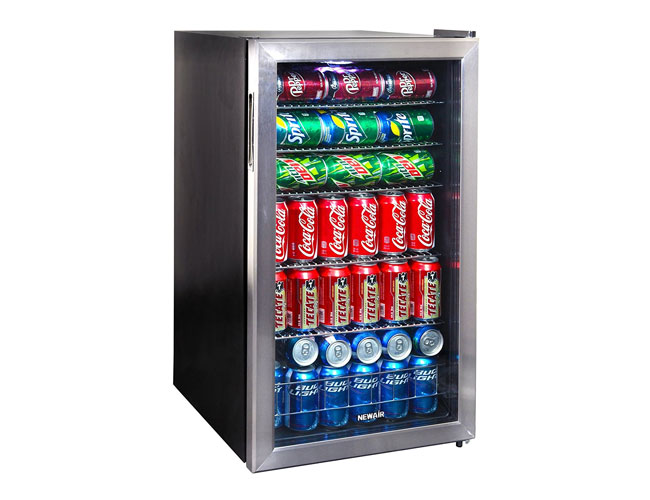 You'll have plenty of space with this refrigerator, which is capable of holding over a hundred beer cans, and has removable racks so that you can make space for bottles. And with a temperature that gets as low as 34 degrees, you can set it to just the right temperature for whatever your heart desires.
Dimensions: 19″ x 18.2″ x 33.1″
Weight: 62.9 lbs
Capacity: 128 12 oz cans
Danby 120 Can Beverage Center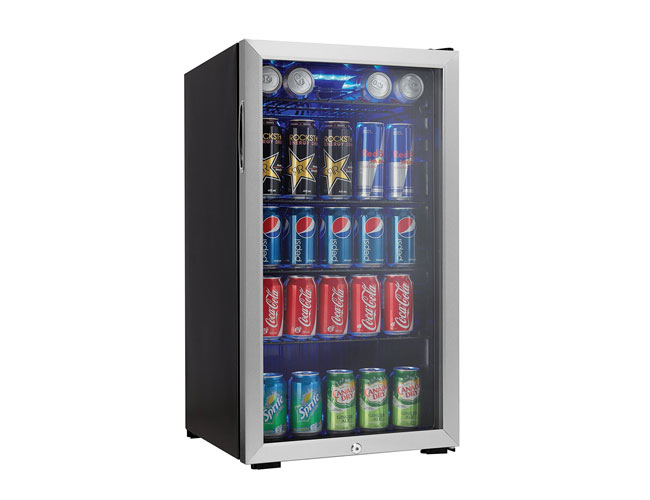 The layout of this product allows ample room for beer bottles and cans, and the temperature gets as low as 39 degrees. It's all held in a nice-looking package with stainless steel trim, and interior LED lighting which will make your beer collection literally glow.
Dimensions: 19.8″ x 17.9″ x 33.7″
Weight: 74 lbs
Capacity: 120 12 oz cans
NewAir AWB-360DB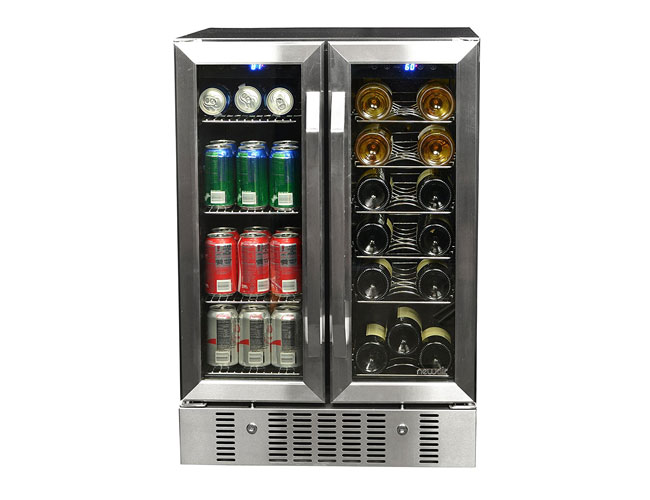 This double-door unit is pricy, but if you're also a wine enthusiast, or if you like beer that comes in extra-large format bottles, this refrigerator is a great choice. At capacity, it can hold 18 bottles and 60 cans. The temperature range goes from 36 to 72 degrees Fahrenheit, and this fridge also features interior LED lighting.
Dimensions: 23.5" x 24" x 34.2"
Weight: 107 lbs
Capacity: 18 bottles and 60 12 oz cans
True Residential 24-Inch Undercounter Refrigerator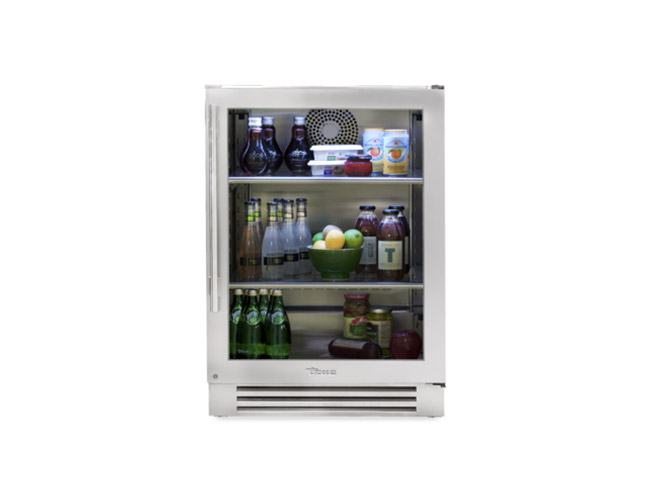 For those wanting to show off, look no further than this True cooler. It keeps beer at a stable temperature, is UV tinted for protecting beer from sunlight, and is even UL rated for outdoor use. With 14 different LED color options, it combines a little frill and flair with durability and dependability.
Dimensions: 24" x 24" x 35"
Weight: 185 lbs
Capacity: 200+ cans
Brew Cave Walk-in Beer Cooler & Kegerator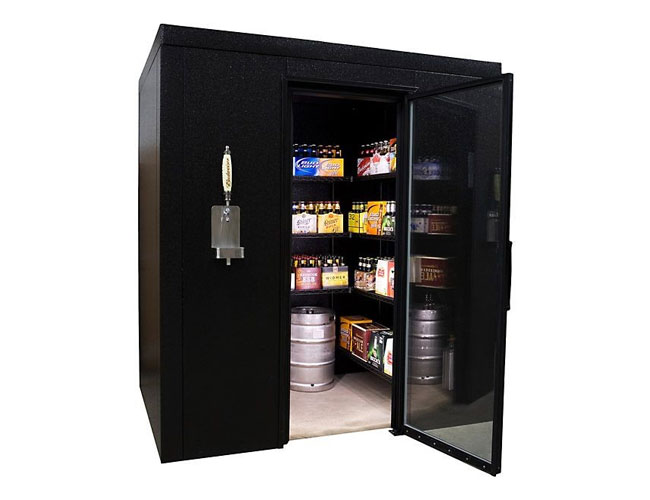 At over $7,000, this is really only feasible for recent lottery winners or folks who discover they recently had a rich uncle pass away. But what a way to splurge. Walk inside and you'll find up to 30 cases of chilled beer awaiting you. Or, you could opt to use the external tap to pour beer straight from a keg.
Dimensions: 6'10" x 7'6″ x 4'10"
Weight: N/A
Capacity: 720 12 oz cans