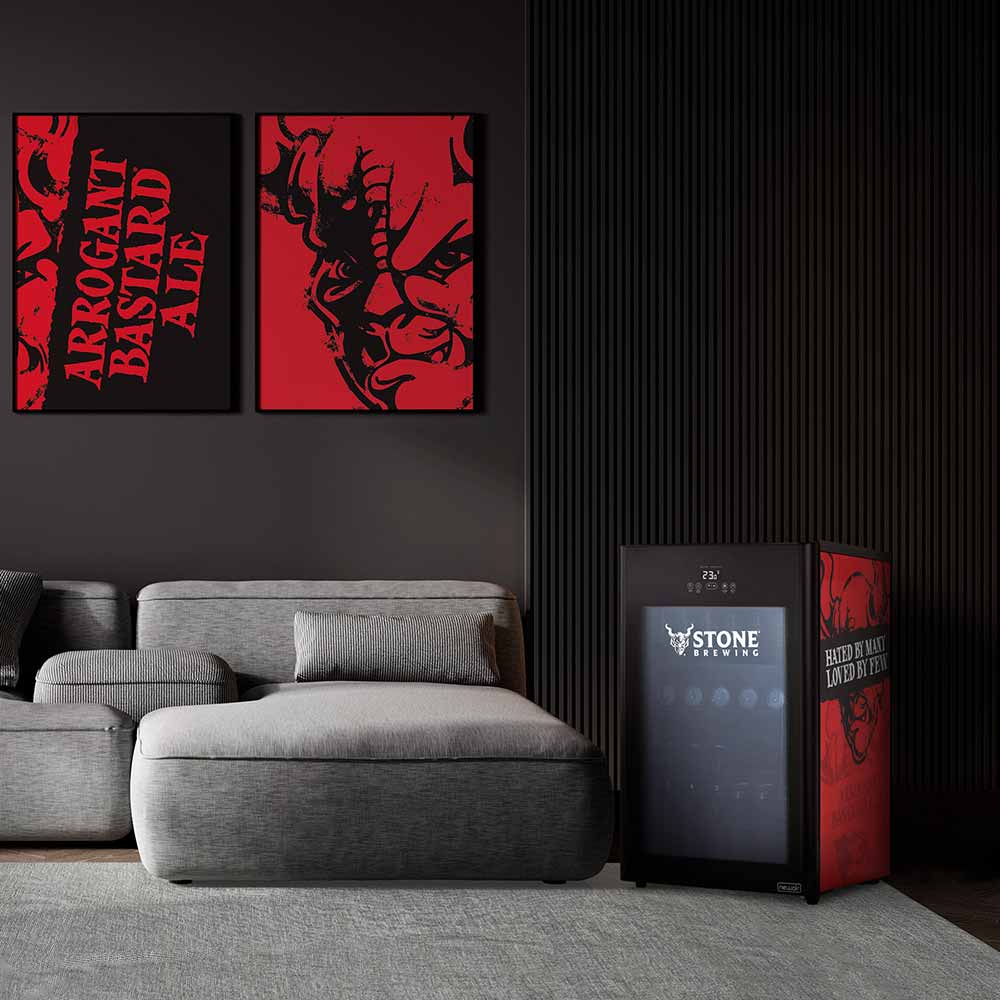 Photography courtesy of Newair
Updated on December 2, 2022
Working for a beer magazine has its perks. We love trying new beers that brewers across the country send us. It's one of the best ways we can keep up with what's new and hot in the industry (that and Instagram, of course).
So we need a serious beer fridge to keep up with all the hazies, American IPAs, Cold IPAs, DIPAs, pilsners, sours, Oktoberfests, stouts, coffee beers, and award-winning beers coming out of the over 9,000 breweries across the country.
And if you're like us, someone dedicated to taking care of their precious liquid treasures, having a top-of-the-line beer fridge is top of mind.
Because what goes into a good beer fridge? Why good beer, of course. So a good beer fridge should have a temperature range of 38 to 55 degrees Fahrenheit, as that's the range the Brewer's Association's Beer and Food Course recommends for storing beer. However, the ideal temperature depends on the style of beer, so having a variable temperature is a nice feature.
Beyond that, a good beer refrigerator should be able to fit bottles or include adjustable shelving to be able to work in a variety of different packaging styles.
And a glass door is handy, because it allows you to look into your beer collection from afar. A sleek design or a fridge with some type of unique artwork doesn't hurt either. Lastly, it also has to fit in your budget, of course.
Below, find our list of our favorite beer fridges of the year.
The Best Beer Fridges of 2022
Newair Stone® Brewing 126-Can Beverage Refrigerator and Cooler with SplitShelf and Adjustable Shelves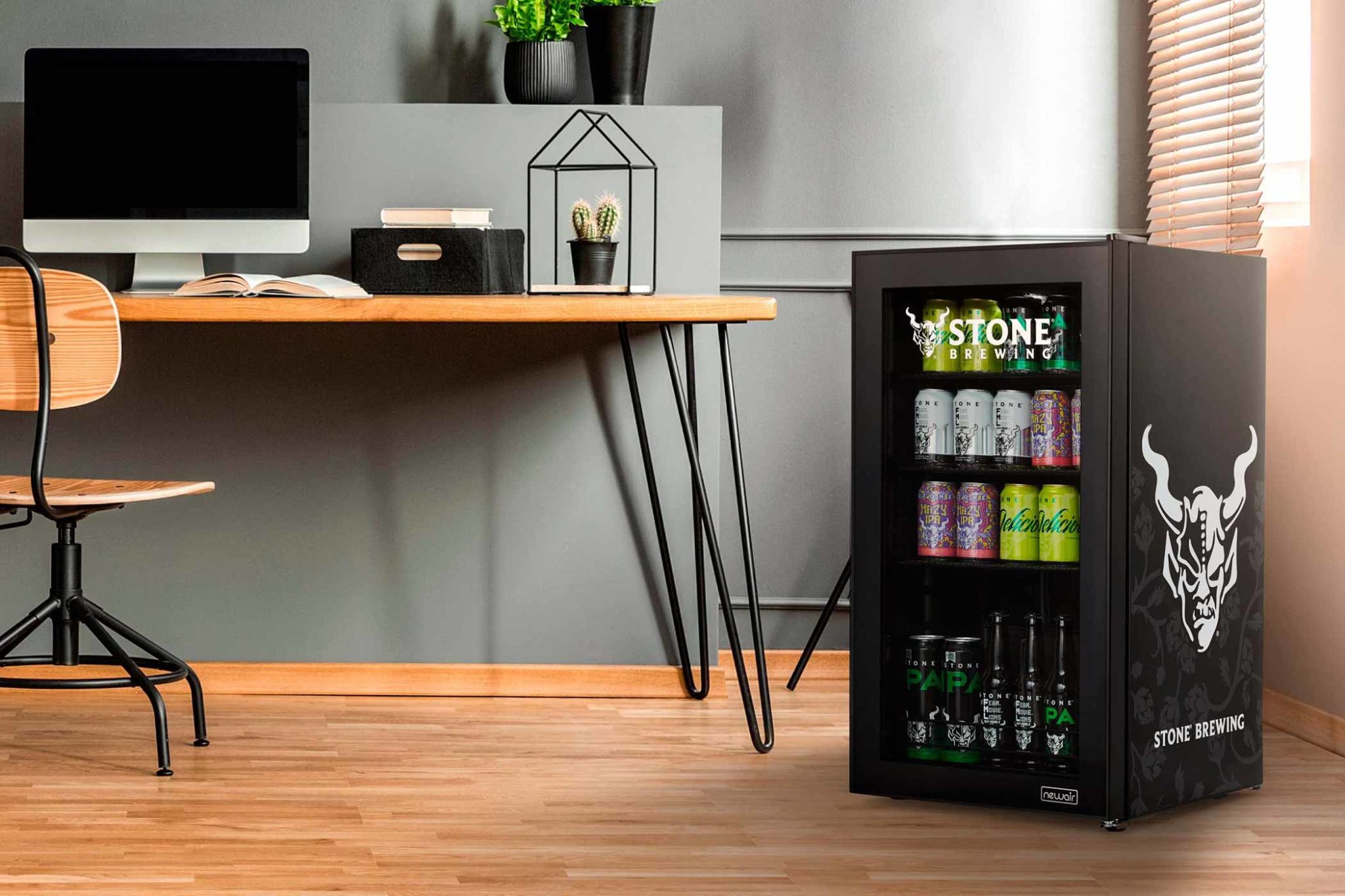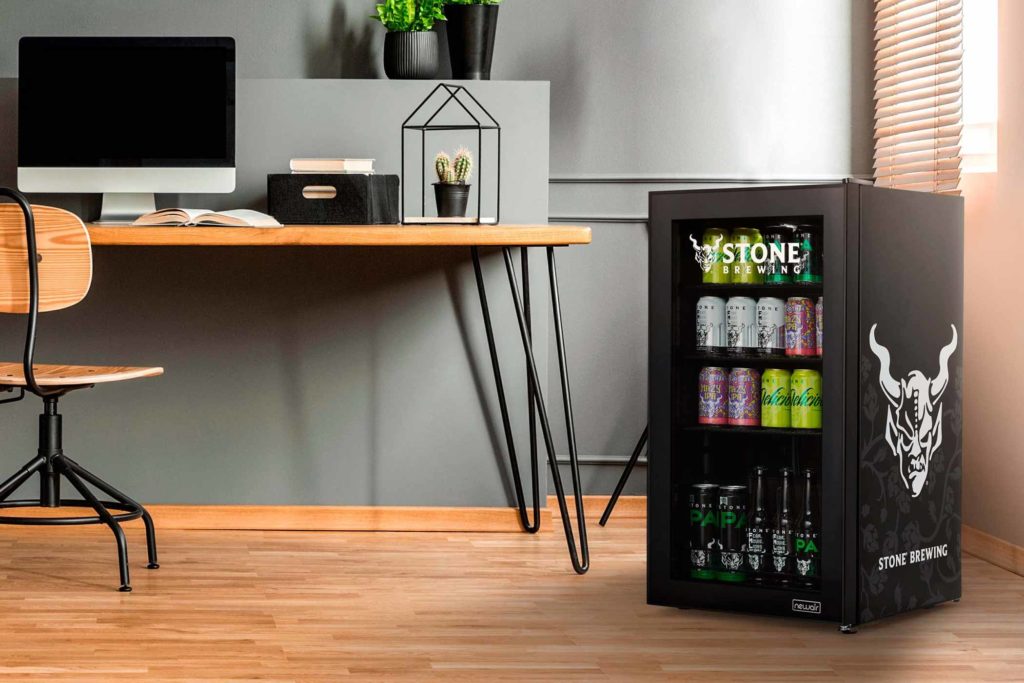 Best Overall – Here's the thing: There are over 9,000 breweries in the United States now. That's a lot of beer to drink! And just like any great brewer has a top-of-the-line cold box to keep all their packaged beer fresh and cold, you need a beer fridge up to the task of taking care of all the beer you're bringing home.
Recently, Newair®, the global leader in high-quality beer fridges, partnered with Stone Brewing, one of the most iconic breweries in the country, for a one-of-a-kind collaboration.
Creating four innovative beer fridges, Newair chose Stone because of its strong brand recognition. But also because it's a brewery that has always stayed true to its roots. Just like Newair.
"Ultimately it's about a gut feel that it's a good partnership," says John Crossley, vice president of product for Newair. "Do you trust the people you're going to be in partnership with? Do you believe in their brand and…the direction of their business? We were able to check all those boxes with Stone, and we like to think Stone checked all those boxes with us."
Accordingly, the Newair Stone® Brewing 126-Can Beverage Refrigerator features Stone's bellwether brand alongside some of Newair's flagship features. For instance, the proprietary SplitShelf, a half shelf that allows you to store standard-sized cans in the back and larger bottles in front.
It's a main feature in this beer fridge. And honestly, why Hop Culture has always been impressed with Newair.
In fact, here at the magazine, we loved this new collab so much that we nabbed one for our own office. The Newair Stone® Brewing 126-Can Beverage Refrigerator and Cooler with SplitShelf and Adjustable Shelves has fit in perfectly.
The innovative SplitShelf ensures that we can fit whatever sized package a brewery sends us. Oftentimes, breweries send us 16oz cans, but also get packages of 750mL bottles, 12oz cans, 19.2oz cans, and even crowlers. This fridge can handle it all.
With the adjustable shelves, we can set up the fridge exactly how we want. Now we have 126 cans sitting snugly in a perfectly cooled, hella polished fridge. Everything from West Coast and hazy IPAs to pilsners, kölschs, and Mexican lagers, even märzens, ESBs, and porters are at our fingertips.
Plus, it's sleek as hell.
With the iconic Stone® gargoyle on the side panels and glass door, this fridge just looks freakin' awesome in the office.
This fridge is a win-win.
"I love how the hop design is incorporated on these fridges," says Erin Smith, Stone Brewing VP, Marketing. "It adds a level of sophistication that really speaks to the quality of these fridges and the Stone beers inside them. There's nothing overstated about this, but it still tells guests, 'Hey, I like high-quality craft beers and I'm serious about that."
If you're looking to upgrade your den, add that final touch to your game room, or simply, like me, find a fridge that can meticulously take care of all the cans and bottles you love, Newair and Stone have created the perfect cold companion.
"The possibilities are endless," says Crossley.
Dimensions: 18.7"D x 18.5"W x 32.5"H
Weight: 63 lbs
Capacity: 126 12oz cans
Kismile Beverage Refrigerator Cooler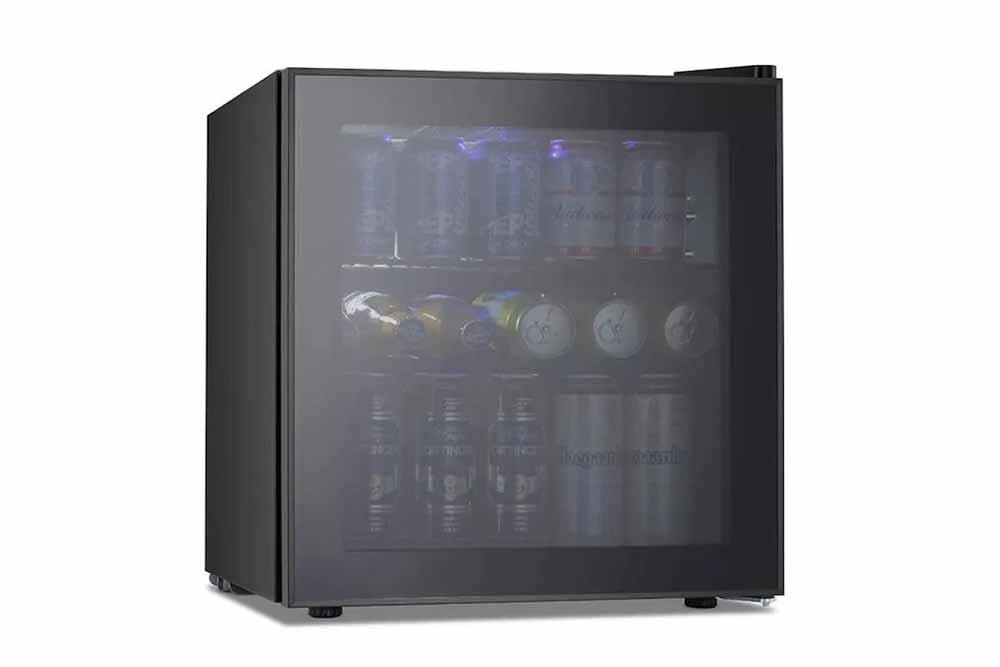 Best for Small Spaces – If price is on your mind, then the Kismile fridge might fit the bill. It's fairly small, so it won't take up a ton of space or take a bunch of dollar bills out of your wallet. The flip side, however, is that it's definitely on the smaller side, but still packs a punch. At 1.6 cubic feet, the Kismile fridge is certainly compact, but it holds a respectable sixty standard 12oz cans.
Removable shelving means you can set up the fridge to your liking. And for the design-conscious, a double-paned glass door and soft blue LED light adds a touch of sleekness to this cooler. Actually, the glass is multi-functional, protecting against beer-damaging UV rays and keeping the ideal humidity level inside. Plus, you can control the temperature anywhere between 39°F to 61°F, so you can be attentive to whatever style you'd like to store.
One downside to this beer fridge: It can be a bit louder than some of the others on this list.
But for the best bang for your buck, this one is hard to beat.
Dimensions: 17.5"D x 18.6"W x 19.6"H
Weight: 47.1 lbs
Capacity: 60 12oz cans
Antarctic Star Mini Fridge Cooler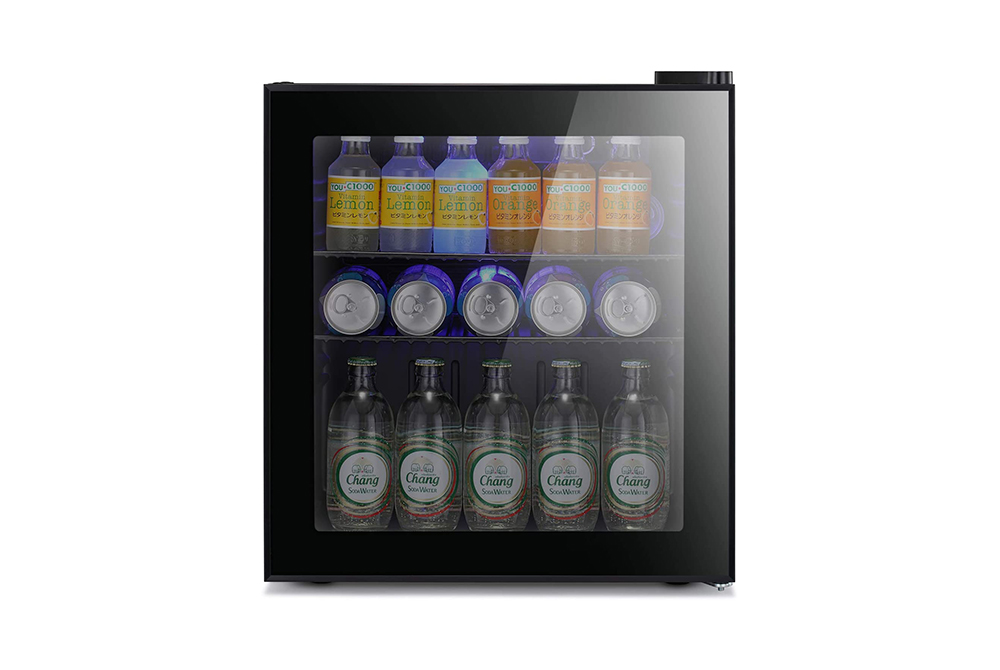 Best for a Budget – Our top budget pick is the Antarctic Star Mini Fridge. It only holds about 60 cans, but the compact size and reasonable price point is among the best we've seen. It'll fit in tight spaces—like under your desk or beside your media console—and will function just as well as any of the pricier options.
Dimensions: 17.5″W x 19.6″H x 18.6″D
Weight: 36.6 lbs
Capacity: 60 12oz cans
Arrogant Bastard 125-Can Beer Froster Beverage Refrigerator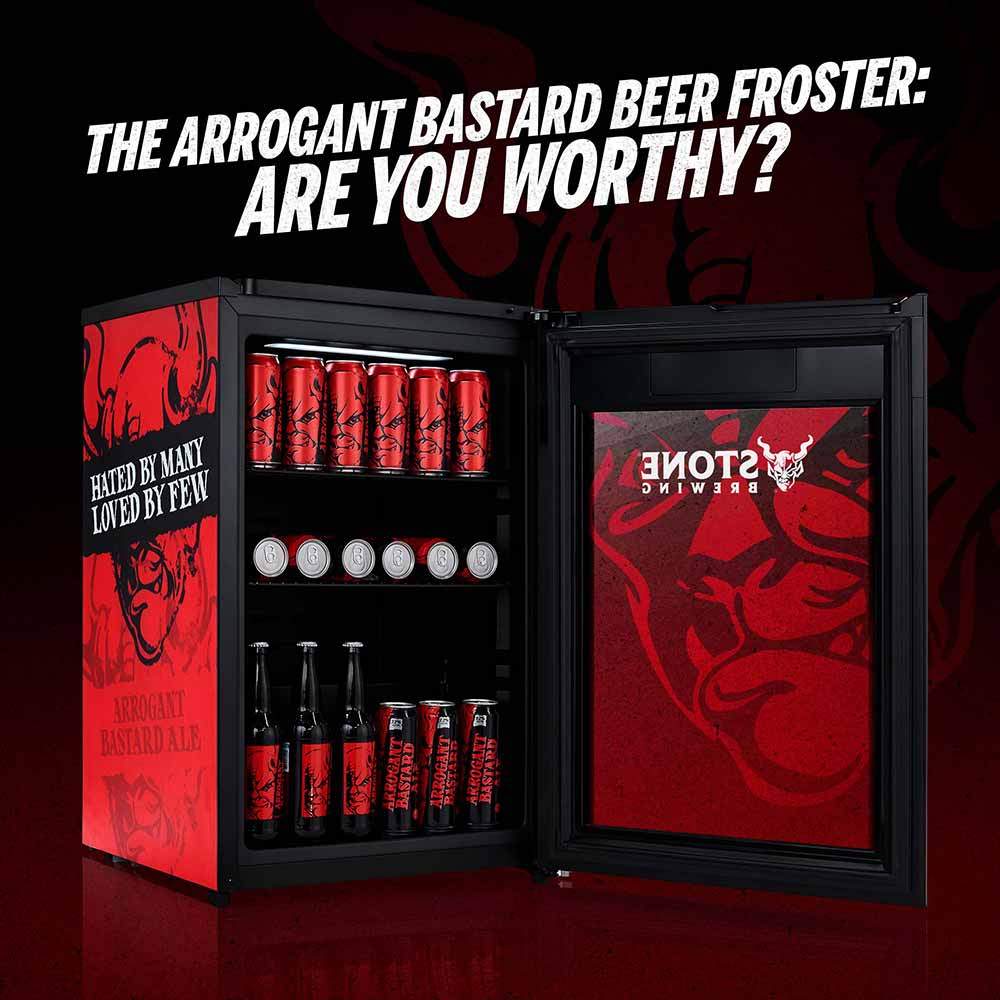 Best for a Serious Beer Drinker – As a part of Newair's new line of fridges made in collaboration with Stone, the beer fridge company designed a pretty serious one around arguably the brewery's most iconic brand—Arrogant Bastard.
It's perhaps Stone's most rabble-rousing, out-there brand. This is a beer that has built up a following of hard-core craft beer fans.
"Arrogant Bastard is an icon in craft beer," says Smith. "For many people, it was their first experience of craft, so it was a great fit for a fridge."
With a tone and imagery that could be called intense and visceral, Arrogant Bastard is not for the faint of heart.
"We figured someone associated with that brand is comfortable with extremes, and this is an extreme product for people very serious about beer because you can store beer at any temperature you want," says Crossley.
Keeping that in mind, Crossley knew that Newair® wanted to pair this brand with a beer fridge featuring Newair's ingenious beer froster "because it's one of the most innovative products in beverage refrigeration," says Crossley.
The beer froster's Turbo Mode can get a fridge all the way down to 23°F in less than an hour while the Party Mode helps the temperature stay constant over six hours, no matter how many times someone opens the door.
Crossley calls this feature "perfect for entertaining." And the Arrogant Bastard 125-Can Beer Froster Beverage Refrigerator is certainly a statement piece.
Bold, brash, and in your face, this beer fridge features the Arrogant Bastard sneering gargoyle on the side in red, white, and black with the tagline "Hated By Few, Loved By Many."
"The Arrogant Bastard is a visual icon known throughout the beer world, and we love that this one implies 'keep your hands off my beer!'" says Smith. "Gargoyles are historically known as protectors against evil spirits. The Gargoyle is on every one of our beers to symbolize our quest to create amazing beers and let nothing get in the way of that. This is exactly the kind of collaboration the Gargoyle would be proud of!"
Perhaps Crossley puts it best: "The Arrogant Bastard branding product looked too slick to pass up!"
This is a fridge for the chosen few. It's up to you to decide whether you're worthy.
Dimensions: 19.9D" x 22.1W" x 33.5H"
Weight: 87.1 lbs
Capacity: 125 12oz cans
Lanbo LB36BD Wine and Beer Refrigerator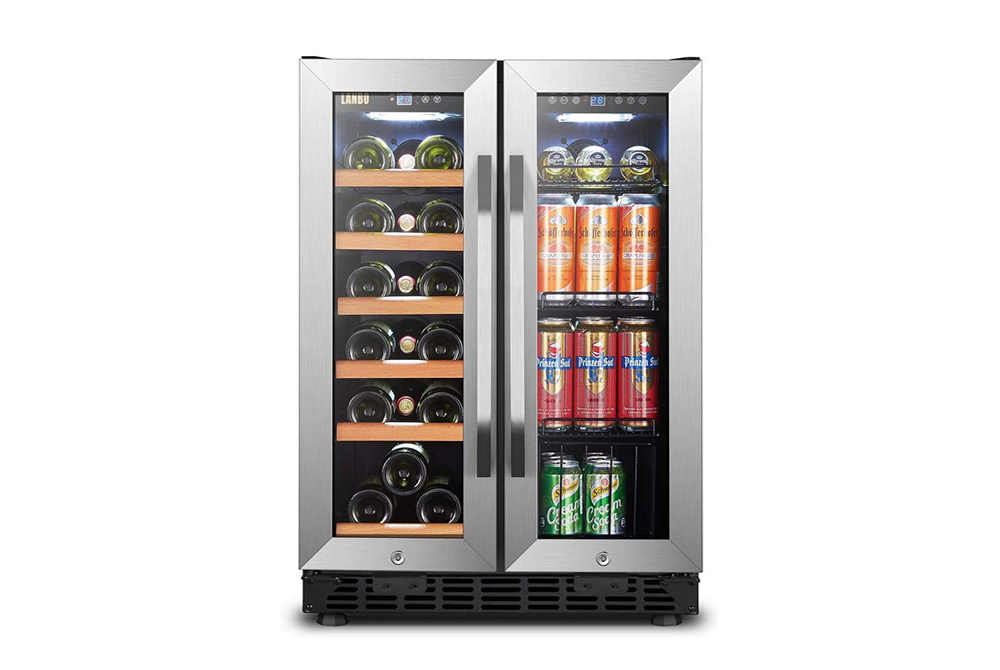 Best for Hosting a Party – This double-door unit is pricey, but if you're also a wine enthusiast, or if you like beer that comes in extra-large format bottles, this refrigerator is a great choice. At capacity, it can hold eighteen bottles and fifty-five cans. The temperature range differs between the two doors, with a left zone range of 41 to 64°F and a right zone range of 39 to 50°F. Plus with digital controls, the temperature settings can be easily programmed. The duality function of the fridge means you can keep wine bottles or larger format beer bottles at one temperature and cans of beer at another. Every type of drinker gets what they want. And that's what we call being a pretty great host.
Dimensions: 23.6″D x 23.4″W x 33.9″H
Weight: 100.3 lbs
Capacity: 18 750ml bottles and 55 330ml cans
Ivation 126-Can Beverage Refrigerator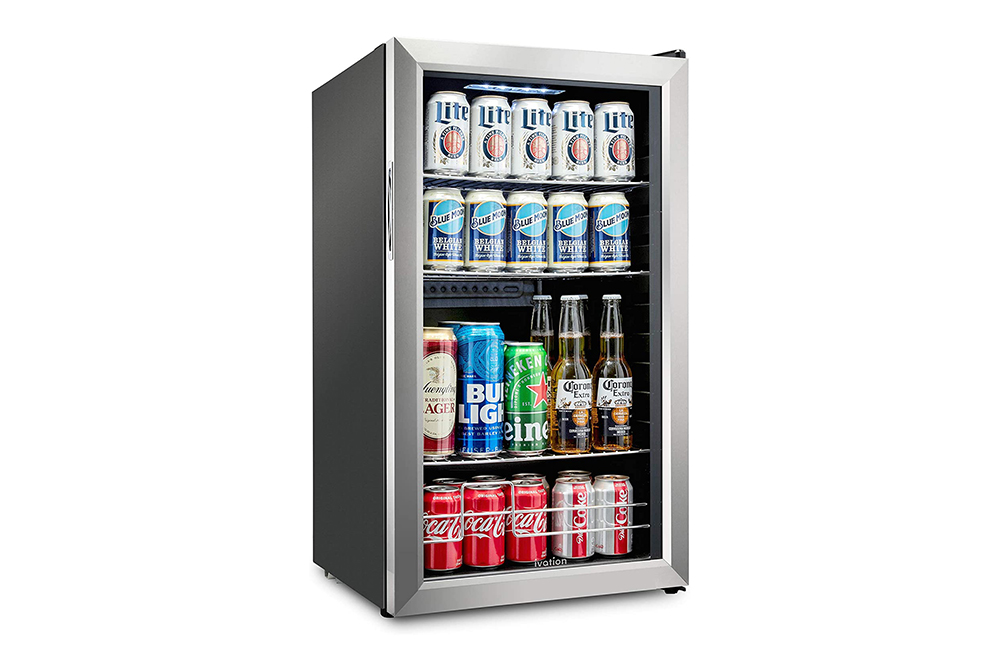 For No Fuss, No Muss – Ivation's 126-can beer fridge might not be the flashiest inclusion on this list. But, it offers quite a bit of bang for your buck. The temperature ranges from 34 to 65°F and can be easily adjusted at the touch of a button. Plus, with customizable shelves, you can prioritize space for your 12- and 16oz cans, while making room for a few 750ml bottles.
This is your no-frills, no-extra-ruffles, just-do-exactly-what-you're-told-and-nothing-more version of a beer fridge. Does it get the job done? Absolutely. Does it look good doing it? It's not the sexiest, but it gets the job done. So if design is something you prize in a beer fridge, you might find something a little sleeker elsewhere on this list.
Dimensions: 17.32″D x 18.66″W x 33.07″H
Weight: 55.8 lbs
Capacity: 126 12oz cans
Insignia™ 130-Can Beverage Cooler – Silver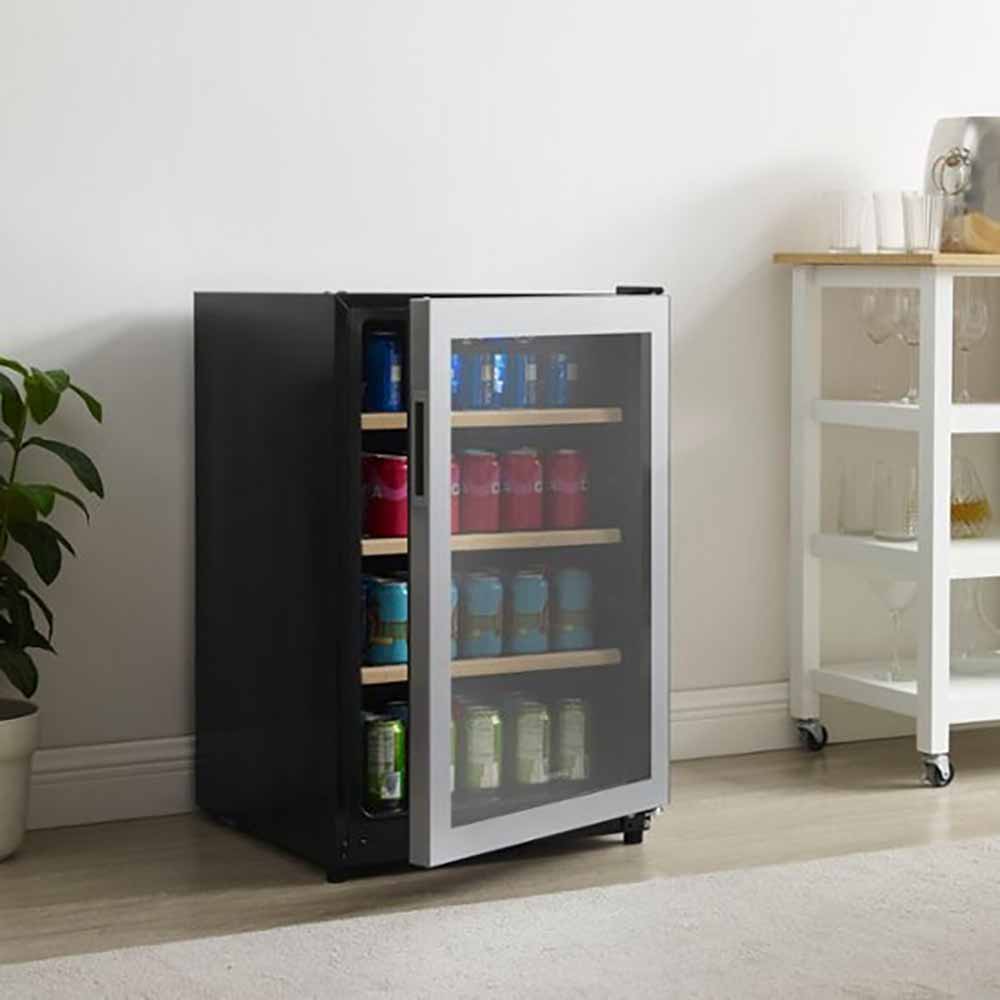 For the Sleek and Sturdy – This fridge is a big boi. One of the largest on this list, the Insignia 130-Can Beverage Cooler holds a high volume of cans on some good-looking chrome and wood-accented wire shelves.
The fridge itself has a sleek graphite paint, reversible glass door, and LED touch controls to complete the pretty snazzy look.
Features include a digital thermostat that lets you adjust the temperature between 34° and 50°F, an auto defrost function that can melt any frost that forms inside, a memory recall that automatically restores the temperature settings after a power outage, and six slots of varying heights to adjust your shelves for various types of bottles and packaging.
All for a pretty reasonable price in our eyes.
Dimensions: 22 3/8″D x 21 1/2″W x 33 3/4″H
Weight: 94 lbs
Capacity: 130 12oz cans
Brew Cave Walk-in Beer Cooler & Kegerator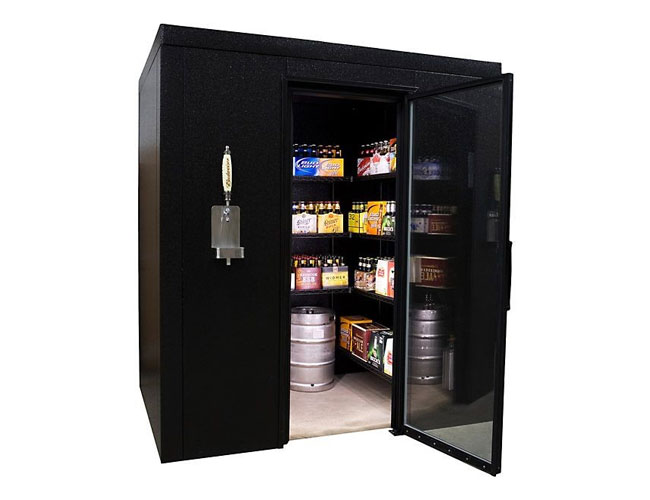 For the Luckiest Beer Fan Alive – At over $7,000, this is really only feasible for recent lottery winners or folks who discover buried treasure. But what a way to splurge. Walk inside and you'll find up to thirty cases of chilled beer awaiting you. Or, you could opt to use the external tap to pour beer straight from a keg.
Up to you. Point being: This is the crème de la crème of all beer fridges and therefore thoroughly entertaining to include. To complete the ultimate beer cave, whenever that day may come, this is the pièce de résistance you want.
Dimensions: 6'10″W x 7'6″H x 4'10″D
Weight: N/A
Capacity: 720 12oz cans
Unless otherwise noted, all of the products featured on Hop Culture are independently chosen by our editorial team. However, Hop Culture may earn a commission from purchases made through affiliate links on the site.