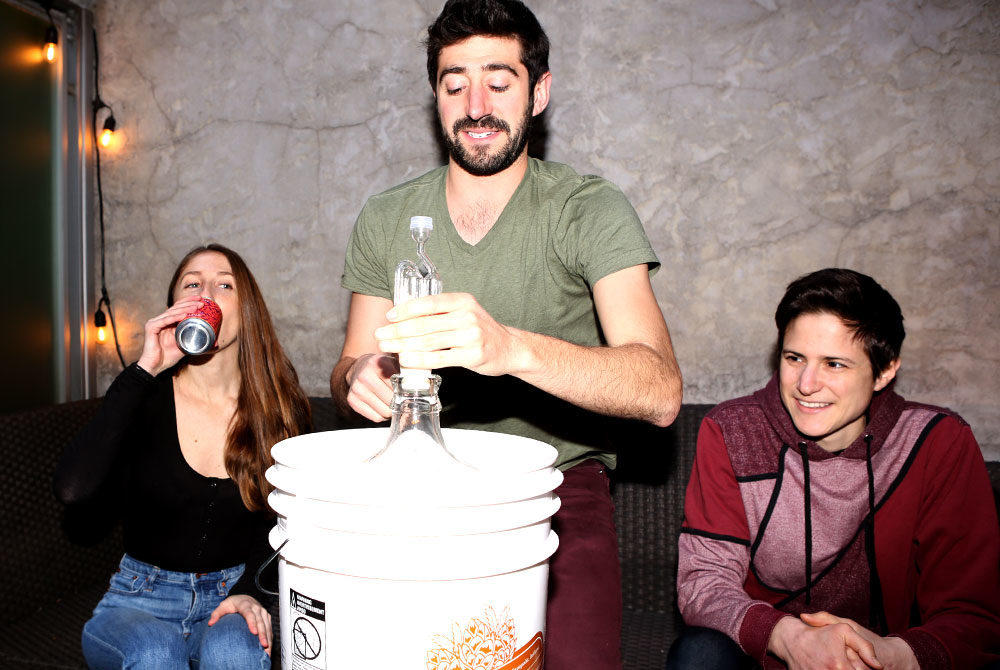 The traditional dinner party is played out. A little light music, some booze, and food do not a memorable party make. But that doesn't mean you have to go all out on an elaborate soirée to wow your friends. A "bring your own vinyl" night lets you create an analog playlist with friends; a clothing swap is a great excuse to update your closet; and we hear Powerpoint Parties are somehow all the rage. Might we humbly recommend "The Homebrew Party."
Homebrewing has often been relegated to the garage or, if you have patient roommates, a lonely kitchen. But exciting DIY events are great centerpieces of a fun party — and brewing your own beer might be the original DIY activity.
Below, we'll outline a step-by-step guide to throwing your own homebrew party. Like your first homebrew, don't worry if it's not perfect. Your friends might need to warm up to the idea of brewing their own beer. But, in a few weeks time, they'll be able to sample their creation at the follow-up! Here's what you'll need:

1. Invite Your Friends
Be sure to establish expectations with your initial invite. You wouldn't want to show up to a party and suddenly learn you're expected to work. Remind everyone you'll have food, good vibes, and plenty of non-homebrewed beer to enjoy throughout the event.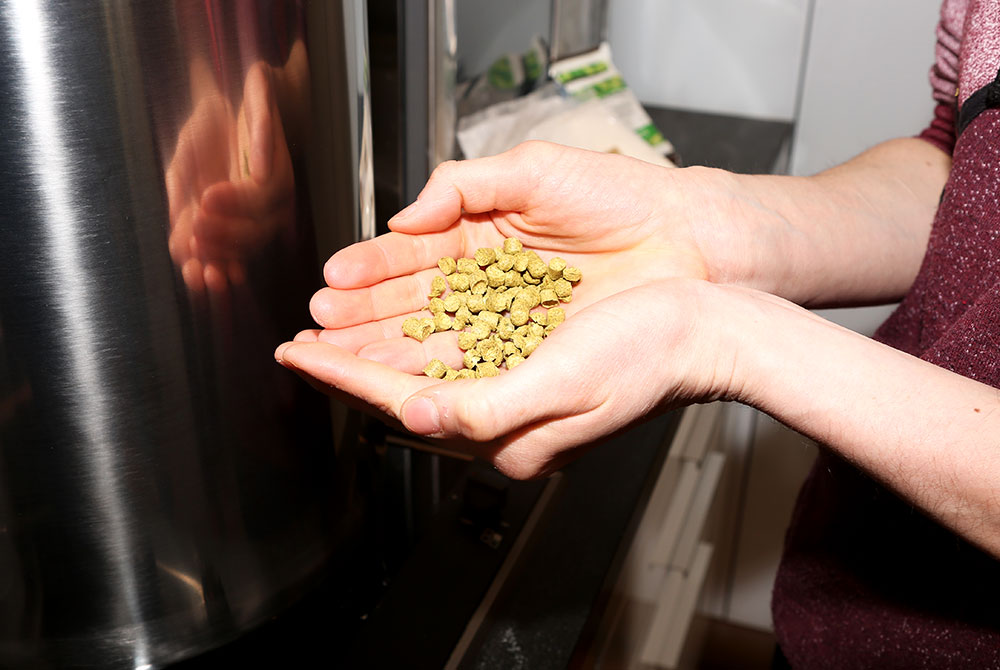 2. Food and Booze
We'd recommend small plates so folks can just pick at little bites instead of sitting down for a full meal. These Lemon Pepper Salami Bites have been a recent go-to. No reasonable human can pass up a cheese plate. Also, it's never frowned upon to order in some pizza. Your party should be a fuss-free zone.
When it comes to libations, keep them low frills. Your go-to easy drinker should be the beverage of choice. I'd recommend Threes Vliet or Suarez Palatine Pils, if accessible.
Get the Recipe: Lemon Pepper Salami Bites
Learn More: Vliet
Learn More Palatine Pils
3. Equipment
If you're a skilled homebrewer (and a competent host), putting together a homebrew party should be a piece of cake. You'll have all the necessary equipment and you can tap in guests to dry hop or pitch the yeast. But, if you're looking to get started with homebrewing, you'll need some basics.
For its ease and cost, we'd recommend acquiring a basic homebrew kit, like the Basic Brewing Starter Kit from Great Fermentations. You'll also need the ingredients for your first homebrew. Great Fermentations has solid starter kits like the PDG Pale Ale, a hoppy northwest style Pale Ale.
Buy Basic Brewing Starter Kit: $85
PDG Pale Ale Extract Kit: $33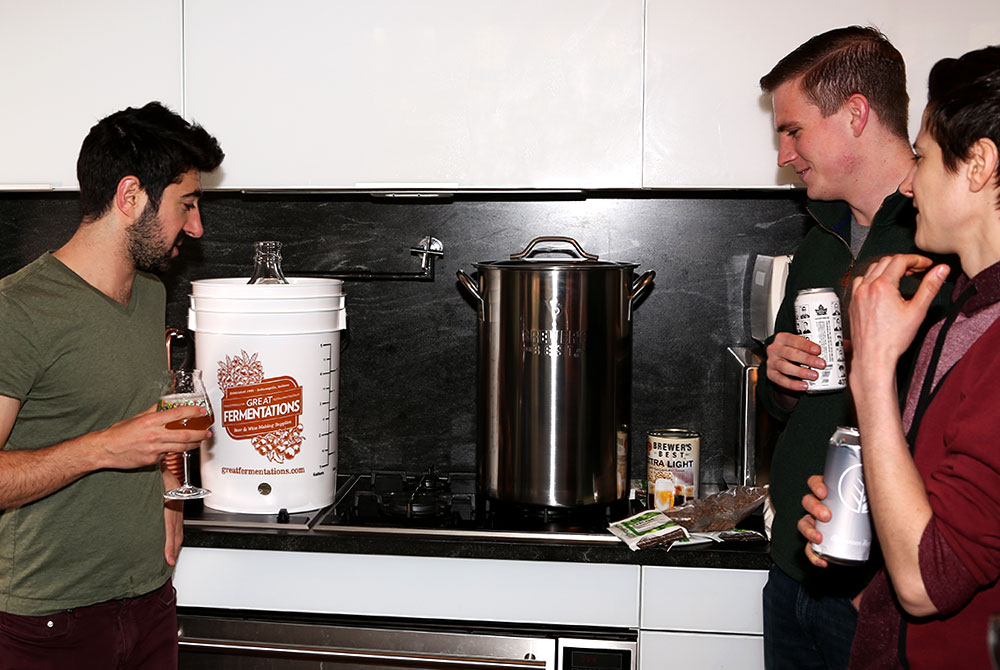 4. The Brew Day
Unless you're trying to brew a complicated beer, your first homebrew should be relatively straightforward. The only factors to keep in mind while brewing with a group would be temperature and sanitation, perhaps the two most important aspects of brewing. Just keep a close eye on the process, make sure your equipment is well sanitized, and you'll be fine! Let everyone take part in the brewing process, even if it just means chatting next to the stove while the mash boils.
5. The Music
Music is the key to any party. I'm always a fan of tossing on a great record and letting it play through — I happen to trust the tunes of Parquet Courts or Creedence Clearwater Revival from my own collection. If you're in a pinch and don't have the time to make your own homebrew playlist, you can't go wrong with a playlist from our friend Alex Delany.
Parquet Courts Wide Awake
Creedence Clearwater Revival Green River
Listen: Alex Delany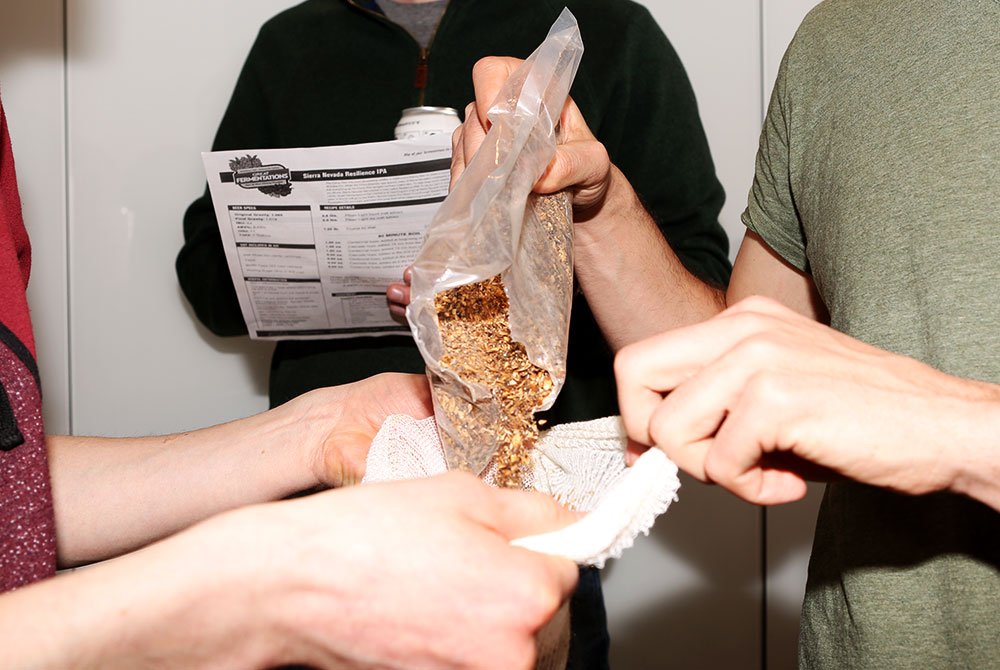 6. Have Fun!
Like everything in life, don't take your party too seriously. No one is expecting the final product to be a world-class beer. Regardless of the outcome, your friends will never forget their first homebrew party.
This article is a paid, sponsored article presented by our friends at Great Fermentations.
Liked this article? Sign up for our newsletter to get the best craft beer writing on the web delivered straight to your inbox.