Editor's Note:
We're heading to Los Angeles to throw Juicy Brews Beach Party at Brouwerij West on January 25th. Get your tickets here.
It may have taken Los Angeles a little bit longer than our other California bretheren to catch up to the craft beer boom, but now that it's here, my has it arrived! We've got quite a few beer bars that are actually bottle shop hybrids and a myriad of giant liquor stores the size of some Costcos, which means taps flowing with choices from local brewerie and fridges stocked with bottles and cans from as close as San Diego to far-off locales like Wyoming and Massachusetts.
What we're trying to say is, we're pretty darn lucky to have so many high-quality options to choose from to drink in public or private, but that also means there are a few that stand out from the rest. Whether you want a can from a local brewery or to make your friends jealous about that one rare Prairie Ales adjunct you found that they can't get their hands on, these are our favorite bottle shops in Los Angeles.
A quick note before you start reading: L.A. is quite large in both mileage and population, so our apologies to the LBC, South Bay, and San Gabriel Valley and anybody else we've offended, but we had two rules for this list: A) We've stuck to the city proper, which is a cool 503-square miles to fight over. B) Though we absolutely love Ramirez Beverage Center and all three Vendomes, we focused on small(ish) shops. Now carry on…
Sunset Beer Company
1498 Sunset Boulevard, Echo Park | (213) 481-2337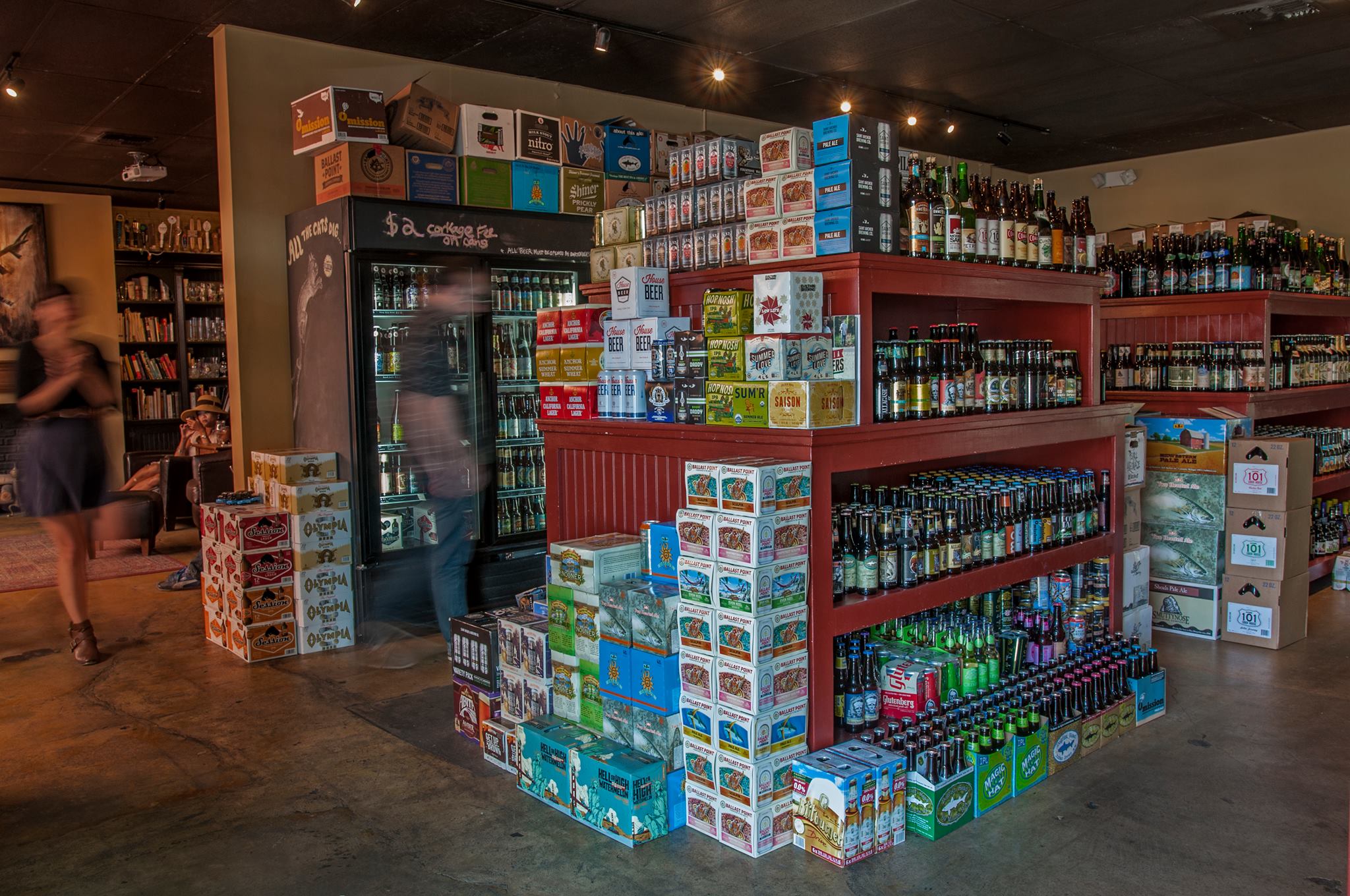 Right off the bat, we're giving you a bottleshop/taproom hybrid, but with good reason. Sunset Beer is one of the most beloved of these hybrids in the city — and one of the oldest at a mere eight years old! First, you'll walk into a room of fridges arranged by geographic location, so you can decide if you're feeling loyal to the Golden State or fancy yourself a trip to the Pacific Northwest or East Coast. If none of those suit your fancy, in the next room they've got up to 12 beers on tap at any given time, the majority of which are filled with Southern California options. There are plenty of cozy seats or high-tops to settle into to play one of the many board games available as well as a communal mini-lounge directly across from the bar, and there's even a small outdoor seating area that will definitely be full before you can grab a spot. Just know if you crack a can open on-premise, there is a $2 corkage fee.
The Bottle Shoppe
14040 Hubbard Street, Sylmar | (818) 336-6007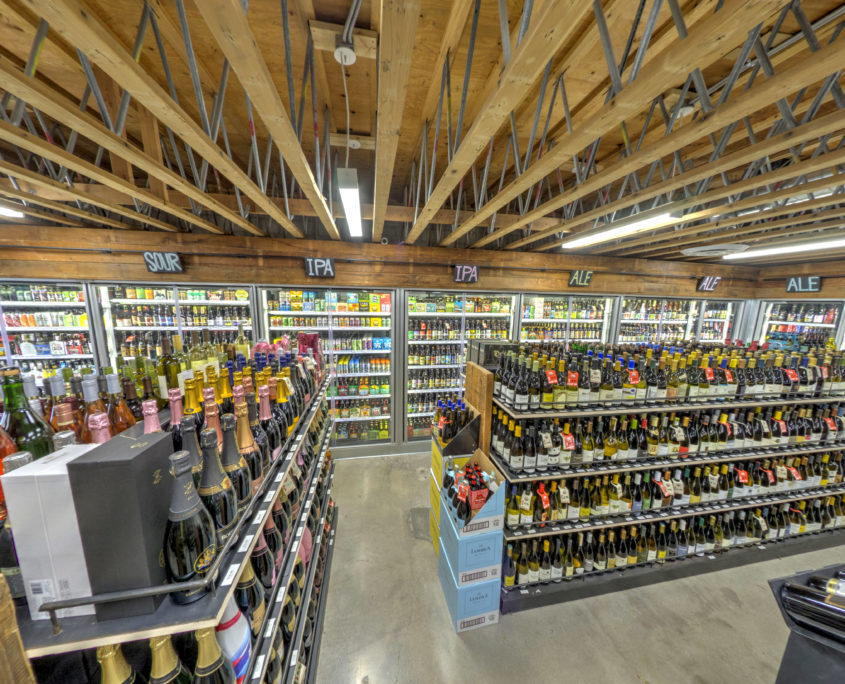 Far north in the SFV sits the Bottle Shoppe, a welcome reprieve from traffic on the 5. Shaped like a Poconos A-frame home, this Sylmar spot is proud to sell beers from breweries few other shops in the area can get a hold of. One of the handful of select stores in L.A. that was gifted Great Notion cans this summer, they're also a go-to option for Northeast beers that rarely make their way to California, as well as stellar local options. Though Bottle Shoppe is a full liquor store that also carries wine and spirits, it's their craft beer selection that makes them stand out from the many other blinking "liquor" marquees in the area. The brothers that own the store also have a sister Bottle Shoppe location in Long Beach, and they're known to put on tasting events that help introduce even more brewers to SoCal drinkers. They also love re-sharing their customers' Instagram Stories, which is fun for your follower count.
Blackbeard's Crafts
1820 Sawtelle Blvd, Los Angeles | (424) 832-3919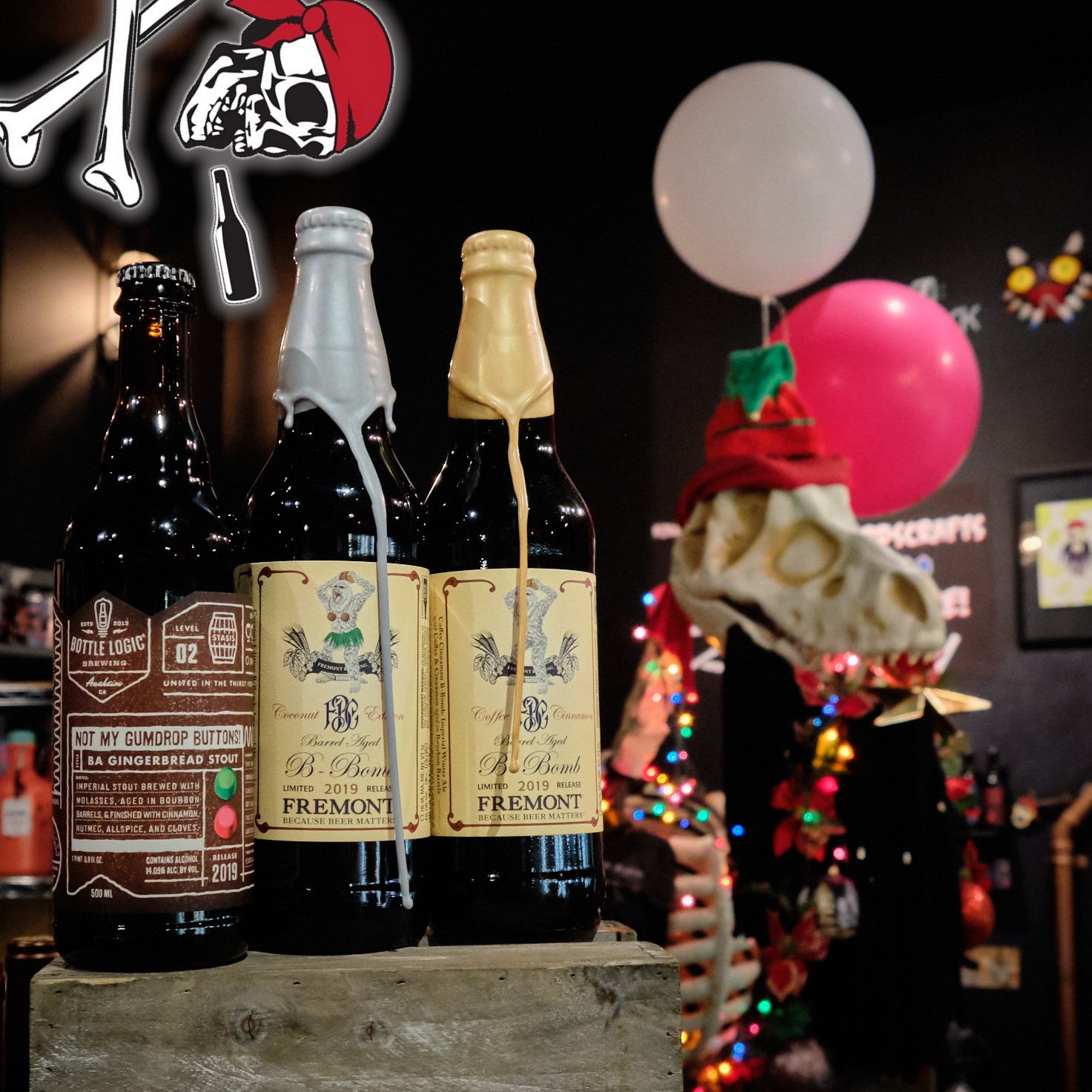 This writer doesn't live on the Westside, but when she does venture west of the 405, it's always after rush hour and usually to stop by Blackbeard's. The shop has the friendliest neighborhood skeleton you ever did see, and the staff is always eager to help you look for your perfect beer while remembering both your name and every beer in their fridges. It's truly a neighborhood joint, and they take pride in what they do. The staff knows their brews and features a select few each month that are definitely worth trying (when they hand over a can of Hoof Hearted before you can even ask, you know you're in good hands). Blackbeard's is also on top of trends, frequently stocking some of the beers you've been meaning to reach into your 'gram and grab. The shop's top goals are to be warm and friendly and always have new and rare beers, and as far as both are concerned, even their pirate mascot knocks it out of the park.
Hop Merchants Bottle Shop and Taproom
5013 Lankershim Boulevard, North Hollywood | (818) 927-4071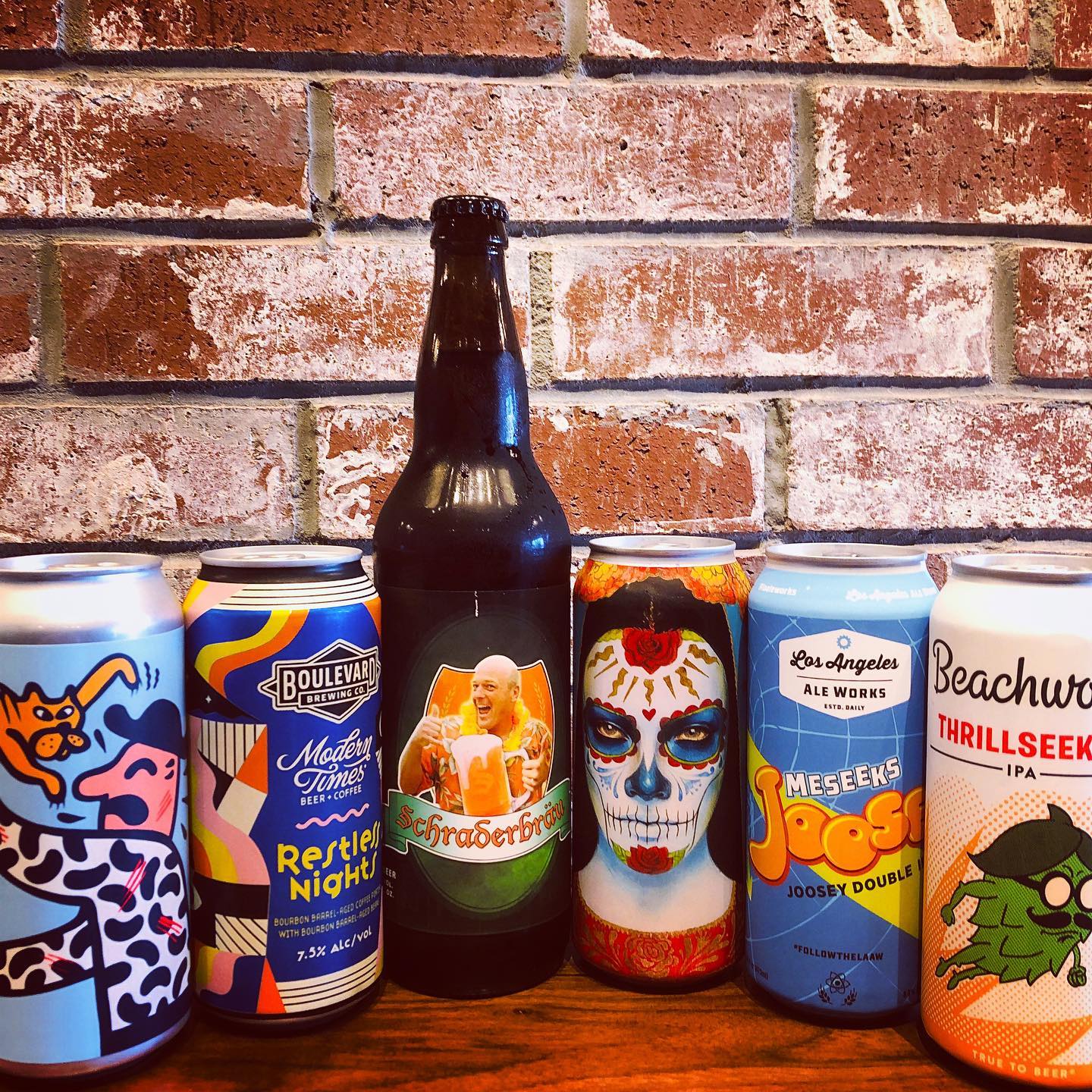 This North Hollywood bottleshop/taproom hybrid just celebrated its one-year anniversary in October, but the newcomer deserves a place on any L.A. beer lover's list. Started by a trio of homebrewing friends who decided opening a beer bar was slightly saner than a full-on brewery, the owners' palettes are well-honed and they only feature beers they'd recommend. There are 16 rotating taps showcasing Los Angeles breweries, and their well-stocked fridge features a solid selection of IPAs, stouts, porters, and sours that you can drink in-house or take-away, plus there is no corkage fee on Tuesdays. Hop Merchants considers itself a bottle shop first — it's even in their name — and plenty of people regularly run in and out with quick pick-ups, but the taproom bar has become a NoHo "Cheers". We recommend you stick around a while and bring in your own food to the dog-friendly space or scoop up the popcorn available fresh from the popper. If you're a regular, look into Hop Merchants' mug club; they're one of the only beer bars to offer the service in the area, and they've got a loyalty points system as well. We're also happy to inform you that their WiFi is very good and may or may not be used to write many pieces for Hop Culture, and we'll even gift you with a fun local secret: there is a parking lot behind the store.
Valley Beverage Company
14901 Ventura Boulevard, Sherman Oaks | (818) 946-8297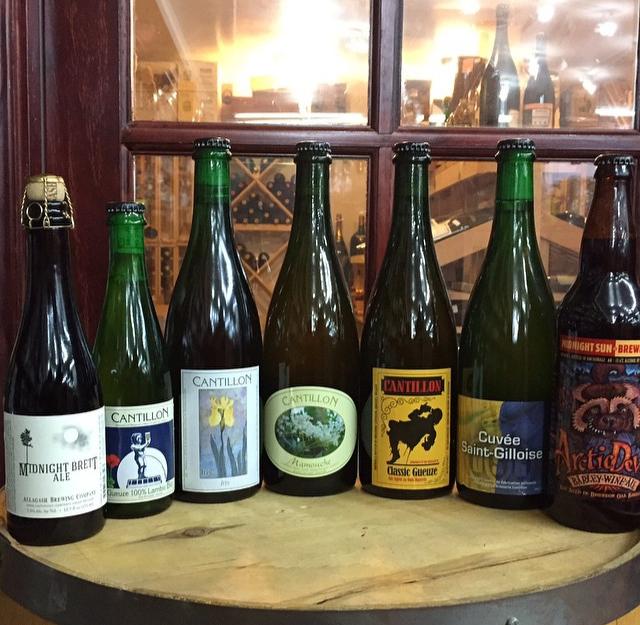 If you're new to town, this is one of those places that all of your fellow beer nerd friends will send you, and not just because they most likely have just moved to the San Fernando Valley themselves or think the retro neon liquor sign outside is cool. On their website, Valley Bev, which has been open since the '50s, calls itself a wine store, but don't be fooled. Whether it's domestic or imported (their international section is quite impressive), with a whopping 3,000 beer options, they have one of the best craft selections in the Valley. The guys working there are always happy to help you find the perfect brew for your drinking mood, and they know what they're talking about, because they've tried the beers they're recommending. Seriously — every can in there has been taste-tested. As an added bonus, you can also order online through their website and buy gifts for your fellow beer-and-wine lovers.
Liked this article? Sign up for our newsletter to get the best craft beer writing on the web delivered straight to your inbox.