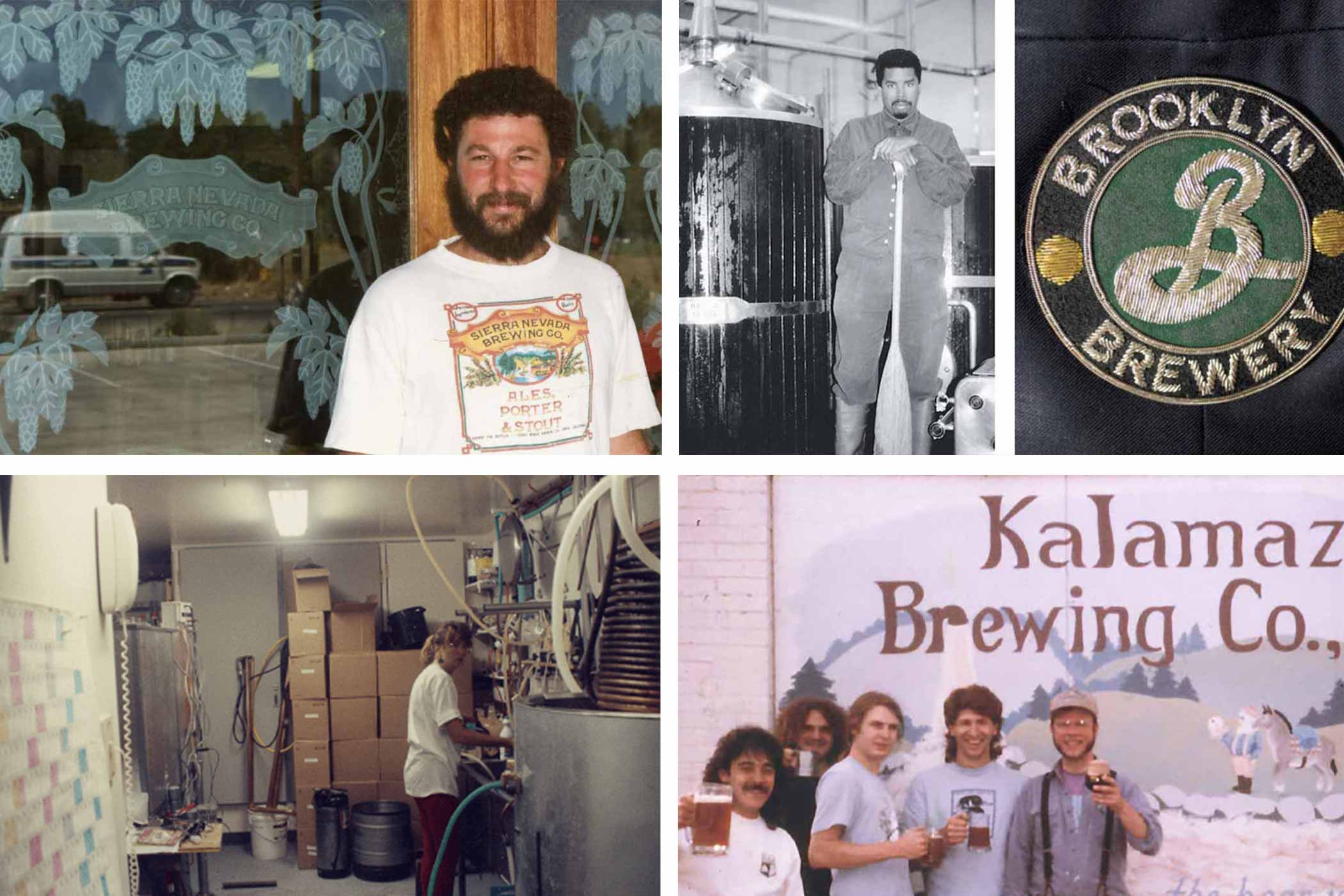 Photography courtesy of (clockwise from top left): Sierra Nevada Brewing Company, Edible Brooklyn, New Belgium Brewery, and Bell's Brewery
Editor's Note:
Don't forget to check out:
Every year on April 7th, we celebrate National Beer Day. Why? Because on this day in 1933, the Cullen-Harrison Act went into effect, erasing eighteen years of Prohibition. Passed by Franklin Delano Roosevelt, this law legalized the manufacture and sale of beer in the United States. After almost twenty years on the lam, people took to the streets, toasting their freedom to drink a beer again.
Last year, we lauded this day with fourteen of the most iconic beers in America. So it's probably no surprise that in 2023, we want to cheers some of the most revered breweries in America.
The ones we call pioneers, who we often recognize as the cornerstones of the American craft beer movement. Whether that's a little brewery in Chico, CA, whose founder's love of the Cascade hop formed the foundation of the American IPA; a sustainably minded brewery in Fort Collins that would go on to change the world; or one on the furthermost side of the East Coast slinging a witbier before anyone knew what that style meant.
These are the breweries that dared to dream and journeyed into the unknown. Thanks to the guts of their founders and brewmasters, we can now enjoy beer from over 9,500 breweries nationwide.
So on National Beer Day this year, let's cheers to the twenty-one breweries that revolutionized American craft beer.
Editor's Note: We've listed these breweries alphabetically.
The 21 Most Iconic American Breweries
Allagash Brewing Company
Portland, ME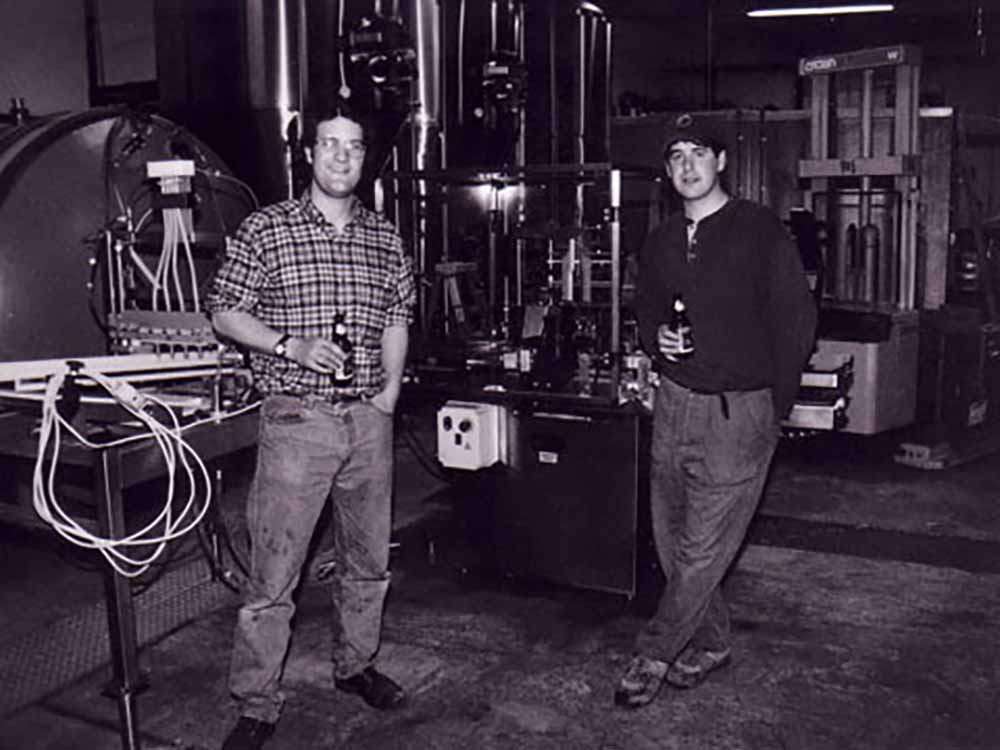 Paving the Way for Witbier – Inspired by a Belgian-style witbier called Celis White, Allagash Founder Rob Tod started Allagash Brewing Company out of a warehouse in Portland, ME, in 1995.
Bootstrapping the brewery, Tod welded together his 15-bbl system and punched out a few drains in the floor. All in the pursuit to brew one beer only: his own Belgian-style witbier, Allagash White. But at the time, no one had tasted such a style. So for the first ten years, Tod couldn't sell Allagash White. But Tod wouldn't quit, hitting the road with Allagash Brewmaster Jason Perkins to bring the beer into as many states as possible.
In the twenty-first century, as craft beer in America grew, so did people's appreciation for other styles. Between 2006 and 2007, consumers started understanding and appreciating Belgian-style beer's nuances, spices, and appearances. Slowly, Allagash White became Tod's namesake, evoking the family, passion, caring, and innovation that Allagash now counts as its core values.
Today, Allagash White continues to be the brewery's best-selling beer. And the brewery itself remains one of the most well-respected breweries in the country, earning Brewery and Brewer of the Year in the 15,001-100,000 barrels per year category at the 2021 Great American Beer Festival (GABF).
Most recently, Allagash announced an expansion plan to open a new custom-designed tasting room on seven acres of land in Scarborough, ME, in 2024.
Anchor Brewing Company
San Francisco, CA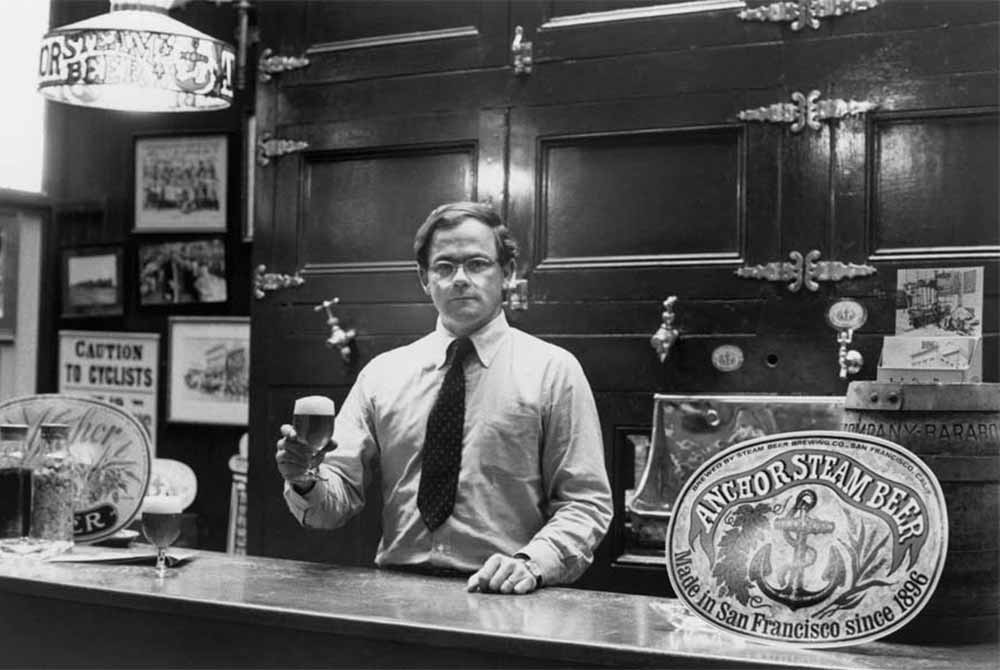 A Truly Unique American Beer – Many might not know the official history of Anchor Brewing. Sure, you probably know that Fritz Maytag bought a fifty-one percent stake in the brewery as it headed for bankruptcy in 1965, saving it from certain doom. Okay, maybe you didn't know that. But Anchor existed way before the mid-1900s.
Bavarian brewer Gottlieb Brekle officially started the brewery, arriving in San Francisco during the gold run in 1849. The intrepid immigrant bought a saloon on Pacific Street that he transformed into a brewery. And in 1896, German brewer Ernst F. Baruth and his son-in-law Otto Schinkel, Jr. purchased the brewery and officially renamed it Anchor. Over the years, Anchor would survive the death of its co-owner, a devastating fire, an earthquake, Prohibition, and near-default disaster.
Now here's where Maytag shined. After saving the brewery from bankruptcy, he would go on to revolutionize Anchor, brewing some of the San Francisco-based brewery's most iconic beers. For example, Anchor Porter®, Liberty Ale®—one of the very first contemporary American IPAs—Old Foghorn® Barleywine, Christmas Ale, and of course, Anchor Steam® Beer, a truly American-style of beer.
First brewed in 1896, Anchor Steam® Beer is rich with history. The name derives from the unique way brewers fermented beer on the rooftops of the West Coast during the nineteenth century. See, the chilly climate and foggy night air of San Francisco caused steam to roll off the top. Hence, steam beer.
This historic brewing process makes Anchor Steam® Beer unlike any other. In addition to fermenting in those iconic shallow open-air fermenters, Anchor Steam also gets a dose of pale ale and caramel malts. Plus, the beer ferments with lager yeast at warmer ale temperatures for a truly particular profile.
Although the 2008 James Beard Foundation lifetime achievement winner officially retired in 2010, Maytag's legacy lives on today. Drinking an all-American Anchor Steam® Beer on National Beer Day might be the best way to celebrate the holiday.
Bell's Brewery
Comstock, MI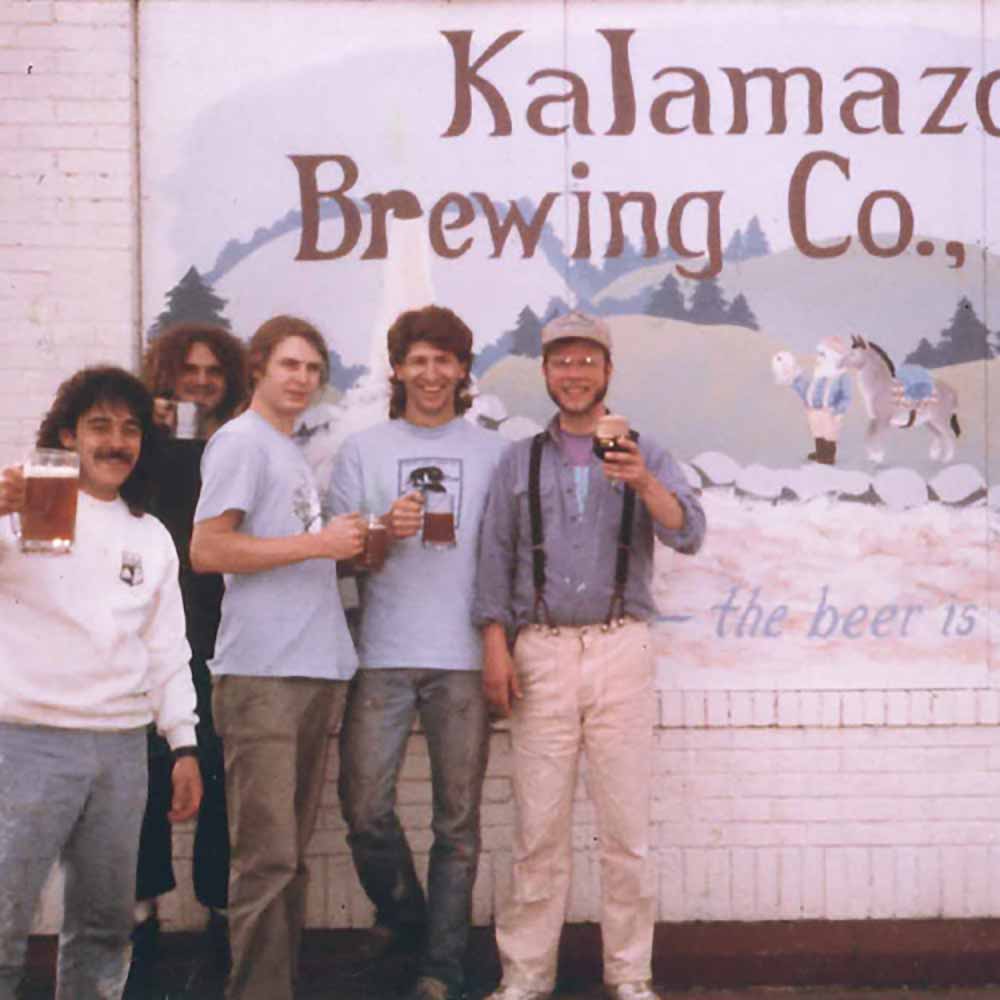 All Heart in the Heart of the Country – One of the most revered breweries in the country, Bell's Brewery started with founder Larry Bell homebrewing out of a fifteen-gallon soup pot. While working in a bakery, Bell began to apply what he learned about yeast and dough to beer. As he started to bring his basement-brewed creations to parties around town and share samples out of the shop, people craved more. In 1983, with $200 his mother gave him on his birthday, Bell set up a homebrew shop in extra space in the bakery where he worked in Downtown Kalamazoo. Two years later, he began commercially selling his own beer.
Over the next three-plus decades, Bell would create some of the country's most essential beers. Like Bell's Oberon, the beer that signifies spring and American wheat beer. Or Hopslam Ale, a massively dry-hopped double IPA with six different hops. Or, of course, the all-Centennial IPA Bell's Two Hearted Ale, crowned the "Best Beer in America" in a survey conducted by Zymurgy Magazine for four years in a row. Now running in its twenty-first year, the survey asks members to choose up to five of their favorite commercial beers in the U.S. Russian River Brewing Company's Pliny the Elder took top marks for many years. But in 2017, Two Hearted bumped off Pliny the Elder for the title of Best Beer in America. And since then, Bell's hasn't looked back.
Bell officially sold the brewery to Australia's Lion, a Kirin Holding subsidiary that owns New Belgium Brewing, in late 2021/early 2022. But even after over thirty-five years and a new acquisition, the brewery has flourished, ranking as the sixth biggest brewery in the country based on beer sales in 2021.
Boston Beer Company
Boston, MA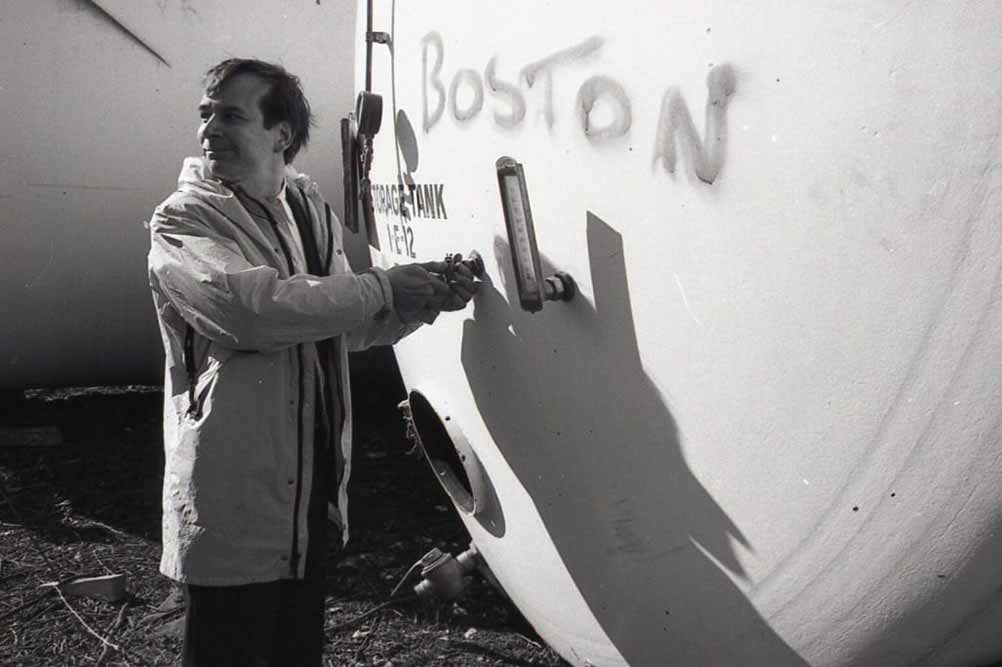 The Biggest Pioneer – In 1984, Jim Koch, co-founder of The Boston Beer Company, discovered his great-great grandfather's recipe for Louis Koch Lager in his father's attic. The Harvard graduate with three degrees began brewing what is now known as Samuel Adams Boston Lager in his kitchen. Eventually, a man with six generations of family brewers ventured out to start The Boston Beer Company with Harry Rubin, Lorenzo Lamadrid, and Rhonda Kallman.
The decision could have been seen as a risk. After all, at the time, Koch had a cushy job in consulting, making a nice income and flying first class. "But it was extremely dangerous because it had a high chance of thirty years later waking up going, this is all I did with my life? S**t, I wasted my life," said Koch during a fireside chat with Next Glass. "That's dangerous. I didn't want to take that danger. To me, the bigger danger was not doing it, looking back and going, shit, I'm a sixth generation brewer, I could have started a craft brewery, been a part of a great thing, and I didn't do it. I have a different mentality about what's risky and dangerous and what's scary. Scary is okay."
And it was probably a scary time to start a microbrewery.
The Boston Beer Company began when "there were eight microbreweries in the United States, and now there are more than 8,000," said Koch. "It has been an amazing cultural event where America went from being the laughingstock of the brewing world to being a place where the best beers in the world are made…where America now has the best beer culture in the world."
And it's beers like Boston Lager, a beer that Koch admitted he has drunk almost every day for the last thirty-nine years, that paved the way.
First released in 1985, on Patriots Day, at about a dozen bars and restaurants around the city, this Vienna-style lager quickly impressed for its roasted malts, floral hops, and a hint of caramel.
Named after the American Revolutionary leader, the Samuel Adams brand would go on to become one of the largest in the country (currently second only to D.G. Yuengling and Son, Inc., according to the Brewers Association). Koch's entrepreneurial spirit and business acumen helped Boston Lager and other beers take over the Northeast and the entire country.
Today, Boston Beer remains a pioneer in the industry. And for more than just beer. Programs like Brewing the American Dream, in partnership with Accion Opportunity Fund, provided more than 3,900 loans totaling $91 million to food and beverage businesses in forty-one states. Additionally, the program has helped these businesses create over 9,000 jobs and provided free business coaching to over 14,000 entrepreneurs.
And, of course, Boston Beer branched out beyond beer, offering everything across the alcoholic beverage spectrum—Angry Orchard hard cider, Twisted Tea, Truly hard seltzer, Truly Vodka Seltzer, and more.
So on a pioneering day like National Beer Day, sit back and relax with a beer (or any alcoholic beverage of choice) from a brewery that started it all and continues to give back in spades today.
Brooklyn Brewery
Brooklyn, NY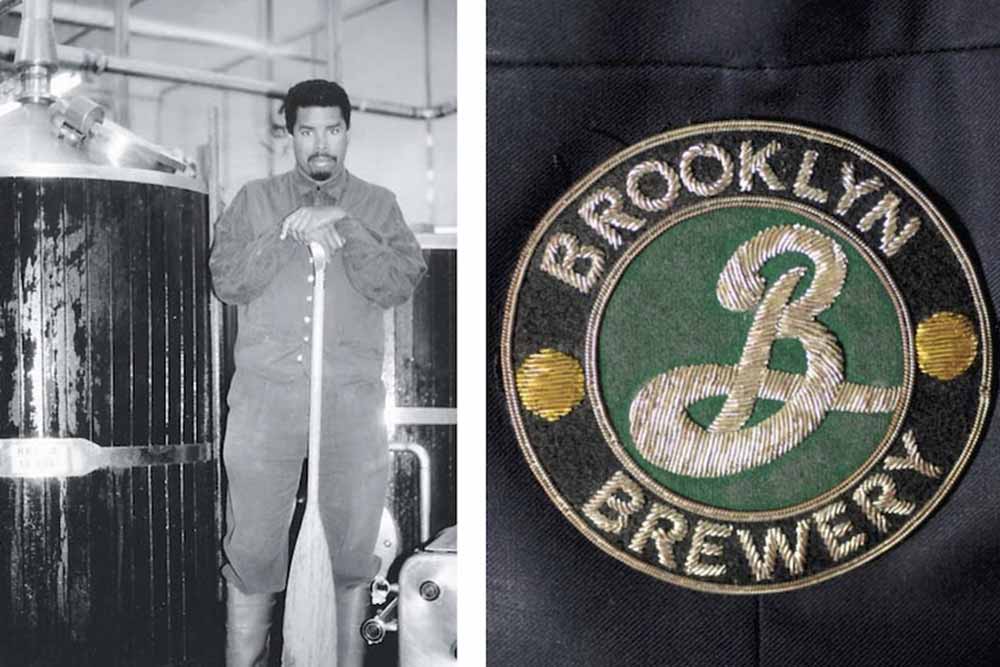 Reviving Beer in Brooklyn, Then the World – Founded in 1988 by former AP Foreign Correspondent and homebrewer Steve Hindy and Tom Potter, Brooklyn Brewery brought beer back to an area once known for brewing ten percent of all beer in America. Prohibition squashed that, of course. And until the late 1990s, Brooklyn remained a mainly industrial borough.
With the mission to bring brewing back to Brooklyn, Hindy and Potter released Brooklyn Lager in 1988. A nod to the past, the pre-Prohibition-style lager kickstarted things before the famous Black Chocolate Stout shattered people's taste buds.
In 1996, Hindy and Potter cut the ribbon on their Williamsburg tasting room and brought in Brewmaster Garrett Oliver, who created staples like East IPA and won the Semper Ardens award for brewing excellence.
Today, most folks point to Brooklyn Brewery as reviving the area, leveraging beer to build the neighborhood into what we know as Williamsburg. Pre-COVID, the brewery attracted over 4,000 visitors to its OG taproom each weekend.
But the brewery expanded beyond its Brooklyn roots, bringing its beer worldwide to more than thirty countries and five continents from Japan to Sweden and everywhere in between.
Deschutes Brewery
Bend, OR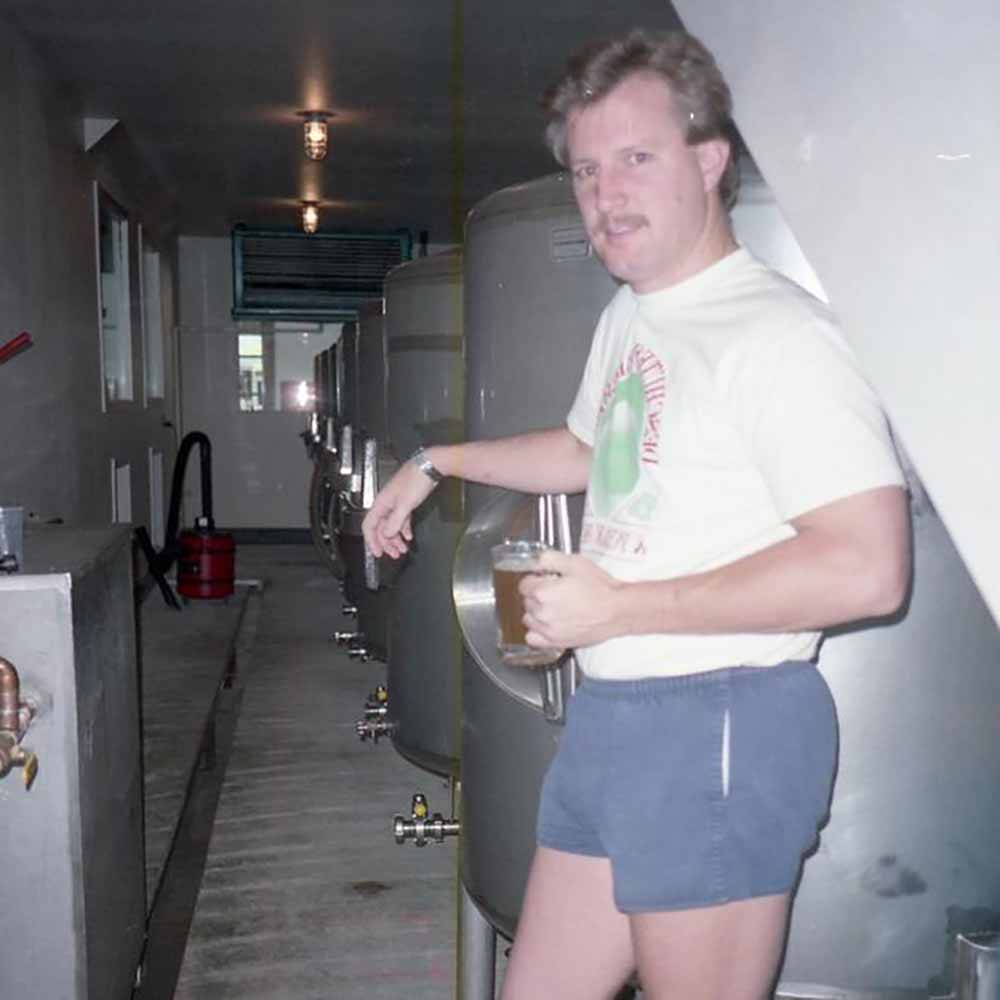 The Best of the Pacific Northwest – One of the OG breweries in Oregon, Deschutes Brewery has been defining craft beer both at home and across its namesake Deschutes County for over thirty years.
Started in 1988 by Gary Fish, Deschutes (pronounced da shootz) represented a community brewpub at its best. Fish wanted the brewery to be a community gathering place for good friends and good people to have good times over great food and beer.
That first year, Deschutes sold 310 barrels of beer—ones like the iconic Black Butte Porter and Jubelale.
Today the not-so-little-anymore Oregon-based brewery sells more than 225,000 barrels of beer each year across the country and even in a few other countries, making it the eleventh-largest brewery in the U.S. (Brewers Association 2021).
Despite branching out, the brewery still maintains its small-town roots. Over the years, many renowned Oregon craft brewers cut their teeth in this brewhouse, including Paul Arney from The Ale Apothecary.
Today, we often look to beers like Mirror Pond Pale Ale , a staple American pale ale for most around the country, and Freshly Squeezed, the epitome of an American IPA, as setting the bar for breweries from the Pacific Northwest.
Dogfish Head Craft Brewery
Milton, DE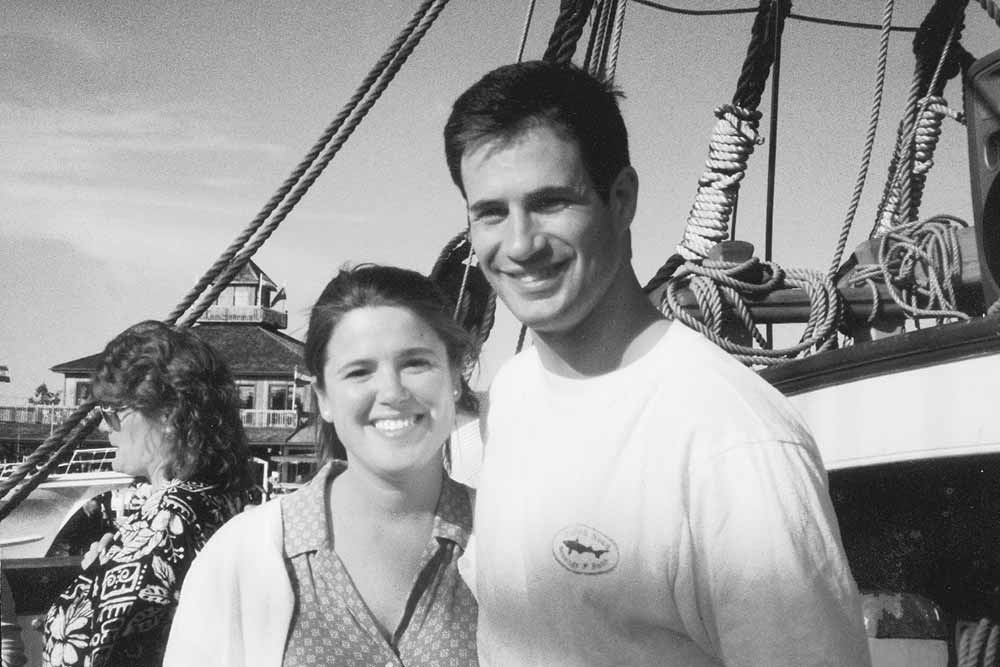 Innovation to the Nth Degree – Dogfish Head Craft Brewery Founders Sam and Mariah Calagione started the Delaware-based brewpub in June 1995. A waiter, bartender, English major, and homebrewer, Sam decided to go full tilt with beer and "try to tell stories through beer instead of writing novels," he told Hop Culture during a fireside chat. "I saw the first generation craft brewers do an amazing job of telling stories about local ingredients and freshness.
At the time, Dogfish Head was Delaware's first brewpub and the smallest commercial brewery in America. "I'd call us a second-generation craft brewery when we opened in the mid-90s; that was a moment when there was a big surge of craft breweries openings across our country," says Calagione, noting that when Dogfish Head opened there were 600 breweries in the country.
Starting on three little kegs with propane burners underneath, Sam brewed twelve-gallon batches of "off-centered ales for off-centered people." Dogfish Head didn't just make any old beer. Sam brewed beers with weird ingredients—fruits, berries, herbs and spices, honey, and even boiled lobsters.
Famous beers today include Raison D'Etre with beet sugar, green raisins, and Belgian-style yeast. Or Sah'tea, a Sahti beer that's caramelized with white-hot river rocks and includes juniper berries, black tea, cardamom, cinnamon, ginger, cloves, and black pepper.
And if something didn't exist to create a beer he wanted, Sam invented it.
Arguably one of the most influential American craft beers ever made, 90 Minute IPA was inspired by a bowl of soup and a thrift store football game. Picture this: Sam watched a cooking show episode focusing on soup. The video instructed home cooks to continuously season the broth over time as it simmered. Are you getting the gist here? Calagione wanted to see if he could apply that same principle to beer.
90 Minute IPA features a revolutionary continual hopping process. Calagione rigged a thrift store electric football game over the brew kettle and poured hops on top. When the game shook, hops tumbled down into the boiling wort consistently. Calagione literally jerry-rigged this continual hopping technique from scratch (and his mad genius brain).
The proof is in the pudding with 90 Minute IPA. Ninety minutes of repetitive hopping make this beer beyond bitter with robust pine and citrus aromas and flavors. All striking against a deep malt backbone.
In 2019, Dogfish Head merged with the Boston Beer Company, bringing together two of the most iconic breweries in the country.
One can find innovation during every step of Calagione's journey, so we highly recommend any Dogfish Head beer on National Beer Day.
Firestone Walker Brewing Company
Paso Robles, CA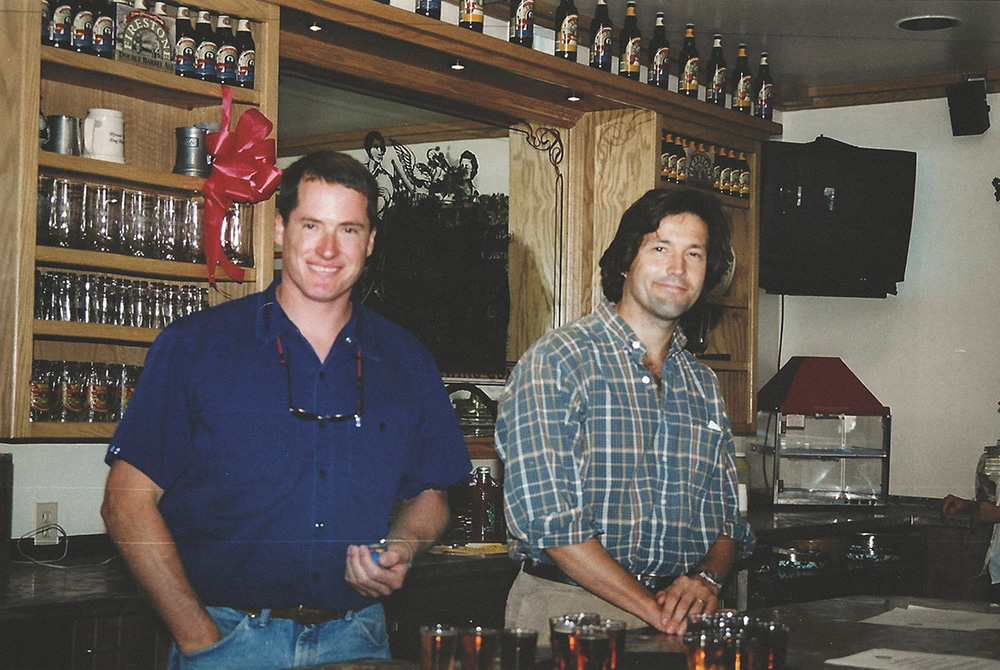 Two Brits, One Incredible American Brewery – In 1996, Firestone Walker started as a brewery focused solely on barrel-fermented beer. Started by David Walker and Adam Firestone (hence Firestone Walker), Firestone Walker had one goal. "Our expectations were simply to make beautiful beer for a small winemaking community we were part of," says Walker in another piece for Hop Culture. "Our early days were spent brewing beer in a barrelhouse on a forty-acre Chardonnay Vineyard; we cobbled together brewing equipment that wove wine tanks, dairy tanks, and used brewing equipment into a primitive brewing operation."
In the early days, Walker and Firestone wanted to make great beer of the barrel-fermented variety.
But as the early 2000s crested, consumer palates did too. Firestone Walker had to expand into IPAs, lagers, stouts, and one-offs. And over the years, each time the brewery decided to dip its toe into non-barrel-fermented beer, it stayed at the vanguard of that style.
Like with Union Jack; Firestone Walker's version of a West Coast-style IPA set the tone for the entire modern movement. Named after its two British co-founders, Firestone Walker's Union Jack is a beer for any hophead. Packed with Cascade, Centennial, Simcoe, Citra, Amarillo, Chinook, and CTZ, Union Jack should please any IPA enthusiast with huge notes of pine, pineapple, grapefruit, and tangerine. All perfectly balanced by a hint of malt sweetness.
Or Firestone Lager, a craft lager well ahead of its time when released in 2000. In 2012, Pivo Pils trailblazed the hoppy craft pilsner style. And in 2012, the brewery launched Barrelworks, an entire facility dedicated just to sours.
Even just last year, the Cold IPA Hopnosis morphed into a pinnacle of the hot, new style, even inspiring an amped-up version called Double Hopnosis.
"We had realistic dreams of being a local brewery able to support a passionate team and thirsty locals," says Walker. "It got a little out of control…and today, twenty-five years later, we have grown with our customers. We pinch ourselves every day!"
Firestone Walker is the perfect example of a brewery to celebrate on National Beer Day.
Goose Island Beer Co.
Chicago, IL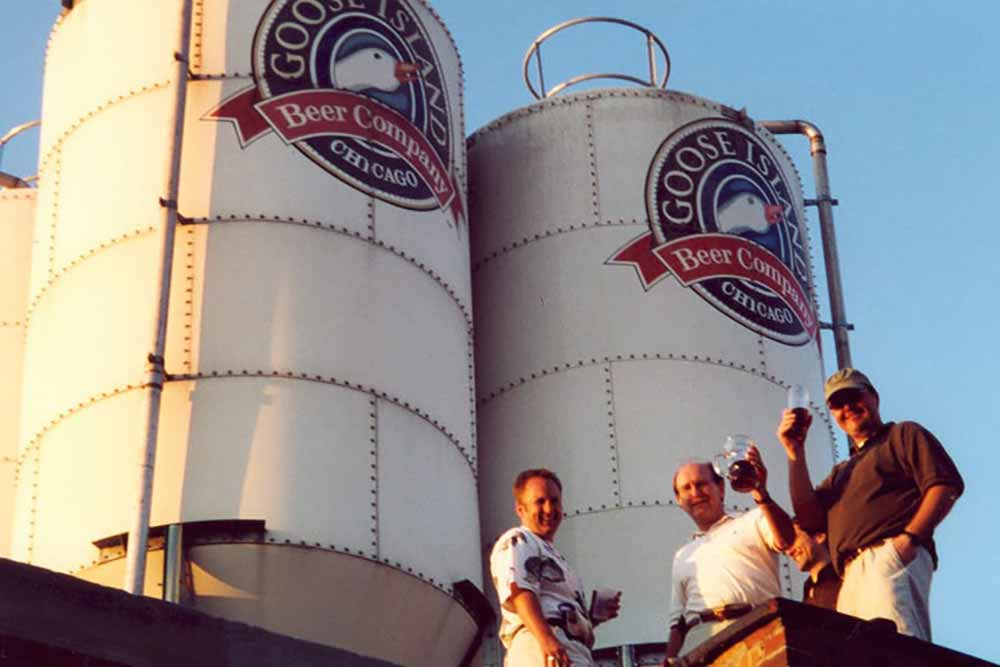 The Pioneer of Barrel-Aged Beer – Always considered a little Midwestern brewpub, Goose Island exploded onto the scene in 1992 when brewer Greg Hall had the bright idea to age Goose Island's one-thousandth batch of beer in a bourbon barrel. As the country's first bourbon barrel-aged beer, Bourbon County Brand Stout changed beer forever.
Today, brewers continue to riff off Hall's inspiration, brewing some of the most coveted stouts in the world. Where would we be today without Hall's brilliant thought!?
Fueled by the success of Bourbon County Brand Stout, Goose Island soared (perhaps a little too close to the sun). As we all know, in 2011, the brewery sold to Anheuser-Busch InBev (ABI) for $38 million, starting a trend of acquisitions that would controversially split the industry for years.
Despite the brewery's somewhat contentious position today, it's hard to deny the revolutionary path Goose Island forged for many in the craft beer industry.
Hill Farmstead Brewery
Greensboro, VT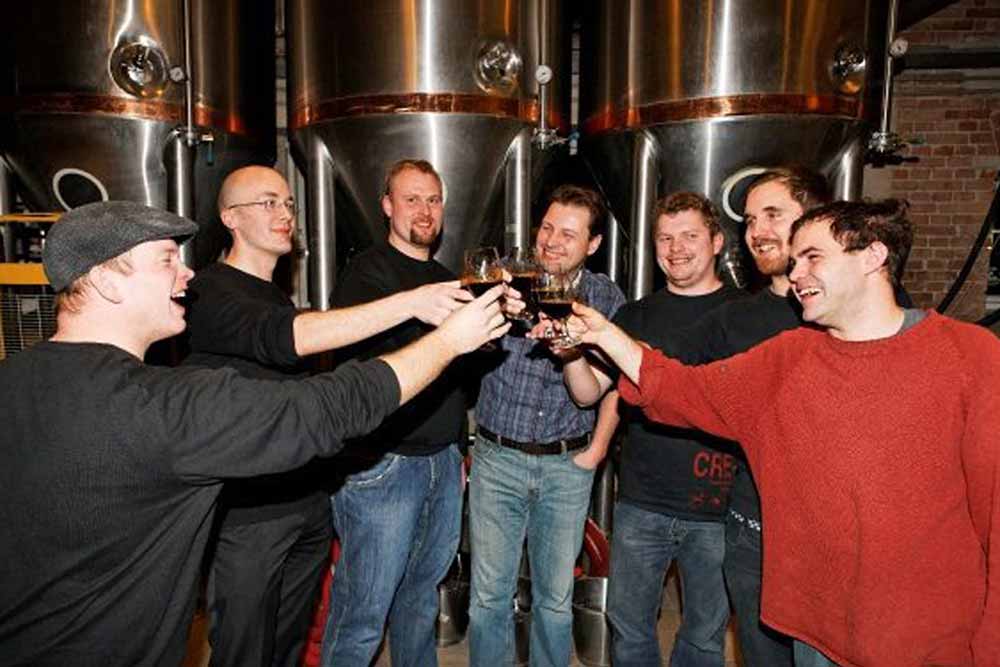 A Destination Brewery Focused on Terroir – Located down a dirt road in Greensboro, VT, Hill Farmstead has come to represent what it means to be a "destination" brewery. Founded by Shaun Hill on his family's farm in the Northeast Kingdom in 2010, Hill Farmstead made a name for itself, brewing American pale ales, IPAs, porters, saisons, farmhouse-style ales, and more. Many simply named with names—Earl, Anna, and Arthur, for instance.
People quickly started to take notice of this little brewery in Vermont. Two years later, the well-known rating site RateBeer.com ranked Hill Farmstead as the "Best Brewer In The World." For six years (from 2014-2020), RateBeer awarded Hill Farmstead top honors as the world's best brewery.
Today, Hill Farmstead still stands the test of time, brewing off the land on Hill's family farm and continuing to make some of the best beers in the world.
Lagunitas Brewing Company
Petaluma, CA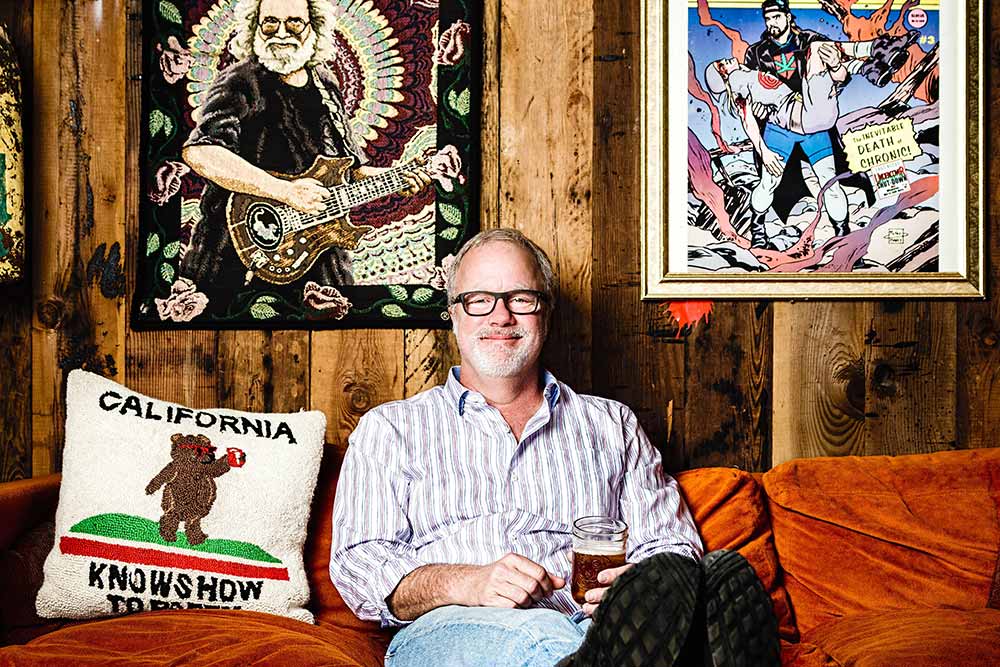 I-P-A – Like Larry Bell, Ken Grossman, Sam Calagione, and many others, Lagunitas' Founder Tony Magee began brewing in his kitchen on a five-gallon homebrewing kit. In 1995, Magee introduced Lagunitas IPA, a bold, bitter beer that set the tone for West Coast IPAs for years.
Brewed with Cascade, Centennial, Chinook, and Simcoe, Lagunitas IPA balances that hop explosion with a bevy of malts, including English Crystal, Caramel, and Munich Malts.
Beyond his groundbreaking IPA, Magee brewed with a sense of lawlessness, crafting beer made for "all kinds and creeds; punk rockers, misfits, ivy leaguers, weirdos, Waldos, Sparkle Ponies, musicians, and everything in between," as Magee likes to say.
Phrases like "Beer Speaks," "Life Is Uncertain," and "It's Good To Have Friends" became the backbone of brewing at Lagunitas.
Whether that meant 4:20 parties leading to a twenty-day suspension and the beer Undercover Investigation Shut-Down Ale or a winter seasonal making fun of the brewery's failings, Lagunitas Sucks.
Lagunitas has always bucked the "norm." Even today, cannabis-infused Hi-Fi Hops and the hop water Hoppy Refresher continue that "come one, come all, come whoever you are" attitude.
Beer isn't traditional at Lagunitas, and it never will be. Somehow, the brewery's bravado has made it a timeless brewery.
New Albion Brewing Company
Sonoma, CA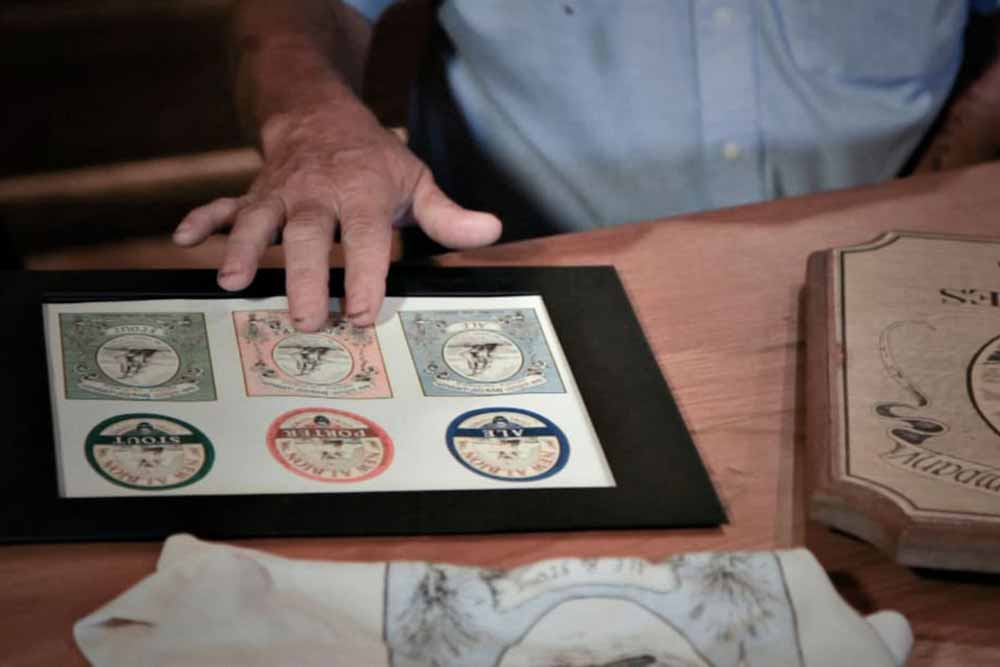 The First Microbrewery – An avid homebrewer, Jack McAuliffe opened New Albion in 1976 in Sonoma, CA. Technically considered the first microbrewery in the country, New Albion followed in the footsteps of one of McAuliffe's favorite breweries—Anchor Brewing. Named after what the explorer Francis Drake called the Bay Area, New Albion similarly braved new frontiers, at least at the time. Brewing an unpasteurized pale ale, stout, and barleywine 😱, New Albion brought new craft styles to American West Coast palates.
Although New Albion closed in 1982, the "most important failed brewery in the industry's history" inspired greats such as Ken Grossman and Jim Koch. And proving imitation is the sincerest form of flattery, Koch acquired the New Albion named in 2010, brewing a New Albion Ale as a tribute to McAuliffe's place in American craft beer history.
New Belgium Brewing Company
Fort Collins, CO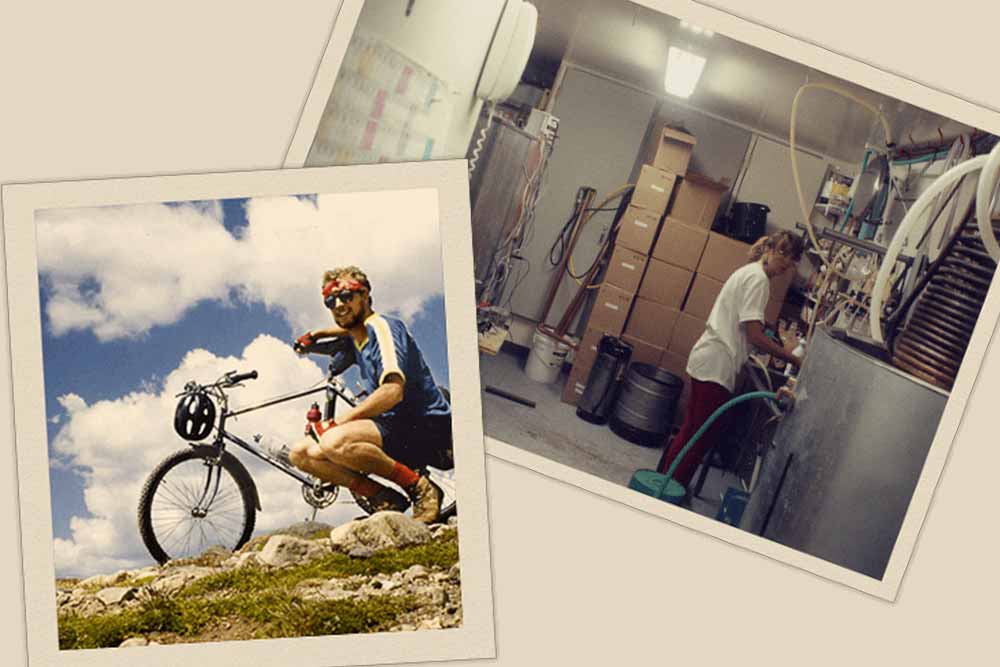 Sustainability and Social Responsibility – A biking trip through Europe in 1988 inspired New Belgium Co-Founder Jeff Lebesch, an electrical engineer by day and homebrewer by night. When he returned home, he began to recreate the flavors he enjoyed across the pond in his Colorado basement.
Three years later, Lebesch and his life and business partner Kim Jordan started New Belgium Brewery with a $60,000 loan and a second mortgage on their house.
That first year, they sold 3,300 cases of the epochal Fat Tire, Lebesch's version of beer in 1930s Belgium—herbal hops, subtle malt, and fruity yeast.
Over three decades later, this beer continues to innovate. And many more have joined New Belgium's ranks—La Folie sour brown ale, a transformative sour beer, Voodoo Ranger IPA, the number-one IPA in America according to Nielsen scan data, and more.
Beyond the beer, New Belgium stands by its sustainability and social responsibility roots. A social worker, Jordan wanted the business to address inequities she saw in the workplace. From day one, New Belgium committed to "kindling social, environmental, and cultural change as a business role model." Jordan and Lebesch offered health benefits to domestic partners and gifted coworkers shares in the company. It's a standard that set the culture at New Belgium for years. It's just one of the many ways New Belgium has pushed boundaries in our industry, becoming one of the most LGBTQIA+-friendly breweries in the country.
Above all, New Belgium is a timeless brewery keeping up with the times and a fine pint to kick the "Fat Tires" with on National Beer Day.
New Glarus Brewing Company
New Glarus, WI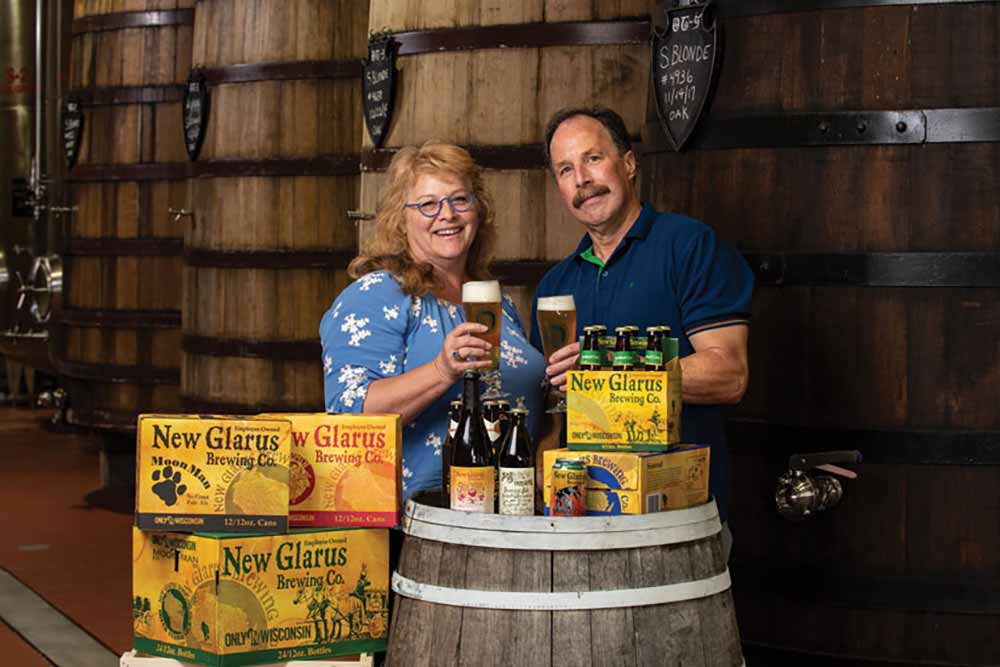 A Brewery Selflessly Dedicated to Its State – In 1992, Deb and Daniel Carey converted an old, empty warehouse in New Glarus, WI, into a brewery. A graduate of the Institute of Brewing in London, Dan handled the beer while Deb ran operations, raising the money to start the brewery as a gift to Dan.
In 1997, Dan and Deb took a trip to England for a beer competition. A side journey to the English countryside full of pastures and sheep inspired Deb. She thought, "I bet when people visit Wisconsin, they must have the same feeling about the cows" (New Glarus). Spotted Cow became the brewery's flagship farmhouse ale, featuring Wisconsin malts and a bit of corn. The beer represents Wisconsin to its core, much like New Glarus, a brewery that has stayed committed to only serving and distributing beer in its home state for the last three decades.
The approach worked. In 2021, New Glarus produced around 236,000 barrels of beer, ranking twelfth in total sales volume for craft beer in the country (Brewers Association).
Today, it's rare to find such a successful brewery as dedicated to its home as New Glarus.
Oskar Blues Brewery
Longmont, CO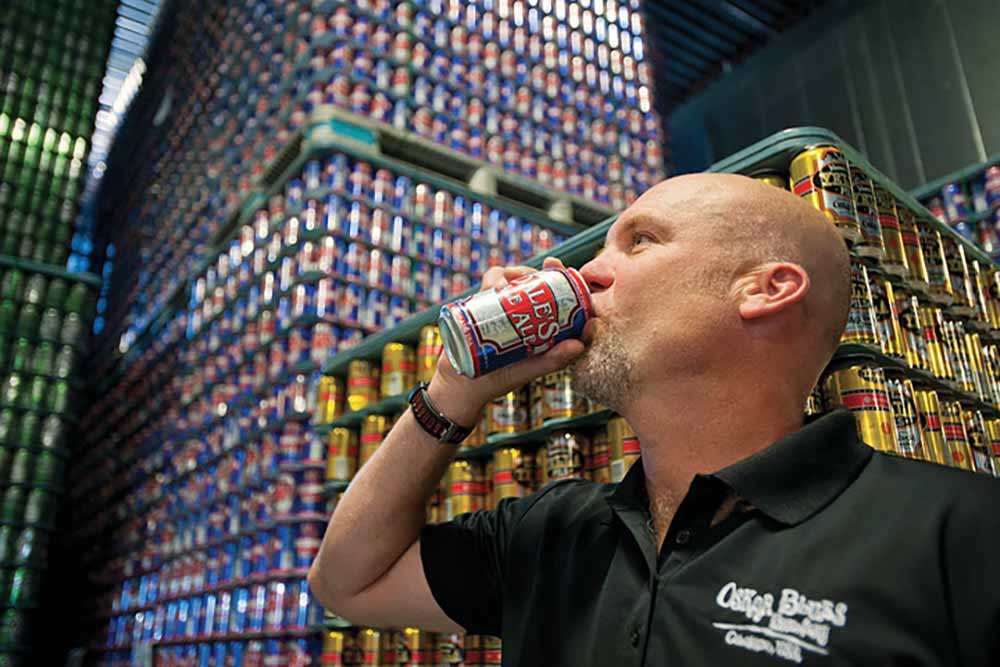 A Canning Revolution – Originally planning to move to Wyoming to become a fly fishing guide, Oskar Blues Brewery Founder Dale Katechis found himself sidetracked along the way, stopping in Colorado.
He never left.
So in 1997, Katechis opened Oskar Blues Grill & Brew as a restaurant. About a year later, he saw an opportunity. After partnering with Left Hand Brewing Co. in Longmont to craft a beer just to serve at his joint (dare we say a very early collab?), Katechis enjoyed a thirty-percent bump in annual sales. So he decided to brew his own beer, asking Oskar Blues Co-Founder Brian Lutz to help him turn the blues hall basement into a brewpub.
A homebrewer in college at Auburn, Katechis and brewmaster-at-the-time Craig Engelhorn churned out the first keg of Dale's Pale Ale to provide handmade suds to their customers. Originally named Dale's Pale Ale because, well, the name rhymed and sounded good, Katechis' signature creation took off like a shot.
"The name was a joke in the beginning…but it stuck around," says Aaron Baker, senior marketing manager at Oskar Blues. "It's kind of ridiculous, but that's why it's great. We were able to poke fun at ourselves a little bit and not take ourselves too seriously."
Something that would come in handy when Katechis decided to can his eponymous beer for the first time in 2002.
Over twenty years ago, Katechis received a spam fax from a Canadian company promoting a small manual can seamer. At first, Katechis and the team laughed at the ad. "It was a joke," says Baker. "But then they started thinking more about it and how it would allow them to sell beer outside the restaurant and get it to people…to take on a bike ride or get out in the woods." An avid mountain biker who loved the outdoors, Katechis started to believe that canning beer might be a good idea after all. He probably couldn't have imagined it then, but Katechis' seemingly tiny decision to buy a manual can seamer paved the way for a packaging revolution. In 2002, Katechis bucked convention, releasing the original craft beer in a can—Dale's Pale Ale. Over two decades later, as Oskar Blues celebrates its 20th CANiversary, Katechis' radical decision still reverberates throughout the industry. (In 2021 alone, the Can Manufacturers Institute reported that beverage can production jumped six percent in the United States to more than 100 billion cans.)
Oskar Blues has grown into one of the most well-respected breweries in the country because they stomp all over boundaries. And not just because Katechis put Dale's Pale Ale in a can.
He also made a Scotch ale called Old Chub® and Ten FIDY® imperial stout (FIDY stands for "Fuck the Industry, Do It Yourself"). Most recently, Double Dale's personified a middle finger to the ordinary.
Whenever the craft beer industry veered left, Oskar Blues went right. And that, my friends, is how you become a radical brewery befitting of honors on National Beer Day.
Other Half Brewing Co.
Brooklyn, NY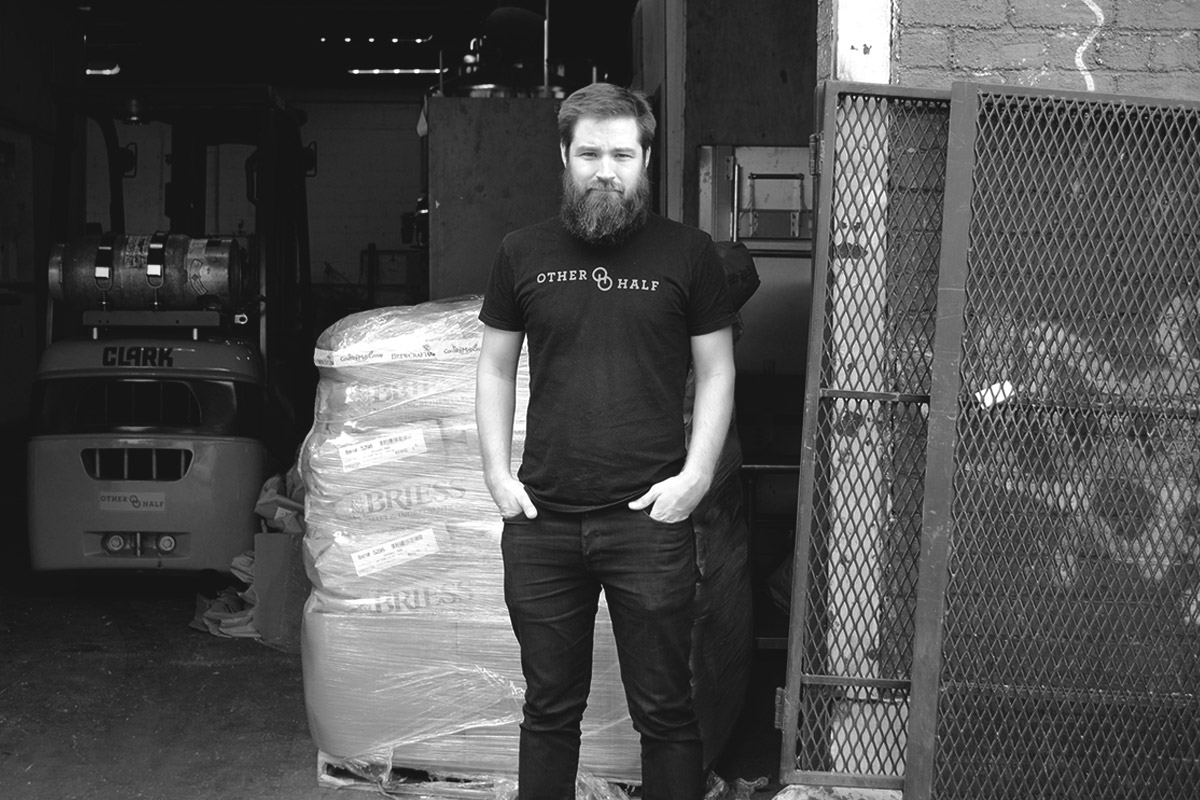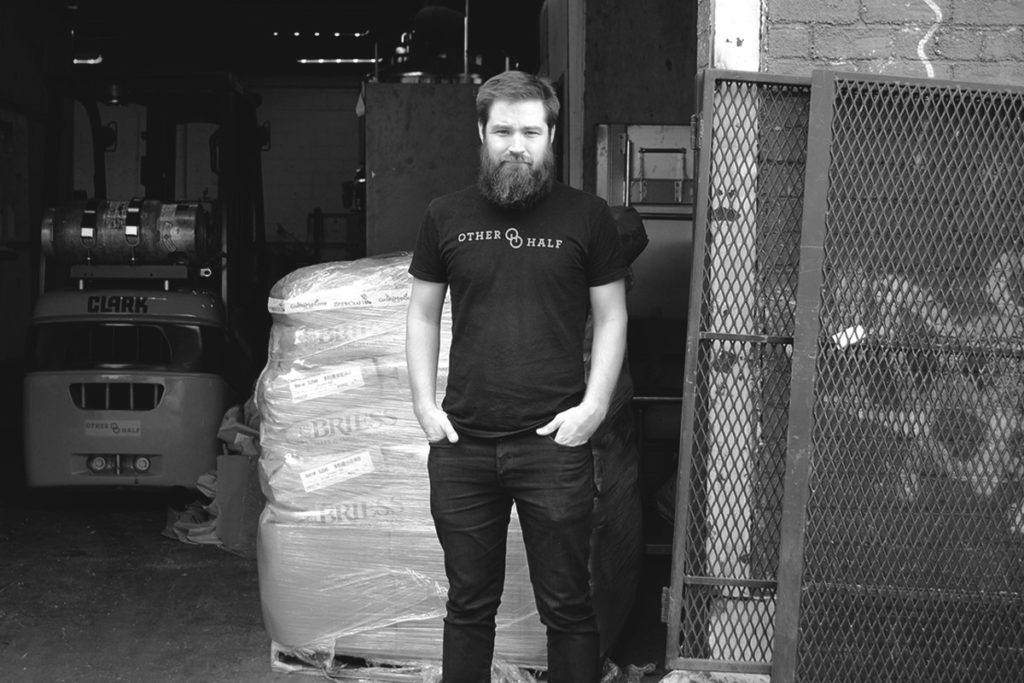 Leading Line Culture – In 2014, Other Half Brewing co-founders Sam Richardson, Matt Monahan, and Andrew Burman tapped into something rarely seen. In their then-tiny old building underneath an overpass in Gowanus, Brooklyn, the trio pumped out one-off IPA after one-off IPA. Beer geeks lined the cracked sidewalks each weekend just to get their hands on these here-today, gone-tomorrow hop-heavy beers.
The brewery almost single-handedly started what we know as line culture today. How they continue to innovate still amazes us.
Here's a fun fact: Our friend and BeerAdvocate Co-Founder Todd Alström tweeted in December 2019 that Other Half added more new beers to BeerAdvocate than any other breweries that year, with over 300 listings. And that was just new beers! All told, in 2019, Other Half had 572 beers on BeerAdvocate. Welp, not much has changed, we guess! Last year on Untappd, Other Half had an enormous 281 beers added to the community.
They continue to be one of America's most popular, coveted breweries, brewing some of the best IPAs in Brooklyn and around the country. Although Other Half has since expanded to eight locations across two states and Washington, D.C., the brewery's Brooklyn roots with folks lining up around the block for a 4-pack will forever cement Other Half as a pioneer in American craft beer.
Russian River Brewing Company
Windsor, CA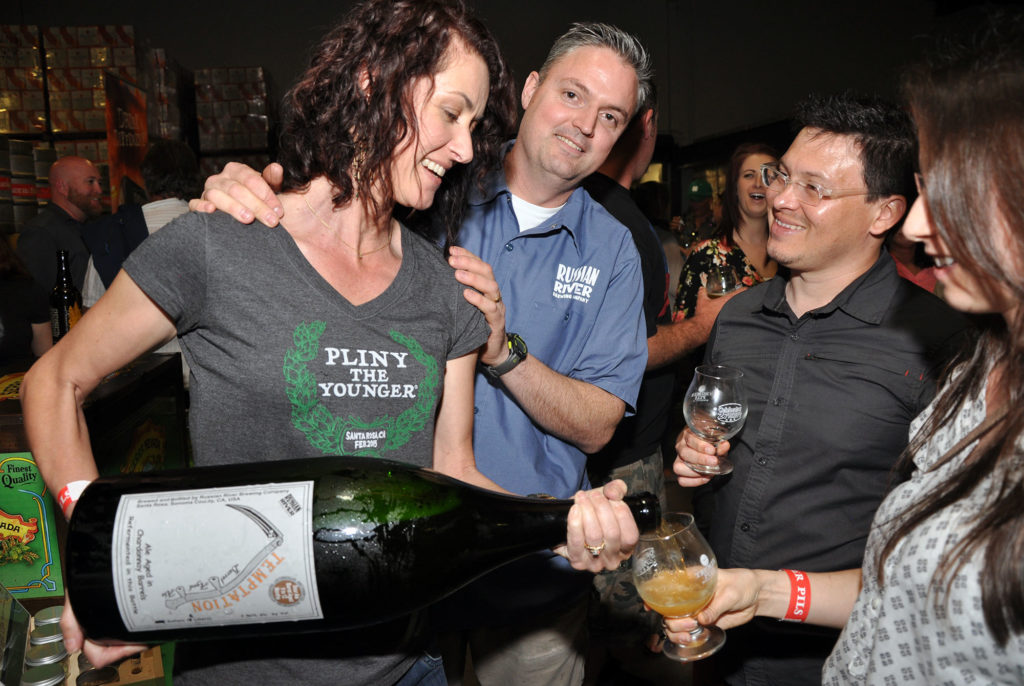 The First Double IPA – In 1997, Korbel Champagne Cellars established Russian River Brewing Company. Six years later, Korbel left the beer business, handing over the brand and recipes to the head brewer—and previously the initial sole employee—Vinnie Cilurzo. Cilurzo and his wife, Natalie Cilurzo, have built Russian River into one of the most revered breweries in the country today. The duo helped pioneer the entire double IPA style, for gosh sake!
According to legend, Vinnie brewed the world's first commercially available double IPA back in the mid-'90s when he worked at Blind Pig Brewing and brought the recipe with him to Russian River in Santa Rosa.
Pliny the Elder gets its name from Pliny, a man who lived during the first century, 23 to 79 A.D. According to brewing history, Pliny and several others invented the botanical name Lupus Salictarius, aka hops.
And speaking of hops…
Brewed with Amarillo, Centennial, CTZ, and Simcoe hops, Pliny the Elder is a classic double IPA, well balanced with pine, resin, and citrus hop aromas with a lingering, dry finish. This trendsetting imperial IPA is slightly bitter with a bouquet of floral hops, citrus, and pine. Brewed in limited quantities, Pliny the Elder is best enjoyed fresh.
Setting the standard for double IPAs, Pliny the Elder has won countless awards and continues to be the brewery's most popular beer, making it the perfect 510mL bottle to enjoy on National Beer Day.
But if you're ever lucky enough to be in Santa Rosa or Windsor, CA, during the last two weekends in March, you'll have a chance to try one of the rarest beers in the world: Pliny the Younger.
Russian River has earned a place on this list for its brave odysseys into unexplored hop lands, making it a perfect brewery to learn more about on National Beer Day.
Sierra Nevada Brewing Co.
Chico, CA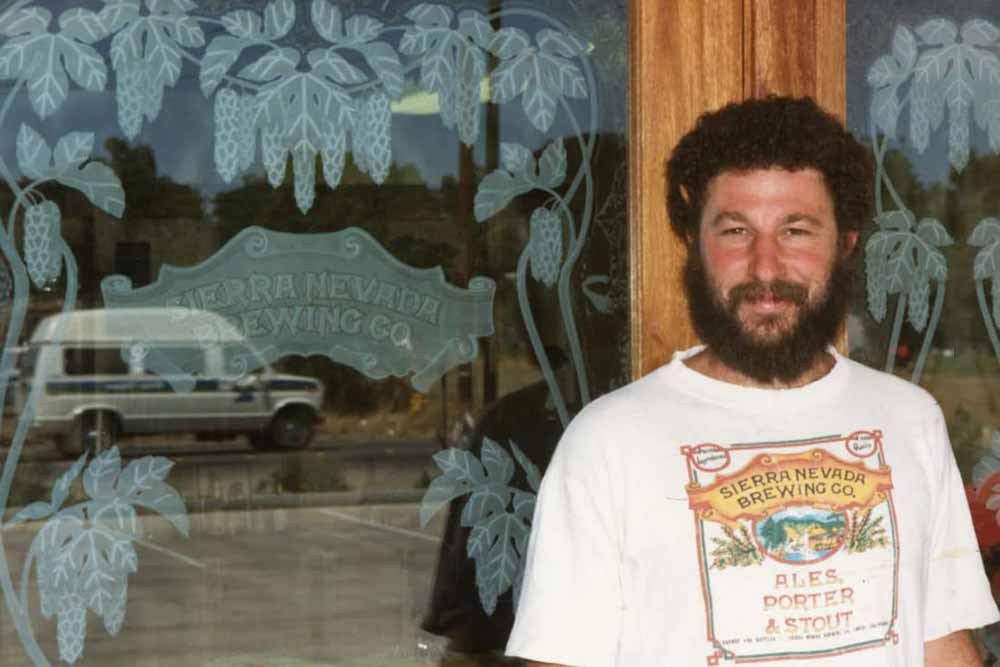 The Gateway to IPA – Sierra Nevada Brewing Co. Founder Ken Grossman began dabbling in homebrewing as a teenager in 1969. But it was during a climbing trip to the Sierra Nevada Mountains in 1978 that the idea to build a brewery first came to mind. Grossman set out to create Sierra Nevada Brewing Co., hand-building the brewhouse from scratch using primarily dairy equipment. Eventually, he turned his attention to brewing the perfect pale ale.
On November 21st, 1980, Grossman attempted brewing his first pale ale. Ten batches later, he had perfected Sierra Nevada Pale Ale. Grossman used Cascade hops, which weren't nearly as popular at the time as they are today. The signature hop gave Sierra Nevada Pale Ale distinctive aromas and flavors of pine and citrus and helped turn the beer into a stepping stone to the American and West Coast IPAs.
Sierra Nevada Pale Ale inspired a generation of brewers to explore what they could do with hops.
The Chico, CA, brewery continues its cult-like status today, often attracting folks to try classics like Celebration Ale or newbies such as Summer Break IPA.
For that reason, Sierra Nevada is always in the conversation of crucial breweries that ignited the craft beer revolution within the States.
Stone Brewing
Escondido, CA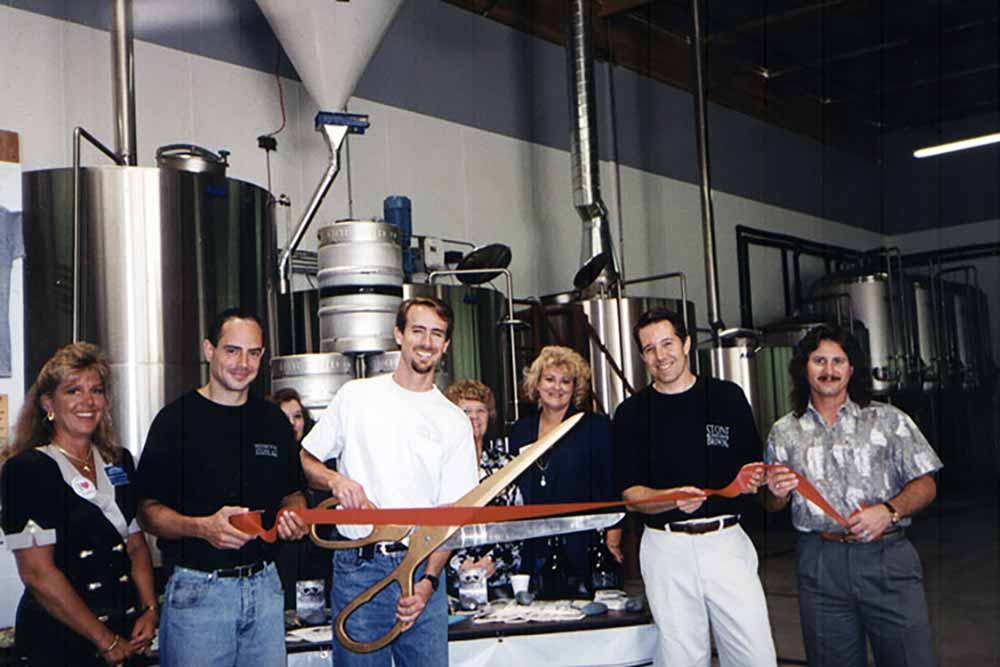 Warrior of the West Coast – Stone Co-Founders Greg Koch and Steve Wagner braved a new frontier when they opened Stone Brewing in San Marcos, CA, in 1996: the West Coast IPA.
One of the first to pioneer the bold, bright IPA with Pacific Northwest hops, Koch and Wagner's Stone IPA ignited a wave of West Coast fanatics. Today, Stone IPA remains the brewery's best-selling beer.
But the duo didn't stop at one rebellious beer. Oh, no. An assault on the taste buds, Arrogant Bastard Ale became a phenomenon, earning a place on Thrillist's "30 Beers That Changed America" list in 2021.
And Stone Ruination IPA became the first full-time bottled West Coast double IPA when first brewed in 2002.
Stone operates seven taprooms today, started a distribution company, and ranks as the ninth-largest brewery in the U.S. based on beer sales volume.
Since the very beginning, Stone has not just broken boundaries but obliterated them. Drinking any Stone beer on National Beer Day will be a tribute in and of itself.
The Alchemist
Stowe, VT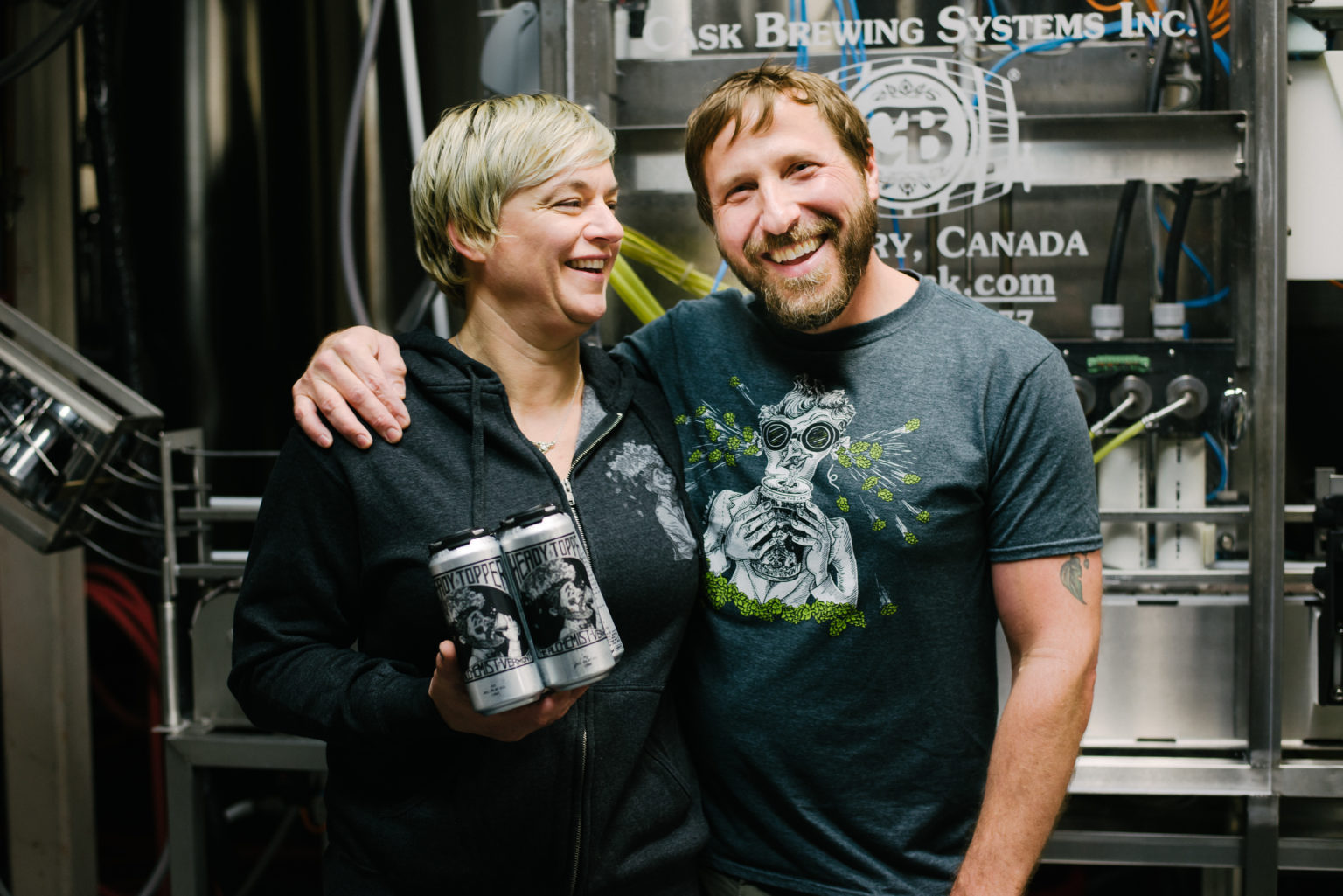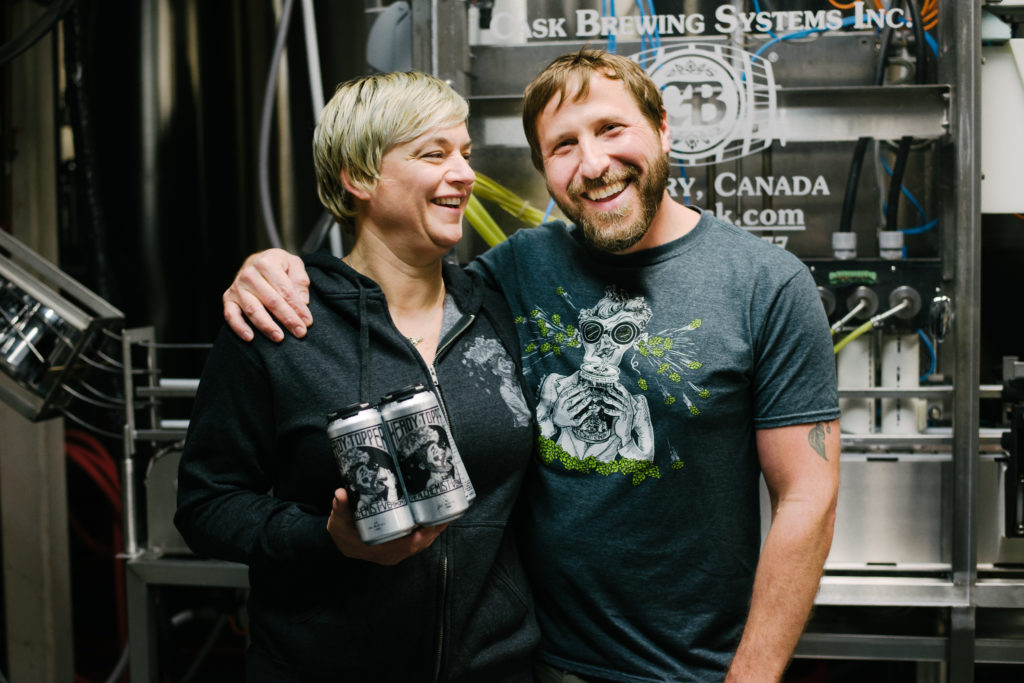 A'Heady' the Game – John and Jen Kimmich opened The Alchemist Pub and Brewery in Waterbury, VT, with only about four or five rotating beers, including Heady Topper. John brewed the now-infamous double IPA just two months after opening. But the beer didn't take off right away. At the time, The Alchemist thrived locally, with little national presence. But everything changed when Tropical Storm Irene caused a flood that put the pub out of business in August 2011.
That's when John turned all his attention to Heady Topper, canning the now-iconic double IPA right after the flood in The Alchemist's production space. It was one of his smartest moves.
Arguably, this beer catapulted The Alchemist into craft brewing lore. Most likely, if you mention The Alchemist, it's followed quickly by the words "Heady Topper." Today, it's one of the most famous breweries in the world. And Heady Topper is one of the most famous beers.
And for a good reason.
An all-American beer, Heady Topper is a hoppy, American double IPA clocking in at 8% ABV. If you read the can, it instructs the drinker to consume the dank goodness straight from the aluminum to preserve the flavor.
In fact, for the first eight years, you could only find Heady Topper on draft at The Alchemists' 7-bbl brewpub in Vermont. And even after that, The Alchemist only let a set number of cases make their way to a few bars and bottle shops in the area. The limited distribution ensured freshness but also helped increase the beer's rarity and created its "unicorn" status.
In 2011, The Alchemist built a cannery, a 15-bbl brewery with an ACS automated Cask canning line to produce and package the flagship IPA. And eventually, John decided to distribute Heady Topper outside of Vermont.
Today, Heady Topper is much more readily available, but it is still one of those life-changing beers that every craft beer lover should drink at least once. So why not on National Beer Day?
P.S. The Alchemist brews more than Heady Topper. We also highly recommend Focal Banger.
3 Floyds Brewing
Munster, IN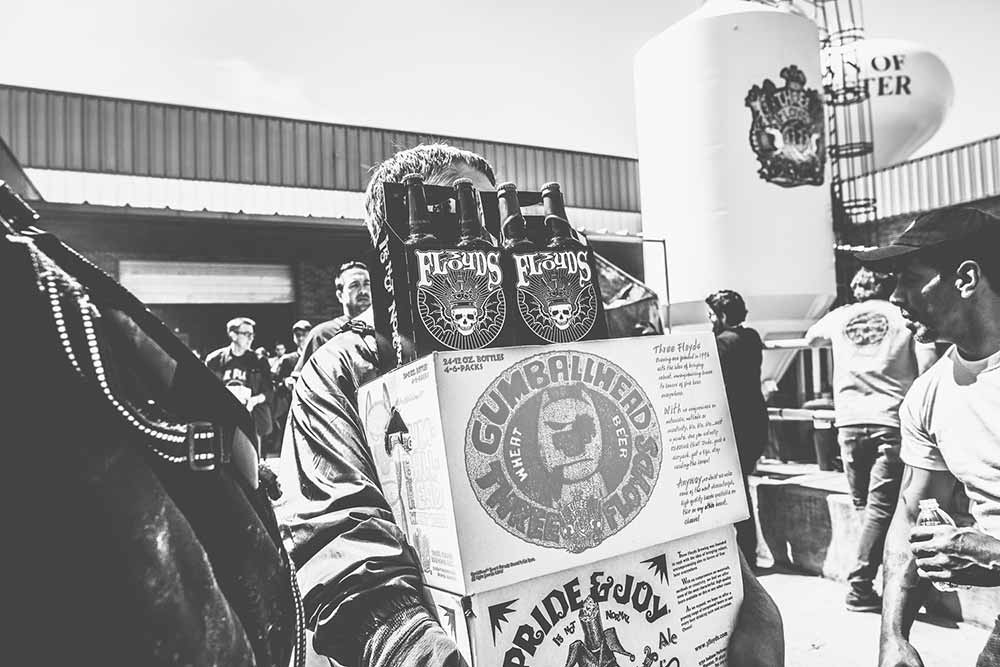 A 'Dark' Day of Rare Beer – Humbly founded in 1996 by Nick Floyd, 3 Floyds earns a spot on this list for making a beer that inspired an entire festival. Dark Lord made waves in American craft beer as a revolutionary Russian imperial stout and a beer that often broke the internet. Yes, we're talking about all those $500+ beer trades you could find on the interwebs for Dark Lord variants. But hey, that's as much a devilish part of craft beer culture as waiting in line for an Other Half release.
3 Floyds Brewing brewed Dark Lord as "a demonic Russian-style imperial stout with coffee, Mexican vanilla, and Indian sugar," the brewery writes on its website.
This robust 15% ABV stout is only available in bottles one day per year—Dark Lord Day. It's a day where folks from around the country stand in line, sometimes drink ridiculously rare beers they bring from their personal stash, and get excited for the year's Dark Lord release. The event itself has become almost as important as the beer.
The beer and the festival's cult-like following have inspired countless similar release days.
If you are one of the lucky few with this beer stashed away from previous years, National Beer Day might be the time to break it out.
If not, the brewery's equally recognizable Alpha King, Gumballhead, or Zombie Dust will do.
Tree House Brewing Company
Charlton, MA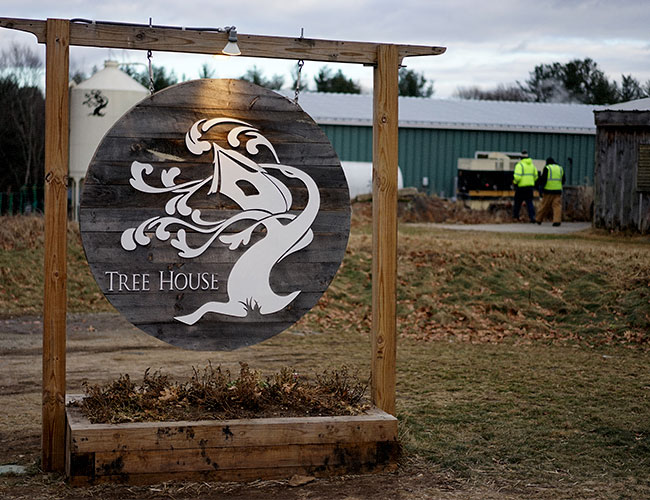 Harbinger of Hazies – When four friends—Nate Lanier, Damien Goudreau, Dean Rohan, and Jonathan Weisbach—started homebrewing in a Massachusetts barn, they probably couldn't imagine they go on to make some of the most sought-after beers in the country.
Since opening in 2011 in a small red barn in Brimfield, MA, Tree House has rooted itself in American craft beer culture (see what we did there?).
The brewery's American IPAs consistently ranked as some of the best, peppering our list of the "12 Best American IPAs of 2021" that we published at the beginning of the year with standouts like Julius, Green, and Alter Ego.
And absolutely DOMINATING Untappd's list of "The 15 Best Double/Imperial IPAs of 2022." They snagged the seven top spots with beers like King JJJuliusss, Very HHHazyyy, and Very GGGreennn, to name a few.
In 2022, Tree House received top honors as the brewery with the "Most 5-Star Check-Ins of 2022," with a whopping 51.9k five-star check-ins on Untappd, a cool 32.6k more than second place.
In addition to expanding to a farm in Woodstock, CT, and two breweries in Deerfield and Sandwich, MA, Tree House recently announced customers could get beer from a Tewksbury location. There is no mistaking that Tree House is one of the best breweries in the entire country.