Photography by Benjamin Pratt
Photography by Benjamin Pratt
Photography by Benjamin Pratt
Photography by Benjamin Pratt
Photography by Benjamin Pratt
Photography by Benjamin Pratt
Photography by Benjamin Pratt
Contract brewing isn't a new practice. Breweries like Mikkeller, Stillwater, Evil Twin, and To Øl have built successful brands by brewing their recipes at other, more established production breweries. At one point, Pretty Things Beer and Ale Project, founded by Dan and Martha Paquette, was the golden standard of the ideal nomadic brewery. The Paquettes created delicate, complex beer with a twist on traditional recipes, often at Buzzards Bay Brewing in Westport, MA. Beers like Jack D'Or and Fluffy White Rabbits reached legendary status despite the fact that Pretty Things didn't own their own equipment, and there wasn't a Pretty Things taproom. While many breweries use contract brewing as a short-term solution while they raise more capital or look for the perfect space, the Paquettes never envisioned a Pretty Things brewery, instead embracing the nomadic lifestyle (the Paquettes have since taken their brewing talents to Europe).
However, for most breweries, the ultimate goal is to establish a physical space to control their beer and showcase their products. Mikkeller now has breweries in San Diego and New York City, Evil Twin is planning to open a taproom in Queens this fall, and a Stillwater production facility is currently in the works. For Lauren and Joe Grimm, a Grimm Artisanal Ales brewery was always the plan.
The homebrewing husband and wife team launched Grimm in 2013 out of their Gowanus apartment, creating recipes at home that they eventually brewed elsewhere. Because they couldn't secure a loan to open a New York City brewery, they turned to contract brewing. The Grimms established partnerships with Buzzards Bay (thanks to Dan and Marta Paquette), and then with Beltway Brewing Co., which was built to host contract breweries. After five years of contract brewing up and down the East Coast, Joe and Lauren were able to open the Grimm taproom and brewery in East Williamsburg.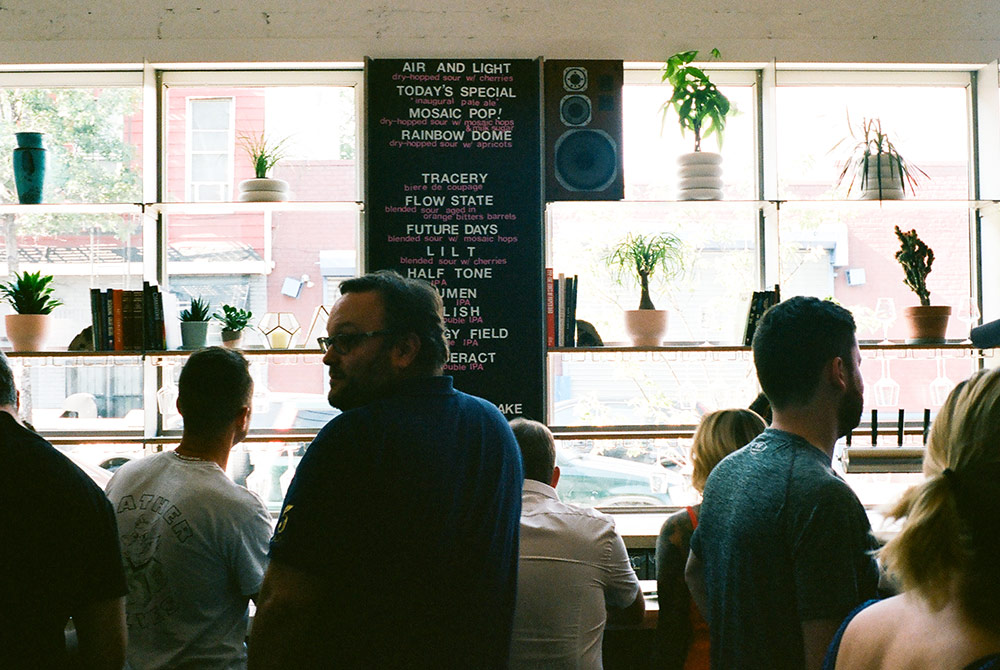 Opening a physical location mitigated many of the challenges they faced while contract brewing. At their partner breweries, Joe and Lauren ceded control of their product to the hosting staff. While they still managed to release acclaimed and quality Grimm beer, many of their grander ideas were put on hold until they could open their own space. And now that they have, they've used the brewery to experiment with top-cropping yeast, dive into canned hazy IPAs, and build an extensive barrel program. When I visited the brewery, they threw around the idea of putting in a foeder or two. Grimm has evolved into exactly what Lauren and Joe wanted it to be.
At one point, the only time the Grimms could interact with their customers was at festivals and events. Now, they welcome their Brooklyn neighbors into the perfectly manicured taproom, complete with potted succulents and a Samesa shawarma counter. Grimm was a recognizable brewery before; their 750 ml bottles made it across the country, supplying folks with mixed-culture sours, delicate hoppy beers, and the rotating Pop! series. The artful labels and large format bottles preceded a flavorful and intentional beer. Now, the taproom lets Joe and Lauren put a face to the beer.
John Paradiso: What has been most beneficial about moving into your own space?
Lauren Grimm: There are so many wonderful things. Just yesterday, Joe and I were like, "Isn't it awesome we have our own brewery?" Getting to make the beer exactly to our own specifications is really important. That we're able to move full force into barrel-aged sours, or really any mixed-fermentation sours, is so amazing. Before, we'd put beer into a barrel at another brewery and not know if we'd ever be able to take it out.
Joe Grimm: At the kind of breweries that will do contract brewing, there's usually a lot of turnover in their staff. Whenever you get a new head brewer, they'll say, "These are my rules and I'm doing things this way." Having to deal with someone else making arbitrary changes to what they're okay with process-wise is a big risk. Some of the beer we've just released, that was beer that's over three years old. We made some of that beer with the initial head brewer down at Beltway, who was comfortable with our process, then put it in barrels, and he took off six months later. We said, "Oh, we have this stuff, what are we going to do with it?" And the next guy wasn't comfortable with our beer so it just sat. We worked on our relationships more, they got a new guy, we bought our own blending tanks, pumps, barrel filler, and finally that beer was back in play. That sort of risk — of having someone change the rules on you — is a thing that gave us a lot of anxiety. Now we get to set the rules.
JP: Now that you have the taproom, do you also feel like you have more control over the presentation of your beer?
LG: Of course. Every time we go to bars and we see bartenders filling up glasses all the way to the rim with no foam, we kind of freak out. You can't even smell it! So it's awesome to be able to have the beer served exactly the way we want. Beyond having our own methods, the taproom is just a great way to see people get excited about our beer. That was never possible before.
JG: Until recently, we didn't really have a visual on our customers.
LG: There are families that come in with their kids. I was surprised at how many women have come to the taproom. There's a pretty diverse crowd. People from the neighborhood.
JP: How would you characterize the vibe of the taproom?
LG: We worked with our friends who are architects, who have a firm called inc_a. When we first started working with them, they said they were going to put together a lookbook and I thought, "Oh! I should put together a lookbook. Who better to know what we want than ourselves?" I started putting together all these photos and I got really into it. It sort of became 70s era plant culture. [Laughs.] Like the indoor plant craze.
JG: Very New Age.
LG: For the past couple years we've been working out of our apartment and Joe and I started listening to so much New Age music. We called it "Spa Music." It's the best working music ever. [Laughs.]
JP: So is that what you'll be playing while you're in here?
LG: I'm guessing our customers won't want to listen to Spa Music all that much.
JP: I know that you've been planning on building out your own brewery for a while. When did you start thinking about a physical Grimm location and when did actual planning happen?
LG: We initially wanted to open our own brewery five and a half years ago, when we founded Grimm Artisanal Ales. We had tried to get a loan and had no money ourselves. We didn't get the loan. It was really important for us to hold on to the idea of an independent company in which we weren't having to…
JG: Deal with owners, who had different ideas than we did.
LG: You know, you get investors and it can be great. But at a certain point, they have different priorities.
JG: The best breweries are all brewer-owned.
LG: We wanted to prioritize the beer. And that's what we've always done. So, we ended up contract brewing through that matter-of-fact process of not getting the money but wanting to control our brewery. We talked to Dan and Martha [Paquette] from Pretty Things and they put us in touch with the first brewery we worked with. This whole thing has been serendipitous and totally amazing. I don't think either of us knew what would really happen and it was like one thing led to another and we became what we were known for and we developed a real identity. But, we always held on to that idea that we wanted our own brewery.
We planned for the loan for this place three and a half years ago. We then started renting the space in May 2016. It took a long time because we were doing it all independently. It might've been a lot faster if we'd just said, "Yup! We need the money if somebody's willing to give it to us."
JP: You mentioned that people formed an identity around Grimm even before you had the space. What do you think that was?
JG:
You tell us!
JP: Well, the large format bottles of our sour beers always felt special. The labels are artistic and delicate so seeing a bottle definitely reinforced that special-ness.
LG: A large format bottle says, "Keep this!" It makes you think of cellaring and holding on to it for a while. Like, you should cellar this versus you shouldn't cellar this. If it's in a can, you should drink it right now.
JG: That's a really useful rule of thumb for us. Going forward, we want to make sure that what's in a can is for immediate consumption, and that the things going in a bottle are… profitably cellarable [Laughs].
LG: An imperial stout could go in a can but would be great in a bottle. When we first designed the space, we didn't plan on having canning be a big part of the brewery. But now we're canning two to three batches a week.
JP: Has anything else changed since opening the taproom?
LG: Well, we used to get a lot of people who'd email us and say, "Oh, we can't wait to visit your taproom!" And, unfortunately, we couldn't welcome people into our apartment. [laughs]. We're definitely at an interesting moment now, because in the next five years, who knows what we could be? We built up a company over five years and it became a certain thing…
JG: And now we have different availabilities. So I think the beer will be changing.
JP: In what ways?
LG: Well, with the barrel-aged beer alone and us having more options available, potentially putting in two new foeders.
JG: Instead of making big decisions — firm, long-term plans — we like doing lots of small things and then getting feedback on what works. So just in terms of how much we enjoyed our product and then how people respond to it. We weren't really able to do that before in a brewery that wasn't ours. This space can become a lab for us to pump out different kinds of experiments and find out what the most successful things are.
LG: It's also cool because having those five years working out of other peoples' breweries really enabled us to make this place exactly what we wanted it to be. Five years ago, we had to keep barrels in our apartment, because at the time no one would let us store them anywhere. We don't really have to worry about that anymore.
Liked this article? Sign up for our newsletter to get the best craft beer writing on the web delivered straight to your inbox.