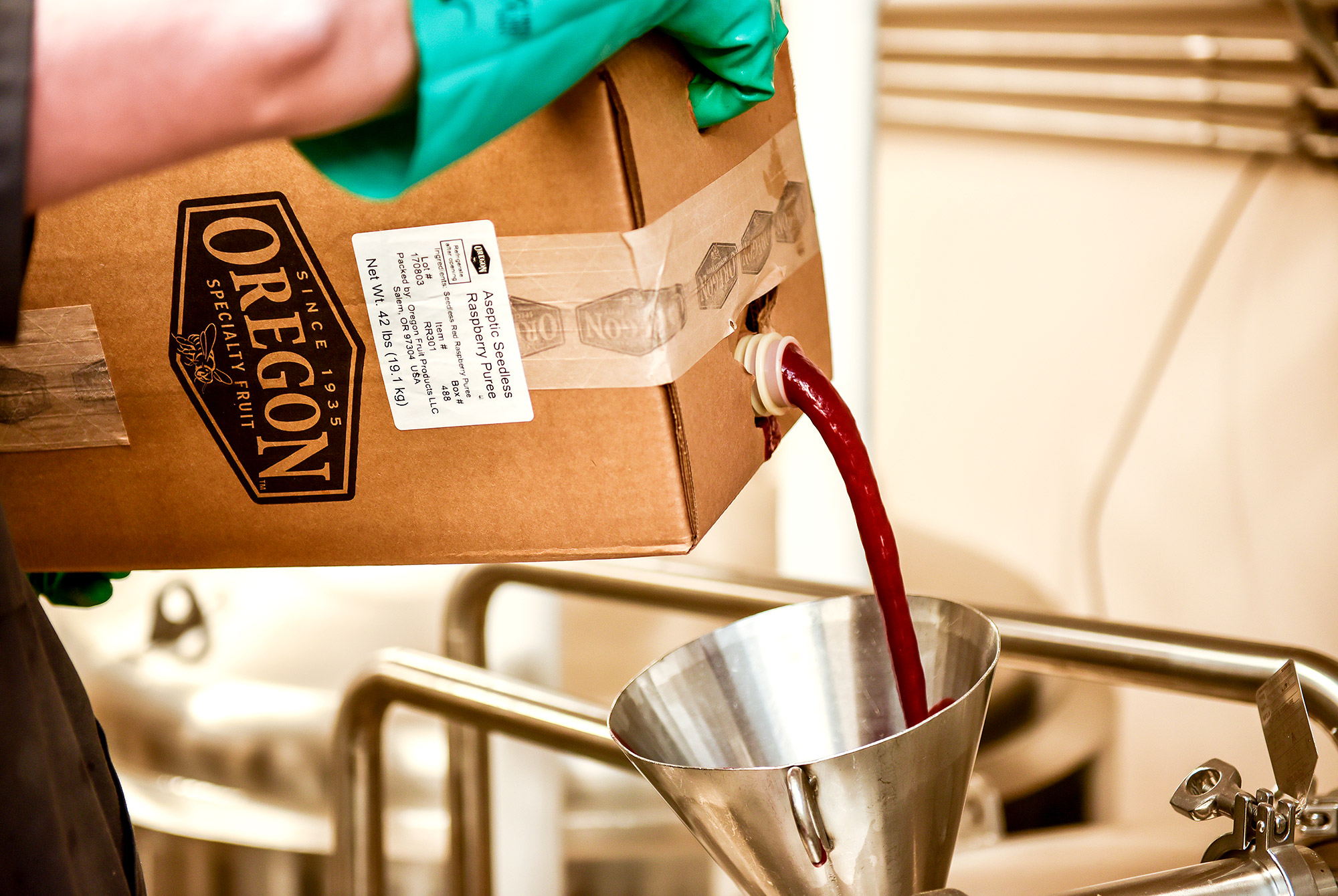 The brewing industry has a secret.
Tucked inside the Willamette Valley in Oregon is a family-owned business churning out one of nature and now beer's most prized products.
Picked at the peak of freshness, everything from raspberries, strawberries, and blueberries to mangos, tangerines, and passionfruit goes through Oregon Fruit Products and into the fermentation tanks of breweries across the country.
Fruited beers, particularly fruited sours, have hit a recent boom in the United States. Eager craft beer fans form lines around the block for Hudson Valley Brewery's fruited Sour IPAs and the kettle sours with wild fruit combinations from Burley Oak's JREAM series. The rise of fruited beers in the US seems sudden, but it has been brewing for nearly a hundred years.
Started in 1935 by the Gehlar family Oregon Fruit Products has been canning fresh, local specialty fruit and working with Oregon farmers for 84 years.
Business boomed for over three decades. But, during the 1970s, the company found sales stagnating. Despite the amazing quality of fruit they were producing, people simply didn't want to spend $3-$4 on a can of fruit anymore. With a little forethought in the 1980s, the Gehlar family purchased an aseptic machine (a piece of equipment that commercially sterilized products for safe consumption) from Heinz Ketchup along with equipment that allowed them to make individually quick frozen (IQF) pure fruit.
Why the new additions? The company noticed something new on the horizon.
Beer.

The Time was Ripe
The Gehlar family's decision paralleled the rise of the craft beer movement.
"Fast forward to the mid-90s and with the fruit beer category rapidly expanding the company decided that aseptic puree would be the perfect marriage for fruit beers," said Chris Hodge, Director of Sales Brewing at Oregon Fruit Products. "A crucial piece of the puzzle came into play."
The time was ripe (some might say) for fruit in beer to mature. Breweries had started catching on to the trend.
Abita Brewing Co. in Covington, L.A. had just released its Purple Haze, a lager brewed with real raspberries, becoming the first big regional brewer to use fruit purees in mass-produced beer. While Teri Fahrendor, the founder of the Pink Boots Society, the premier women's organization in the industry, ordered raspberry fruit puree from Oregon Fruit Products to create a Raspberry wheat beer. Brewers began to take notice and follow suit.
In 2011, with the popularity of craft beer at its peak, the Gehlar family sold Oregon Fruit Products to Ed Maletis, who had just sold his successful beer and wine distribution company, Columbia Distributing. Maletis purchased the company with the goal to pursue the fruit beer channel as an important component of the future of the business. He hired a new President and CEO, Chris Sarles, who worked for Maletis at Columbia Distributing and began to aggressively explore selling fruit purees to breweries across the country.
Today, under the leadership of Sarles, Oregon Fruit Products has doubled in size in overall sales in the last five years through the foodservice and fermentation channels. "Our goal now is to take what we've done, and in the next five years, grow another 50 percent," said Hodge.
Success follows practice. Hodge and Sarles bring over 25 years of experience in the beer and wine distribution business to Oregon Fruit Products. "We have a lot of intel about where the brewing industry has been and insight about where it will go," said Hodge.
Knowledge and skill that has helped Oregon Fruit Products spread like jam on toast.
According to Hodge, Oregon Fruit Products is doing business with almost 50 percent of the craft breweries in the U.S.
Craft breweries like Mikkeller in Denmark and its San Diego outpost, which uses Oregon Fruit Products top-selling Raspberry puree in its lineup of popular fruit-forward beers. "It is such a big bold intense fruit. The product quality fits well with any beer style," said Hodge.
Mikkeller San Diego Head Brewer Daniel Cady agrees, "I've always been a sucker for raspberry. It's the first one we took off with here." A fruited Berliner beer, Raspberry Blush uses Oregon Fruit Products raspberry puree and a character build of rye whiskey barrel-aged coffee beans. It started as one-off beer and after that first batch was so successful became a year-round product. "There is a sweet spot in my heart for that one," said Cady.
As the fruited beer trend has evolved, so have the complexity of flavors and the desires of people's palates.
At Mikkeller San Diego, Cady says his favorite puree to use in brewing from Oregon Fruit Products is passionfruit. "It's so vibrant and married really well with our Gose-style series, Passion Pool. We made almost 2,000 BBLs of that beer alone between April and July," said Cady.
Tropical fruit flavors such as pineapple, mango, and even pink guava are trending.
Hodge points out that tropicals are now in the top ten best selling fruits at Oregon Fruit Products. The purees started out as seasonals, but, with demand so high, have become year-round offerings.
Newest to the lineup? Tangerine and key lime. Oregon Fruit Products released key lime this spring and demand was "off the hook," according to Hodge, selling out only seven days after its first production run. Another hot ticket fruit on the market is tangerine, released as a seasonal late last fall and now available year-round.
Mikkeller San Diego started bringing in some of Oregon Fruit Products tangerine purees for test batches last year. "I was really excited to do that because citrus is a tough flavor to nail especially when you try zesting, juicing, or dry peel," said Cady "There are so many different ways to introduce citrus, so having a tangerine-focused puree was really fun. I'm excited to see what they're coming out with this year and next year. They're starting to build momentum in releasing new products."
Currently, red currant, prickly pear, and acai berry are in the test stages.
Peak Flavors. Peak Commitment.
Beyond its array of fruit purees, Oregon Fruit Products' quality and customer service have become two of its driving tenets.
Cady started using Oregon Fruit Products in Mikkeller San Diego beers after flipping through a catalog at his local raw materials supplier and seeing their aseptic, easy-to-use, and easy-to-order fruit purees. As Mikkeller San Diego started messing around with fruited Berliner Weisse beers every month, he began to order more and more. With Mikkeller San Diego's increase in volume came a phone call.
"I got a call from Chris Hodge out of the blue and he introduced himself personally. We've been working with him directly ever since," said Cady. "Even to this day. We're doing a lot more in volume with Oregon Fruit Products, but it still feels like we're working with a small farmer."
A farmer that knows how to harvest and make an amazing product.
Achieving such a high-quality fruit puree starts at the source–in this case, the orchard and the tree. The process is fairly simple. During harvest the company will bring in over 100,000 pounds of fruit–some of which will be turned into puree right away, while the rest is frozen for later use. Oregon Fruit Products takes the fruit, cooks it to become commercially sterile (i.e. aseptic), puts it into a food grinder, grinds up the viscous product, removes all the seeds, cools it down, and puts the puree into an aseptic package for delivery straight to the brewery.
"It's about as pure as you can get to real fruit without having a piece of fruit," said Hodge.
Oregon Fruit Products will continue to use its first-rate fruit and superior communication to propel itself into the future. The beer industry, like a piece of fruit on the tree, is constantly changing.
The Future of Fruit
Looking ahead, Hodge predicts that we'll start to see fruit pop up in beer in new, unexpected places.
"People are starting to understand that craft beverages can be made with high-quality products in a whole array of flavors that aren't one dimensional. You can be a broad spectrum drinker," said Hodge. "Just look at what people are drinking today. Their palettes crave complexity. As your palette evolves so does your desire for interesting flavors, not just the let's-get-drunk flavors.
It's a trend that Elliot Daugherty, Sales Representative at Oregon Fruit Products, has already begun to see in the field.
"Rather than just doing a fruit style beer where the focus is the fruit, brewers are adding fruit to [traditional styles such as] Kolschs and IPAs," said Daugherty, who cited places such as Lagabière, a brewery just East of Montreal, Canada, as the perfect example. "I just walked out of Lagabière with their pineapple peach IPA!" Daugherty, who started in the beer industry almost 10 years ago, has seen these changes first hand. "I used to say that I sold to the craft beer market. Now, I say that I sell to the craft fermentables market. Palette exploration is what the craft industry brought us. It's why we see so much evolution in craft fermentables."
Cady notes a similar trend, "Especially as brewing and cellaring techniques evolve, the application of the fruit becomes just as important as the quality of the fruit itself. Because Oregon Fruit Products sets the bar so high with consistency and quality in the products, it almost forced brewers to explore more of their own applications."
Mikkeller San Diego has itself played around with fruit in IPAs, stouts, and even some Belgian-style beers. "Fruit beers will always be in our DNA, but now fruit has become a bridge for people, especially when combined with alternative beer styles," said Cady. "People that are averse to IPA might see grapefruit, peach, or mango in an IPA and be willing to take that risk or next step in their experience with craft beer."
Now happily married, wherever the partnership of fruit and beer go from here one thing for Oregon Fruit Products is sure.
The secret is out!
Liked this article? Sign up for our newsletter to get the best craft beer writing on the web delivered straight to your inbox.