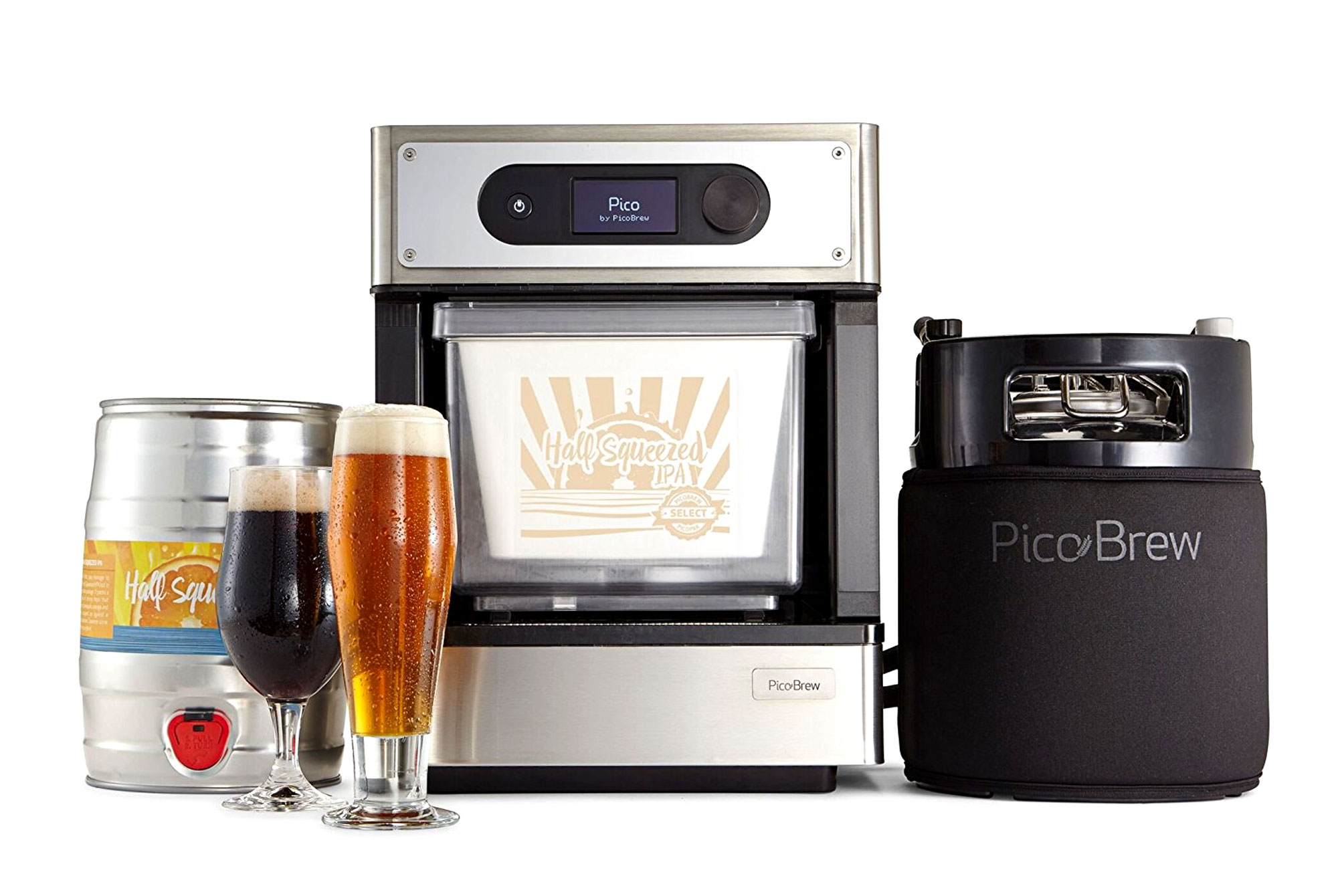 Finding the prime present for your home brewing honey or boozy better half can be as difficult as pouring the perfect pint, but we're of the opinion that giving the gift of ales and lagers should be just as fun as drinking. To take the fear out of beer, we've crafted a list of the 15 best beer gifts to quench the thirst of your sudsy sweetheart.
The Rare Beer Club
If your beloved believes that beer comes before beaus, The Rare Beer Club will take their addiction to an obsession without them ever needing to leave the house. Each month, The Rare Beer Club sends two, 750ml limited release, hand-crafted artisanal beers from the world's best breweries to the doorstep of your main squeeze. Special beers have included American Solera The Ground is Shaking sour brown ale aged in Vin Santo Wine Casks and Nebraska Brewing Company HopAnamoly Belgian-style Tripel aged in French Oak Chardonnay Barrels… just to name a few.
Buy Now: $35.95/month plus $14.00 S&H
Uncommon Goods Homebrew Journal
Dearest darling, never forget a recipe with the UncommonGoods Homebrew Journal. Chart your fermentation facts and publish your finished beers in a beautiful leather-bound journal. I hope you enjoy documenting your endeavors. Love, your darling dearest.
USA Beer Cap Map
Does your one-and-only still cling to their prized bottle cap collection from college? Finally put those long neck-toppers to good use with the stylish and unique Beer Cap Map. Pick your true love's home state or opt for the whole U.S. and let these wooden pieces of art display your lover's cap collection from coast to coast.
PicoBrew Model C
Has homebrewing been on your companion's to-do list for over a year? Don't let a busy life get in the way of your SO's life goals. With the newest, most affordable PicoBrew, you can make craft beer in the comfort of your own kitchen in under two hours. The only question you'll need to pop: what should we brew next?
GrowlerWerks uKeg Pressurized Growler
uCan take your beer anywhere with the uKeg. If your steady sidekick wants to kick it on the beach, take you on a date to the park, or even Netflix and chill at home, the uKeg 128 growler will keep their prized beer cold and freshly carbonated for up to two weeks (perfect for Game of Thrones bingeing). Whether on the go or at home, the 128oz toter's durable double-wall construction bear hugs their cherished craft beer to chilly, fizzy perfection. Game on growler. Game on.
Sam Adams Utopia
Sure, we call this a splurge. But, Sam Adams Utopia will taste like barrel-aged beer paradise for your paramour. The steep price tag underlies luxury. Designed as a mini still, Utopia drinks more like fine Sherry or aged Cognac than ale, and registers at a whopping 28 percent ABV. Currently on their 10th iteration, Sam Adams just distributed 13,000 bottles of the sought-after series. The 2017 release includes a blend of batches aged in Scandinavian Aquavit and Moscat barrels stretching back 24 years. One-of-a-kind, rare, and limited, a bottle of Utopia should top any craft beer connoisseur's bucket list.
Stay at the Hotel Vermont
Imagine this: You've just checked into the plush and rustic Hotel Vermont. You've come on a pilgrimage — a rite of passage of sorts — traveling from far and wide to the East Coast to capture the elusive quaffs of a state dedicated to quality craft beer. Whether your lofty quest has brought you to the Green Mountain State for The Alchemist's almost-mythical Heady Topper or Lawson's Finest Liquid's Sip of Sunshine, a simple call down to the concierge will procure both. Yes, that's right — this glamorous inn of Burlington with views of Lake Champlain has its own beer concierge, the famous Matt Canning. Not only the bearer of beer, Canning also leads craft-beer bike tours to breweries all around the city. Stay, bike, drink, guild your craft collection, and leave a little richer in ales than you came.
Vermont Farmstead Beer Cheese
Even if you can't make it to Vermont anytime soon, you can imbibe in their brewing treasures. Partnering with local breweries like The Alchemist and Lawson's, the dairy enterprise initiated a magical matchmaking between cows and hops. "Cheddy Topper" combines Heady Topper, one of the hottest hunted beers in America, with Vermont Farmstead's own AleHouse Cheddar for a creamy, earthy hunk. Awesome Lawson's Sip of Sunshine Alehouse Cheddar marries lupulin, alpha acids, milk and cream for what some might call an IP-ray of sunshine (Disclaimer: no cows were given beer in this cheesemaking process).
Airbnb Experiences
Visit speakeasies in a tribute to Prohibition in New York, walk to the hidden brewing spots in Berlin, or find your inner namast-ale through yoga at a local brewery in San Diego. Airbnb's newest tab — Experiences — lets you design your next trip with more than a bedroom in mind. Led by real people — tour guides, yoga instructors, or what have you — Airbnb Experiences customizes collections to engage your own passions. Try something new with seasoned locals or do something you love with master brewers. Whatever your adventure of choice, grab your significant other and go drink, brew, bike, sip, or downward dog.
Brew-Opoly
Your long time flame has come a far distance from their 10-time pong champion, keg stand record holding, flip cup phenomenon-ing college days of yore. But, their burning desire to win never really died. Upgrade your champ's drinking game with Brew-Opoly. Like an imbibing version of Cranium, this game requires rhyming, dancing, and plenty of drinking. Good luck with your new guzzling, grown-up game night.
The Magnificent Multitude of Beer Wood Engraving
Like a family tree for beer, The Magnificent Multitude of Beer traces the lineage of all your mate's favorite beer styles through an elegant, handcrafted engraving. Mapping all types of beer, this ale etching includes a sustainably-harvested walnut plywood frame and antique cream finish, making this piece of art feel kind of like the first sip of a pint – perfect in every way.
Beer Soap
Get sudsy with suds! Swag Brewery takes shower beer to the spa level with their line of Beer Soap. Ranging in eight flavors from Apricot Wheat and Belgian Witbier to Breakfast Stout and Vanilla Porter, these foamy discs use all-natural ingredients for a real lather. Bathe your boyfriend or girlfriend in orange peel, crushed oats, and even real hops for an intoxicating beer-laced bubbly soak. For extra bubbles, pair with Duffy's Brew Premium IPA Craft Beer Shampoo ($18.95), Duffy's Brew Premium IPA Craft Beer Conditioner ($18.95), or a Swag Brewery Brew Candle 3-Pack ($39.99).
6 Pack Bicycle Caddy
Let your promised pedal their beer bottles where none have gone before. Fyxation's six pack caddy creation carefully swaths their suds in full-grain leather for a comfy journey from the beer store to the backyard barbecue or on their mountain topping or urban jungle adventures.
Beer Chilling Coasters
Like a glove for your beer, but better than any koozy, UncommonGoods Beer Chilling Coaster Set not only holds your beer in place without leaving any watermarks on the table, but also keeps the beer cold. Before use, store this handmade New Hampshire stone coaster set in the refrigerator or freezer — the granite absorbs the chill, maintaining winter like conditions for your room temperature bottle. The ash wood and aluminum coffer keeps everything secure while the sea stone handle makes for easy carrying.
Goodnight Brew: A Parody for Beer People
Tuck your partner in for a good night's sleep and send them into dreams of drafts. The perfect parody for your pint perfectionist, Goodnight Brew rewrites your favorite classic childhood rhyme with craft beer in mind.