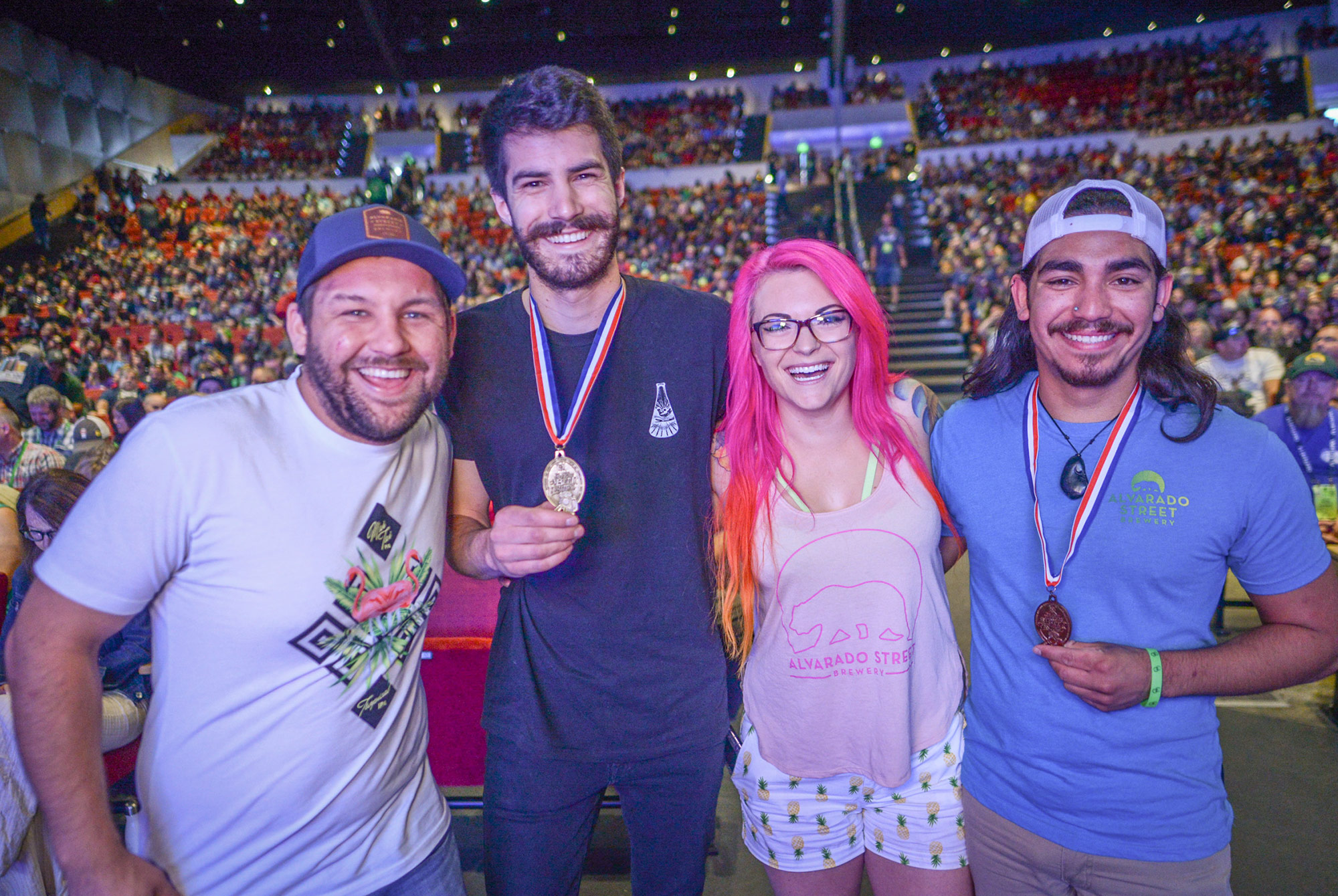 Alvarado Street Brewery took bronze for Contains No Juice, their Juicy Double India Pale Ale
Photo © Brewers Association
The 32nd edition of the GABF competition promised to be an exciting one, with the recent introduction of the "Juicy or Hazy" beer categories at the competition. The move validated the growing number of New England IPAs being brewed across the nation; Juicy or Hazy IPAs had the highest number of entries with 391 beers submitted, de-throning the American-Style IPA category, which had been the most-entered category since 2002. In total, there were 8,496 entries from 49 states plus Washington, D.C. (no beers were submitted from Mississippi).
All eyes were on the haze and, to the surprise of many, no New England breweries medaled in the Juicy or Hazy Pale Ale, IPA, or DIPA categories. This might be explained by the speculation that East Coast breweries would be worried about beer freshness, and the fact that historically many New England breweries don't participate in the competition. The medal breakdown for the Juicy or Hazy styles can be found below.
Category 60: Juicy or Hazy Pale Ale (132 entries)
GOLD: Tin Roof Brewing Co., Voodoo – Baton Rouge, LA
SILVER: Kings Brewing Co., Sippin on Dank – Rancho Cucamonga, CA
BRONZE: Fiction Beer Co., Madame Psychosis – Denver, CO
Category 63: Juicy or Hazy India Pale Ale (391 entries)
GOLD: Alarmist Brewing – Le Jus, Chicago, IL
SILVER: Kros Strain Brewing Co., Fairy Nectar London Double Dry Hopped – La Vista, NE
BRONZE: Eris Brewery and Cider House, Foiken Haze – Chicago, IL
Category 65: Juicy or Hazy Imperial or Double India Pale Ale (150 entries)
GOLD: Black Market Brewing Co., New England Style Double IPA – Temecula, CA
SILVER: Corridor Brewery & Provisions, DDH Double IPA – Chicago, IL
BRONZE: Alvarado Street Brewery, Contains No Juice – Salinas, CA
10 Barrel Brewing Co. (Bend, OR), Alesong Brewing and Blending (Eugene, OR), and Lewis & Clark Brewing Co. (Helena, MT) were tied for the most medals at three apiece. Lews & Clark was also awarded Small Brewing Company of the Year. Brink Brewing Co. from Cincinnati, OH was awarded Very Small Brewing Company of the Year while pFriem Family Brewers (Hood River, OR) and FiftyFifty Brewing Co. (Truckee, CA) locked up Mid-Size Brewing Company of the Year and Brewery Group of the Year, respectively.
Find a full list of medalists here.
Liked this article? Sign up for our newsletter to get the best craft beer writing on the web delivered straight to your inbox.