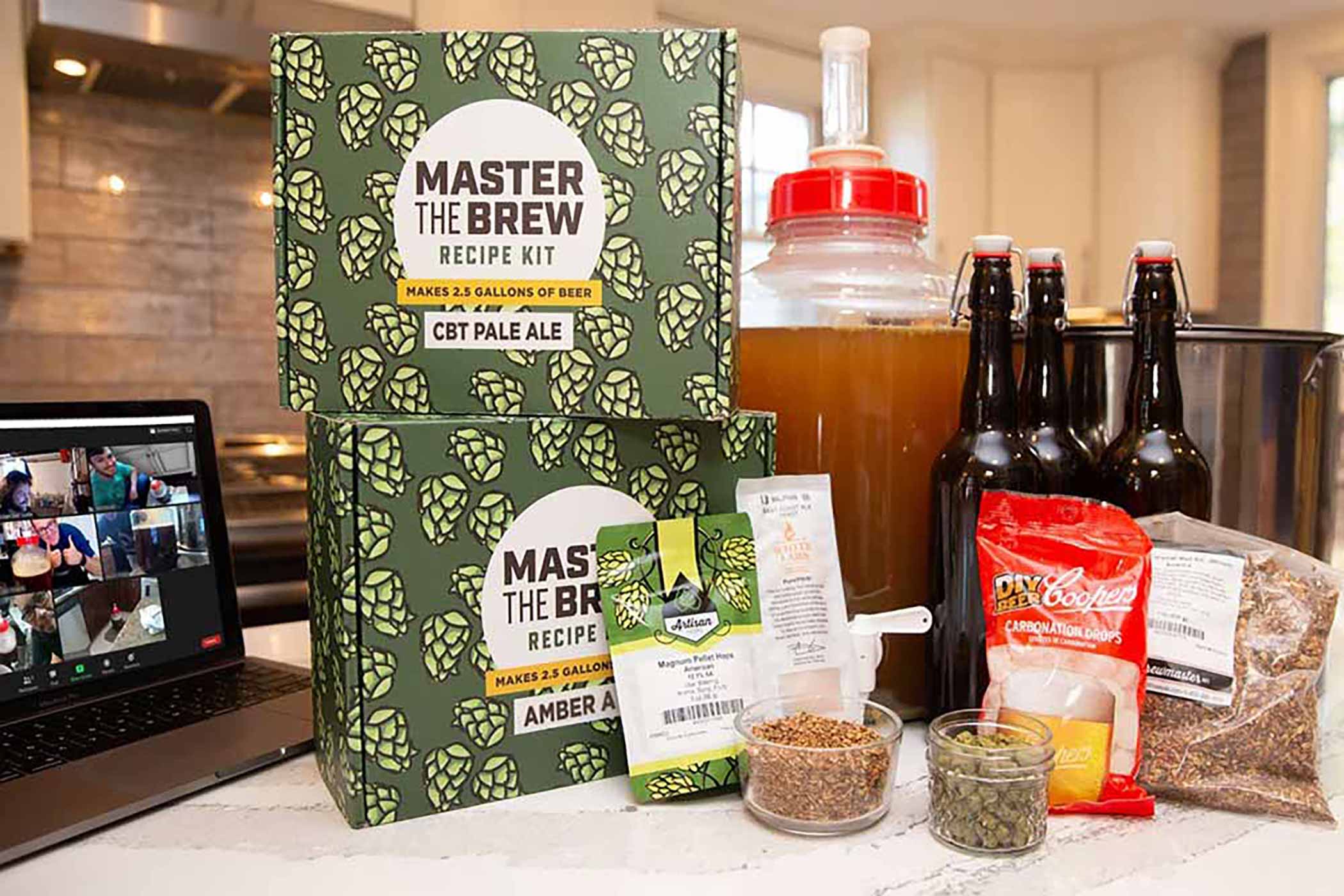 Photography courtesy of Brewvana
We love to drink beer. That is the very reason we created an entire magazine dedicated to this magical liquid. And while wondering how The Alchemist or Tree House makes some of the best dang hazy IPAs in the country may seem magical, it all comes down to Science (with a capital "S").
Which means you can perform some of these very same magic tricks at home. In fact, we have many folks' humble homebrewing hobby to thank for much of the breweries we love today. And while we admit your homebrewed hazy IPA probably won't be on the same level as Trillium or Monkish, we still encourage you to give it a shot.
Overall, homebrewing doesn't have to be a complete and total mystery. You probably just need the right homebrewing kit and a little bit of skill, luck, and go get em' tiger attitude.
We can't help you with the luck and attitude, but we can point you in the right direction of a great homebrew kit. In fact, we've also been known to dabble a time or two in making our own beer.
Since we've tested many homebrewing kits in our day, we thought now would be the moment to share our expert advice.
Here are Hop Culture's picks for the top five hottest homebrewing kits of the new year.
Hop Culture's 5 Hottest Homebrew Kits of 2022
Best All-In-One Experience: Brewvana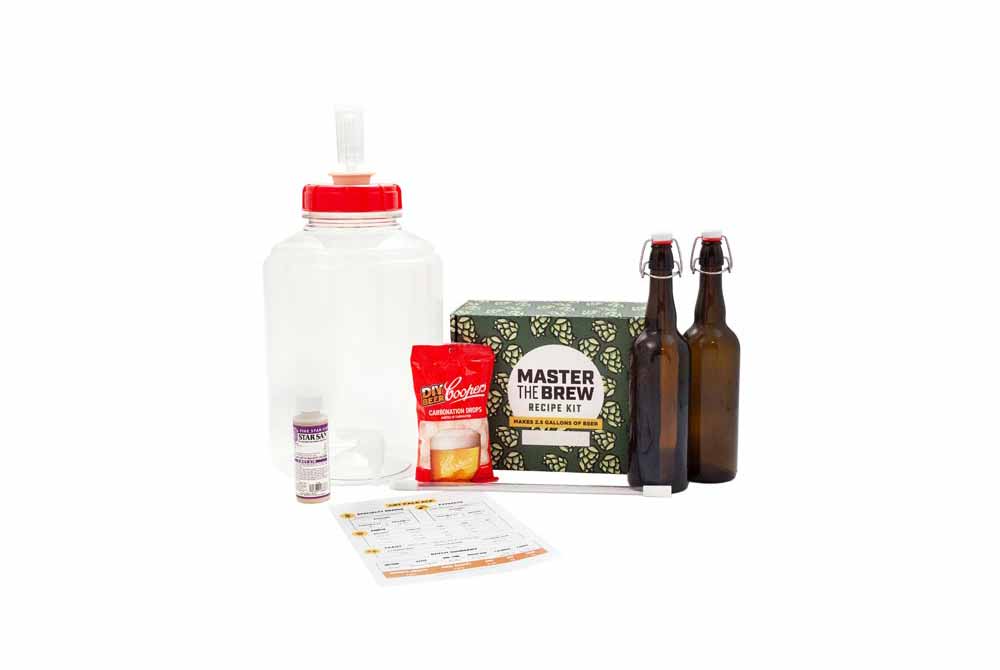 Always wanted to try homebrewing, but didn't want to do it alone? Opt for Brewvana's Beer Making Kit with Online Class and learn to brew beer right alongside a professional.
Brewvana's beer experts have taken all of their beer knowledge and turned it into a virtual home brewing class. The Beer Making Kit with Online Class comes with all the equipment you need to start brewing!
Once your kit arrives at your door, you'll jump on a Zoom call for two and a half hours of live instruction led by one of their professional brew guides. Your guide will brew right along with you and show you the process step by step.
Once you've started to make beer at home, you won't want to stop! Join Brewvana's Master the Brew Recipe Club and you'll receive unique beer recipe kits each month—delivered right to your door!
Recipes introduce you to new beer styles and brewing practices, ensuring your brewing skills grow over time. You'll also have access to exclusive, virtual meet-ups with other home brewers. During these meet-ups, they cover everything from advanced brewing techniques to conversations with beer industry experts.
Our Favorite Kit: Beer Making Kit with Online Class Brewvana's Beer Making Kit with Online Class is the best homebrewing experience from start to finish. Curated for the beginner, this kit comes with only the essential equipment you'll need to brew 2.5 gallons of beer. Buy the kit, sign up for a virtual brewing class, and get ready to learn and brew beer!
Best Bang for Your Buck: Brooklyn Brew Shop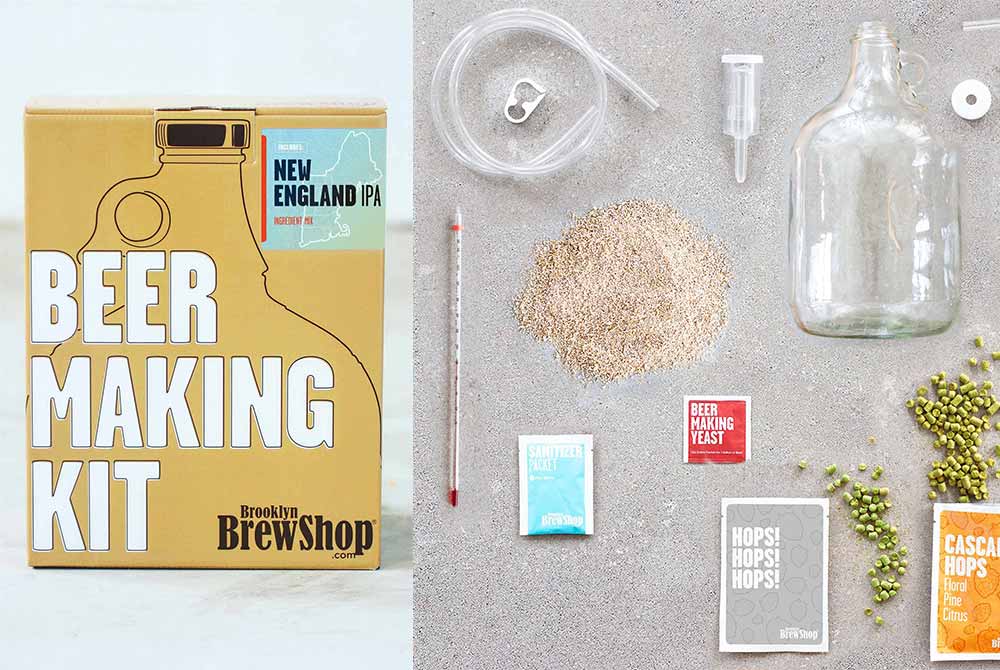 Sometimes you just want to open up a box and have all the equipment you need to make your first beer in one box. Brooklyn Brew Shop makes one of our favorite beginner homebrewing kits at an extremely affordable price.
For around $45, these tiny 1-gallon starter sets make it easy to make some beer whether it's in your studio apartment, garage, or home basement.
Since 2009, Brooklyn Brew Shop homebrewing kits have been empowering curious homebrewers to "Make Some Beer." In these kits you won't find any extracts or sugar powders. You'll find only the best ingredients often used by professional brewers around the world and perhaps some extra magical spices or adjuncts.
Our Favorite Kit: New England IPA – Try your hand at making one of America's most popular beer styles. Trendy and turbid, the New England IPA was first popularized by those classic Northeastern breweries such as The Alchemist, Tree House, and Lawson's Finest Liquids. While we don't expect you to make one of these expert versions, you can certainly still brew a damn fine hazy to call all your own. A dollop of wheat will help the haze here while late and dry-hopped additions of Mosaic and Cascade ensure that classic New England-style succulence.
Best Brewmaster's Kit: Northern Brewer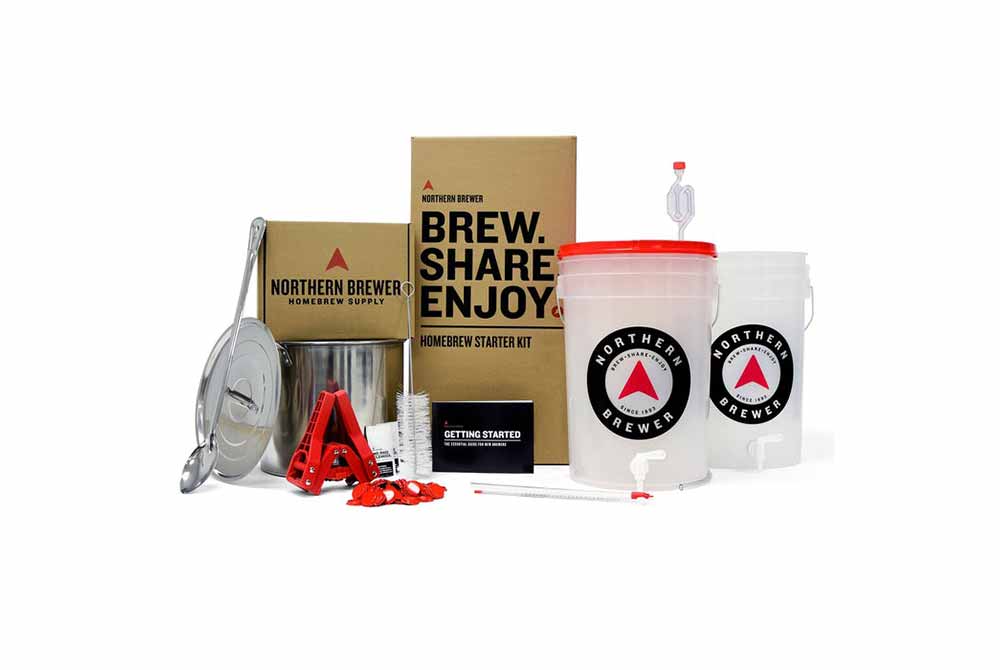 Made by actual brewmasters, these all-in-one kits are backed by the experience and expertise of industry professionals. These guys are the experts! And it shows in Northern Brewer's philosophy: Brew. Share. Enjoy.
Northern Brewer Homebrewing Kits are designed to make sure you get your best batch of beer every time no matter your skill level. Whether you're a novice or an expert, these sets fit your style, streamlined with everything you need including testing equipment, a brew kettle, and feature recipe to make sure you're drinking your own handmade beer in no time.
Our Favorite Kit: Brew Share Enjoy Homebrew Starter Kit – Leveraging years of brewing experience, Northern Brewer puts together the perfect starter kit. Inside this set you'll find everything you need for your first brew day, including a 6.5-gallon fermenter with spigot, stainless spoon, 5-foot siphon tubing, lid and bubbler airlock, bottling bucket, bottle filler, and more. The starter kit comes with the Block Party Amber Ale recipe, which is a great first style to master. Once you've found your footing, try Northern Brewer's other recipes such as milk stouts, hazies, hefeweizens, and everything in between.
Best Constructed: BrewDemon Conical Fermenting System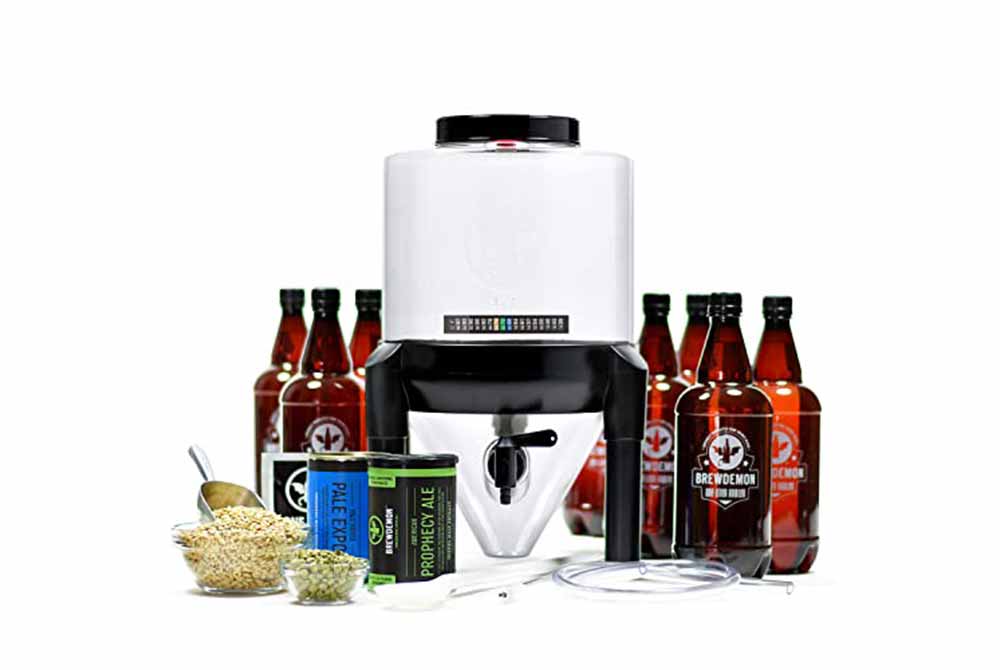 It's BrewDemon's revolutionary Big Demon Conical Fermenter that sets them apart from the homebrewing pack, helping you brew with complete easy-to-use beer kits.
This at-home fermentation system lets you brew beer in manageable batches. Whether you're starting with the 2-Gal Signature Beer Kit or 1-Gallon Pilsner Beer Kit, BrewDemon makes the perfect homebrewing kit into one box delivered straight to your doorstep. In BrewDemon's own words, "our kits combine the finest ingredients with the best equipment, period."
All in all BrewDemon makes homebrewing devilishly simple (sorry, couldn't help ourselves).
Our Favorite Kit: 1-Gal. Craft Beer Brewing Kit Plus – According to BrewDemon, "If you can pour a glass of water you can make this beer." Strong words that we'll stand by. This 1-gallon kit comes with everything you'll need including a fermenter, venting system, spigot, temperature gauge, plastic bottles and caps, mixing spoon, bottle filler, airlock, gasket, and recipe ingredients. You can choose from four different styles including: pilsner, oatmeal stout, IPA or witbier.
Best for Beginners: Mr. Beer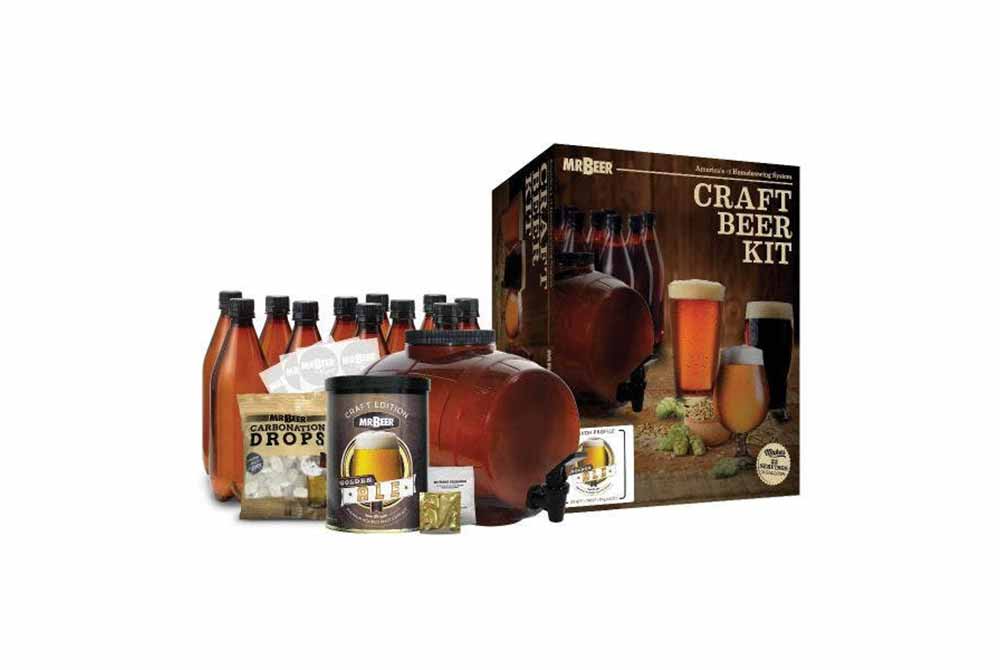 Designed for the first-time brewer in mind, Mr. Beer homebrewing kits only take thirty minutes of your time to brew! With step-by-step instructions, simple ingredients, and easy-to-use brewing equipment, Mr. Beer is a no-fuss, time-saving way to brew.
Our Favorite Kit: 2-Gallon Complete Beer-Making Kit – Mr. Beer 2-Gallon Complete Beer-Making Kit. The best part about this kit is that it comes with every—and we mean every—essential piece of equipment that you'll need to make a basic batch of beer. So that means no need to supply additional large pots, strainers, or brewing equipment. All you need is this kit, water, and common kitchen items to kick things off.
Best for More Than Beginners: MoreBeer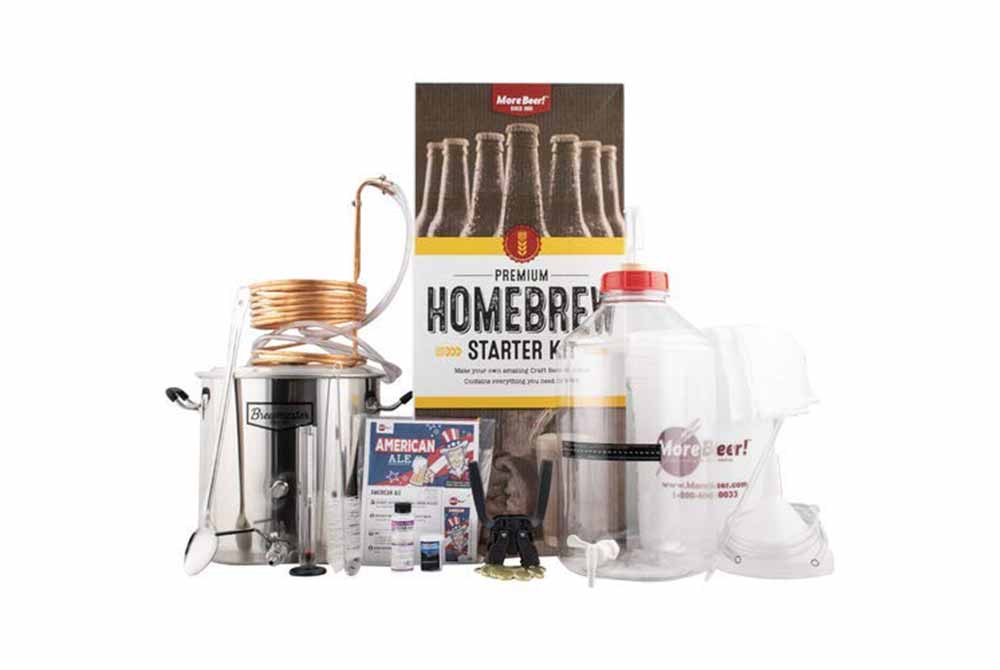 If you're already adept at homebrewing, MoreBeer offers a great starter kit that you can build upon as you work your way up the ranks. Instead of beginning with a one- or two-gallon recipe, MoreBeer's starter kits jump up to a massive 8.5-gallon model with a 7-gallon fermenter. When professional brewers start scaling up their recipes, a larger kettle and bigger fermenter are some of the first upgrades they make. Start brewing like the pros with MoreBeer.
Our Favorite Kit: Premium Homebrew Starter Kit – The original kit comes with a 7-gallon fermenter with built-in spigot, stopper, and airlock. Plus, an 8.5-gallon stainless steel brew kettle with a thermometer port and an American pale ale recipe kit.