In 2018, I conceptualized the first Beers With(out) Beards as part of my graduate school thesis capstone project at NYU. And over the past four years, this celebration of women in beer has grown to attract thousands of attendees and showcase over sixty women-led breweries. Additionally, the fest has featured over thirty-five events highlighting the achievements of women across all aspects of the alcoholic beverage industries.
Even during a global pandemic, the Hop Culture team and I continued hosting this incredible event – we simply took it online. But in 2022, we're excited to announce a return to an in-person event!
When I first started working in the craft beer industry as a sales rep, I immediately noticed that I stood out. Out on my route, I mostly met men with some type of facial hair. While I never felt ostracized for being clean shaven or a woman, I did feel alone.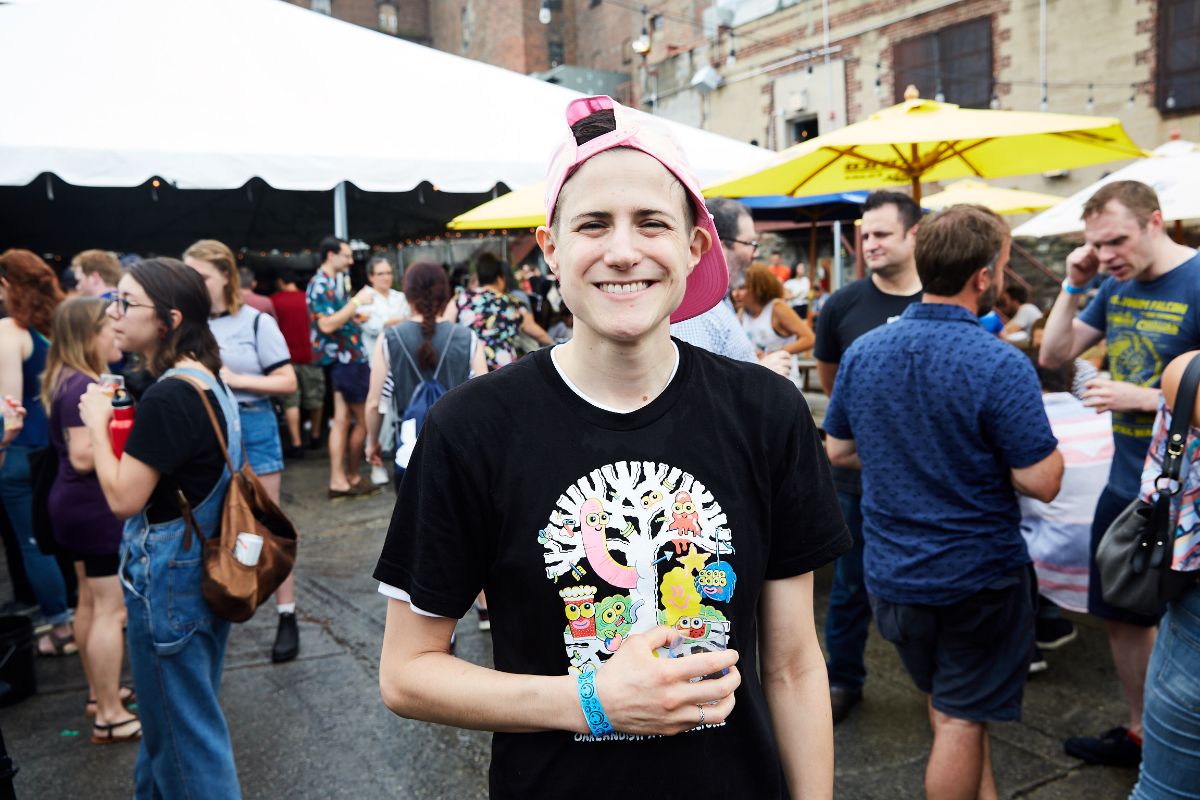 I started BW(O)B to create a space where everyone felt welcome to show up, taste amazing beers, and cultivate conversations around how to break through barriers. And now more than ever, we need Beers With(out) Beards. It's a festival for everyone asking to be heard in a predominantly white, male industry.
The fifth annual Beers With(out) Beards takes pride in representing women and femme-identifying folks in the beer industry. And this year, we feel especially empowered by those who have also had the courage to speak up about the importance of equity and inclusion in craft beer. Together, everyone's voice is stronger.
Join us on Saturday, April 9th, 2022, at Brick South in Portland, ME to celebrate the achievements of women in craft beer. At the festival, you'll be able to enjoy beer from thirty-five-plus breweries that are either women-owned or owned by femme-identifying people, or that have women or femme-identifiying people in prominent leadership positions.
Tickets for Beers With(out) Beards go on sale at 9:00 AM EST on Jan. 28th, 2022. You'll be able to purchase a ticket to the event here.
We're proud that for the past four years, Hop Culture has organized this event to stand together with women in the beer industry. Let's make the 2022 Beers With(out) Beards Festival the most impactful one yet!
Read on to find out answers to some common FAQs. If you don't see the answer to your question here, please reach out to festivals@hopculture.com with any questions.
What is the Hop Culture Beers With(out) Beards Beer Fest?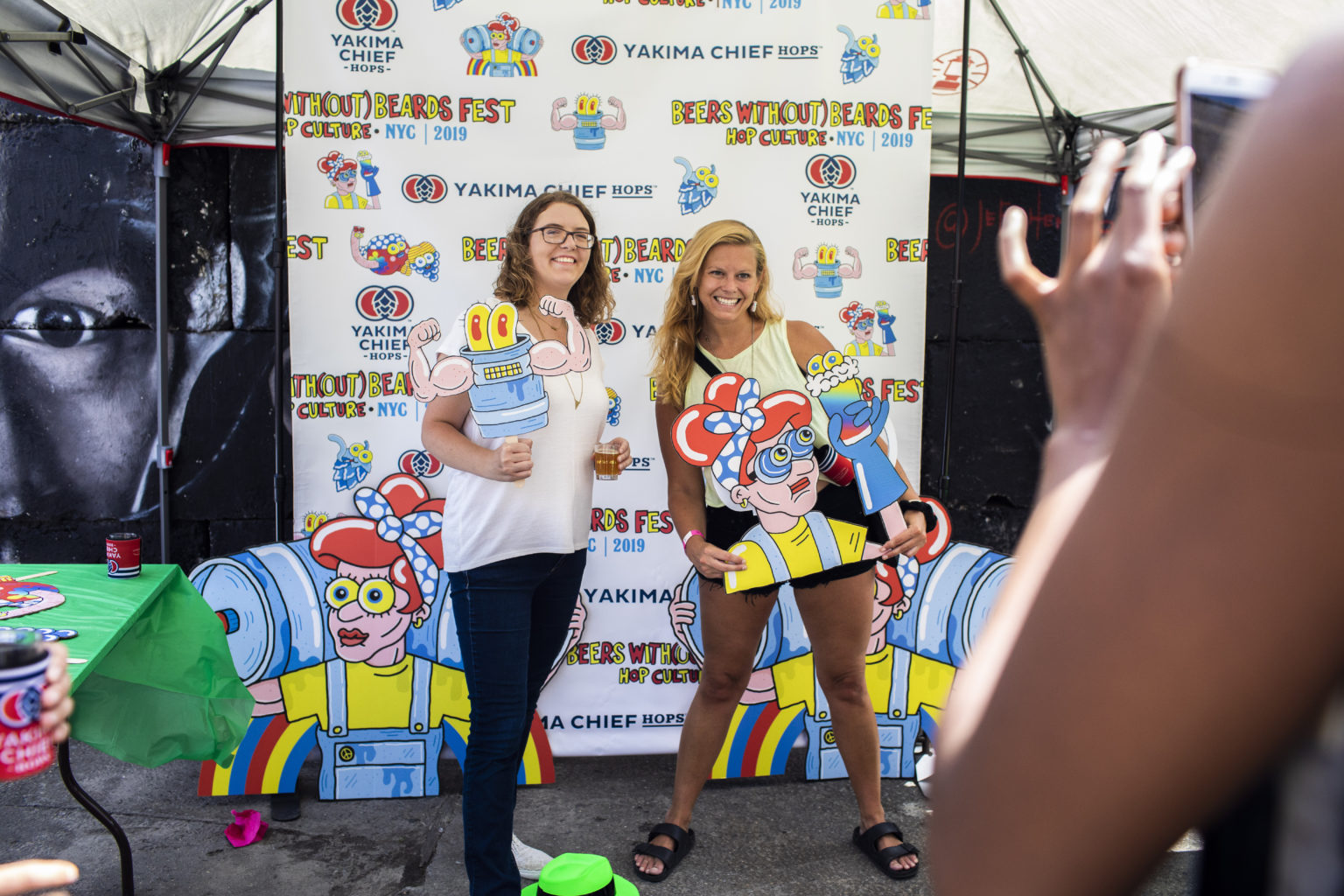 The Hop Culture Beers With(out) Beards Festival 2022 is an in-person craft beer festival dedicated to supporting women and femme-identifying people in craft beer. As part of the event, we'll be featuring thirty-five different breweries that are either owned by women or femme-identified people, or have women or femme-identified people in prominent leadership positions.
This festival is an expression of Hop Culture's mission to be a more equitable and inclusive business in craft beer.
What Breweries Are Participating in Hop Culture's Beers With(out) Beards Fest?
Scroll through them all or jump to your favorite:
2nd Shift Brewing
St. Louis, MO
St. Louis' 2nd Shift Brewing is a relatively under-the-radar brewery offering understated beers across a variety of styles. Helmed by co-owners Libby and Steve Crider, 2nd Shift has made a name for itself brewing excellent IPAs, dangerously drinkable lagers, and robust stouts. And while 2nd Shift may not earn the same hype as their neighbors Side Project, they have earned a passionate local and national following. Or, their cats have.
Libby Crider initially realized early on that the brewery's cats garnered quite a bit of praise on social media and went on to incorporate that feline love into more aspects of the brewery. Since then, Crider has become a significant leader in the craft beer community with a rich knowledge of the industry and a passion for craft beer.
Allagash Brewing Company
Portland, ME
Pioneers in more ways than one, Allagash is committed to supporting women in brewing and beer. A strong female-led marketing, sales, events, HR, and front-of-house team helps run the day-to-day operations of the brewery. And in the past brewers such as Emily Powers have been instrumental in bringing Allagash beers to life.
Around the Horn Brewing Company
Groveland, CA
Founded by Shirley Horn, Rachel Sabatine (nee Horn), and Andrew Sabatine, Around the Horn is a Gold Rush-themed brewery located twenty-five miles from Yosemite National Park's Big Oak Flat entrance. After graduating from Vanderbilt University's Owen Graduate School of Business with an MBA, Rachel moved with Andrew Groveland, CA to join her mom, Shirley. And by 2020 the trio had converted an old corporate Subway franchise building into a rustic taproom and brewhouse. Currently, Rachel serves as the COO of Around the Horn while Shirley, as the CMO, handles many of the marketing responsibilities.
Austin Street Brewery
Portland, ME
Portland, Maine's Austin Street Brewery has quietly risen to the top of Vacationland's breweries. Across their two locations, Austin Street brews profoundly drinkable and flavorful beers that win us over time and time again. And, with a predominantly women-led brewstaff, Austin Street prioritizes quality and precision with each brew.
Austin Street recently opened its Fox Street tasting room, which just so happens to be one of the most stylish destinations in town. Sleek, modern, and sunlit, the Fox Street location is a must-stop on any trip to Portland.
Back Home Beer
Brooklyn, NY
Zahra Tabatabai hasn't been brewing long, but she's already making waves in Brooklyn. The founder of Iranian- and female-owned Back Home Beer, Tabatabai brings a unique background to craft, focusing on flavors and art from Iran and the Middle East.
Tabatabai, the daughter of Iranian immigrants whose grandfather homebrewed in Iran in the 1950s and '60s, started Back Home Beer to share the rich history of brewing in Iran. From the beginning, Tabatabai started homebrewing her grandfather's old recipes. He used a lot of ingredients from his garden in Shiraz, Iran: sumac, salt, barberries, and dried limes.
Recently, Back Home dropped their first cans in New York City. The 4.2% ABV Sumac Gose was cured with sumac, tart cherry, and blue salt. At the time of publication, it held a coveted 4.18 out of 5 on Untappd. Tabatabai chose to release her Sumac Gose first because all of those unique ingredients tell a distinct story.
"In Iran, sour cherries grow like crazy," she says. "They're a popular flavor and fruit. They make a lot of different dishes with sour cherries, but mostly they're just eaten with salt. And some people put sumac on it. My grandfather also brewed a lot with sumac, so that's when I had the idea to do a gose with this beer."
Drinkers have responded to her narrative. Tabatabai's Sumac Gose debuted in mid-October to rave fanfare. It sold out from the shelves of many accounts within just a few hours.
In 2021, many breweries seem to think that "innovation" involves throwing as many cookies as possible into the mash tun. But thoughtful brewers like Tabatabai find creativity by looking at their heritage. We'll definitely be keeping an eye on what Tabatabai comes up with next.
Bissell Brothers Brewing Company
Portland, ME
Following many conversations on diversity and inclusion in the beer industry, the women of Bissell Brothers decided to brew a beer meant to inspire similar conversations around breaking through barriers in the industry. Released in August 2021, Something Of Ourselves is a light rice lager perfect for as the brewery writes, "refilling over thoughtful, engaging conversation." Beyond the beer, Bissell Brothers recently started a paid production internship program to help promote diversity in the industry.
Czig Meister Brewing Company
Hackettstown, NJ
Co-founder Laura Czigler helped start this well-known New Jersey brewery with her son Matthew Czigler and husband Frank Czigler. Today, she serves as Czig Meister's vice president and CMO. And Czig Meister's Assistant Brewer, Ashley Schreyer helps brew everything from the popular Sour Peach Ring NEIPA to the Mariana double NEIPA.
Dogfish Head Craft Brewery
Milton, DE
Co-Founder of Dogfish Head and Social Impact Leader at The Boston Beer Company, Mariah Calagione joined us as the keynote speaker for last year's virtual Beers With(out) Beards festival. And in the past this pioneering brewery has undertaken many initiatives to support women including joining forces with the League of Women Voters of Delaware to celebrate the 100th anniversary of the ratification of the 19th Amendment – the historic law that granted women the right to vote. Dogfish Head brewer Chelsea Sternberg helped brew "Centennial Suds!", with toasted rice, pomegranate, honey, hibiscus and rosehips, as an homage to the fierce women of both the past and present.
Eastern Market Brewing Co.
Detroit, MI
Shalyn Getz, president of Eastern Market Brewing Co., helps bring the brewery's goal of revitalizing the tradition of brewing beer in Eastern Market to life. Over the past century dozens of breweries have called this area of Detroit home, but Eastern Market Brewing Co. is bringing something truly unique and special to the area, mixing experimental beers with local ingredients.
Faces Brewing Co.
Malden, MA
Faces Brewing Co. Brewer, Danielle Coons, crafts the beers at this Massachusetts-based brewery. Housed in a former nightclub called Faces Nightclub, Faces Brewing Co. brought a fresh perspective to the place. As an American brewpub, Faces focuses on pairing food and craft beer. Coons brews some great New England-style IPAs such as Progression and Ultrawave, but also look out for some standout lagers from an Italian pilsner to a cream ale.
Fifth Hammer Brewing Co.
Long Island City, NY
It's impossible to look at women pioneering the craft beer industry – especially in New York City – and not highlight Mary Izett. Her often colorful hair and vibrant personality to match have made incredible strides for women in craft beer. Her accolades stretch as far as the Brooklyn Bridge. She has served as the President of the Pink Boots Society chapter in New York, President of both the Malted Barley Appreciation Society and the New York City Homebrewers Guild, author of the book Speed Brewing, and co-host of the podcast Fuhmentaboudit. In 2017 she added Co-owner of Fifth Hammer in Long Island City, Queens to that list. A 15-bbl taproom, Fifth Hammer constantly rotates through a selection of creative ingredient drives ales. Beers With(out) Beards Founder Grace Weitz actually loves Fifth Hammer so much that she asked Mary to help her and her wife brew a beer for their wedding two years ago.
Garrison City Beerworks
Dover, NH
In the past several years, we've tried more IPAs than we can count: juicy IPAs, bitter IPAs, Milkshake IPAs… you name it. And frankly, we've hit IPA fatigue. Forced to choose between an IPA or a lager, we'll choose a lager nine times out of ten.
But that one time? It's reserved for Garrison City Beerworks. Co-founder Nicole Gray has either studied some intense black magic, or she's just that good — and since we have a pretty good eye for practitioners of the dark and deadly arts, we'd say it's the latter. If you find yourself in the beautiful city of Dover, New Hampshire, find a seat on their outdoor patio and grab an IPA. Garrison City Beerworks is hands down one of the best breweries in all of New Hampshire.
Hana Koa Brewing Co.
Honolulu, HI
Started by partners in life and business, Chrissie Pinney and Josh Kopp, Hana Koa should be a paragon for other breweries. This duo built the Honolulu-based brewery to be an inclusive place for everyone including women, People of Color, Indigenous peoples, Queer folx, and more. Which means putting their work where their mouth is. Hana Koa has started a ton of collaboration beers benefitting various organizations. Such as Shine a Light, a beer benefitting End the Backlog, an initiative of the Joyful Heart Foundation aiming to end the backlog of untested rape kits in the United States. Or, Rainbow Mist, a beer benefitting Hawaii's LGBTQ Legacy Foundation supporting LGBTQIA+ folx in Hawaii.
Independence Brewing Co.
Austin, TX
Founded by Amy Cartwright in 2004, Independence Brewing Co. has been setting the standard for craft breweries in Austin for just shy of two decades. One of the longest standing breweries in Central Texas and the eighth largest craft brewery in the state, Independence Brewing Co. is a force to be reckoned with. Cartwright herself is no stranger to climbing through the ranks of predominantly male industries, with a former career in tech and now in beer. Cartwright has become a role model for women looking to break into the industry not only in Texas, but across the country.
Japas Cervejaria
São Paulo, Brazil
An all-star team of Brazilian women of Japanese descent, Japas Cervejaria began when Fernanda Ueno, Maíra Kimura (who joined us last year during BW(O)B for a Women in Leadership Roundtable), and Yumi Shimada decided to open a gypsy brewery. The name Japas Cervejaria actually comes from a Brazilian slang term for a person from Japan. With that in mind, this triple-threat brewery breaks through so many boundaries and barriers in the industry. Since launching in 2016, the three women have brewed creative works from an American pale ale with Japanese Sorachi Ace hops and wasabi to imperial porters made with rice and witbiers including ginger and orange zest. An amalgamation of heritage and culture, Japas Cervejaria breaks the mold at the forefront of innovation in craft beer.
King Canary Brewing Co.
Mooresville, NC
For Andrea Gravina, Co-founder of King Canary Brewing Co., running the brewery has been a story of tenacity and courage. Andrea opened the North Carolina-based brewery with her husband Matt Gravina in the late spring of 2018. With a focus on family and creating an environment where anyone can feel welcome on Lake Norman outside of Charlotte, NC, the brewery flourished. Matt handled the brewing while Andrea executed all of the branding design and layout. In the summer of 2019 Matt unexpectedly passed away in his sleep while visiting his late father, who was battling cancer, and his mother in Florida. Andrea and her mother-in-law stepped into the role of active owners, steering the new business through the perils of the COVID-19 pandemic, less than 6 months after Matt's passing.
Lamplighter Brewing Co.
Cambridge, MA
Boston has a history of producing some of the best big-name breweries in the country including Trillium, Tree House, and Night Shift. But I hold a deep appreciation for the more under-the-radar spots like Lamplighter in Cambridge, MA that focuses on hazy NEIPAs, unique barrel-aged sours, and special seasonals. Cayla Marvil co-founded Lamplighter with her partner AC Jones in 2016 and over the last 4 years has stormed the scene, earning a spot on Forbes "30 under 30" list for Food and Drink in 2020 and making pretty much anyone of our own guides to the best breweries in Boston.
Liquid Riot Bottling Company
Portland, ME
More coming soon…
New Belgium Brewing Company
Fort Collins, CO
Craft pioneer Kim Jordan founded New Belgium in 1991. With the brewery, she brought her social work and homebrewing experience to the big brewing stage. For almost 30 years, Jordan blazed a trail for women in the industry, establishing New Belgium as one of the top breweries in the country. Beyond iconic brands like Fat Tire and Voodoo Ranger IPA, New Belgium stays at the forefront of creating change in a predominantly-white, cis-male industry. Two years ago the brewery hired Patrice Palmer (they/them), a black, queer, trans intersectional leadership educator as its Diversity and Inclusion specialist. In their time at New Belgium Palmer has created and managed programs and projects, and lead initiatives on diversity and inclusion within the brewery. Their work has been so crucial to shaping change in our industry that we named them our most important voice in craft beer in 2020. Using beer as a vehicle to break down barriers and build up community, New Belgium stands for more than just delicious craft beer.
Nonesuch River Brewing
Scarborough, ME
Symbolized in the namesake of the restaurant and brewery, the Nonesuch River is a body of water that runs through the seaside town of Scarborough, Maine, connecting the town's eight villages to one another.
Nonesuch is proud to be Scarborough, Maine's first and only brewery, joining the ranks of the celebrated Maine craft beer scene. Nonesuch aims to combine well-crafted, approachable beer and cocktails with the abundant bounty of Maine's local and natural resources to create a seasonally inspired menu in a lively, warm and inviting atmosphere. 
Shea Cusick, Heather Guglielmo and Marina McGoon have propelled Nonesuch to the next level. Heather is the Event and Marketing Manager, Shea is the Brewery Sales and Merchandise Manager, and Marina is the Executive Pastry Chef. These women, along with others operating the front of house, have made Nonesuch River Brewing a sought after dining and brewery experience.
Olive Pit Brewing
Lisbon Falls, ME
When Christy Cain opened Olive Pit Brewing in Lisbon Falls, Maine, last year she claimed the title of the town's first brewery owner. Cain went off to brewing school after she and her wife had a hard time finding beers they liked. By earning a diploma in brewing science Cain decided to brew them instead! And that's the ethos at Olive Pit: to be a welcoming place for the female beer consumer and the entire community.
Outer Range Brewing
Frisco, CO
Outer Range is about as Colorado as it gets. They even printed a trail map on one of their can designs! Founded by husband and wife team Lee and Emily Cleghorn, Outer Range is known for doing two things exceptionally well: Belgian beers and hazy IPAs.
Proclamation Ale Company
Warwick, RI
Lori Whitham took over running the business at Proclamation Ale Company after her husband and founder Dave Whitham passed away from cancer in December 2020. In the back, brewer Kate Goodson drives the brewing engine at this Rhode Island-based brewery. Which includes a 2,000 square foot barrel aging and wood cellar for sour and mixed fermentation ales along with a 3,000 square foot tasting room.
Redemption Rock Brewing Company
Worcester, MA
As the CEO and co-founder of Redemption Rock Brewing Company, Dani Babineau has helped build an amazing culture at the brewery. Besides her three co-founders, Babineau leads a team of all women. Which makes sense because the brewery opened in Worcester, MA in January 2019 with a simple slogan: Beer for People. According to Redemption Rock Brewing Company's mission statement, "That is, we believe craft beer is at its best when it brings people together, and when it's accessible, welcoming, and safe for everyone." Since opening Redemption Rock has worked to create a space that is welcoming and safe for all.
Resident Culture Brewing Company
Charlotte, NC
Spend only a couple of minutes with wife and husband duo Amanda and Philip McLamb in their brewery in the booming Plaza Midwood community of Charlotte, NC, and you'll feel as if you've stepped directly into their living room. Actually, that's not a far-off analogy — Resident Culture put down roots in a building that previously housed Phillip's family printing company. This magical sense of neighborhood permeates everything at Resident Culture from the cheery taproom to the unparalleled mixed-fermentation beers and West Coast IPAs constantly flowing out of the taps. Behind it all, you'll find Amanda and Philip constantly exuding warmth and welcoming people from all communities into their quote-unquote home.
Rising Tide Brewing Company
Portland, ME
Rising Tide Owner and Director of Operations, Heather Sanborn earned a Master's degree in teaching and a law degree before running a brewery. As it says on the brewery's website, "from financial projections to supply chains, Heather pulls a laboring oar in nearly every aspect of the brewery operations."
Samuel Adams
Boston, MA
A revolutionary brewery, Boston Beer Co. has been pioneering programs that create a more inclusive, equitable, and just craft beer industry. For two years in a row Jennifer Glanville, brewer and Director of Partnerships at Boston Beer, joined us at BW(O)B to chat with female brewery owners from the brewery's Brewing the American Dream Program, founded with the goal to help small food and beverage entrepreneurs succeed through giving burgeoning businesses access to loans and invaluable mentoring.
All told, Brewing the American Dream and the Accion Opportunity Fund have provided more than 3,200 loans totaling $65 million to food and beverage businesses across 39 states, creating or retaining more than 9,000 industry jobs, and providing free business coaching to over 12,000 entrepreneurs.
And the first clients of the program? Two ladies.
Carlene O'Garro, owner of Delectable Desires Pastries & Cakes, and Lucy Valena, owner of Voltage Coffee. On the brewing side, the Brewing & Business Experienceship awards one brewery a year (in a non-COVID year) the opportunity to travel to Boston for a week to brew a collaboration beer with the Samuel Adams team, receive mentorship from Jim Koch and other experts, and continue to reach out with questions for the rest of their business lives.
Previous winners have included Shari O'Connell-Stontz, co-founder of Bold Dog Beer Co., Dali Parker, co-founder of Chula Vista Brewery, and Alicia Conger, co-owner of 1912 Brewing. Last year, Kate Russell, Founder and Head Brewer at Hopkinsville Brewing Co. in Hopkinsville, KY, won the experienceship.
Shōjō Beer Co
Miami, FL
Early in 2021, we wrote about the story behind Shōjō Beer Co., a contract brewing project out of Miami, Florida. Founded by Marilyn "Mari" Orozco and Haidar Hachem, Shōjō Beer Co. takes inspiration from Orozco and Hachem's Nicaraguan and Lebanese cultures, respectively. Back in May 2021, Orozco and Hachem had yet to brew a beer.
Flash forward to the end of 2021 and we named them one of our 11 Best Breweries to Watch in 2022
With a brewing pedigree from Lincoln's Beard (one of Hop Culture's Best Breweries of 2021) and Strange Beast Brewpub and Pizzeria, Hachem is no stranger to the brewhouse. And Orozco adds her marketing and storytelling talents.
Superstition Meadery
Prescott, AZ
Although technically not a brewery, Superstition Meadery is much beloved by passionate craft beer drinkers. The Prescott, Arizona meadery has earned international acclaim for its highly sought-after ciders and mead. Founded by husband and wife team Jeff and Jen Herbert, Superstition is on a mission to reinvigorate a passion for the historical beverage of mead.
And by all accounts, they've succeeded. Superstition ranks high on the beer review app Untappd and has earned fans all over the country. The majority of Superstition's success is owed to its founding team. Jen, who oversees the business aspects of the meadery, has been recognized at the local, state, and national level for her work. Most recently the US Small Business Development Center (SBDC) recognized her work in 2017 when Superstition Meadery won the SBDC Success Award. And Jeff, who handles the production side, led Superstition to be named a top 100 brewer of craft beverages in the world.
Ten Eyck Brewing Company
Queenstown, MD
Owned by a team of women veterans and first responders, Ten Eyck Brewing Company makes it a mission to bring delicious craft beer to their Eastern Shore community. Ten Eyck features a standout crew of seven women making their mark in craft beer.
Throwback Brewery
North Hampton, NH
Founded by Annette Lee and Nicole Carrier in 2010, Throwback Brewery brews great beer while also celebrating and supporting local agriculture. An environmental engineer by trade, Annette attended the renowned Siebel Institute in Chicago, in 2007. Completing Siebel's World Brewing Academy Concise Course in Brewing Technology a year later, while interning at Smuttynose Brewery, Annette eventually opened Throwback not too soon after. Likewise, Nicole had a different career before craft beer. Earning a B.A. from Dartmouth College in Economics and Math, and an M.B.A. from the Tuck School of Business at Dartmouth, Nicole worked as a former IBM executive before helping to launch Throwback.
Twin Elephant Brewing Company
Chatham Borough, NJ
You can thank Cindy De Rama, Tim Besecker, and Scott McLuskey for some of the juiciest IPAs in the Northeast. Located in Chatham, New Jersey, the team credits Cindy with "a proclivity for recipe formulation with unique ingredients." A locally-focused brewery with a (well-deserved) national reputation, Twin Elephant is one of those humble, hidden-gem breweries that deserves every bit of the acclaim they receive not only in New Jersey, but across the country.
Two Roads Brewing Company/ Area Two Experimental Brewing
Stratford, CT
Following the unbeaten path, Area Two and Two Roads has a stellar team of women leading the way in both the back of the brewery, including Karen Stangl, Director of Quality Assurance, and Jen Pesavento, Sensory Program Manager (who joined us at BW(O)B in 2020).
Vista Brewing
Driftwood, TX
A twenty-one acre brewery located just outside of Austin, TX, Vista Brewing is a one-of-a-kind craft beer experience. Founded by wife and husband team Karen and Kent Killough, Vista Brewing has become a destination in Central Texas. Karen handles all aspects of operations at Vista from marketing and social media to programming and private events, HR, merchandise, and more. On the board of the Texas Craft Brewers Guild and active with the Pink Boots Society, Karen even earned a scholarship from Pink Boots to travel to and attend the Beer Marketing & Tourism Conference.
Wild East Brewing Co.
Brooklyn, NY
Founded by Lindsay Steen, Tyler March, and Brett Taylor, Wild East Brewing Company opened its doors in February 2020. The brewery specializes in mixed-fermentation, wild, and sour beers such as saisons, pale ales, Berliner weisses, and more.
In a former restaurant supply warehouse on Sackett Street, just a short jaunt from Threes Brewing, Wild East's taproom is a place where you can enjoy the fruits of the trio's experimentation. And it's one of our favorite breweries in Brooklyn, NY.
And more to be announced soon!
How Did You Choose Breweries to Participate in the Hop Culture Beers With(out) Beards Fest?
All of the breweries attending Beers With(out) Beards were invited by the Hop Culture team.
However, before sending out any invites, we developed internal criteria for invites that we felt would best speak to our mission of supporting women and femme-identifying people in the craft beer industry.
To be considered for this fest, breweries had to fit in one (or more) of the following categories:
Women- or femme-identifying-owned and operated
Breweries that may not be women- or femme-identifying-owned and operated, but have women or femme-identifying people in prominent roles on their staff and have expressed a commitment to equity and inclusion in the beer industry
Together each of the breweries participating in BW(O)B are integral to moving the conversation of inclusion, equity, and justice forward in our industry.
Please note that due to timing, availability, and effects of the pandemic, not everyone we reached out to could participate. We're also continuously learning of new women-owned or women-supporting breweries and would love to hear your suggestions if we missed someone that you would like to see included next year. Please let us know by dropping a line to festivals@hopculture.com – notes from our community are the best way for us to learn!
Where Will Hop Culture's Beers With(out) Beards Fest Take Place
Brick South at Thompson's Point, Portland, ME 04102.
When Is the Hop Culture Beers With(out) Beards Fest?
Saturday, Apr. 9th, 2022. This will be a one-day festival with two sessions.
Session One will take place from 11:00 AM ET (for VIP) and 12:00 PM ET (for GA) to 3:30 PM ET.
Session Two will take place from 5:30 PM ET (for VIP) and 6:30 PM ET (for GA) to 10:00 PM ET.
What Types of Tickets Are Available for Purchase to Hop Culture's Beers With(out) Beards Fest?
There are three ticket options to attend the event: VIP, General Admission (GA), and Designated Driver (DD).
GA and VIP tickets can be purchased via the button below:
DD tickets can only be purchased day-of in-person at the festival venue. There will be no advanced sales.
What Does a VIP Ticket Include?
A VIP ticket includes:
4.5 hours of unlimited beer sampling from 35 women-owned or femme-identifying-owned breweries or breweries with women or femme-identifying folx in prominent leadership positions
35 breweries and 100+ beers
Early admission 1 hour before GA
Access to the VIP section
Beers and Bites pairings with Allagash Brewing Co.
Souvenir tasting cup and lanyard
What Does a GA Ticket Include?
A GA ticket includes:
3.5 hours of unlimited beer sampling from 35 women-owned or femme-identifying-owned breweries or breweries with women or femme-identifying folx in prominent leadership positions
35 breweries and 100+ beers
Souvenir tasting cup
How Much Are Tickets?
A VIP ticket costs $150
A GA ticket costs $65
A DD ticket costs: $10

Get Your VIP and GA tickets here on Jan. 28th, 2022 at 9am EST
What Is the Schedule for Hop Culture's Beers With(out) Beards Fest?
Hop Culture's Beers With(out) Beards fest is a one-day festival with two separate sessions.
Session One Schedule
VIP: 11:00 AM – 3:30 PM ET
GA: 12:00 PM – 3:30 PM ET
Session Two Schedule
VIP: 5:30 PM – 10:00 PM ET
GA: 6:30 PM – 10:00 PM ET
How Many Samples Do I Receive with Either a VIP or GA Ticket?
As part of your admission, you have access to unlimited 2oz sample pours from all of the breweries in attendance.
Will There be Any Non-Beer Options?
There will be seltzer, cider, and mead tastings available, as well as non-alcoholic options at the food stands.
What Is the Vaccination and Mask Policy for the Festival?
Due to local COVID-19 mask/vaccination mandates and the surge in the Omicron variant, attendance to the Beers With(out) Beards Festival will require proof of vaccination for entry. To learn more about our entry policies, see our Festival FAQ.
Is There a Festival Code of Conduct?
Yes, you can find our Code of Conduct here.
Can I Get a Refund?
No, all sales are final.
By purchasing a ticket, you agree to comply with all Federal, State, and Local laws, ordinances, regulations, and the rules of the Event Organizers when attending the event. In accordance with the Portland City Code Sections 17-134 to 17-143, all attendees will be required to show proof of full vaccination for entry to the festival.
All breweries advertised have confirmed their appearance at Beers with(out) Beards; however, breweries are subject to change without notice. There will be no refunds or exchanges resulting from the failure of any brewery to appear at the festival.
Should Hop Culture cancel the festival for any reason, ticket holders will be refunded. Tickets are transferable to friends or family members. Hop Culture is not responsible for lost, stolen, or forgotten wristbands or lanyards, or for the replacement of wristbands/lanyards for any reason.
Will There be Food at the Fest?
Yes! There will be food available for purchase. Check back later for food vendor announcements!
Can I Bring in Bottled Water?
Empty, reusable water bottles are permitted.
Will There be Parking at the Fest?
Yes, but we encourage you to take an Uber, Lyft, taxi, hotel shuttle, or rideshare to the festival. Please visit the Festival FAQs and click on "Is There Parking?" for more information.
What Items Are Prohibited?
No Chairs
No bags, backpacks, or briefcases larger than 8"x11"
No cameras with interchangeable/detachable lens or external flash
No audio/visual recording devices (includes GoPro, Google Glass, Spectacles, etc.)
No selfie sticks, tripods, monopods
No outside food, beverage, or alcohol
No cans, metal/glass/plastic containers, bottles, or flasks (empty or sealed bottles included)
No laptops, tablets, personal computers, or two-way radios
No weapons, firearms, pepper spray, pocket knives or mace
No illegal drugs or substances
No flammable liquids, aerosol cans, or permanent markers
No flashlights, laser pointers, flares, or fireworks
No noise-making devices (i.e. air horns, whistles, bells, vuvuzelas, etc.)
No balloons, balls, projectiles, or optical illusions
No skateboards, Segways, scooters, rollerblades, bicycles, hoverboards, or helmets
No coolers, ice chests, folding chairs, or pointed-tip umbrellas
No animals or pets (accommodations made for trained, harnessed, and housebroken service animals)
No unapproved pamphlets, handouts, ads, or flyers
No clothing, garments, or signs displaying explicit language, profanity, or derogatory characterization toward any person(s)
No signs, flags, or banners unless approved by festival organizers
Do I Have to be at Least 21+ Years Old?
Yes, state law requires that all attendees are 21 years or older. Please make sure you bring your ID or other proof of age to be checked at the event.
Are Children or Infants Allowed?
No, state law requires that all attendees are 21 years or older. Minors are not permitted.
Are Pets Allowed?
No, pets are not permitted, but service animals are allowed.
Does My Ticket Need to be Printed or Can It be Scanned on My Phone?
Please bring your mobile ticket for a touchless entry process.
Can I Leave the Festival and Re-Enter?
No, Beers with(out) Beards is a no re-entry festival. Once you are out, you are out.
I Lost My ID, What Other Forms of Identification Will be Accepted?
The only other form of identification that will be accepted is a valid passport.
I want to interview Grace Weitz for a piece about Beers With(out) Beards. How can I get in touch?
Feel free to email our Manager of Event Marketing, Claire Nikodemus, directly at claire.nikodemus@untappd.com!
My Question Wasn't Answered Here. What Should I Do?
Contact us: festivals@hopculture.com