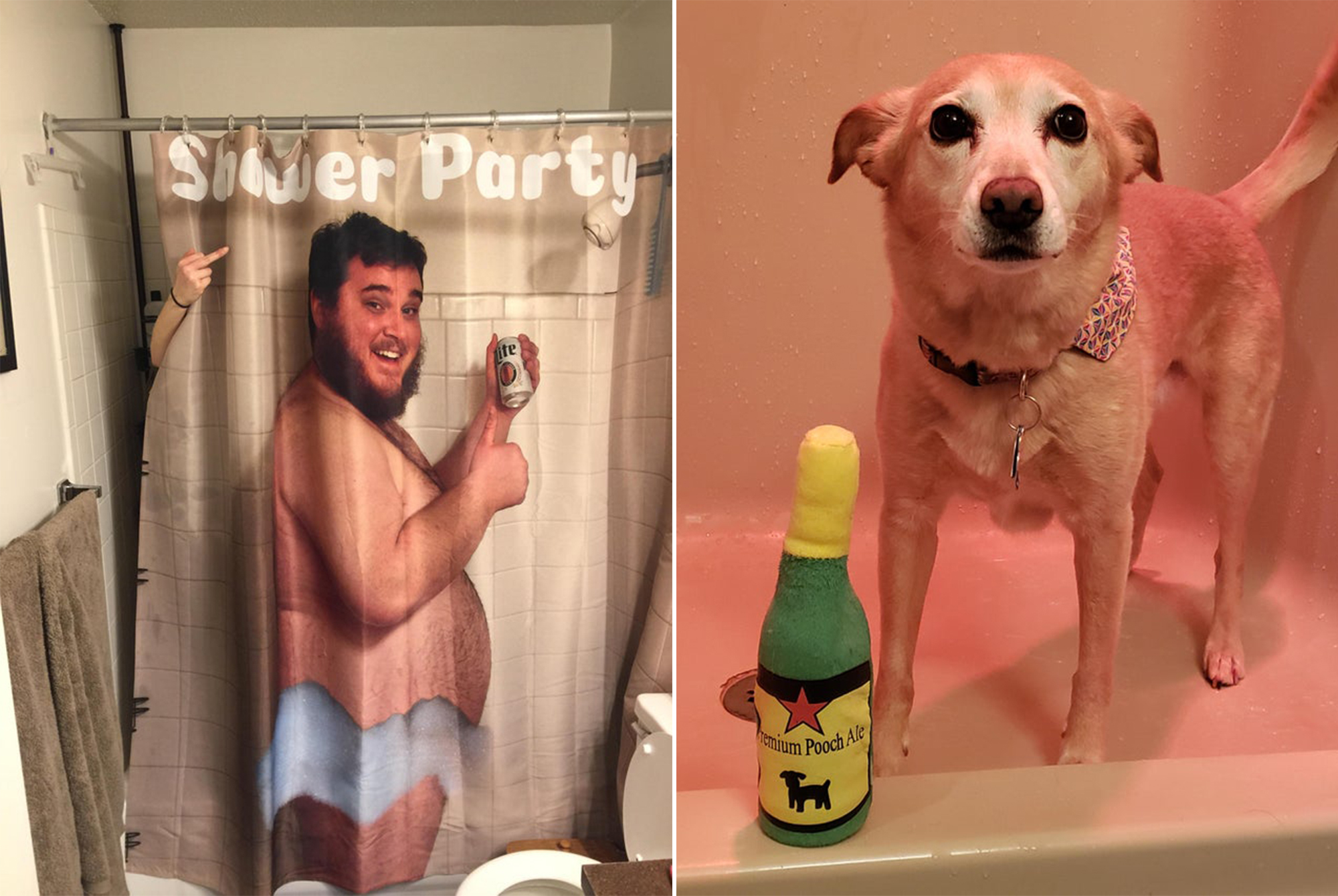 Editor's Note:
Beware! This post is NSFW.
Are your Zoom happy hours or social distance beers just not cutting it? Want a more intimate craft beer community?
In a time where likes and comments make up the foundation of our relationships, you can't beat r/showerbeer for getting personal (maybe a little too personal) and baring it all. Whereas other online outlets have come about in response to the Covid-19 pandemic, Reddit Shower Beer is far from a new phenomenon. This little niche-within-a-niche has been here since December 2011, striving to foster appreciation for its namesake: the shower beer.
So what exactly is a shower beer, and why does it deserve its own subreddit?
If you're asking these questions, you're not alone––until I started working for Hop Culture, I had little idea myself.
What's A Shower Beer?
Thankfully, the concept doesn't take much study to get up to speed. Courtesy of the stickied post in the Shower Beer subreddit, consuming a shower beer involves "the experience of savoring such glorious fermentations in the warmth of a shower." The description continues: "For in the paradox that is the warm embrace of steaming water and the chilly caress of a brewed beverage, we found a peace and love for life worth sharing."
Yup, in spite of all that pomp, a shower beer is… well, a beer consumed in the shower.
If only things were that simple, we could let it rest there.
And What's the Shower Beer Reddit?
Reddit is basically a giant collection of online communities called subreddits. On Reddit, you'll find a community for just about anything. And that includes people (and pets) sharing photos of themselves drinking beer in the shower.
Take a deeper dive into r/showerbeer and you'll find an interesting cross-section of craft beer enthusiasts. From topless women with barely a beer in sight to mustached men with a stout sitting center stage (still talking about beer), there's just about everything in this corner of Reddit.
If you're one to blush at the sight of a little too much skin, I'd suggest you steer clear.
As we'll get into below, there are plenty of examples of creativity, genuine good spiritedness, and humor. However, at the end of the day, most of the shower beer Reddit is filled with photos of people in the shower drinking beer.
That's it.
What Do You Need to Enjoy a Shower Beer?
The ultra enthusiast should invest in a Sudski, a shower beer holder. (And the same company also makes the Sipski, a wine glass holder.). Other options include: The SipCaddy and the Shakoolie
Otherwise, all you really need is a shower and a beer.
Buy The Sudski: $15 Buy The SipCaddy:$16 Buy The Shakoolie:$13
Our Favorite Posts in r/showerbeer
Having spent the duration of this quarantine trawling the shower beer subreddit for internet gold, I feel like I've done my fair share of gambling –– each NSFW post is a game of Russian Roulette, and the odds are seldom in your favor.
But at this point, I've done the hard work for you. If you were thinking of taking a look at the site, do yourself a favor and check the username and upvotes first (you're welcome). Otherwise, just read this curated list.
What follows are some of the more memorable (and least NSFW) moments from my time immersed in the weird world that is r/showerbeer.
The Next Level
Because nothing says shower beer like a curtain of yourself drinking a shower beer. The wife is a huge fan as you can tell from r/showerbeer
Its users never lacking for enthusiasm, r/showerbeer is arguably more cult than subreddit. This is a bit of a hat on a hat but we don't mind. Can you put a cap on passion?
Never have I ever found a more American picture. Keg? Check. Shower? Check. Flag tat? Check. 'Muricah.
Pets Joining the Party
Much needed after a ruff day (I'll see myself out) from r/showerbeer
A hot take on "hair of the dog." Wow, we're joining the pun train!
He's definitely not enjoying the shower as much as the rest of us from r/showerbeer
Not as fun as it looks, apparently.
r/bathbeer?
I read you loud and clear (sorry). The bibliophile in me gets him, even if I've yet to try it myself.
r/showerbeer heroes</h3
My mom gave me a selfie stick as a joke. Guess who's laughing now? from r/showerbeer
What do you get when you cross Danny McBride and Bill Bailey? A guy with a selfie stick posting on r/showerbeer, apparently.
Hardest marathon of my life done, and a berliner chugged in about 3 minutes from r/showerbeer
Upon finishing my first marathon, a shower and a beer were top on my list. Looking to level up your post-race recovery? Try combining the two!
The Jokers
Nice try.
Not the tits you want but the tits you get from r/showerbeer
Words for the wise. There were Dark Knight jokes aplenty in the comment thread.
Enjoying some Focal Ranger IPA with… Wait, what are you doing? from r/showerbeer
Shot.
Enjoying some Focal Ranger IPA with… Wait, what are you doing? from r/showerbeer
Chaser.
And last but not least. Deep from within the r/showerbeer R&D department comes this gem. As they say, necessity is the mother of invention.
And yet, even I'm not sure we needed this.
Liked this article? Sign up for our newsletter to get the best craft beer writing on the web delivered straight to your inbox.