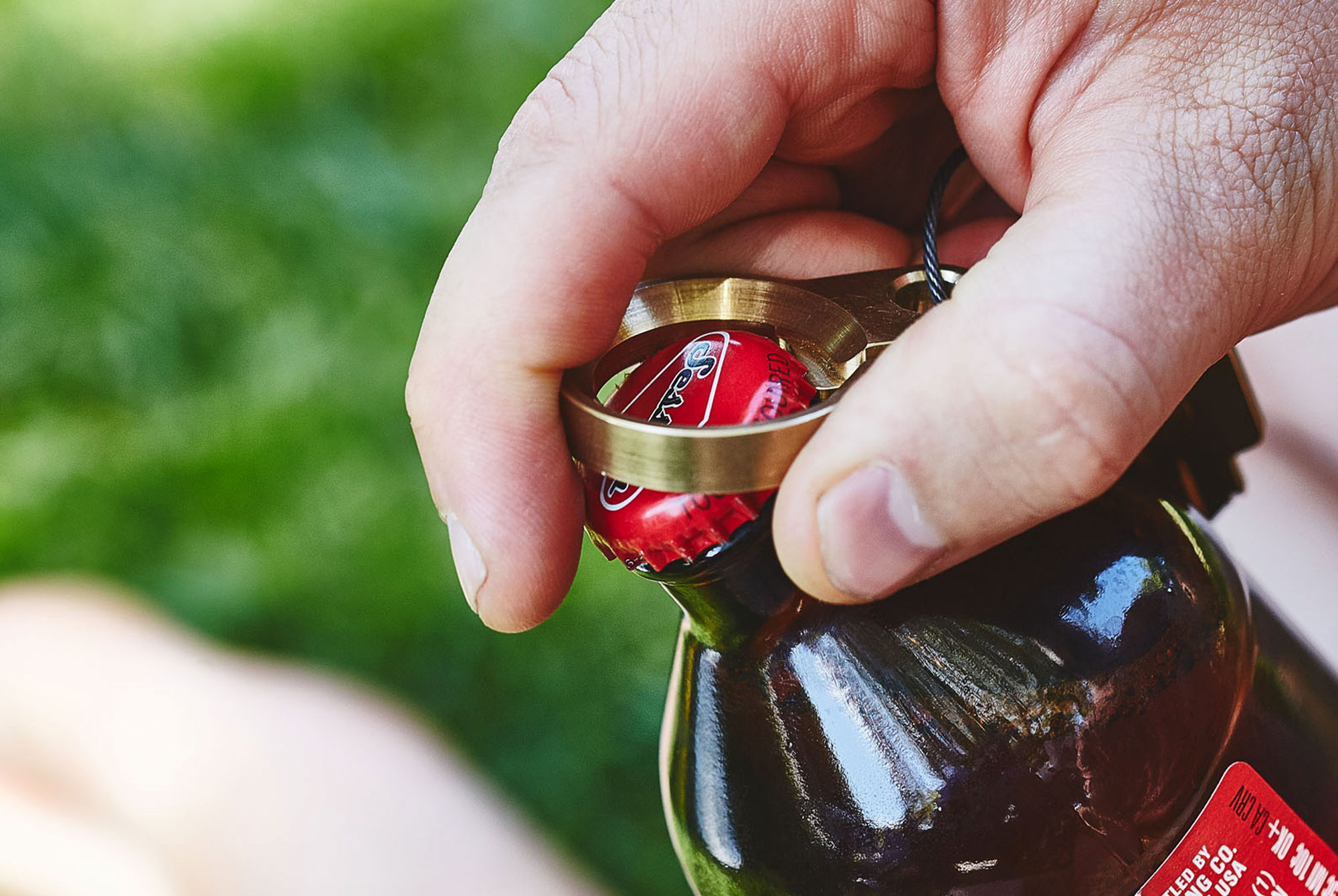 Photography by Grovermade
In the words of an old friend, when someone needs a bottle opened at a party and you hold the opener: "Suddenly, you're a somebody." You don't need one until you do, and then the humble bottle opener becomes a unique beer gift.
For good or for bad, a bottle opener is a part of the drinking experience. I've seen a friend saber a champagne bottle and then, as if in one motion, call a cab to be taken to the ER. I've personally broken a few flimsy openers, and in one case shattered someone's lighter prying off a cap. That's when a good bottle opener becomes absolutely necessary.
The opening is a simple and often overlook part of drinking. Personally, I keep a few wine keys lying around the house to handle any beer or wine needs, and something on my keychain for out and about. But that's just me.
There's a plethora of options out there: some will last a decade and develop a patina; others get by on their vintage feel; others are unbreakable one-trick-ponies.
Whatever you choose, toss away anything cheap and bendable and get something that won't get in the way of you and a good buzz. And if you're looking for other great beer gifts, check out our gifts for stylish beer drinkers, or gifts for the drinker who has everything.
Bottle Openers That Make A Unique Beer Gift Bottlehook from Corter Leather
For 2017, Corter coated their solid brass Bottlehook with black lacquer to reflect an old rangefinder camera. With use, the bottle opener will develop a great patina. Limited to 250 pieces and made in America.
The Godwin from Machine Era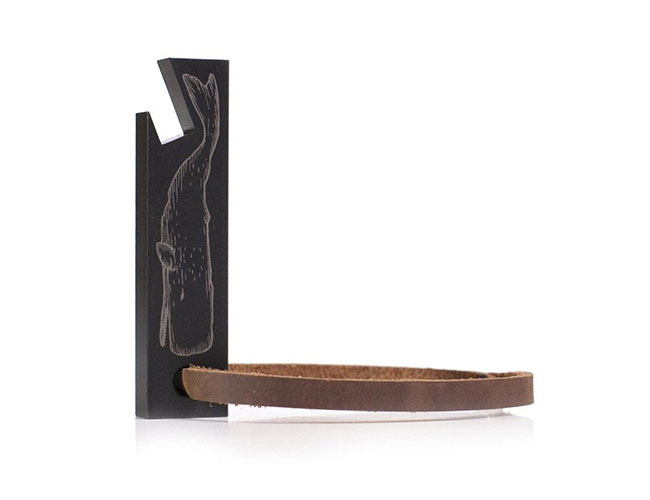 Weighty but sleek, The Godwin is machined in Richmond, Virginia from gun barrel black steel. The strap is oil-tanned leather and the engraving is artwork by William Godwin. Functional and beautiful, this is our choice for a unique beer gift.
Scout Hook from Scout Leather Co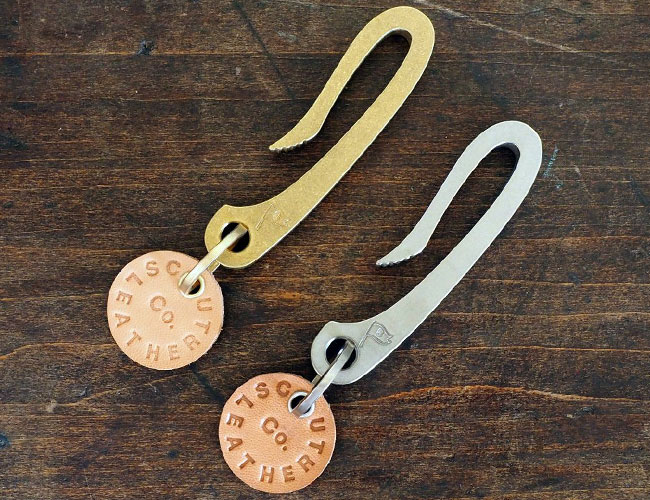 Inspired by the Japanese fishhook, the Scout Hook is cut from solid 1/4-inch brass and slips over your belt or in your pocket. Like many of these openers, it'll develop patina over time.
Brass Key Ring from Grovemade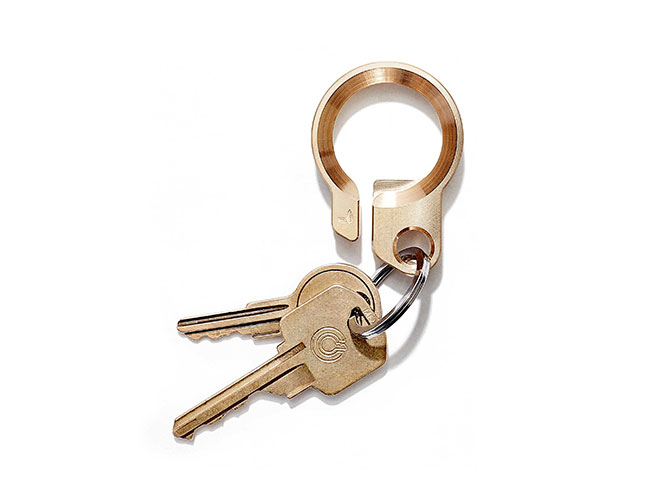 The most functional of the elegant keychain openers, the Key Ring is made from a block of solid brass. It's small enough to fit into your pocket or, if you prefer, slip quickly on and off your belt loop.
Splugen from Alessi
The Splugen was first designed in 1960 for the Splugen Brau Bar in Milan and was then refigured in 2001 by Achille Castiglioni. It's 6 inches long, dishwasher safe, and a blend of function and clean aesthetics.
Hex Opener from Iacoli & McAllister
This bottle opener is made from solid brass hex bar. Simple in form, elegant in execution, this opener is a unique beer gift you'll be proud to display.
Padova Bottle Opener from Tiffany
Named for the Italian city where the design is crafted. The Padova is 6 inches long and made of ruthenium.
Chateau-Laguiole Grand Cru
I'm a big believer in multiple use tools, and a wine key is my go-to for a party due to its usefulness among all types of drinkers. And when it comes to winekeys, Laguiole is the only name you need to know.
Brewzkey Bottle Opener
The minimalist approach to being prepared, this is the best bet for a low-key solution to drinking needs. Stainless steel and American made.
Road Popper from Chromoly
The Road Popper fastens discreetly to the rails on the underside of a bike saddle. Made of bronze-infused stainless steel and available in plain, matte gold, glossy gold, matte antique bronze, and glossy antique bronze. Technically, Chromoly doesn't endorse drinking and cycling, but it's always good to be prepared.
Hermetus Resealer Bottle Opener from Westmark
This little guy is sleek, ergonomic, and straight to the point. It'll also allow you to reseal bottles if you want to extend their shelf-life for a few hours after opening. Though I personally use the reseal feature to contain spills. Also, it should be noted that the resealer is not large enough for most large format bottles.
Rubber Coated Suma Bottle Opener from Thirsty Rhino
The "let's not mess around" opener. Ideal for throwing on a nail out by the grill so you are never stranded and sober while lighting the charcoal.
Tactica One Precision Bottle Opener
It's lightweight. It won't break. It won't rust. It's won design awards. Check, check, check, and check.
Screwdriver Opener from Klein Tools
The cushion-grip handle resists slippage and provides comfort. Throw in the toolbox.
Kikkerland Luchador Bottle Opener
Designed by Andres Lhima as part of the Mexico Design Challenge. For any Nacho Libre fans out there.
Rustic Farmhouse Wall Mounted Bottle Opener by Twine
I considered wall mounted bottle openers to be an eyesore until my old roommate put one on our kitchen wall. Now, I think this interesting beer gift is extremely useful and impossible to misplace.
Cap Zappa Bottle Opener from Spinning Hat
The Cap Zappa allows you to open a beer and then launch the cap over 16 feet. Pretty much guaranteed to put someone's eye out. I own three.
Cycle Dog Bottle Opener Recycled Dog Collar
For a truly unique beer gift, check out this dog collar opener. Made of recycled material, this dog collar dries quickly and won't get stinky. Oh, and it also opens beers for stealth drinking on any dog walks.