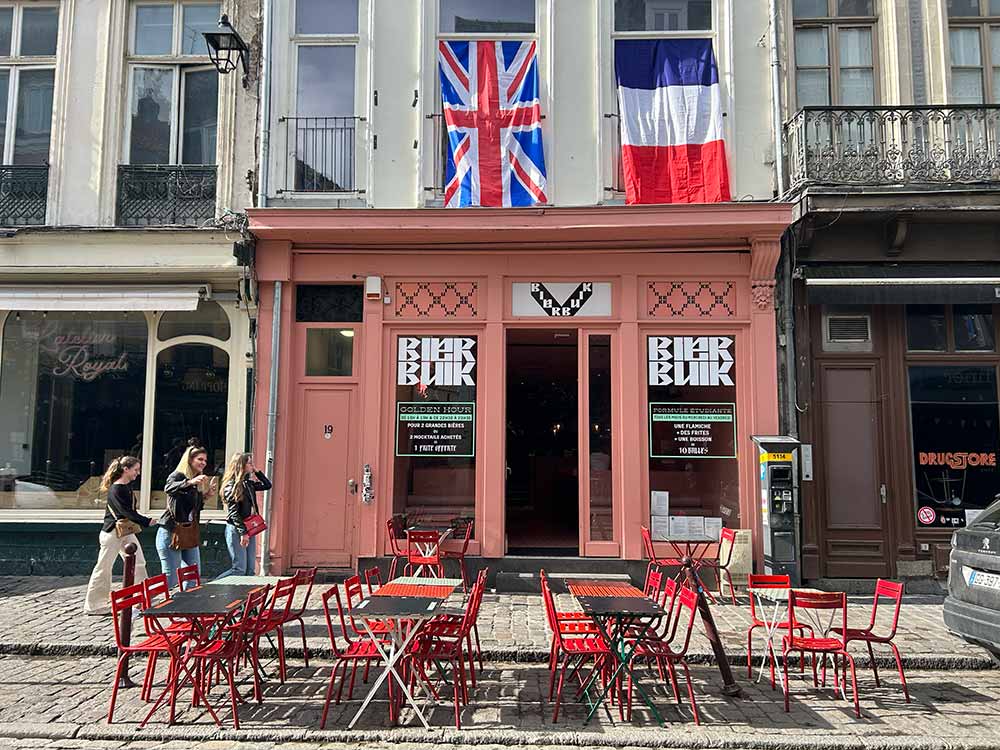 Photography courtesy of Grace Weitz | Hop Culture
One might think when they wander down the cobblestone streets of Lille, France, and come upon Bierbuik that Barbie moved to Europe and opened up an all-pink gastropub. But if you shook your head and kept walking, you'd miss out on one of Lille's best restaurants, brewing its own beer and making food from a Michelin-star chef (who also placed second on Top Chef France's first season).
The estaminet, a tavern popular in Northern France in the nineteenth century, is unmissable. Not just for its dazzling color on the outside but for the dazzling things brewing on the inside.
Because once you step inside this garish art deco diner and meet the founder and chef Florent Ladeyn, you quickly learn that Bierbuik reflects the inside of Ladeyn's mind: bright and brilliant.
The contemporary pub even mirrors Lille itself, the "Beer Capital of France," an hour north of Paris, experiencing its own food and craft beer renaissance.
Inside Bierbuik's bordering-neon pink walls, you'll find Flemish food flipped on its head. All driven by Ladeyn's ceaseless quest to make moreish street food and brew wild ales with locally foraged ingredients.
From Fork-and-Knife Michelin-Starred Restaurants to Finger Food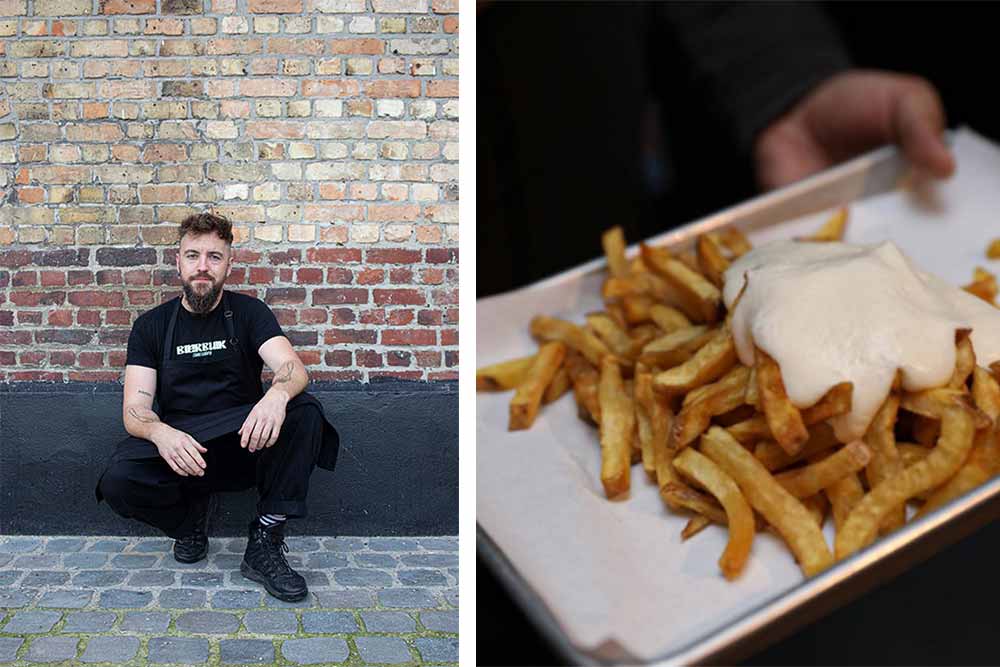 Ladeyn grew up in the restaurant industry, taking over his parent's restaurant, Auberge du Vert Mont, in the Lille area and turning it into a Michelin-starred establishment.
He speaks reverently about growing up in a family establishment; he learned to speak English by talking with visitors while tending the bar
But eventually, he tired of the rigidity of high-end service. "I [wanted] to be done with fine dining plating and tweezers," he says.
Ten years ago, he opened his own place, Bloempot, 200 meters away from Bierbuik, to gradually break away. "I worked every noon service in the countryside and every dinner in Lille," he shares. "After a few years, I [saw] that in a city like Lille, there was no way to find a good place to eat in the afternoon," says Ladeyn.
Which is why he opened Bierbuik.
Bierbuik takes everything Ladeyn learned from fine dining—local produce, expert technique, exquisite service—but ditches the tweezers for fingers and replaces the wine list with craft beer he made on-site (until two years ago when he moved operations because he needed more space).
"The idea here is to use one hundred percent local products, one hundred percent homemade products; it's exactly the same product we're going to serve you in the Michelin-star restaurant; the difference is the number of hours," Ladeyn says.
He added the brewery because he thought it would be fun. "It's like cooking; it's like making a broth. … The only difference is that you have to wait one month to taste it!" Ladeyn told me as we tucked into one of his house-made sour beers called Glycine Municip'ale, made with the wisteria plant (glycine in French) that he foraged from a cemetery on the French-Belgian border near his home. (He initially didn't want to share the story with me because he technically harvested the flowers from the Belgian side of the border, "But I cannot lie!" he proclaimed.)
At Bierbuik, Ladeyn embraces street food. Something he says France has been slow to understand.
Instead of spending two to three hours on a multi-course meal, over a casual lunchtime, we dig into twice-fried beef-fat frites with four different sauces—a hay-smoked mayo (my favorite), a green leek oil mayo, a beet ketchup, and a cheese sauce made of Maroilles, a local raw cow milk cheese brushed and cleaned with beer.
You can't miss it because "it smells really strong, like really strong," laughs Ladeyn. At Bierbuik, Ladeyn layers the cheese with sour cream and warm milk to smooth it out to something less insane.
Even though Ladeyn doesn't like cheese ("I shouldn't say that too loud because I'm a French chef," he jokes), the frites with Maroilles cheese sauce became his signature dish even while he still cooked at Auberge du Vert Mont.
But at Bierbuik, "It's about street food," he told me between bites. "You don't have to think much about balance, about textures. It can be too hot, it can be too fatty, it can be too salty because it's just about pleasure, eating with your fingers."
And for Ladeyn, it's more faithful to how he grew up around the table eating with family.
It's why he proudly shows me his tattooed forearms, the left with a fork and the right a knife. "But not a chef's knife," he points out. No, it's just a regular ol' butter knife. "Because I love to go to the table," he explains. "This is my memory of spending a lot of time with my grandparents. … All the memories I have with them are around the table."
He continues, eyes sparkling, "I love what the table means—people being together, speaking together, enjoying a meal, sharing food. Beer [and food] bring people together. This is important and beautiful."
That's why most of the tables in Bierbuik are long, with single lights overhead, adding a dim glow to your space. Ladeyn says it encourages people to sit next to each other to get to know each other and share conversation over food and beer in their own little space.
Bierbuik Brings Family and Friends to the Table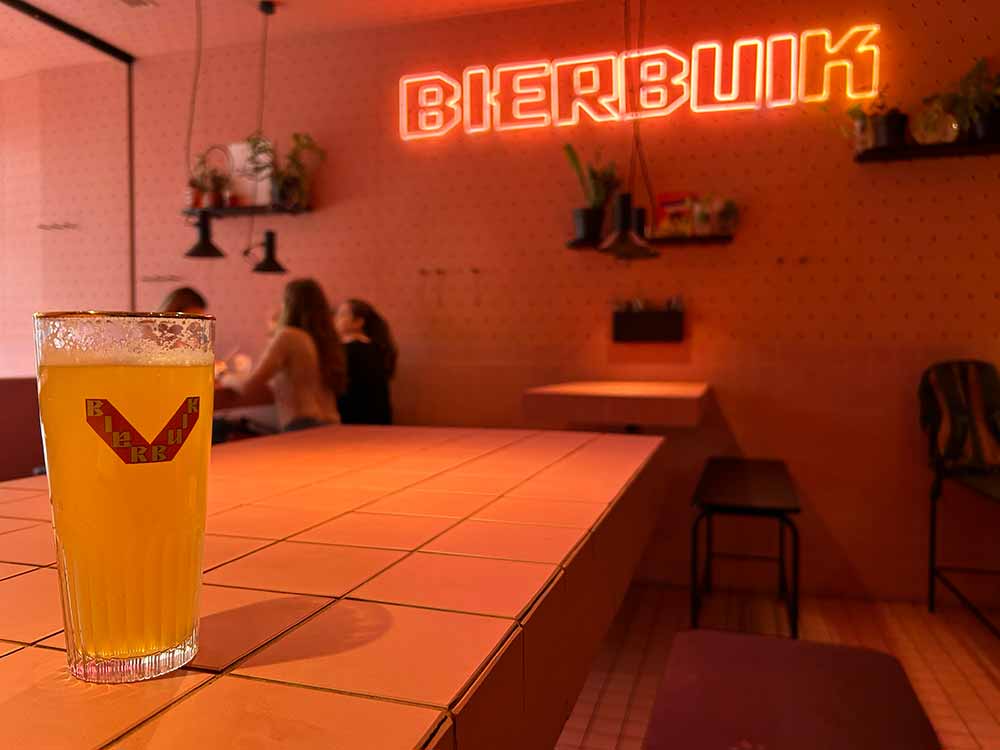 Family and friends wind their way into many of Ladeyn's beers and dishes. His cousin is a hop farmer, so he leverages local hops. "They're not as funky or sexy as U.S. hops, but they are from here," Ladeyn says. "We are always adding our local homemade spices and herbs, too."
His falafel dish includes lentils from a farmer at la ferme du Duneleet named Stephanie, who took over her parents' farm, believing that farming should avoid using tractors because it turns the soil too much. "She puts in nothing, and she's doing great," Ladeyn told me. "These lentils, I make sprouts with water on top, then blend it with shallots and spices."
The sausage for another dish isn't homemade, but it comes from Ladeyn's hometown butcher shop, now owned by a guy he played rugby with as a kid.
A dessert playfully called Afoingato (foin is hay in French) includes hay ice cream and chicory, not coffee—because chicory is one hundred percent local.
But Ladeyn says the most popular dish is the Flammach, a flatbread made in the restaurant's wood-fired oven using homemade sourdough and local flour fermented for seventy-two hours. The almost personal-sized pizza comes out with this perfectly springy dough that bounces back in your mouth like memory foam.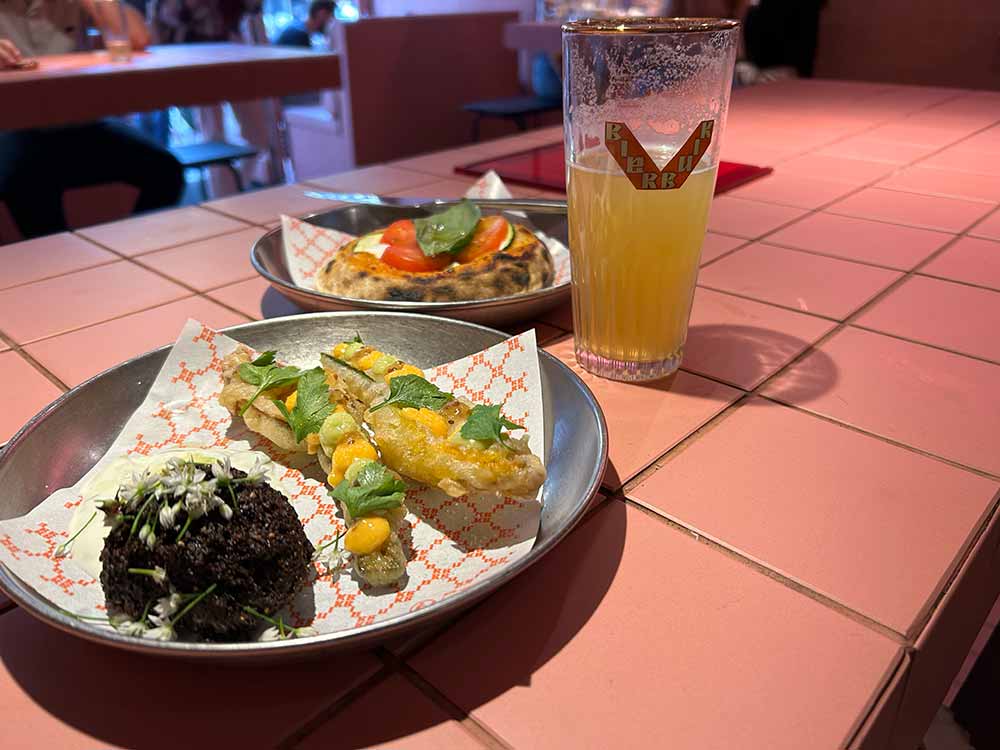 But my favorite dish?
The zucchini flower tempura made with very light beer batter that shatters under your teeth like the top of a crème brûlée when hit with a spoon. The sauces on the top take it to the next level—dots of herb mayo coat your tongue in a buttery cream while a vinegar gel washes everything with the perfect zip. I cleaned that plate.
Beerwise, Ladeyn rarely brews a beer twice. When I visited, besides the Glycine Municip'ale, he had a black saison with fresh hay in the tanks, an amber beer with quinoa, and an upcoming grape ale with leftover grape skins and must from a friend whose regular day job is teaching, moonlighting as a vintner when on break.
"We are really not in an area to do wine, but a friend of mine in Belgium on just the other side of my restaurant does natural wine (so zero chemicals)," says Ladeyn. "Friday night, he'll give me the leftovers of the grape … and I will put it into a beer that will have done its primary fermentation."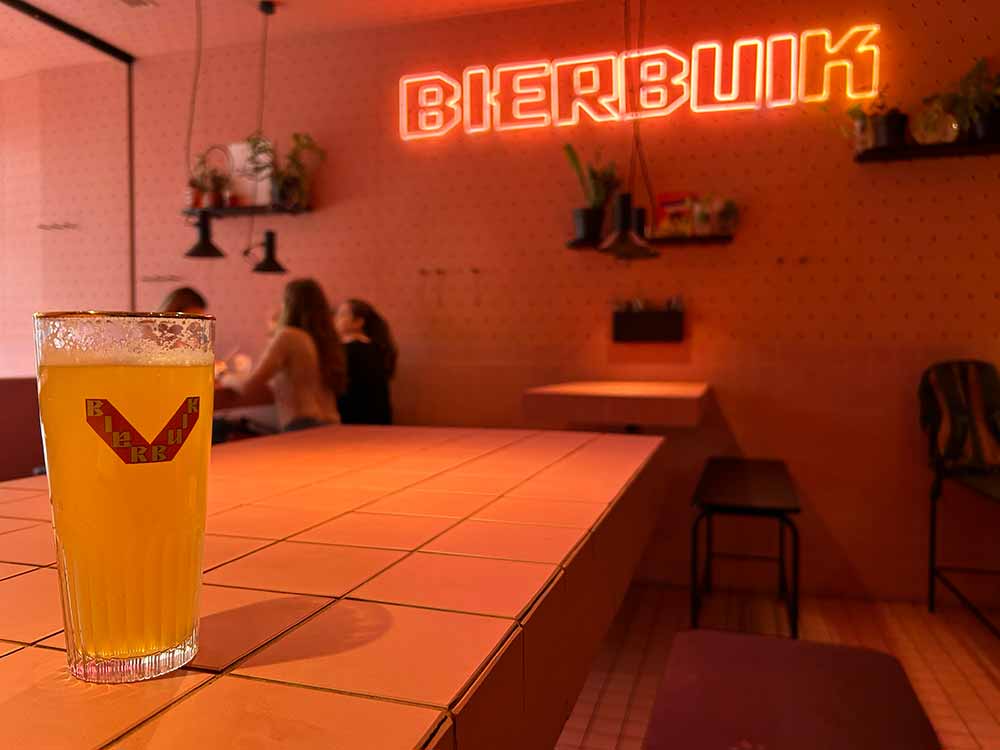 Ladeyn's approach sticks out in a region dedicated to older Belgian styles like tripels, oud bruins, and saisons. But it makes sense to him as he tries to represent terroir in Lille.
Bringing Lille to the Plate and Into the Glass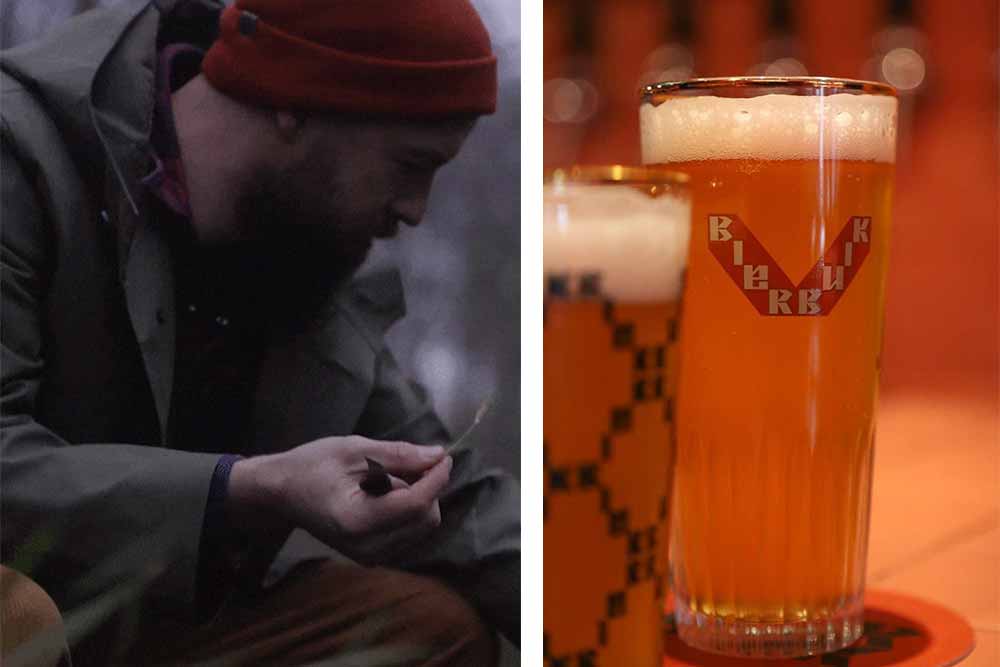 "If I say, okay, this is a white deer that my father just shot three days ago; these vegetables are done in permaculture with biodynamic farming and zero chemicals, and I made this toast with my own sweetbreads, and then I serve it to you with a beer from Denmark or Sweden, there's no logic in this," he says.
So yes, the local verbena he uses for a verbena Berliner Weisse might be five or six times more expensive, and the natural fruit he wants to put into a sour will cost more than a frozen puree, but "when you fight so much for a craft label, it should be crafted," he exclaims.
Above all, Ladeyn wants people to open their palates and minds to something different.
These are the kinds of beers he makes. "If you ask me to brew an imperial coconut stout, I cannot do this," he says. "When I brew, it's always borderline. I brew juices like this—really light with wild yeast, so you don't really know if you're drinking a beer or something else."
As I drained my glass of wisteria sour and licked the salty grease from the frites and fried zucchini flowers off my fingers, Ladeyn got a text.
"That's a reminder, I promised to get foraged hops," he says.