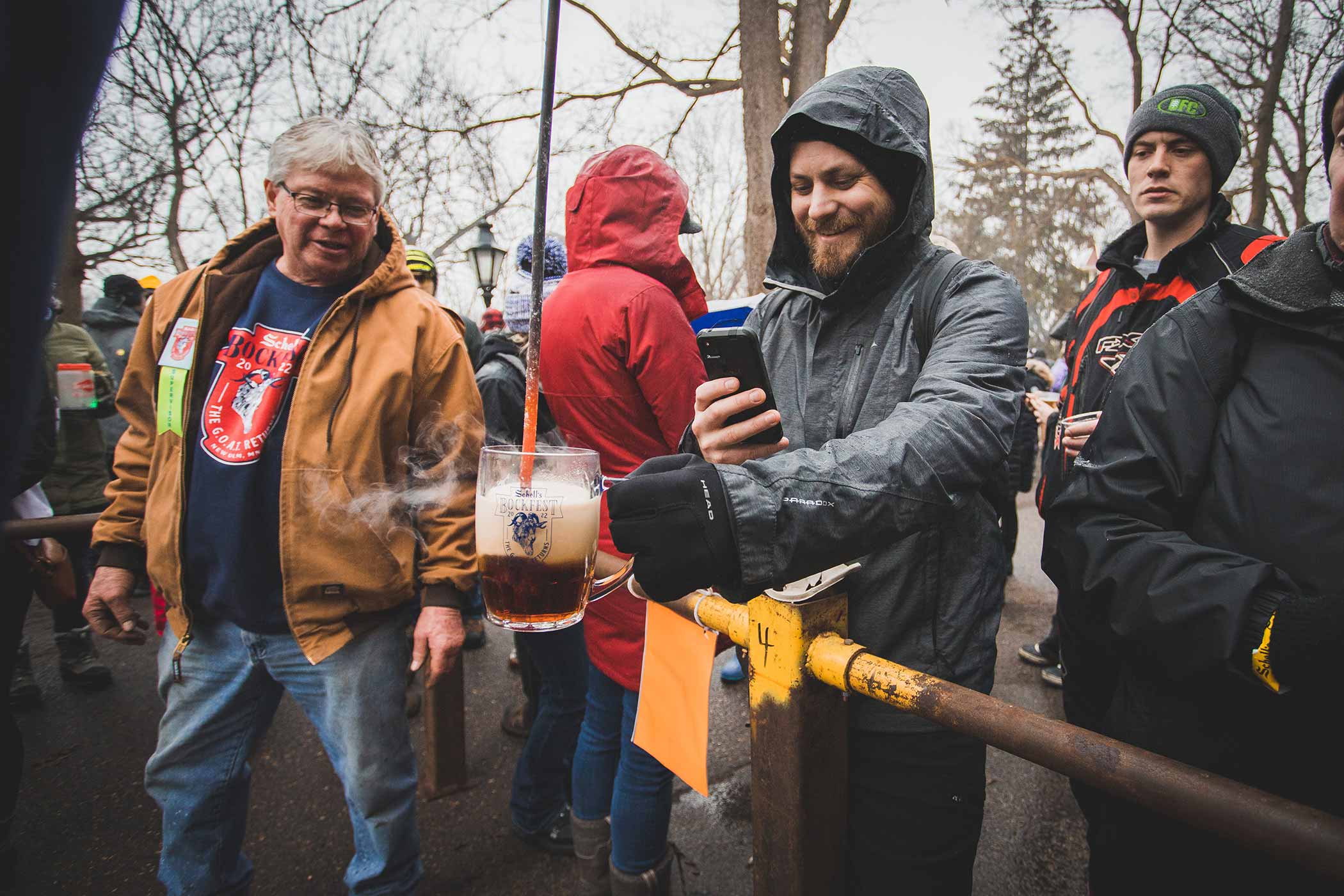 Photography courtesy of Schell's Brewery
Groups of thirsty people waited in line, huddled around a fire pit, stamping their feet to keep warm. At the front, someone drank half their dark, malty bock, extending the half-full glass to the firetender. What happened next can only be described as magical. Taking a red-hot steel rod out of the fire, the tender plunged it into the half-drunk beer. Instantly, a frothing, writhing cloud started to bubble—as if an underwater volcano might emerge from the beer's malty depths. Drinking the now creamy, toasty liquid, the happy drinker moved on, and someone new took their place, waiting for the firetender to hot poke their beer. Called Bierstacheln, translating to "beer sting" or "beer spike," this traditional German practice has slowly surged at breweries across the States.
While we wouldn't call Bierstacheln (pronounced "beer shta-hll") a trend by any stretch of the imagination, the classic custom has worked its way across the pond. Places such as Schell's Brewery in Minnesota (whose annual BockFest probably looks something like the scene above), Pour Man's Brewing in Pennsylvania, Invasive Species Brewing in Florida, and a handful of others have picked up the custom.
Let's dive in, literally.
A Short History of Bierstacheln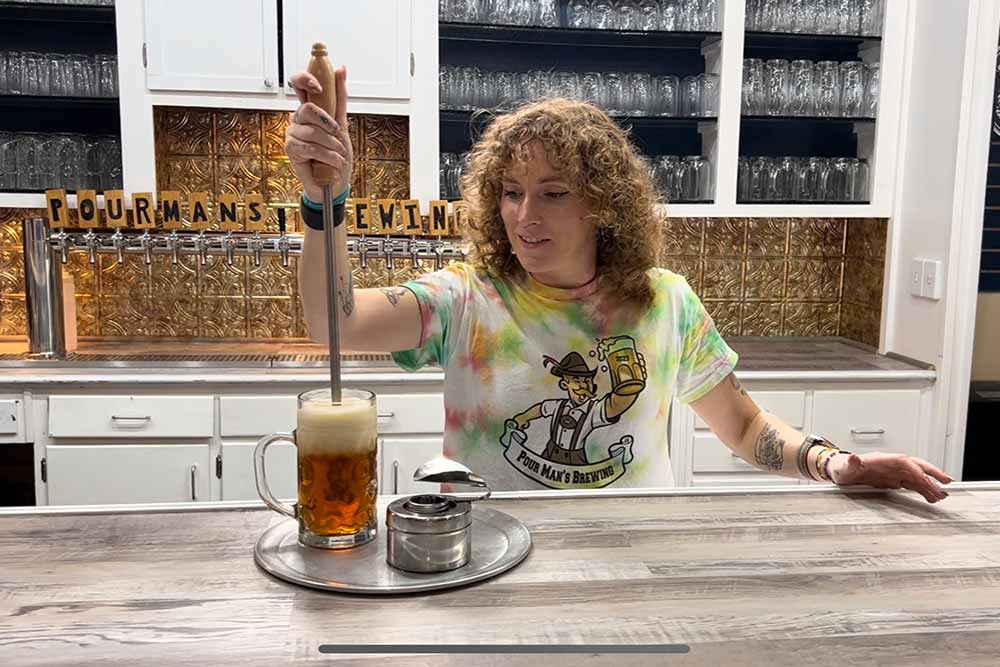 While Bierstacheln may be a bit of a spectacle, as with most traditions, this one started for practical reasons.
According to the historic German brewery Weihenstephan, blacksmiths came up with the idea to stick a hot poker into beer to warm it up when it became too cold to drink during the winter.
"From my understanding, it's like a 400-year-old tradition," says Ryan Foltz, co-founder of and brewer for Pour Man's Brewing in Ephrata, PA, who started hot-poking beer after coming across an article on the practice while researching to brew a rauch doppelbock.
Refrigeration didn't exist then, so German brewers generally kept beer at cellar temperatures. "A lot of time in the winter months, the bar was already pretty cold; it's rough to drink thirty-degree beer [in the cold], so someone started with just a steel spike they inserted into a fire, pulled out, dipped into his beer, and everyone started doing it," says Foltz, who bought a steel rod off of Amazon and experimented himself at home before bringing it to the brewery.
Born in Germany, August Schell started Schell's Brewery in New Ulm, MN, in 1860. Today, third-generation Vice President of August Schell's Brewing Co. Kyle Marti says his family shared a similar story.
"Germans drink their beer at room temperature," says Marti. "So the story I'm told is that in town, they would use these warm sticks. If the beer was too cold, they would put those sticks in it and warm it to the appropriate temperature."
Marti says his dad and former president/CEO, Ted Marti, thought of Bierstacheln when the brewery threw its first BockFest in 1987. As far as we can find, Schell's might be one of the first American breweries to try Bierstacheln and has undoubtedly been doing it the longest.
One could argue they've become crackerjacks at hot-poking beer.
Those newer to the game, such as Invasive Species Co-Owner Phil Gillis, who has hot poked beer at the Florida-based brewery for the last couple of years, first experienced Bierstacheln in Austria while at brewing school.
He says the instructors encouraged him to drink the cold beer first before getting it spiked. "The first sensation of good, cold, fresh beer coming to your lips. … And once you put the spike in, releasing this warm, creamy foam … it completely transformed [the beer]," he says. "I was blown away; it just stuck with me forever."
How Does Bierstacheln Work?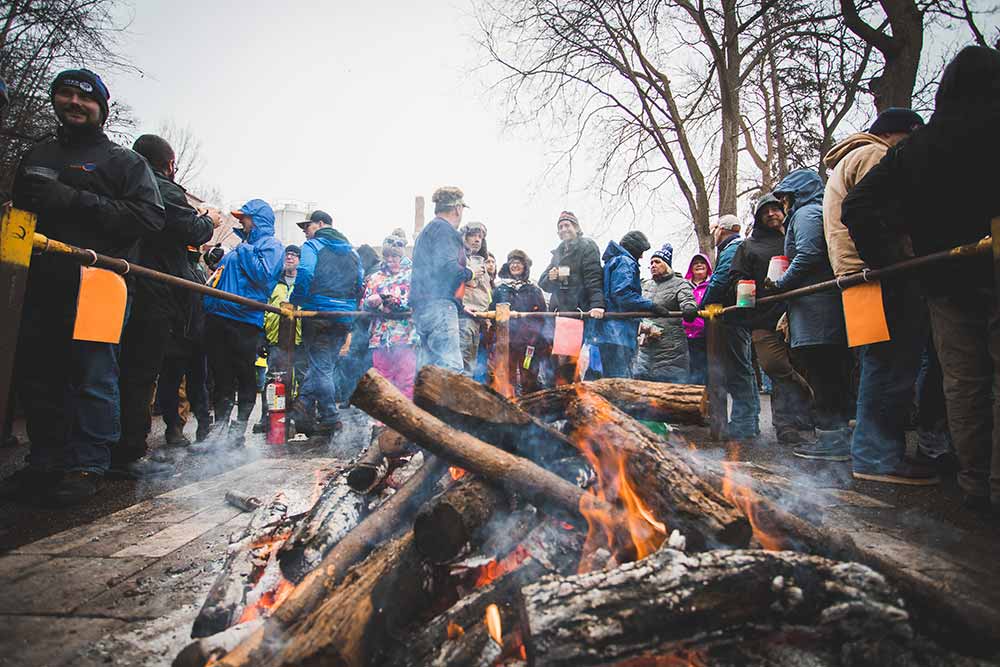 It's pretty simple, actually. You need a stachel or spike—essentially a steel rod—and a heat source, traditionally an open flame or hot coals, but today, the fire sources and poking sticks can vary.
For instance, Invasive Species uses a plumbing torch for soldering that stays behind the bar.
At Pour Man's, Foltz uses a stainless steel rod with a bulb at the bottom and a wooden handle that he found on Amazon. He says he prefers stainless steel sticks because they're easy to clean, especially after a busy service. "It comes apart into pieces, so we can soak it really good in between using it because it does get really burnt once you get through a full-service day," he says, noting when the brewery offers Bierstacheln, they can hot-poke over 100 beers a day.
Pour Man's uses chafing burners with a custom stand hand-built by Foltz to heat the rods inside the taproom. "The pokers sit on top of the two stands, and the bottom sits over the flame," says Foltz, who hopes to install fire pits into the brewery's new taproom this winter.
At BockFest, Schell's sets up fire pits around the brewery, watched over by particular fire tenders—folks who have been hot-poking beer sometimes for decades. Each has a slightly different setup and often homemade pokers (dare we say bespoke pokes). "Some will make them with old tap handles, some with old deer antlers," says Marti. "It's a really unique experience at every one of our fire pits."
Beyond the equipment, the process stays pretty practical. You heat up the rod until it gets "red hot," according to Marti (technically, you're shooting for about 1112°F), and then dip it into the beer for four to five seconds.
Now, the true magic begins
Hot Beer Poker? I Hardly Know 'Er!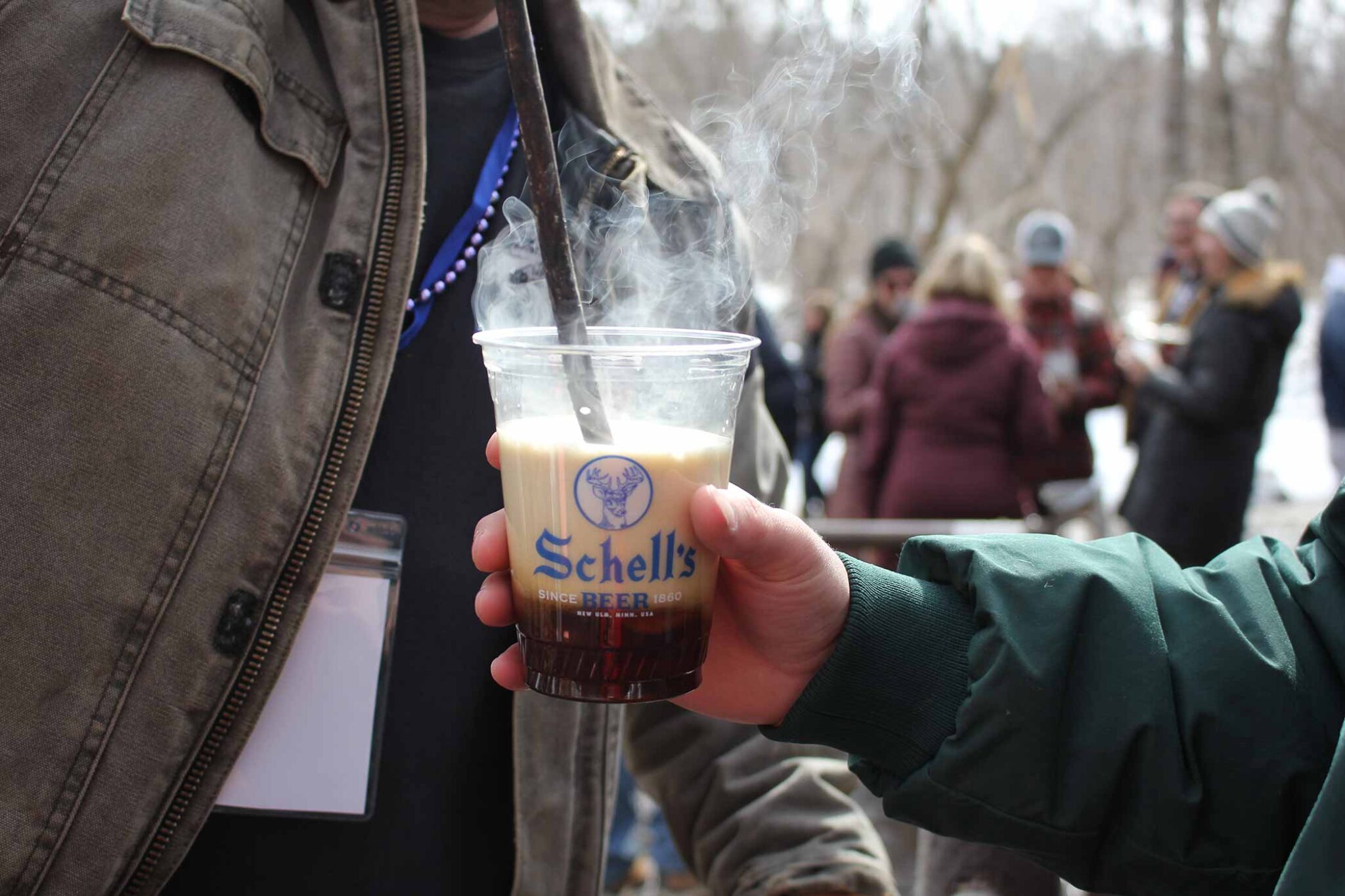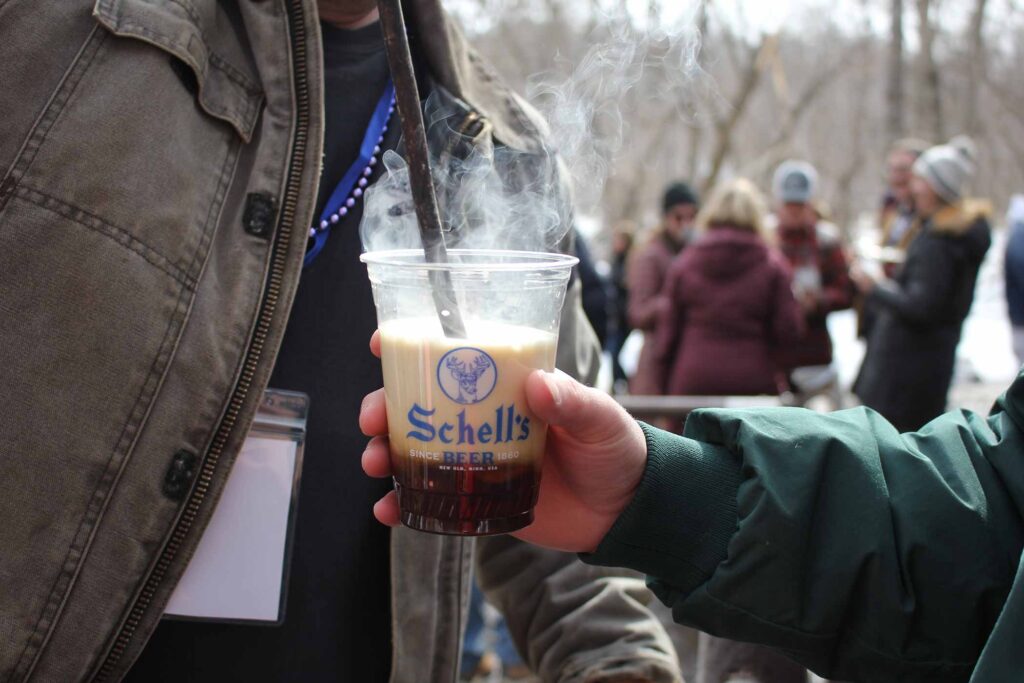 Ever had a good steak with a nice caramelized char on the outside? The science is similar with hot beer poking. Sticking a blazing baton into a malty beer with lots of unfermented sugars creates a Maillard reaction, quickly erupting into foam and flavor.
"When that [hot rod] hits the ice-cold beer, it immediately flashes, boils, and essentially caramelizes the malt, giving the beer that nice sugary, roasted marshmallow flavor," says Marti, who instructs drinkers to consume half their beer before poking to give ample room to foam up. "It just gives it an entirely different feel than you would normally get with a cold bock beer."
Bierstacheln creates a complete sensory experience from the eyes to the nose and mouth.
"It's very eye-catching, and the sound of the torch is crazy," says Gillis, who likens hot-poking beer to a hibachi restaurant, emphasizing that ritual has a purpose. "It's a fun performance that enhances the experience, [but] you get the payoff, and you get to enjoy it."
Foltz focuses on how Bierstacheln changes the texture and aroma of a malty beer. "You get a dense, creamy, almost warm foam, with cool, less carbonated beer underneath," he says. "The smell is the coolest part. … You get this caramel and toasted marshmallow aroma."
That's the Maillard reaction at work. "You're caramelizing and crystallizing the sugars remaining in the beer," says Fotlz. "And because you're disrupting the liquid, you're breaking out some carbonation, some CO2 that's turning into foam at the top of the glass, so those are three things making the beer creamier, heavier, and just a little smoother."
Bierstacheln changes not only the mouthfeel and taste but also the visual presentation of the beer. "It's like a magic trick for your beer," says Gillis, who hot-pokes beer at Invasive Species as a secret menu item. "And it's genuine. It's not a magic trick [for no reason]. You get a real, genuine flavor change."
While Invasive Species doesn't offer Bierstacheln on the tap list, they do keep their rod behind the bar for bartenders to use at their discretion. "It's just an experience we can provide if the feeling is right," says Gillis.
What Beer Styles Work Best for Bierstacheln?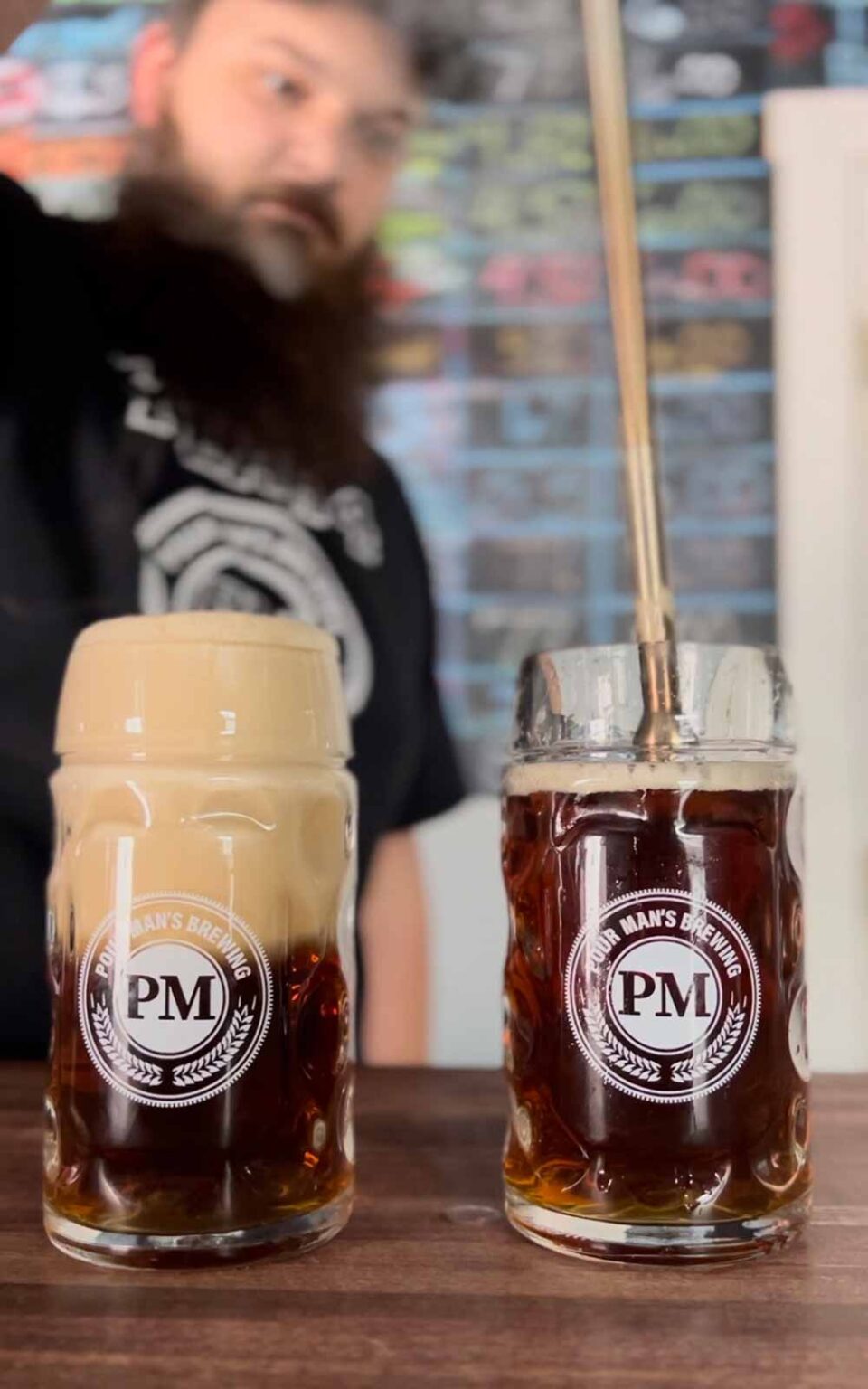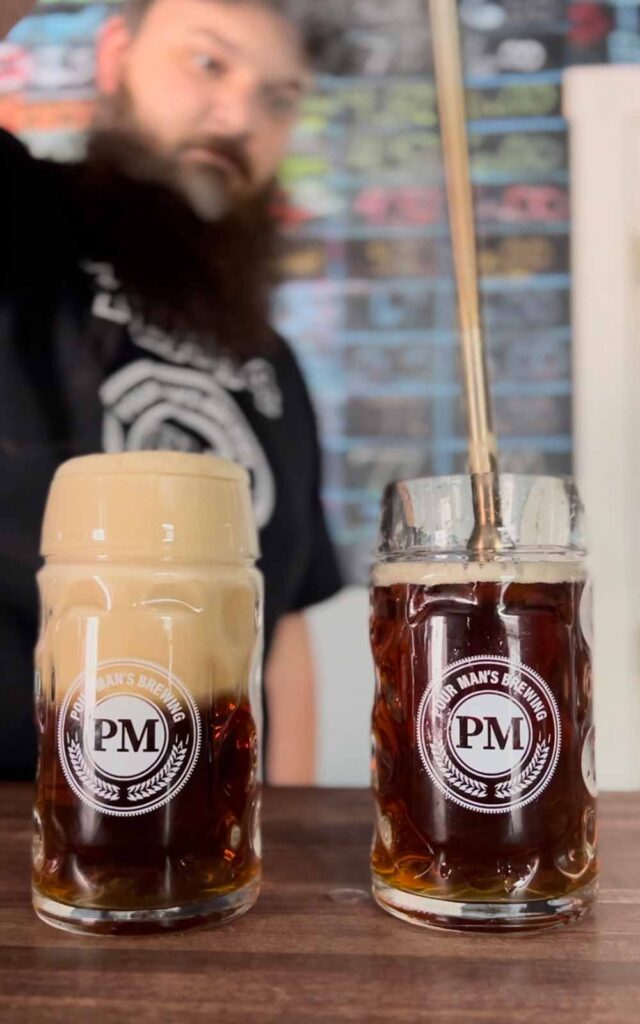 Malty ones. "You know, ambers and bocks. Something that's kind of light and malty," says Gillis, cautioning that if the beer uses too much light malt, such as a pilsner or helles, you won't get the caramelization or toastiness you want. For his Bierstacheln, Gillis sticks to beers with darker malts, even hot-poking some of the brewery's imperial and pastry stouts.
Marti agrees that "the malt is the shining star," explaining that grains are "essentially the engine that gives fuel for the caramelization."
Schell's focuses on hot-poking its bock, which has ten different types of malt and a small hop presence. Marti says beers with high hop expression would diminish the effect of Bierstacheln.
Likewise, Pour Man's only offers Bierstacheln when the brewery has what Foltz calls "period-correct beers" on tap.
For the best sensory experience that "touches every sense when you do it," says Foltz, he recommends styles like a bock, doppelbock, Vienna lager, or amber-style lager. Most recently, Pour Man's featured Bierstacheln with its Festbier and Märzen during its Oktoberfest celebration, but in the past, it has used dunkels and even a Czech dark lager. "Styles that work best usually tend to have some residual sugar left in them," he says. "I've played around with dry beers, but you just don't get the same kind of reaction."
Just How Hot Is Bierstacheln?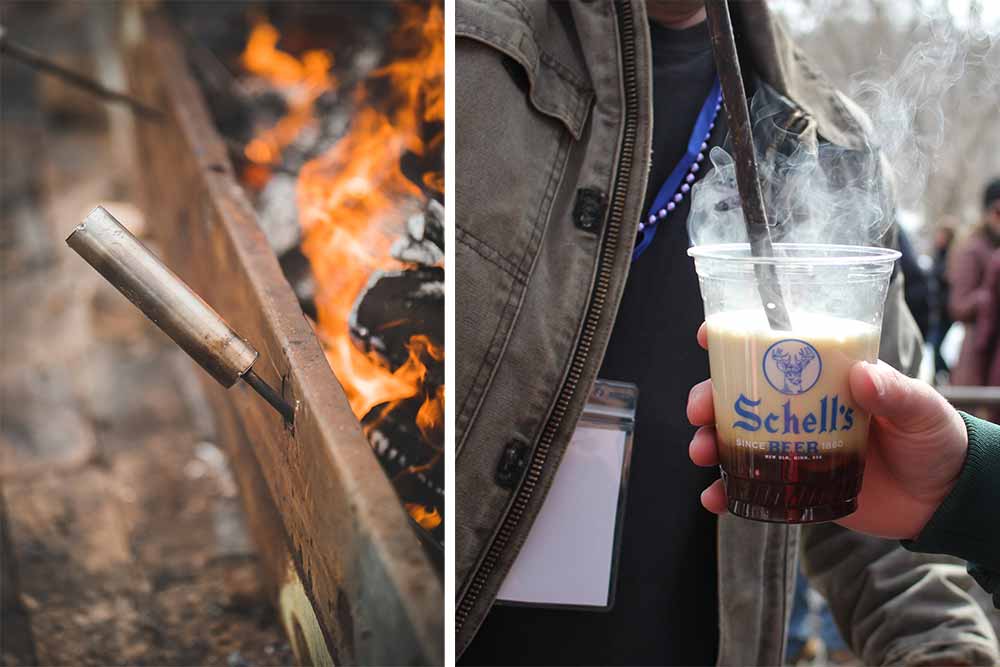 Schell's has hot-poked beer for over thirty-five years. Held each year during the first weekend of March, BockFest attracts an average of 6,000 people, according to Marti.
"From 11 a.m.-4:30 p.m., we go gangbusters, selling 200-300 kegs of beer," he says. "Extrapolating out across everybody, I bet the average is one poke per person."
That's a lot of Bierstacheln! And people have come back for it for over three decades.
Marti says for Americans, there is a shock value around the performance. "What the hell are you doing over there?" he says is a common reaction. "If they're not drinking a [Schell's] Bock or malty beer, usually they'll go back and buy one."
Marti likens opening people's eyes to Bierstacheln as a kid-in-a-candy-store journey. "It's the wonder of a child asking what's going on over here?" he says. "The first sip is always really cool to watch people because they don't know what to expect."
Foltz reminds us Bierstacheln is more than just a gimmick, though, actually changing the complexion and taste of your drink. "If it didn't do something more than just warming the beer up, I think it wouldn't have continued to keep happening for 400 years," he says.
And Gillis agrees, saying, "There's a reason why people have been doing it forever." Just not that many people in America know about it.
But that seems to be changing, kind of like a cold beer jabbed by a hot rod.
Bierstacheln hasn't entirely caught fire like some other trends (hello, kölsch service), but it's no longer an unknown.
And a the weather starts to turn chilly for many of us across the country, you might find yourself as excited as Gillis when he answered our call last week, "It's about to be beer-spiking season!"
Where Can I Try Bierstacheln?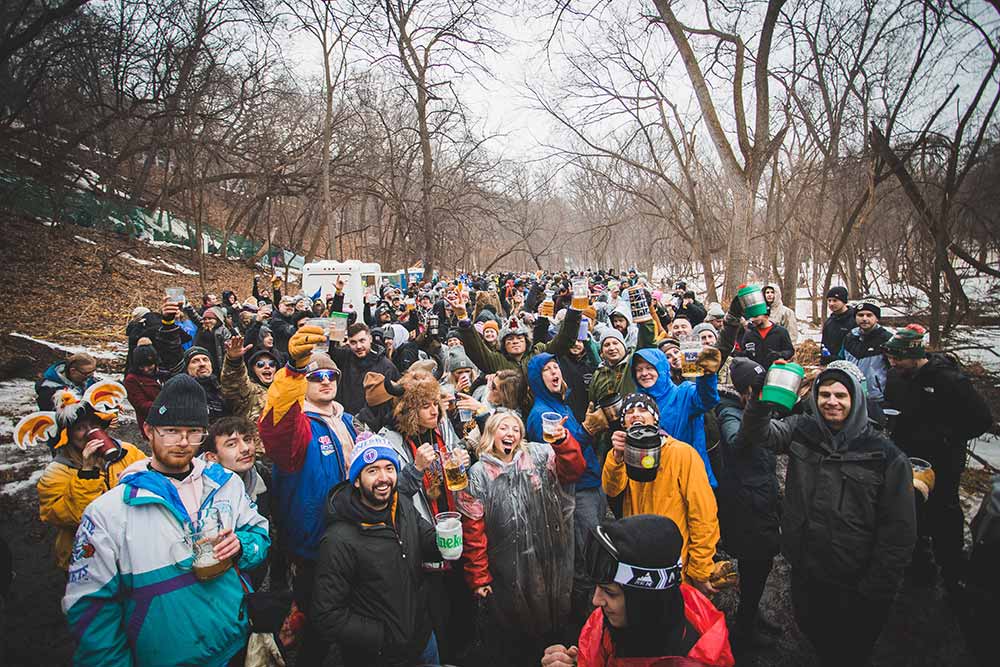 We know there are more beer-poking princes, princesses, and royalty out there. Do you know of a brewery practicing Bierstacheln? Drop us a line at @hopculturemag so we can continue building this list!
Schell's Brewery
We have to start with the brewery that deserves the most credit for bringing Bierstacheln to the U.S. Schell's offers Bierstacheln once a year, but they certainly know how to blow it out.
Happening the first weekend of every March, Schell's BockFest invites folks to the brewery in New Ulm, MN, for one day of cold (and hot) fun. "It's Minnesota in March, so it's either freezing cold and, like, negative twenty, or it's like fifty," laughs Marti.
But as a native of Minnesota who has never had one full snow day in her life, I can confidently say that the temperature doesn't matter. At each BockFest, people show up in droves (7,500, the highest number of attendees).
Dedicated firetenders stoke their pits across the brewery grounds, hot-poking an average of 6,000 beers over about five hours.
Grab a Schell's Bock, get in line, drink half your cup, let a veteran firetender hot-poke your beer with a custom-made stachel, watch the frizzle and froth, and prepare to have your senses and mind blown.
As the OG beer poker, Schell's ignited a bit of a fiery revolution in Minnesota. Other breweries in the state we've read about who have done Bierstacheln include Utepils Brewing, Lupulin Brewery, and Waldmann Brewery.
Land of 10,000 Lakes or Land of 10,000 Beer Pokes!
Pour Man's Brewing
At Pour Man's, Foltz only does Bierstacheln when he has the proper beers on tap—malty amber or dark lagers. You can bet that winter in Pennsylvania will be a better chance to find the custom playing out in the brewery's Ephrata taproom. While Foltz currently has a homemade setup with chafing burners behind the bar, he does hope to set up fire pits with s'mores stations outside the brewery at some point. "It's tricky to have two open flames sitting behind the bar," he says. "You just have to remember they're there and not knock them over!"
Most recently, Foltz hot-poked the brewery's Festbier and Märzen during the brewery's Oktoberfest celebration. Still, in the past, he's also used Bierstacheln on two seasonal beers— a dunkel and doppelbock. "It was perfect for that time of year because you could choose whether or not you wanted the higher-ABV beer, which reacted really nice, or you could have the more sessionable 5% ABV dunkel with it."
As we head into the winter months, watch Pour Man's Brewing's Instagram (@pourmansbrewingco) to see when Foltz might pull out the chafing burners next.
Invasive Species
More luck of the draw, Invasive Species' Bierstacheln only happens at the brewery's discretion. "It's definitely totally off the menu," says Gillis, who sourced the brewery's stainless steel poker from Europe. The brewery keeps the rod behind the bar, with bartenders bringing it out if the vibe is right. Although, Gillis says the brewery also has fun bringing hot beer poking to festivals. So, if you see Invasive Species popping up at a fest, you might be in luck.